Crème Diplomate (Diplomat Cream) 
Crème Diplomate, also known as diplomat cream is a super fluffy cream made of pastry cream and whipped cream. Use it as a frosting for cakes, a topping for pies, pavlovas or a filling for donuts, etc.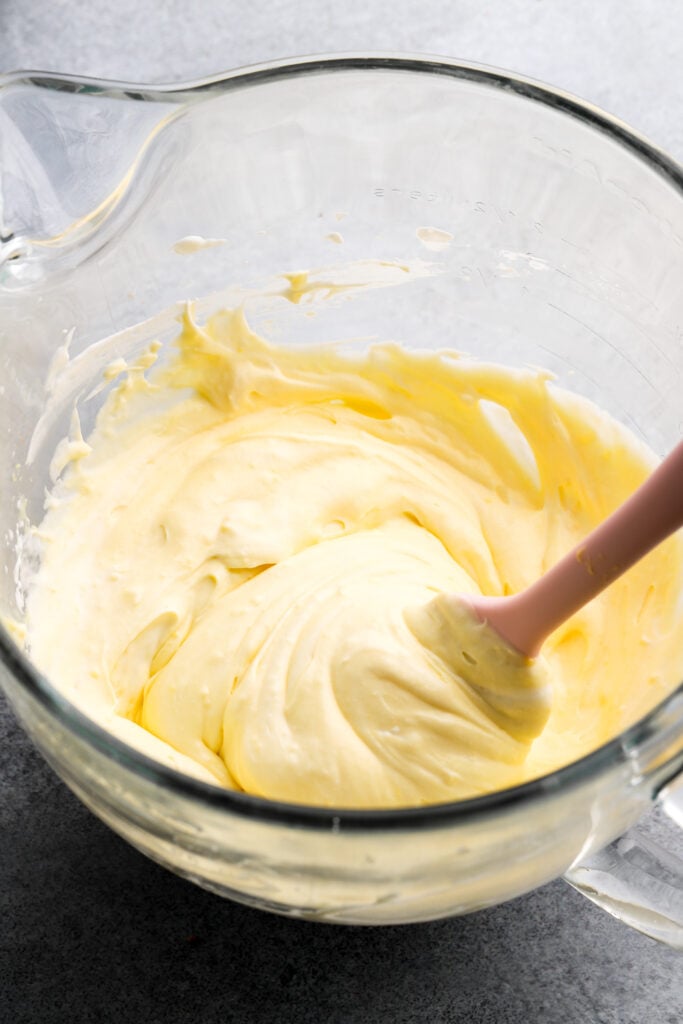 Why you'll love crème diplomate
It's basically a cross between pastry cream and whipped cream and who doesn't love both of those?!
It can be used to frost cakes, fill pies and donuts, etc.
Super versatile and easy to infuse with different flavors.
This is the only type of cream my mom frosted her cakes with growing up so it is incredibly nostalgic for me. I adapted it recently to simplify my recipes but it honestly tastes the same. The only difference is that I replaced the custard base and with my new pastry cream recipe because that's the 'proper' way to make it lol.
I use it quite often and you can find the PREVIOUS VERSION in my Honey Lemon Cake, Chocolate Mousse Cake, Cranberry Orange Cake, Coffee Oreo Cake, double chocolate black forest cake, Mango Cake and my book Frosted. All of those can also be made using this new version with the pastry cream.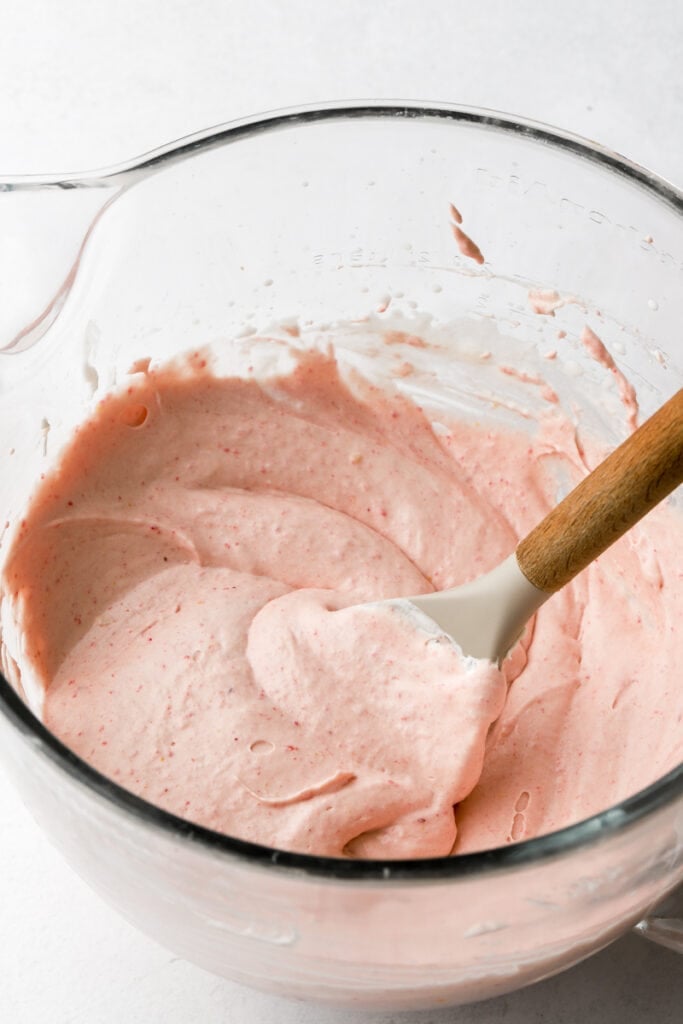 What is crème diplomate
As I mentioned before, this beauty is made up of a pastry cream combined with whipped cream/chantilly cream. You'll notice some recipes say it's custard combined with whipped cream. Pastry cream is a type of custard that generally has a higher milk/cream to egg ratio and uses the addition of flour or cornstarch to help thicken it, so terminology can be right both ways lol.
The base I've been using for diplomat cream for 5+ years (from my mom) is a simple thick custard made from egg yolks, sugar and butter so there's no milk or cream, thus no need for cornstarch or flour.
HOWEVER, a traditional diplomat cream is made using pastry cream and since I have a new fabulous pastry cream recipe that is the base for so many creams, I tweaked my recipe to be more proper and it now uses traditional pastry cream as the base.
The amount of whipped cream/chantilly cream used to mix with the pastry cream can vary a little. I stuck to the same ratio as my crème mousseline, 2:1 pastry to whipped cream. So one batch of my pastry cream weighs about 370 grams so I did about half of that in heavy cream which comes out to 6 ounces or 3/4 cup.
If you like learning about types of creams, check out my cookbook Frosted for 14 base recipes and my downloadable guide (below) for step-by-step pictures (of recipes from Frosted) and all the troubleshooting tips!
I also have a baking basics page that includes other creams like creme mousseline, crème pâtissière, Swiss meringue buttercream, French buttercream and Chantilly Cream. Some of these differ a little bit from my cookbook that was written a few years back.
Ingredients
Sugar: I use granulated sugar and this cream is not overly sweet so don't cut the sugar. I haven't tested it but I'm sure brown sugar would also work well.
Eggs: I use just egg yolks for this custard because you want it to be very thick and flavorful so it's not too subtle or loose when combined with the whipped cream.
Cornstarch: I use cornstarch to thicken the pastry cream. You can adjust this amount per preference, read more about it my pastry cream post.
Milk: I use whole milk but any kind of milk works fine.
Butter: I use salted butter for this custard since it's just a little but unsalted works fine too. I would add a tiny pinch of sea salt if you use unsalted.
Heavy Cream: heavy whipping cream is used to make the whipped cream, I recommend something between 35%-45% fat.

Make sure it's cold straight from the fridge when you whip it.

Gelatin: technically gelatin is always used for crème diplomate. If it doesn't have gelatin then it's called crème légère.
Vanilla: See below for different flavor options but for vanilla, I like to use vanilla bean paste. Vanilla extract and vanilla beans also work, the higher the quality the better the flavor.
Step-by-Step Instructions
Step 1: Heat the milk in a medium saucepan over medium heat, just until it starts to steam and/or simmer, 1-2 minutes.
Step 2: Meanwhile, whisk together the eggs, sugar, cornstarch and salt in a medium bowl. Whisk well until the mixture is completely smooth and there are no lumps.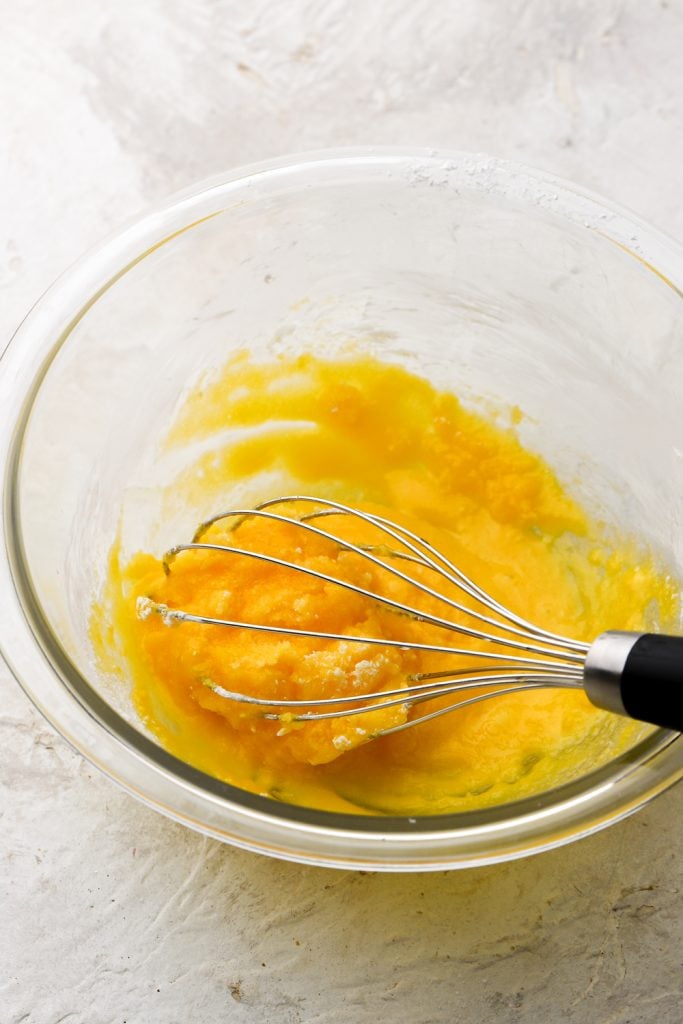 Step 3: Temper the eggs, by streaming the hot milk into the egg mixture while whisking the eggs. Pour the whole mixture back into the saucepan and whisk continuously over medium-low heat.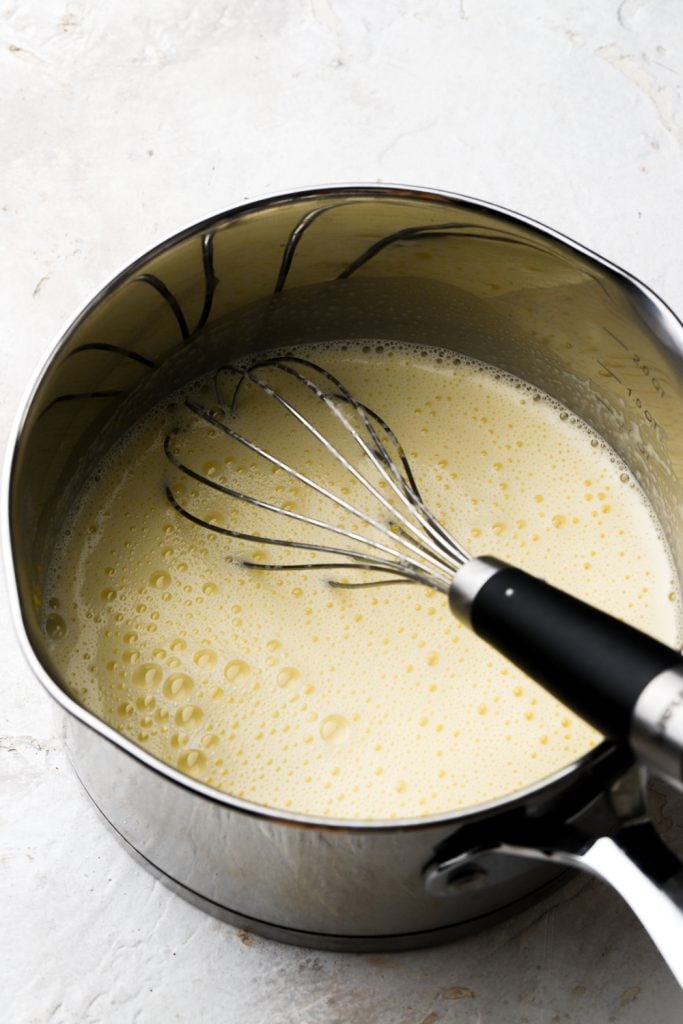 Step 4: The pastry cream will begin to thicken after about just 2-3 minutes. At this point whisk aggressively for another 30-60 seconds.
Step 5: Continue whisking while you remove the pan from heat and then pour it into a bowl. Give it another good whisk, making sure there are no lumps.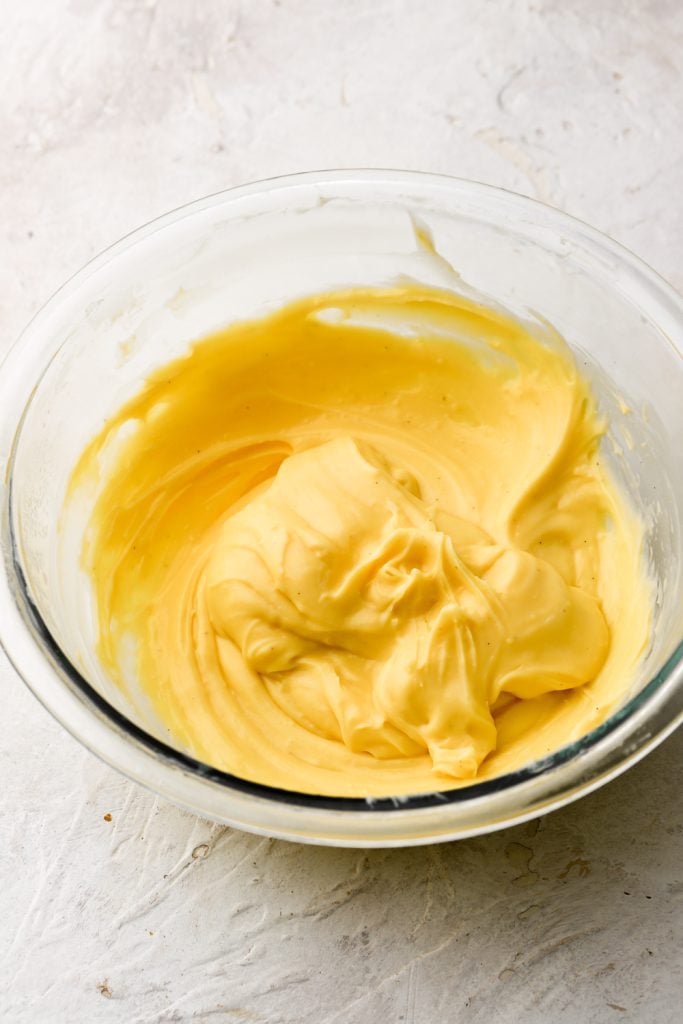 Step 6: Add the butter and vanilla and allow the heat from the pastry cream to melt the butter. It may separate at first but as you whisk, the pastry cream will come back together and should be smooth and silky.
*if you have any lumps, feel free to press the pastry cream through a sieve while it's still warm.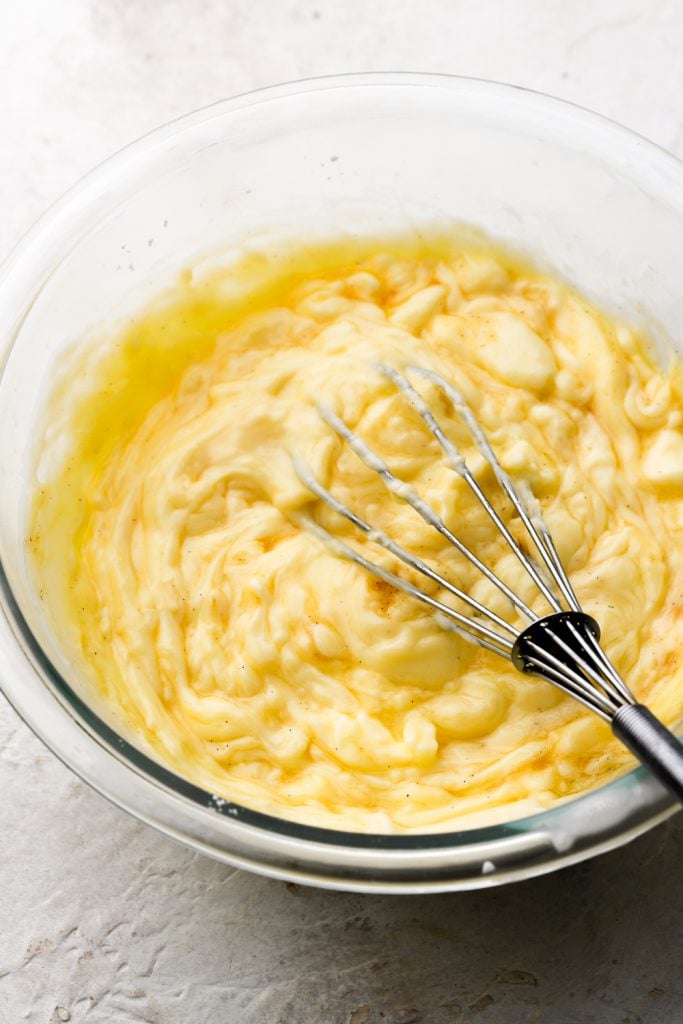 Step 7: Cover the surface of the pastry cream with plastic wrap and allow it to cool to room temperature. You can refrigerate it but if it firms up too much, gently whisk it before adding it to the whipped cream so that it's not chunky.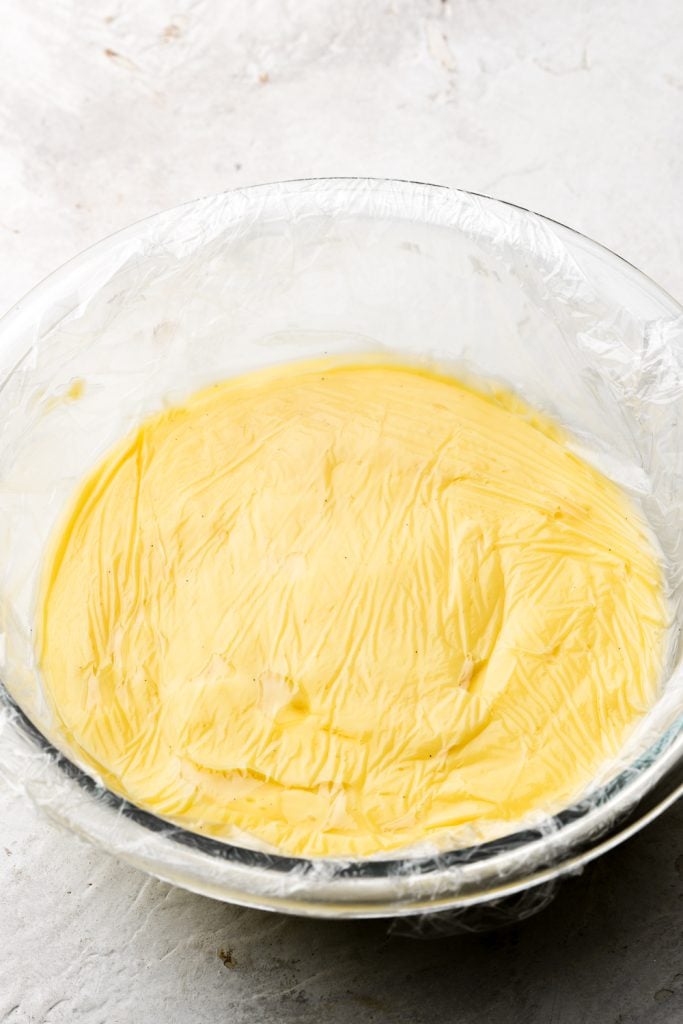 Step 8: Whip the cream just until it reaches stiff peaks.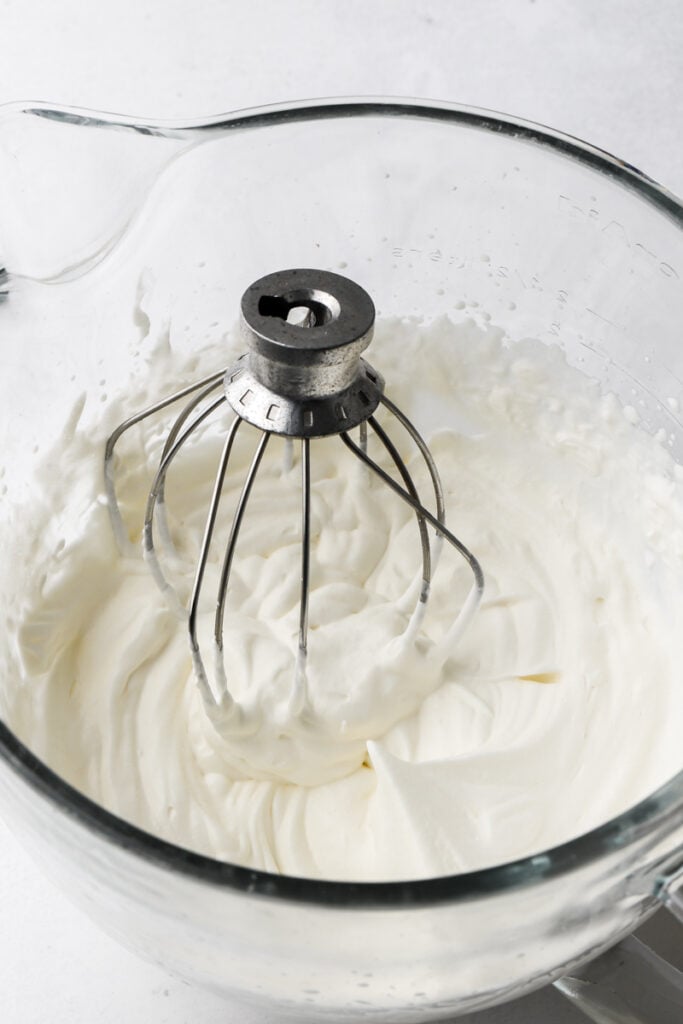 Step 9: Add the cooled custard, dissolved gelatin and vanilla to the whipped cream and mix just until they're fully combined. Use the cream as desired.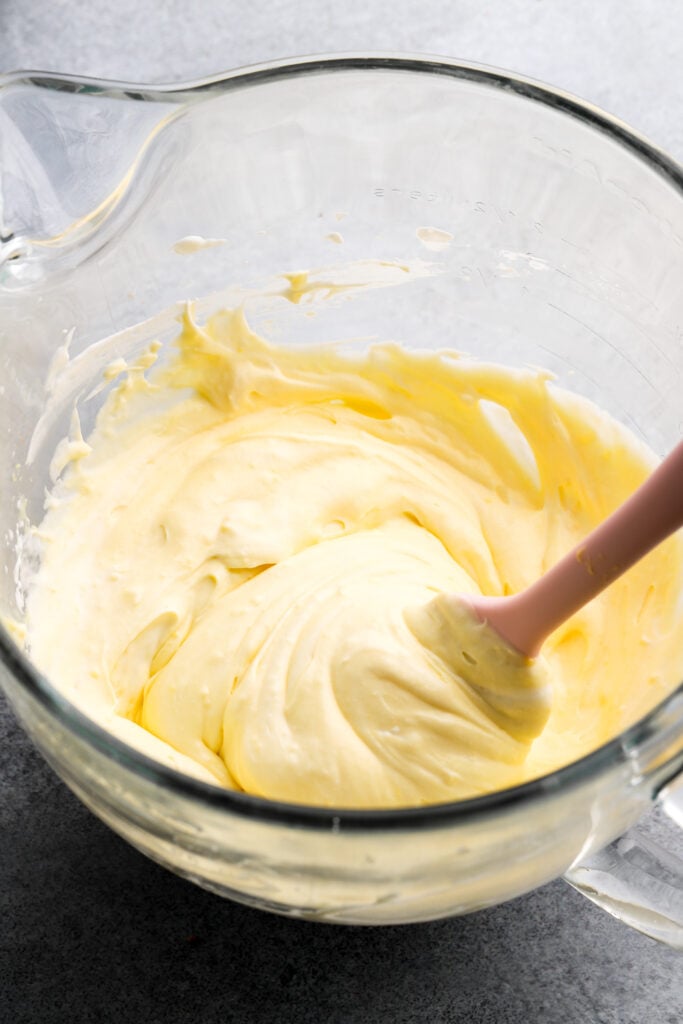 How to flavor Crème Diplomate
There's a few different methods you can use to flavor diplomat cream. The first is by whisking in 2-4 Tbsp (20-40g) cocoa powder into the pastry cream with the cornstarch. You can also mix in melted chocolate chips/chocolate bars.
Mix in lemon curd, citrus zest, freeze dried ground fruit, Nutella, peanut butter, cookie butter, etc after it's finished. At the top of this blog post I linked all the ways I used diplomat cream and you can see how I flavored those ones too. Also check out my cookbook for more options but it's basically the same as flavoring any buttercream, except use less add-ins. Although the base for my previous diplomat cream is a little different, they can be used the same.
You can also steep the heavy whipping cream with vanilla, chai spices, teas, etc. before whipping it to give it flavor. Just make sure it's cold when you go to whip.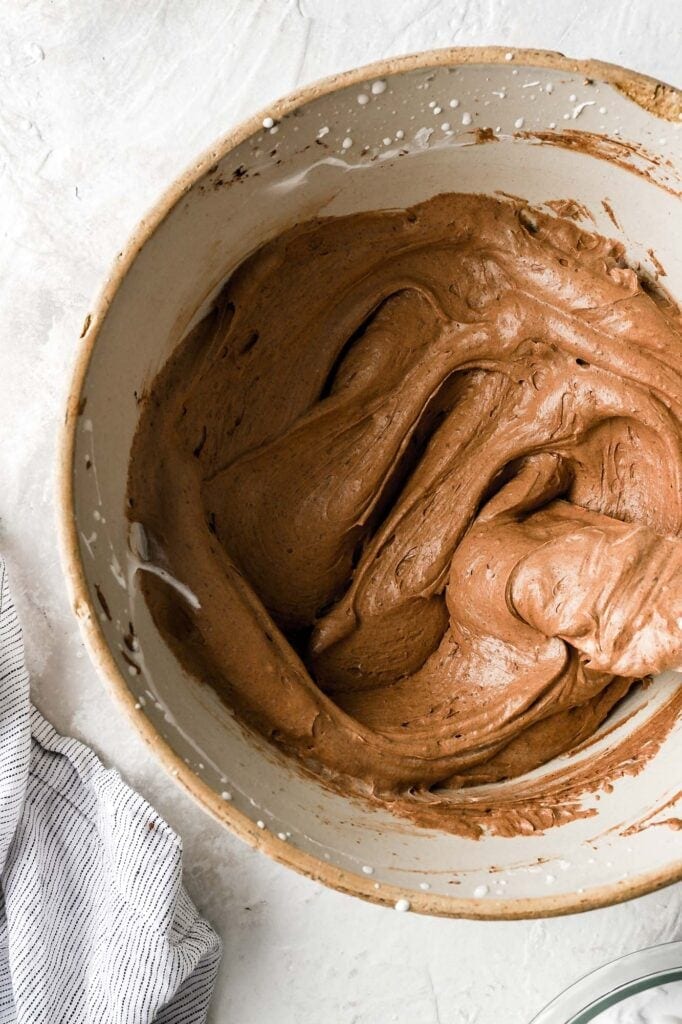 How to use crème Diplomate
Creme diplomate is almost as light as chantilly cream so you can use it in place of any whipped topping. When using gelatin, it's going to "set" the same way a stabilized whipped cream would after refrigerating so keep that in mind.
It can also be used in place of a lighter buttercream as well. For instance, I've seen people use it in a Fraisier Cake but it will be slightly less table than crème mousseline. It would also be great in traditional tiramisu or my tiramisu cake – I've done that before and even added mascarpone to the diplomat cream.
It could be used to frost cupcakes, fill cookie sandwiches, brownies, etc but keep in mind it won't hold it's shape quite as well as a buttercream.
It also won't be as stable out of the fridge so I recommend pairing it with a type of cake that serves well chilled like an oil based cake or any type of sponge cake, like a genoise or biscuit sponge. My 6 inch vanilla cake wouldn't be my first choice to pair it with because that cake serves better at room temperature but I did use chantilly cream in my white forest cake and although I said it's not my first choice, it worked well for a two layer cake and it would replace the chantilly cream well.
This would be phenomenal on my chantilly cake, lemon curd cake, Bavarian cream donuts, cream puffs, eclairs, etc.
Make sure to check out my cookbook Frosted for a million frosting options and how to use them!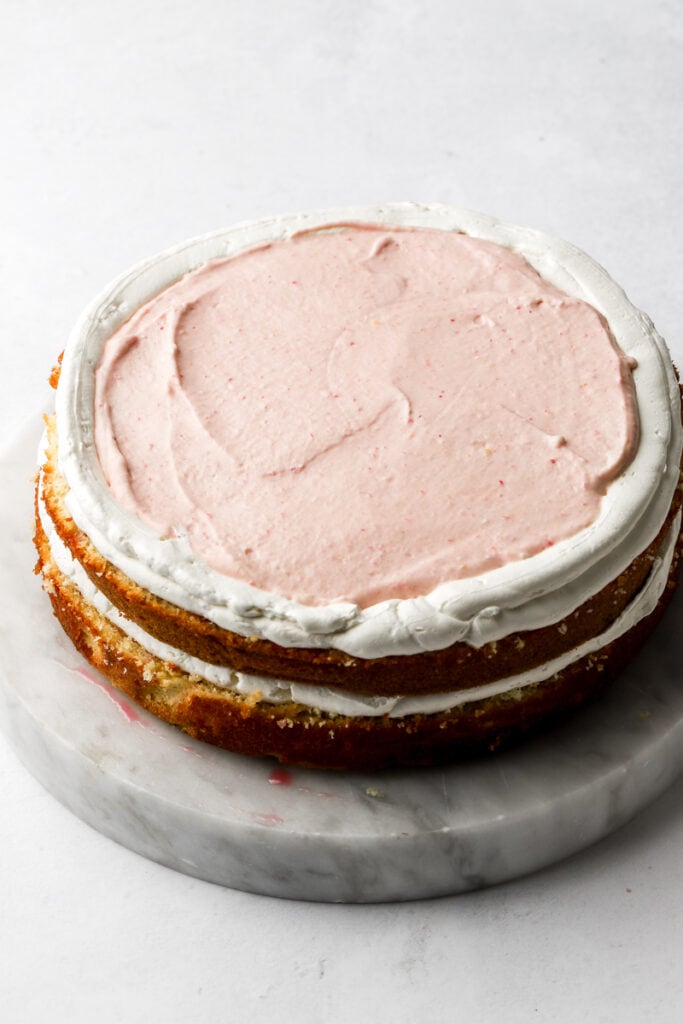 Expert tips on getting the perfect cream
Don't swap ingredients unless I mentioned them in the ingredient section above.
Don't reduce the sugar.
Use fresh when it's made for the best results.
The fridge is your best friend.
Frequently Asked Questions
Can I make dairy free crème diplomat?
Dairy free butter works well but unless you have a dairy free heavy whipping cream you like then probably not. Coconut cream works well but it obviously tastes like coconut. 
Can I use store bought whipped cream?
Yes! So to be honest, this recipe is much easier if you use an 8 ounce tub of Cool Whip just because that's already stabilized and it holds up even better. Make sure you're using Cool Whip and not something off brand and make sure it's the full-fat version. 
If you're using Cool Whip, skip the sugar that gets mixed with the whipped cream and skip the gelatin.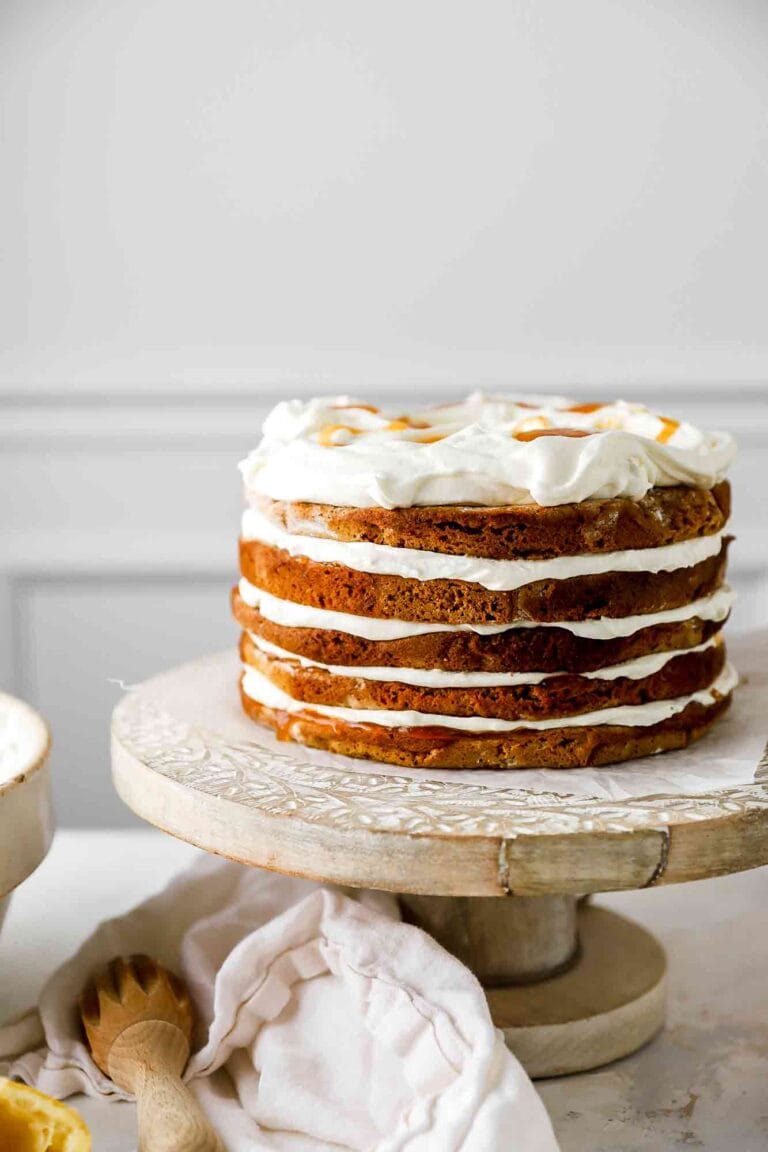 Can it be made ahead of time?
I don't like to make creams ahead of time in general but it can be done. I recommend making the pastry cream portion ahead of time, you can refrigerate for a couple of days but then bring it back closer to room temperature and gently whisk it so it's not lumpy before mixing with the whipped cream.
How to store a crème diplomate?
Since diplomat cream is made with gelatin, once it goes in the fridge it sets and if you mix it, it won't set again. I recommend using it fresh and whatever you use it for (like in a cake), needs to be refrigerated.
I have frozen cakes that had diplomat cream as a filling (with a buttercream frosting on the outside) and have not had any problems with it once defrosted.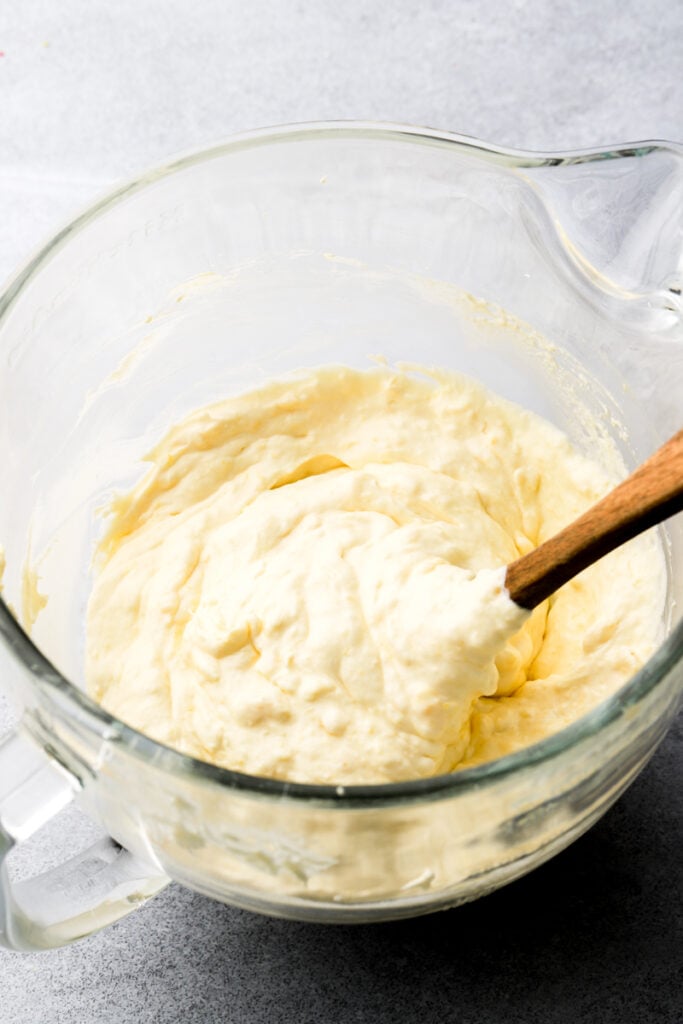 Thanks so much for reading today's post, if you have any questions just comment down below.
If you make this crème diplomate, I'd love it if you left a star rating for me. If it's less than five stars, please leave a comment with the rating so I know why! 🙂
As always, have a blessed day and happy baking!
Love, B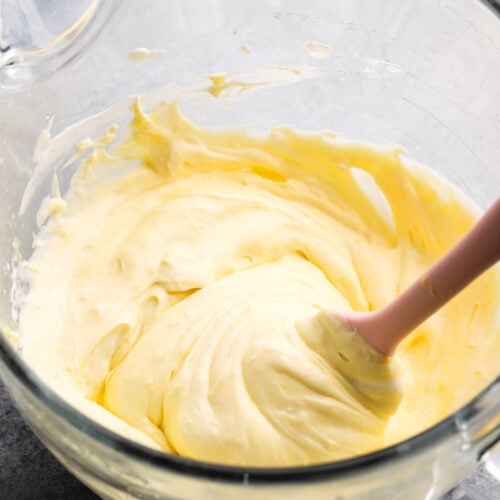 Diplomat Cream
Crème Diplomate, also known as diplomat cream is a super fluffy cream made of pastry cream and whipped cream. Use it as a frosting for cakes, a topping for pies, pavlovas or a filling for donuts, etc. 
Ingredients
3

large

egg yolks

room temperature

1/4

cup

(45g) granulated sugar

scant cup

4

Tbsp

(40g) cornstarch

tiny

pinch

fine sea salt

1

cups

(8oz) whole milk

3

Tbsp

(42g) salted butter

room temperature

2

tsp

vanilla bean paste

or extract (OR steep 1 vanilla bean in the milk for 10-20 minutes before)

3/4

cup

(6oz) heavy whipping cream

cold

1/4

cup

(50g) powdered sugar

sifted

1

tsp

gelatin powder

dissolved in 1 Tbsp of warm water
Instructions
In a medium bowl, whisk together the egg yolks, sugar, cornstarch and salt aggressively for 1-2 minutes, until the mixture becomes smooth and runny, with no more chunks.

3 large egg yolks,

1/4 cup (45g) granulated sugar,

4 Tbsp (40g) cornstarch,

tiny pinch fine sea salt

In a medium saucepan (preferably stainless steel or nonstick – avoid aluminum), heat the milk over medium heat, just until it comes to a simmer.

Temper the eggs by streaming half of the milk into the egg mixture while continuing to whisk.

Dump the whole mixture back into the saucepan and cook over medium-low heat, while whisking continuously.

Within 1-3 minutes, the mixture should start to thicken, continue whisking.

Once it's starting to stick to the pan, whisk aggressively for another 30-60 seconds. Remove from the heat and pour into a bowl with the butter and vanilla.

2 tsp vanilla bean paste,

3 Tbsp (42g) salted butter

Allow the heat from the pastry cream to melt the butter for a second and then gently whisk it. It may separate at first but it'll come back together as you whisk it.

The pastry cream should be smooth and silky now, if you have any lumps, feel free to push it though a sieve.

Cover the surface with plastic wrap and allow it to cool completely to room temperature. If you refrigerate it for a little, gently whisk it to get rid of any lumps before adding it to the whipped cream.

Place the whipped cream in the bowl of a stand mixer with the sifted powdered sugar, fit with the whisk attachment (or a large bowl with a hand mixer). Turn the mixer up to medium-low for a minute or so, until it starts to thicken (so it doesn't splash).

3/4 cup (6oz) heavy whipping cream,

1/4 cup (50g) powdered sugar

Then increase the speed to medium-high and beat just until stiff peaks form. Don't over-mix.

To bloom the gelatin, mix it with warm water until it's dissolved. Microwave for 3-5 seconds if you need to.

Add the dissolved gelatin, chilled pastry cream and any flavors you want to the whipped cream and mix on medium speed, just until it's all combined. Use a rubber spatula to scrape the bottom of the bowl to make sure it's all mixed well.

Use immediately as a filling for cakes, cream puffs, eclairs, etc.
Notes
3 large egg yolks = 1 large egg, can be made either way. 
In traditional pastry cream I like to use 30 grams of cornstarch for a medium stiffness but for diplomat cream I go with 40 grams of cornstarch to give a stiffer texture that is better for piping. 
Nutrition
Serving:
1
cup
Calories:
87
kcal
Carbohydrates:
7
g
Protein:
2
g
Fat:
6
g
Saturated Fat:
4
g
Polyunsaturated Fat:
0.4
g
Monounsaturated Fat:
2
g
Trans Fat:
0.1
g
Cholesterol:
44
mg
Sodium:
31
mg
Potassium:
38
mg
Fiber:
0.01
g
Sugar:
5
g
Vitamin A:
244
IU
Vitamin C:
0.1
mg
Calcium:
26
mg
Iron:
0.2
mg