Chantilly cream is a super fluffy and silky cream made of heavy whipping cream, sugar and vanilla. Use it as a frosting for cakes or a topping for pies, pavlovas and more.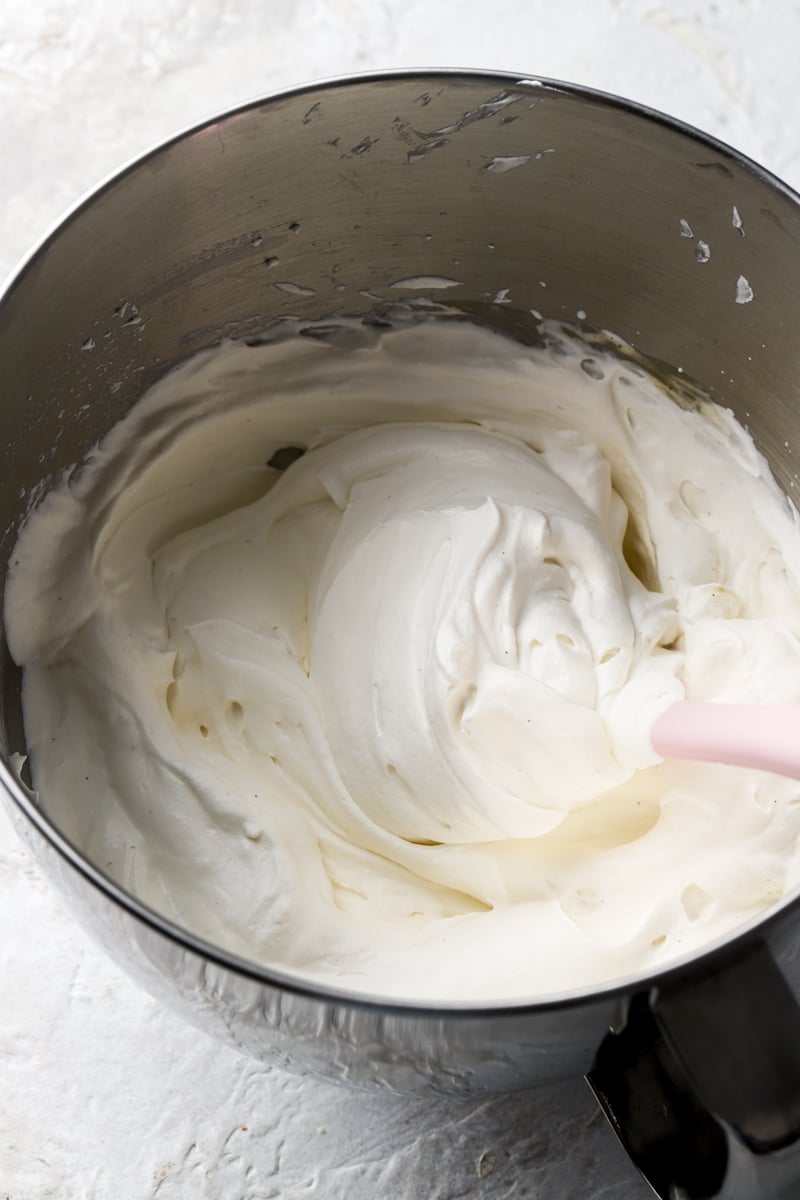 Why you'll love this chantilly cream
It uses only 3 ingredients (plus a little salt) that you probably already have at home.
It takes less than 5 minutes to make.
It can be served on just about anything – used to frost a cake, top a pie, make an icebox cake, in coffee, etc. 
I used this gorgeous cream in my Lemon Curd Cake, White Forest Cake and Chantilly cake.
What is chantilly cream
Over the years I was always under the impression that chantilly cream was a sweetened whipped cream with vanilla. Turns out people have used the name chantilly cream for several other types of creams, some that include cream cheese, mascarpone, a mousseline buttercream base (like pastry cream), etc.
Chantilly cream is thought to originate in France at the Château de Chantilly. This type of cream was originally heavy whipping cream whipped with sugar and vanilla. Nowadays it is also common to add mascarpone to it, however I'm going to let that be called mascarpone cream and you can find it in my Tiramisu Cake recipe.
Difference between chantilly cream and whipped cream
Technically chantilly cream is a sweetened whipped cream but it does imply that it was flavored with vanilla as well…which most people do with whipped cream anyway.
The main difference I found between whipped cream and chantilly cream is that chantilly cream uses about double the amount of sugar than traditional whipped cream recipes. 
Flavor wise the amount of sugar didn't make a huge difference since it's just going from 2 Tbsp to 4 Tbsp of sugar however I found that when you use more sugar (chantilly cream), the texture of the whipped cream feels more "full". 
It's difficult to describe but basically it feels more like a full bodied cream and less like sweet air LOL.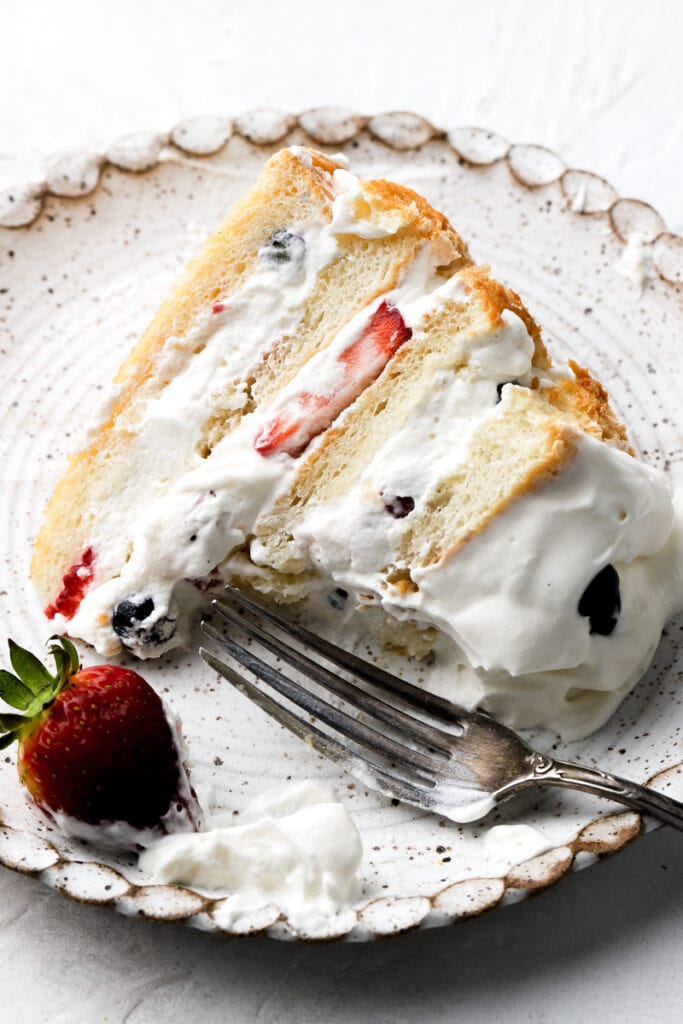 Ingredients
Sugar: Traditionally I believe they used a super fine sugar which is like a cross between powdered sugar and granulated sugar. It's very fine but doesn't contain cornstarch like powdered sugar. I wrote the recipe with powdered sugar but you can use either powdered, super fine or granulated sugar; just make sure you measure it by weight not volume.

I HIGHLY recommend using a digital scale, as powdered ingredients are so often over measured.

Heavy Cream: You'll need heavy whipping cream (or double cream) to make the chantilly cream.

Make sure to use something between 35%-45% fat. I haven't tried a dairy free cream but if you have a dairy free heavy cream or whipped topping you like, feel free to use that instead.

Vanilla: The main flavor here is vanilla so I like to use vanilla bean paste. Vanilla extract and vanilla beans also work, the higher the quality the better the flavor.
Salt: I add salt to everything, specifically fine sea salt because it tastes better. It doesn't make creams salty but I think it just kind of cuts the sweetness and brings out the flavors.  
Step-by-Step Instructions
Step 1: Sift the sugar into the bowl with the salt.
Step 2: Add the heavy whipping cream and vanilla bean paste and whip until it's thick and fluffy and just when it reaches a stiff peak. Don't over-beat or it won't be smooth anymore (and can turn to butter lol).
*If you over-beat slightly, add a touch more cream and fold just until it's combined.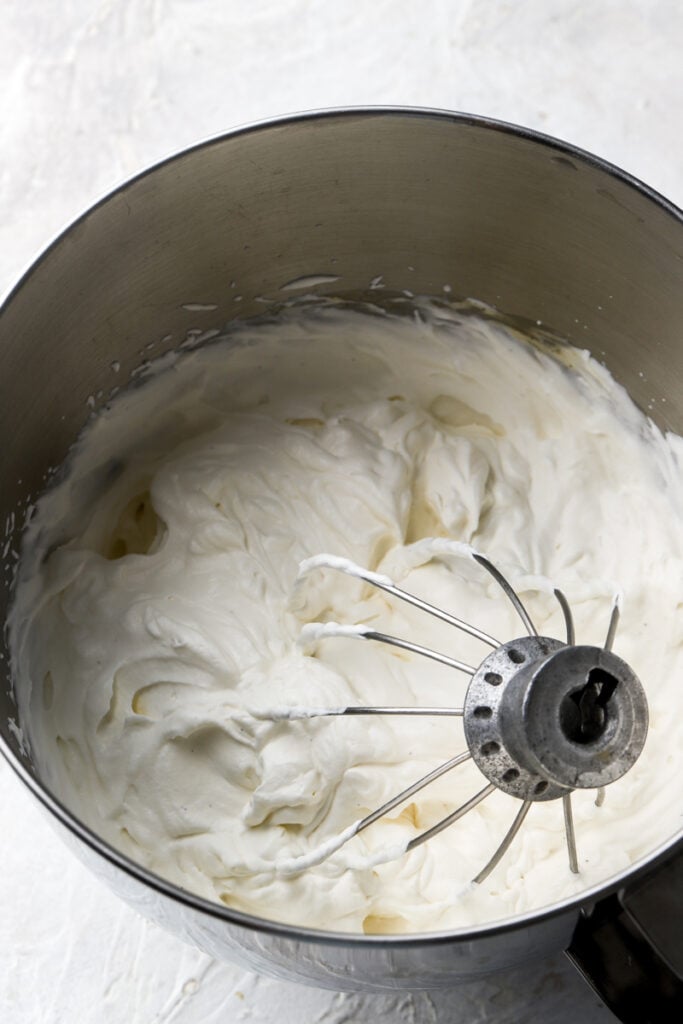 Step 3: Use a rubber spatula to fold it back and forth a little to smooth out the cream and make it look silky.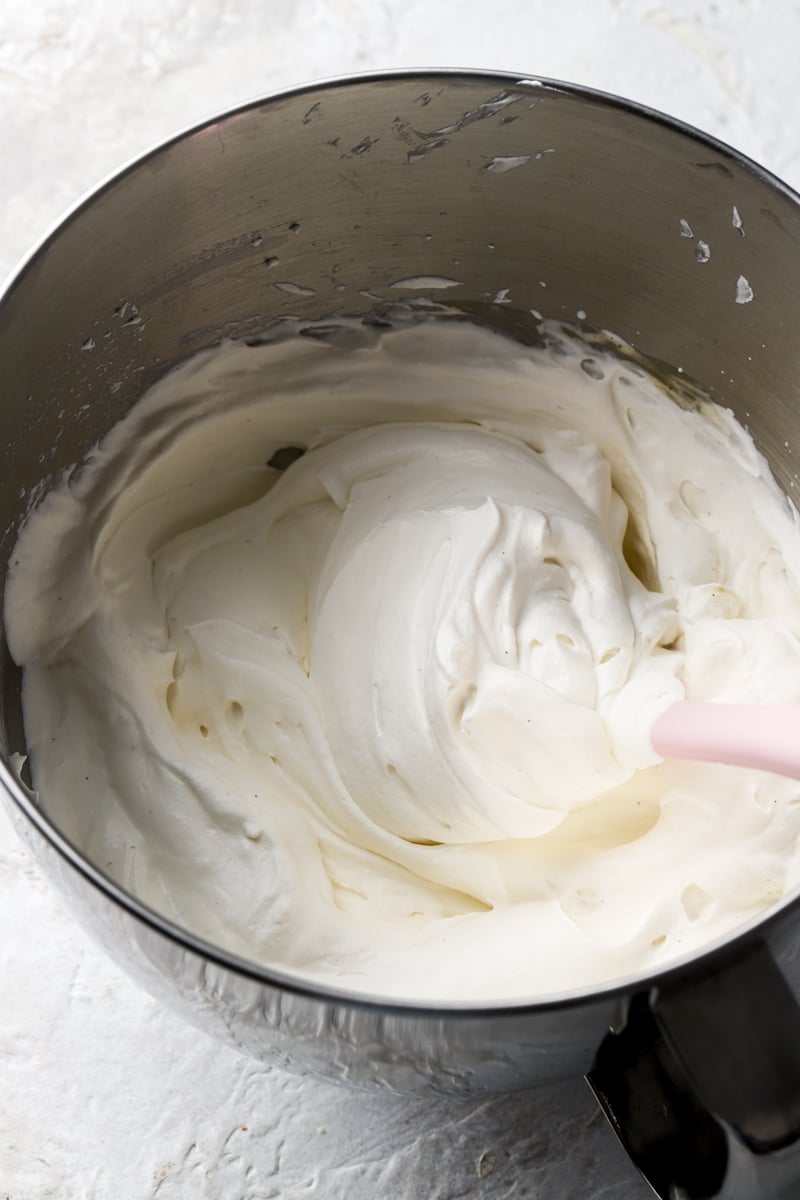 How to use chantilly cream in a cake
When I frost a cake with chantilly cream, I like to keep it simple and rustic like I did for Lemon Curd Cake, White Forest Cake and Chantilly cake just because it's easy and I love how it looks.
If you want to use chantilly cream to frost the outside of a cake too, you can but it will just be a little less sturdy than using buttercream. To stabilize it you can dissolve 1 tsp of gelatin powder into 1 Tbsp of water and add it in with the whipping cream.
Doing this will not make it easier while you're frosting the cake but instead of deflating over time, it will set once it's in the fridge and hold the cake together longer. To be honest, the only time I do this is for ice cream cakes like my moose tracks cake.
NOTE: if you add gelatin to chantilly cream, do not refrigerate it until after you've used it as desired. Once it sets, there's no going back.
If you want to use chantilly cream as a filling and use buttercream to decorate the outside of a cake you'll have to pipe a border of buttercream around the edge of the first layer of cake and then use the chantilly cream in the center. You can see how I did that for my cranberry orange cake. 
I recommend a Swiss Meringue buttercream for decorating but American buttercream also works fine.
Make sure to check out my cookbook Frosted for a million frosting options and how to use them! I also have an ebook, Frosted 2.0, that shows step-by-step photos of all the types of frostings in the cookbook. You can download that below.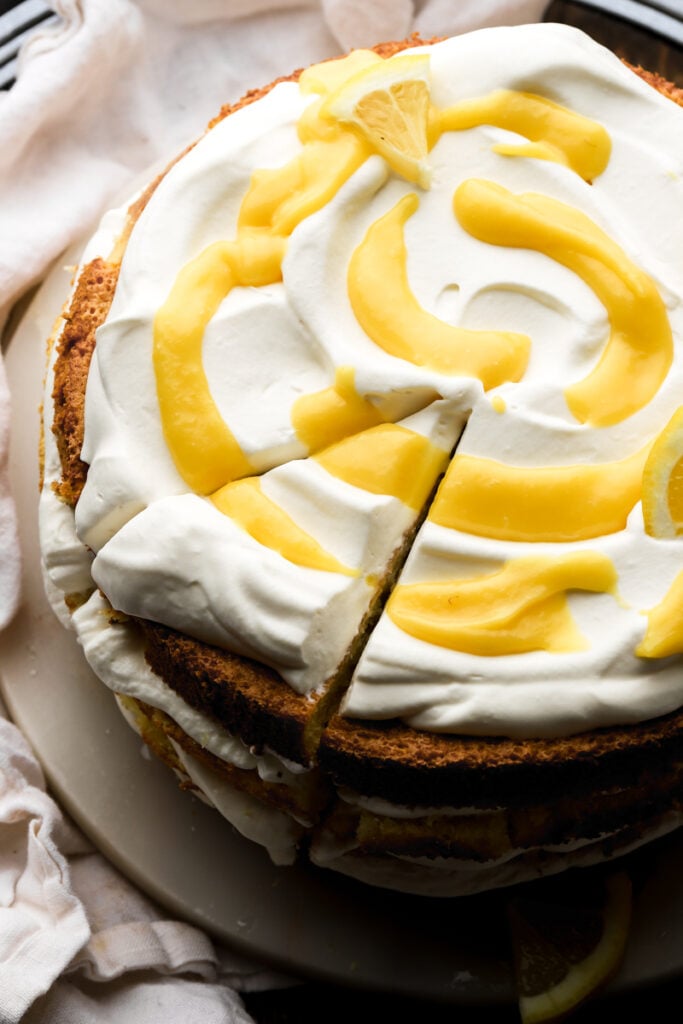 How to flavor chantilly cream
This is exciting because there are endless possibilities. Technically "chantilly cream" is a sweetened vanilla whipped cream…but who's to say we have to stop there? Why can't chocolate chantilly cream be a thing? Don't worry I'm on it. Here are some options:
Add 1-2 Tbsp (5-10g) unsweetened cocoa powder
1/2 tsp almond extract, or any other extract flavors
zest and juice of 1 lemon, lime or orange
1/4-1/2 ground freeze dried strawberries, raspberries, etc.
1-2 Tbsp rum, amaretto, baileys, etc.
Steep the cream with different flavored teas or cereals to flavor the cream (you'll need excess since you lose some cream that soaks into the cereal).
Expert tips on getting the perfect cream
Don't swap ingredients unless I mentioned them in the ingredient section above.
Don't over-mix cream.
Don't reduce the sugar in the cream (it's sweeter than traditional whipped cream but I promise it's not overly sweet like American buttercream). 
Weigh the ingredients with a digital scale.
Don't skip sifting the sugar – this will make sure there are no lumps.
Use it fresh when it's made. 
Frequently Asked Questions
Can I make dairy free chantilly cream?
I haven't tested it but generally heavy whipping cream can be subbed for a coconut cream. Obviously it will have a different flavor but it should work fine. I haven't tried other dairy free creams but if you do, it's best to use something with 35-40% fat.
What type of sugar to use for chantilly cream?
So I tested this several times with different types of sugar and to be honest I could not tell which one was which. I used granulated sugar, super fine caster sugar, and powdered sugar and they all dissolved and were smooth. 
The only thing I recommend is weighing the sugar so you're using the proper amount.
I like using 50-60 grams of sugar for two cups of cream, so ¼ cup of granulated sugar is 50 grams and ½ cup of powdered sugar is about 60 grams. If you use just ¼ cup of powdered sugar (30 grams), it will still be good but it'll be more like a sweetened whipped cream and you'll miss that "fully body" texture I was talking about earlier. 
Making ahead of time
Chantilly cream is best consumed fresh. If you're frosting a cake with it, I recommend making it fresh right before frosting. If you're making it as a topping or to serve along side something, you can make it a day before and store it covered in the refrigerator.
How to store chantilly cream
Chantilly cream is best used fresh but if you have any left over you can cover it and store it in the fridge for 1-2 days. It won't be as fluffy but you can certainly use it to dip fruit or garnish coffee, etc.
You can try re-whipping it a little, that will give it a little more volume again but don't over-whip.
Thanks so much for reading today's post, if you have any questions just comment down below. Make sure to leave it in the comment section because I can't answer in the rating section.
If you make this chantilly cream, I'd love it if you left a star rating for me. If it's less than five stars, please leave a comment with the rating so I know why! 🙂
As always, have a blessed day and happy baking!
Love, B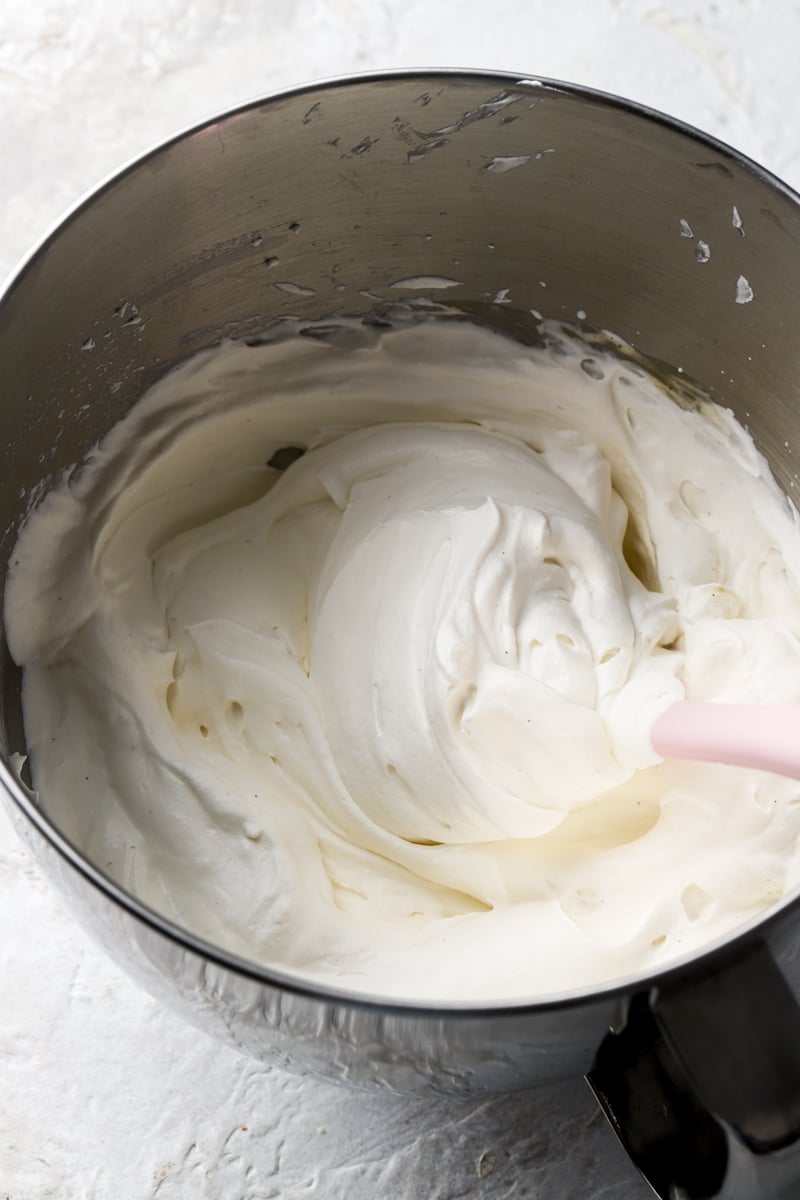 Chantilly Cream Recipe
Chantilly cream is a super fluffy and silky cream made of heavy whipping cream, sugar and vanilla. Use it as a frosting for cakes or a topping for pies, pavlovas and more. 
Ingredients
1/2

cup

(60g) powdered sugar,

spooned and leveled (OR 1/4 cup/50g granulated sugar)

tiny

pinch

fine sea salt

2

cups

(18oz) heavy whipping cream,

cold (18 ounces in weight, not fluid ounces)

2

tsp

vanilla bean paste

OR vanilla extract
Instructions
Sift the powdered sugar and salt into the bowl of the stand mixer (or a large bowl with a hand mixer).

1/2 cup (60g) powdered sugar,,

tiny pinch fine sea salt

Add the heavy whipping cream and vanilla bean paste on top and beat at medium-low speed for about 1-2 minutes, until it starts to thicken.

2 cups (18oz) heavy whipping cream,,

2 tsp vanilla bean paste

Increase the speed to medium-high and continue beating for another 1-2 minutes, until the cream forms stiff peaks. Don't over-beat passed this.

Use the rubber spatula to scrape the edge of the bowl and fold it a couple of times to make it smooth and silky.
Notes
Best used fresh but can be stored covered in the refrigerator for a couple of days. 
Nutrition
Calories:
118
kcal
Carbohydrates:
5
g
Protein:
1
g
Fat:
11
g
Saturated Fat:
7
g
Polyunsaturated Fat:
0.5
g
Monounsaturated Fat:
3
g
Cholesterol:
34
mg
Sodium:
8
mg
Potassium:
28
mg
Sugar:
5
g
Vitamin A:
437
IU
Vitamin C:
0.2
mg
Calcium:
20
mg
Iron:
0.03
mg