Double Chocolate Black Forest Cake
Double chocolate black forest cake made with velvety buttermilk chocolate cake, chocolate diplomat cream, black cherry preserves and fresh black cherries.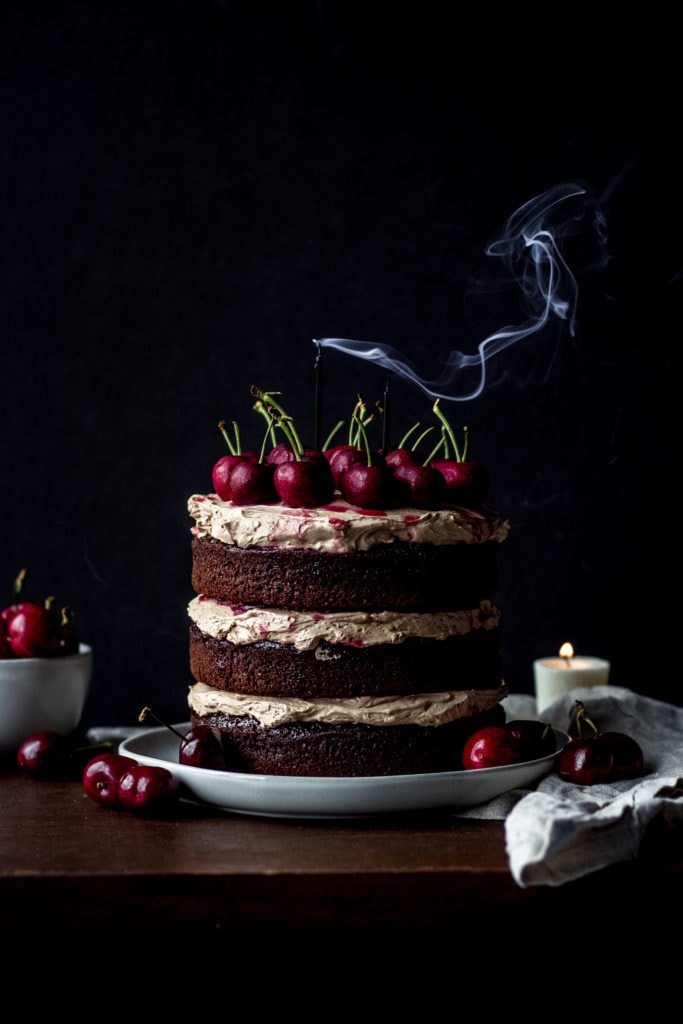 What is black forest cake and why is it called that?
Black forest cake is originally called black forest gateau, black forest cherry torte or Schwarzwälder Kirschtorte. There's a dark forest in southern Germany, where Schwarzwälder Kirsch, a specialty liquor, is distilled from sour cherries (morello cherries) and used to make this cake.
Black forest cake is originally made with chocolate sponge cake, whipped cream, liquor and cherries. Some people use tart cherries and some people use maraschino cherries, I prefer fresh black cherries!
My double chocolate black forest cake is made up of velvety buttermilk chocolate cake with chocolate diplomat cream, black cherry bourbon preserves and fresh black cherries.
How to make double chocolate black forest cake?
This cake may seem a little complicated but I'll walk you through every step, just make sure to read the whole recipe before you get started.
Buttermilk Chocolate Cake
This is a basic chocolate cake recipe. It requires all the usual ingredients but it is a very forgiving cake so if you need to make any substitutions, it will most likely work! Here are some details for what I use.
Flour: I use all-purpose flour and instead of sifting it, I just whisk it with the rest of my dry ingredients.
Sugar: I use regular granulated sugar for this recipe. I would not recommend cutting down on the sugar as the cake is not super sweet to begin with and it will alter the texture of the cake.
Unsweetened cocoa powder: I used dutch process cocoa powder but you can also use natural cocoa powder, just make sure it's unsweetened.
Eggs: I recommend large, room temperature eggs.
Oil: I used a neutral flavored oil but it's also a great recipe for olive oil chocolate cake.
Buttermilk: To make this cake dairy free, you can substitute the buttermilk with dairy free milk or water plus 1 Tbsp of vinegar or lemon juice.
Brewed coffee: coffee is optional and can be replaced with water.
Chocolate Diplomat Cream
I'm sure the majority of you have never made or even tasted diplomat cream but it is, by far, my favorite cream in terms of taste AND texture. It's made out of custard and whipped cream so it's super light and fluffy. It's not great for decorating cakes but it's perfect for replacing the whipped cream in this double chocolate black forest gateau.
If you really like this diplomat cream, check out my cookbook Frosted for more recipes using it or try this heavenly chocolate mousse cake or this honey lemon cake!
Cherry Preserves
You can make your cherry preserves as chunky or smooth as you'd like with help of an emulsion blender. I left mine pretty chunky like cherry pie filling but you can turn it into more of a cherry syrup if you don't like the large chunks.
Can I freeze or refrigerate black forest cake?
You HAVE to refrigerate this cake. You can leave it at room temperature for a couple hours while serving it. But since diplomat cream is made out of whipped cream, I highly suggest 1-2 hours of refrigeration time after assembling it.
Make sure to keep any open slices covered with plastic wrap or in an airtight container after slicing. The cream and cake freeze well separately but I personally don't like to freeze anything with fruit.
If you have any questions about this gorgeous double chocolate black forest gateau, just shoot them my way down below. If you happen to make this layer cake, make sure to tag me @baranbakery on instagram so I can see it! As always, have a blessed day and happy baking!
Love, B
Yield: 12-18 servings
Double Chocolate Black Forest Cake Recipe
Black forest cake is a moist chocolate cake frosted with a whipped chocolate diplomat cream, boozy cherry sauce and fresh cherries on top!
Total Time
5 hours
25 minutes
Ingredients
Chocolate Diplomat Cream
3 large egg yolks, room temperature
1/4 cup (50g) granulated sugar
1/8 cup (20g) Dutch-process cocoa powder, spooned and leveled
1/2 cup (113g) butter
8 oz (227g) cool whip
1/2 Tbsp (7mL) vanilla bean paste or extract
Cherry Preserves
3/4 lb fresh cherries, chopped
1/2 cup (100g) powdered sugar, spooned and leveled
2 Tbsp (60mL) lemon juice
1 Tbsp (8g) cornstarch
1-2 Tbsp (30-60mL) bourbon or kirsch
Chocolate Cake
2 cups (240g) all-purpose flour, spooned and leveled
2 cups (400g) granulated sugar
1 cup (80g) unsweetened cocoa powder, spooned and leveled
2 tsp (10g) baking soda
½ tsp espresso powder
½ tsp salt
2 large eggs, room temperature
3/4 cup (177mL) canola oil
3/4 cup (177mL) buttermilk
3/4 cup (177mL) brewed coffee
1 tsp vanilla extract
Topping
1/4 lb fresh cherries, whole
Instructions
Chocolate Diplomat Cream
Begin by making the pastry cream for the Diplomat cream the night before or at least a few hours before frosting the cake, so it has time to cool.
In a small saucepan, over low heat, whisk together the eggs, granulated sugar, cocoa powder and butter. Allow them to melt and cook while whisking continuously for about 10 minutes.
Once the custard gets the consistency of lemon curd, remove it from the heat and pour it into a separate bowl.
Cover the surface with plastic wrap and allow it to cool to room temperature.
Cherry Preserves
Remove the pit and chop the cherries into quarters. Place them in a medium saucepan over medium heat with the powdered sugar and lemon juice. Allow them to simmer until they soften.
Remove 2 Tbsp of the juice from the pan and mix it in a small separate bowl with the cornstarch.
Add the cornstarch mixture to the cherries and allow everything to simmer over low-medium heat for a few minutes.
Remove from the heat and stir in the bourbon or kirsch.
You can either leave the cherry sauce chunky, or you can use an emulsion blender to make it into a smooth sauce. Allow it to cool completely while baking the cake.
Chocolate Cake
To make the chocolate cake, preheat the oven to 3350/177C convection (or 325F/162C conventional) and grease and line the base of three 6-inch cake pans or two 8 inch cake pans.
In a medium bowl, whisk together the flour, granulated sugar, cocoa powder, baking soda, espresso powder and salt. Set the dry ingredients aside.
In a large bowl, whisk together the eggs, oil, buttermilk, coffee and vanilla extract until they're well combined.
Sift the dry ingredients over the wet ingredients and fold them together just until the last streak of flour is combined.
Distribute the batter evenly among the prepared cake pans (about 16oz each for three 6-inch pan or 24oz each for two 8 inch pans).
Bake for 35-45 minutes, until the center of the cake springs back when it's poked or a toothpick inserted comes out clean. Remove the cakes from the pan and allow them to cool completely.
Assemble
Once the custard for the diplomat cream has cooled, use an electric mixer to beat it on medium-high speed with the cool whip and the vanilla, just until they're combined.
Place the bottom layer of cake on flat surface. Top with ⅓ of the chocolate diplomat cream and a layer of cherry preserves. Repeat with the second layer.
For the third layer, top with the rest of the chocolate cream and fresh, whole cherries. Place it in the refrigerator immediately so it can set for at least 30 minutes to an hour.
Notes
Refrigerate the cake to store and cover any open slices with plastic wrap.
Nutrition Information:
Yield:
12
Serving Size:
1
Amount Per Serving:
Calories:

296
Total Fat:

15g
Saturated Fat:

10g
Trans Fat:

0g
Unsaturated Fat:

4g
Cholesterol:

98mg
Sodium:

227mg
Carbohydrates:

36g
Fiber:

2g
Sugar:

17g
Protein:

5g