Bavarian cream donuts are my super fluffy brioche donuts made extra large, rolled in vanilla sugar and filled with a super light vanilla Bavarian cream filling.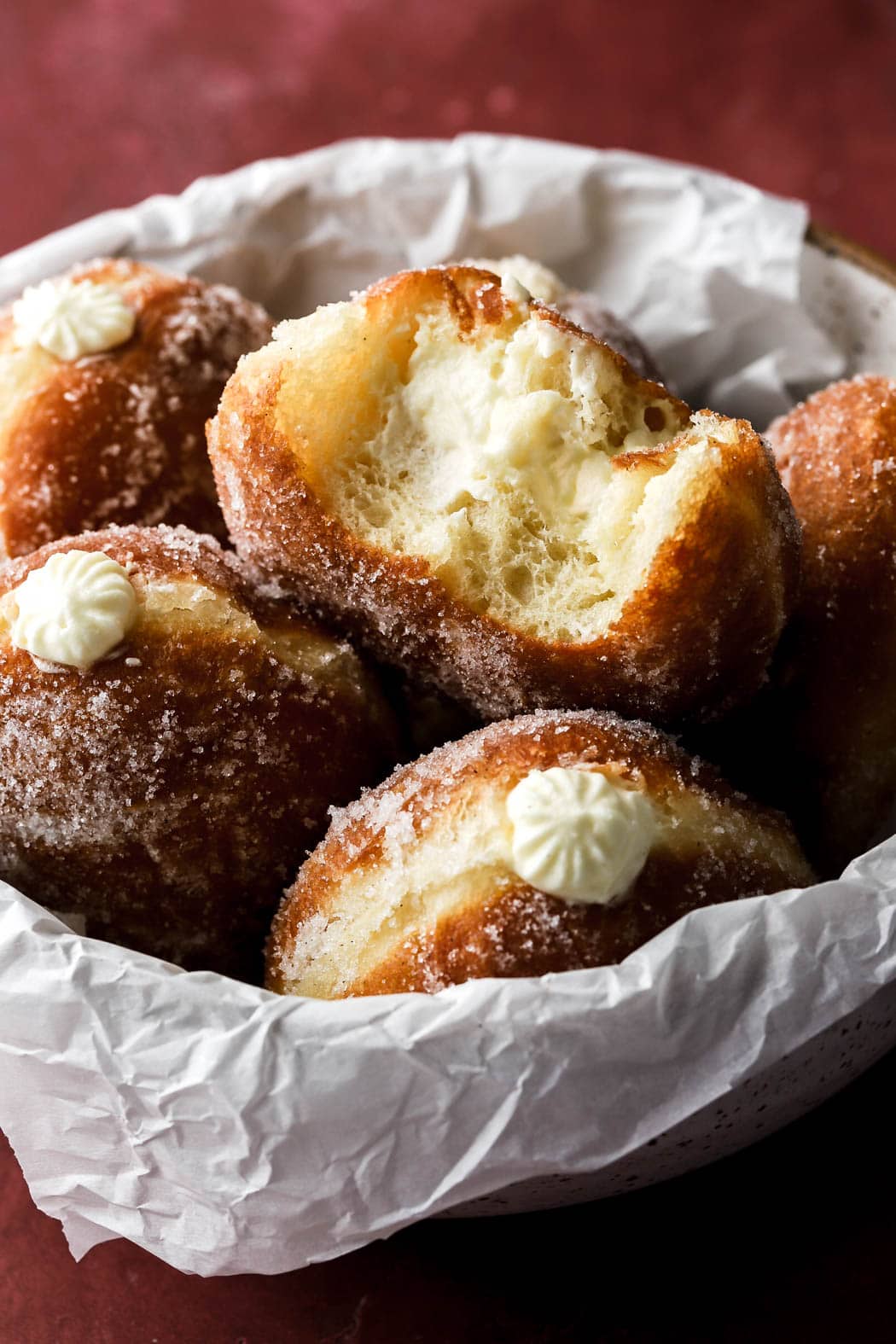 Now that we've learned how to make the absolute best brioche donuts, let's have some fun with the filling shall we?!
First order of business is the Bavarian cream filling which I'll teach how to make below. It's also one of the 14 base frosting recipes in my cookbook, Frosted and I have a chocolate Bavarian cream donut recipe in the book as well.
I'm so excited to try these donuts with more fillings like Nutella, chocolate ganache, COOKIE BUTTER, omg.
Or you can stick to some classics like pastry cream or chantilly cream. Rhubarb jam is a fun twist on a classic and blueberry cake filling sounds lovely as well…ok i'm done.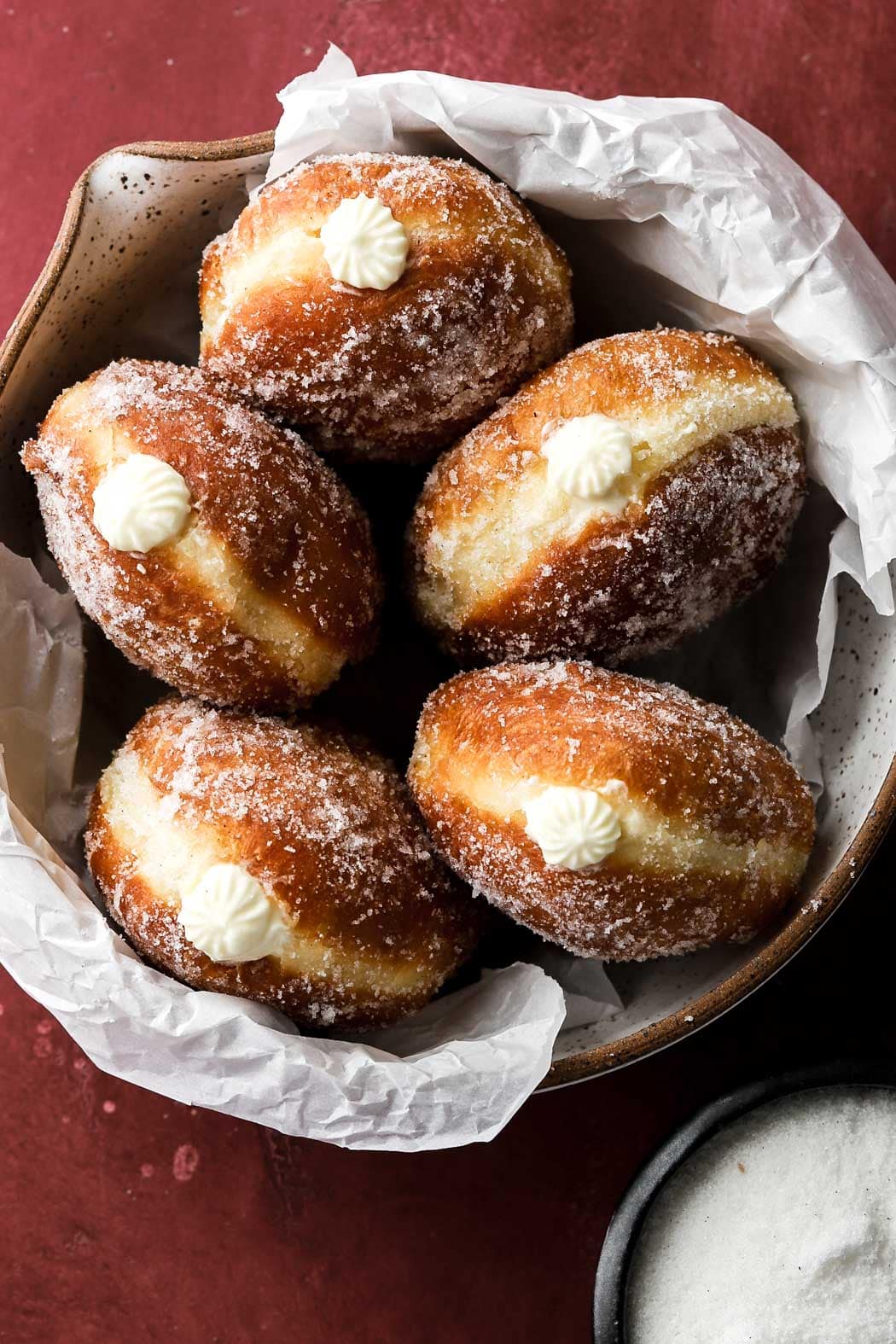 Why you'll love these Bavarian cream donuts
Fluffy brioche donut recipe (that is easier than you think!).
Bavarian cream is a loose pastry cream mixed with fresh whipped cream.
The vanilla sugar!! *drooling*
I'm not going to lie to you and tell you that this recipe is "easy" but I will tell you that it's worth the effort.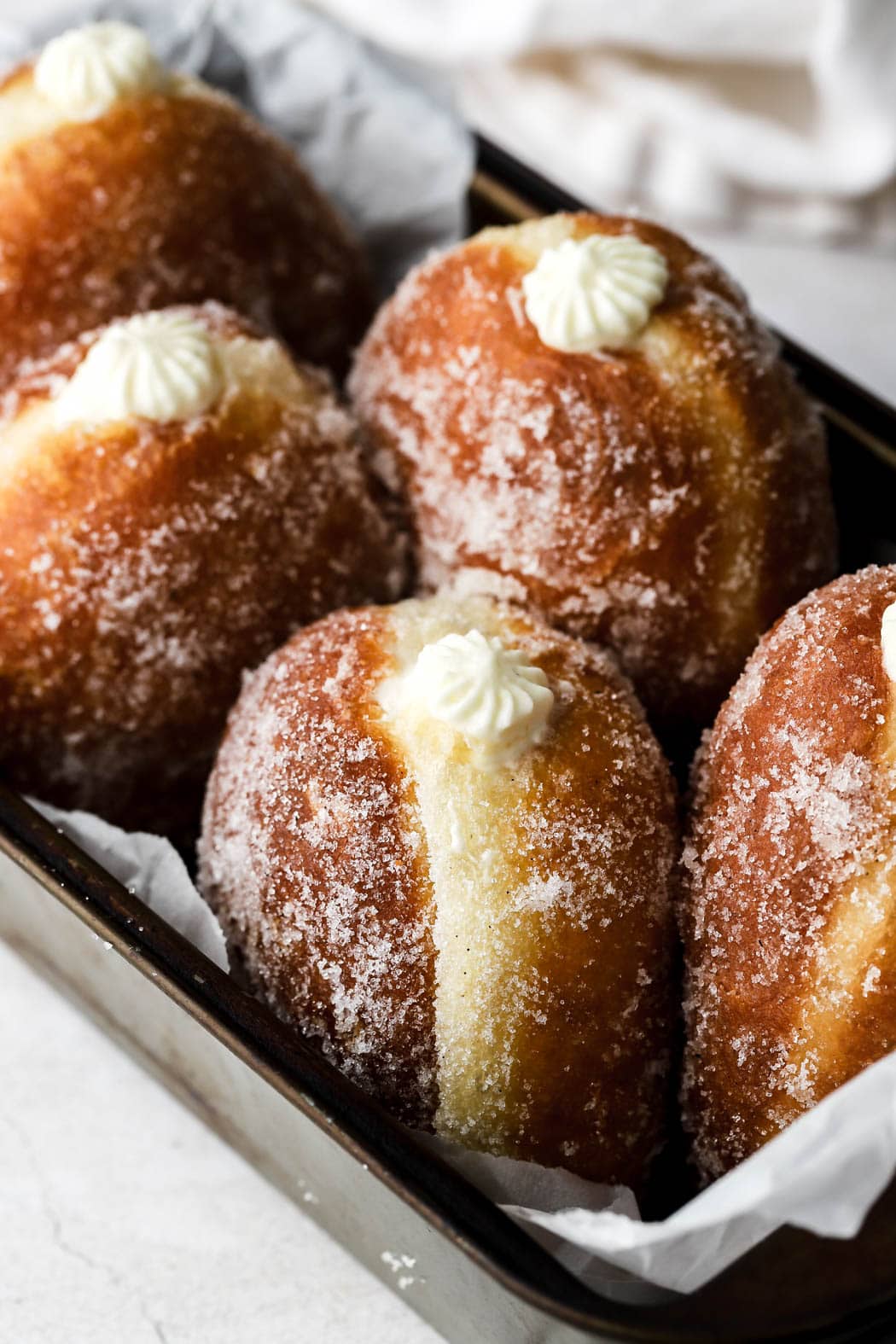 How to make Bavarian cream donuts:
For the sake of not repeating EVERYTHING, make sure to check out my brioche donut recipe for the actual dough used to make the donut. I'll talk more about the Bavarian cream here and how to use it in a donut.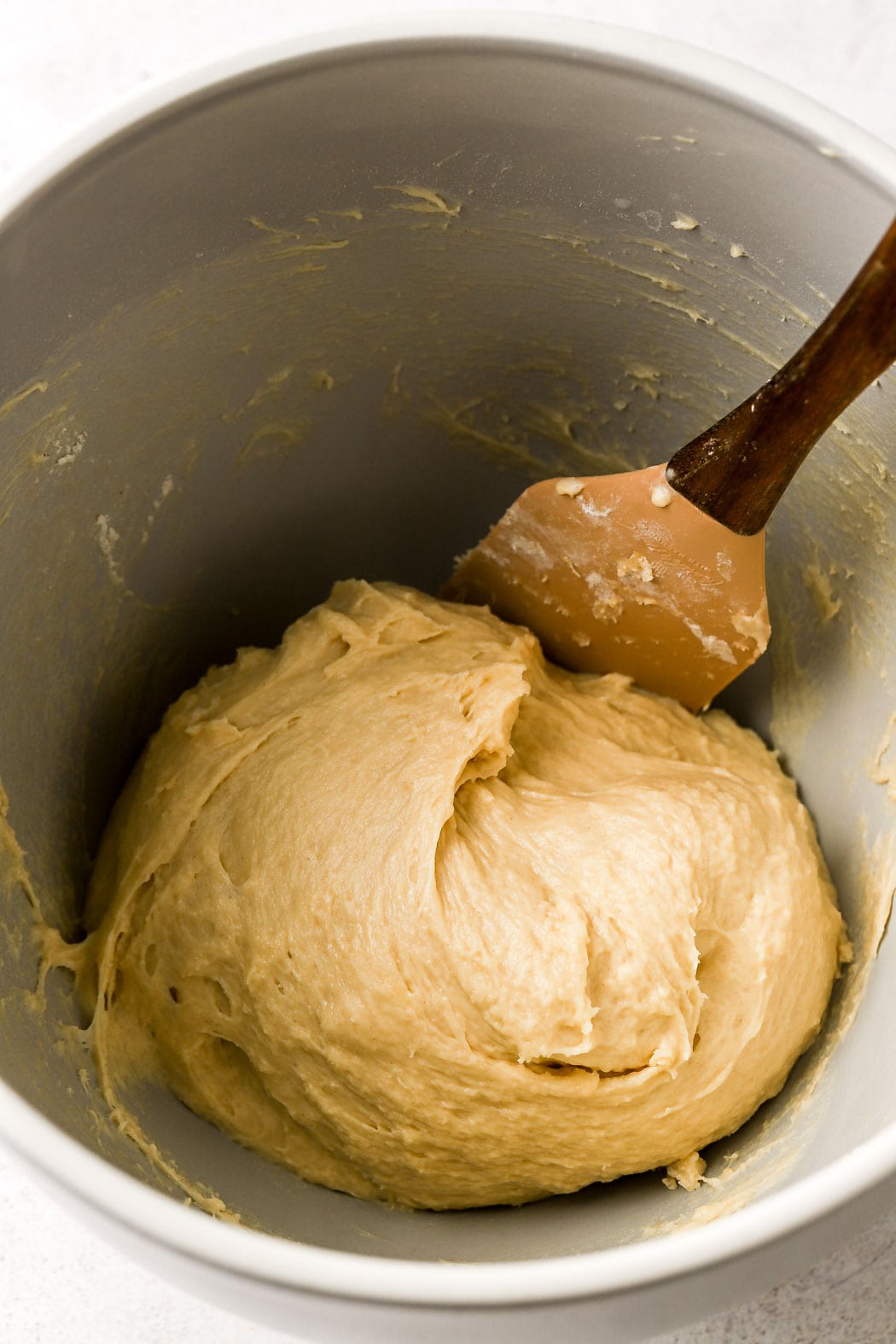 Ingredients for donuts:
Flour: the added fats will weigh down the dough, making the gluten weaker. That can be balanced with a flour that has a higher protein content, such as bread flour.

This recipe is made specifically using all-purpose flour to make it more accommodating for those who don't have access to bread flour.
I highly recommend using a digital scale to measure flour in every recipe.

Water: I've tested this recipe with both milk and water and found that water provides a more pillowy texture for brioche donuts.
Eggs & egg yolks: My brioche has a little more eggs than traditional and the extra egg yolks added provide extra tenderness, making the donuts super pillowy soft.
Yeast: this recipe works with both active dry yeast and instant yeast. I follow the same process for most of the dough except for active dry yeast, you'll want to activate the yeast (see brioche donuts for more details) and for instant yeast, you can just add it in with the flour.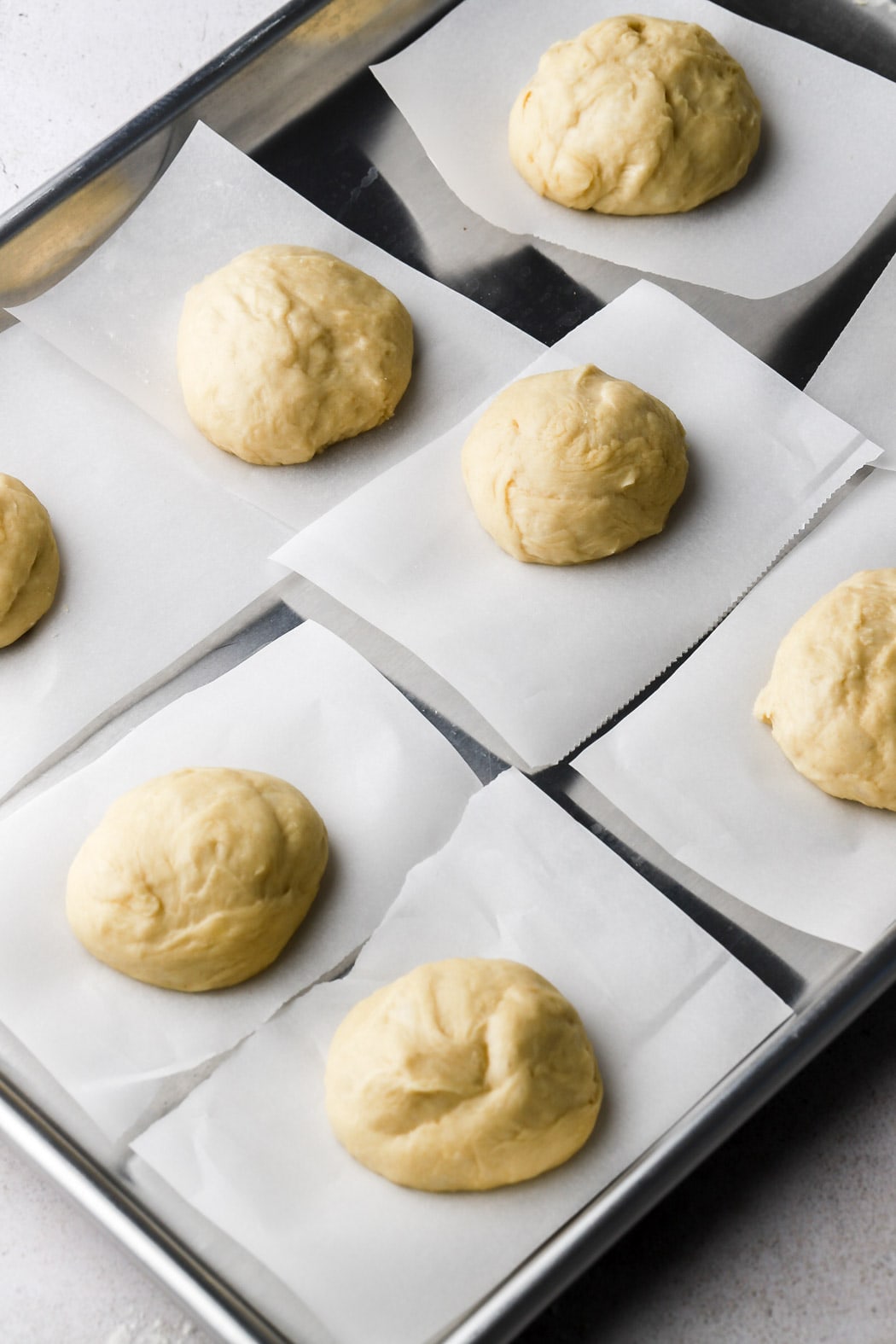 Ingredients for Bavarian cream filling:
Egg yolks – I recommend large room temperature egg yolks. If they're cold, pop the eggs in warm water before separating.
Sugar – I use granulated sugar in the pastry cream portion but brown sugar also works here. I used powdered sugar to make my own whipped cream but you can also use granulated sugar to make whipped cream.
Milk – I prefer whole milk here but any milk will work, even dairy free
Butter – I like salted butter here but unsalted works as well. I like to add a tiny pinch more salt if I use unsalted butter. Make sure it's a soft consistency so it melts easily into the pastry cream.
Whipped Cream – you'll need a whipped cream for this so either whip your own heavy cream with sugar or use an 8oz tub of Cool Whip.
If you looked at the Bavarian Cream recipe in my cookbook, this is a similar recipe but halved and without the gelatin but added butter. The reason I removed the gelatin is because it's just not necessary. The cream goes inside the donut and is supposed to be served fresh. If you were using Bavarian cream in another recipe where you need it to set, gelatin would do that with a prolonged refrigeration time.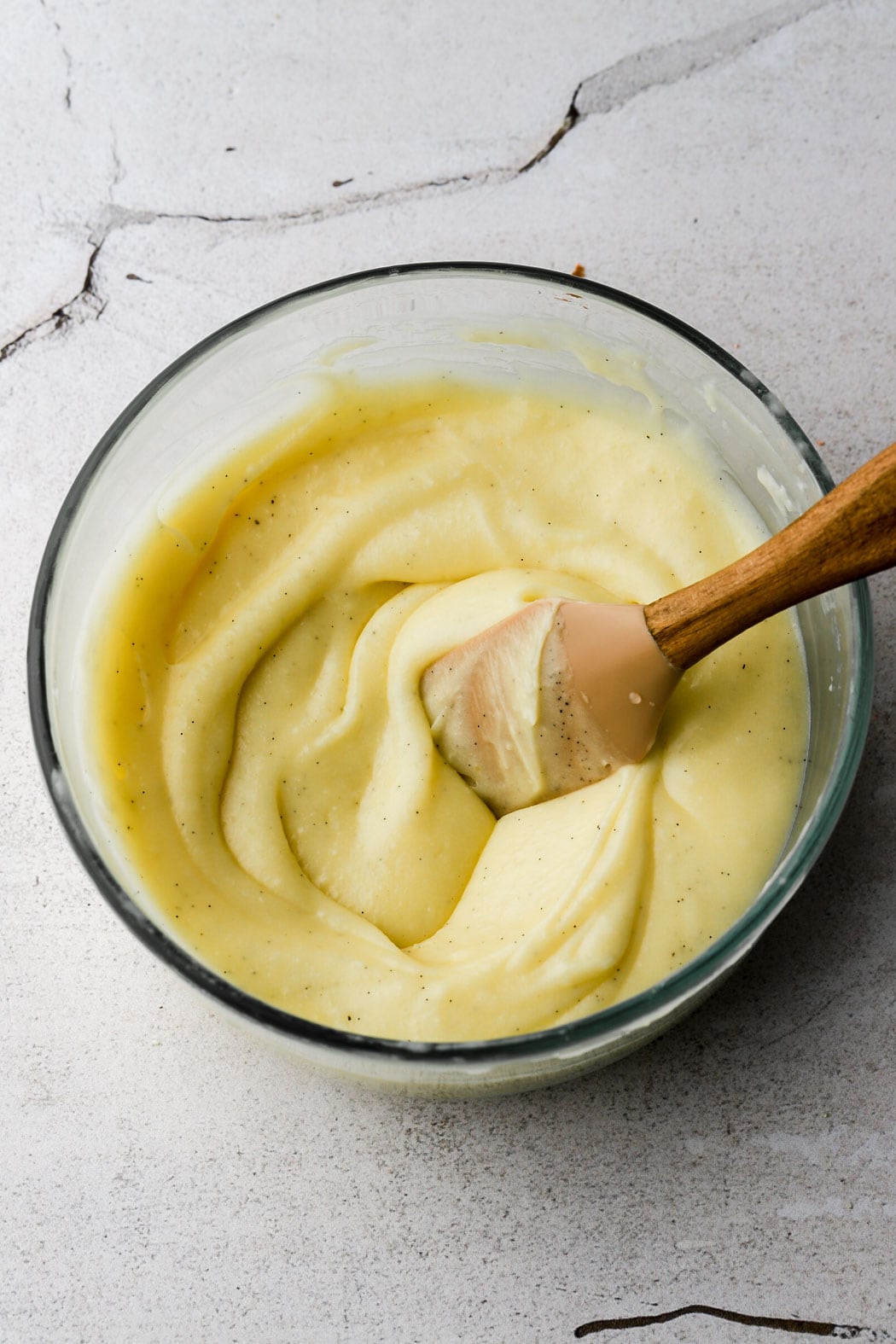 Step-by-Step Instructions for the donuts
Combine the flour, sugar, yeast and salt in the bowl of a stand mixer.
Add the eggs, egg yolks and butter, followed by the warm water, with the mixer on low speed.
Mix until it's well combined, then allow to knead for 10-15 minutes, until the dough pulls itself away from the edge of the bowl.
Allow to proof for 1-2 hours at a temperature between 75F (24C) to 100F (38C), until the dough has doubled in size and is fluffy and bubbly.
Shape the dough by forming a log and then cutting chunks and molding them into round balls. (see video above).
Allow to proof again for 30-60 minutes, until they've doubled in size again.
Fry in 360F (182C) oil for 1-2 minutes on each side, until they're golden brown with a white ring around the center. The donuts should float when they touch the oil and feel lighter in weight when they're fully cooked.
Toss the donuts in vanilla sugar or cinnamon sugar while they're still warm.
Allow the donuts to cool completely before filling with Bavarian cream.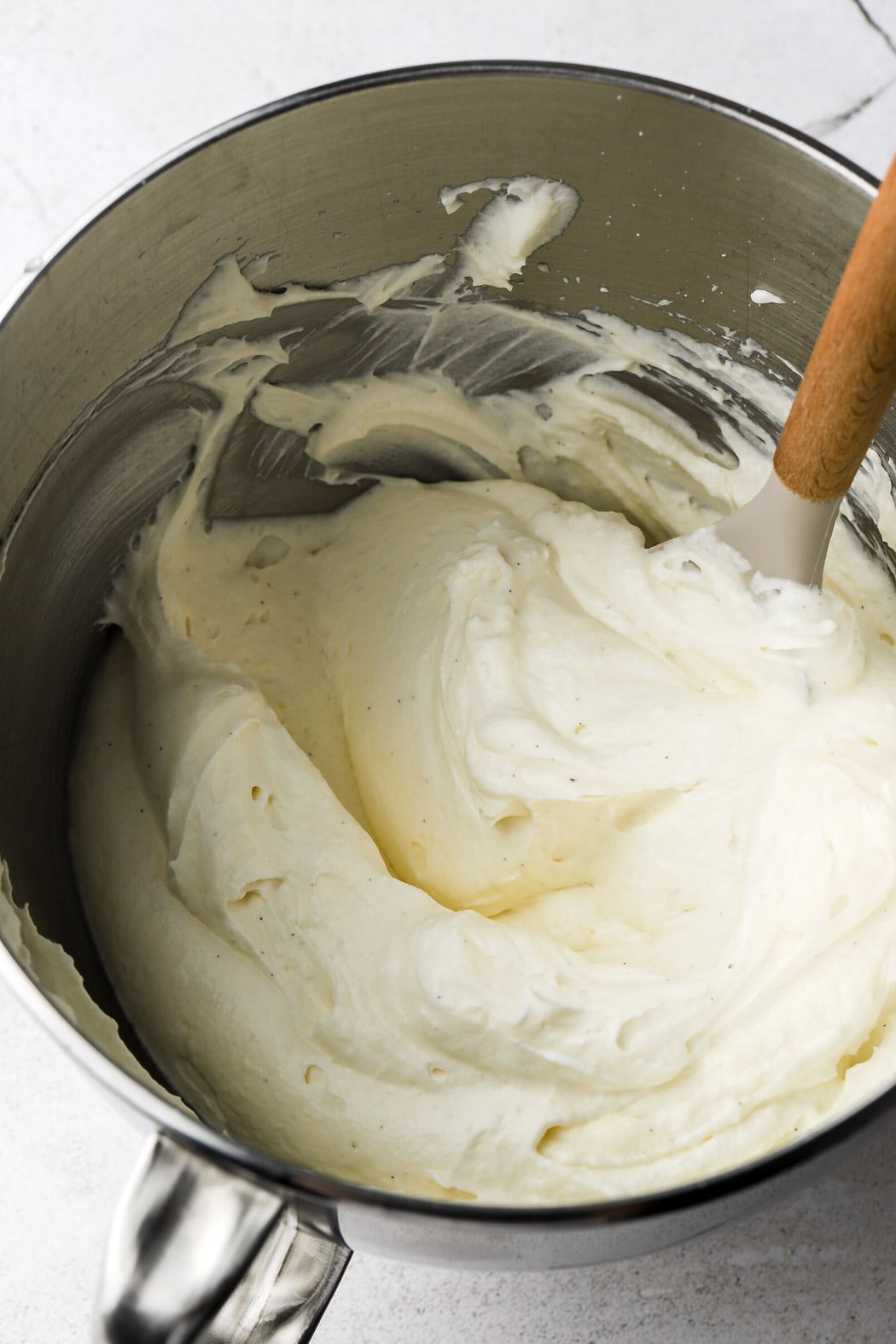 Step-by-Step Instructions for the cream
Make the pastry cream by whisking the egg yolks, sugar and milk over medium-low heat until they've thickened.
Allow the pastry cream to cool to room temperature or chill in the fridge.
Make the whipped cream by beating the heavy whipping cream and sugar to stiff peaks (don't over whip but if you do, add a tablespoon of more cream).
Combine the chilled pastry cream with the whipped cream.
Fill the donuts after they've cooled and serve fresh.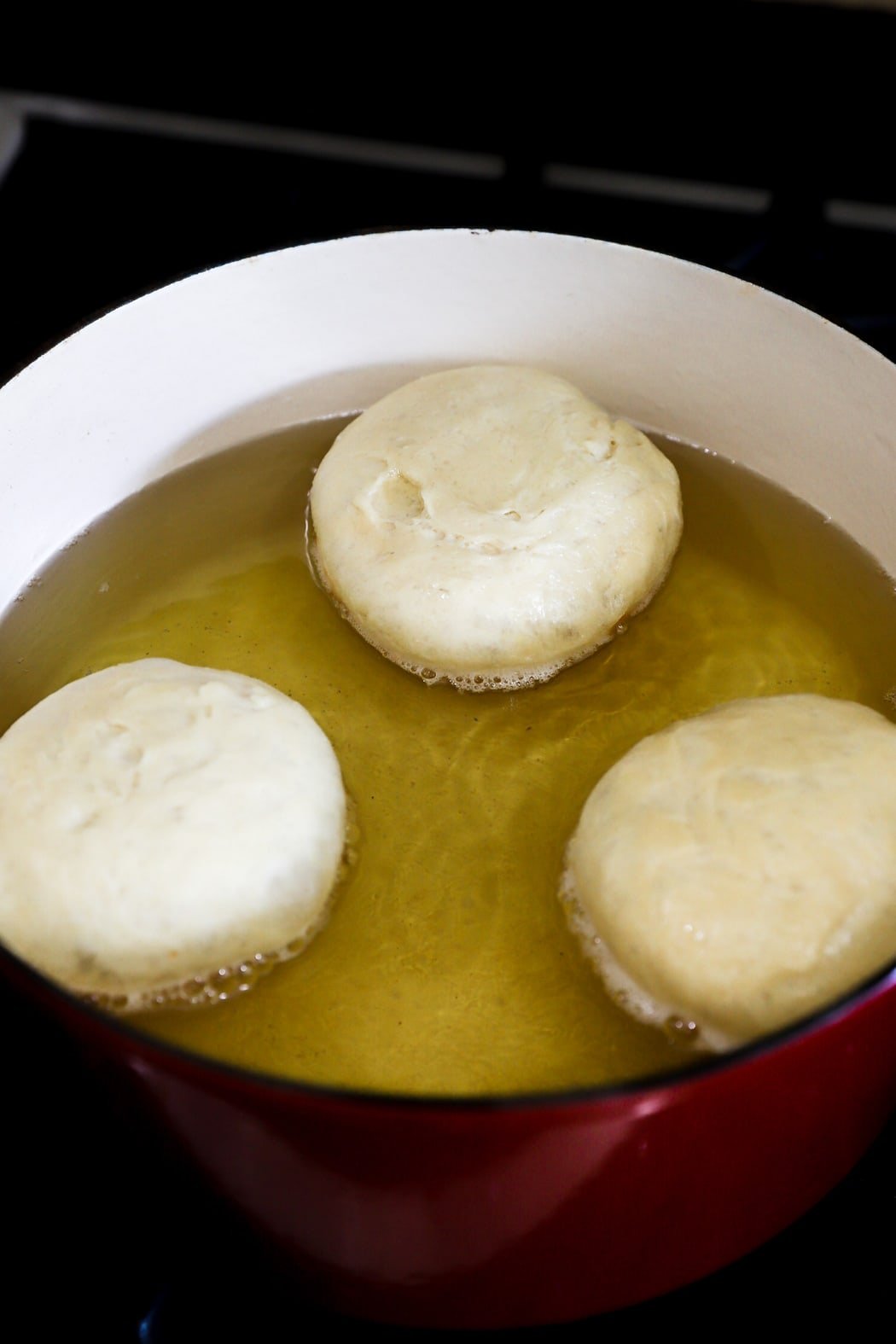 How to properly fry donuts
I would argue that this step is your "make it or break it". For the best success, I recommend using a candy thermometer to make sure your oil is at the proper temperature throughout.
The ideal temperature for the oil is 360F (182C) which means you'll want to use any kind of oil that has a smoke point higher than 400F (204C), just in case your oil overheats a little you don't want to smoke your whole kitchen. I use vegetable, sunflower or canola oil.
To keep the oil at a more consistent temperature, avoid overcrowding the pot. I do 3-4 donuts at a time. Also avoid having no donuts in the pot as well. When you remove one donut, add a donut.
In place of a candy thermometer, you can also use a meat thermometer or an infrared thermometer to check your oil once in a while. To test the temperature of the oil with any kind of thermometer, stick the end of a wooden spoon into the oil. If it doesn't bubble at all, it's not hot enough, if it bubbles slowly and gently, it's perfect. If the oil bubbles violently, it's way too hot.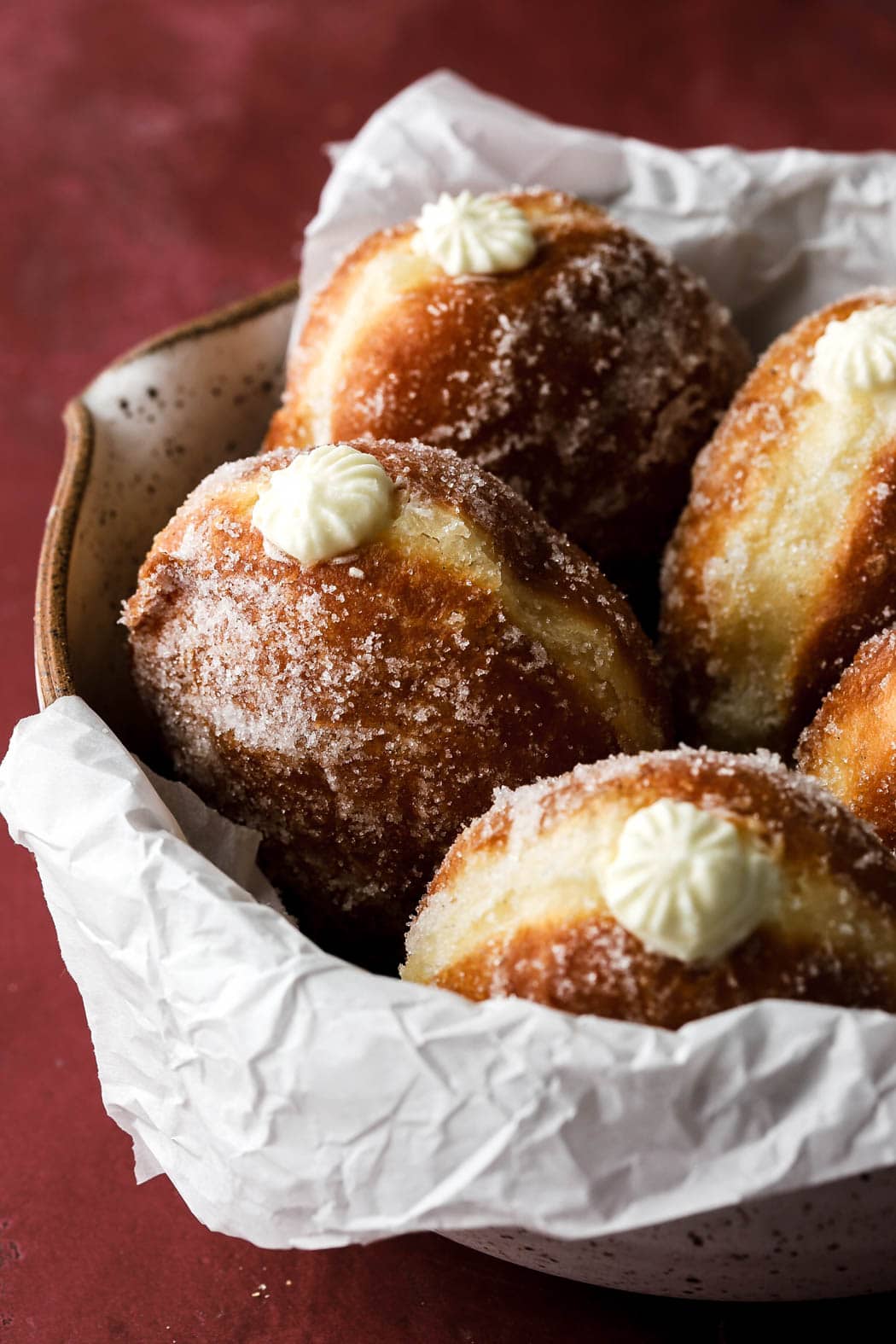 Frequently Asked Questions
How do I know my dough is done kneading?
The dough should form a ball around the hook attachment on the stand mixer and not stick to the sides of the bowl anymore. It may still stick to the bottom of the bowl a little. 
The dough should also pass the windowpane test. The windowpane test is when you stretch a piece of the dough between your fingers until it's thin enough to see light through before the dough tears (photo below).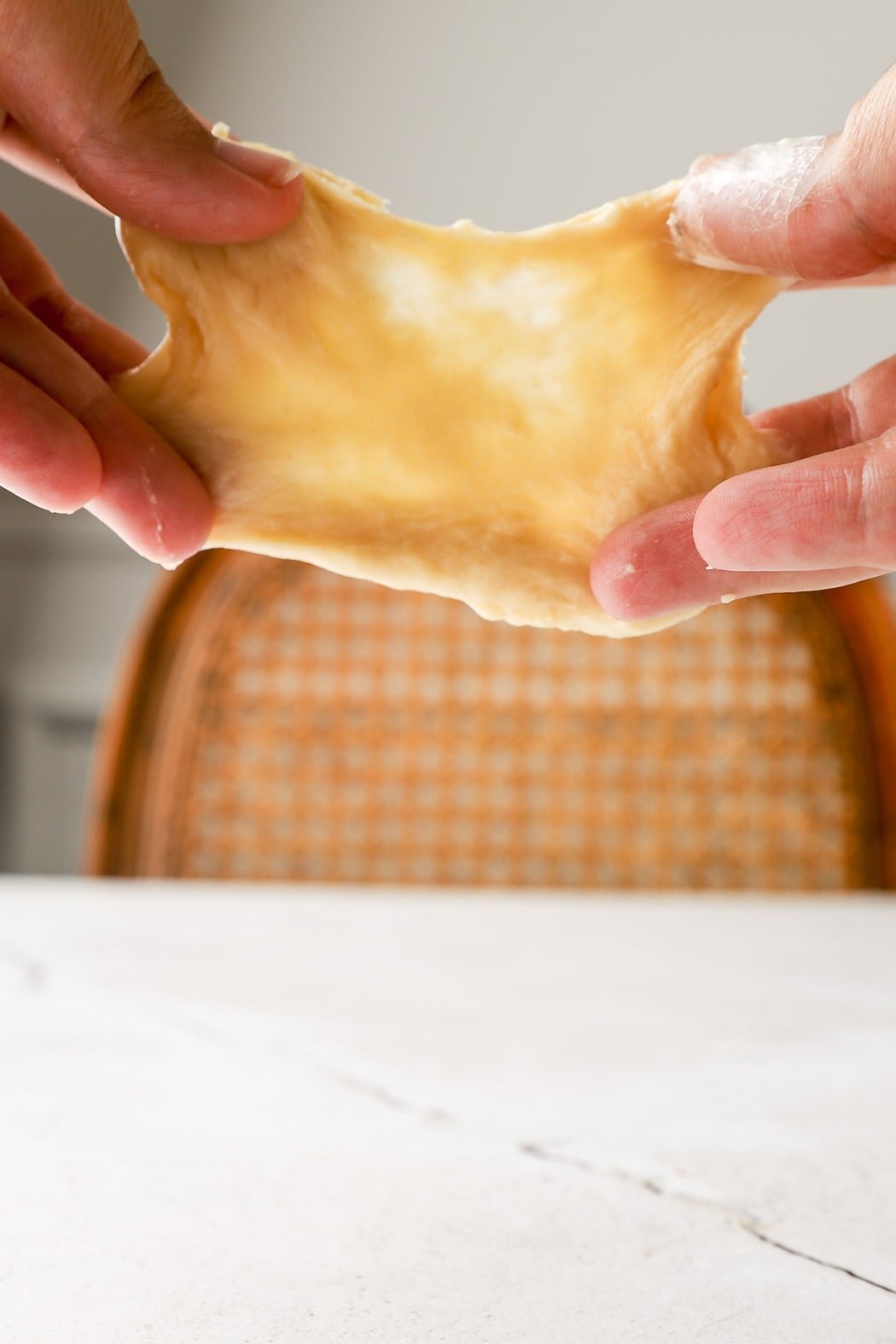 How do I know my dough has proofed enough?
A general guideline is that the dough should double in size each time. It should also slowly spring back when you press on it, but also leave a small indent. 
If the dough springs back quickly, then it needs more time to rise. If it doesn't spring back at all, it may be over proofed and result in a flat, deflated bread.
Can I make these in advance?
I recommend making these the day of serving. They can be made 5-6 hours before serving. 
You can also make the donuts and the Bavarian cream the day before. Store the donuts in an airtight container at room temperature and store the cream in the refrigerator. Fill them before serving. 
You can also make the dough the day before and allow it to proof in the refrigerator. This is called a retarding proof because it really slows down the process. The Benefit of this is that you can just pop the dough in the fridge overnight and the dough will develop a stronger flavor if it proofs for longer (it also makes it easier to work with). 
You can refrigerate the dough overnight for the first proof or the second proof, just bring it back to room temperature before proceeding with the recipe.
What kind of oil to use for frying donuts?
I recommend any neutral flavored oil that has a smoke point higher than 400F (204C). I usually stick to canola oil, sunflower oil or vegetable oil. 
Can I flavor the Bavarian Cream?
Yes! You can add ¼-½ cup of nutella, cookie butter or peanut butter to the Bavarian cream. You can also add 2 Tbsp of cocoa powder with the egg yolk and sugar mixture to the pastry cream. You can add the zest and juice of ½ -1 lemon to the finished cream or 1-2 tsp of any extract. 
To make just vanilla cream I like to add 1 tsp of vanilla extract and/or vanilla bean paste or ¼ tsp of vanilla powder that I make from dried up vanilla pods.
Can I air fry the donuts
FRIENDS!! Yes, I tested this and it worked magically. The only difference is that the outside crust of the donut is dry since it's not submerged in oil. So if you want to coat it in sugar you'll have to brush it with a little butter or something because it doesn't stick. 
I only tested donut holes (about the size of a timbit). I did 400F (204C) for 4ish minutes, flipping halfway. They were perfect but I did not test the big boys but I'm sure it would work.
I would probably lower it to 360F for 5 minutes, then flip them over and do another 5 minutes. Test one first and see if it's done in the center, then do the rest. 
In the photo below, the smallest one is air-fried and the other ones are oil fried.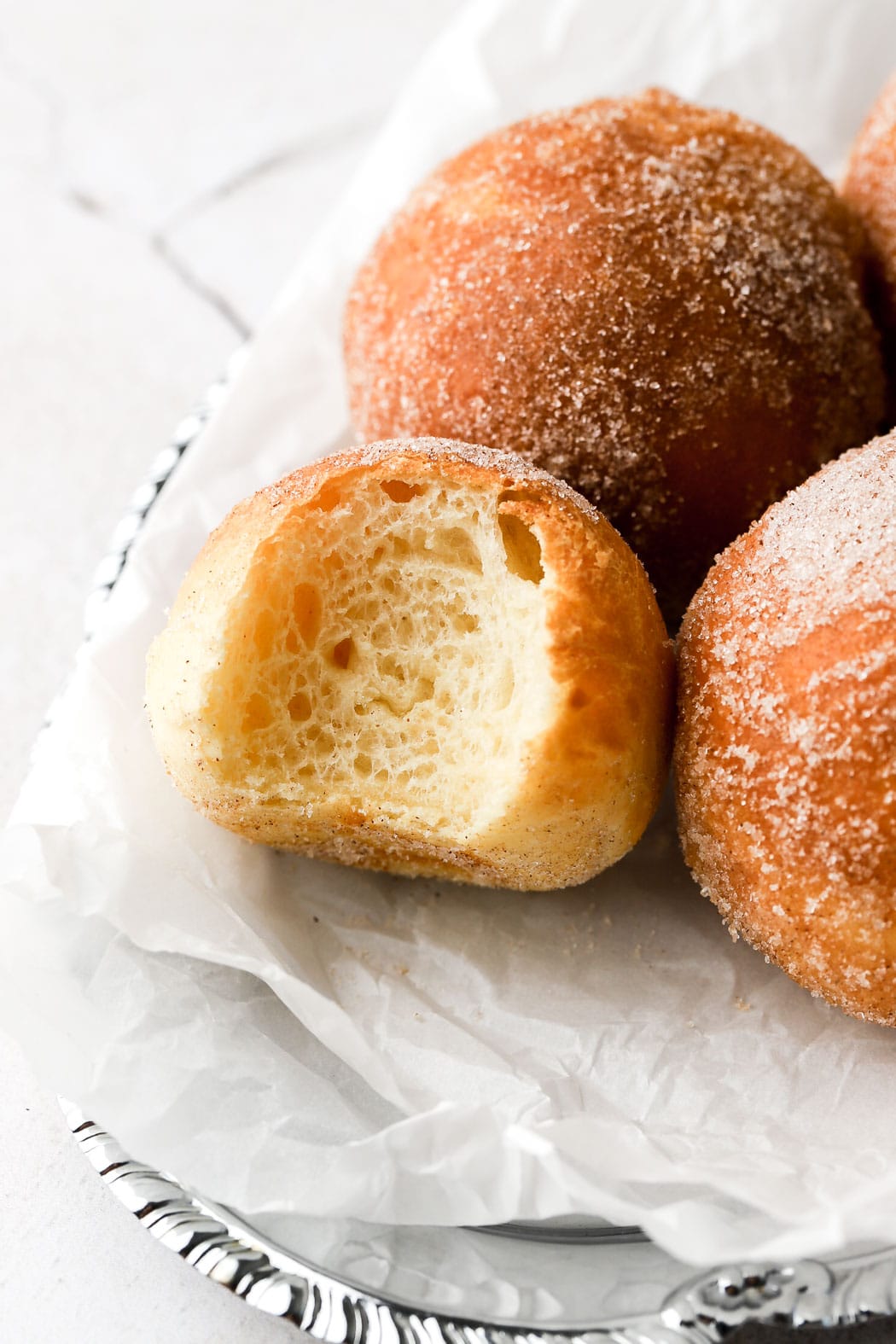 How to store donuts that are filled with cream
Any kind of brioche donut is best served fresh. I love them warm HOWEVER when you fill them with a filling, they must be cooled to room temperature, then served immediately.
To store them overnight, the cream must be refrigerated so place them in an airtight container and refrigerate them for 1-2 days. Bring them back to room temperature a couple of hours before serving again.
I don't recommend freezing donuts filled with Bavarian cream. The cream is likely to separate when defrosted again.
Thanks so much for stopping by, if you make these Bavarian cream donuts, I'd really appreciate a star review <3. Also make sure to tag me @baranbakery on instagram and as always, have a blessed day and happy baking!
Love, B
Yield: 18 donuts
Bavarian Cream Donuts Recipe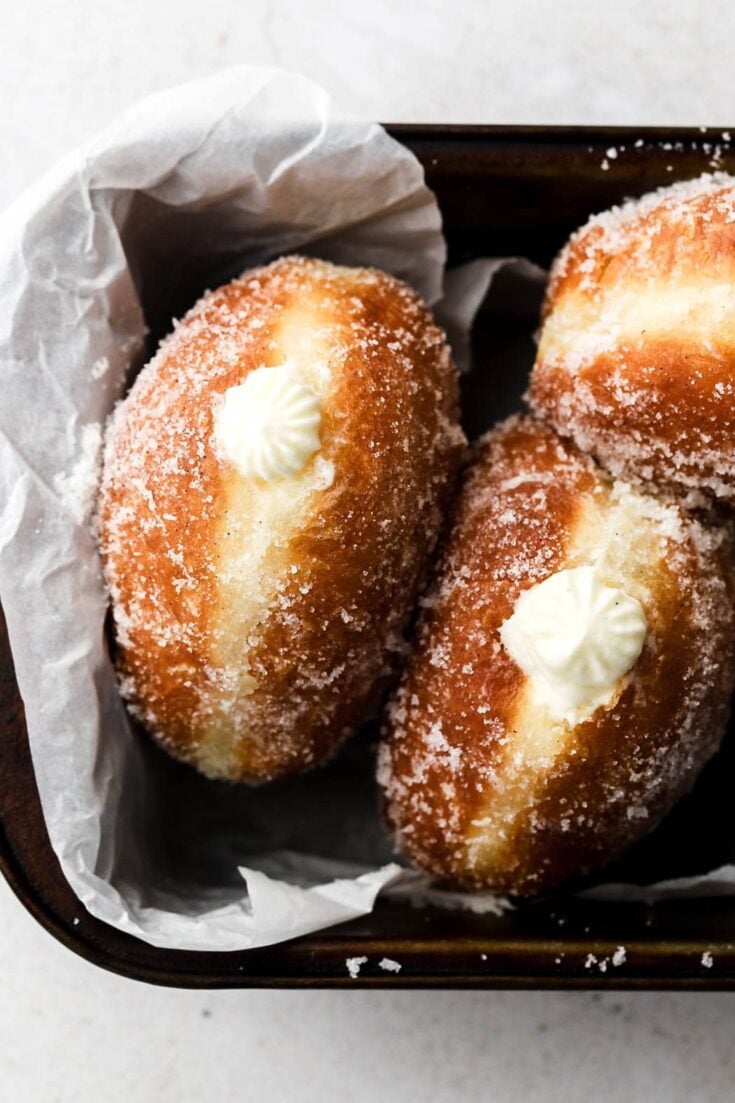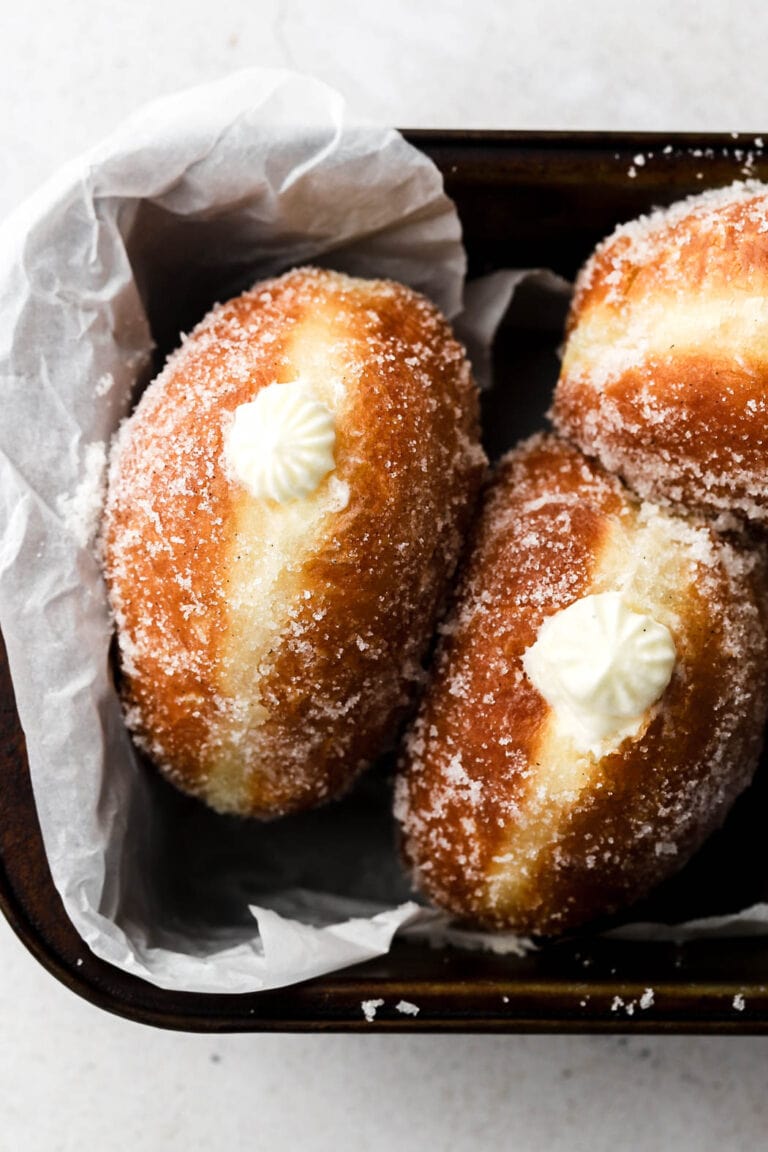 Super fluffy brioche donuts made extra large, rolled in vanilla sugar and filled with a super light vanilla Bavarian cream filling. 
Total Time
5 hours
15 minutes
Ingredients
Brioche Donuts
4 1/2 cups (540g) all-purpose flour, spooned and leveled
2 1/4 tsp (7g) instant yeast
3 Tbsp (36g) granulated sugar
1 tsp salt
2 large eggs, room temperature
2 large egg yolks, room temperature
1/2 cup (113g) salted butter, softened
1 cup (8 oz) water
1 cup (200g) granulated sugar
1 tsp cinnamon and/or 1/2 tsp vanilla powder
48 oz canola, sunflower or vegetable oil
Custard
3 large egg yolks, room temperature
1/2 cup (100g) granulated sugar
⅛ tsp salt
3/4 cups (180 ml) whole milk
2 Tbsp (28g) salted butter, softened
Whipped Cream (OR 8oz Cool Whip)
1 1/3 cups (300 mL) heavy whipping cream, cold
1/4 cup (30g) powdered sugar, spooned and leveled
Instructions
Brioche Donuts
Place the flour, yeast, 3 tablespoons sugar, and salt in the bowl of a stand mixer fitted with the hook attachment. Turn the mixer to low speed, add in the eggs and egg yolks, followed by the softened butter and water.
Once they're all combined, turn the mixer to medium-low speed and allow it to knead the dough for 10 to 15 minutes, or until the dough begins to peel itself away from the sides of the bowl and forms a ball around the hook attachment.
If this doesn't happen within the kneading time, the dough is too sticky; add 1 to 2 tablespoons (7 to 14 g) of flour and continue to knead until the dough comes together.
Test the strength of the dough by stretching a piece of dough between your fingers. The dough should stretch thin enough to let light through before tearing.
Push the dough to one side of the bowl, grease the open side of the bowl, then repeat with the other side. Cover the bowl with plastic wrap.
Place the bowl in a warm environment, in the sunlight or on a stovetop warming zone, and allow it to proof until it's doubled in size; this may take anywhere from 1 to 2 hours.
Line two baking sheets with 16-20 4x4" parchment paper squares, and lightly flour a work surface.
Once the dough has doubled in size and is really fluffy, punch it down and turn it over onto the prepared work surface,
Split the dough in half. Gently roll each half into a log, and cut each log into 8-10 chunks (you can weigh them to make sure they're even if you want, I just cut the log in half, then each side in half and again in half).
Roll each chunk into a tight ball and place the chunks on the prepared baking sheets. Cover the baking sheets with plastic wrap, and place them in a warm environment to proof for 30ish minutes, until they puff up slightly more.
Prepare for frying the donuts by lining two cooling racks with paper towels and spreading the 1 cup of sugar and cinnamon and/or vanilla powder in a bowl.
Ten minutes before the donuts are done proofing, heat the oil in a large pot over high heat to about 360F (182C) on a candy thermometer*, then lower the heat to medium. Use the thermometer to keep the oil within 10 degrees of 360F (182C).
Depending on the size of your pot, place two to four donuts in the oil at a time, being sure to leave space around them. Fry the donuts on each side, turning the donuts with a slotted spoon, for 1 to 2 minutes, or until they are browned.
If it is taking longer than 2 minutes to brown one side of the donut, increase the heat just a little. Work quickly, and avoid having an empty pot, so the oil doesn't burn.
Place the fried donuts on the prepared racks. While they're still warm, toss the donuts in the sugar. Serve warm or let them cool completely to room temperature if filling the donuts.
Custard
In a small or medium saucepan, whisk together the egg yolks and sugar until they're well combined. Add the salt and slowly pour in the milk while whisking.
When the mixture is smooth, cook it over medium-low heat while whisking continuously (but not super aggressively) for about 5 minutes, until it begins to thicken.
Once it begins to thicken, whisk aggressively for one more minute and then pour into a heat safe bowl. Stir in the butter until it's well combined.
Cover the surface of the pastry cream with plastic wrap and allow it to cool to room temperature or refrigerate until it's chilled.
Whipped Cream
Once the pastry cream has cooled, make the whipped cream.
Combine the cream and sugar in the bowl of a stand mixer, and use the whisk attachment to beat the mixture at medium speed until it thickens a bit, about 30 seconds.
Turn the speed up to medium-high, and whisk the cream until it reaches stiff peaks, about 1 minute.
Add the cooled custard to the whipped cream, and turn the mixer up to medium-high speed, beating just until the cream is fully combined.
Use a piping bag to pipe into the donuts and serve fresh.
Notes
*you can replace the homemade whipped cream with an 8 ounces tub of full-fat Cool Whip. I recommend the brand name if you can find it as they're not all made equally.
Nutrition Information:
Yield:
18
Serving Size:
1
Amount Per Serving:
Calories:

396
Total Fat:

22g
Saturated Fat:

10g
Trans Fat:

1g
Unsaturated Fat:

11g
Cholesterol:

131mg
Sodium:

235mg
Carbohydrates:

43g
Fiber:

1g
Sugar:

19g
Protein:

7g
Nutrition information may not be fully accurate.