Coffee oreo cake is one of my long time favorite cakes! It's a vanilla sponge soaked in sweetened coffee and frosted with a creamy coffee and oreo diplomat cream!
It's hereeeeee! It seems like people were really excited about this cake coffee oreo cake when I posted it on instagram stories. If I'm being honest, these images didn't quite turn out as I hoped but I think they still show how amazing this cake is. I know I used to say it all the time but I've been really good about not saying something is my favorite, for like a really long time so I'm going to say it. THIS IS ONE OF MY ALL TIME FAVORITE CAKES!
If you don't already know, my mom is a baker & she bakes mostly European desserts which includes sponge cakes. This is her base recipe for coffee cake, that I've loved since I was like 5. So what could be better than my favorite coffee cake?! My favorite coffee cake PLUS OREOS duhhhhh! Like let's be honest, if you've ever tried coffee and Oreos together, you know it's better than Oreos and milk. Yes I said it and I don't regret it. If you haven't tried coffee and Oreos THEN WHAT ARE YOU WAITING FOR!!! I feel like I'm yelling a lot in this post…my apologies.
How to make sponge cake
There are many different types of sponge cakes but this one is actually called a biscuit sponge. Sponges cakes, in general, all start with the same base of whipped eggs. Biscuit sponges have no extra fat added to them besides the egg yolks. From my understanding, it's the same base that makes ladyfingers but ladyfingers have twice as much flour.
What I love about sponge cakes is that the ingredient list is super short, they're super quick to make and they're much lighter than butter/oil cakes.
What you'll need:
Eggs – Always use large, room temperature eggs. They get separated to beat the egg whites into a meringue so make sure not to let any fat from the yolks seep into the egg white mixture.
Flour – I use all-purpose flour. Many people still sift their flour for sponge cakes but I don't find a difference when I do or not. The main difference would just be over-measuring the flour, which I highly recommend weighing it with a  digital kitchen scale to avoid that.
Sugar – I use granulated sugar for the cake and the coffee
Coffee – Sponge cakes always need to be soaked in some of kind of liquid because they kind of have a funny spongy texture without. Many times this just a quick simple syrup but for this recipe I went with sweetened coffee.
How to make coffee oreo diplomat cream
Diplomat cream is one of my favorite creams. It's what I grew up eating on cakes in place of buttercream. It's made with whipped cream so it's not a buttercream, which makes it super light and fluffy and delicious to eat but difficult to decorate with and definitely not something you'd want to leave out in the heat.
Diplomat cream has a custard base, where the egg yolks, butter and sugar get cooked until they're thick. Then once they're cooled they're combined with a stabilized whipped cream and the Oreos get folded in. You can see all the step-by-step photos for the diplomat cream in this chocolate mousse cake post.
FAQs
Can I frost the outside of the cake with diplomat cream
You can use diplomat cream to frost the outside of the cake but I find it a little bit difficult since it's softer like whipped cream instead of buttercream. If you want to heavily frost the outside and decorate it fancy, I recommend using a buttercream for that. Depending on how much you want to decorate, I would do half to one batch of Swiss meringue buttercream, French buttercream or American buttercream. You can do other ones too, any of them from my cookbook Frosted, would work the same!
Can I use Cool Whip instead of stabilized whipped cream
Yes! I recommend using 16oz of Cool Whip instead of the whipped cream, powdered sugar and gelatin. Place all the Cool Whip in a large bowl, place the cooled custard and dissolved coffee on top of it and use an electric mixer to beat them together until they're smooth.
Can I use a different buttercream for the cake instead of diplomat cream
I personally don't like to use buttercream with this type of sponge cake because the sponge is so soft and buttercream is much thicker and heavier. I think the light diplomat cream, or even a cream cheese frosting or stabilized whipped cream goes better. The cake is so soft that you have to refrigerate it for some amount of time, and buttercream hardens when it's chilled so I just don't think the two would pair well together.
If you love Oreos as much as I do, check out my Oreo cake recipe. Make sure to tag me @baranbakery on IG if you make this coffee Oreo cake and leave a review down below! As always, have a blessed day & happy baking!
Love, B
Yield: 10 slices
Coffee Oreo Cake Recipe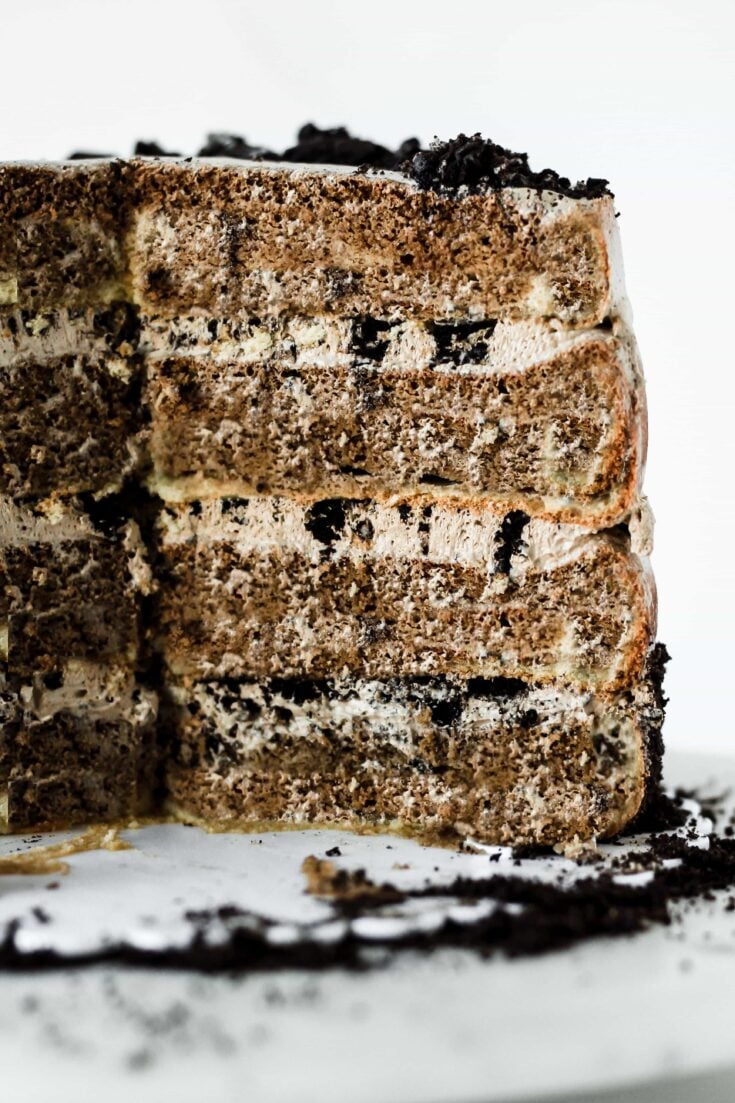 Coffee oreo sponge cake is one of my long time favorite cakes! It's a vanilla sponge soaked in sweetened coffee and frosted with a creamy coffee and oreo diplomat cream!
Total Time
4 hours
20 minutes
Ingredients
Coffee Oreo Diplomat Cream
6 large egg yolks, room temperature
1/2 cup (100g) granulated sugar
1 cup (227g) unsalted butter, softened
2 tsp gelatin dissolved in 2 tsp water
2 tsp espresso powder or 2 Tbsp instant coffee dissolved in equal amounts of water
2 1/2 cups (20oz) heavy whipping cream
1/2 cup (60g) powdered sugar, spooned and leveled
12 Oreos, roughly chopped
Vanilla Coffee Sponge Cake
12 large eggs, room temperature and separated
1 cup (200g) granulated sugar
2 cups (240g) all-purpose flour, spooned and leveled
1/4 tsp baking soda
4 cups (24oz) brewed coffee or cold brew, chilled
1/4 cup (50g) granulated sugar
Instructions
Custard for the Diplomat Cream
Begin by making the custard portion for the diplomat cream so it has time to cool. Place the egg yolks, granulated sugar and butter in a small saucepan over low heat and whisk continuously for about 5 minutes.
The mixture will look chunky before it melts. After it melts, continue cooking it until it thickens enough to coat the back of a spoon and resembles lemon curd. Quickly remove it from the heat, pour it into a heat safe container and cover it with a lid. Set it aside to cool completely to room temperature.
Vanilla Coffee Sponge Cake
Preheat the oven to 350F/177C convection (325F/163C conventional) and grease four 8-inch pans.
Place the egg whites in a large bowl and use an electric mixer to beat the egg whites at full speed until they're frothy and have reached the top of the bowl, add in the cup of sugar and beat until the meringue has stiff peaks.
Pour in the egg yolks and mix just until they're fully combined. With the mixer on low-medium speed, add in the flour and baking soda, 1-2 Tbsp at a time. Mix just until the flour is incorporated.
Distribute the batter evenly among the four pans and bake for about 17 minutes, until the cake is golden and separates itself from the edge of the pan. It will also spring back when you press on it gently. Flip the cakes over onto a tea towel and allow them to cool completely.
Meanwhile, dissolve the 1/4 cup of granulated sugar in the coffee and allow it to cool while the cakes bake.
Finish Diplomat Cream
At this point, dissolve the gelatin in water and the espresso powder in water and set aside.
Use an electric mixer with a large bowl to beat together the heavy whipping cream with the powdered sugar until stiff peaks form. Add in the cooled custard mixture, the dissolved coffee and the dissolved gelatin and beat the cream at medium speed, just until it is fully combined, don't over-mix.
Fold in the Oreo chunks.
Assemble
If the cake layers are a little uneven, use the largest one on the bottom and ALWAYS flip them upside down. The part of the cake that was on the bottom of the pan should always be facing upright when they're stacked.
Use 1 cup of the coffee to soak the first layer of cake (you can use a squeeze bottle, a sippy cup or just a spoon). Pour it slowly, a little at a time, letting it soak in and then do the rest. Make sure to use a full cup of coffee per layer of cake.
Use about 1/4 of the cream and spread it evenly on top of the first layer. Place the next layer on top and soak it with the coffee. Repeat this step until all the layers are used.
Refrigerate the cake for at least 2 hours before using the rest of the diplomat cream to frost the outside of the cake. DO NOT refrigerate the diplomat cream separately because the gelatin will set.
When the cake is finished, refrigerate it for at least another 2 hours before slicing and serving. Coffee Oreo Sponge Cake is best served cold or slightly chilled.
Notes
If you only have two 8″ pans, the batter will be ok to sit and wait for the first two to bake for 20 minutes.
To do a light coat of cream on the outside of the cake without Oreos make sure to set some cream aside before adding the Oreos.
To decorate this cake fancy on the outside, I suggest using an alternate buttercream for decorating. For example, American buttercream or a European buttercream- American Buttercream is the simplest but a European buttercream would compliment the flavors better. Don't try anything fancy with this buttercream because it's very light and fluffy, like whipped cream, so it won't hold up.
This is a sponge cake so it's very soft compared to a typical butter/oil cake, so make sure not to skip refrigeration time. I do not suggest doing more than four layers.
Recommended Products
As an Amazon Associate and member of other affiliate programs, I earn from qualifying purchases.
Nutrition Information:
Yield:
10
Serving Size:
1
Amount Per Serving:
Calories:

800
Total Fat:

51g
Saturated Fat:

29g
Trans Fat:

1g
Unsaturated Fat:

17g
Cholesterol:

450mg
Sodium:

200mg
Carbohydrates:

72g
Fiber:

1g
Sugar:

48g
Protein:

15g
Nutrition information may not be fully accurate.