How to make Swiss Meringue Buttercream
All the basics on Swiss meringue buttercream; how to make it, customize it, flavor it, color it, troubleshoot it and store it!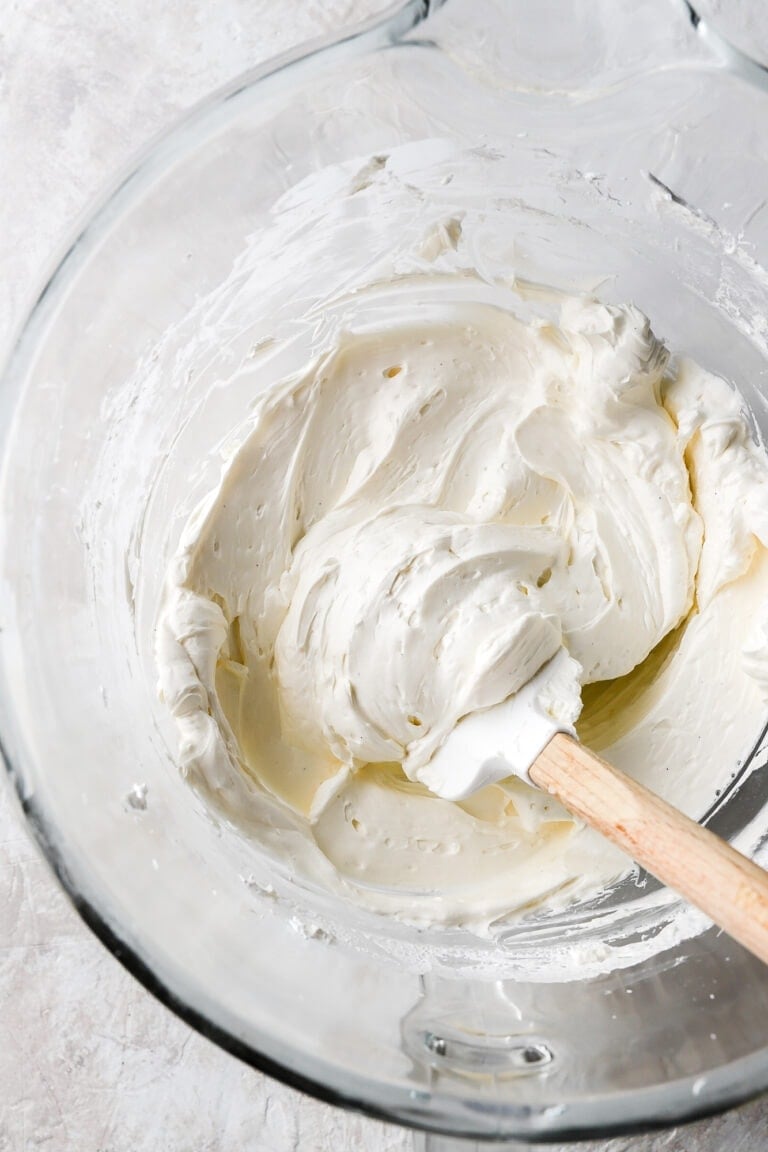 What is Swiss meringue buttercream
Swiss meringue buttercream is probably one of the most popular types of buttercream next to American. If you compare it to whipped cream or plain meringue, it'll feel heavy but for a buttercream, it's very light and fluffy while also being really stable.
The name comes from a small town in Switzerland called Meiringen. The Swiss meringue was developed there by a Chef named Gasparini. Then the method was used to make the buttercream.
How to make a Swiss meringue buttercream
Swiss meringue buttercream is made up of two parts, the meringue and the butter. The meringue is basically egg whites whipped with sugar. Then butter is beat in until it emulsifies into a smooth creamy and fluffy buttercream.
Main Ingredients:
Egg Whites: it's best to use fresh egg whites but I've also had success with aged egg whites, pasteurized carton egg whites, and aquafaba!
Sugar: I typically make buttercream with granulated sugar but I've also successfully made it with super fine castor sugar, light brown sugar and dark brown sugar. If you're using brown sugar, reduce the amount by 25%, which is 1/4 cup (50g) in this case.
Butter: because there is so much butter in the recipe, I like to use unsalted butter. I've had success with commercial butter, European style and plant-based butters.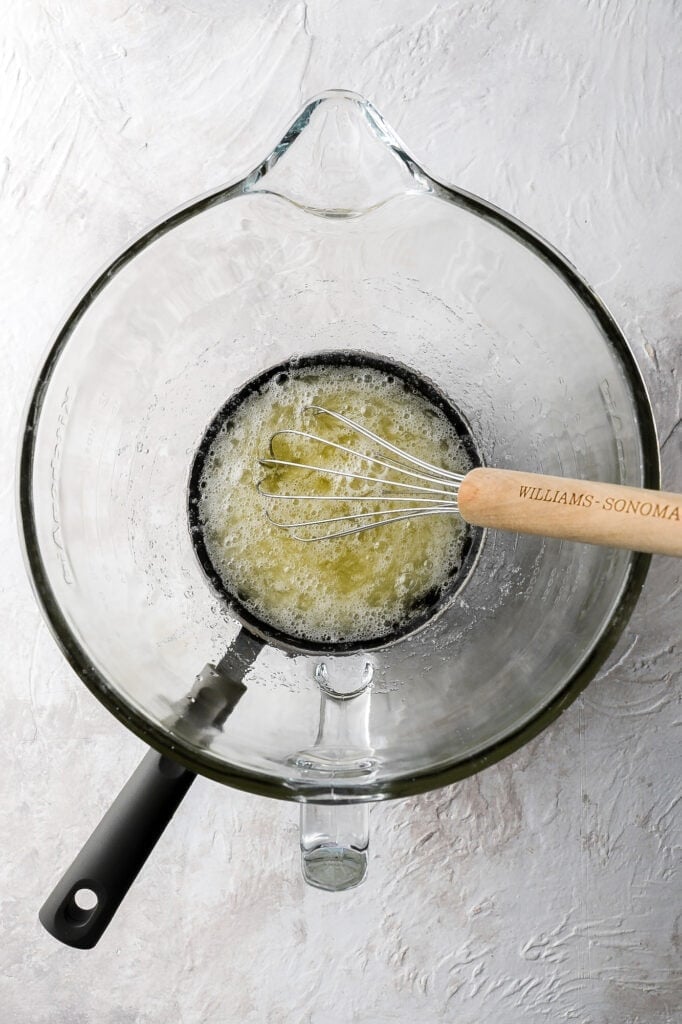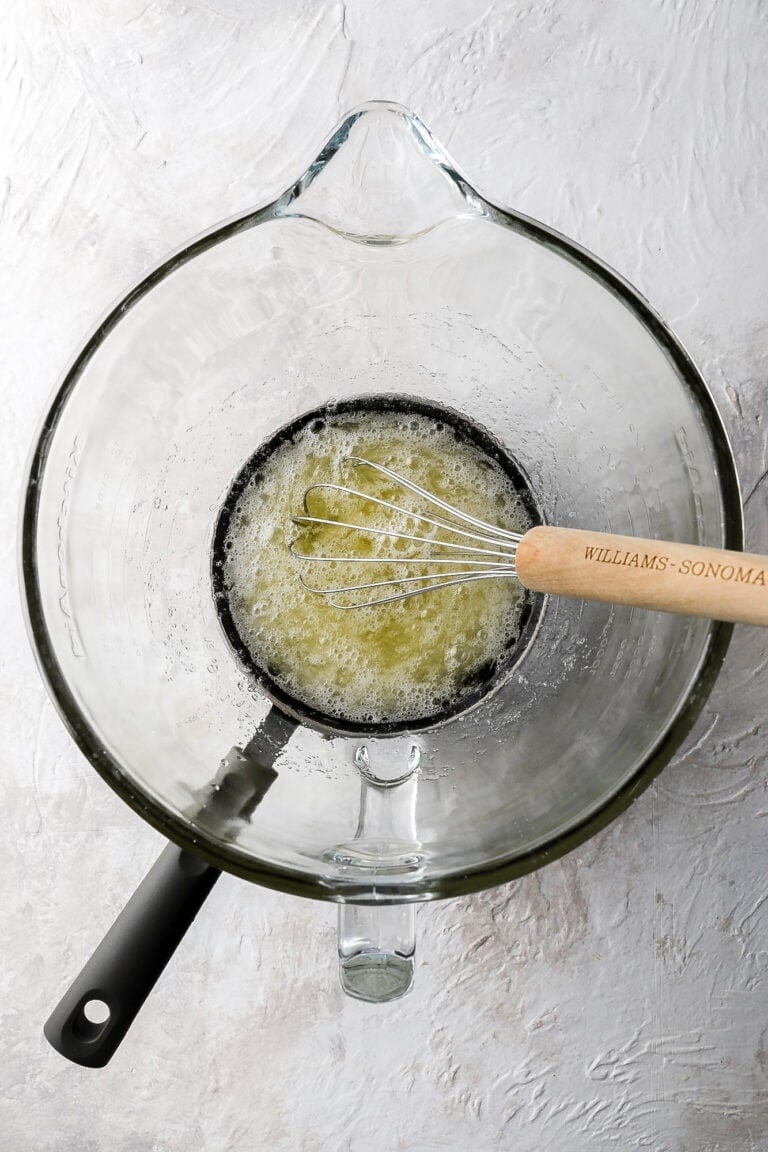 How to flavor the buttercream
If you're used to American buttercream and have never made Swiss meringue buttercream, you'll be surprised at how much it can hold. Instead of 1 tsp of vanilla, I usually do about 1 Tbsp per batch because you just can't taste it as much as you can in American buttercream.
For one batch of Swiss meringue buttercream I usually do:
Vanilla: 2 tsp vanilla bean paste or 1 Tbsp of vanilla extract
Almond or Lemon Extract: 1 tsp (same with anything equally as strong)
Chocolate chips – melted: 1/2-1 cup (3-6oz), depending how strong you want it
Cocoa powder – unsweetened: 1/2 cup (40g), you can go up to 3/4 cup (60g) but that's risky lol
Nut butters – creamy not natural kind: 1/2-1 cup, depending on how strong you want it
Coffee: 1 tsp of espresso powder or 1 Tbsp of instant coffee dissolved in equal amounts of water
Jam/Preserves: 1/2 cup, or slightly more if it's not super runny
Freeze dried fruit – ground: 1/4-1/2 cup; I recommend this over jam/preserves because it has a lower water content so it is less likely to break the buttercream and it has a stronger flavor and color.
If you have any other flavors you're questioning, comment below and I'd be happy to give a recommendation.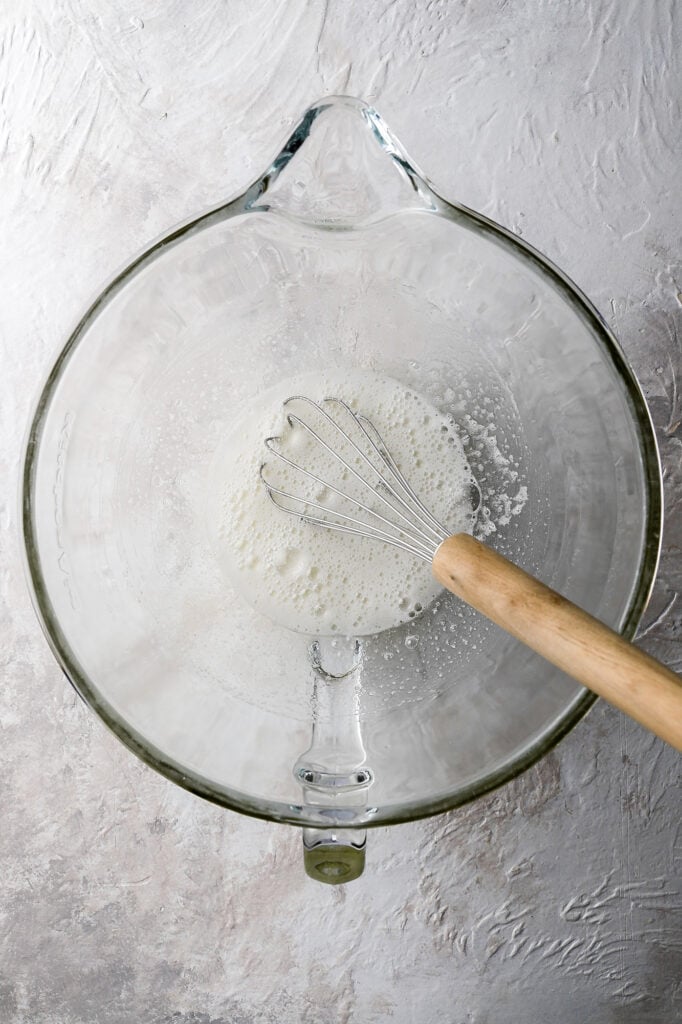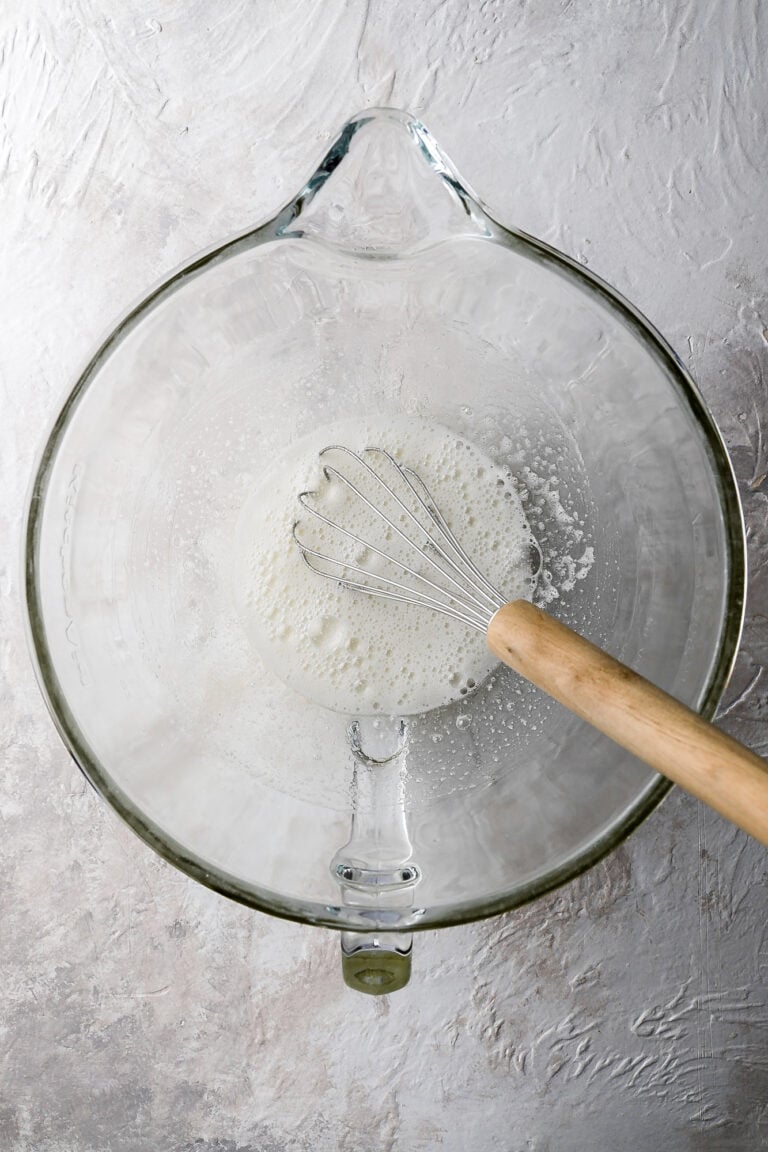 Troubleshooting Buttercream
Runny Buttercream
If your buttercream looks smooth but is really soft and runny, place it in the refrigerator for 20-40 minutes. Then scrape the bottom and edges of the bowl and beat it again at medium speed. If this doesn't work, then refrigerate it longer, until the mixture is visibly thicker and feels more pasty, then beat it again.
Split/Curdled Buttercream
If the buttercream splits and looks curdled, like cottage cheese, it means the mixture didn't emulsify because the temperature of the butter was either too cold or the meringue was still too warm. There's a few different ways to fix this:
Remove a few spoonfuls of the buttercream and place it in a heat safe bowl. Microwave the bowl until the mixture is warm and fully melted, about 30 seconds. Then turn the mixer up to medium speed and pour in the melted cream into the mixer bowl.
Turn the mixer up to medium speed and use a culinary blow torch to gently heat the outside of the mixer bowl, moving it back and forth to evenly heat the buttercream. Do this until it emulsifies. This works much better with a metal stand mixer bowl rather than a glass or ceramic bowl.
Place the entire mixer bowl over a double boiler and whisk until the mixture is melted. Once the mixture is fully melted and looks smooth and runny, then refer to the Runny Buttercream section.
What if it curdles only after adding flavors/other ingredients OR if the above recommendations don't work?
I believe this happens when the water content is too high for the amount of fat in the recipe. This can happen if some eggs are larger than usual, if the butter has an abnormally high water content or if you've added too much of an ingredient like a jam or too much cocoa powder.
What I would do here is add an extra 1/4 cup of butter and beat it at high speed. You may still need to reheat it to get everything to the same temperature and then cool it again before beating.
If you're having issues, DM me on Instagram @baranbakery and I'd be happy to help so you don't waste a batch 🙂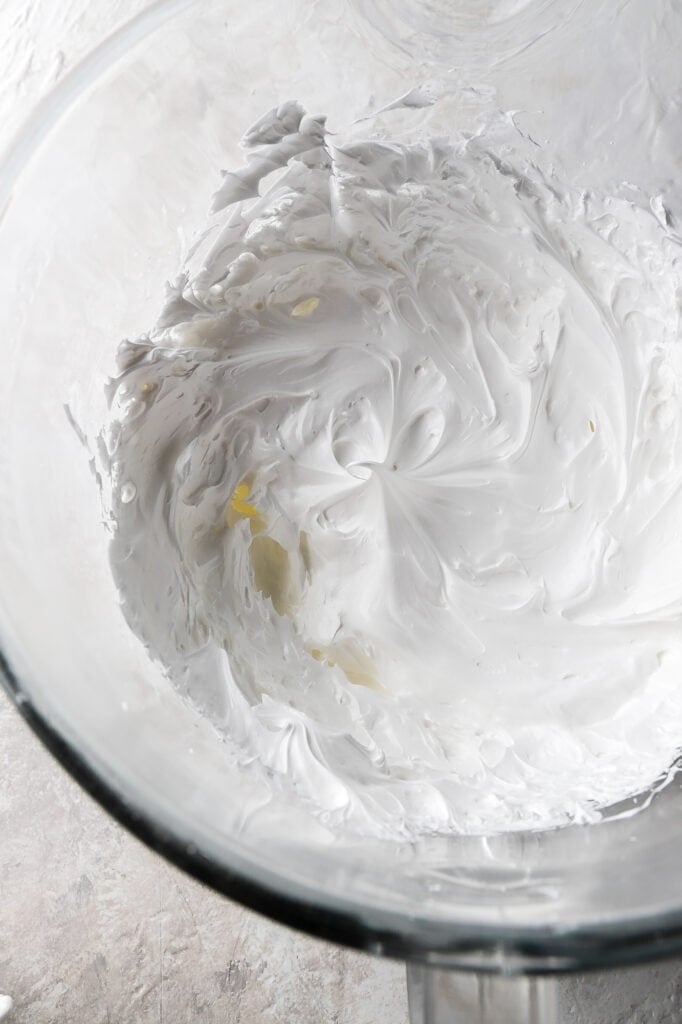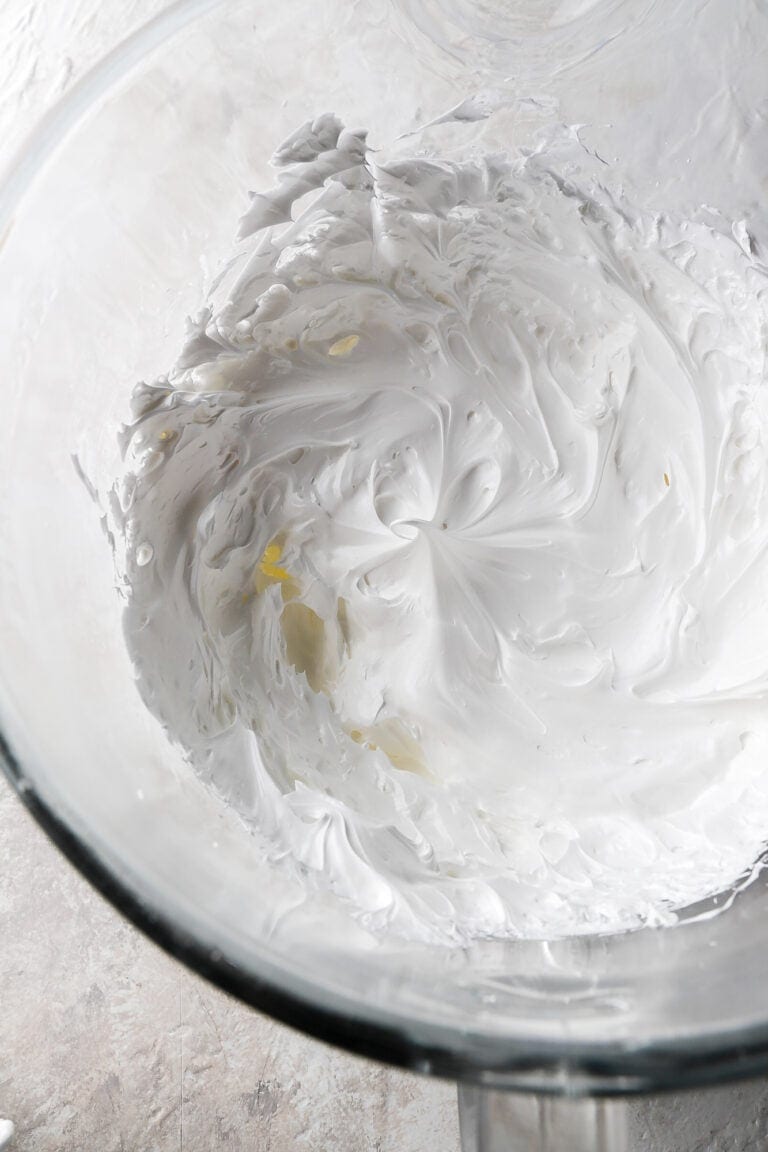 How to store buttercream
Swiss meringue buttercream can be made in advance and just rewhipped to a smooth consistency. Make sure to always store it in an airtight container.
Store at room temperature for 2 days, whether it's in a container or frosted on a cake.
Store in the refrigerator for 7-10 days, in a container or frosted on a cake.
Store in the freezer for up to 3 months in a container or frosted on a cake. Make sure to double seal it if it's frozen so you don't get any frostbite.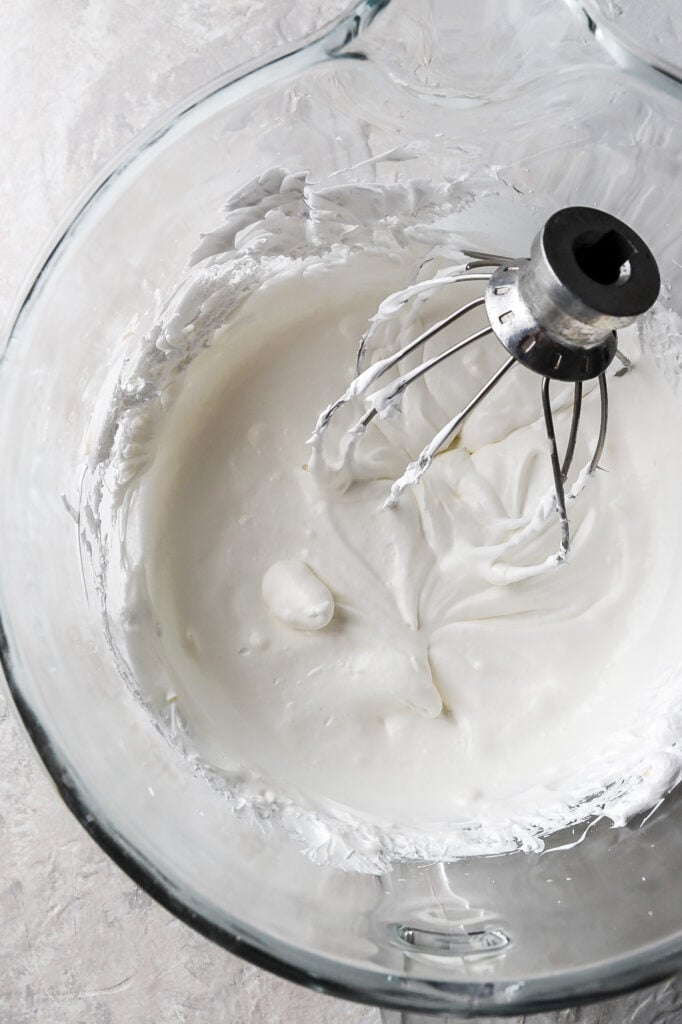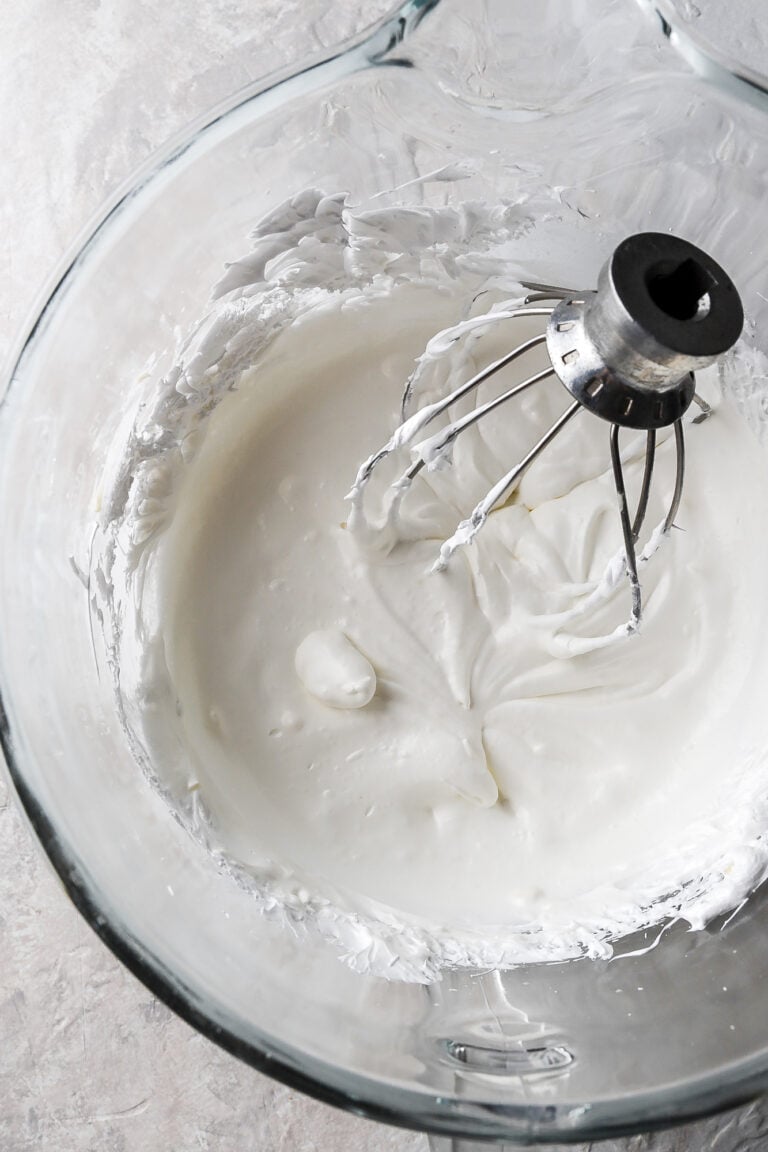 Frequently Asked Questions
Can I make Swiss meringue buttercream dairy free?
I have successfully made this with plant based butter. I recommend Miyokos unsalted for now but I will continue to try other brands.
Can I make Swiss meringue buttercream egg free?
I've had success making this with aquafaba. I do 1/4 cup of aquafaba with 3/4 cup of granulated sugar to replace the meringue. I make it the exact same way I make a regular Swiss meringue.
Can I make this totally vegan?
YEESSS! I have tried this with the aquafaba and plant based butter together and it works BUT I don't feel fully confident in it yet. It breaks kind of easily when you flavor it or if it's not at the perfect temperature.
The recipe I used, if you want to try it is:
1/4 cup (59mL) aquafaba (cooked chickpea water)
3/4 cup (150g) granulated sugar
1 cup (227g) plant based butter
If I'm being totally honest, I also think it doesn't taste good LOL. BUUUUTTTT I am not dairy free or vegan and don't normally eat that so I think it's a personal preference. It wasn't necessarily bad but I think people who are already used to eating egg and dairy alternatives will like the taste more than other people.
Can I make this sugar free?
I've had success making Swiss meringue buttercream with a sugar substitute. I used Splenda 0 calorie sweetener as a 1:1 substitute for the granulated sugar. Make sure to measure it in volume because weight is a lot lighter than regular sugar. Alternative sweeteners all have their own specific flavors that some people might find unpleasant but I don't mind them.
How to color Swiss meringue buttercream
If you want your buttercream to be white, I recommend using a more commercial butter that's going to be more pale in color. The whiter the buttercream the easier it also is to color it accurately. If it's slightly yellow, it'll affect the end result so you'll kind of have to play with it and see what you like.
Make sure to use a gel food coloring such as Americolor instead of a water based one.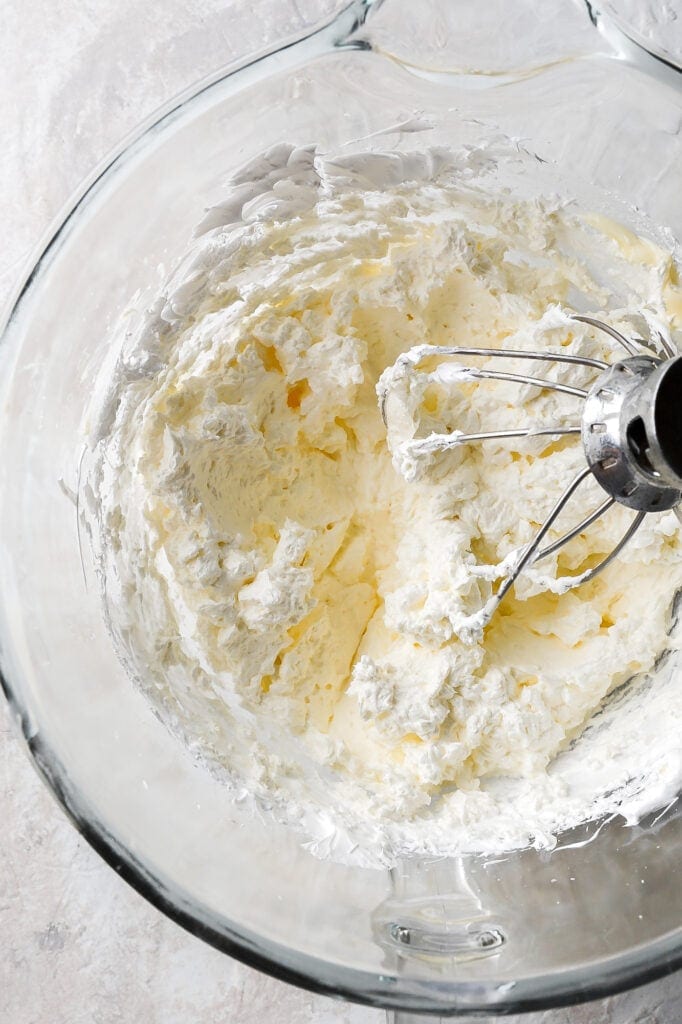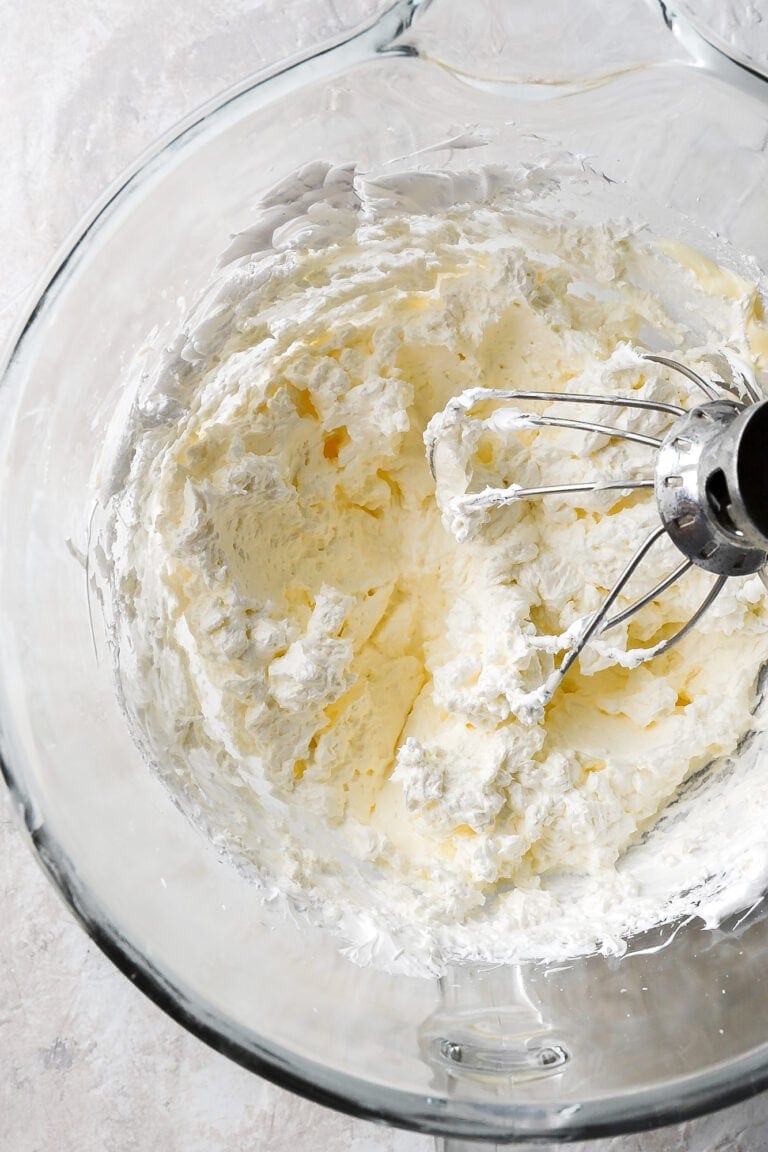 Thanks so much for reading today's post, if you have any questions just comment down below (in the comment section not the rating section).
If you love this recipe please leave a 5 star review and if not, please let me know why!
As always, have a blessed day and happy baking!
Love, B
Yield: 3 cups
Swiss Meringue Buttercream Recipe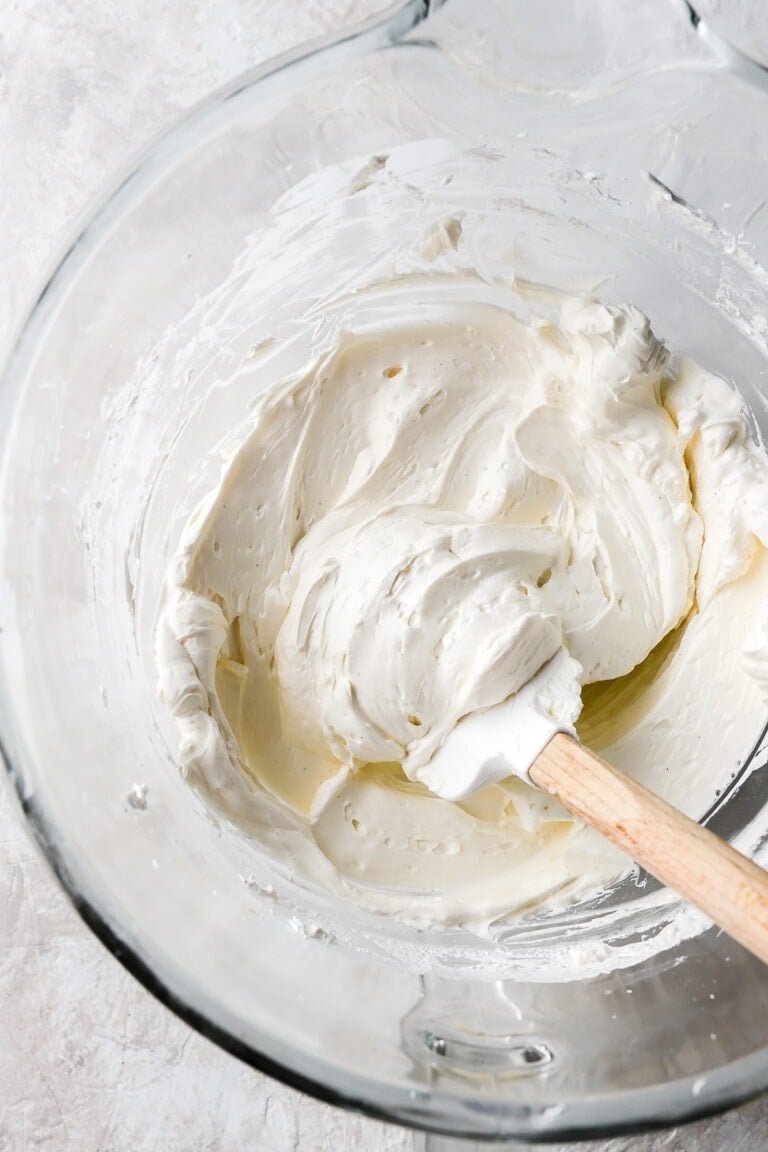 Super fluffy and creamy Swiss merinuge buttercream recipe.
Ingredients
4 large egg whites, room temperature
1 cup (200g) granulated sugar
1 cup (227g) unsalted butter, room temperature
2 tsp vanilla bean paste or vanilla extract
tiny pinch of salt
Instructions
Bring a small pot with 1/2 cup of water to a boil and lower the heat to simmer.
Place the egg whites and granulated sugar in the bowl of a stand mixer and place the bowl over the simmering water for 5-10 minutes, whisking intermittently until the granulated sugar is completely dissolved.
Once the sugar is dissolved, remove the bowl of egg whites from the heat. Use the whisk attachment to beat the egg whites with the sugar. Beat for 7-10 minutes on high speed and then lower the speed to low-medium.
Slowly add 2 Tbsp of butter in at a time. Wait for the butter to incorporate before adding the next chunk. Once all the butter is added, turn the mixer up to high speed for a few seconds, until it comes together.
Then use a rubber spatula to scrape the edge of the bowl. Add the vanilla bean paste (or extract) and salt and beat until it's fully combined.
Recommended Products
As an Amazon Associate and member of other affiliate programs, I earn from qualifying purchases.
Nutrition Information:
Yield:
3
Serving Size:
1
Amount Per Serving:
Calories:

835
Total Fat:

61g
Saturated Fat:

38g
Trans Fat:

0g
Unsaturated Fat:

20g
Cholesterol:

163mg
Sodium:

126mg
Carbohydrates:

68g
Fiber:

0g
Sugar:

67g
Protein:

5g
Nutrition information may not be fully accurate.