Chocolate Mousse Cake with Diplomat Cream
Chocolate mousse cake is a moist dark chocolate cake frosted with a light and fluffy chocolate diplomat cream and topped with fresh whipped cream and chocolate shavings!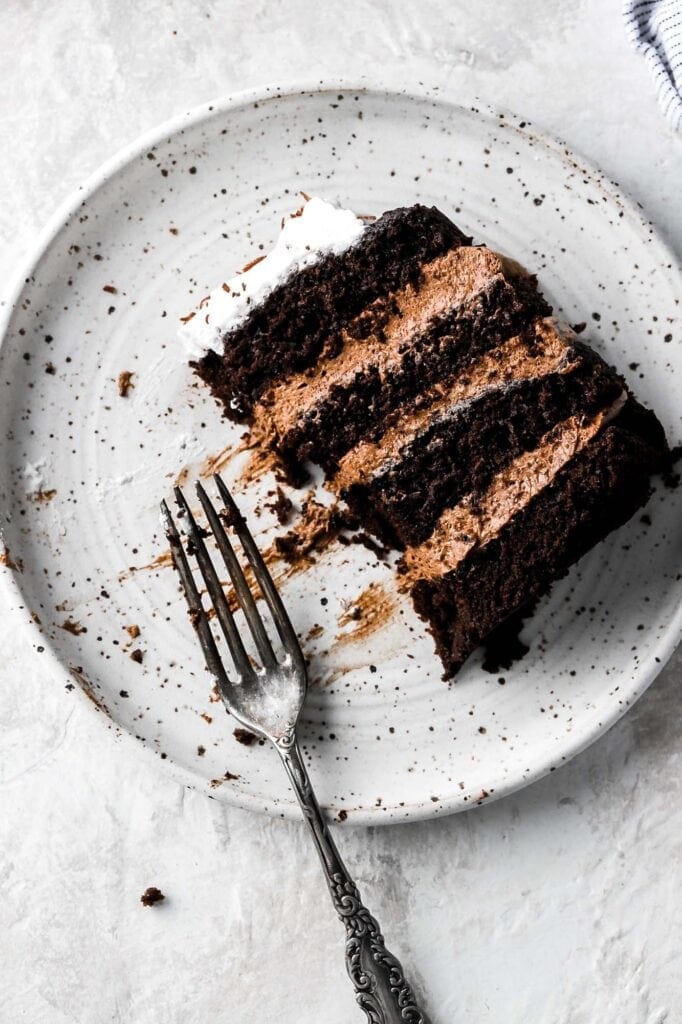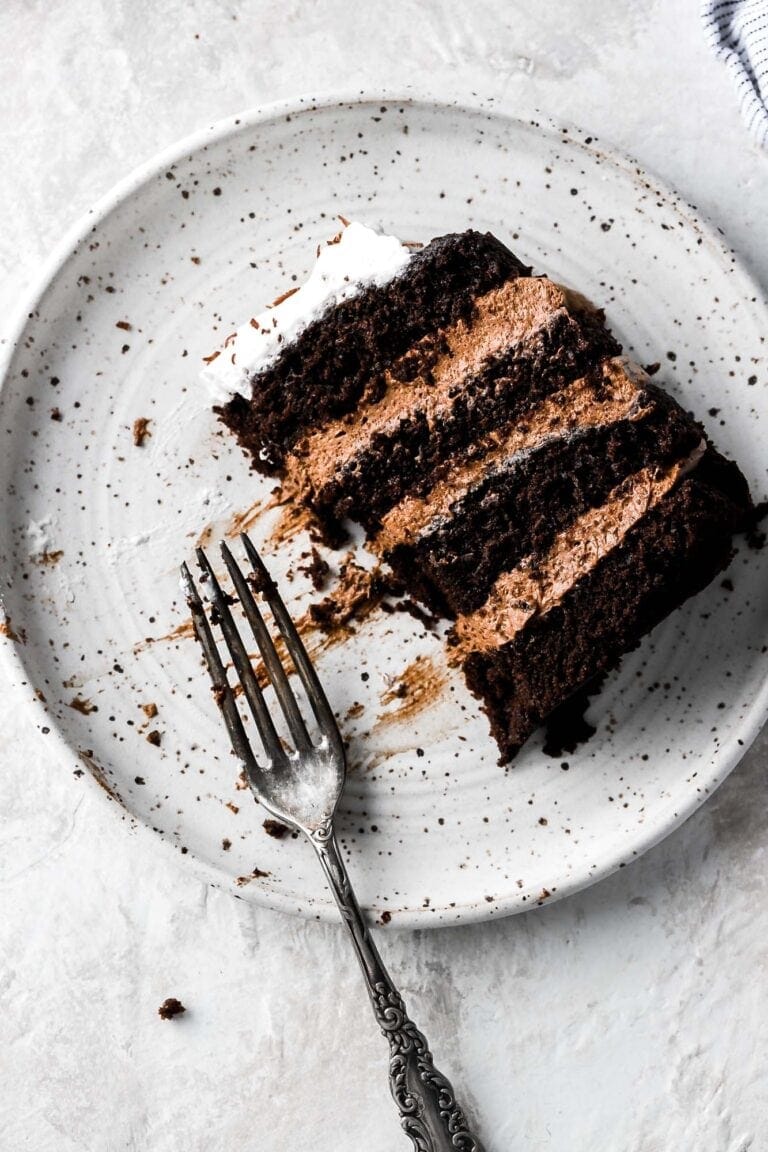 What is Chocolate Mousse Cake
Basically, just what it sounds like! Chocolate mousse is like a creamy, airy dessert made with chocolate and whipped cream. It's generally topped with a dollop of whipped cream and chocolate shavings so all I did was turn that into a cake.
Chocolate frostings usually tend to be very rich and indulgent but this is the perfect combination of a rich, moist chocolate cake with a light and fluffy cream.
How to make a moist, dark chocolate cake
If you're wondering why I didn't use my favorite 6 inch chocolate cake recipe for this chocolate mousse cake, it's because I wanted a specific texture for this cake. That is my overall favorite chocolate cake recipe but I wanted this cake to be softer, fudgier and darker so this cake uses all oil (no butter) and it has twice as much cocoa powder.
It's also very simple to make. The dry ingredients get whisked together and then coated in the oil. Then add the eggs, sour cream and milk and voila!
How to make chocolate diplomat cream
There are sooo many ways to make chocolate mousse and a lot of them involve a hot water and chocolate mixture but I chose a diplomat cream as the base for my chocolate mousse. Diplomat cream is much softer than buttercream frosting and it's made with whipped cream so it resembles a classic chocolate mousse pretty well.
First I make a custard that cools while the cakes are baking and then once the custard and the cakes are fully cooled, the heavy whipping cream gets beaten into whipped cream and mixed with the custard. Generally, frostings with so much whipped cream aren't as stable but the melted chocolate really helps give it some structure.
Make sure to melt the chocolate before whipping the cream and only adding it when it's cooled but still soft. Also make sure not to over whip the cream.
As you can see, I took step by step pictures of the cream since diplomat cream may be new to many people.
How to store naked cakes
Generally my cakes are frosted on the outside and the frosting helps keep the moisture inside the cake so if it's not sliced, I don't usually cover the cake. However, naked cakes tend to dry out a little quicker so even if the cake is not sliced, I would cover it with a glass dome or at least plastic wrap or foil.
To make this easier, refrigerate the cake for 30 minutes so the cream isn't as soft and then cover it. Refrigerate any cut slices in an airtight container for up to a week.
Freezing this cake might be a little risky since it has a homemade whipped cream base. To freeze, slice and wrap each slice in plastic wrap, then place them in an airtight container. Place the container in a freezer bag, squeezing all the air out. Keep in mind, the cream risks separating once it thaws again.
Thanks so much for stopping by, I hope you guys enjoy this chocolate mousse cake. If you have any questions just leave a comment down below and make sure to tag me @baranbakery on instagram if you make this cake! As always, have a blessed day and happy baking.
Love, B
Yield: 10-14 servings
Chocolate Mousse Cake Recipe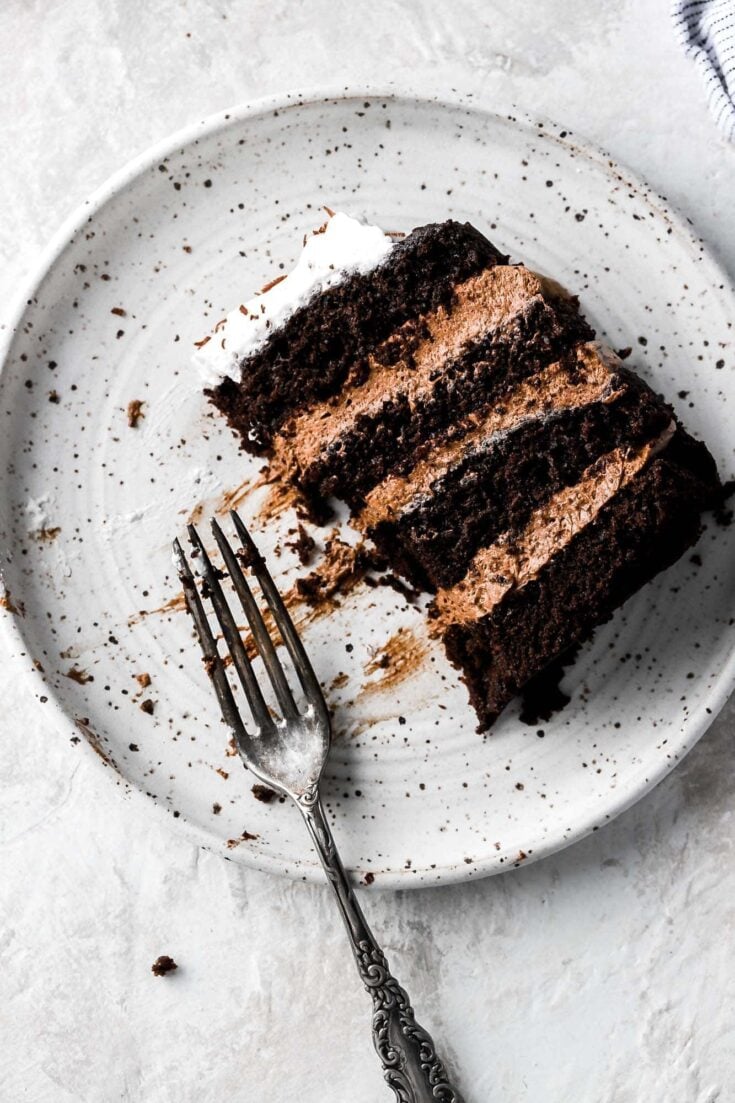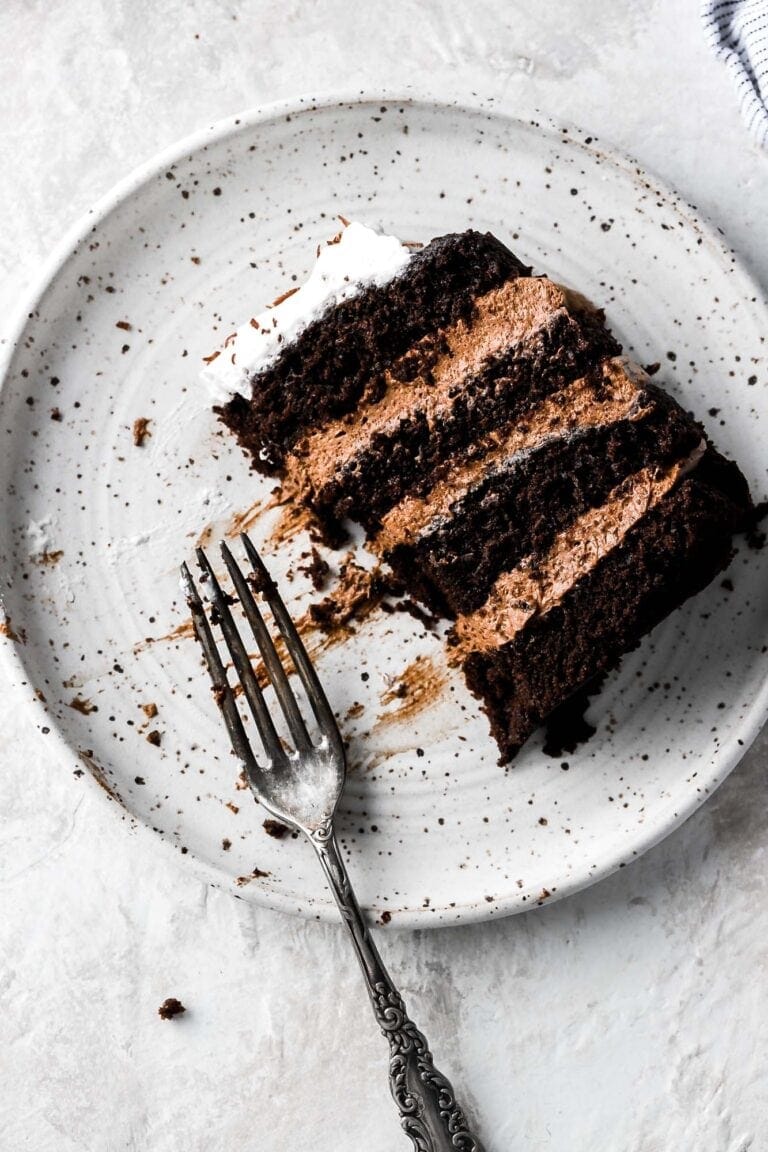 Moist dark chocolate cake frosted with a light and fluffy chocolate diplomat cream and topped with fresh whipped cream and chocolate shavings!
Total Time
3 hours
30 minutes
Ingredients
Chocolate Cake
2 cups (240g) all-purpose flour, spooned and leveled
2 cups (400g) granulated sugar
1 cup (80g) unsweetened cocoa powder, spooned and leveled
1 Tbsp (10g) baking powder
½ tsp salt
3/4 cup (177mL) canola oil
2 large eggs, room temperature
3/4 cup (170g) sour cream
3/4 cup (177mL) milk, room temperature
Chocolate Mousse/Diplomat Cream
1/2 cup (113g) unsalted butter, softened
1/4 cup (50g) granulated sugar, separated
3 large egg yolks, room temperature
1 cup (6oz) dark chocolate chips, melted
2 cups (16oz) heavy whipping cream
1/4 cup (30g) powdered sugar, spooned and leveled
1 tsp vanilla extract
chocolate bar for shavings
Instructions
Chocolate Mousse/Diplomat Cream
Begin by making the custard portion for the diplomat cream so it has time to cool. Place the butter, sugar and egg yolks in a small saucepan over low heat and whisk continuously for about 5 minutes.
The mixture will look chunky before it melts. After it melts, continue cooking until it thickens enough to coat the back of a spoon and resembles lemon curd. Remove it from the heat, pour it into a heat safe container and cover it with a lid. Set it aside to cool completely to room temperature.
Chocolate Cake
Preheat the oven to 350F/177C convection (325F/163C conventional) and grease and line two 8 inch pans with baking spray.
In a large bowl or the bowl of a stand mixer, whisk together the flour, granulated sugar, cocoa powder, baking powder and salt until they're evenly distributed.
Add the oil and use an electric mixer, at medium speed, to combine the mixture until the dry ingredients are fully coated.
Add the eggs, one at a time, beating on medium speed for 20 seconds each. Scrape the edge of the bowl, add in the sour cream and beat the mixture until it's well combined.
Turn the mixer down to low speed and pour in the milk. Scrape the edge of the bowl and mix just until the batter is smooth.
Distribute the batter evenly among both pans, about 22oz in each. Bake for 35-40 minutes, until the cake releases itself from the edge of the pan or springs back when you press on the center.
Allow the cakes to cool in the pan for a few minutes and then Invert them onto a cooling rack or tea towel. Allow them to cool completely to room temperature and then slice each cake in half, to make four layers.
Finish Chocolate Mousse/Diplomat Cream
In a medium bowl, microwave the chocolate for 20 seconds, stir it and repeat until the chocolate is smooth. Set it aside to cool to room temperature (don't let it harden though).
To make the whipped cream for the chocolate mousse/diplomat cream, place the heavy whipping cream in a large bowl or the bowl of a stand mixer. Use an electric mixer, at medium speed (so it doesn't splash), to beat the cream until it thickens slightly.
Add the powdered sugar and then beat at full speed until stiff peaks form. If it gets over-beaten and looks grainy, add a little more cream and beat just until it's smooth again.
Remove about a cup of the whipped cream, for the top of the cake, and then add the diplomat cream to the bowl. Beat the diplomat cream and the whipped cream just until they're smooth and then add the cooled, melted chocolate and vanilla extract and beat until it's fully combined.
Assemble
Place the first layer of cake on a flat surface and use 1/3 of the chocolate cream to frost the first layer.
Repeat with the second and third layer and then place the fourth layer of cake on top. Frost with reserved whipped cream and use a grater to make chocolate shavings from a chocolate bar.
Notes
I like to refrigerate for at least 30 minutes and then serve. To prevent drying out, cover the cake fully and store it refrigerated for up to a week.
Recommended Products
As an Amazon Associate and member of other affiliate programs, I earn from qualifying purchases.
Nutrition Information:
Yield:
12
Serving Size:
1
Amount Per Serving:
Calories:

752
Total Fat:

48g
Saturated Fat:

21g
Trans Fat:

1g
Unsaturated Fat:

23g
Cholesterol:

170mg
Sodium:

280mg
Carbohydrates:

73g
Fiber:

3g
Sugar:

51g
Protein:

9g
Nutrition information may not be fully accurate.