Honey Lemon Cake (Mézes Kremes)
Honey lemon cake has five layers of honey cake with an apricot preserve filling and frosted with a whipped lemon diplomat cream.
Honey lemon cake is an adapted version of the classic Hungarian cake called Mézes Kremes. Traditionally Mézes Kremes has a burnt honey sponge, which is more like a dough than a batter. It has an apricot filling and a cooked semolina flour cream. Oftentimes, it's also topped with chocolate.
I grew up eating many versions of Mézes Kremes but my mom's version, this honey lemon cake, is by far my favorite! I've partnered with my friends from Nature Nate's Honey Co. for national honey month to show you how to make this incredible honey lemon cake. It's the perfect summer-to-fall transition cake!
How to make honey lemon cake
This honey lemon cake has three main parts. First is the actual honey cake layers. Then there's an apricot jam layer that you can barely even see because it's all covered by the glorious lemon diplomat cream.
How to make honey cake layers
These cake layers are by far the most interesting way that I've seen cake being made. The honey gets cooked until it bubbles and darkens a little in color. Then you add the baking soda and whisk for a minute while it bubbles. The honey and oil gets poured into the beating egg yolks and sugar and then the flour is added.
The batter is interesting because it's thicker than normal cake batter but thinner than normal dough. At this point we cover it and refrigerate it for at least four hours. This allows the dough to thicken and the gluten to relax a little more.
Finally we use a generous amount of flour to spread the dough out into the cake pans. They're done baking when they've darkened a bit in color and the center puffs up. It will shrivel back up once it's removed from the oven.
Ingredients:
Eggs: you'll need just the egg yolks for this and I always use large eggs; best at room temperature.
Sugar: this recipe calls for granulated sugar in addition to the honey. It's essential to the volume, not just the sweetness of the cake.
Honey: Our favorite honey to use for honey lemon cake is Nature Nate's 100 Pure, Raw & Unfiltered Honey. It gives the cake an incredible flavor and is the perfect consistency and texture for what we need.
Baking Soda: The baking soda aerates the hot honey and gives the cake it's rise. There is a high amount used in this honey cake because honey is very acidic and heavy.
Oil: I used canola oil but you can also use sunflower oil or vegetable oil. I'm sure olive oil would be fine too since the cake has a stronger flavor.
Flour: I use all-purpose flour and I HIGHLY recommend using a digital kitchen scale to measure all your ingredients, especially the flour.
Apricot Filling
Normally, we just do a thin layer of apricot jam on top of the honey cake but I decided to change things up just a little! I used chunky apricot preserves to give it some texture and then just thinned it out slightly with a little extra honey. I mean, it is a honey cake after all!
Lemon Diplomat Cream
If you bought my book, Frosted, you'll have learned all about diplomat cream and how to use it. If not, you can also check out this chocolate mousse cake for more details and step-by-step photos on the diplomat cream. The chocolate version doesn't use gelatin but in this cake you'll definitely want the gelatin.
Diplomat cream is made from a cooked egg yolk custard and mixed with whipped cream. If you're making your own whipped cream from heavy whipping cream, like I did, you'll need to stabilize using gelatin. This will ensure that the whipped cream in the diplomat cream doesn't deflate. If you use something like Cool Whip, you can omit the gelatin.
Frequently Asked Questions (FAQs)
Can I make the cake ahead of time?
I make the cake batter and the custard for the diplomat cream the night before I "make" the cake. I let the batter chill in the fridge and the custard cool at room temperature overnight and then the next day I bake the cake layers. I let the cake layers cool while I finish the diplomat cream and then immediately assemble the cake.
I don't recommend making anything more 'ahead' than that. The cake layers will dry out if you bake them sooner. The custard for the diplomat cream will get too firm in the refrigerator and you can't leave it at room temperature for more than one night.
Don't finish the cream until you're ready to frost because the gelatin will set once it's chilled (unless you're using Cool Whip).
Can I use store bought whipped cream?
If you prefer to use a store bought whipped cream, such as Cool Whip (not the canned stuff), you'll need an 8oz tub. You would omit the heavy whipping cream, powdered sugar, gelatin and water from the diplomat cream recipe and just whip together the custard, lemon juice and Cool Whip.
What kind of honey to use for the honey cake
We love using Nature Nate's Honey because they use a blend of clover, canola, wildflower and tallow honey which gives it a deep and balanced flavor. We also love that Nature Nate's honey is raw, unfiltered and has no additives.
Bonus points that they're a family owned business and we love their mission of serving those around them and being good stewards of what God has provided us with.
What other cake pan sizes can I make this in
There's about 21ish ounces of batter total. Some baking options are:
3.0 ounces in seven 6 inch pans, bake for 5-6 minutes.
4.25 ounces in five 8 inch pans, bake for 8-9 minutes.
5.25 ounces in four 8 inch pans, bake for 10-11 minutes.
5.25 ounces in four 9 inch pans, bake for 8-9 minutes.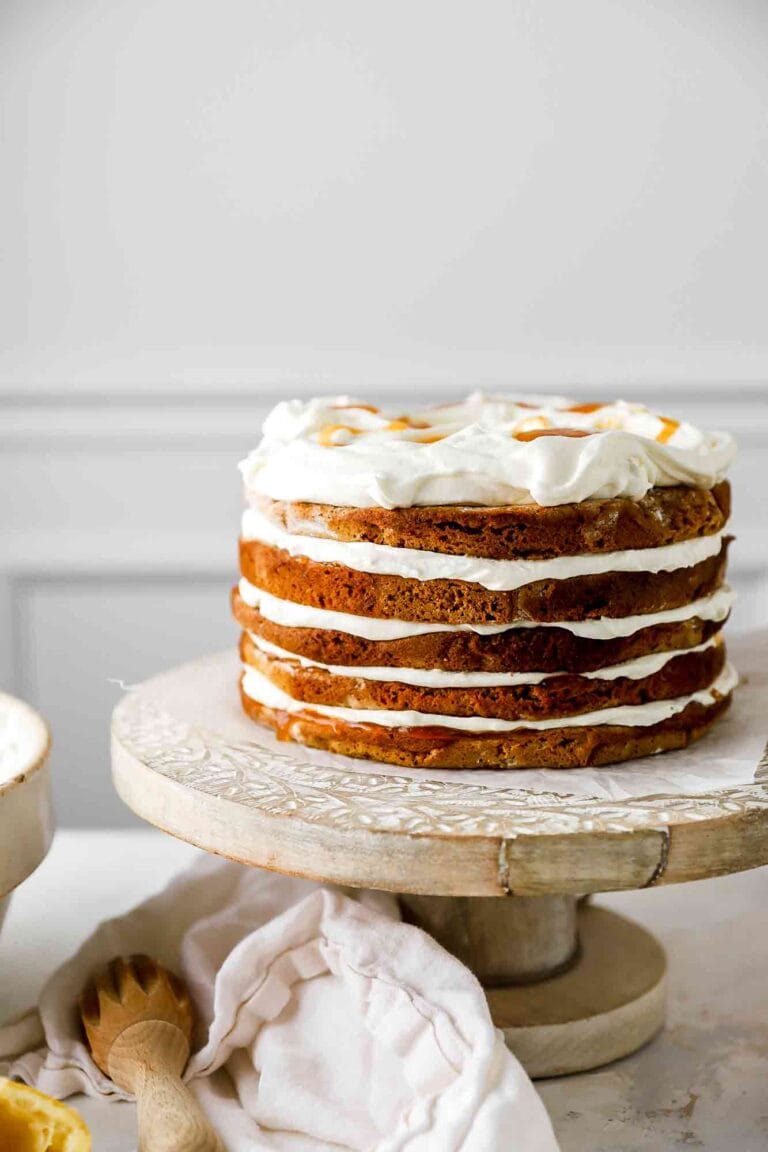 How to store this honey lemon cake
Honey lemon cake is best stored in the refrigerator since the diplomat cream is whipped cream based. Since the outside of the cake is not frosted, it's best to cover the cake with a cake dome while it's in the fridge or just wrap the outside (after it's set) in plastic wrap or foil.
Once it's sliced, you can place it in an airtight container in the refrigerator for 7-10 days or freeze it for 2-3 months. If you're freezing it, place the container in a ziplock bag and squeeze out all the excess air.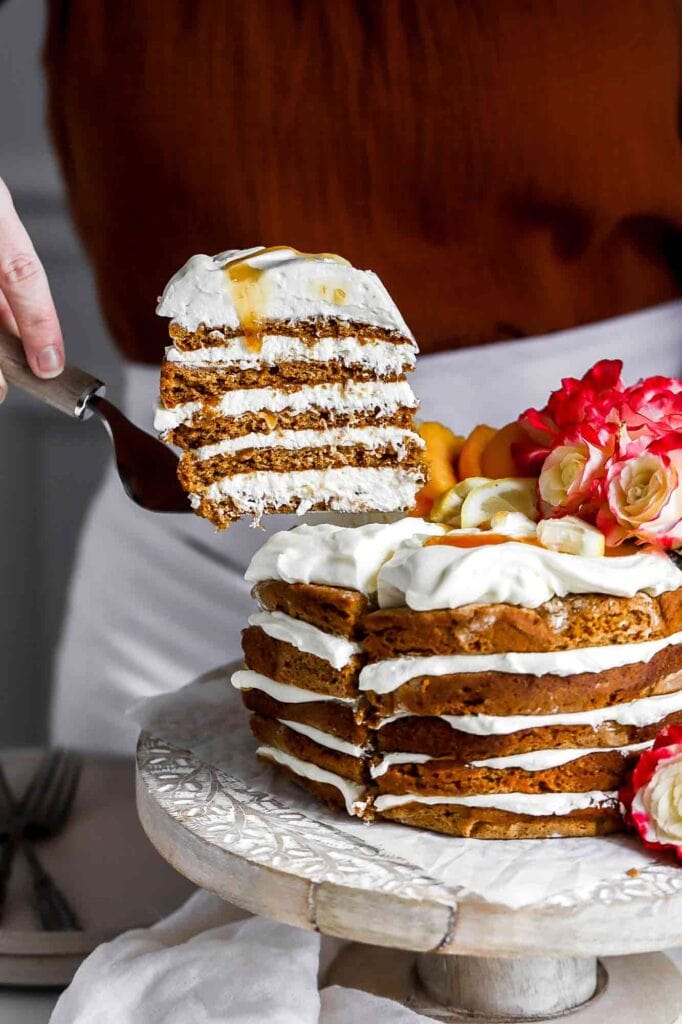 Thanks so much for reading today's post , if you have any questions just comment down below, I'm happy to answer! If you make this honey lemon cake I would love to see the results, so please make sure to tag me @baranbakery and @naturenates on instagram. As always, have a blessed day and happy baking!
Love, B
Yield: 12 slices
Honey Lemon Cake Recipe
Delicious honey cake layers with a lemon whipped diplomat cream and apricot preserves!
Total Time
13 hours
35 minutes
Ingredients
Lemon Diplomat Cream
3 large egg yolks, room temperature
1/4 cup (50g) granulated sugar
1 cup (227g) unsalted butter, softened
1/2 Tbsp gelatin
2 Tbsp (30mL) warm water
1/2 cup (60g) powdered sugar, spooned and leveled
2 1/2 cups (20oz) heavy whipping cream
1/4 cup (59mL) lemon juice (juice from about 1 large lemon)
Honey Cake
6 egg yolks, room temperature
1/2 cup (100g) granulated sugar
1/2 cup (170g) Nature Nate's 100 Pure, Raw & Unfiltered Honey
1/2 Tbsp baking soda
1/3 cup (78mL) canola oil
1 3/4 cups (210g) all-purpose flour, spooned and leveled
Apricot Filling
1 cup apricot preserves or jam
2 Tbsp Nature Nate's 100 Pure, Raw & Unfiltered Honey
Instructions
Lemon Diplomat Cream
Begin by making the custard portion for the diplomat cream so it has time to cool. Place the egg yolks, sugar and butter in a small saucepan over low heat and whisk continuously for about 5 minutes.
The mixture will look chunky before it melts. After it melts, continue cooking it until it thickens enough to coat the back of a spoon and resembles lemon curd. Quickly remove it from the heat, pour it into a heat safe container and cover it with a lid. Set it aside to cool completely to room temperature.
Honey Cake
Place the egg yolks and sugar in the bowl of a stand mixer, fitted with a whisk attachment. Beat them together at medium speed for 2 minutes.
Place the honey in a small saucepan, over medium-high heat, and bring it to a simmer while stirring intermittently. Cook for about 3 minutes, until it begins to bubble. Remove it from the heat and then add the baking soda to the hot honey and whisk continuously while it's bubbling.
Turn the mixer to medium speed and slowly pour in the honey followed by the oil. Add the flour and mix just until it's incorporated, scraping the edge of the bowl as needed. Cover the bowl with plastic wrap and refrigerate it for at least 4 hours or overnight.
Preheat the oven to 350F/177C convection (325F/163C conventional) and grease and line five 8" cake pans (you can also do 1-2 at a time). Distribute the batter among the five cake pans, you should get about 4.25oz per layer. Bake for about 8-9 minutes, until it's browned and slightly puffed in the center.
Apricot Honey Filling
Combine the apricot preserves with the honey until it's smooth.
Whipped Cream for Diplomat Cream
Mix the gelatin with water and allow it to dissolve.
Place the powdered sugar, and just a couple Tbsp of the heavy whipping cream in a large bowl and use an electric mixer to beat them at medium speed until they're well combined.
Then slowly keep pouring the cream in until the mixture thins out a bit. Once all the cream is added, beat at full speed just until soft peaks form.
If the gelatin has set and isn't liquid anymore, microwave it for 5 seconds, until it's liquid again. Turn the mixer to medium-high speed, pour in the gelatin and beat until stiff peaks form and the whipped cream looks smooth.
Don't over-beat but if you accidentally do and it looks chunky, add another Tbsp of cream to smooth it back out. Add the diplomat cream and the lemon juice and turn the mixer to full speed, just until it's combined. Make sure to scrape the sides and bottom of the bowl but don't over mix.
Assemble
Place the first layer of cake on a flat surface and and then gently spread out the apricot filling on top. Spread a generous amount of lemon cream on top of the apricot filling. Go almost to the edge of the cake with the cream (so it doesn't squish out once it's done), then place the next layer of cake on top and press down gently.
Repeat with the rest of the layers and then place the last layer of cake on top. Spread the rest of the lemon cream on the top layer of cake and top drizzle some more apricot filling on top. Refrigerate the cake for at least 4 hours and then top with fresh flowers, lemons and apricots.
Serve slightly chilled.
Notes
*Because we added gelatin to the cream, it's best to frost as soon as the cream is done. If you can't do it right away, either finish the cream when you can layer it or leave it at room temperature for a little bit (1-2 hours max) but don't refrigerate it or the gelatin will set.
Recommended Products
As an Amazon Associate and member of other affiliate programs, I earn from qualifying purchases.
Nutrition Information:
Yield:
12
Serving Size:
1
Amount Per Serving:
Calories:

707
Total Fat:

43g
Saturated Fat:

23g
Trans Fat:

1g
Unsaturated Fat:

18g
Cholesterol:

251mg
Sodium:

210mg
Carbohydrates:

78g
Fiber:

1g
Sugar:

57g
Protein:

7g
Nutrition information may not be fully accurate.