White forest cake is my vanilla take on the traditional black forest cake. A super fluffy vanilla cake topped with chantilly cream and homemade cherry topping.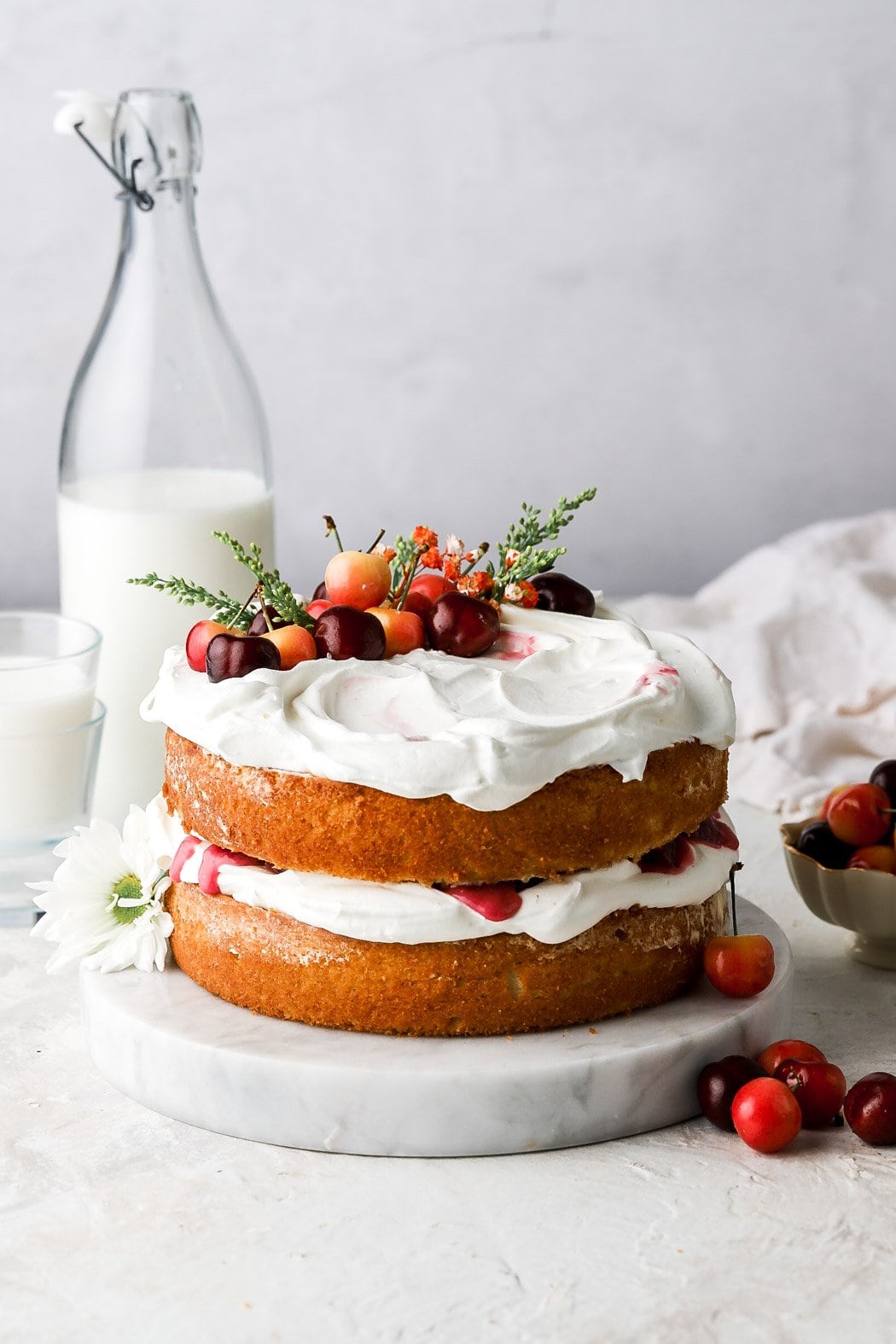 What is white forest cake
White forest cake is basically my take on the traditional black forest cake. Black forest cake is chocolate cake with boozy cherry filling and fresh whipped cream. I have a unique double chocolate black forest cake and now a white forest cake that has a vanilla base.
I wanted to do a white chocolate whipped cream but honestly, it just wasn't happening. First of all, white chocolate is just so subtle you can barely taste it in the whipped cream but then if I add more it splits really easily and just isn't worth the headache for the lack of flavor it provided so I went with a simple Chantilly cream. 
If I changed the ratios to make a stable version with white chocolate it would basically be a whipped white chocolate ganache which is absolutely delicious but a totally different consistency. So you can definitely do that too and you can find the recipe in my tuxedo cake (that amount should be enough for this cake if you're leaving the cake naked).
If you did really want to include more white chocolate you can make a white chocolate cake by folding in 1 cup of white chocolate chips (preferably mini) into the cake batter.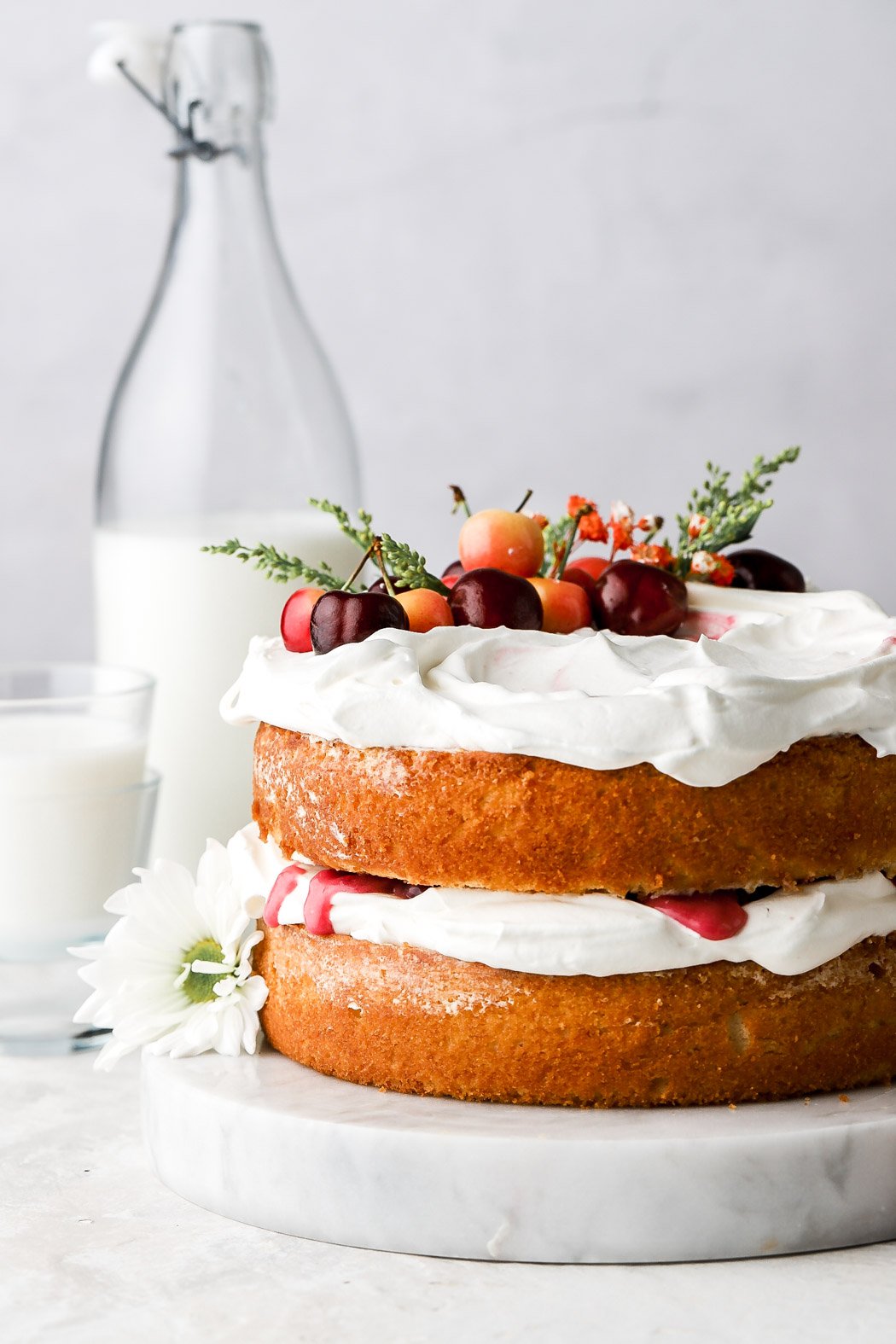 How to make white forest cake
The vanilla cake layers
I meannnn, if you've been here a while, I'm sorry it's another recipe using my beloved moist vanilla cake lol. I can't help it. If you're new here, this is my version of a perfect cake lol. 
I've used it in too many recipes to count and I've even turned it into a chocolate version and a whiter version that uses just egg whites, in my Strawberry Vanilla Cake.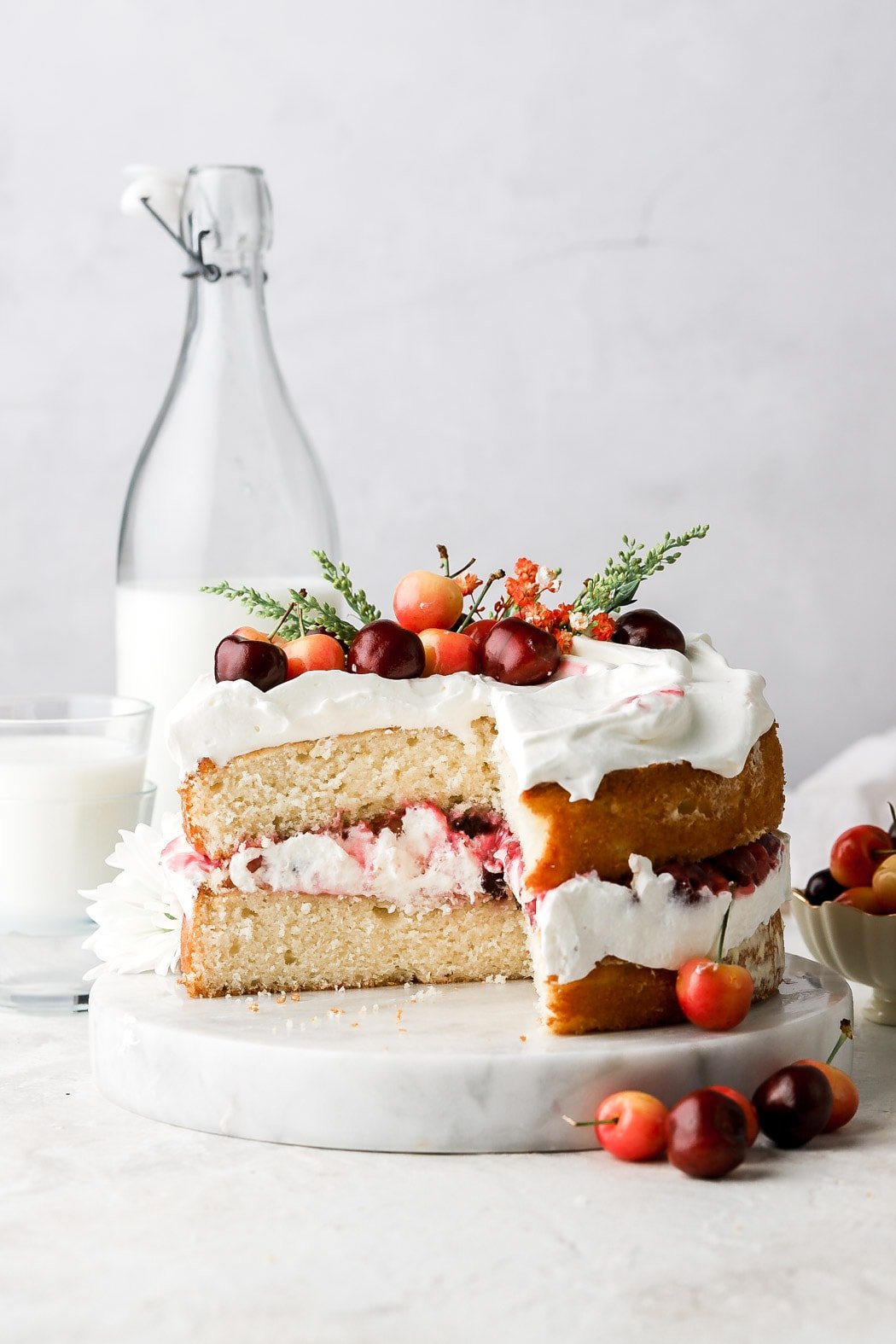 Ingredients:
Flour: I developed this cake intentionally to use all-purpose flour because that's most accessible to people. I also love it with 1:1 cake flour or a gluten-free flour like Bob's Red Mill or King Arthur.

I also HIGHLY recommend using a digital scale, as flour is so often over measured. 
If you absolutely have to use cups, make sure to fluff up the flour, spoon it into a measuring cup and level it off.

Fat: I use butter and oil in almost all my cake recipes because I like the flavor from the butter and I like the texture produced by the combination of both fats. I find that oil alone is sometimes too spongy and not quite as pleasant in a plain vanilla cake. Whereas using all butter usually results in a cake that's a bit more stiff.
Eggs: I use large room temperature eggs; if you're in a pinch, place cold eggs into hot water for 5-10 minutes.
Sugar: I used granulated sugar in this recipe but I've made this recipe with light brown sugar, dark brown sugar, caramelized sugar, etc. They all turn out fairly similar but I prefer the granulated sugar.
Liquid: I was a firm believer in buttermilk before I did all this testing. Now I am a firm believer in sour cream. The difference in texture and flavor was mind blowing from the very first test.

If you really don't have access to sour cream you can substitute it for 3/4 cup of yogurt or Greek yogurt.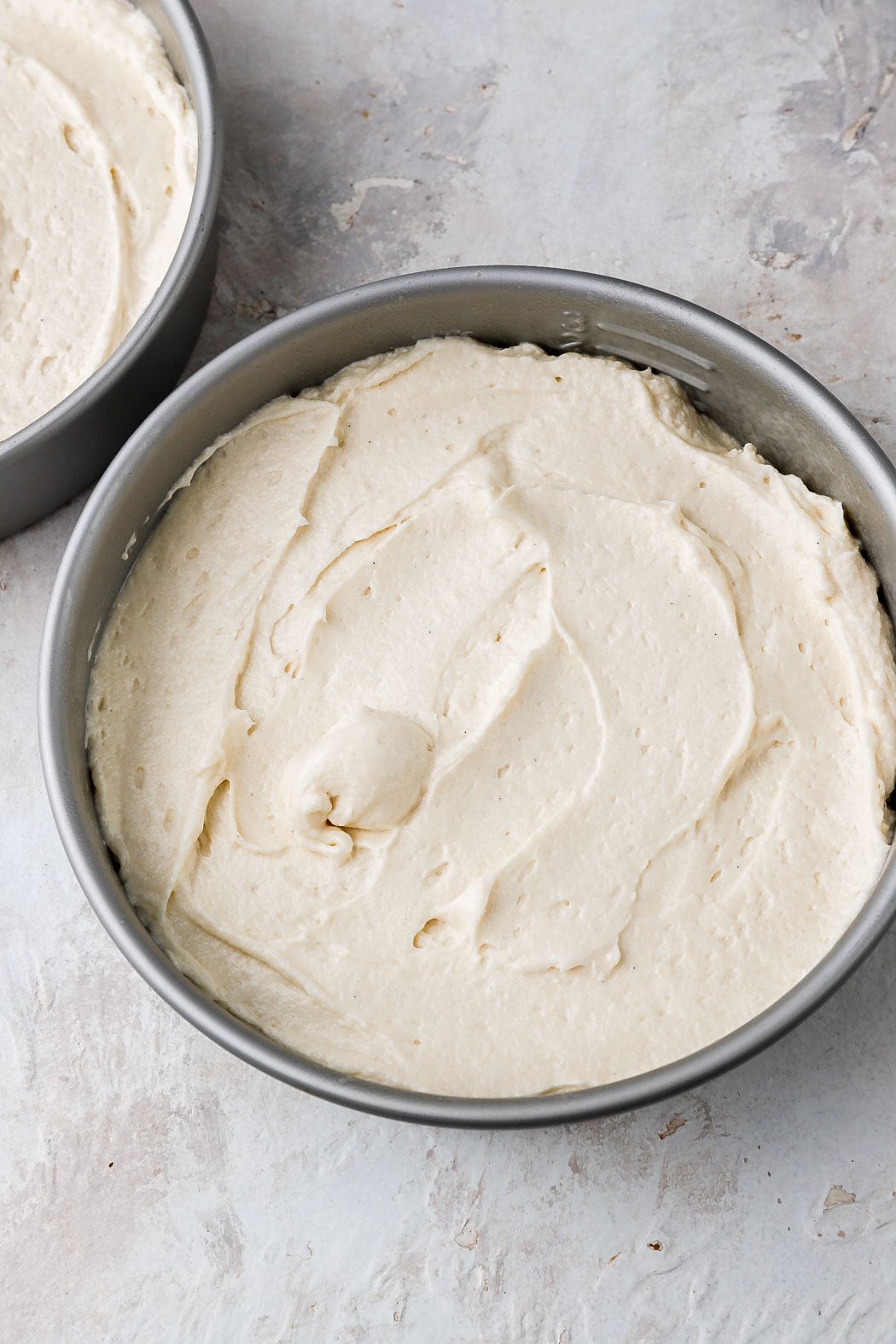 The cherry filling
This topping is very similar to a cherry pie filling but slightly less saucy. I didn't want all the liquid to run off the edge of the cake so I didn't add any extra water to it. The cherries just simmer in a pot with sugar and cornstarch, stirring frequently until they burst a little and it resembles a thick, chunky sauce.
Then add the kirsch, if using. Kirsch is a cherry liquor made from morello cherries. You can replace this with bourbon or even just 1 Tbsp of lemon juice and/or 1 tsp of lemon zest.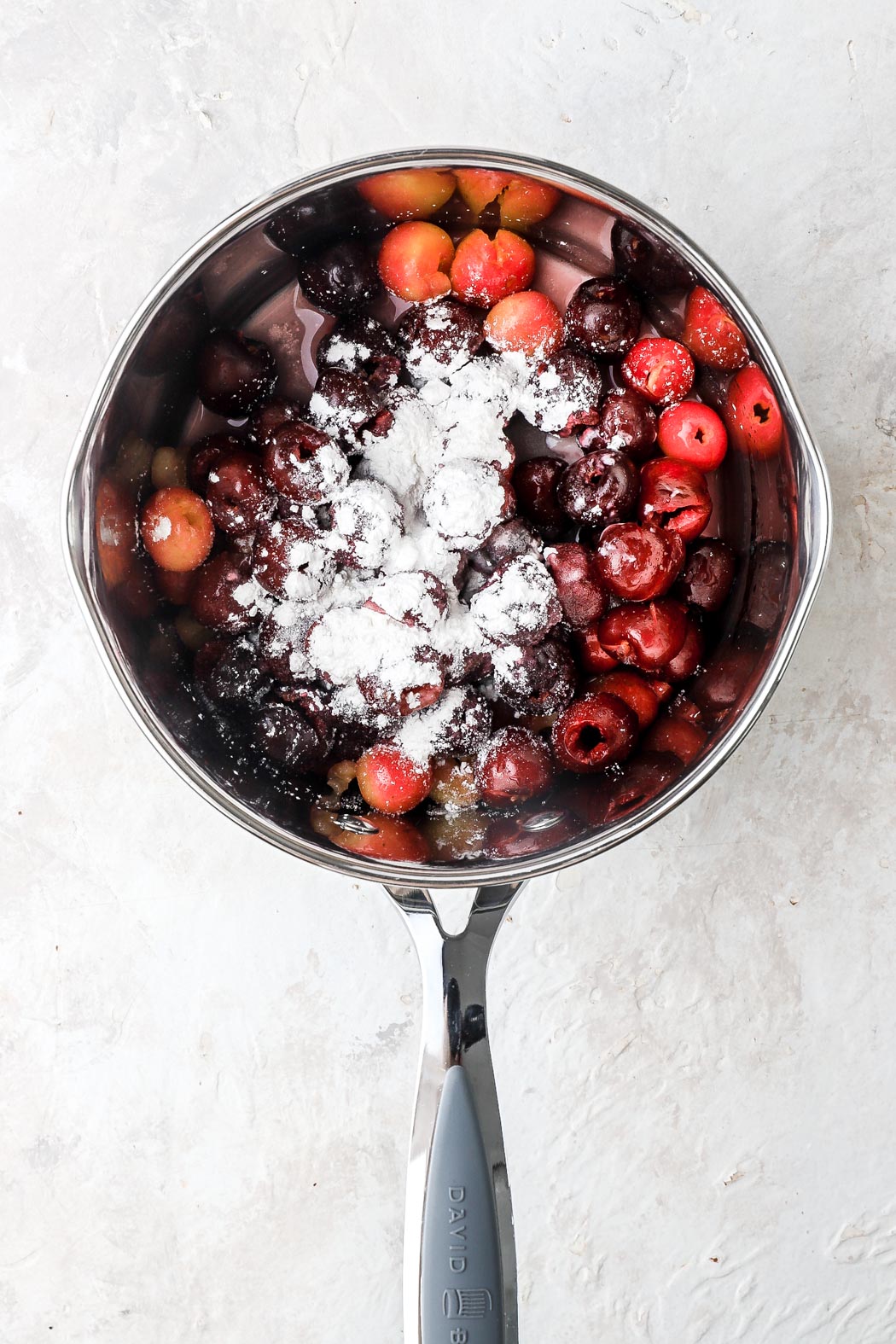 Chantilly cream
So like I mentioned earlier, I went with a simple chantilly cream. Sift the powdered sugar with the salt, add the cold heavy whipping cream and vanilla and whip just until stiff peaks.
If the whipped cream gets over whipped and looks chunky/dry, add a couple extra tablespoons of heavy whipping cream and beat just until it's incorporated.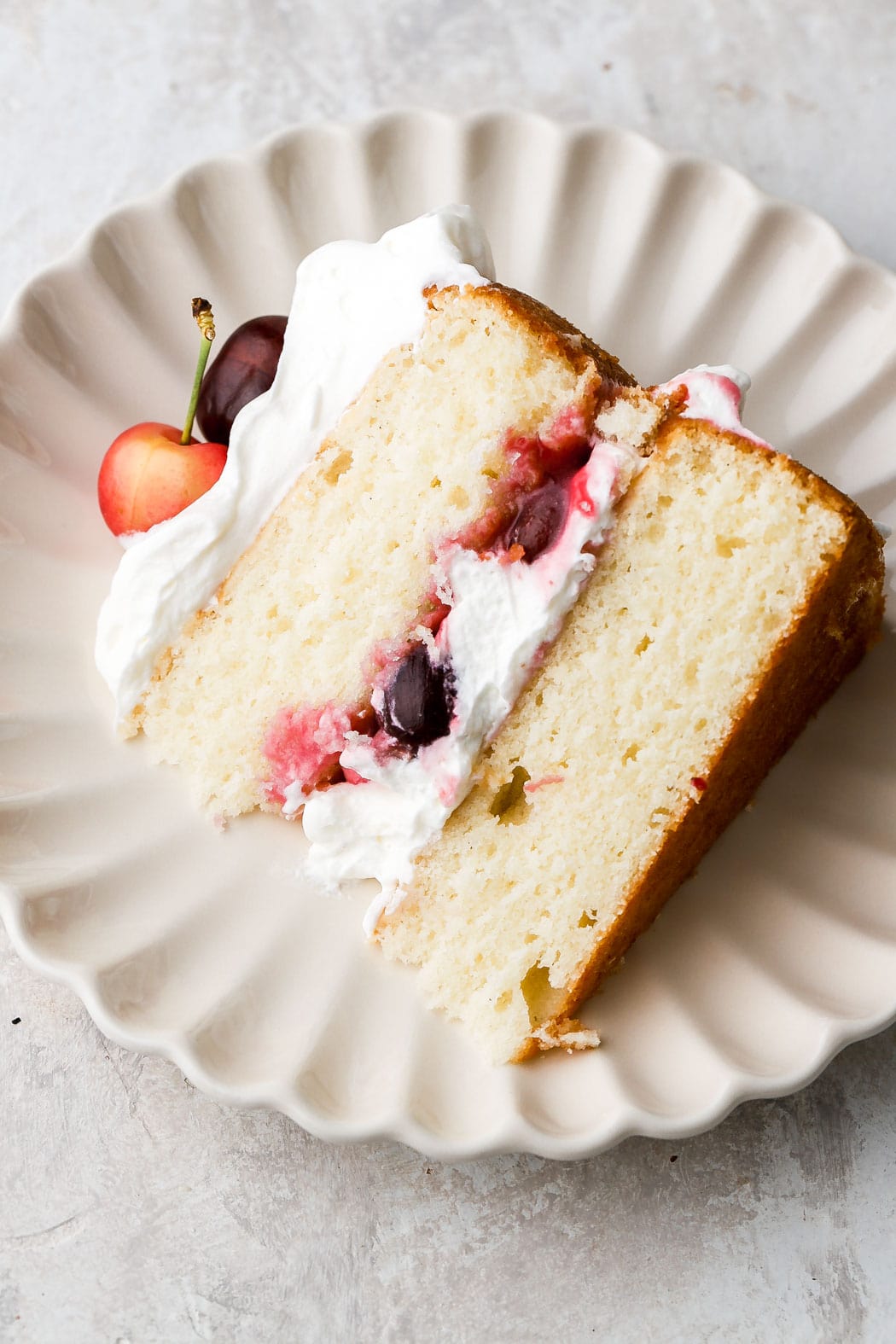 How to decorate a white forest cake
I left mine naked and rustic and I really wanted to decorate with fresh cherries and few simple florals. You could also double the cherry filling and spread that on top of the cake.
You can still include some white chocolate by making white chocolate curls or dusting with white chocolate shavings.
If you want to cover the outside with the chantilly cream too, it may be a little difficult since the cake is so light and the cream is so soft. You can lightly cover it after refrigerating (or freezing) it for a little until it's more sturdy.
If you want to actually frost it nice and decorate the outside of this cake you'll have to pipe a border of buttercream around the edge of the first layer of cake and then use the chantilly cream and berries as the filling. You can see how I did that for my cranberry orange cake.
I recommend a Swiss Meringue buttercream for decorating but American buttercream also works fine.
Make sure to check out my cookbook Frosted for a million frosting options and how to use them! I also have an ebook, Frosted 2.0, that shows step-by-step photos of all the types of frostings in the cookbook. You can download that below.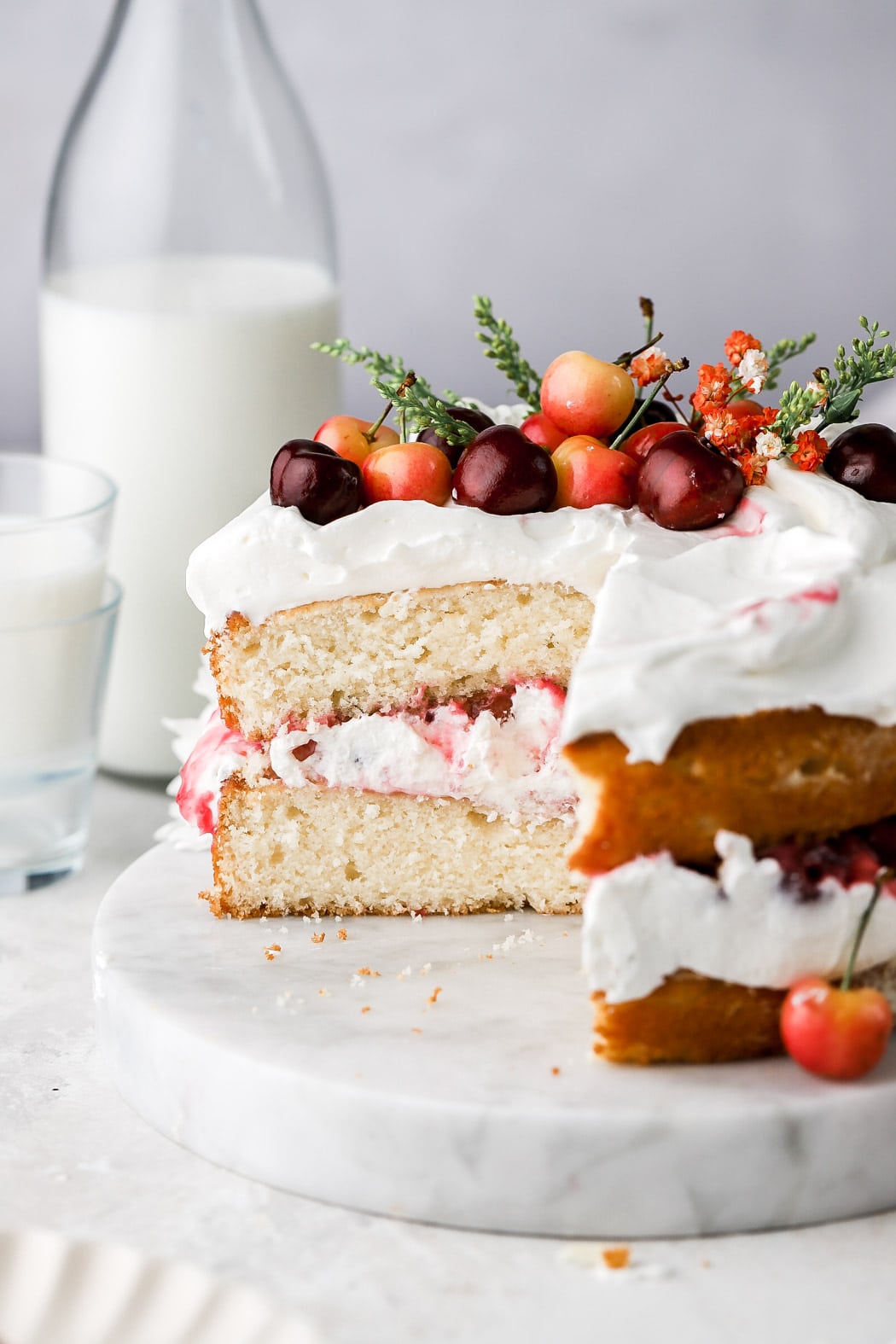 Frequently Asked Questions
Can I use store bought whipped cream instead?
Yes. You can use the stabilized whipped cream that you find in the freezer aisle, like Cool Whip, but don't use canned whipped cream, that'll melt. 
Can I use store bought cherry preserves?
Yup! You can use any kind of store bought cherry jam, cherry compote, cherry syrup, cherry topping, cherry preserves, etc. Just make sure it's not super runny and if you want, you can still add a little kirsch to it. 
You can also just use fresh cherries, pitted and sliced in half!
Another great way to make the cherry filling if you want fresh cherries is to make make a sugar syrup and pour it over the fresh cherries. Make the sugar syrup by simmering 1/4 cup sugar with 2 tablespoons of water for about 5 minutes, until the sugar dissolves and has thickened slightly. Then pour it over the pitted/halved cherries. Let it cool before using.
Can I make this cake in a different size?
You can make this cake like I did, in two 8 inch cake tins or you can make it into a sheet cake with a 9x13x2 inch pan.
I did make my double chocolate black forest cake in three 6 inch layers but this chantilly cream may not hold up to three layers very well. If you do want to do that, you totally can – the cake makes three 14oz layers. However, I recommend dissolving 1 teaspoon of gelatin into 1 Tablespoon of warm water and adding it to the whipped cream before beating. Then refrigerate the cake for 20-30 minutes between stacking each layer.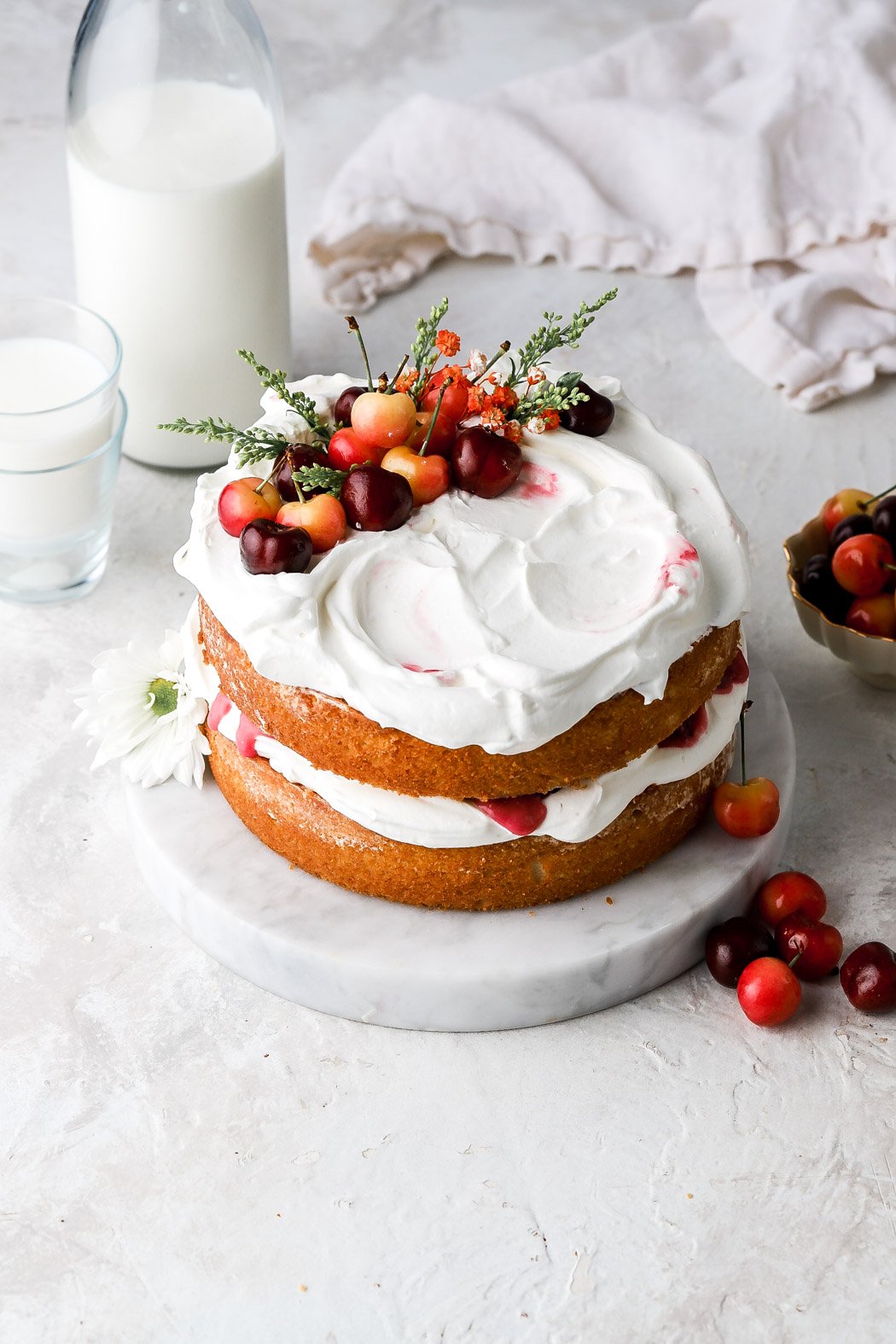 How to store white forest cake
This white forest cake will need to be stored in the refrigerator since it's just frosted with whipped cream. It's also best to keep it covered with a cake dome if you are storing it in the refrigerator. Since it's not frosted with buttercream on the outside, the cake dries out quicker.
It's easier to slice if you refrigerate the cake with the chantilly cream for a few hours. However, whipped cream doesn't hold up great though so it's best eaten within a couple of days.
How to make the cake in advance
If you want to work ahead, you can bake the cake layers, wrap them in plastic wrap and keep them on the counter for 1-2 days or freeze for up to a few weeks. You can also make the cherry filling a few days in advance and store it in the refrigerator. Then make the whipped cream and assemble the day of or before serving.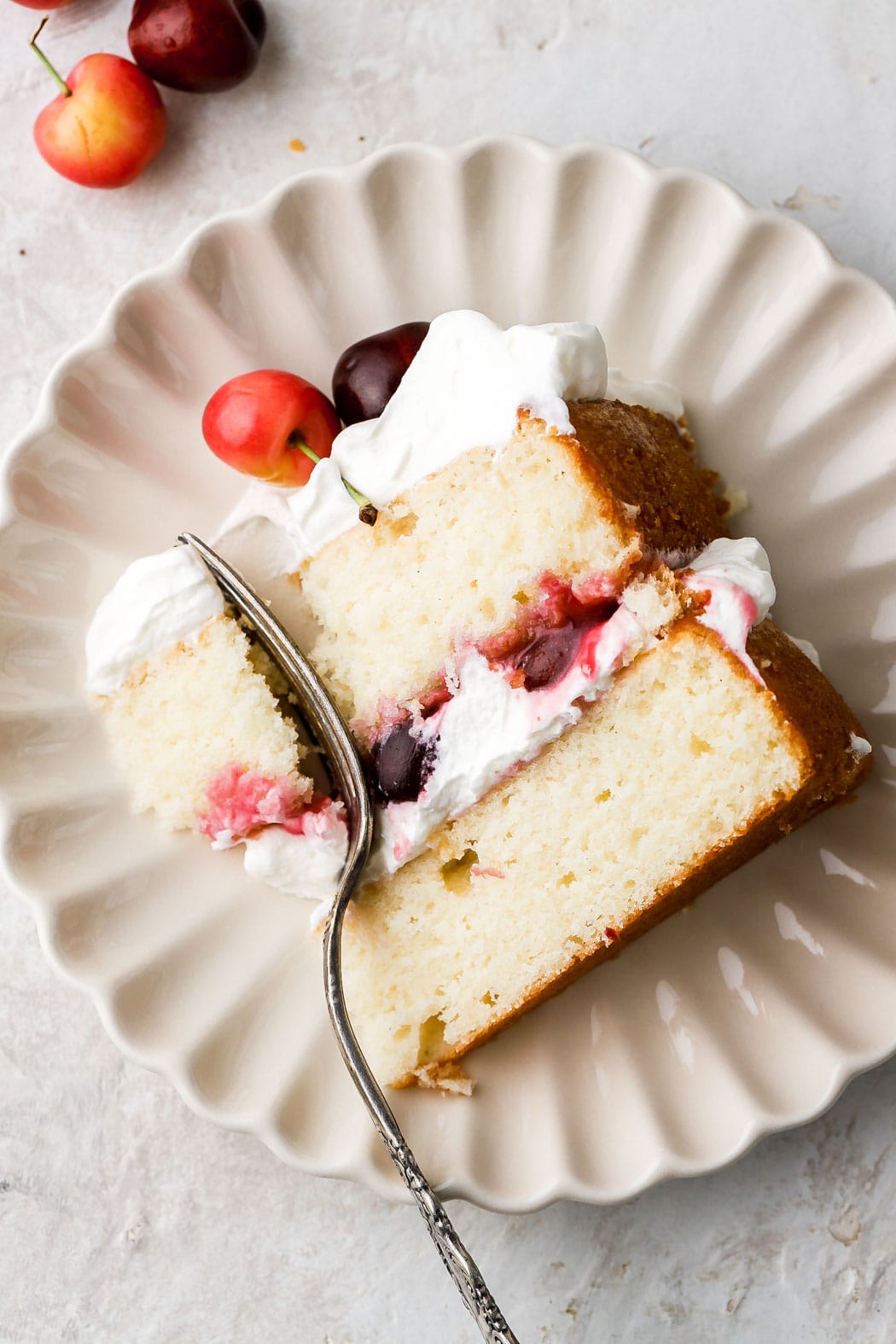 Thanks so much for reading today's post, if you have any questions just comment down below. Make sure to leave it in the comment section because I can't answer in the rating section :).
If you make this white forest cake I would love to see it so make sure to tag me @baranbakery on instagram and check out my cookbook, Frosted, for more cake recipes!
As always, have a blessed day and happy baking!
Love, B
Yield: 12-18 servings
White Forest Cake Recipe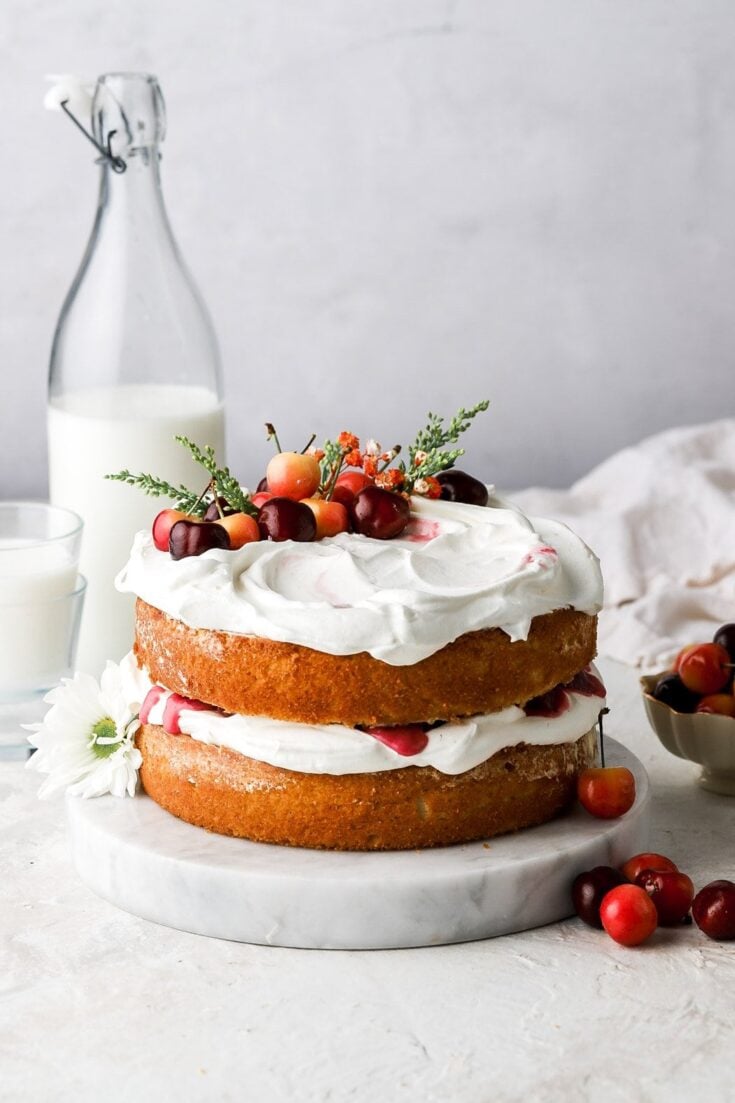 White forest cake is my vanilla take on the traditional black forest cake. A super fluffy vanilla cake topped with fresh chantilly cream and homemade cherry topping.
Total Time
2 hours
20 minutes
Ingredients
Vanilla Cake
2 1/4 cup (270g) all-purpose flour, spooned and leveled
1 Tbsp baking powder
1/2 tsp salt
1/4 cup (56g) unsalted butter, room temperature
1 1/2 cups (300g) granulated sugar
1/2 cup (118mL) vegetable oil
3 large eggs, room temperature
3/4 cup (170g) sour cream
2 tsp vanilla extract
3/4 cup (177mL) whole milk, room temperature
Cherry Filling
8 oz (1/2 lb) black cherries (frozen or fresh), pitted and halved
1/8 cup (25g) granulated sugar
1 tsp cornstarch (2 tsp if using frozen cherries)
1 Tbsp (15mL) kirsch *optional
*Double this recipe if you want the cherry sauce on the top layer too
Chantilly Cream
1/3 cup (45g) powdered sugar, spooned and leveled
1 1/2 cups (12oz) heavy whipping cream, cold
2 tsp vanilla bean paste
tiny pinch of sea salt
Instructions
Vanilla Cake
Preheat the oven to 350F/177C convection (325F/163C conventional) and grease and line two 8-inch cake pans with baking spray and parchment paper.
In a medium bowl, whisk together the flour, baking powder and salt until they're evenly distributed.
Place the room temperature butter and the granulated sugar in a large bowl and use an electric mixer with the whisk attachment to beat them for 1-2 minutes. Add the oil and beat at full speed for another minute.
Then add the eggs, one at a time, beating on medium speed until each egg is fully incorporated.
Add the sour cream and vanilla extract and beat just until combined.
Add half of the dry ingredients to the mixture, turn the mixer to low speed and then pour in the milk, followed by the rest of the dry ingredients.
Distribute the batter evenly among the two prepared pans, about 22oz in each pan and bake for 35 minutes. When the cake is fully baked it will release itself from the edge of the pan and it will spring back if you press on the center of it.
Remove from the oven and flip over onto a wire rack or a tea towel. Allow the cake to cool completely before frosting.
Cherry Filling
Combine the cherries, sugar and cornstarch in a medium saucepan over low-medium heat and bring it to a simmer.
Bring the heat down to low and allow the mixture to simmer for about 5 minutes, stirring frequently, until the liquid resembles a sauce.
Remove the cherry topping from the heat and add the kirsch (2 tsp if you want it stronger) and pour it into another bowl or jar to cool completely.
Chantilly Cream
In a large bowl or the bowl of a stand mixer, sift together the powdered sugar and salt.
Pour in the heavy whipping cream and vanilla and beat at medium-low speed with an electric mixer, for 1-2 minutes, until it starts to thicken.
Then increase the speed to high for 1-2 minutes, until it's fluffy and just barely holds stiff peaks.
If you over-whip the cream, add a couple of tablespoons more and mix until combined.
Use a rubber spatula to scrape the edge of the bowl and fold it a couple times to smooth it out.
Assemble
Once the cake and the cherry topping have cooled, place the first layer of cake onto a cake board or a flat surface.
Top with half of the chantilly cream but don't go all the way to the edge of the cake, leave a little room for it to spread on it's own when you stack the next layer.
Spread the cherry filling on top of the whipped cream and place the second layer of cake on top.
Spread the rest of the chantilly cream on top and top with fresh cherries (or cherry filling if you have some left).
Serve fresh or store refrigerated.
Recommended Products
As an Amazon Associate and member of other affiliate programs, I earn from qualifying purchases.
Nutrition Information:
Yield:
12
Serving Size:
1
Amount Per Serving:
Calories:

473
Total Fat:

27g
Saturated Fat:

12g
Trans Fat:

1g
Unsaturated Fat:

14g
Cholesterol:

54mg
Sodium:

287mg
Carbohydrates:

54g
Fiber:

1g
Sugar:

35g
Protein:

4g
Nutrition information may not be fully accurate.