Easy vanilla macaron recipe made using the Swiss method and using the leftover egg yolks to make the best vanilla bean French buttercream!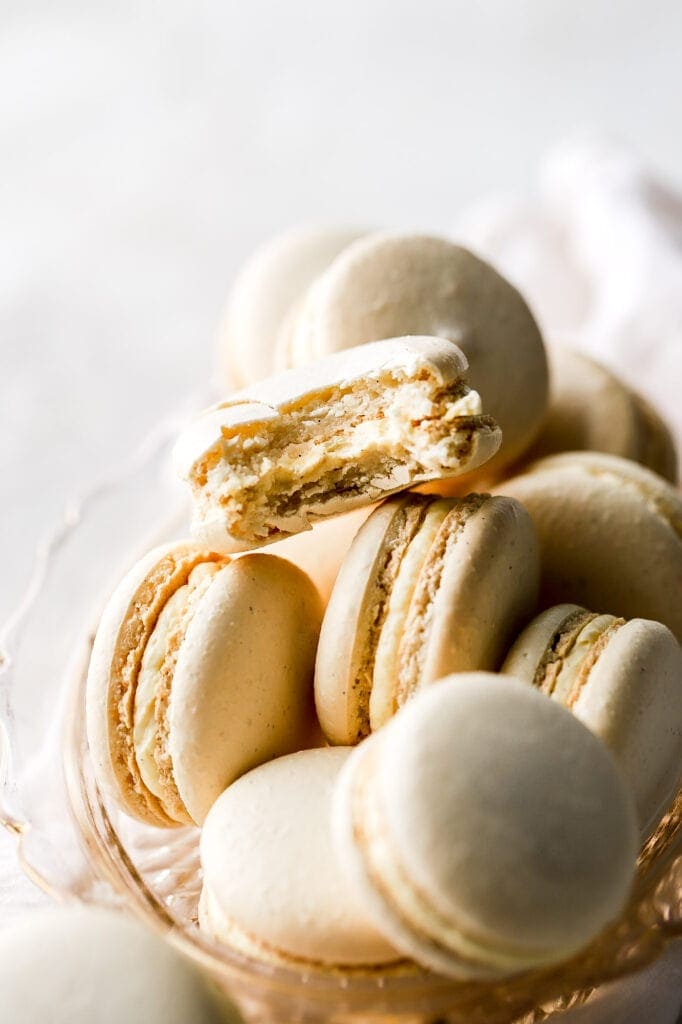 Baran Bakery Macaron Month is finally here, my friends! Once upon a time, I wanted to learn how to make macarons so I invested like 3 months of my baking life into making 5-10 batches a week until they were both perfect and consistent.
Some of those recipes made it to the blog but unfortunately they're a few years old and needed a bit of a facelift. Because I have a few recipes I wanted to share with you all, I decided to do one every week for the month of April.
The first one is going to be classic vanilla French macarons. Generally I think vanilla is a very mild flavor but this vanilla macaron recipe is anything but boring! The secret? Vanilla bean paste and French buttercream, friends! 
I use this recipe as a base for all my macarons, even the minis. Some flavors I have posted are: lemon with cream cheese, double chocolate, white chocolate raspberry, salted caramel, coffee, peppermint mocha, cotton candy, cookies and cream, peanut butter cup.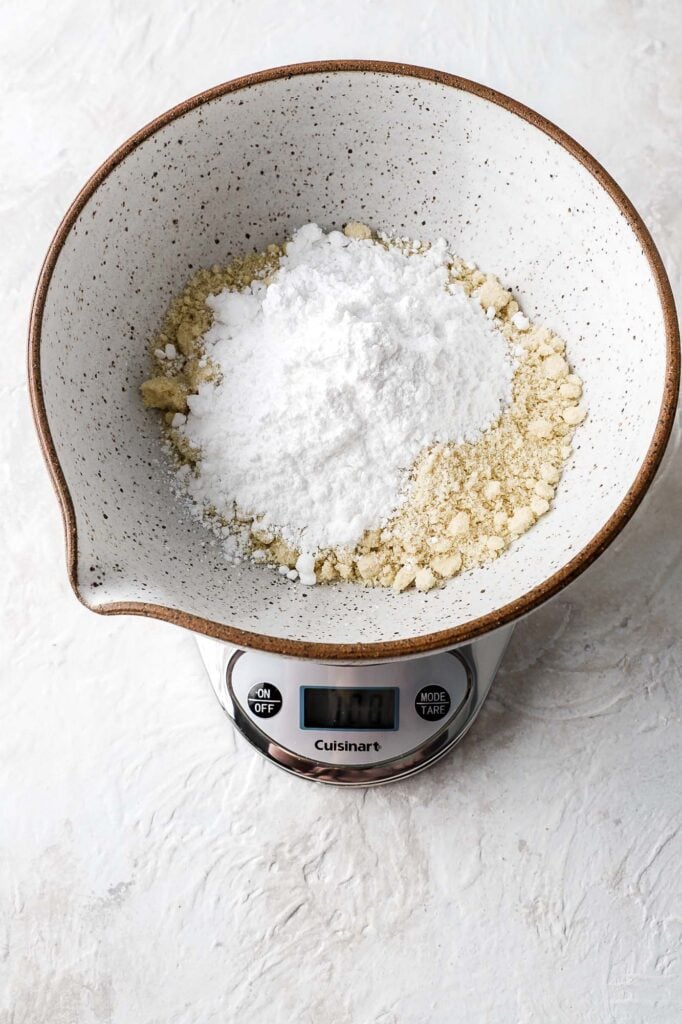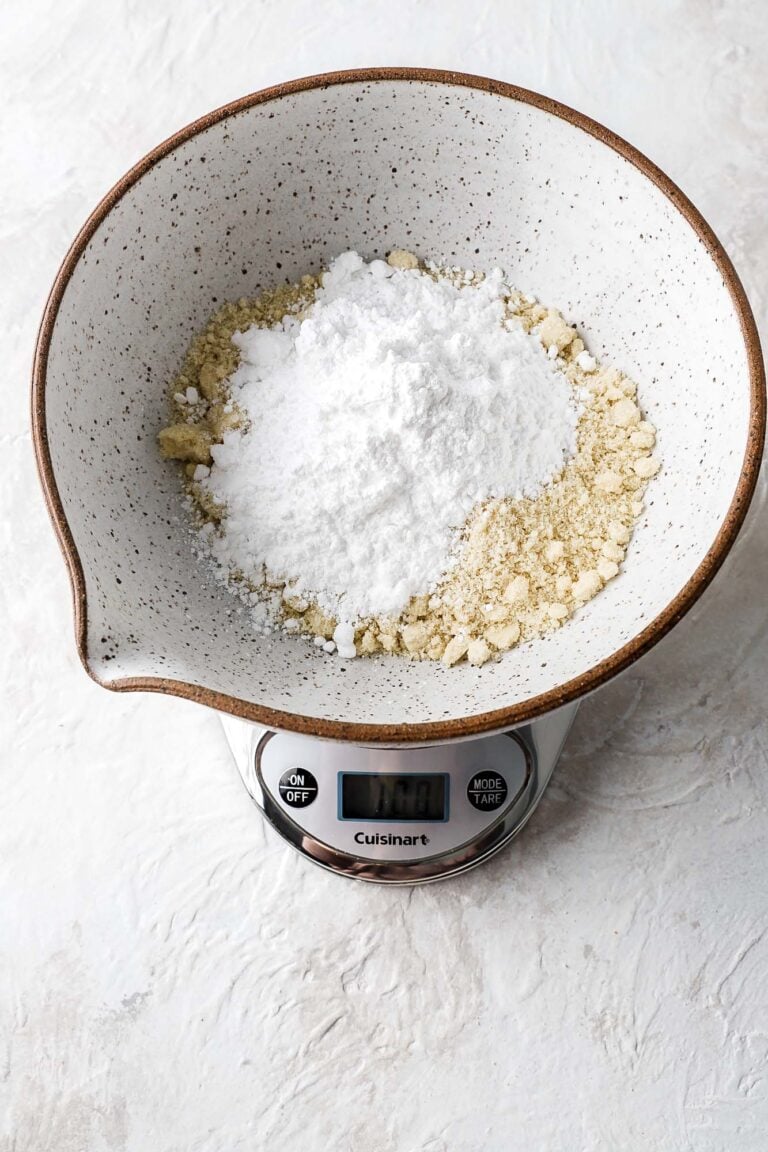 How to make vanilla macarons
You know how I always say "this recipe seems intimidating but it's actually really simple" like the baklava from last week?! Well, this is not the case here lol. I'm going to be straightforward with you and tell you that macarons can be a total pain in the rear end.
But that's why I'm here, (and literally every other troubleshooting macaron blog post out there) to help you. The key is to be very, very precise in following the directions and measuring the ingredients.
It is possible to make macarons without a scale but 99% of the time your measurement is probably just slightly off and these finicky babies are not going to forgive you. Don't get me wrong, even when macarons crack and look ugly, they're still edible and delicious so don't give up! & please don't ever expect your first batch of french macarons to turn out perfectly because many times, it's just technique and getting the hang of it…but it's so worth it because homemade macarons>>>store/bakery bought macarons.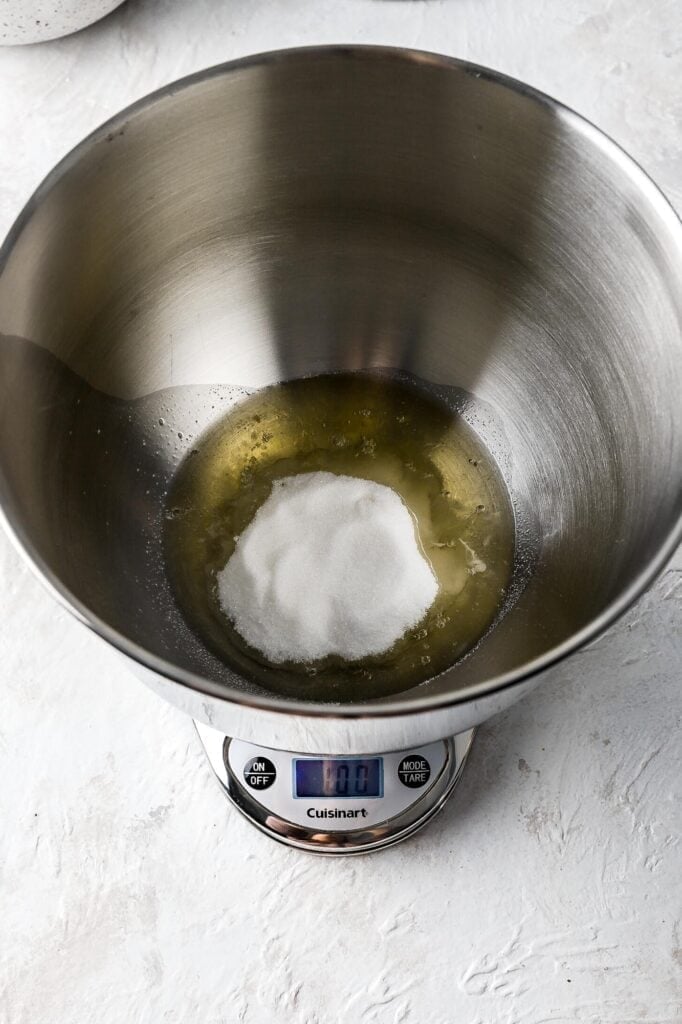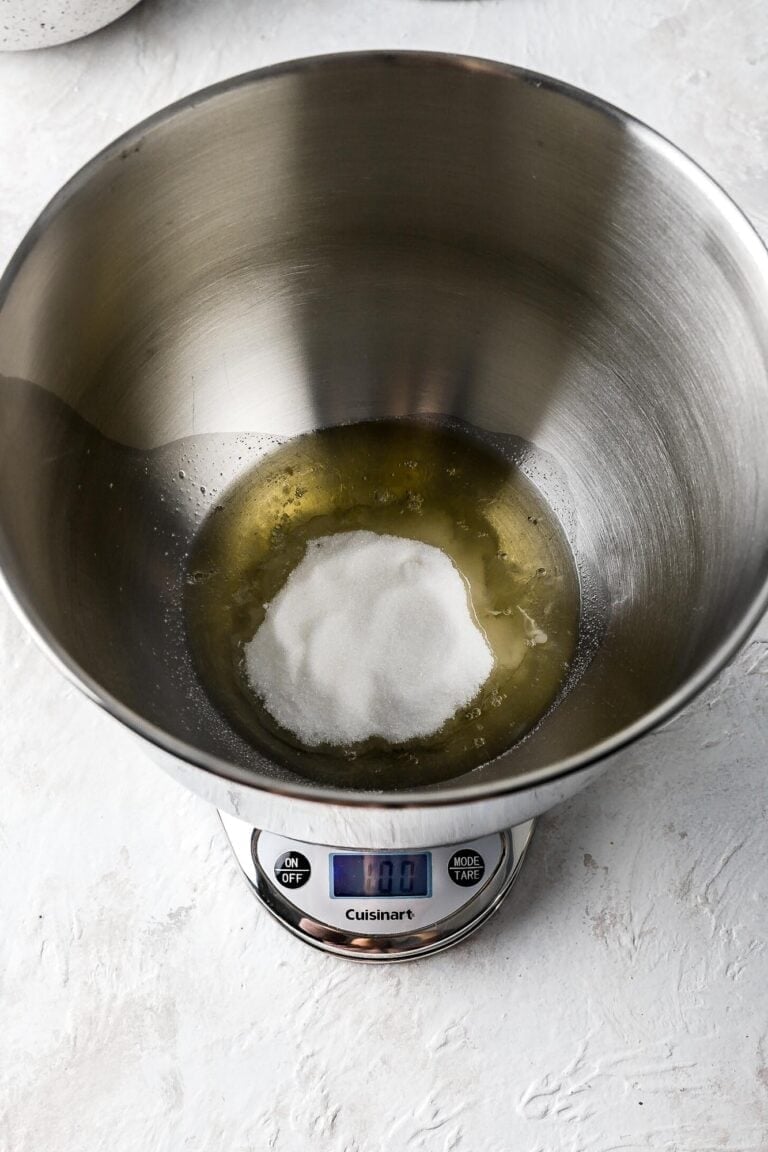 The Swiss meringue method
I've tested the French method, the Italian method and the Swiss method of macarons and I will 100% confidently say that the Swiss method is my favorite. I can't take any of the credit for the base recipe though, as I learned how to make this version from my friend Sarah of Broma Bakery. You can read about her trip to Israel where she learned it in her white chocolate pistachio macarons post. 
To make a Swiss meringue, the granulated sugar gets dissolved in the egg whites over a double boiler and then the two get whipped into a meringue. The powdered sugar and almond flour get sifted together and then folded into the meringue, along with any other flavors or food coloring.
The reason I like this method is because cooking the egg whites will always give you a more stable meringue, meaning it's slightly more forgiving than an uncooked meringue. I also love this method because it's so easy to remember the ratio of ingredients, just 100g of egg whites, granulated sugar, powdered sugar and almond flour.
Making macarons using the Swiss method also doesn't require the same resting that the French or Italian method requires. I usually just preheat my oven while I'm piping and let them rest just a few minutes before baking the first tray.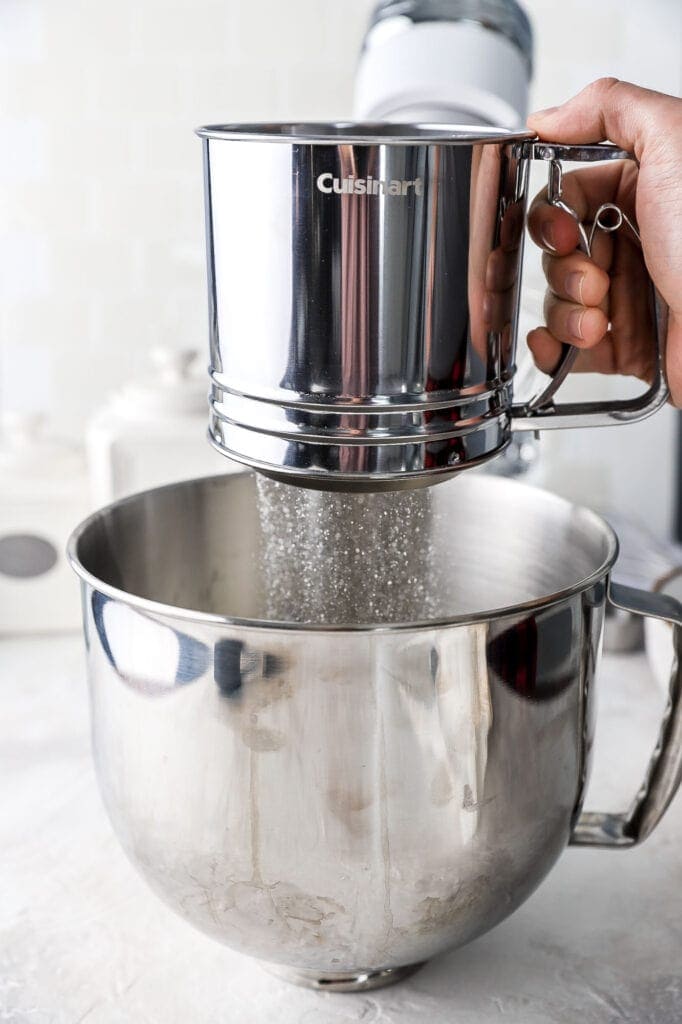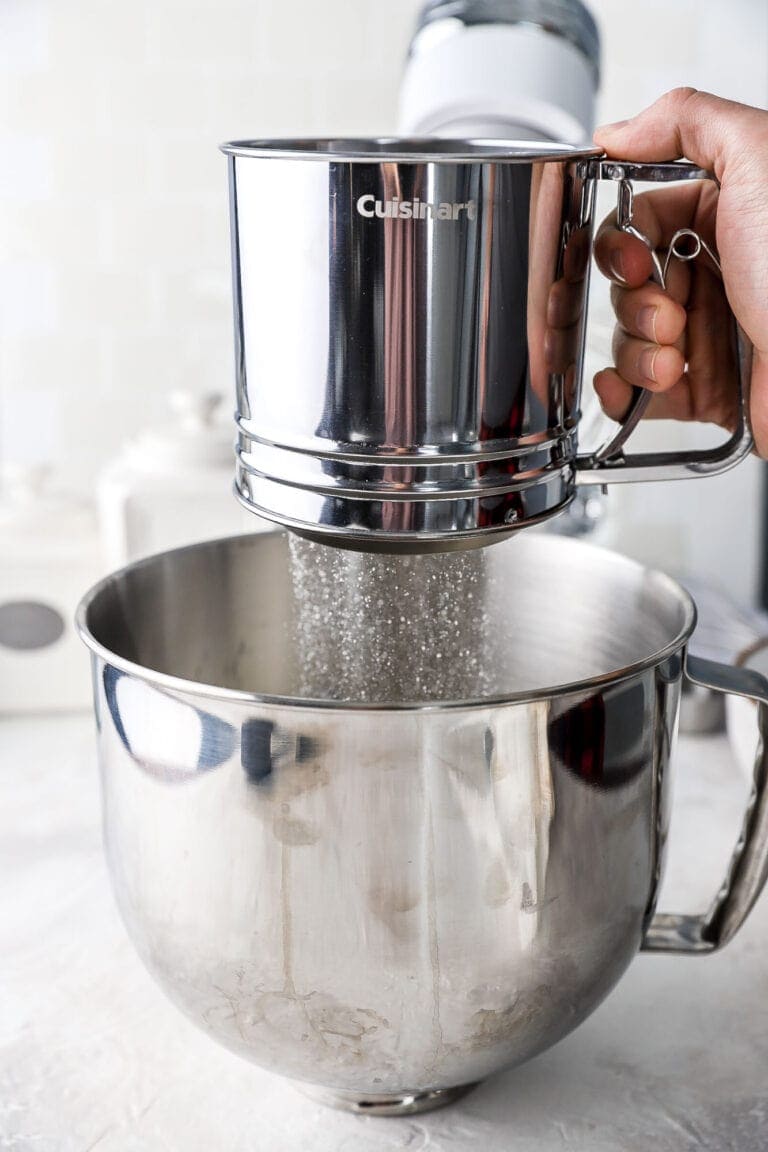 Environment of making macarons
The environment in which you are making macarons can drastically change the results. In the beginning, I could never get the macarons right in the middle of summer, just because it was too humid. Knowing what your batter should look like at all times (comes with practice and experience) is what will give you consistent results.
When the batter is ready to be piped, it should ribbon off the of the spatula and if you form a figure 8, it shouldn't break. If it breaks halfway through, fold a few more times and then test again. If you can form a figure 8 more than once, it's probably a little over-mixed. Sometimes, this can be salvaged by letting it rest for about 30 minutes.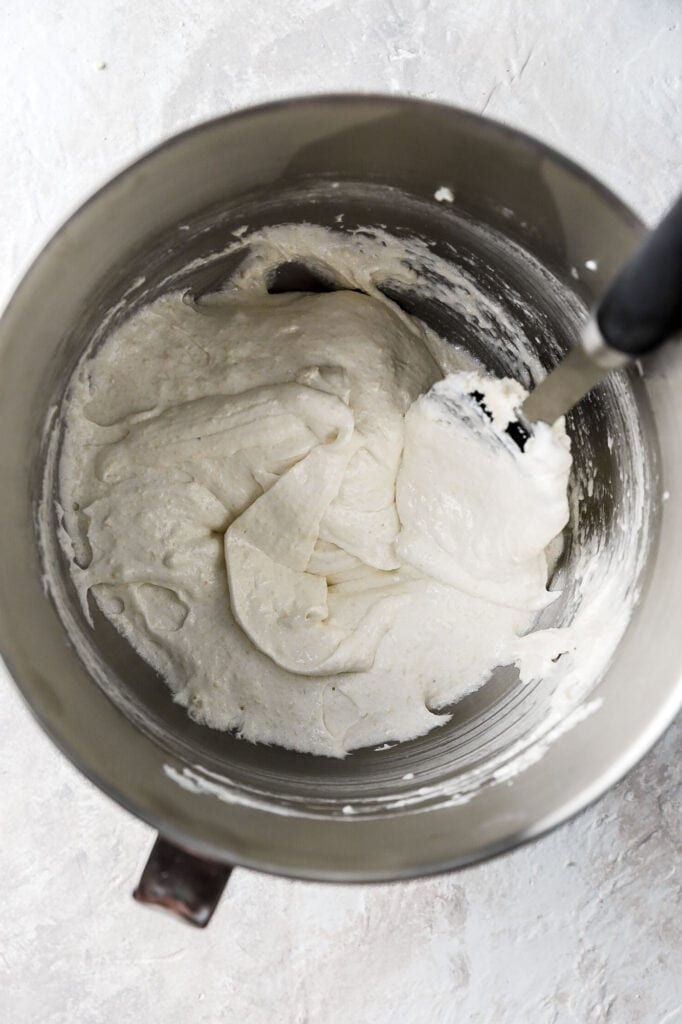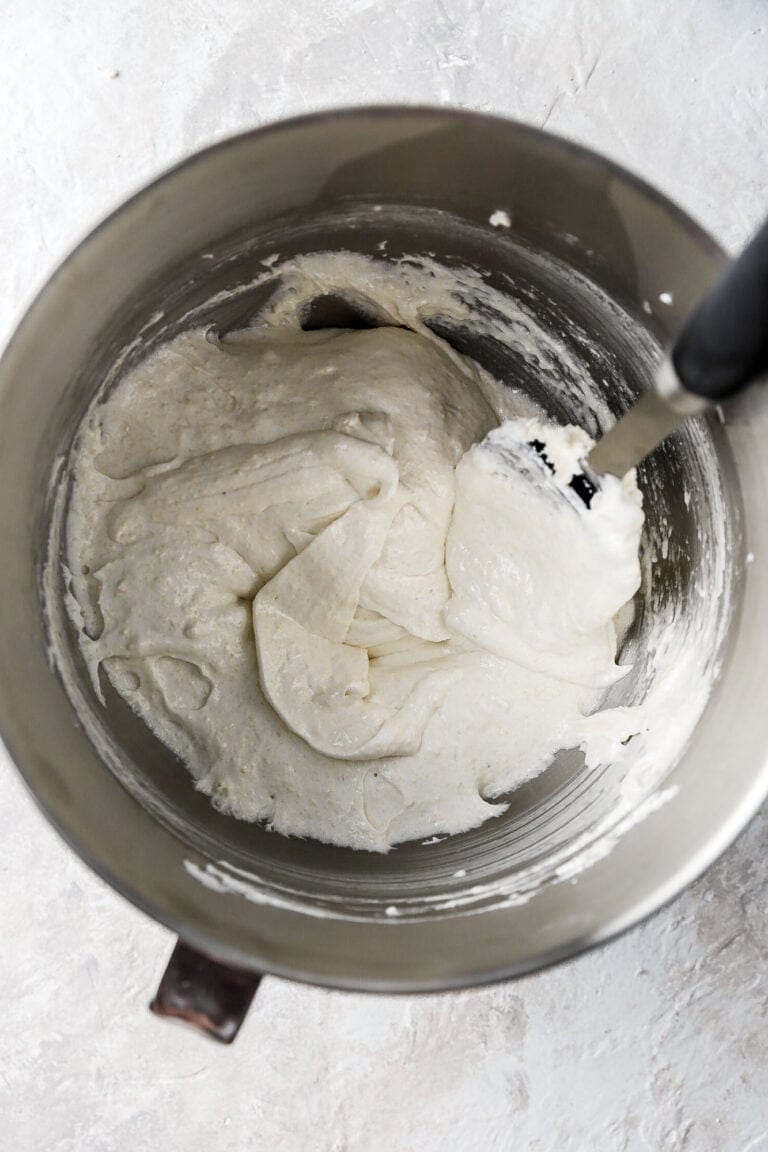 Extra tips and tricks
100% recommend a scale for measuring ingredients (except the egg whites, I use 3 large and it's usually +/- 5 grams, which is fine).
Once you stiff peaks in your meringue, don't over whip.
There is no perfect number of how many folds are needed to get the right batter but there is a technique. In the step-by-step photos, you'll see how I use a firm rubber spatula to push the batter against the edge of the pan and then scrape it back off the edge. I repeat that process until it ribbons into a figure 8 without breaking. The intention here is to push out the air bubbles so that you don't have hollow or cracking macarons.
When you go to pipe the macarons, I usually have a slight "nipple" on them right away but it should disappear or be very faint after rapping the tray on the counter a few times. If it doesn't go away, dab your finger into water and then gently press the nipple down and it'll flatten. Remember this for next time, because the batter probably just needed a couple more folds.
If you're having trouble and have tried it a few times, I recommend an oven thermometer. If your oven is off even 10 degrees it can change the results.
I use a convection oven (with a fan) so I don't find the need to rotate them in the oven halfway through baking but if they're browning on one side more than the other, you can rotate them 7 or 8 minutes into baking.
Don't try to remove them from the pan right away, they can break. Allow them to cool on the pan for at least 10 minutes.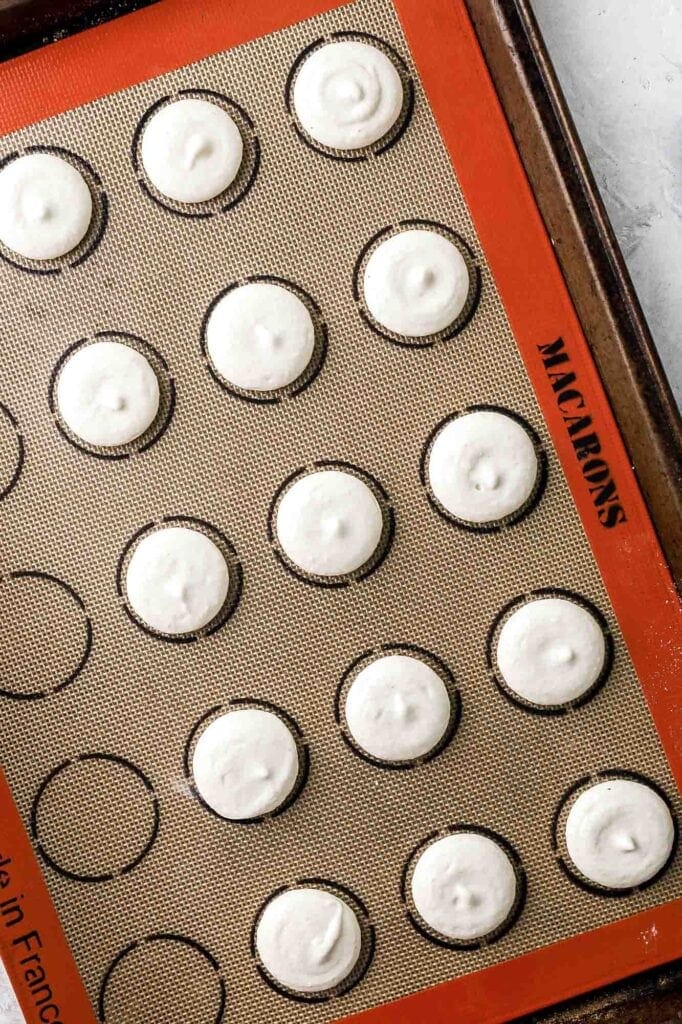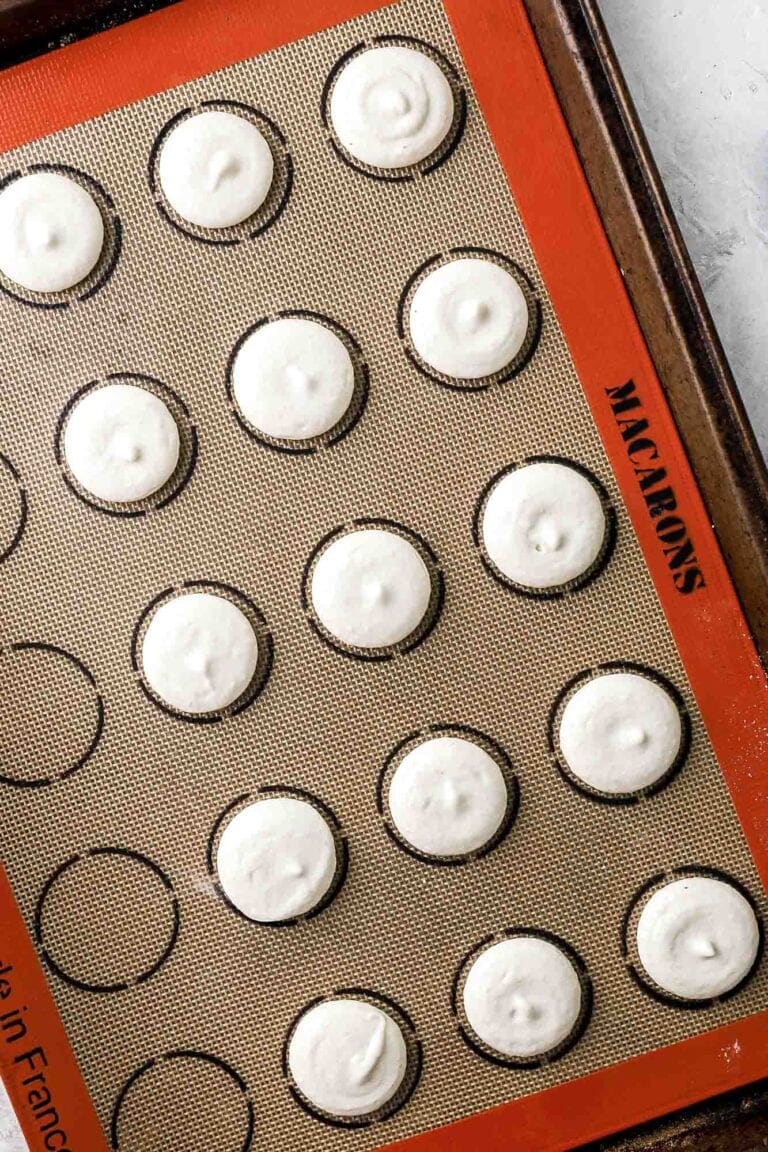 What kind of filling to use for vanilla macarons
You can use any kind of filling that's not too runny but I love to use up the leftover egg yolks to make French buttercream, especially for vanilla macarons. Vanilla is such a mild flavor that sometimes the buttercream can just be too buttery or too sweet but French buttercream gives it a more custardy flavor.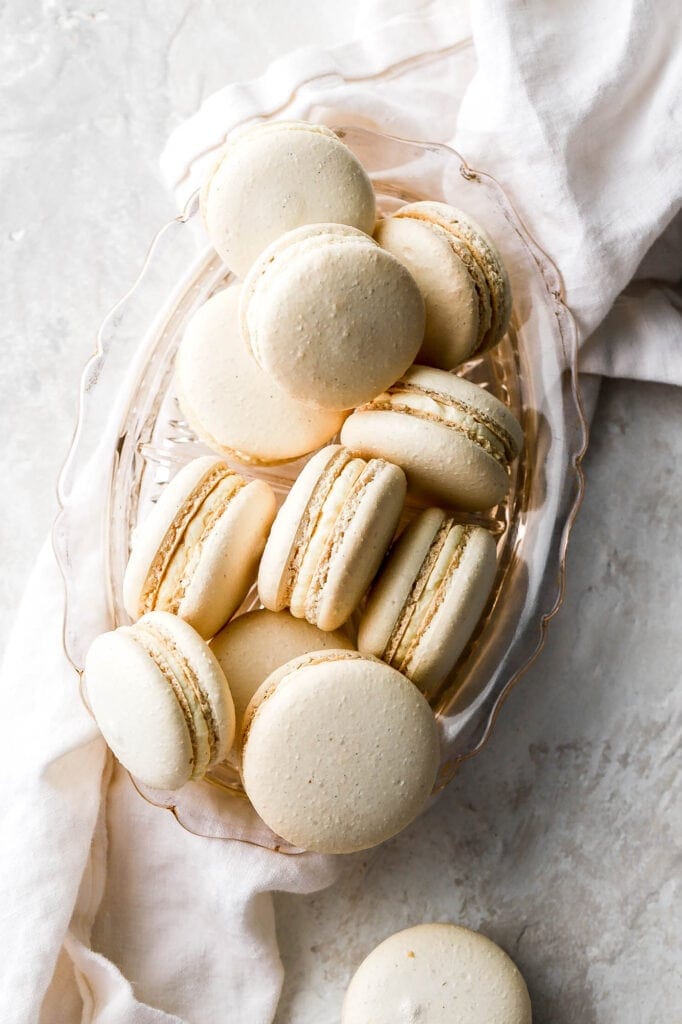 How to make French buttercream
I have a whole blog post on How To Make French Buttercream, that you should check out. There are step-by-step photos for them as well since it is a bit more complicated than American buttercream but again, it's so worth it! 
You'll just have to make a sugar syrup (like caramel), that gets poured over whipping egg yolks and then beat until it's cool enough to add the butter.
If you've never made homemade macarons, I highly encourage you to try this vanilla macaron recipe. It's not super complicated, it just requires patience, accuracy and perseverance! They really are SO MUCH better than any store bought or bakery macarons that I've ever had, and I've tried a lot. By a lot, I mean probably all the bakeries in Michigan that sell them, New York, LA, Rome and Paris. Homemade is better. Period. Lol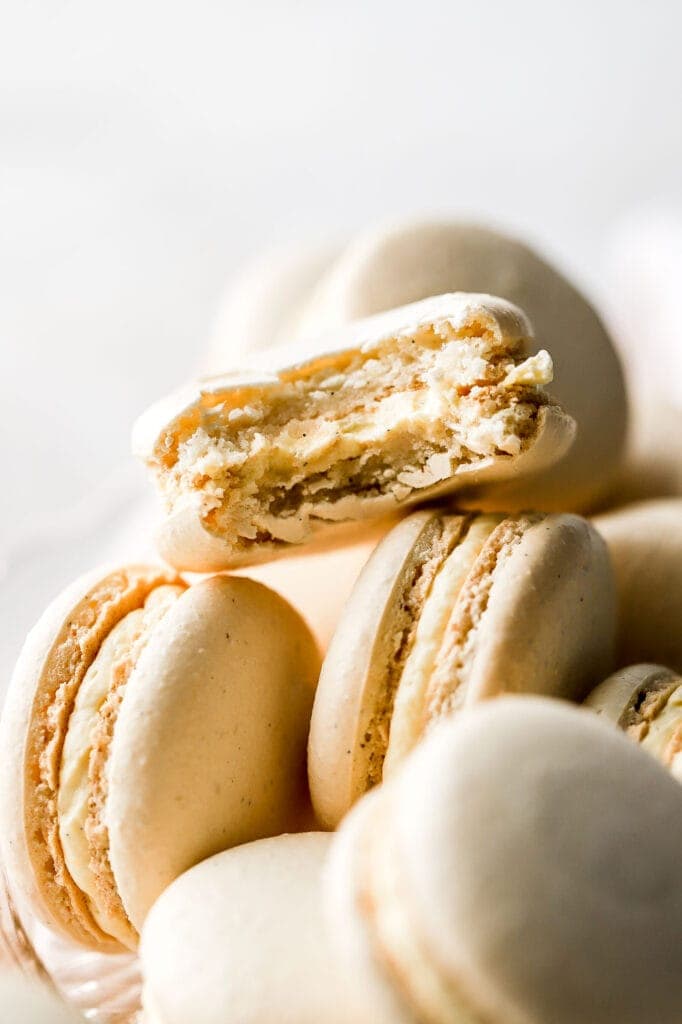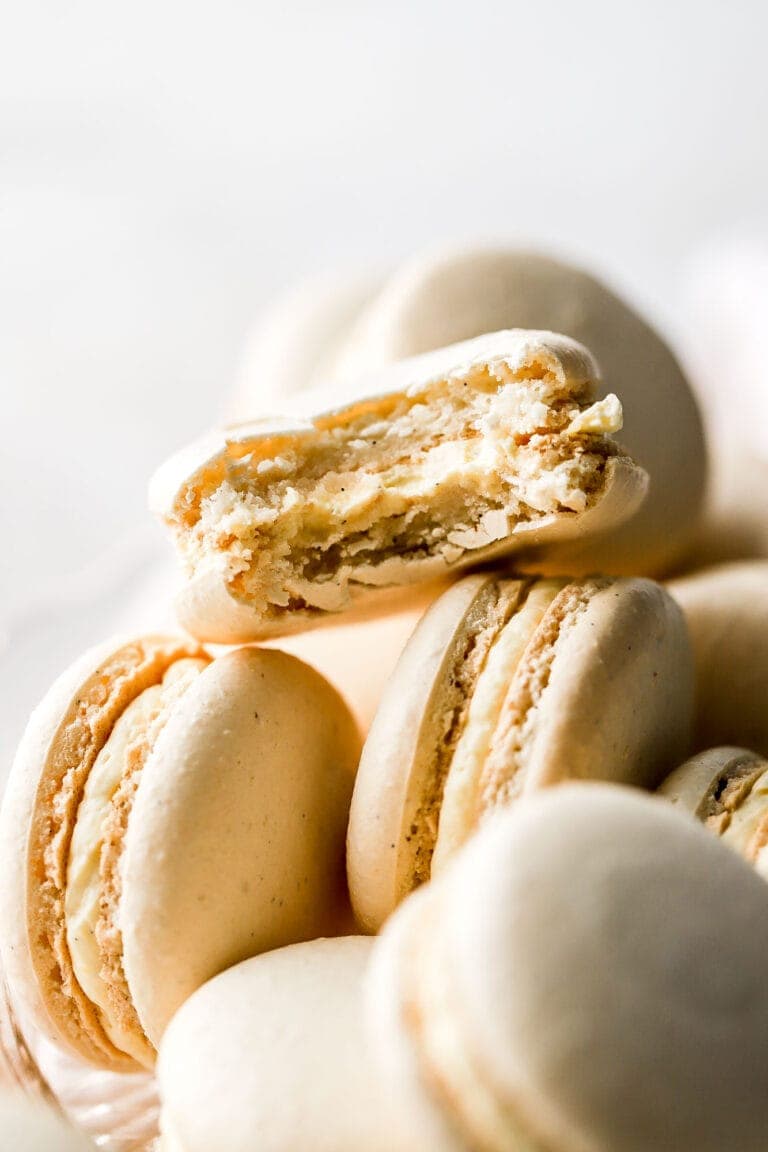 If you have any questions, comment down below and if you make them, make sure to tag me @baranbakery on instagram. Remember that practice makes perfect with these babies and they're edible even when they're ugly! As always, have a blessed day and happy baking!
Love, B
Yield: 22-25 whole cookies
Vanilla Macaron Recipe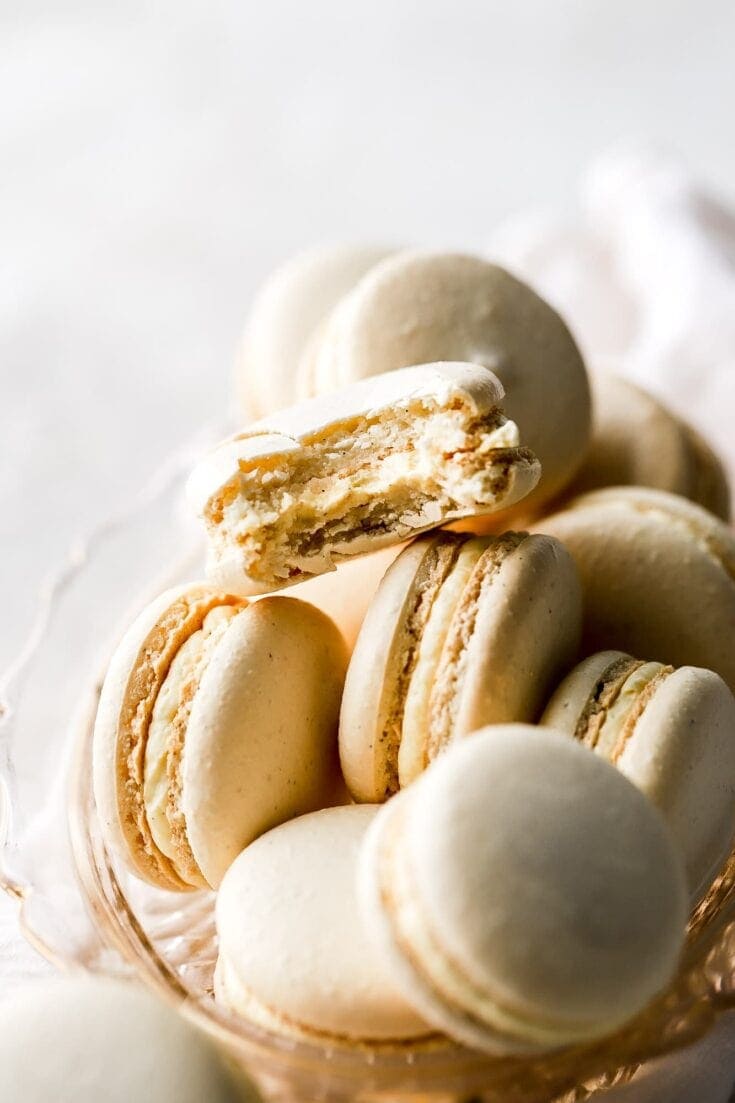 Your favorite French cookie - the macaron, in vanilla flavor with vanilla French buttercream!
Total Time
2 hours
25 minutes
Ingredients
Vanilla Macaron Shells
1 cup (100g) almond flour, spooned and leveled
7/8 cup (105g) powdered sugar, spooned and leveled
3 large (100g) egg whites, room temperature
1/2 cup (100g) granulated sugar
1 tsp vanilla bean paste (or extract)
Vanilla French Buttercream
1/2 cup (100g) granulated sugar
1/8 cup (28mL) water
2 large egg yolks, room temperature
1/2 cup (113g) unsalted butter, room temperature
1 tsp vanilla bean paste (or extract)
pinch of salt
Instructions
Vanilla Macaron Shells
Sift together the almond flour and powdered sugar and set them aside.
Heat up a small pot of water on the stove to create a double boiler for the Swiss meringue. Whisk the egg whites and granulated sugar in the bowl of a stand mixer over the double boiler until the sugar is fully dissolved and the egg whites are frothy (about 120F/49C).
Remove the mixture from the heat and use the stand mixer with the whisk attachment, at high speed, to beat the egg whites and sugar just until stiff peaks form, about 2 minutes. Add in the vanilla bean paste and mix for a few seconds, until it is fully incorporated.
Sift the almond flour and powdered sugar mixture over the meringue and use a firm spatula to fold the dry ingredients into the meringue. The method that I use to fold the batter (use photos for reference) is by pressing the batter up against the wall of the bowl and then scraping it off of the bowl.
Do this until the mixture is able to ribbon off and form a complete figure '8' without breaking. This may take a while, just keep folding but don't over-mix so test the figure '8' every 5-10 folds.
Using a piping bag, with a small circle tip, pipe out 1 1/2 inch size circles onto a lined cookie sheet, about 2 inches apart. Rap tray on the counter a few times to remove any air bubbles from within the batter (use a toothpick to remove any air bubbles that are visible and won't come out).
Allow the cookies to rest while preheating the oven to 300F (149C) conventional (no fan). Bake one pan at a time in the center of the oven for 13 minutes. Remove the pan from the oven and allow the cookies to cool completely on the pan.
Vanilla Buttercream
Use the ingredients listed above to make a half batch of French buttercream. You can also substitute another type of buttercream like American Buttercream or Swiss Meringue Buttercream. You'll only need a half batch of those as well (half batch uses 1/2 cup (113g) butter).
Assembly
Pipe the buttercream on half of the cookies, leaving some room on the edge. Sandwich with the top cookies and allow them to set in the refrigerator for a couple of hours before serving.
Enjoy!
Nutrition Information:
Yield:
22
Serving Size:
1
Amount Per Serving:
Calories:

131
Total Fat:

7g
Saturated Fat:

3g
Trans Fat:

0g
Unsaturated Fat:

4g
Cholesterol:

36mg
Sodium:

21mg
Carbohydrates:

15g
Fiber:

1g
Sugar:

14g
Protein:

2g
Nutrition information may not be fully accurate.