Mini Macarons are the cutest little cookies and just as easy to make as my other macaron recipes! They have a vanilla shell with sprinkles, filled with vanilla French buttercream, and half the size of regular macarons!
What's cuter than a macaron besides a mini macaron? Nothing, literally nothing. I've played around with different macaron flavors before but I haven't really played around with size. I thought to continue our macaron series it would be fun to make mini macarons and they turned out to be the cutest little cookies I've ever baked!
The best part is you can actually make these any flavor! Use any of my macaron recipes and follow the instruction for the minis to them all mini. Some fun flavors I have are lemon macarons, white chocolate raspberry, double chocolate and salted caramel.
I also have a post how to make macarons large for a macaron birthday cake.
How to make Mini Macarons
The nice thing about mini macarons is you can pretty much use any of my macaron recipes to make them. All you do is change the amount of batter you pipe out and the bake time is lowered to 7 minutes per batch. There isn't any altering you have to do to the recipes themselves.
For this particular recipe I used my Vanilla Macarons which makes a vanilla shell and vanilla french buttercream. If you've never made them before, I suggest reading that post for more detail on the method I use and step by step photos.
Macaron Shells
As a recap, macarons use 4 main ingredients and I do not recommend making substitutions. They are known to be a pretentious dessert to bake so if you are going to make them I suggest making them as instructed. Trust me, it will save you a lot of frustration.
The main ingredients are: egg whites and granulated sugar for the meringue, almond flour and powdered sugar to finish the batter. Each ingredient plays a key role that adds to the science of baking macarons, which is why I suggest using these exact ingredients and measuring everything out precisely (preferably with a digital scale). From this base recipe you can alter the flavor and color to customize them. For a cute touch, gently sprinkle some sprinkles on top after piping. 
Ingredients:
Almond Flour: To give macarons their flavor and famous light texture and weight, they require a nut flour. The most common is almond flour. Its subtle, neutral taste makes it easy to add flavor and it is the easiest one to find in stores.
Sugar: Macarons use two types of sugar and each one is for a different purpose. The granulated sugar is used when you make the meringue and the powdered sugar is sifted and folded into the batter with the almond flour.
Egg Whites: To make the meringue you need egg whites. The vegan option is to use aquafaba, but since this isn't a vegan recipe and I haven't personally made macarons using it, I suggest sticking to egg whites. If you can't do eggs, I suggest researching vegan recipes developed specifically for that.
French Buttercream
You can use just about any buttercream you want to fill Macarons.I stayed with the French theme and halved my French Buttercream recipe for these mini ones, but you can make American Buttercream, Swiss Meringue Buttercream, etc. 
The reason I like the French buttercream for macarons is because it uses up ⅔ of the leftover egg yolks. Also French buttercream is less sweet than American buttercream so it balances out the super sweet macaron shell.
Frequently Asked Questions
How can I customize my Mini Macarons? 
The possibilities are endless! Use gel food coloring to change the color or different flavor extracts in the meringue after your stiff peaks form. You can add flavor to the buttercream or add jam, like my Raspberry Rhubarb Jam, in between the cookies. My book Frosted is a great resource if you want to experiment. It has 13 frosting recipes and 60 different ways to customize them and use them in all types of sweets.
Search any of my macaron recipes on the site and use those to make them as minis.
How do I know when my macarons are done baking?
If you feel like the baking time isn't working, I first suggest getting an oven thermometer. Some ovens don't read the correct temperature and having one will save you a lot of frustration no matter what you bake or cook. 
Mine are usually done baking when the edges are starting to get brown a little. This is not always the best way to tell since some macarons are colored though. If you're worried about them not being done, just add another minute. 
When you remove them from the oven let them cool completely before removing them from the pan. 
How to store Mini Macarons
Macarons can be stored in the refrigerator for up to a week or frozen for up to a couple months. If you store them in the refrigerator, place them in an airtight container. To freeze, place them in an airtight container, then in a freezer bag, squeezing out all of the excess air. They are best served at room temperature or slightly chilled.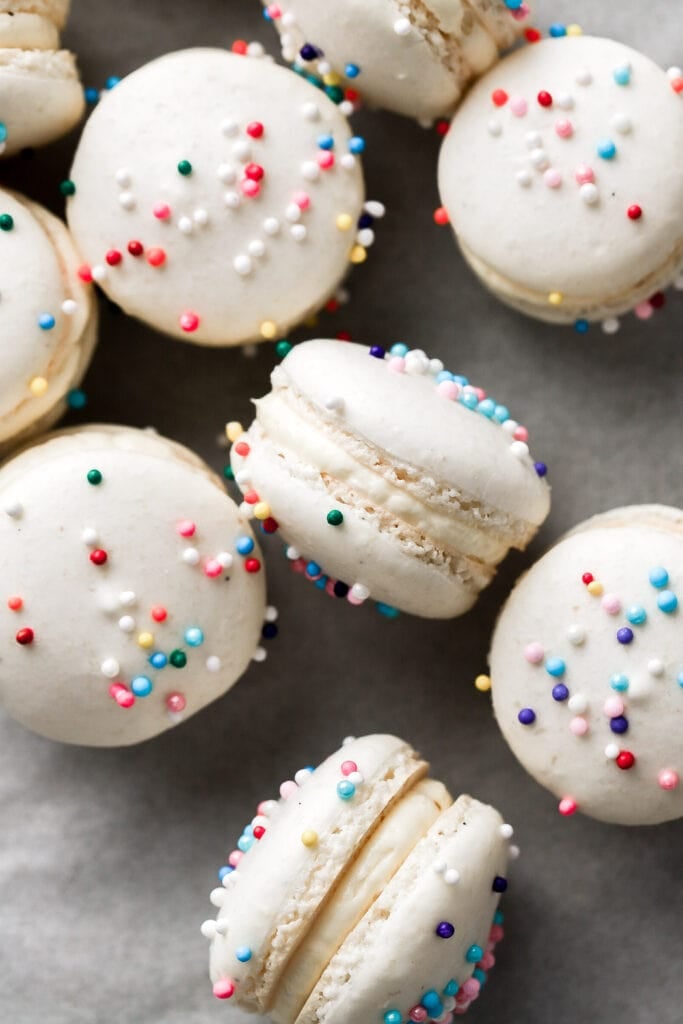 Thanks so much for reading today's post! If you have any questions just comment down below, I'm happy to answer! If you make these Mini Macarons I would love to see the results, so please make sure to tag me @baranbakery on instagram and order my cookbook, Frosted. As always, have a blessed day and happy baking!
Love, B
Yield: 44-50 whole cookies
Mini Macarons Recipe
Mini Macarons are the cutest little cookies and just as easy to make as my other macaron recipes! They have a vanilla shell with sprinkles, filled with vanilla French buttercream, and half the size of regular macarons!
Total Time
2 hours
25 minutes
Ingredients
Vanilla Macaron Shells
1 cup (100g) almond flour, spooned and leveled
7/8 cup (105g) powdered sugar, spooned and leveled
3 large (100g) egg whites, room temperature
1/2 cup (100g) granulated sugar
1 tsp vanilla bean paste (or extract)
Sprinkles
Vanilla French Buttercream
1/2 cup (100g) granulated sugar
1/8 cup (30mL) water
2 large egg yolks, room temperature
1/2 cup (113g) unsalted butter, room temperature
1 tsp vanilla bean paste (or extract)
pinch of salt
Instructions
Vanilla Macaron Shells
Sift together the almond flour and powdered sugar and set them aside.
Heat up a small pot of water on the stove to create a double boiler for the Swiss meringue. Whisk the egg whites and granulated sugar in the bowl of a stand mixer over the double boiler until the sugar is fully dissolved and the egg whites are frothy (about 120F or 49C).
Remove the mixture from the heat and use the stand mixer with the whisk attachment, at high speed, to beat the egg whites and sugar just until stiff peaks form, about 2 minutes. Add in the vanilla bean paste and mix for a few seconds, until it is fully incorporated.
Sift the almond flour and powdered sugar mixture over the meringue and use a firm spatula to fold the dry ingredients into the meringue. The method that I use to fold the batter is by pressing the batter up against the wall of the bowl and then scraping it off of the bowl.
Do this until the mixture is able to ribbon off and form a complete figure '8' without breaking. This may take a while, just keep folding but don't over-mix, so test the figure '8' every 5-10 folds.
Using a piping bag, with a small circle tip, pipe out 0.75-1 inch size circles onto a lined cookie sheet, about 2 inches apart. Rap tray on the counter a few times to remove any air bubbles from within the batter (use a toothpick to remove any air bubbles that are visible and won't come out).
Allow the cookies to rest while preheating the oven to 300F (149C) conventional (no fan). Gently sprinkle the sprinkles on top of each cookie and bake one pan at a time in the center of the oven for 7 minutes. Remove the pan from the oven and allow the cookies to cool completely on the pan.
Vanilla French Buttercream
Use the ingredients listed above to make a half batch of French buttercream. You can also substitute another type of buttercream like American Buttercream or Swiss Meringue Buttercream. You'll only need a half batch of those as well (half batch uses 1/2 cup (113g) butter).
Assembly
Pipe the buttercream on half of the cookies, leaving some room on the edge. Sandwich with the top cookies and allow them to set in the refrigerator for a couple hours before serving.
Enjoy cold or at room temperature!
Nutrition Information:
Yield:
44
Serving Size:
1
Amount Per Serving:
Calories:

66
Total Fat:

4g
Saturated Fat:

2g
Trans Fat:

0g
Unsaturated Fat:

2g
Cholesterol:

18mg
Sodium:

11mg
Carbohydrates:

7g
Fiber:

0g
Sugar:

7g
Protein:

1g
Nutrition information may not be fully accurate.