Lemon Macarons with Lemon Curd
Lemon macarons made with the Swiss meringue method and filled with homemade lemon curd and cream cheese frosting!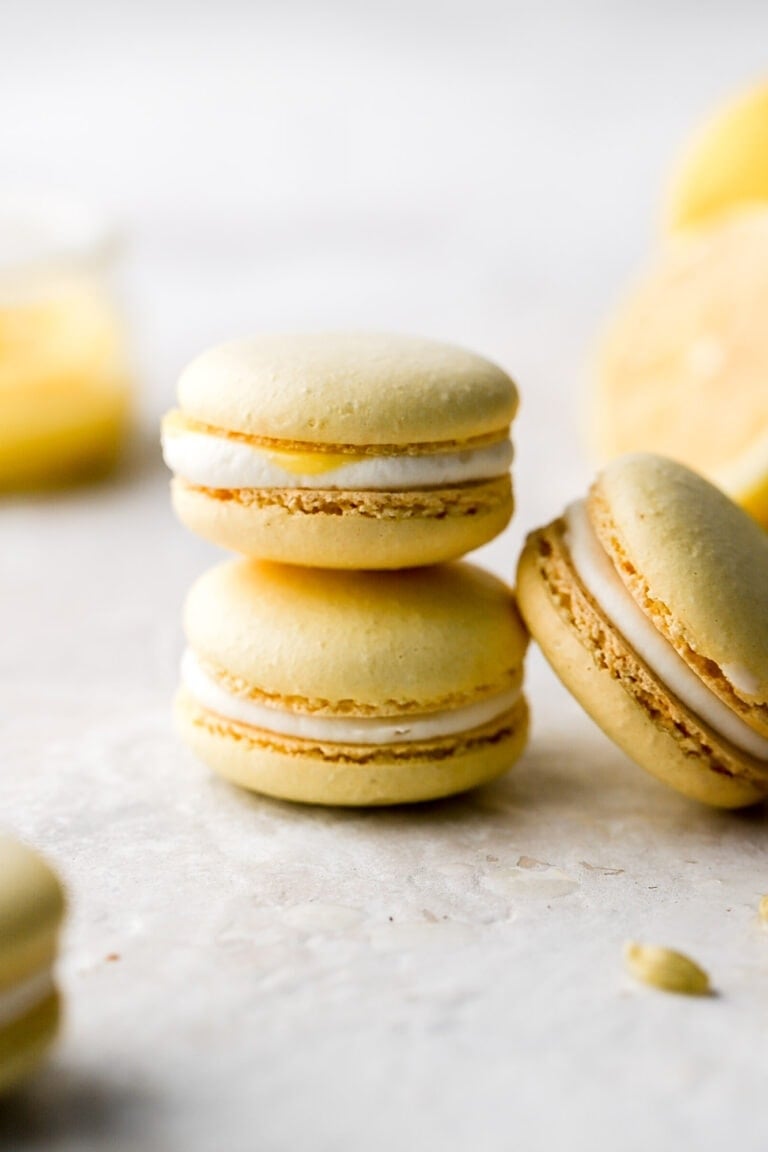 It's week 3 of Macaron Month on Baran Bakery and I'm sharing one of my favorite flavors with you all! Lemon macarons with homemade lemon curd and cream cheese frosting. & make sure to stick around because I'll use this same recipe to show you how to make a macaron cake!
Lemon is my favorite dessert flavor and some of my other favorite lemon recipes are: lemon white chocolate cookies, brown butter lemon cinnamon rolls, and lemon poppy seed cheesecake.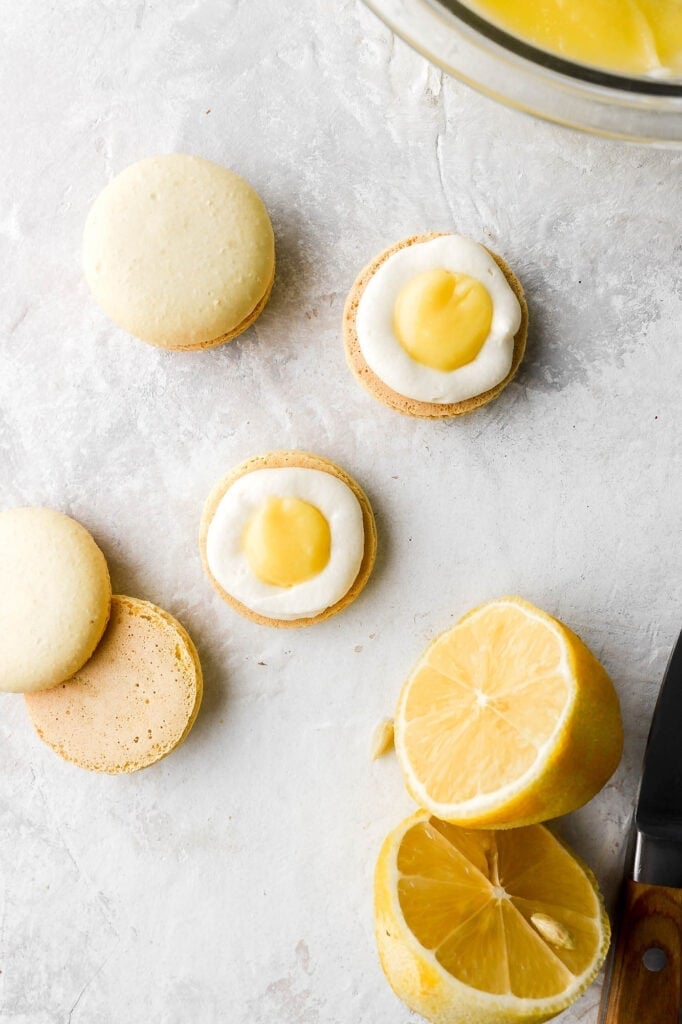 How to make lemon macarons
A couple of weeks ago I wrote a detailed post on how I make my French macarons. There are three different basic methods of making them and it seems like everyone has their own personal tips and tricks so make sure to check out my Vanilla Macaron post for detailed steps and process shots.
These lemon macarons are made very similar to the vanilla ones but I use only half the vanilla extract and add lemon extract and yellow food coloring. The combination of the vanilla and the lemon flavor together are just heavenly so don't skimp on that!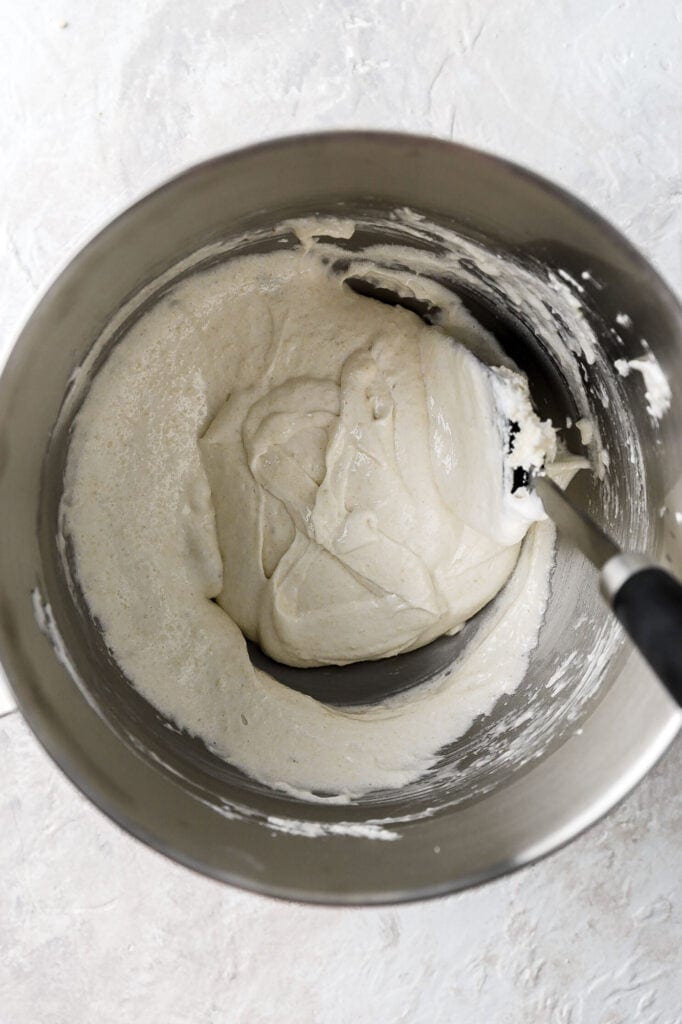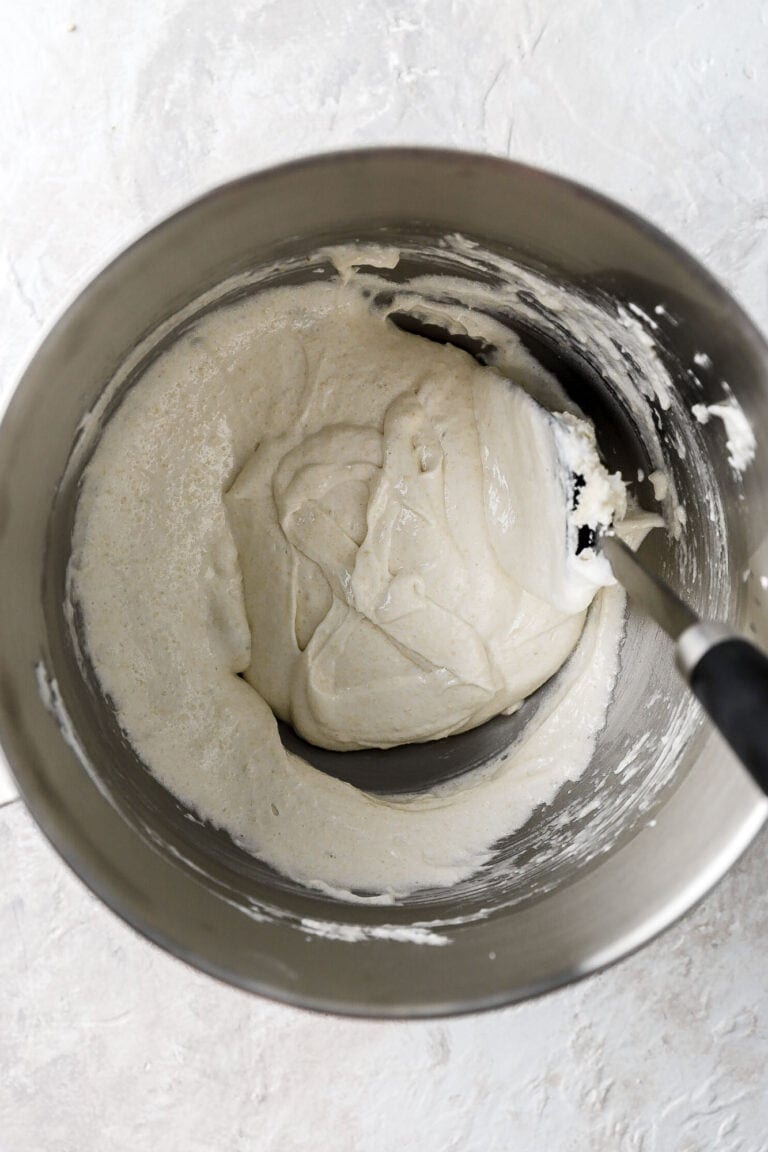 What filling to use for lemon macarons
I was tempted to make a french lemon buttercream filling for my macarons, since I have so many egg yolks left over, however today I changed it up a bit. Obviously, we need lemon curd to make these babies extra lemony and indulgent but we also needed a border to keep the lemon curd in the center.
I debated between white chocolate ganache and cream cheese frosting and decided on the cream cheese frosting. Macarons are already super sweet to begin with so I thought the tang of the cream cheese would balance that nicely.
How to make homemade lemon curd
Homemade lemon curd is pretty simple to make, however, I feel like everyone has their own favorite version of it. Some people like it more buttery, some like it more sweet or more sour and some like every version.
I'm like this with almost everything, I don't like to taste "one" thing. I don't want it buttery, I don't want it eggy, I don't want it too sweet or too sour, I just want it to taste like the perfect balance, lol. So this is my favorite version, which I hope will also be your new favorite as well.
It's super easy to make. Just combine all the ingredients and stir over low-medium heat for about five minutes and then press it through a sieve to make sure it's nice and smooth.
Store any leftovers in an airtight container or jar in the refrigerator for 1-2 weeks.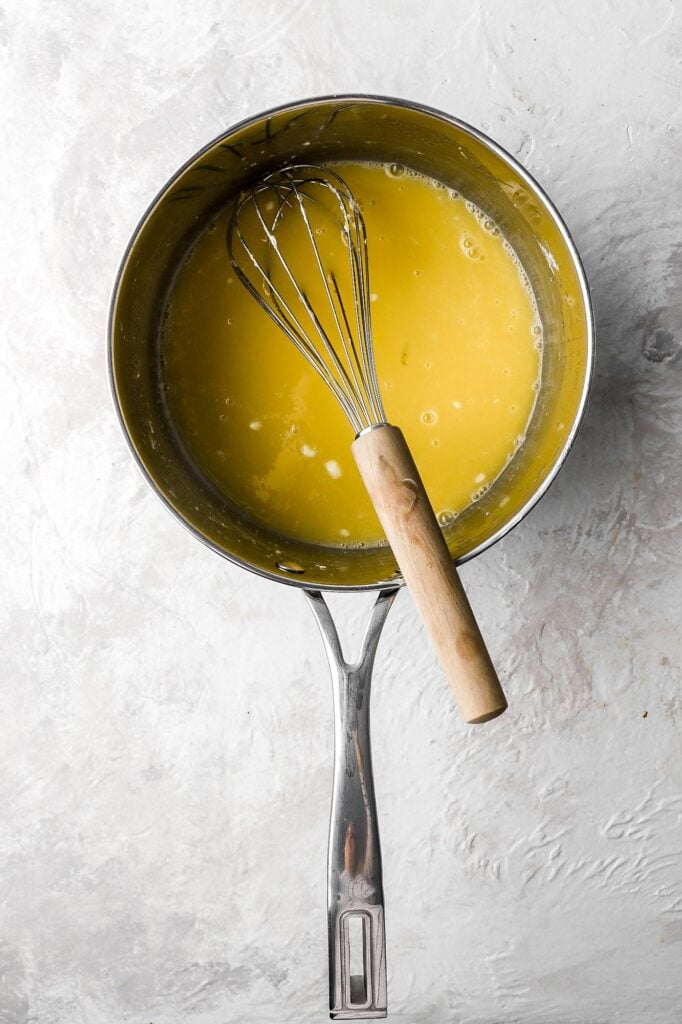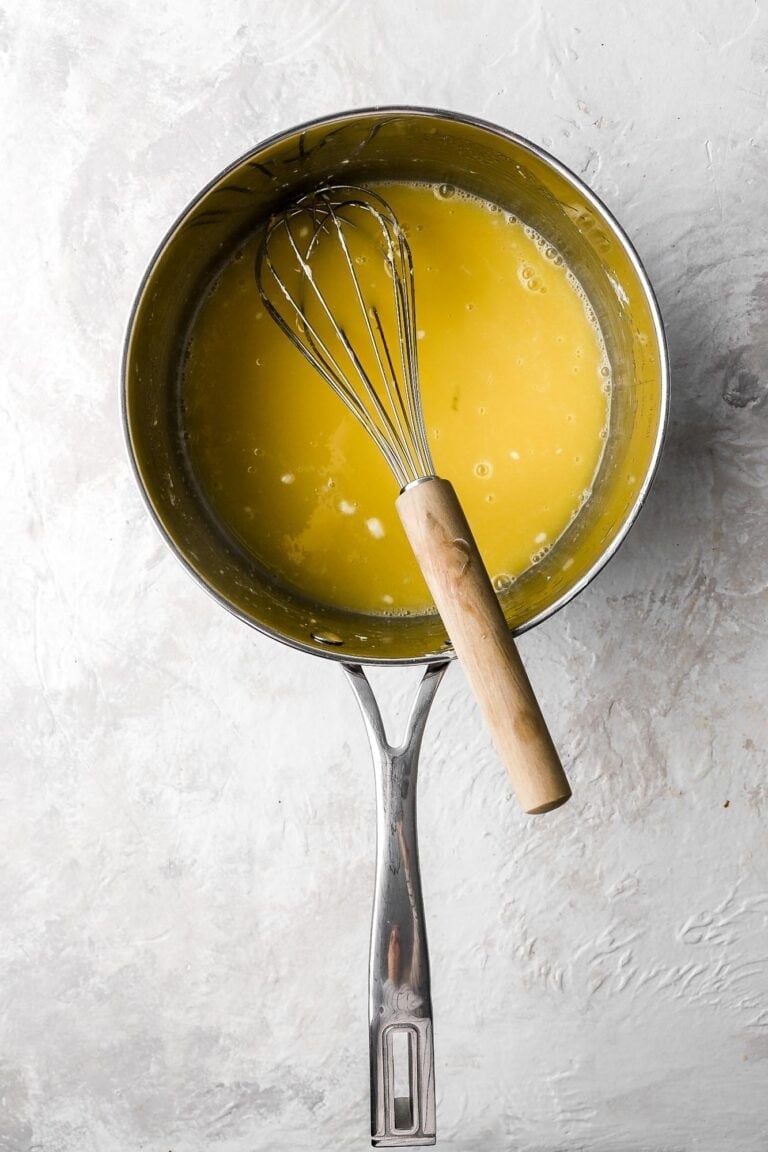 Extra Tips & Tricks
100% recommend a scale for measuring ingredients (except the egg whites, I use 3 large and it's usually +/- 5 grams, which is fine).
Once you stiff peaks in your meringue, don't over whip.
There is no perfect number of how many folds are needed to get the right batter but there is a technique. In the step-by-step photos, you'll see how I use a firm rubber spatula to push the batter against the edge of the pan and then scrape it back off the edge. I repeat that process until it ribbons into a figure 8 without breaking. The intention here is to push out the air bubbles so that you don't have hollow or cracking macarons.
When you go to pipe the macarons, I usually have a slight "nipple" on them right away but it should disappear or be very faint after rapping the tray on the counter a few times. If it doesn't go away, dab your finger into water and then gently press the nipple down and it'll flatten. Remember this for next time, because the batter probably just needed a couple more folds.
If you're having trouble and have tried it a few times, I recommend an oven thermometer. If your oven is off even 10 degrees it can change the results.
I use a convection oven (with a fan) so I don't find the need to rotate them in the oven halfway through baking but if they're browning on one side more than the other, you can rotate them 7 or 8 minutes into baking.
Don't try to remove them from the pan right away, they can break. Allow them to cool on the pan for at least 10 minutes.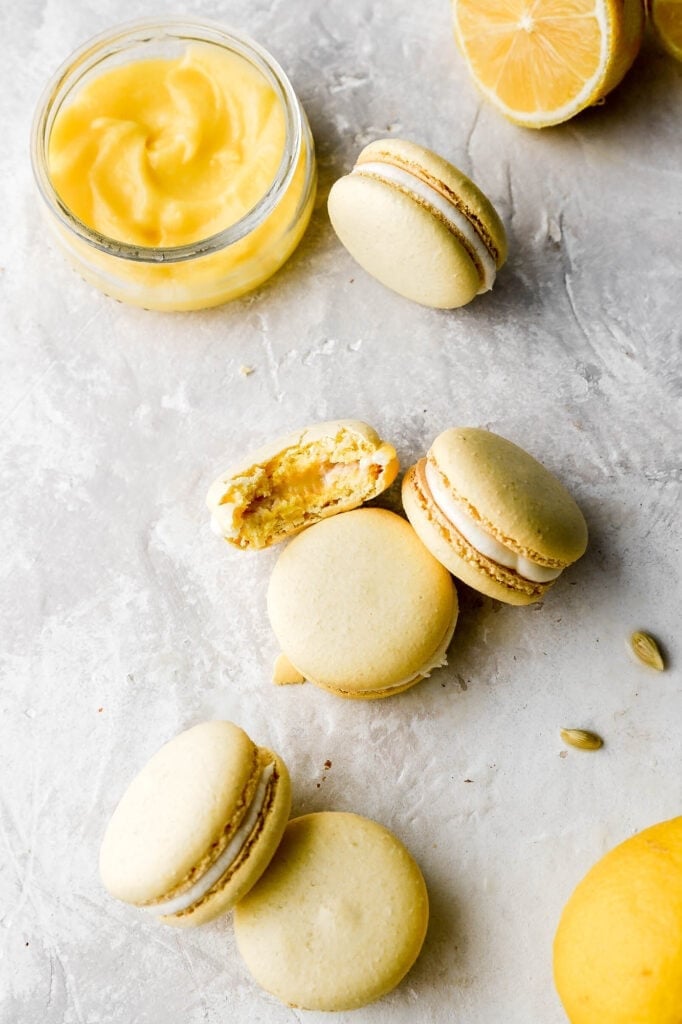 How To Store Macarons
Macarons are best served at room temperature or slightly chilled, after they've rested for a few hours or overnight. Make sure to store them in an airtight container in the refrigerator for up to a week.
You can also freeze them for up to a couple months. To freeze them, place them tightly in an airtight container and then place the container in a freezer bag, squeezing out all of the excess air.
If you have any questions, comment down below and if you make these lemon macarons, make sure to tag me @baranbakery on instagram. Remember that practice makes perfect with these babies and they're edible even when they're ugly! As always, have a blessed day and happy baking!
Love, B
Yield: 22 cookies
Lemon Macarons Recipe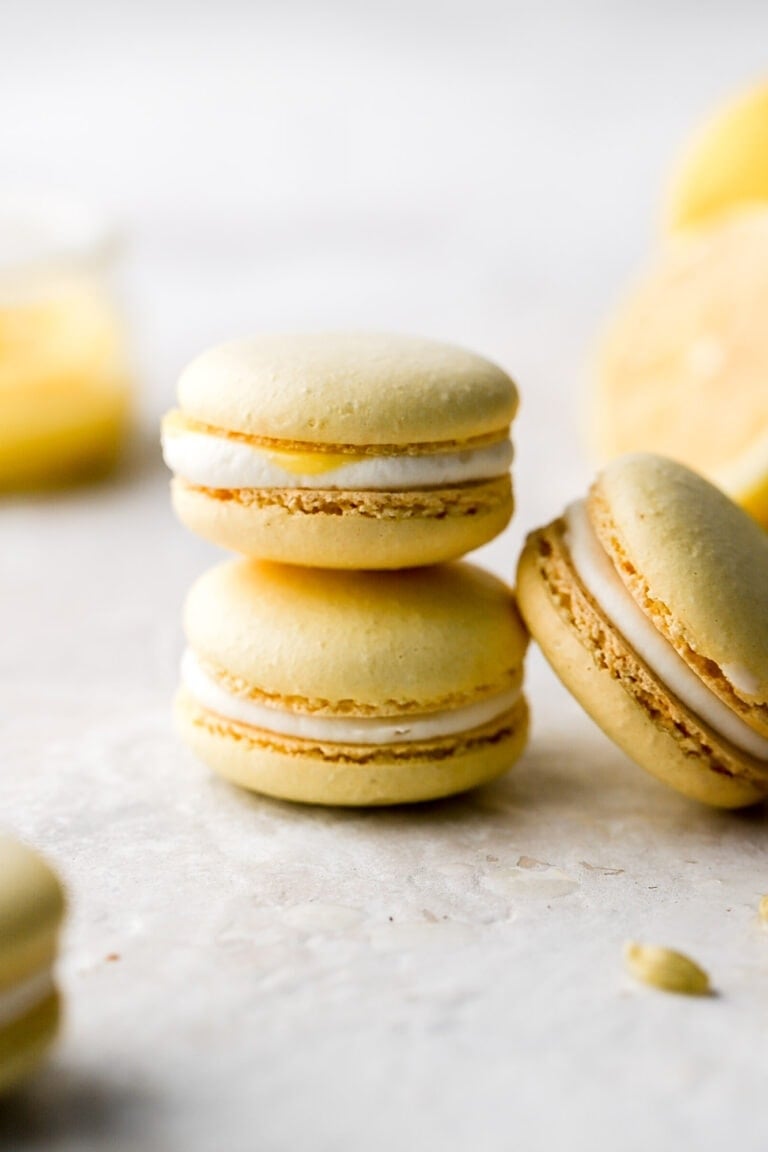 Sweet and tangy lemon macarons filled with cream cheese frosting and lemon curd!
Total Time
2 hours
40 minutes
Ingredients
Lemon Macaron Shells
1 cup (100g) almond flour, spooned and leveled
7/8 cup (105g) powdered sugar, spooned and leveled
3 large (100g) egg whites, room temperature
1/2 cup (100g) granulated sugar
1 tsp vanilla extract
1 tsp lemon extract
3 drops yellow Gel food coloring
Lemon Curd
1/4 cup (50g) granulated sugar
1 large egg, room temperature
1 large egg yolk, room temperature
1/4 cup (59mL) freshly-squeezed lemon juice (1 large or 2 small lemons)
1 tsp lemon zest (1 lemon)
3 Tbsp (42g) unsalted butter, melted
1/8 tsp of salt
Cream Cheese Frosting
2 oz cream cheese, room temperature
1/4 cup (56g) unsalted butter, room temperature
1 tsp vanilla bean paste (or extract)
1 cups (120g) powdered sugar, spooned and leveled
Instructions
Lemon Macaron Shells
Line 3 cookie sheets with a silpat mat or parchment paper. Sift together the almond flour and powdered sugar and set them aside.
Heat up a small pot of water on the stove to create a double boiler for the Swiss meringue. Whisk the egg whites and granulated sugar in the bowl of a stand mixer over the double boiler until the sugar is fully dissolved and the egg whites are frothy (about 120F/49C).
Remove the mixture from the heat and use the whisk attachment, on high speed, to beat the egg whites and sugar just until stiff peaks form, about 2 minutes. Add in the vanilla extract, lemon extract, and food coloring and mix for a few seconds, until they are fully incorporated.
Use a firm spatula to fold the dry ingredients into the meringue. This may take a while, just keep folding and pressing the batter against the wall of the bowl until the mixture is able to ribbon off and form a complete figure '8' without breaking. Don't over-mix.
Using a piping bag, with a small circle tip, pipe out 1 1/2 inch size circles onto a lined cookie sheet about 2 inches apart. Rap tray on the counter a few times to remove any air bubbles from within the batter (use a toothpick to remove any air bubbles that are visible and won't come out).
Allow the cookies to rest on the baking sheet while preheating the oven to 300F (149C) conventional (no fan). Bake one tray at a time in the center of the oven for 13 minutes. Remove the tray from the oven and allow the cookies to cool completely on the tray.

Lemon Curd
Combine all the ingredients in a small saucepan over medium-low heat and whisk continuously until it thickens, about 5 minutes. The curd should be thick enough to coat the back of a spoon.
While it's still hot, press the curd through a sieve into another bowl/jar, cover it and allow it to cool completely to room temperature. Store leftovers covered in the refrigerator.
Cream Cheese Frosting
Use an electric mixer to beat the cream cheese, butter and vanilla until they are well combined.
Add the powdered sugar and beat slowly until it is mostly combined, then turn the speed up to a high and beat for 2-3 minutes until the sugar is fully dissolved.
Assembly
Use a piping bag with a circle tip to pipe a border of cream cheese frosting on half of the macaron shells and then fill it in with the lemon curd. Sandwich with the other half of the macaron shells and refrigerate for a few hours to set.

Notes
Store leftover lemon curd in an airtight container in the refrigerator for 1-2 weeks
Store leftover cream cheese frosting in an airtight container in the refrigerator for up to a week or in the freezer for 2-3 months.
Recommended Products
As an Amazon Associate and member of other affiliate programs, I earn from qualifying purchases.
Nutrition Information:
Yield:
22
Serving Size:
1
Amount Per Serving:
Calories:

147
Total Fat:

8g
Saturated Fat:

3g
Trans Fat:

0g
Unsaturated Fat:

4g
Cholesterol:

38mg
Sodium:

37mg
Carbohydrates:

18g
Fiber:

1g
Sugar:

16g
Protein:

2g
Nutrition information may not be fully accurate.