Cookies 'n' Cream Macarons with Cream Cheese Frosting
I've been wanting to try all these different flavors of macarons and today I'm going to share these GORGEOUS cookies 'n' cream macarons with yaaa.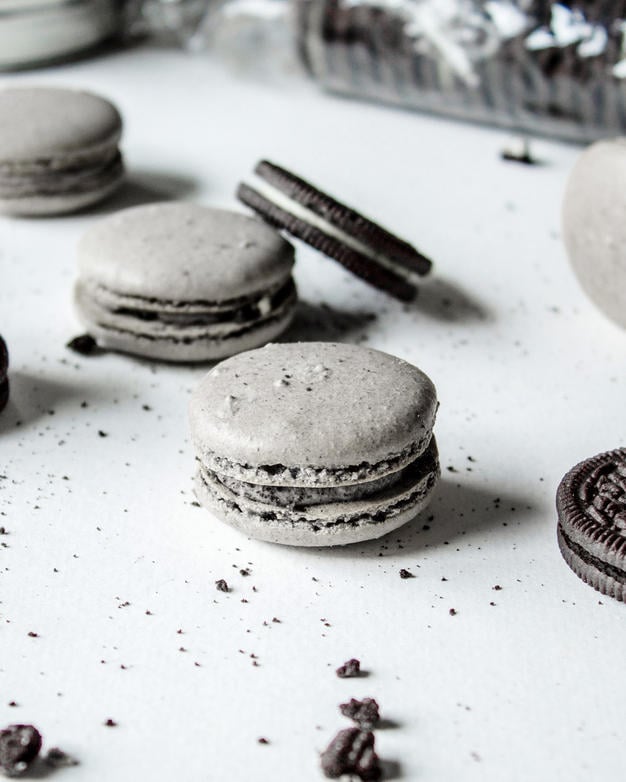 Easter was last Sunday and we had a get together with my family. So I thought, what better time to make a million different batches of french macarons. I think I made like 6 batches and at first, I wasn't as intrigued by these, as I'd hoped but after they got their beauty sleep in the fridge overnight, they were incredible! Besides the coffee macarons with chocolate ganache filling, I think these were my favorite.
How to make cookies 'n' cream macarons
We all know how intimidating macarons can be. I've tried so many macaron recipes and this method that I learned from Sarah at Broma Bakery, is the BEST. To make the macarons shells, we use a Swiss meringue instead of a French or Italian meringue. The Swiss meringue method stabilizes the meringue by cooking the egg whites and sugar but it doesn't require the hot sugar syrup like the Italian meringue. 
To make a Swiss meringue, you'll need to bring a small pot of water to a simmer and then place the clean aluminum bowl of your stand mixer over the water with the egg whites and sugar. Whisk the mixture intermittently until the sugar is fully dissolved (test it between your clean fingers to make sure you don't feel any sugar granules). You don't need to test the temperature but if you want to, bring the temperature up to 140F.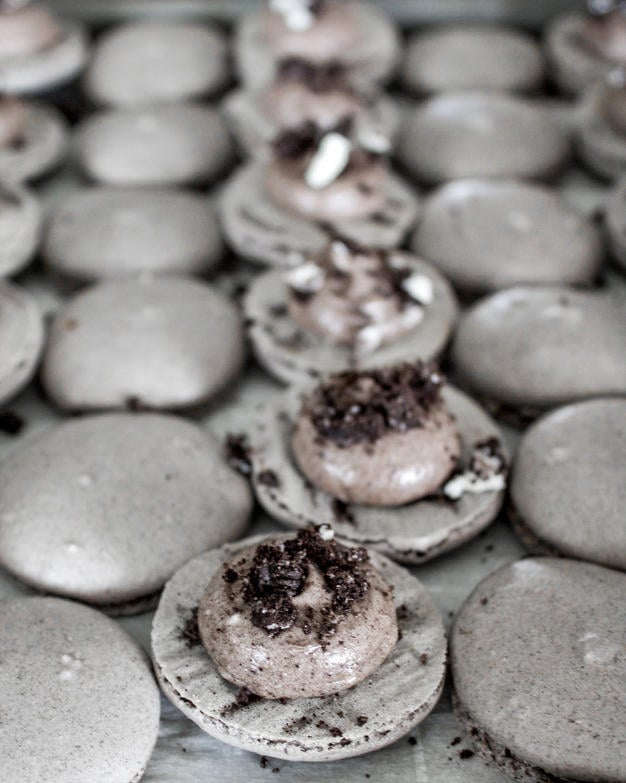 How to get perfect macarons 
As finicky as these little cookies can be, getting perfect macarons will be a lot easier once you understand what you're doing. 
Measuring:

measuring your ingredients properly is really important for most recipes but especially for macarons. I highly recommend using a digital scale for this. If you don't have one, make sure to spoon and level all of your dry ingredients. 

Sifting:

I sift my dry ingredients one time through. Some people do this like three times but I haven't found it necessary. Make sure to use Super-Fine Almond Flour for the best results and make sure your crushed Oreos are very fine. 

Macronage:

Your macaron batter should be able to ribbon off without breaking and blend back in within 20  seconds or you can do the '8' test, where it should be able to form an eight without it breaking. If you over-mix, let the batter rest in a cooler environment for a few minutes before piping. 

Templates:

I recommend a silpat mat with macaron templates or just use a sharpie to draw out your circles on a sheet of parchment paper and place it underneath the sheet of parchment paper that you're piping on to.
I wrote a whole post on macarons where I talk about my experience with the different methods of making meringues. You can read the post All Things Macarons, for more details and some troubleshooting guidelines!
How to store cookies 'n' cream macarons
Again, these cookies n cream macarons were a lot more flavorful after resting in the fridge overnight. I recommend storing them in an airtight container, refrigerated for up to a week. They can also be frozen for up to a couple of months. 
If you are freezing macarons, place them in a ziplock freezer bag, squeezing out as much air as possible and then place them in an airtight container. Try not to keep opening the bag/container when removing from the freezer. It's better to store a few together and remove them all together. Place them in the fridge overnight to defrost.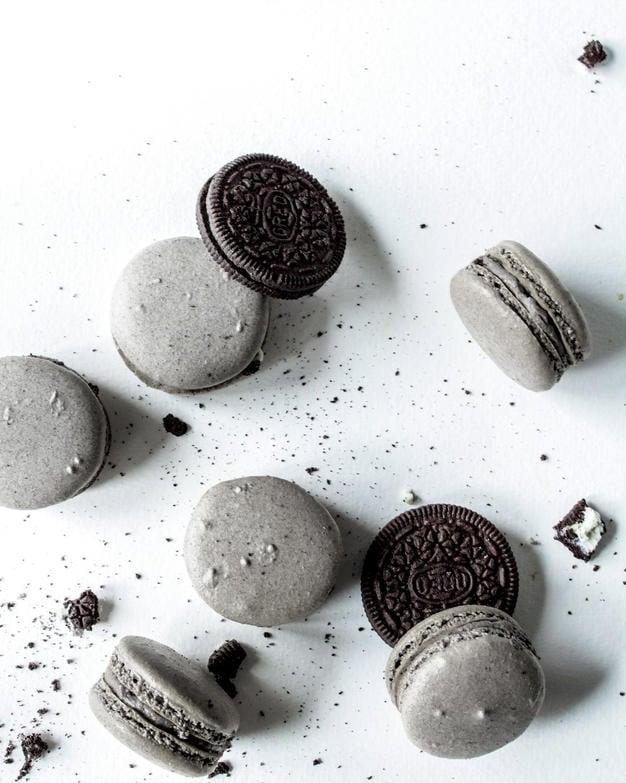 Thanks so much for sticking around. If you have any questions, leave a comment of message me! If you make them, make sure to tag me @baranbakery on instagram! As always, have a blessed day and happy baking. 
Love, B
Yield: 20 Cookies
Cookies 'n' Cream Macarons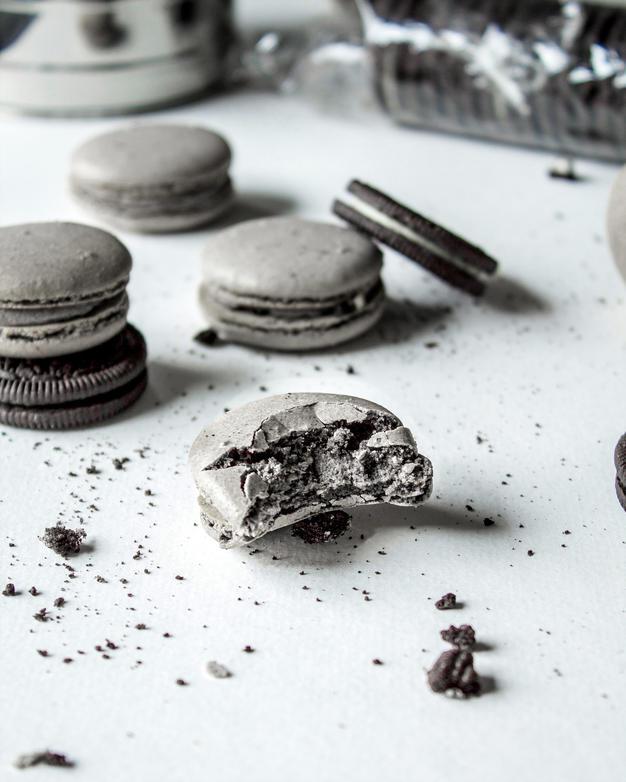 Cookies 'n' cream macarons filled with a cream cheese icing with cookie bits!
Additional Time
30 minutes
Total Time
1 hour
40 minutes
Ingredients
Macaron Shells
20g powdered (5 cookies, without the filling) Oreo cookie crumbs
1 cup (100g) almond flour, spooned and leveled
3/4 cup (90g) powdered sugar, spooned and leveled
3 large (100g) egg whites, room temperature
1/2 cup (100g) granulated sugar
1/2 tsp vanilla bean paste (or extract)
Black gel food coloring
Cream Cheese Icing
4 Tbsp (56g) unsalted butter, room temperature
4 Tbsp (56g) cream cheese, room temperature
5 whole Oreo cookies and cream filling from the 5 Oreo cookies used in the shell
1 tsp vanilla bean paste (or extract)
1 1/2 cups (180g) powdered sugar, spooned and leveled
Instructions
Macaron Shells
Use a food processor to blend the 10 Oreo cookies as fine as possible (5 for the macaron shells and 5 for the cream cheese icing).
Sift together the almond flour, powdered sugar and half (20g) of the Oreo crumbs and set them aside.
Heat up a small pot of water on the stove to create a double boiler for the Swiss meringue. Whisk the egg whites and granulated sugar in the bowl of a stand mixer over the double boiler until the sugar is fully dissolved and the egg whites are frothy (about 120F or 49C).
Remove the mixture from the heat and use the whisk attachment, on high speed, to beat the egg whites and granulated sugar just until stiff peaks form, about 2 minutes. Add in the vanilla bean paste and food coloring and mix for a few seconds, until they are fully incorporated.
Sift the almond flour, powdered sugar, and powdered oreo mixture over the meringue and use a firm spatula to fold the dry ingredients into the meringue. This may take a while- keep folding and pressing the batter against the wall of the bowl until the mixture is able to ribbon off and form a complete figure '8' without breaking. Don't over-mix.
Using a piping bag, with a small circle tip, pipe out 1 1/2 inch size circles onto a lined cookie sheet about 2 inches apart. Rap tray on the counter a few times to remove any air bubbles from within the batter (use a toothpick to remove any air bubbles that are visible and won't come out).
Allow the cookies to rest while preheating the oven to 300F (149C). Bake one pan at a time in the center of the oven for 13 minutes. Remove the pan from the oven and allow the cookies to cool completely on the pan.
Cream Cheese Icing
Use an electric mixer to cream together the butter, cream cheese, Oreo cookie fillings and vanilla until they are smooth and creamy, about 2-3 minutes.
Add in the powdered sugar and Oreo crumbs and beat the mixture for about 5 minutes, until all the sugar is fully dissolved. Scrape the edge of the bowl as needed. Whip on medium speed until the icing is fully combined.
Pipe icing on half of the cookies, leaving some room on the edge. Sandwich with the top cookies and allow them to set in the refrigerator for a couple of hours before serving.
Nutrition Information:
Yield:
20
Serving Size:
1
Amount Per Serving:
Calories:

159
Total Fat:

7g
Saturated Fat:

3g
Trans Fat:

0g
Unsaturated Fat:

3g
Cholesterol:

9mg
Sodium:

40mg
Carbohydrates:

23g
Fiber:

1g
Sugar:

20g
Protein:

2g
Nutrition information may not be fully accurate.
For similar recipes, check out: