Not letting this summer end without a way to use that raspberry rhubarb jam and what better way than with rhubarb vanilla cake?! I used my very best vanilla cake recipe and added the jam to my favorite buttercream, and voila!
Haven't posted a new recipe in over a month and now I post two in a week, say whhaaaa?! In case you missed it, I'm writing a cookbook and my manuscript is due in August. I was trying to keep up with both but that failed and right now, I just need to get that done.
However, I wanted to post this rhubarb vanilla cake for you guys because I just posted that amazing raspberry rhubarb jam recipe. If you ever have excess fruits, make a jam and then use it in desserts!
How to make rhubarb vanilla cake
If you don't know me by now, I always say my cakes are simple but there are always like three parts to them. I like classic flavors but cake and frosting is just too boring so naturally, this cake has three parts.
Vanilla Cake
Ok friends, this is the BEST 6 inch vanilla cake recipe. LOL, that's a relative statement and my personal opinion, of course. I tested at least 10 different vanilla cake recipes because I wanted the perfect base for any flavor and this is my favorite. It's a little dense but incredibly moist and does not require cake flour.
Quick side note, does anyone else notice the odd flavor of cake flour or is it just me?!
I included the ingredients below but for the full recipe check out the post for my 6 inch vanilla cake with step by step photos.
Raspberry Rhubarb Jam
This is literally the easiest homemade jam of all time. I have a whole post on the raspberry rhubarb jam too so make sure to look at the instructions there and note that you only need half of the full recipe on that post. The recipe card below has the correct amount you need for this rhubarb vanilla cake.
Swiss Meringue Buttercream
After testing like 10 different types of frosting for my new cookbook, it's hard to say which type is my favorite overall but it's easy to say that this is my go-to for layer cakes. Swiss meringue buttercream is just very reliable/stable and simpler/quicker to make than some of the other types.
I will definitely be doing a separate post with step by step shots on this guy too when I get a chance but for now, this will have to do. Follow these tips to make sure your Swiss meringue buttercream turns out perfectly for your vanilla rhubarb cake!
Rules:
Meringues can't have any fat in them, which means, no drops of egg yolks with the whites, no fat residue on the mixing bowl or whisk, no greasy fingers touching the mixture. This means, try to use a glass or metal bowl and whisk. If you need to, use a paper towel dipped in a tiny bit of vinegar to clean your tools. Wash your hands with soap and water before feeling if the sugar is fully dissolved in the egg whites.
Whisk the egg whites frequently as they're heating over the double boiler to ensure they don't over cook.
Make sure the meringue is no longer warm when you add the butter to it. Mine is usually good if I whip it at high speed for at least 7 minutes.
Make sure the butter is room temperature. That means, not greasy looking and not too firm that you can't push your finger into it (if I had to pick, I would have it slightly too cold than slightly too warm).
Be patient, sometimes the buttercream has to go through stages of looking like a curdled mess before it emulsifies.
Alright, that's a wrap for this vanilla rhubarb cake! If you give it a shot, make sure to tag me @baranbakery on instagram so I can see your fabulous cake. As always, have a blessed day and happy baking!
Love, B
Yield: 10 servings
Rhubarb Vanilla Cake Recipe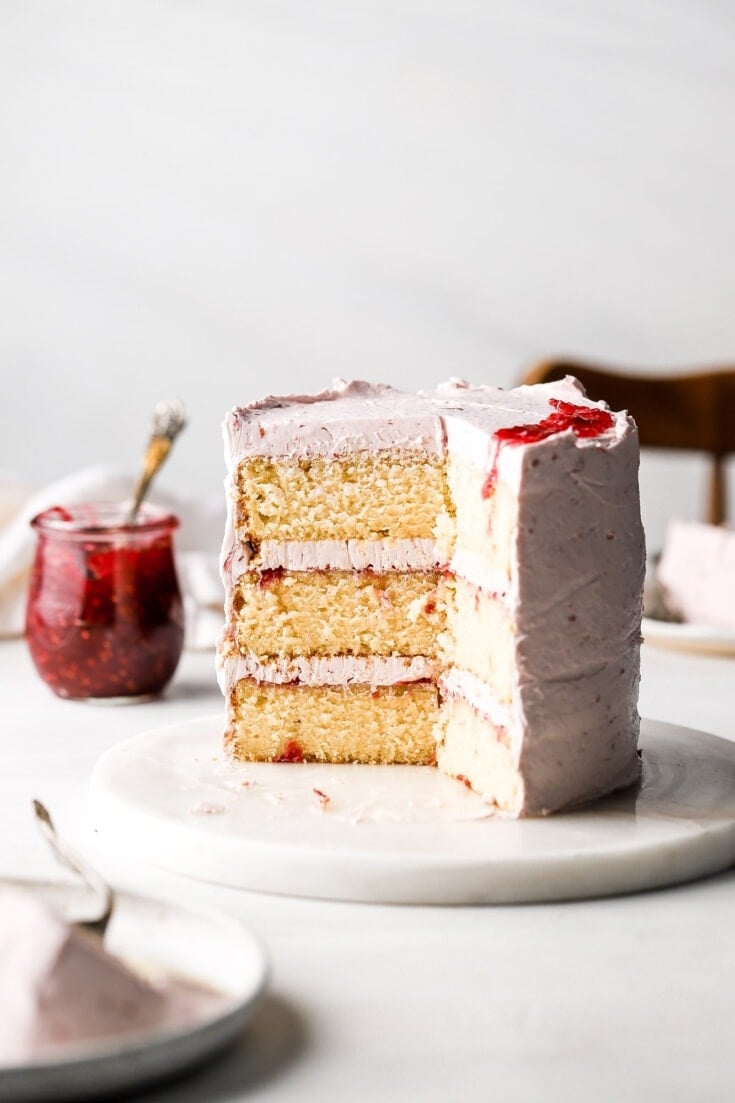 My favorite vanilla cake topped with a homemade raspberry rhubarb jam and frosted with raspberry rhubarb Swiss meringue buttercream.
Prep Time
1 hour
15 minutes
Ingredients
Raspberry Rhubarb Jam
1/2 cup (60g) raspberries, whole
1 cups (120g) rhubarb, chopped (about 3 stalks)
3/4 cup (150g) granulated sugar
1 Tbsp (15mL) lemon juice
1/2 tsp vanilla extract
Pinch of salt
6 Inch Vanilla Cake
2 1/4 (270g) cups all-purpose flour, spooned and leveled
1 Tbsp (10g) baking powder
1/2 tsp salt
1/4 cup (60g) unsalted butter, room temperature
1/2 cup (120mL) canola oil
1 1/2 cup (300g) granulated sugar
3 large eggs, room temperature
3/4 cup (170g) sour cream, room temperature
1 Tbsp vanilla extract
3/4 cup (180mL) milk, room temperature
Raspberry Rhubarb Swiss Meringue Buttercream
4 large egg whites, room temperature
1 cup (200g) granulated sugar
1 cup (225g) unsalted butter, room temperature
1 tsp vanilla bean paste (or extract)
1/2 cup (175g) raspberry rhubarb jam
Instructions
Begin by making the raspberry rhubarb jam so it has time to cool completely. *note, you only need half of the linked recipe for this cake, the amount is updated in the ingredients list.
Make one 6 inch vanilla cake and allow it to cool completely to room temperature.
While the cakes are cooling, place the egg whites and granulated sugar in a large bowl. Bring a small pot with 1/2 cup of water to a boil and lower the heat to simmer. Place the bowl of egg whites and sugar on top of the simmering water for 5-10 minutes, until the granulated sugar is completely dissolved, whisking intermittently.
Once the sugar is dissolved, remove the bowl of egg whites from the heat and use an electric mixer with a whisk attachment to beat the egg whites with the sugar. Beat for 7-10 minutes on high speed and then lower the speed to low-medium.
Slowly add 2 Tbsp of butter in at a time. Wait for the butter to incorporate before adding the next chunk. Once all the butter is added, turn the mixer up to high speed for 10-15 seconds, then use a rubber spatula to scrape the edge of the bowl. Add the vanilla bean paste (or extract) and the rhubarb jam to the buttercream, and beat until they're fully combined.
Optional
Switch the paddle attachment and on low speed, allow the paddle to remove all the excess air from the buttercream (this removes all the air bubbles to ensure a smooth finish when frosting the cake).
Assemble
Place the first layer of cake on a cake board or stand. Top with a thin layer of raspberry rhubarb jam and a generous layer of Swiss meringue buttercream. Repeat with the second layer and then place the third layer on top.
Smooth out any buttercream that squeezes out between the layers and then refrigerate the cake for at least 30 minutes. Place the rest of the buttercream on top of the cake and use an offset spatula to .work its way down, smoothing out the top and sides of the cake.
Notes
Loosely cover the cake with plastic wrap and store it in the refrigerator for up to a week. Refrigerate any cut slices in an airtight container.
Nutrition Information:
Yield:
10
Serving Size:
1
Amount Per Serving:
Calories:

749
Total Fat:

40g
Saturated Fat:

18g
Trans Fat:

0g
Unsaturated Fat:

20g
Cholesterol:

128mg
Sodium:

340mg
Carbohydrates:

93g
Fiber:

2g
Sugar:

68g
Protein:

8g
For similar recipes, check out: