Coffee Macarons with Chocolate Ganache Filling
Super easy coffee macarons sandwiched around a dark and/or white chocolate ganache filling!
Macarons. Mah-kah-rhons. Sounds weird…I always called them macaroons. This is probably my favorite post ever because well, it involves coffee, chocolate and macarons. What else do you need in life? Besides Jesus… We need Jesus.
For the past month or so I've been trying to master my macaron techniques. I tried the French, Italian, and Swiss meringue methods. Most people are familiar with the French and Italian methods, however, I seem to have the most success with the Swiss method. All thanks goes to Sarah from Broma Bakery for that one! I used her base recipe to make coffee macarons (and all my other macarons).
What you need for this coffee macaron recipe
The best part about making macarons is that you really don't need a bunch of ingredients. In fact, the shells only require four ingredients. The hard part ist the technique but we'll talk about that in a little bit.
Ingredients
Almond Flour – once you're comfortable making macarons, you can practice with other types of nut flours.
Powdered Sugar
Granulated Sugar
Egg Whites – For best results, I recommend fresh, room temperature egg whites, not boxed egg whites.
Tools to make coffee macarons
Scale – I highly recommend investing in a digital scale if you don't have one and you like to bake (especially with finicky little things like these).
Piping Tips – To make perfect circles, you may need to get a round piping tip
Pastry bag
Silicone baking mat – most people find that they get more consistent results with silicone mats but they're not necessary.
Electric mixer – you can make macarons with either a hand mixer or a stand mixer.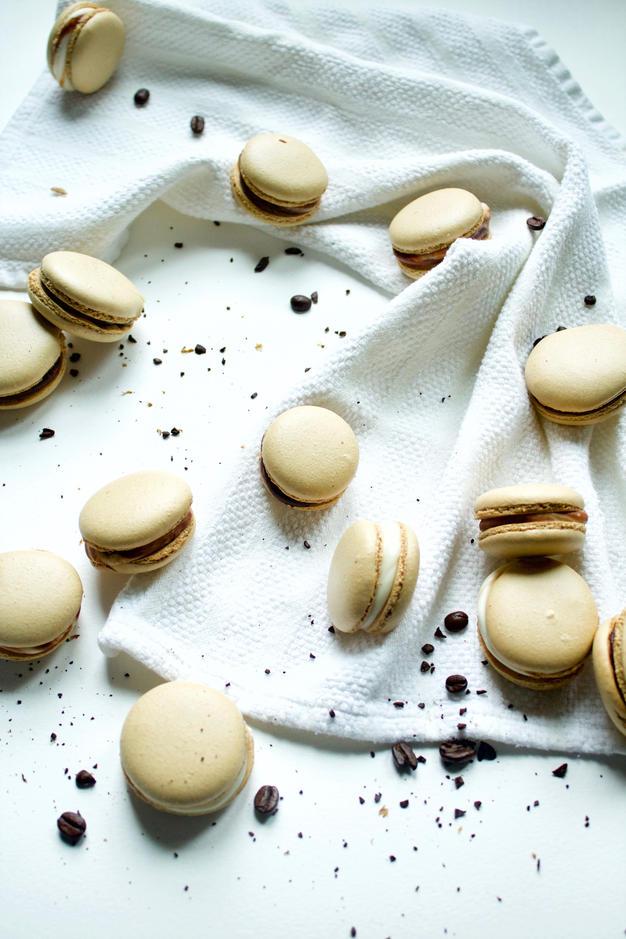 FAQs for making macarons
When are macarons best to eat?
You can enjoy your macarons right away, the next day, the next week or month. To me, macarons taste the best about 24 hours after I've made them. They get a little chewy after resting in the fridge overnight and the flavors always seem to be a little more intense.
Can I make macarons without a digital scale?
You certainly can but it's hard to measure ingredients as accurately. If you don't have access to a digital scale, make sure to spoon and level the dry ingredients.
Are macarons gluten-free?
Naturally yes, macarons are gluten free. Just make sure the ingredients you're using don't have any gluten additives.
Are macarons dairy free?
Again, naturally yes, macarons are dairy free. Just make sure your fillings are also dairy free. To make this coffee macaron recipe dairy free you can substitute dairy free chocolate and coconut milk for the filling.
Can I make macarons without egg whites?
Yes you can make macarons without egg whites. I have never done it so I'm definitely not the person to ask but I know Camilla over at Pies & Tacos has some great vegan macarons recipes!
How to store coffee macarons?
I store my macarons in an airtight container in the refrigerator. To freeze them I cover them with plastic wrap before putting the lid on the container, then pop the container into a freezer bag and then freeze.
How long do macarons last?
I keep my macarons in the refrigerator for about a week. In the freezer they usually last about 1-2 months.
I was so nervous when I first started making macarons but I finally did it and they turned out perfect. I think I tried four-five different recipes/methods before getting them just right. Just remember that even if they're hideous, they usually still taste pretty good! Don't be intimidated, there are so many guides on the internet for troubleshooting and always feel free to ask me questions!
I'm excited to experiment with new flavors so if you have any suggestions, let me know down below. As always, I'm glad you stopped by and I hope this inspired you to make these beauties for yourself. Have a blessed day and happy baking darlings!
Love, B
Yield: 24
Coffee Macarons with Chocolate Ganache Filling Recipe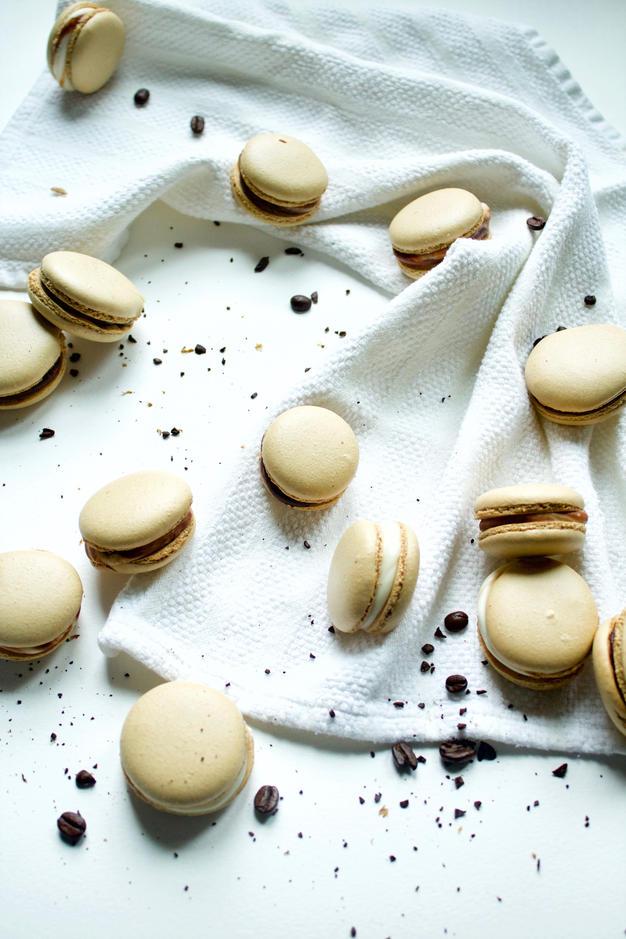 Easy coffee macarons sandwiched around white and/or dark chocolate ganache filling!
Additional Time
30 minutes
Total Time
1 hour
18 minutes
Ingredients
Coffee Macarons Shell
1 cup (100g) almond flour, spooned and leveled
3/4 cup (90g) powdered sugar, spooned and leveled
2 Tbsp (12g) instant espresso powder (not instant coffee granules)
3 large (100g) egg whites, room temperature
1/2 cup (100g) granulated sugar
Chocolate Ganache Filling
½ cup (120mL) heavy cream
1 cup (6 oz) chocolate chips (white, dark, or 1/2 of both)*
Instructions
Coffee Macarons
In a medium bowel, sift together the almond flour and powdered sugar. Add in the espresso powder and set them aside.
Heat up a small pot of water on the stove to create a double boiler for the Swiss meringue. Whisk the egg whites and granulated sugar in the bowl of a stand mixer over the double boiler until the sugar is fully dissolved and the egg whites are frothy (about 120F or 49C).
Remove the mixture from the heat and use the stand mixer with the whisk attachment, at high speed, to beat the egg whites and granulated sugar just until stiff peaks form, about 2 minutes.
Sift the almond flour, powdered sugar, and espresso powder mixture over the meringue and use a firm spatula to fold the dry ingredients into the meringue. The method that I use to fold the batter (see my Vanilla Macarons photos for reference) is by pressing the batter up against the wall of the bowl and then scraping it off of the bowl.
Do this until the mixture is able to ribbon off and form a complete figure '8' without breaking. This may take a while- keep folding but don't over-mix, so test the figure '8' every 5-10 folds.
Using a piping bag, with a small circle tip, pipe out 1 1/2 inch size circles onto a lined cookie sheet, about 2 inches apart. Rap tray on the counter a few times to remove any air bubbles from within the batter (use a toothpick to remove any air bubbles that are visible and won't come out).
Allow the cookies to rest while preheating the oven to 300F (149C) conventional (no fan). Bake one pan at a time in the center of the oven for 13 minutes. Remove the pan from the oven and allow the cookies to cool completely on the pan.
Chocolate Ganache
In a small pot on the stove, heat the cream over medium-low heat, just until it begins simmering. Pour it into a larger bowl over the chocolate chips and cover it for 1-2 minutes.
Slowly stir until all of the chocolate is melted and combined with the cream. Cover it and allow it to cool until it's thick enough to pipe without running.
*If you are using both white and dark chocolate and you want that marble/ombre effect with the white and dark chocolate, just alternate scoops into your pastry bag, forming layers.
Pipe the chocolate ganache onto half of the cookies and then sandwich them together with the other half.
Notes
Store the coffee macarons refrigerated in an airtight container for about a week. Freeze for up to a month.
Nutrition Information:
Yield:
24
Serving Size:
1
Amount Per Serving:
Calories:

124
Total Fat:

6g
Saturated Fat:

3g
Trans Fat:

0g
Unsaturated Fat:

3g
Cholesterol:

7mg
Sodium:

14mg
Carbohydrates:

16g
Fiber:

1g
Sugar:

14g
Protein:

2g
Nutrition information isn't always accurate.
For more macaron recipes, check out: