Peanut Butter Cup Macarons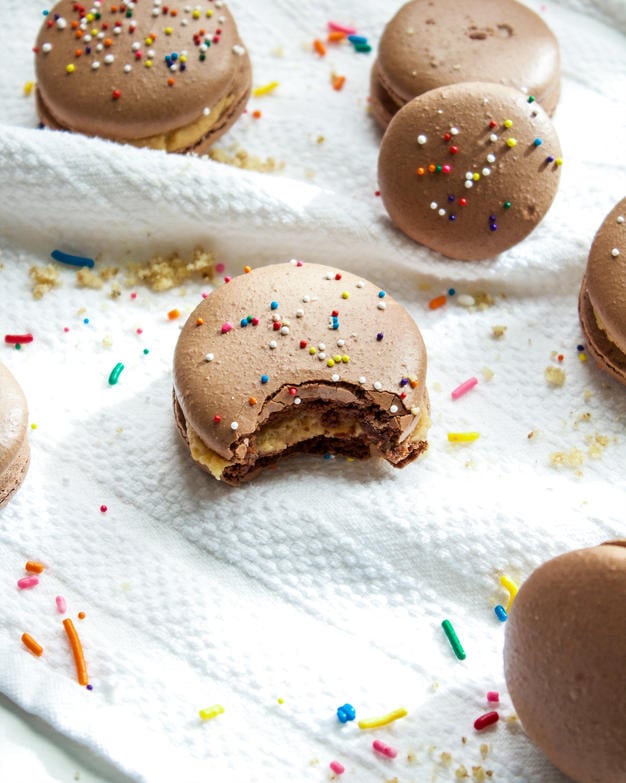 I made peanut butter cup macarons.
Then I put sprinkles on them cuzzzz why not?!
Then I took pictures.
Then I ate them. …ok not alllllll of them. I took some to work. Now I want more.
I've been a little addicted to making macarons lately, I really should change it up a bit but I just REALLY REALLY ENJOY making these. I don't know why?! Maybe it's like the mystery of whether they will be perfecttttt lol. I just want to make every.single.flavor in the world!
Personally I think these were *drooling emoji* great, one of the best I've made BUT you won't know until you try them!!!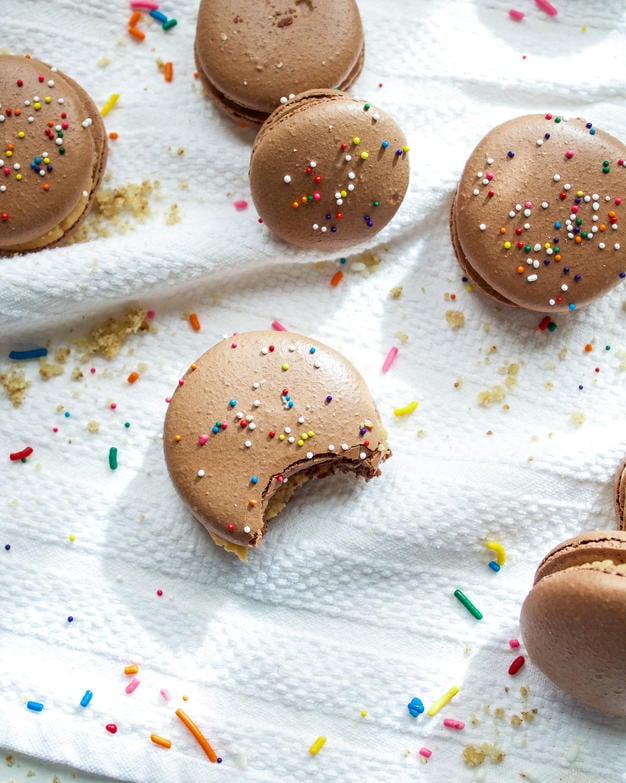 Also remember when I started whole30 and I was supposed to do something different every month?! I'm really bad at it lol. So February was super busy for us, and we were on the cruise and I didn't reallllllyyyy do my stretches alllllll the time BUT I've been very dedicated in March. Narcis and I have been stretching almost every day for 30-60 minutes. My joints are terrible and my back hurts all the time. It's the worst in the mornings but I feel like my body feels less stiff throughout the day if I do all my stretches so I'll probably continue this past March.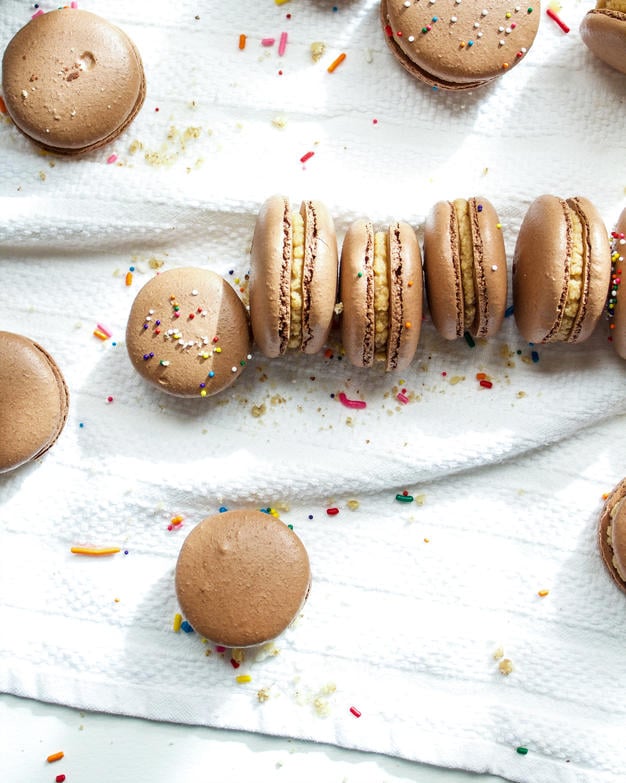 PEANUT BUTTER CUP MACARONS
Yields: ~30 | Prep Time: 15 min + wait time| Bake Time: 13-39 min | Total Time: 60-90 min.
INSTRUCTIONS:
Cookie Shell
100g (1 cup) almond flour

100g (7/8 cup) powdered sugar

100g (1 cup) granulated sugar

100 g (~3 large) egg whites

20g (~2 tbsp.) unsweetened cocoa powder

sprinkles *optional
Frosting
4 oz. (1/2 pack) cream cheese

3/4 cup powder sugar

1/2 cup peanut butter

1 tsp. vanilla extract
DIRECTIONS:
Start off by measuring all of your ingredients out, preferably by grams.

Sift together almond flour, powdered sugar and cocoa powder, and set aside.*

Heat up a small pot of water on the stove to create a double boiler for your Swiss meringue.

Mix egg whites and sugar in mixing bowl and whisk over double boiler until about 115F or until sugar is fully dissolved and egg whites are frothy.

Beat egg whites and sugar until stiff peaks form.

Slowly pour in dry ingredients and mix for a few seconds, until combined.

Remove and fold with spatula until your macaronage is complete.**

Using a piping bag, with a circle tip, pipe out desired size circles onto baking sheet about 1-2 inches apart.***

Allow cookies to form shell for about 20 minutes while preheating oven to 300F.****

Bake one pan at a time in the center of the oven for 13 minutes, turning pan halfway through if necessary (browning on one side or lopsided). *****

Remove and allow to cool completely before filling.

Cream together peanut butter and cream cheese for frosting.

Add vanilla the powdered sugar, slowly, making it as sweet as you like.

Store in airtight container. A few days on the counter, a week or so in the fridge, and up to a few months in the freezer.
LOVE NOTES:
You should really try using a scale when baking macarons, it will make your life easier. I have this one.

*Some people sift their dry ingredients like three times, to get that shiny surface, I'm not about that life. I'm too lazy to sift my almond flour and I'm not going to waste half of it anyway and they turned out fine. I used Bob's Red Mill Super-Fine Almond Flour.

Some people also blend the dry ingredients together in a processor instead or before sifting.

**Your batter should be able to ribbon off without breaking and blend back in within a few seconds or you can do the '8' test, where it should be able to form an eight without it breaking.

***I used a cookie pan with parchment paper.

****With the French and Italian methods, drying is necessary; some people are able to skip this step with the Swiss method but I could not. I baked the first pan immediately and this whole pan of cookies cracked, however the second pan that sat out while the first was baking, turned out perfectly. The time it takes for the shell to form generally depends on your humidity but you will be able to see the matte shell, and it won't be sticky when you touch it lightly.

*****I bake one pan at a time because I tried doing two and one whole pan cracked. I also don't find the need to turn my pan half-way through, they normally look fine.

I used a circle tip when piping the frosting. Make sure not to overfill your piping bag, you don't want it overspilling out the other end, so aim for half-way full at a time.

Also my frosting was a little stiffer because my cream cheese was cold but if you let it come to room temperature before piping, you may get a smoother pipe, without all those cracks. Prob shoulda waited..oh well!

Also check out my post on all things macs to see my macaron making experience!
Soooo seriousllllyyyy guyysss, I don't even know if anyone is reading this but like maybe leave some love down below?! Comment what flavor you'd like to see next or if there's anything else you think I should make! If you're too shy thennnn go ahead and follow my new Instagram page, baranbakery, and leave a comment there! Or don't. I guess…I hope someone makes these though. For your sakes, cuz I already had some. Thanks for reading lovebugs & let me know if you tried these. And if they were a fail, still let me know, maybe I can help! As always, have a blessed day,
Love, B