Salted Caramel Mocha Recipe (Starbucks Copycat)
Take your home coffees to the next level with this copycat Starbucks salted caramel mocha recipe!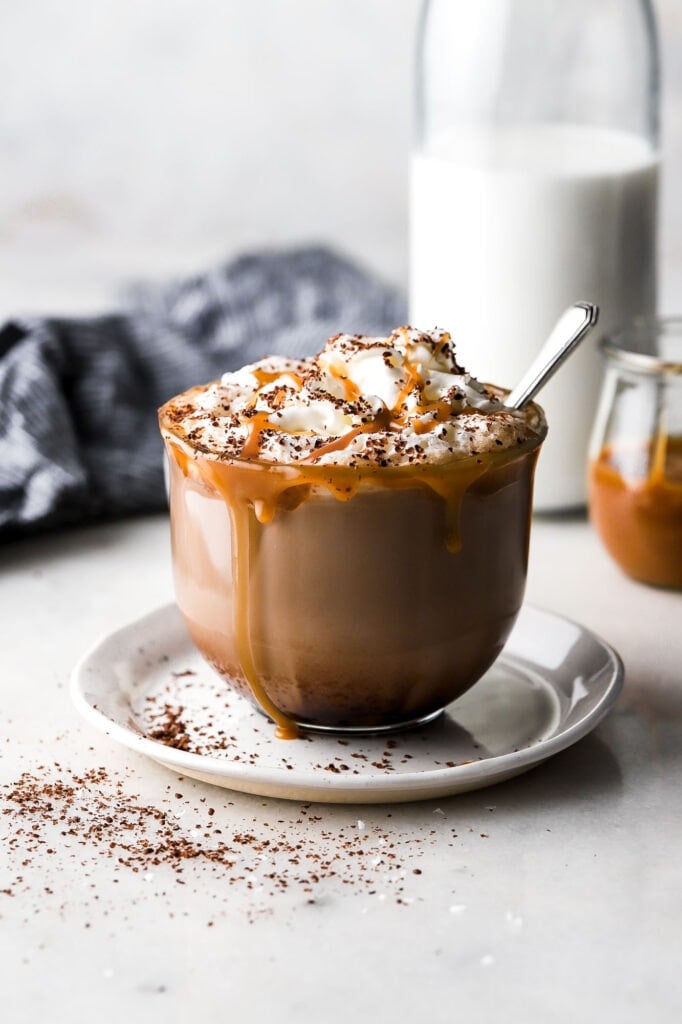 Another salted caramel recipe you ask?! Yes, I told you guys on instagram about my obsession with homemade salted caramel sauce and I'm not sorry about it, lol. Since 2021 seems to be a nice continuation of 2020, I figured no one would complain about a homemade salted caramel mocha recipe since we can't enjoy it at our local coffee shop.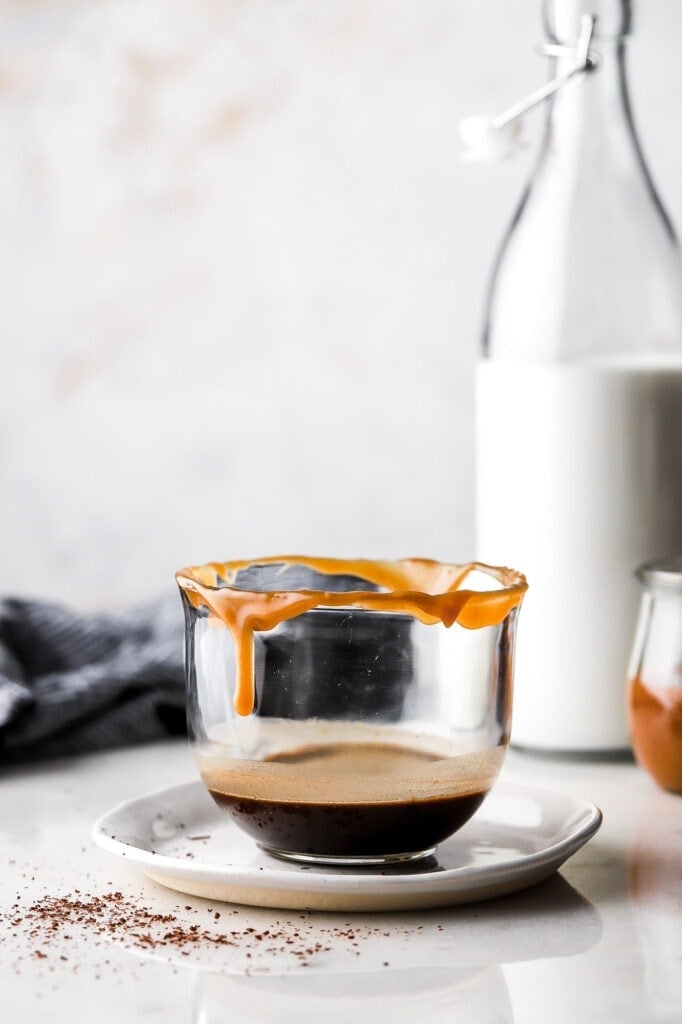 What is a salted caramel mocha
Mocha refers to a chocolate flavored coffee. They're very popular at most coffee shops and you'll usually find them in different variations like hazelnut mocha, peppermint mocha, white chocolate mocha, etc. Since I love salted caramel sauce, this is obviously the vest variation. 
At shops, they introduce the chocolate flavor with a chocolate syrup, as they do with most of their flavors but since we're not going to invest in that kind of shenanigan, we're going to keep it simple with unsweetened cocoa powder. It's also a lot less sweet this way and you can control the amount of sugar you want. 
How to make a homemade salted caramel mocha
If you have an espresso machine, this copycat recipe is super simple. It's basically just making your latte as normal, using two shots of espresso and milk of choice. Before you add in the milk, mix in the caramel sauce and the cocoa powder to the espresso shots.
If you like your coffee sweeter, add an extra 1-2 tsp of sugar or double the caramel sauce (my version is slightly less sweet than starbucks). If you like it extra chocolatey, double the cocoa powder. If you like it more bitter, add an extra shot or two of espresso. Last but not least, if you like it milkier, add more milk.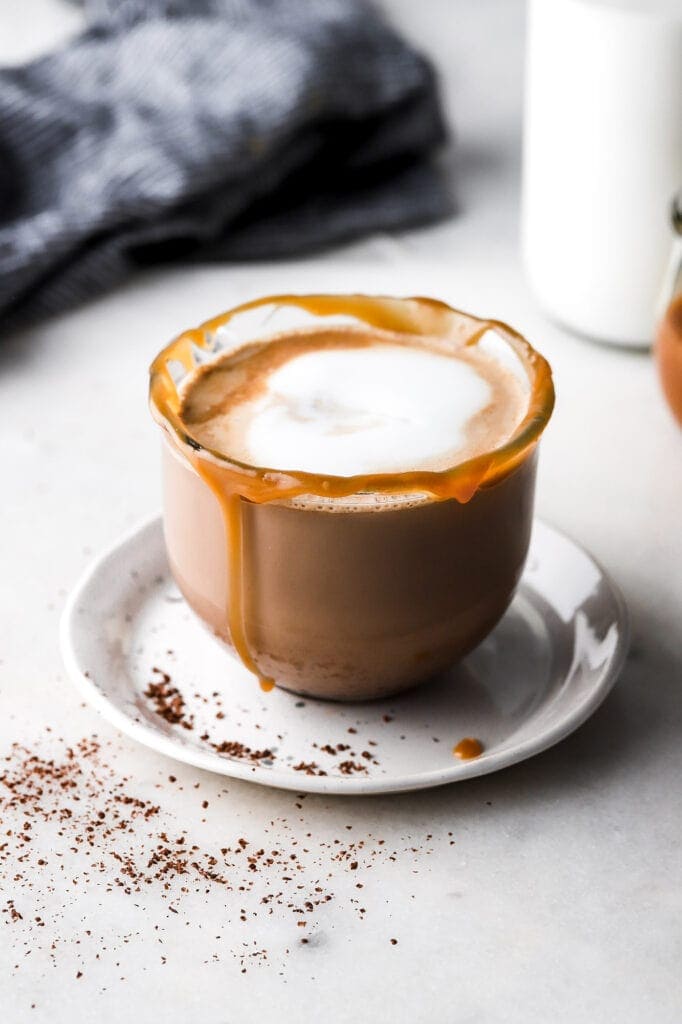 Can I make a salted caramel mocha without an espresso machine
So I'm not like a professional coffee expert or anything but I found this article on 3 Ways To Make Espresso Without An Espresso Maker.
If you don't have an aeropress, moka pot or french press you can also make espresso using espresso powder. It's similar to instant coffee but tastes more like espresso, is a much finer powder and is much stronger. Generally, you'll need about 1 tsp of espresso powder to 1 ounce of water to make a 'shot'. 
Some brands I recommend are King Arthur, Delallo and Megadlia D'Oro.
Do I have to use homemade salted caramel sauce
The short answer is no, you can use store bought salted caramel sauce for this mocha recipe. HOWEVER, nothing compares to homemade salted caramel sauce so use at your own discretion, lol. 
I have a simple step-by-step blog post for homemade salted caramel sauce. It can be slightly intimidating if you've never made it before but I got all the pictures and the troubleshoot section on there waiting to help you.
How to make iced salted caramel mocha
Omg this is so fun; ok so you want it iced. Follow all the instructions the same, except don't steam the milk. Fill a large cup with ice, pour the espresso mixture on top and then top with cold milk. Voila!
If you add extra sugar and are having trouble dissolving it, especially in the iced version, try using powdered sugar instead. Since powder sugar is so fine, you'll need less than you would regular sugar. For example, one tsp of powdered sugar is going to be sweeter than one tsp of granulated sugar.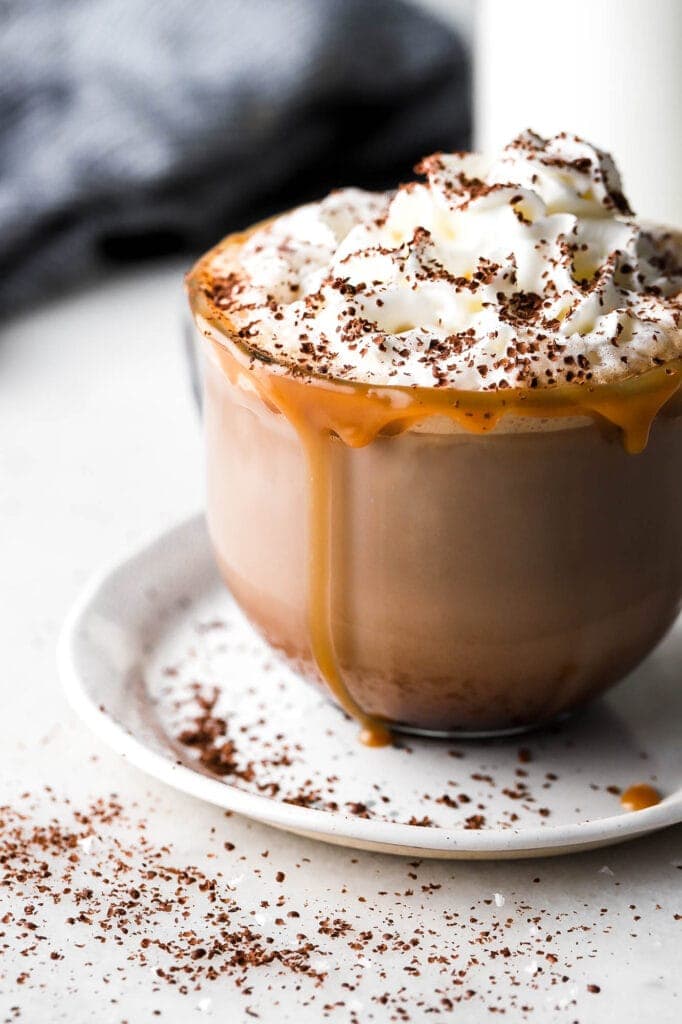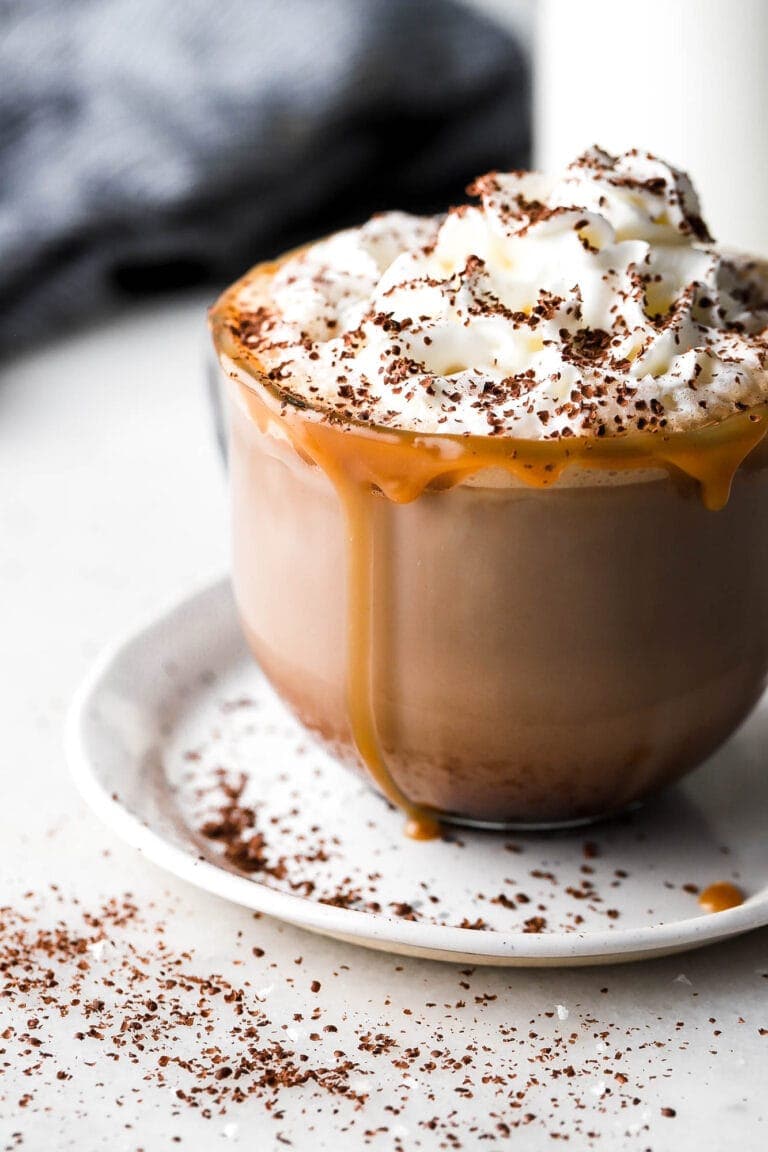 If you stuck around this long, thank ya for reading. I hope you guys give this fun coffee drink a try and let me know how you like it! Make sure to tweak it to your liking with cold or hot coffee and keep in the mind the toppings make it much sweeter. As always, have a blessed day!
Love, B
Yield: 1 drink
Salted Caramel Mocha Recipe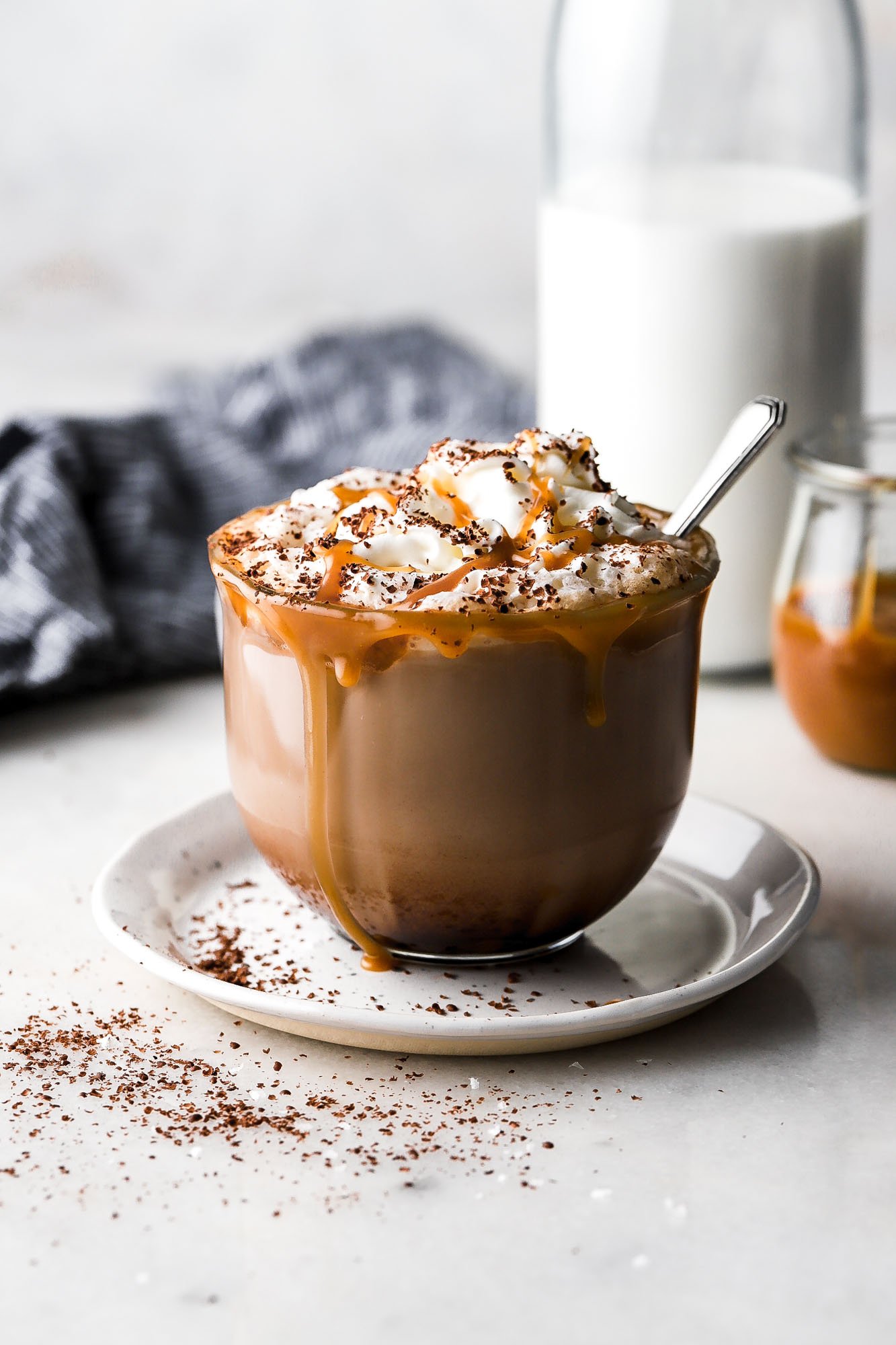 Take your home coffees to the next level with this easy homemade salted caramel mocha recipe!
Ingredients
Coffee
2 shots espresso
1 Tbsp salted caramel sauce
1 tsp unsweetened cocoa powder
1 cup milk of choice
Topping
whipped cream
1 Tbsp salted caramel sauce
1 tsp chocolate shavings
Instructions
If you're making homemade salted caramel sauce, make it ahead of time so it's ready.
To create the caramel rim, dip a cup into the salted caramel sauce. Pour two shots of espresso into the cup and combine it with the 1 Tbsp of salted caramel and the unsweetened cocoa powder.
Froth or heat milk to desired temperature and pour over the espresso mixture. Top with whipped cream, extra salted caramel and chocolate shavings.
Enjoy warm and fresh!
Notes
For chocolate shavings, just grate a piece of chocolate bar.
Nutrition Information:
Yield:
1
Serving Size:
1
Amount Per Serving:
Calories:

351
Total Fat:

7g
Saturated Fat:

4g
Trans Fat:

0g
Unsaturated Fat:

2g
Cholesterol:

25mg
Sodium:

422mg
Carbohydrates:

64g
Fiber:

0g
Sugar:

49g
Protein:

10g
Nutrition information may not be fully accurate.
For similar recipes, check out:
I only recommend products I use myself and all opinions expressed here are my own. This post may contain affiliate links that at no additional cost to you, I may earn a small commission.