Iced Chai Latte with Homemade Chai Concentrate
There's no better way of enjoying the cozy warm spices that come with chai than with a homemade iced chai latte!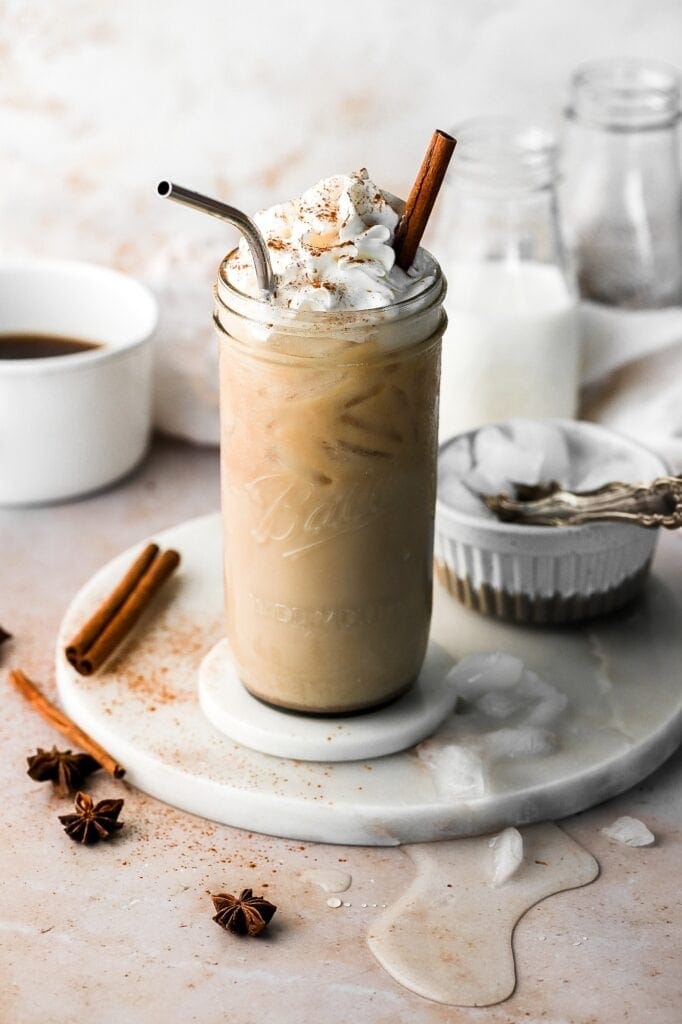 Chai is like coffee, it's an acquired taste. And like coffee, once it's acquired, there's no stopping. If you ask me, it is the ultimate fall drink. There is literally no room for pumpkin spiced lattes or even hot chocolate if chai is involved. 
There's the OG chai latte, dirty chai latte, iced chai latte, iced dirty chai latte, you get the point. Well, the iced version is my favorite and I'll be sharing the recipe with you today!
If you've never had chai before, it's basically a spiced tea latte. Black tea gets boiled with a bunch of different spices and a little sweetener and then milk gets added to make it a latte. It's generally served hot and most American cafe's will froth the milk like a classic latte. The iced version is pretty self-explanatory and the dirty version is adding a shot or two of espresso to either the hot or iced chai latte.
How to make iced chai latte
The bulk of this iced chai latte recipe is actually just making the chai concentrate, which can be made 2 weeks ahead of time. There's a lot more detail about the black tea with masala chai spices in that post, if you're interested in making the homemade concentrate. I use a ton of different spices at a specific ratio to bring out the best, cafe-like chai flavor.
The post also talks about where you can purchase a lot of the less common spices and which ones are most essential to the recipe. In the post I also talk about the amount of tea bags I recommend, when to add them in and when to remove the tea bags.
This may just be the shortest recipe I'll ever post because it's basically just combining equal parts chai concentrate and milk over ice. The whipped topping is optional but highly recommended.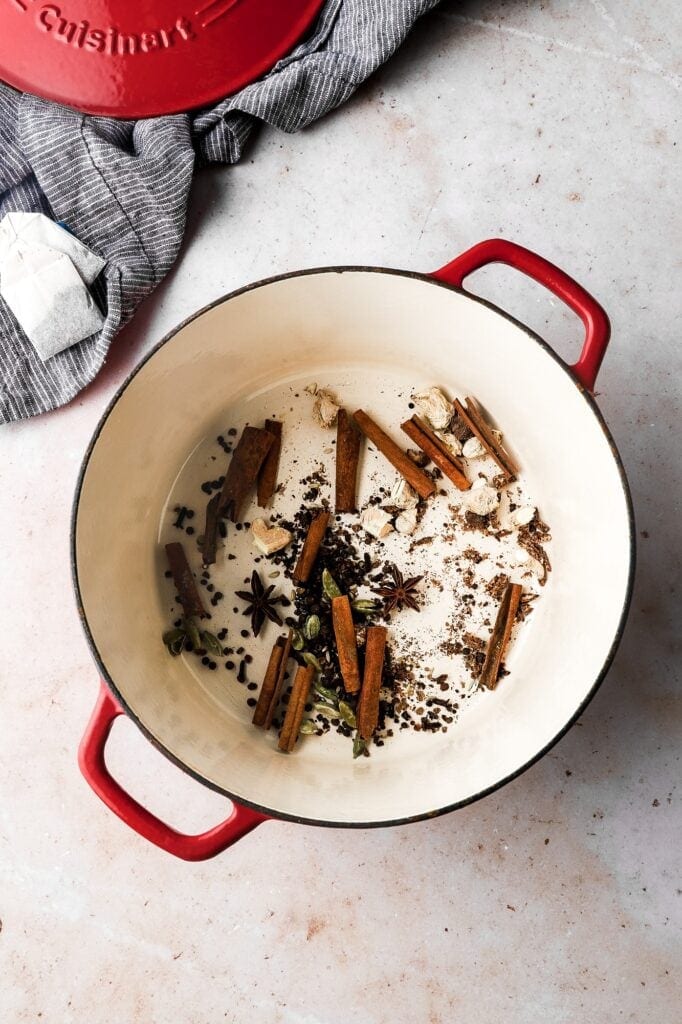 How do I make my chai stronger
I will say, making homemade chai concentrate requires a ton of spices to get it super flavorful. If you prefer your chai flavor to be extra spicy, I would add extra black peppercorns, cinnamon and ginger to the chai concentrate.
If your concentrate is already made, you can also just modify the ratio a little and use a slightly less milk than chai.
What kind of milk do I need for iced chai latte
Chai is so great because the stronger flavor masks most milk flavors. You can use dairy milk, almond milk, pea milk, oat milk, etc. You can also do a coconut whipped cream to make it fully vegan.
How do I make it sweeter
I made the concentrate to not be super sweet because you can always add more but you can't always take it away. If you make your iced chai latte and it's not sweet enough, I recommend adding a little honey or maple syrup. You can also use a little brown sugar but just keep in mind that the sugars will have a more difficult time dissolving in the iced tea.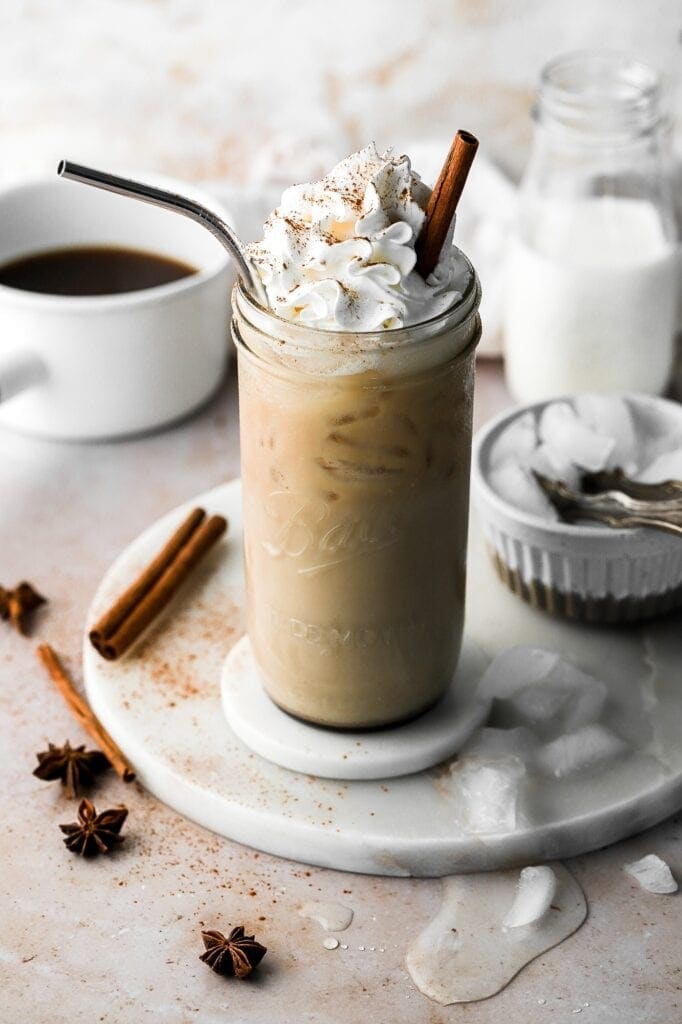 Thanks so much for stopping by for a quick chat today, if you make this fabulous drink, make sure to tag me @baranbakery on instagram! I love seeing what you guys make in your kitchens and I always appreciate any feedback! As always, have a blessed day and stay safe.
Love, B
Yield: 1
Iced Chai Latte Recipe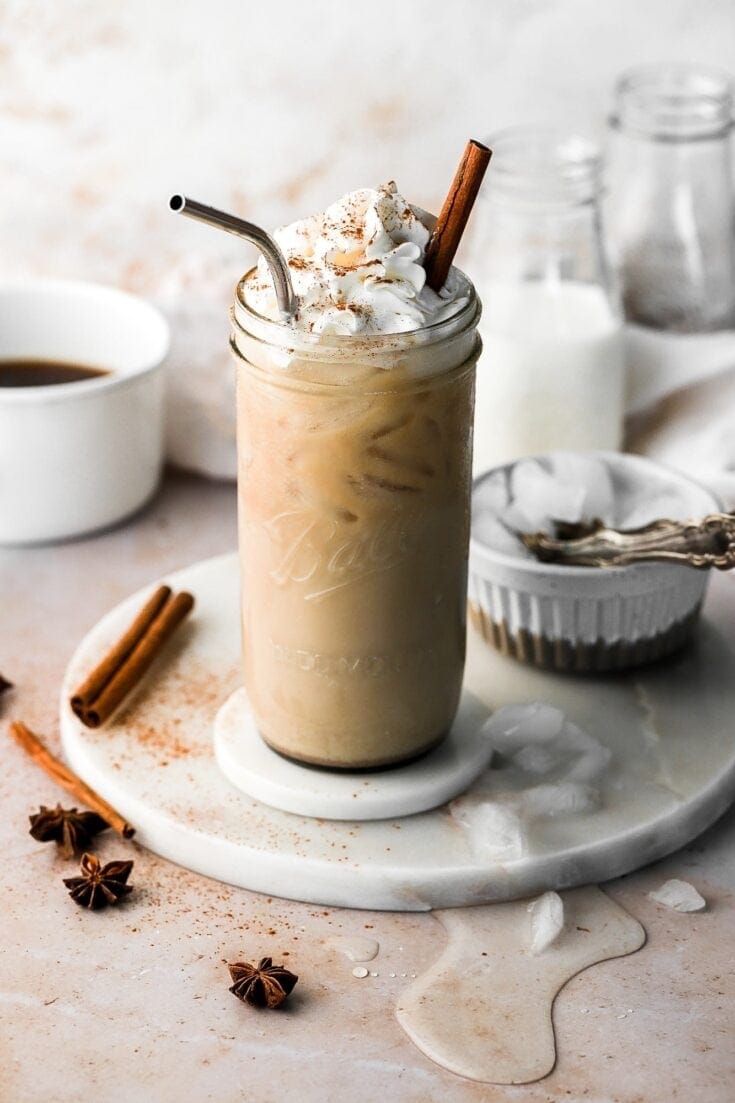 There's no better way of enjoying the cozy warm spices that come with chai than with a homemade iced chai latte! 
Ingredients
Chai Concentrate
12 green cardamom pods
1 tsp whole cloves
2 tsp whole allspice
1/2 tsp peppercorns
1/4 tsp fennel seeds
5 cinnamon sticks, chopped in half
4 inches dried ginger root, roughly chopped
1 whole nutmeg, chopped
3 cups water
2 star anise
1 vanilla bean, split and scraped (put the whole thing in)
1 tsp orange zest
1/4 cup brown sugar, packed
2 bags black tea
Iced Chai Latte
1/2 cup chai concentrate
1/2 cup ice
1/2 cup milk
whipped topping
pinch of cinnamon
Instructions
Make the chai concentrate, and allow it to cool completely to room temperature or colder.
Once the concentrate is chilled, pour it over ice and then add the milk. Top with whipped cream and a pinch of cinnamon.
Serve immediately.
Notes
To make the chai concentrate cool quicker, remove 1/2 cup and place it in the fridge.
Nutrition Information:
Yield:
1
Serving Size:
1
Amount Per Serving:
Calories:

91
Total Fat:

4g
Saturated Fat:

3g
Trans Fat:

0g
Unsaturated Fat:

1g
Cholesterol:

10mg
Sodium:

67mg
Carbohydrates:

9g
Fiber:

0g
Sugar:

2g
Protein:

4g
Nutrition information may not be fully accurate.