Homemade Dark Hot Chocolate
Ok friends. Going to start off with a bit of truth… I'm exhausted and I tried to bribe my husband to write this blog post but he denied. I'm obviously excited about this homemade dark hot chocolate but I've just been a little too busy. I get super antsy when I know I have a lot of work to do and I'm just sitting on the couch trying to write…on top of that you can't even write just what you want cuz #seolife. Anyway, sorry for the rant, moving on to the good part of this post, lol.
How to make homemade dark hot chocolate?
Homemade hot chocolate is soooo easy to make! Normally people do it in a crockpot/slow cooker because it's even easier that way and it keeps it warm extra long. I personally don't like to because I like to make smaller batches and sometimes it can burn in the crockpot. If you make your hot chocolate in a sauce pan, you basically just whisk all the ingredients together over medium heat until combined and melted. Then you slowly add in the milk, bring it to a boil and let it simmer a few minutes.
Difference between hot chocolate and hot cocoa?
Well it's not a huge difference but it is fairly self-explanatory. Hot chocolate is made with actual chocolate, which is usually already sweetened so you wouldn't need to add extra sugar. Hot cocoa is made with cocoa powder, which is typically unsweetened, requiring a bit of added sugar. I think they're both great but I would say that hot chocolate has a bit of thicker, creamier texture whereas hot cocoa can be darker and richer. So what did I do?! I mixed the two! I used both chopped chocolate and cocoa powder for the ultimate homemade dark hot chocolate recipe. #noragrets
To make it extra thick and creamy, I added a bit of sunbutter. In the past, to give it that thick texture, I used to add butter but honestly, the thought of drinking butter doesn't sound very appealing so I subbed it for sunbutter. It's pretty mild but it gives it a bit of savory flavor, kind of like nuts, which really helps balance out all the sweetness of hot chocolate.
What kind of chocolate to use?
Well, there's white chocolate, milk chocolate, semi-sweet or bittersweet chocolate and dark chocolate. For those of you who don't like chocolate, I have a white chocolate version linked here. If you like super sweet chocolate then use milk chocolate. Into rich, intense chocolate? Use dark chocolate and if you're not sure what you like and want to play it safe, try the semi-sweet chocolate. I use dark chocolate because I don't like overly sweet drinks. You can also do the milk chocolate but don't add the extra sugar, that'll make it less intense and less sweet.
So if you're in need of something new, say a homemade dark hot chocolate recipe, give this a try. Let me know what you think, make sure to tag me @baranbakery on instagram if you do make it! Anyway, hope you all enjoy your weekend, make sure to say a quick prayer for me so I don't drown in all my work, lol. As always, have a blessed day and happy baking!
Love, B
Yield: 2 servings
Homemade Dark Hot Chocolate Recipe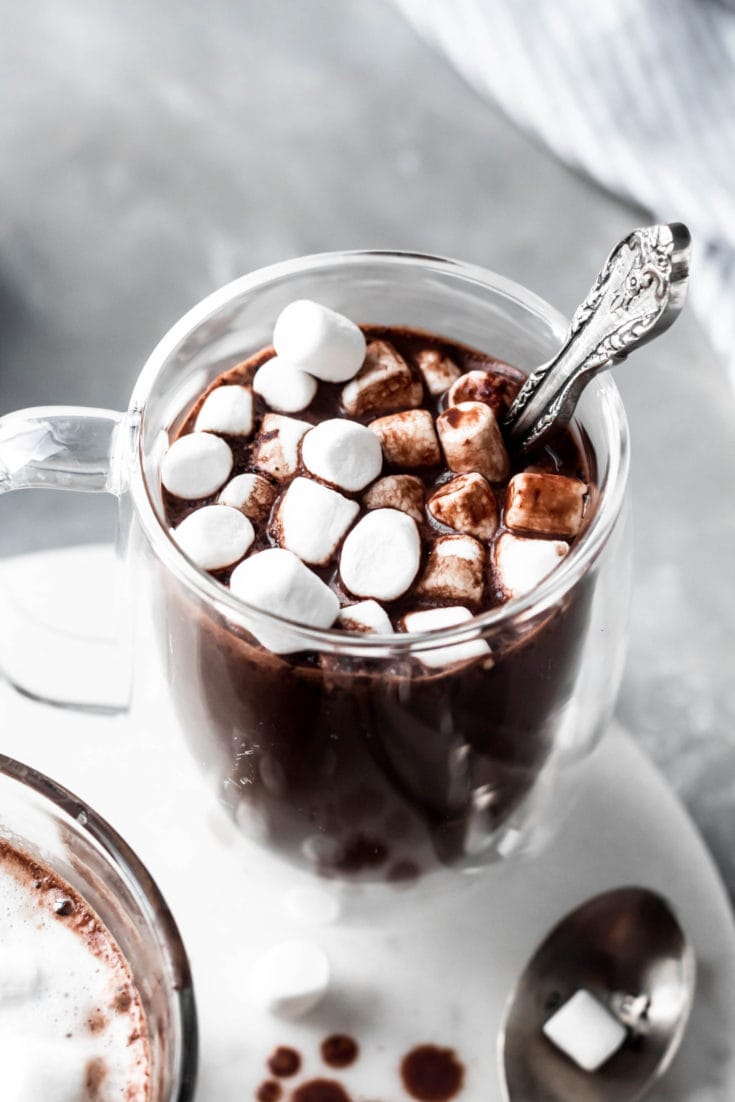 Dark and creamy hot chocolate made with SunButter!
Ingredients
1/2 cup light brown sugar, lightly packed
1/4 cup Dutch-process cocoa powder, spooned and leveled
1/4 cup Sunbutter
pinch of salt
1 cup dark chocolate
1 tsp vanilla
3 cups milk
Instructions
Combine the sugar, cocoa powder, Sunbutter and salt in a small sauce pan over medium low heat. Stir until everything is fully combined and melted.
Add in the chocolate and vanilla and stir on medium heat until fully combined.
Slowly pour in one cup of milk at a time and stir until it is fully combined. Bring it to a boil, remove, and serve hot!
Top the hot chocolate with some steamed milk, whipped cream, marshmallows, and whatever you desire!
Notes
Serve hot and make sure to mix well before serving.
Keep refrigerated over night and just reheat before serving.
Nutrition Information:
Yield:
2
Serving Size:
1
Amount Per Serving:
Calories:

1023
Total Fat:

44g
Saturated Fat:

26g
Trans Fat:

0g
Unsaturated Fat:

14g
Cholesterol:

38mg
Sodium:

278mg
Carbohydrates:

138g
Fiber:

10g
Sugar:

117g
Protein:

20g
Nutrition information may not be fully accurate.
For similar recipes, check out:
Thank you for supporting all things Baran Bakery & the brands that make it all possible. This post was sponsored by Sunbutter. All opinions are 100% my own.