Chai Concentrate Recipe for Homemade Chai Latte
Easy homemade chai concentrate recipe to make your kitchen feel like your favorite coffee shop!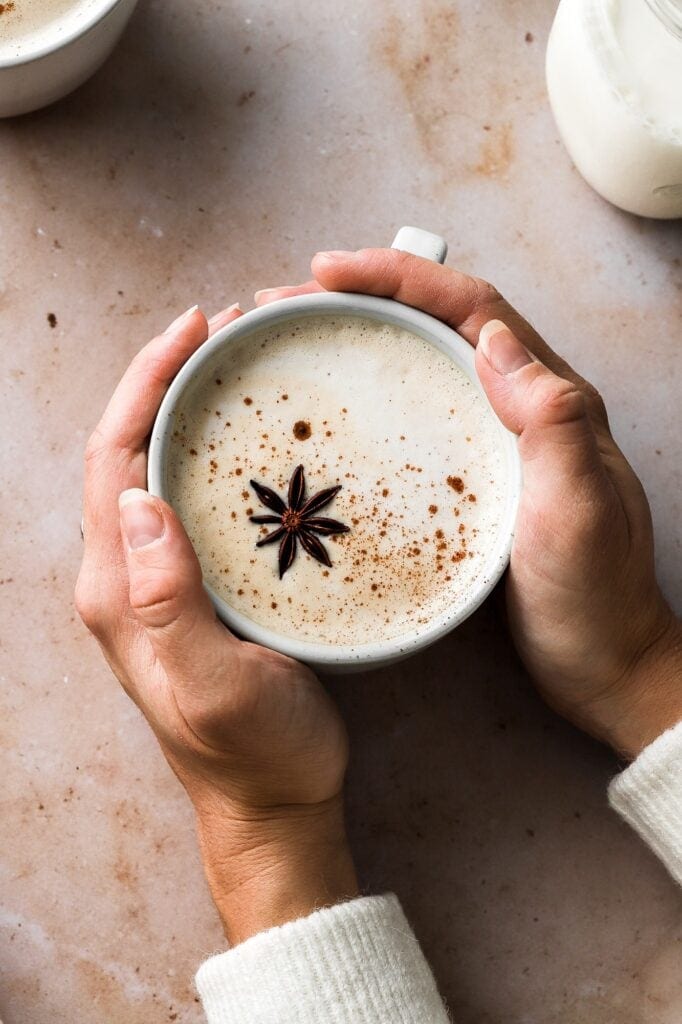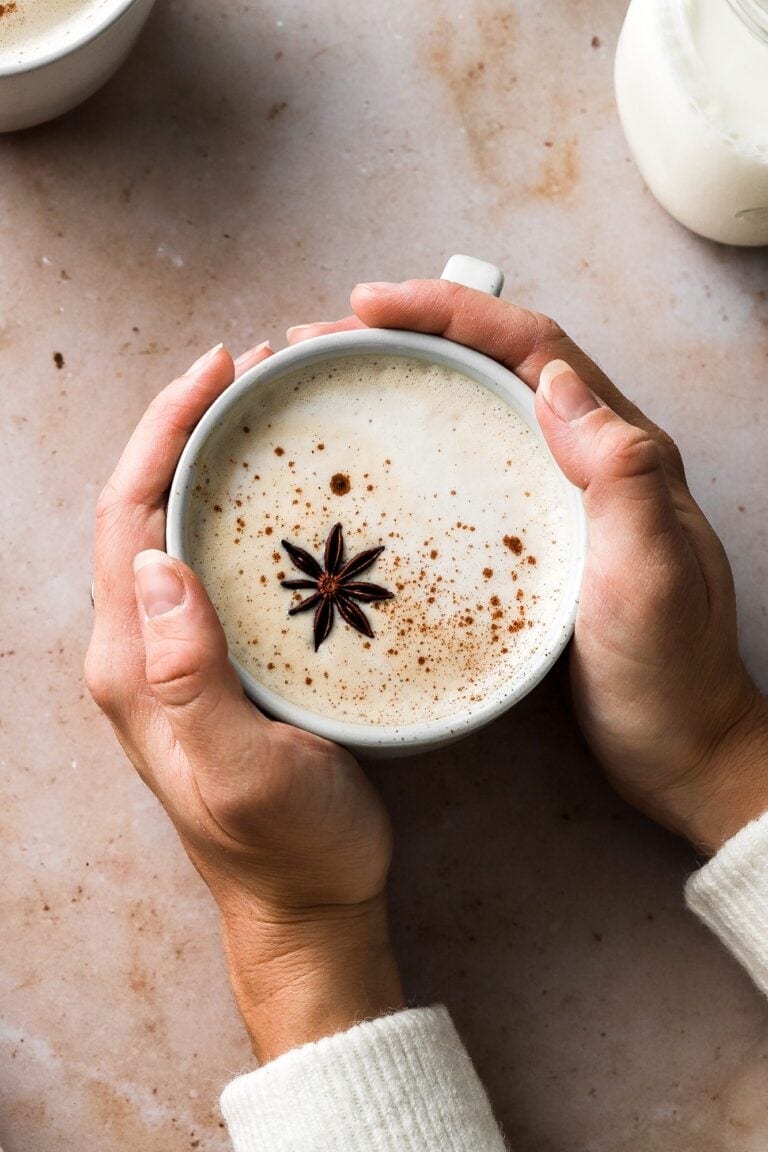 A good chai concentrate recipe is a fall and winter staple to keep in the fridge! After a ton of testing, I got the perfect ratio of spices, water, tea and sweetener. It's super easy and quick to make and it makes 4-6 servings of chai latte.
What is chai
Chai means tea in most languages but in this context, it is originally known as masala chai which translates to spiced tea. Unfortunately, somewhere along the trail from South Asian to America, we turned masala chai into chai tea latte… meaning tea tea latte… yeah, awkward.
I believe a more accurate English translation would be spiced tea latte (latte because most American teas don't use milk and this does) but from now on we'll refer to it as a chai latte so no one gets confused, lol. 
How to make homemade chai concentrate
For a long time I was just using store bought chai concentrate from the grocery store. The Starbucks brand is a great recipe and tastes amazing but unfortunately it does kind of have a lot of sugar. It's nice to be able to control the level of spice and sweetness when you make it yourself and there's always something so special about making things homemade.
For this chai concentrate recipe, you'll need whole spices instead of ground. The ground spices don't release oils and flavors like the whole ones. It's also incredibly difficult to fully strain out the ground spices because they're so tiny and then you'll end up with a grainy tea.
Roughly chop up the spices and toast them to release extra flavor. Then add the water, bringing it to a boil, add the sugar and vanilla and let it steep until you like the flavor. I like mine spicy so I let it steep for at least a half an hour before adding in the tea. After you add the tea bags, make sure to only let it steep for about 5-10 minutes so the tea doesn't get bitter.
I also noticed that the more tea bags I added, the more I lost the flavor of spice so I kept it minimal with only two but you can certainly add more if you want a stronger black tea flavor. That's what's so great about this recipe, if you like it sweeter, add more sugar, if you like it spicier, add more peppercorns, ginger and/or cinnamon, etc. 
What spices do I need 
Chai is a mix of a ton of spices and it seems like every single recipe I've come across uses different ones. There are a few constants that you'll find in each recipe and cinnamon is definitely the biggest one. Again, I don't recommend using ground spices for any of these because you can't strain those out.
I purchased all of my spices from The Spice House to make sure I got the exact fresh ingredients I was looking for. It can get pricey but there are some ingredients that are more optional than others. Make sure to check your local grocery stores, Amazon and Nuts.com for cheaper alternatives, as well. 
Green Cardamom – a stable in chai, I would not omit this. 
Cloves – highly recommended for chai and can be found at most grocery stores. 
Allspice – highly recommended for chai and can be found at most grocery stores.
Peppercorns – optional for mild chai but necessary for spicy chai; can be found at local grocery stores. 
Fennel Seeds – more of an acquired taste and not very strong so it's pretty optional in chai. 
Cinnamon Sticks – not optional but can be found at most local grocery stores. 
Ginger Root – I used dried but if you use fresh ginger, from your local grocery store, use about half the amount. 
Nutmeg – definitely a staple in chai and can usually be found at most grocery stores. 
Star Anise – difficult to find in stores, expensive but the liquorish-like flavor is acquired so it's definitely optional in chai (it does more for aesthetics, lol). 
Vanilla Bean – can be substituted for vanilla extract and added after the chai is done. 
Orange Zest – gives the chai a refreshing zing but definitely optional 
What kind of sweetener to use and how much
A little sweetener is highly recommended to balance the spices and any bitterness but the type and amount is optional. You can basically use any kind of sweetener like honey, maple syrup, coconut sugar, granulated sugar, brown sugar, etc. but keep in mind that they all have different levels of sweetness. Honey, maple syrup and keto sugars all tend to be stronger so start with a little less. It's best to taste it and then add more or add extra when you make the individual drink.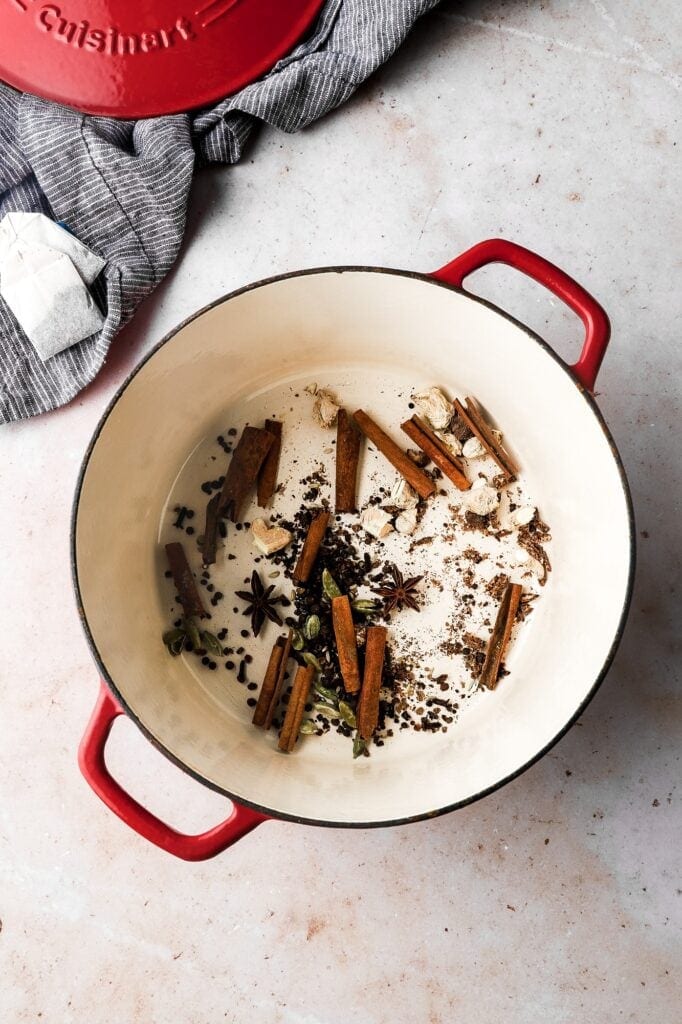 How to use chai concentrate
I believe authentic chai latte recipes let the tea and spices steep in the water and milk together but because chai is so versatile, I made it as a concentrate to be used however desired. I'll be publishing some recipes using this chai concentrate in the near future, like iced chai latte and dirty chai latte but the general recommendation is to use equal parts of the concentrate and milk to make a latte. You can use more milk for a subtle flavor or more concentrate for a stronger flavor. 
What kind of milk to use for chai lattes
My favorite thing about chai lattes is the strong flavor, which means you can use whatever milk you want and you wouldn't even be able to tell. Some recommendations are dairy milk, almond milk, oat milk and pea milk.
How to store chai concentrate
After you've strained the concentrate, pour it into a mason jar or bottle, cover it with a lid and store it in the refrigerator for about 2 weeks. You can also pour it into an ice tray to make chai ice cubes if you won't be using it in time. 
You can thank Covid for closing down our coffee shops this year but you can thank me for making it feel like your own kitchen is a coffee shop! LOL, hope you're all staying safe out there, thanks so much for reading and make sure to tag me @baranbakery on instagram if you make this chai.
As always, have a blessed day!
Love, B
Yield: 6 servings
Chai Concentrate Recipe
Easy homemade chai concentrate recipe to make your kitchen feel like your favorite coffee shop!
Ingredients
12 green cardamom pods
1 tsp whole cloves
2 tsp whole allspice
1/2 tsp peppercorns
1/4 tsp fennel seeds
5 cinnamon sticks, chopped in half
4 inches dried ginger root, roughly chopped
1 whole nutmeg, chopped
3 cups water
2 star anise
1 vanilla bean, split and scraped (put the whole thing in)
1 tsp orange zest
1/4 cup light brown sugar, lightly packed
2 bags black tea
Instructions
Place the cardamom pods, cloves, allspice, peppercorns and fennel seeds in a mortar and pestle and crush them until the cardamom pods crack open and the rest look somewhat crushed (or you can also place them on a cutting board and smash them with the side of a large knife).
Dump the crushed spices, cinnamon sticks, ginger and nutmeg in a bottom heavy pot. Over low-medium heat, toast the spice for 2 minutes. Add the water and turn the heat up to high to bring the water to a boil.
Remove the pot from the heat, add in the star anise, vanilla bean, orange zest and brown sugar and cover the pot with a lid. Allow the water to steep for 20-30 minutes. You can taste it and if you want it spicier, let it steep for another 10 minutes or so.
Once you like the spice level, bring the water back to a boil and then remove it from the heat again. Add the two tea bags, cover with a lid and let it steep for another 5-10 minutes (if it steeps longer, the tea will get bitter).
Strain the water into a clean jar and use as desired. I recommend equal parts concentrate and milk.
Notes
If you use fresh ginger instead of dried, I would use just 2 inches and add it in after the water has already boiled and is only steeping.
If you use vanilla extract, use 2 tsp and add it at the end after you strain everything out. 
Nutrition Information:
Yield:
6
Serving Size:
1
Amount Per Serving:
Calories:

42
Total Fat:

0g
Saturated Fat:

0g
Trans Fat:

0g
Unsaturated Fat:

0g
Cholesterol:

0mg
Sodium:

10mg
Carbohydrates:

10g
Fiber:

1g
Sugar:

7g
Protein:

0g
Nutrition information may not be fully accurate.
For similar recipes, check out: