White Chocolate Chai Tea Latte
ok ya'll. I feel like you're going to get to know me real well with this whole 25 days of blog posts. First things first, white chocolate chai tea latte for the win! I think this is one of my fav shoots ever. It's simple & they all kinda look the same but it's so me. Its' grey & white & neutral. It's christmassy but not red & green. It's cookies & hot chocolate. & it even includes a pour shot (my favvvv)! I hope you like these photos as much as I do.
Also this is my first drink recipe on the blerg & I think it's a fantastic one. I love chocolate but if I'm going to be honest, I was never really the BIGGEST fan of hot cocoa. I'm really not sure why because I love everything else chocolate. From white to dark dark dark chocolate, I'll take it all. But hot chocolate never really made the cut. I'd take a french vanilla steamer or a chai latte over hot cocoa anyyyy daaayyyy.
How to make white chocolate chai tea latte?
So this combines two of my favs –> white chocolate & chai latte. The recipe is super simple. All I did was heat up some milk in a small saucepan, pour half of it over the spices and white chocolate, the add the white chocolate mixture back to the original pot of milk. Bring the mixture to a boil, allowing all the flavors to blend together. Serve hot with marshmallows, whipped cream or homemade toasted meringue. When making this recipe, I opted to add more milk because the white chocolate was a bit too sweet for me but if you like it sweeter & more white chocolatey, feel free to add more chocolate!
There is another way to make this recipe even more simple. If you have chai spiced tea bags at home you can steep them in the hot milk prior to mixing the milk with the white chocolate. I would say for 4 cups of milk, you could do use 2-3 tea bags and steep until you like how strong the flavor comes through. This may be the preferred way to do it for those who don't regularly use those spices. It also will prevent all the spices from gathering at the bottom.
What are masala chai spices?
Masala chai is a black tea made with many different spices popular among Indian cultures. Over the years it's gotten pretty popular in the US and is known as chai tea latte. Some of the more well known spices that make up the chai flavor include cinnamon, cardamom, ginger, nutmeg, cloves, star anise, fennel seeds and black pepper. There may be some others mixed in there but I find that these give it the same flavor.
I would say the essentials are cinnamon and cardamom but if you're missing 1-2 of the others it'll do without. It will still have that warm and cozy spice to it. Just make sure you're using at least 4-5 of them to balance one another out and to get that classic masala chai flavor. In this recipe I used all of those except star anise and fennel seeds, because I don't regular bake with those.
Can I make white chocolate chai tea latte in advance?
The answer is YES! After you bring it to a boil, allow it cool to room temperature. Then cover it and refrigerate. Before serving, bring it back to boil, making sure to stir it well as the spices may gather at the bottom and the chocolate and milk will form a skin on top. White chocolate chai tea latte should be good in the fridge for at least 2-3 days.
Ok I think that's enough for today, since I'll be seeing you tomorrow with the recipe to those cookies down below 😉 . Make sure to tag me @baranbakery or #bakewithb if you make this! As always, have a blessed day and happy baking!
Love, B  
Yield: 4
White Chocolate Chai Latte Recipe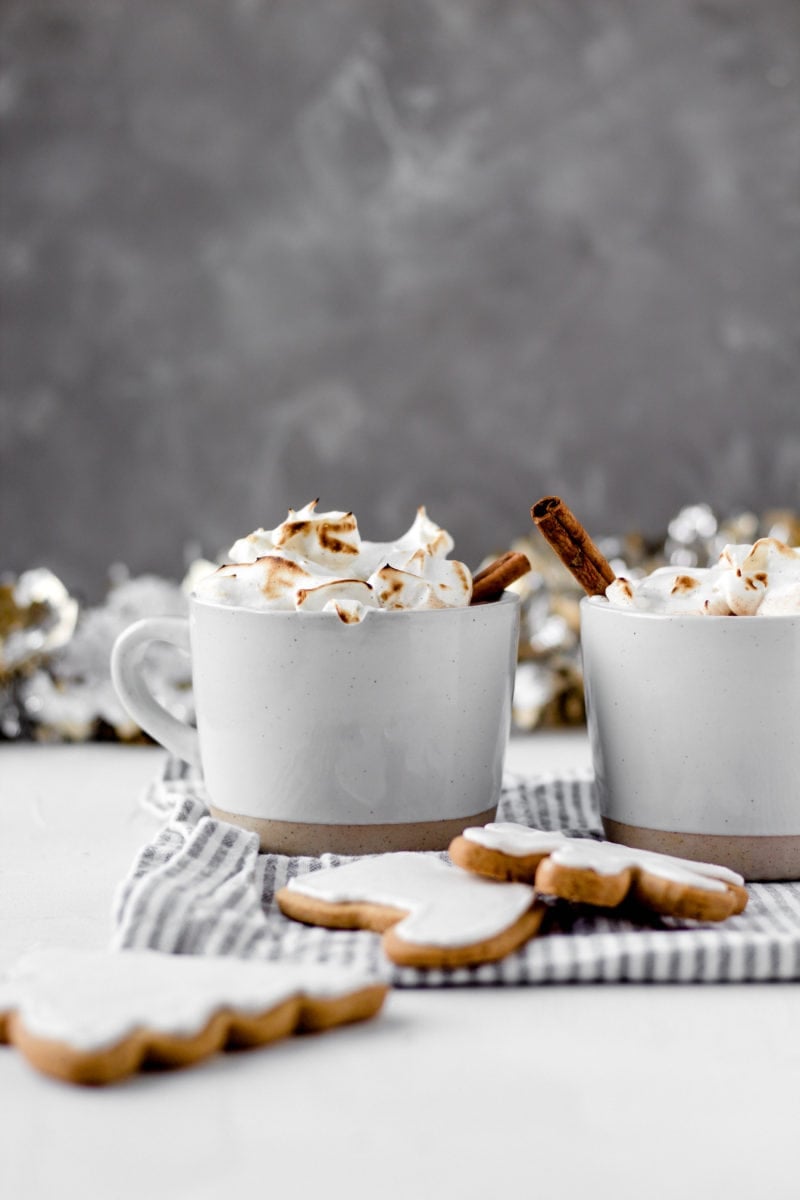 A combination of two of the greatest flavors- white chocolate and chai- to make this quick, easy, and delicious drink!
Ingredients
4 cups milk
8 oz white chocolate
1 tsp cinnamon
1/2 tsp cardamom
1/2 tsp ginger
1/2 tsp nutmeg
1/2 tsp cloves
1/4 tsp black pepper
Instructions
On the stove, heat up the milk in a medium size pan.
Place the white chocolate and all the spices in a heat resistant bowl. Just before the milk begins to boil, slowly pour about 1/2-1 cup of milk over the white chocolate mixture. Stir until all the chocolate melts.
Add about one more cup of milk to the mixture and stir until fully combined. Once it is all combined, pour the white chocolate mixture back into the rest of the milk and mix over medium heat, until evenly combined.
Serve hot and top with marshmallows, whipped cream or homemade fluff and a pretty cinnamon stick!
Nutrition Information:
Yield:
4
Serving Size:
1
Amount Per Serving:
Calories:

436
Total Fat:

23g
Saturated Fat:

14g
Trans Fat:

0g
Unsaturated Fat:

7g
Cholesterol:

32mg
Sodium:

179mg
Carbohydrates:

47g
Fiber:

1g
Sugar:

33g
Protein:

12g
Nutrition information may not be fully accurate.