Marble Cake with Buttercream Frosting
Super moist chocolate and vanilla swirled marble cake frosted with vanilla bean buttercream frosting and dark chocolate ganache!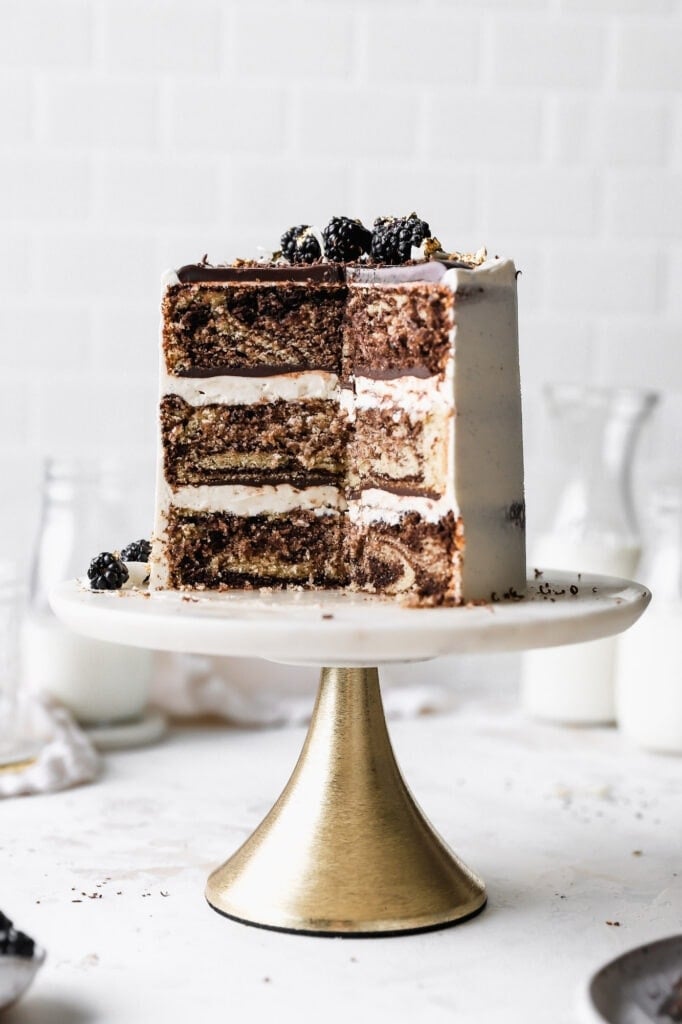 Hello friends, it's been like a whole month since I posted a cake recipe! I've been wanting to make a marble cake recipe for you guys for the longest time but I feel like there are so many recipes out there. One thing I did notice is that most of them are made with chocolate buttercream so I changed it up a little with vanilla bean frosting! 
Ok, let's talk about the details. We have a fairly dense and super moist vanilla and chocolate marbled cake. It's frosted with a vanilla bean buttercream frosting and each layer is also topped with a dark chocolate ganache. It really is the best of both worlds here. 
How to make a marble cake?
Marble cakes are much simpler than you would think. Some recipes may have you make two separate cake batters for the vanilla and chocolate but I'm not that cruel. I made a basic vanilla cake recipe, using C&H Golden Brown Sugar for extra moisture and flavor, of course. Then I separated the batter in half and added the last ¼ cup of flour to one half and a ¼ cup of cocoa powder to the other half.
To create the marble cake layers, just place globs (I used a 2 Tbsp scoop for this) of the vanilla and chocolate batter into the cake pans, filling it about halfway. Then use a toothpick to go back and forth, creating swirls. Make sure to get close to the edge of the pan as well, you want the batter to blend well.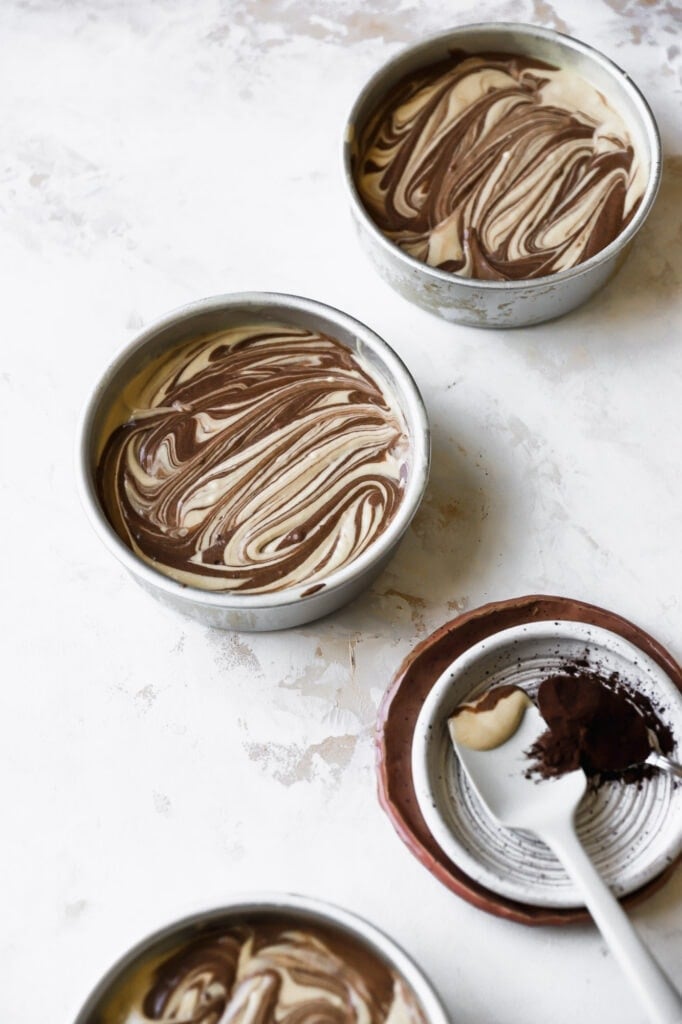 Important ingredients for marble cake with buttercream frosting:
Flour: I use all-purpose flour for this recipe, I wouldn't swap it for cake flour. 
Cocoa Powder: I use a high quality dutch-process cocoa powder because the flavor is more intense and pleasant and it also doesn't change the acidity of the cake. 
Sour Cream: I have tested SO MANY cake recipes lately and the best flavor and texture came from a combination of milk and sour cream. 
Butter and Oil: I use a combination of unsalted butter and oil because butter gives good flavor but oil helps keep the cake more moist for a longer period of time. 
Vanilla: I like to use vanilla bean paste or real vanilla beans for the buttercream but if you're in a pinch, pure vanilla extract will work as well. kind of necessary for the vanilla bean buttercream, unless you have real vanilla beans.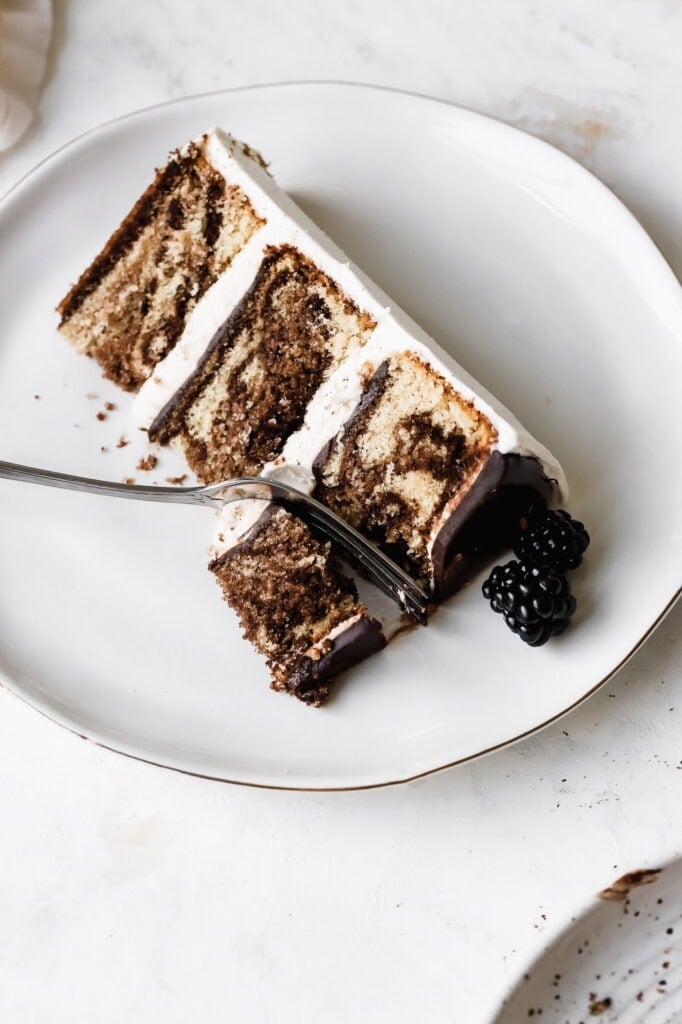 How to make vanilla bean buttercream frosting?
Alright friends, we need to chat about this for a second. If you bake cakes occasionally or frequently, I HIGHLY recommend vanilla bean paste for the buttercreams. It is a total game changer. It's certainly more pricey than an imitation vanilla extract but it's really not that much more than a pure vanilla extract. 
I ran out recently and started using some cheap vanilla (that just smelled like alcohol) and my desserts were bleh. The second most important step in this vanilla bean buttercream is whipping. Make sure to whip the frosting for a solid 5 minutes on medium high speed after adding in the C&H Confectioners Sugar. 
Other Buttercream Options:
I like to give other options because not everyone loves a sweet American buttercream but then not everyone loves a buttery Swiss meringue buttercream. I chose the American buttercream because vanilla is such a subtle flavor that it's sometimes quite difficult to detect in a European based buttercream, however, either type of buttercream works well.
There's also French Buttercream, which you could definitely use if you have leftover egg yolks but the buttercream will have a yellow hue. 
Some eggless frosting options (that are also more white) are Ermine Buttercream (boiled milk frosting) or Cream Cheese Frosting.
Also check out my cookbook Frosted for all the types of buttercream, how to make them, use them, troubleshoot them, etc.
Frequently Asked Questions
Can I make this dairy free?
You can use dairy free milk to make any of my cakes. You can also use dairy free chocolate to make ganache but I have not tested any dairy free cream. I know coconut cream will work but it will obviously taste like coconut. 
There are some dairy free half and half and creams like Ripple and Chobani, you could try using ¾ of that and ¼ dairy free butter to get a higher butterfat.
Dairy free butter works well in any of my cakes and buttercreams.
Can I make this in a different size pan?
You can make this cake in:
Three (or four) round or square 6 inch baking pans 
Two (or three) round or square 8 inch baking pan (three will be thinner – reduce baking time by 5-10 minutes)
Two round or square 9 inch baking pan (will be thinner than the cakes in the photo) – reduce bake time by 5ish minutes
One square 10 inch baking pan – increase bake time by 10-15 minutes, look for cues. 
A 9×13 inch pan – increase bake time by at least 10-15 minutes, look for cues – layer of ganache on the cake (could even poke holes in it to make it go in a little), frosted with vanilla bean buttercream. 
Cupcakes – Should make about 23 cupcakes, bake for 16-18 minutes – fill cupcakes with chocolate ganache and frost with vanilla bean buttercream.
How do I know when it's done baking?
Just like all the rest of my cakes, I test if it's done baking by pressing gently on the tallest part of the cake. The cake will spring back if it's done baking. If it stays indented, give it a few minutes in the oven, before testing again. 
You can also insert a toothpick into the center of the cake (the tallest part) and make sure it comes out clean or with a few crumbs but without any batter on it.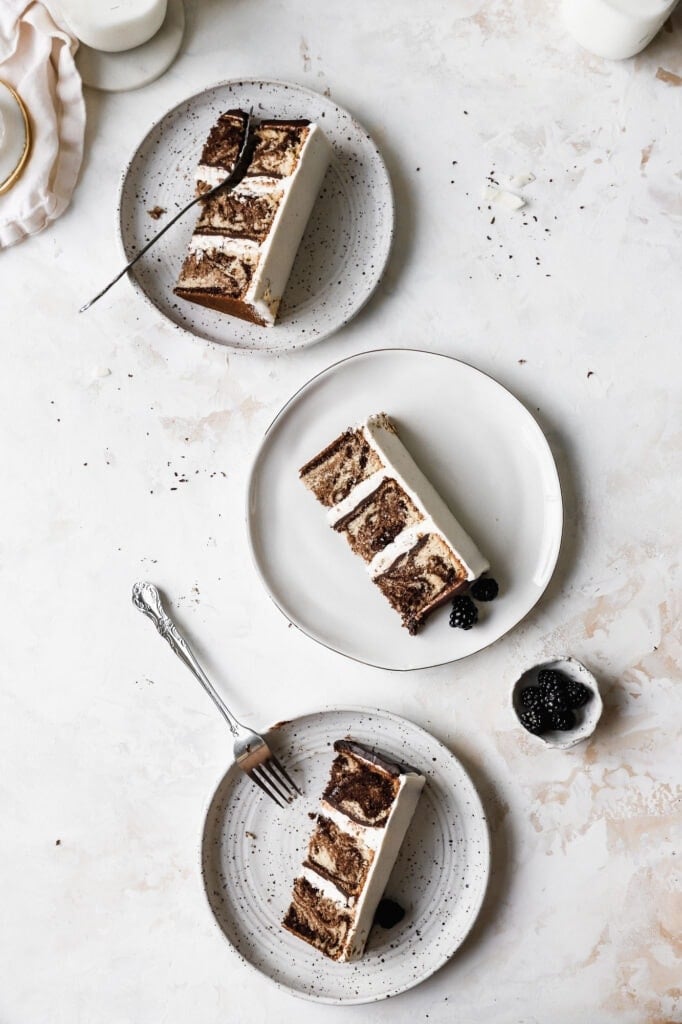 How to make ahead
To make the cake ahead of time you can make the cakes even a couple of weeks in advance. When you remove them from the oven, let them cool for about half an hour and then wrap them individually  in plastic wrap. Then place them in a freezer bag, squeezing out all the excess air. 
You can frost them while they're frozen but the frosting and ganache may start to set super quick so you'd have to work really quickly. It's best to let them sit out at least 30 minutes before frosting. 
To make the ganache ahead of time: You can make the ganache the night before assembling the cake and let it cool, covered at room temperature. 
The buttercream can be made even a week in advance and store it covered in the refrigerator or the freeze (airtight) but let it thaw at room temperature the night before assembling. You may need to rewhip or just mix it well with a rubber spatula.
How to store finished cake
I usually just cover my cakes with a cake dome or place it in an airtight container and store it at room temperature for 1-2 days (unless it's too warm out and the cake is soft, feel free to refrigerate right away).
It'll stay well covered in the fridge for over a week but it dries out quicker than the freezer so I recommend refrigerating for only about 3-4 days and freezing for longer. 
To freeze the whole cake, refrigerate it until it's firm. Then wrap it in plastic wrap so it's completely covered. Then wrap it in aluminum foil and freeze.
To freeze slices, place the slices in an airtight container and then place the container in a freezer bag, squeezing out all the excess air or do the above with each individual slice.
Bring it back to room temperature by thawing at room temperature for a few hours before serving.
This chocolate and vanilla bean marble cake with buttercream frosting is definitely one of my favorites. It doesn't get much better than combining chocolate and vanilla in such a beautiful way.
If you make this, make sure to rate and leave a review. Don't forget to tag me @baranbakery on instagram and let me know what you think. As always, have a blessed and happy baking!
Love, B
Yield: 8-10 slices
Marble Cake with Vanilla Bean Buttercream Recipe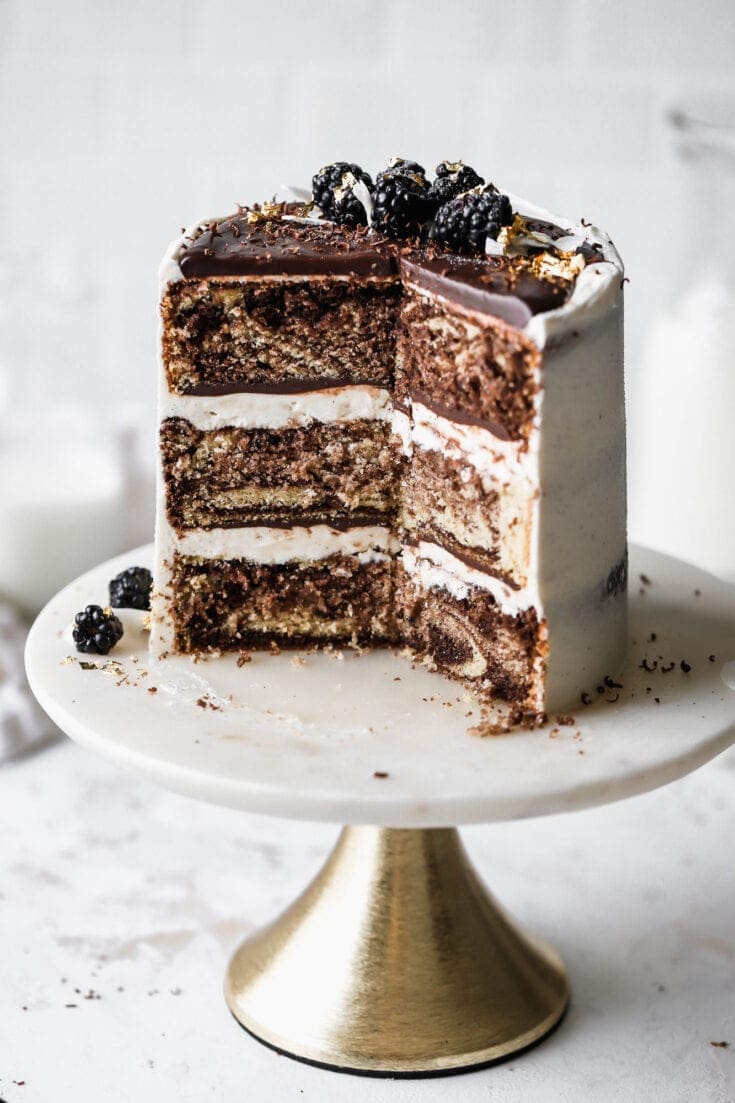 Chocolate and vanilla cake swirled together to create a marble cake, frosted and layered with vanilla bean buttercream and chocolate ganache!
Total Time
3 hours
20 minutes
Ingredients
Marble Cake
2 cups + 1/4 cup (240g + 30g) cups all-purpose flour, spooned and leveled and split
1 Tbsp (14g) baking powder
1/2 tsp salt
1/4 cup (56g) unsalted butter, room temperature
1 cup (200g) granulated sugar
1/2 cup (100g) light brown sugar, lightly packed
1/2 cup (118mL) canola oil
3 large eggs, room temperature
3/4 cup (170g) sour cream, room temperature
1 tsp vanilla extract
3/4 cup (177mL) milk, room temperature
1/3 cup (26g) unsweetened cocoa powder, spooned and leveled
Vanilla Bean Buttercream
1 cup (227g) unsalted butter, room temperature
Pinch of salt
4 cups (420g) C&H Confectioners Sugar, spooned and leveled
2-4 Tbsp (30-60mL) heavy whipping cream
2 tsp (8g) vanilla bean paste
Chocolate Ganache
1 cup (6 oz) dark chocolate chips
1/2 cup (118mL) heavy cream
Instructions
Marble Cake
Preheat the oven to 350/177C convection (or 325F/162C conventional) and grease and line three 6-inch (15.24 cm) cake pans.
In a medium bowl, whisk together the 2 cups (240g) of flour, baking powder and salt. Set the dry ingredients aside.
Use a stand mixer, fitted with the whisk attachment, to beat the butter, granulated sugar and brown sugar together, on medium-high speed, for 1-2 minutes. Add in the oil and beat for another minute, at full speed.
Add in the eggs, one at time, beating well after each addition for about 30 seconds. Make sure to scrape down the sides of the bowl as needed. Add in the sour cream and vanilla and mix just until they're combined.
With the mixer on low speed, add half of the flour mixture to the batter, followed by the milk and the other half of the flour. Beat the mixture on medium speed, just until the flour is fully incorporated, making sure to scrape all the flour off the edge of the bowl.
Separate the batter in half into two separate bowls, there should be about 45 oz total. Add the reserved 1/4 cup (30g) of flour to one half and the cocoa powder to the other half.
Place globs of both batters into the cake pans, distributing the batter evenly among all three. To create the marble effect, use a toothpick or a knife to swirl the batter back and forth a few times.
Bake for about 35 minutes, until the cake springs back when it's poked or a toothpick inserted comes out clean. Remove the cakes from the pans and allow them to cool completely before frosting.
Vanilla Buttercream
Place the room temperature butter in the bowl of a stand mixer. Using a whisk attachment, beat the butter on medium-high speed for 1-2 minutes, until the color turns to a pale yellow.
Add the salt and the powdered sugar to the butter and mix on low speed, just until it's combined. Turn the mixer to medium-high speed and beat the buttercream for at least five minutes, until all of the sugar is fully dissolved and the buttercream no longer feels gritty.
Pour in the heavy whipping cream and vanilla bean paste and beat for another 2 minutes on high speed. If the buttercream is too soft to frost, refrigerate it for 10-15 minutes before frosting.
Chocolate Ganache
Place the chocolate chips is a medium size bowl and set it aside.
In a small saucepan, over medium-low heat, bring the cream to a gentle simmer. You want there to be bubbles around the edge of saucepan. If you accidentally boil it (bubbles everywhere), let it cool for a minute.
Pour the cream over the chocolate chips and cover it for 2 minutes. Then use a spatula or fork to gently stir the cream into the chocolate until it's completely melted and smooth. Refrigerate the ganache for 5-10 minutes, just to cool it enough to spread on the cake.
Assemble
If the cakes are domed, trim the tops off to make them flat.
Use 1/4 of the buttercream to frost the first layer and then use 1/4 of the chocolate ganache on top of the frosting. Repeat for the second layer.
Place the third layer on top, smooth out any buttercream that squeezes out between the layers and refrigerate the cake until it's firm.
Remove the cake from the fridge. Place the rest of the buttercream on top of the cake and use an offset spatula to work it's way down the sides. Use a bench scraper to smooth out the edges and leave the rugged edge at the top of the cake, as a border.
Reheat the chocolate ganache for 10-15 seconds in the microwave, mix it until it's smooth and pour on top of the cake, filling it to the frosting borders. Top with macarons, gold foil, blackberries, a dusting of powdered sugar, etc.
Nutrition Information:
Yield:
10
Serving Size:
1
Amount Per Serving:
Calories:

885
Total Fat:

56g
Saturated Fat:

27g
Trans Fat:

0g
Unsaturated Fat:

25g
Cholesterol:

156mg
Sodium:

213mg
Carbohydrates:

94g
Fiber:

2g
Sugar:

82g
Protein:

6g
Nutrition information isn't always accurate.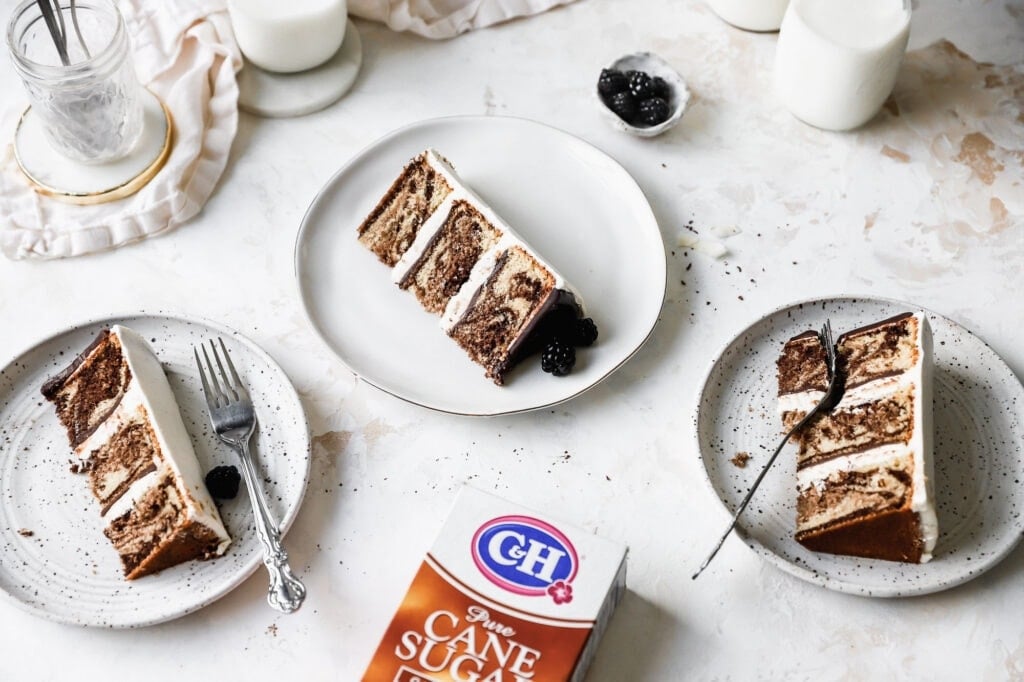 This post was sponsored by C&H Sugar, all thoughts and opinions are 100% my own. Thank you for supporting the brands that make Baran Bakery possible!
For similar recipes, checkout: