A simple vanilla 10 inch cake with three soft and fluffy layers that are frosted with American buttercream and is easily customizable!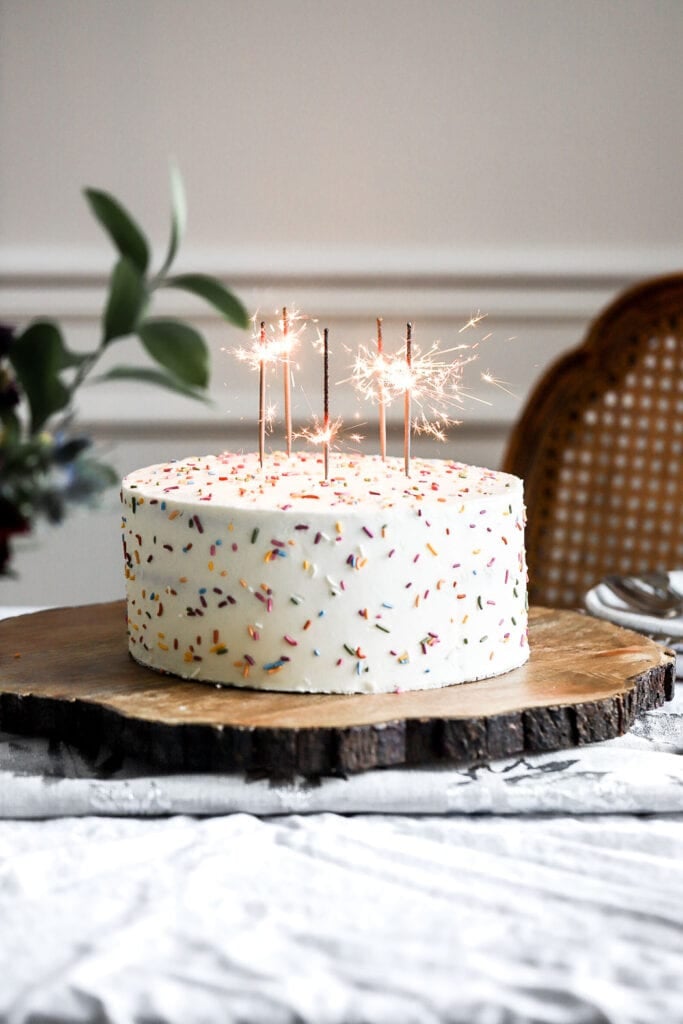 Guess what?! I made a perfect three layer, vanilla 10 inch cake to add to my list of base recipes! So far we have a 4 Inch Cake, 6 Inch Cake and 8 Inch Cake and now a 10 inch cake.
If you didn't already know, I'm on a mission to make multiple sizes because one size does not fit all. Doubling and halving recipes doesn't always work so I'm here to take the guess work out for you!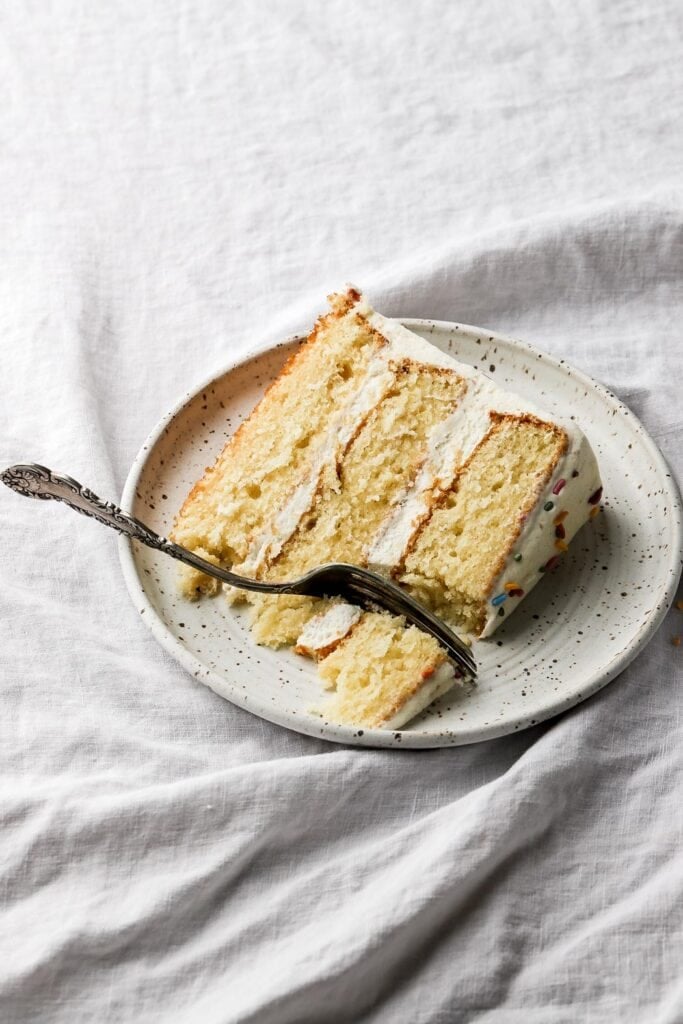 How to make 10 Inch Vanilla Cake
For my vanilla 10 inch cake I used pretty much the same ingredients as my Vanilla 6 Inch Cake. I look for 3 main things when I develop my cake recipes- the perfect texture, great flavor, and a simple recipe.
Each ingredient is an important component to achieving all three, so sticking to these ingredients will give you the perfect 10 inch cake.
Ingredients:
Flour: I like using all-purpose flour in my cakes because most people already have it at home. If you don't use a digital scale to measure your flour I highly recommend purchasing one. Over measuring is one of the most common baking mistakes.
Fat: I use both oil and butter in this 10 inch cake. I love the flavor the butter gives and the spongy texture oil creates.
Whole Egg: I use whole eggs because I love the richer flavor it gives. Make sure your eggs are at room temperature to make sure the batter doesn't curdle. If you forget to take your eggs out of the fridge ahead of time, you can put them under hot water.
Sugar: You can't have cake without sugar. It provides moisture, flavor and structure so don't skimping! I used just granulated sugar in this recipe but it's made to be adaptable so you can make a brown sugar cake by just swapping the granulated sugar for brown sugar.
Liquid: I like the texture and flavor from using milk and sour cream so I used both in this 10 inch cake. If you don't have sour cream you can substitute it for equal amounts of Greek yogurt.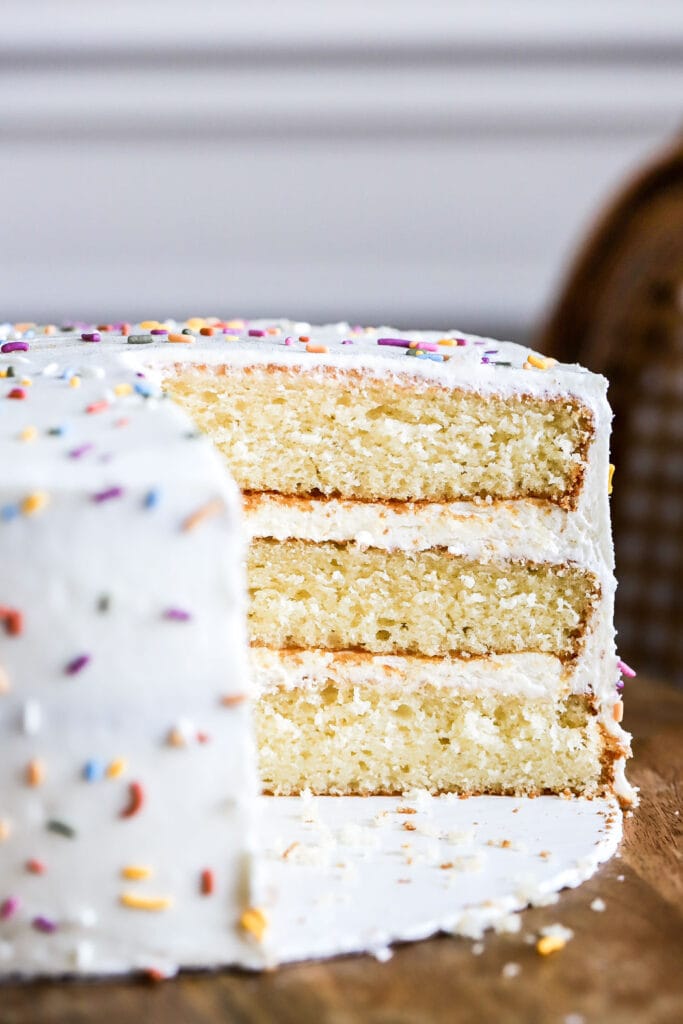 Vanilla Buttercream
I made vanilla American Buttercream to go with the cake but you can make whatever frosting your heart desires.
You'll need two batches of frosting, meaning a frosting that uses at least 2 cups of butter. So like two batches of my Swiss Meringue Buttercream or French Buttercream recipes.
If you want the decorate the cake more than I did, I recommend doing either 1.5x or 2x the amount of frosting.
If you don't already have a copy of my book Frosted, I recommend checking that out. You will find 60 different variations taken from 13 base recipes.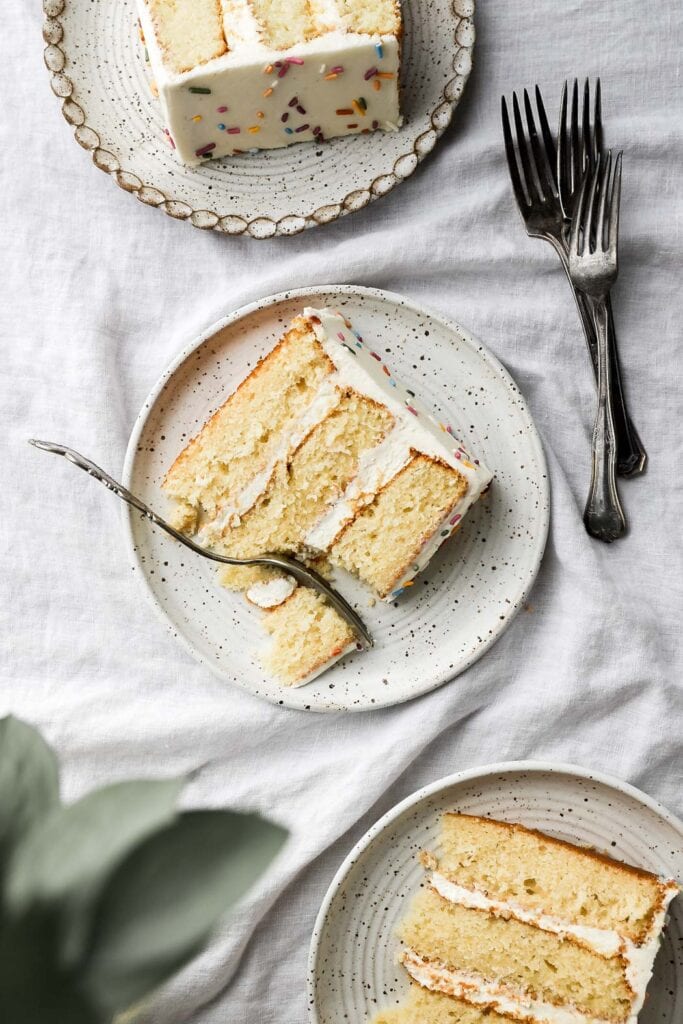 Frequently Asked Questions (FAQs) 
Can I make cupcakes from this recipe? 
Vanilla 10 inch cake will make approximately 40 cupcakes. However, it was developed for cakes, so the cupcakes might sink/sag a little instead of having a nice beautiful dome.
If you want to make vanilla cupcakes I recommend making my vanilla cupcake recipe.
Can I adapt this recipe to make other flavors? 
You certainly can!
To make it chocolate, remove 1 cup (120g) of flour and add 1 1/2 cups (120g) cocoa power.
To make it wedding cake, in addition to the vanilla extract, add 2 tsp of almond extract
To make a spice cake, add at least 2 Tbsp of spices – I would do 1 Tbsp cinnamon, 1 tsp nutmeg, 1 tsp ginger and 1 tsp allspice or cloves; I would also swap the sugar for brown sugar.
I have not tested adding fruit flavors to this cake but you can certainly use a fruit flavored frosting or fruit flavored extracts without any problems.
How do I keep my cakes from sticking to the pan?
I use baking spray with flour to grease my pans and my cakes rarely stick to the pan. You can also line the bottom of your pan with parchment paper. I don't use butter or flour but know plenty of people who use those methods with success too.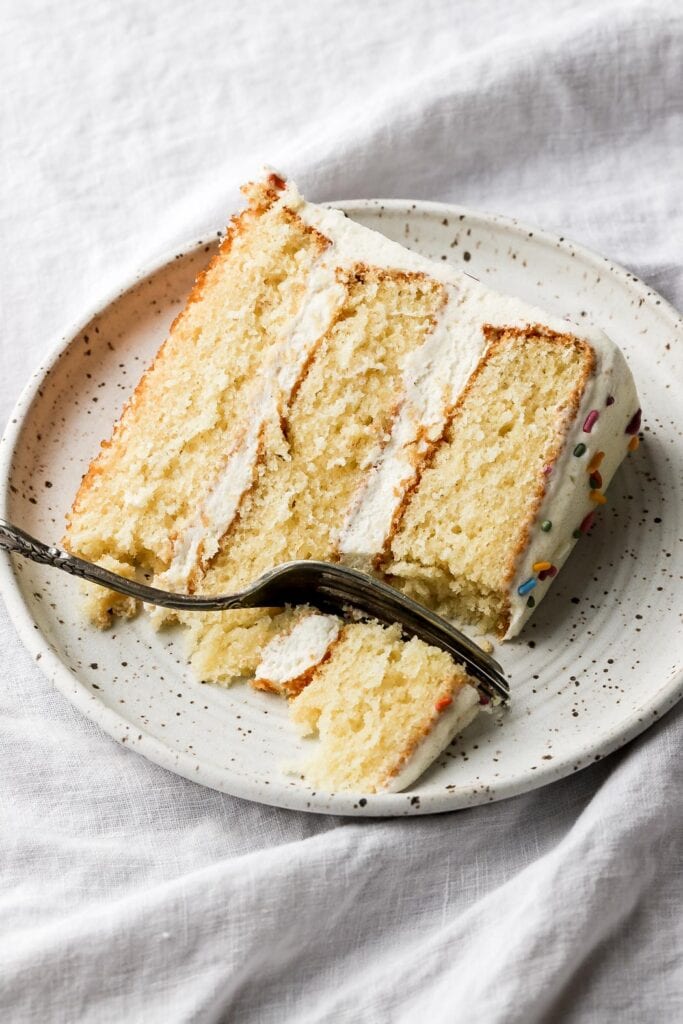 How to store a 10 Inch Cake
Unfrosted cake layers
You can make the cake layers ahead of time. For best results, allow the cake layers to cool almost to room temperature. When they're still just slightly warm, wrap them in plastic wrap and leave them on the counter overnight.
If you're making them more than one day in advance, you'll want to freeze them. Place the plastic wrapped layers in a freezer bag, removing the excess air, and freeze on a flat surface.
You can remove the cakes from the freezer and frost right away or you can remove them a few hours earlier and bring them back to room temperature. If you're frosting them frozen, make sure to let the cake rest so it thaws before serving.
How to store the finished cake
If the cake is fully frosted and unsliced, you can leave it on the counter overnight (unless it feels soft and unstable, then refrigerate it).
If the cake is partially sliced, cover any cut sections with plastic wrap or a cake dome. Place all the slices in an airtight container. It can stay at room temperature for a day or refrigerated for up to a week.
How to freeze the cake
If the cake is sliced, place the slices in an airtight container. You can also individually wrap each slice in plastic wrap if you want to remove one at a time. Place the container in a freezer bag and squeeze out all the excess air. You can store them in the freezer for up to 2 months.
You can also freeze the cake whole. To do this, refrigerate the cake until the frosting is firm, a couple of hours. Then wrap the whole cake in plastic wrap, twice and freeze for up to two months.
Let the cake thaw in the fridge over night. Then remove the plastic wrap and let it thaw on the counter until serving.
Keep in mind, the cake is never as good as fresh.
Thanks so much for reading today's post! If you have any questions just comment down below, I'm happy to answer! If you make this 10 inch cake I would love to see the results. Make sure to tag me @baranbakery on instagram and order my cookbook, Frosted.
As always, have a blessed day and happy baking!
Love, B
Yield: 28 slices
10 Inch Cake Recipe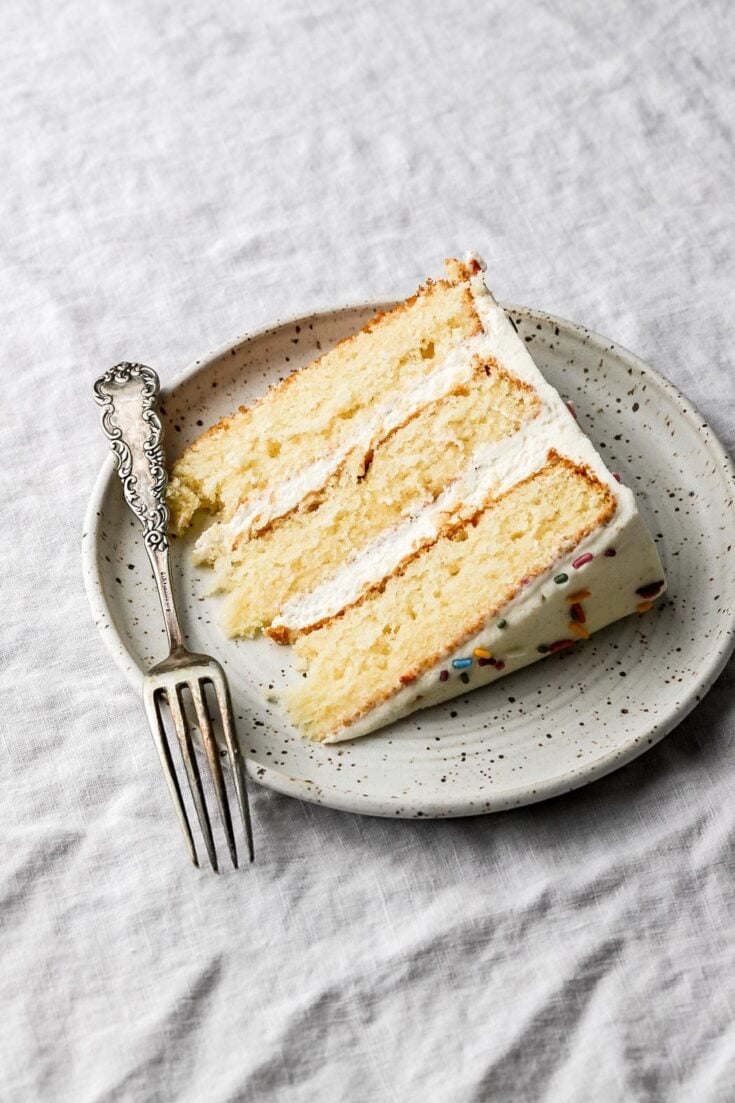 Three soft, moist and fluffy 10 inch layers of vanilla cake make this 10 Inch Vanilla Cake the perfect cake when you need something just a little larger to serve more friends!
Total Time
5 hours
30 minutes
Ingredients
Vanilla Cake
4 1/2 cups (540g) all-purpose flour, spooned and leveled
1 Tbsp + 2 tsp (17g) baking powder
1 tsp salt
1/2 cup (118g) unsalted butter, room temperature
3 cups (600g) granulated sugar
1 cup (237mL) vegetable oil
6 large eggs, room temperature
1 1/2 cups (340g) sour cream, room temperature
2 tbsp vanilla extract
1 1/2 cup (355mL) milk, room temperature
Vanilla Buttercream
2 cups (454g/4 sticks) unsalted butter, room temperature
8 cups (960g) powdered sugar, spooned and leveled
1 1/2 Tbsp vanilla extract or vanilla bean paste
1/2 cup (118mL) heavy whipping cream, room temperature
Instructions
Vanilla 10 inch cake
Preheat the oven to 350F/177C convection (325F/163C conventional) and grease and line three 10 inch cake pans.
In a medium bowl, whisk together the flour, baking powder and salt until they're evenly distributed.
Place the room temperature butter and the granulated sugar in a large bowl and use an electric mixer with the whisk attachment to beat them for 1-2 minute. Add the oil and beat at full speed for another minute.
Then add the eggs, one at a time, beating on medium speed, for a minute, until each egg is fully incorporated. Add the sour cream and vanilla extract and beat just until combined.
Add half of the dry ingredients to the wet ingredients, turn the mixer on low speed and then pour in the milk, followed by the rest of the dry ingredients.
Distribute the batter evenly among the three cake pans, about 28oz in each, and bake for 35 minutes. When the cake is fully baked it will release itself from the edge of the pan and it will spring back when you press on the center of it.
Allow the cake to cool completely before frosting.
Vanilla Buttercream
In a large bowl or the bowl of a stand mixer, beat the butter at full speed until it's pale and fluffy, 2-3 minutes.
Add the powdered sugar and beat at low speed just until it's combined.
Scrape the edge of the bowl and continue beating at medium-high speed until the sugar is fully dissolved and fluffy, another 2-3 minutes.
Add the vanilla and turn the mixer to low-medium speed. Pour in the heavy whipping cream and mix until it's well combined. Turn the mixer up to medium-high speed for 1-3 minutes until the frosting is nice and fluffy.
Assemble
Use 1/2 of the buttercream to frost the first and second layers and then use 1/4 for a crumb coat.
Refrigerate the cake for 15-30 minutes, then use the last 1/4 of the buttercream to frost the rest of the cake.
Nutrition Information:
Yield:
28
Serving Size:
1
Amount Per Serving:
Calories:

549
Total Fat:

30g
Saturated Fat:

14g
Trans Fat:

0g
Unsaturated Fat:

14g
Cholesterol:

97mg
Sodium:

148mg
Carbohydrates:

68g
Fiber:

1g
Sugar:

52g
Protein:

4g
Nutrition information may not be fully accurate.