S'mores Layer Cake with Homemade Fluff
This s'mores layer cake is made up of graham cracker flavored cake layers, frosted with chocolate Swiss meringue buttercream and homemade heavenly marshmallow fluff.
Two years ago when I first published this post, the photos were…let's just not talk about it. This s'mores cake though, definitely worth updating. If I recall correctly, someone who tasted this cake said
"Is this girl married? Cuz if not, then all she needs to do to get married is bake this cake!"
LOL…I am married, and not because of this cake.
What is a s'mores cake?
I went on a whole rant about this in my peanut butter s'mores cupcakes post but I'll say it again. Why is it that when you search the internet for a s'mores cake/cupcake, everyone bakes a chocolate cake recipe?! Chocolate is so not the star flavor here, friends. Yes, it's important, you can't make a s'more without chocolate but it's the smallest part of a s'more.
This s'mores cake consists of graham cracker layers, chocolate Swiss meringue buttercream and marshmallow fluff. Aka 7-minute frosting, aka meringue frosting, whatever you want to call it. It's pretty simple if you ask me and it tastes like an actual s'more in cake form!
How to make a s'mores layer cake?
Layer cakes can be intimidating but I promise, if you follow every instruction, you will succeed. Ok, I'm not going to make promises I can't keep but most likely, you will succeed. It's really not my fault if your oven temperature is not accurate or if you don't grease your pans properly, etc. Just saying…
Ingredients
Flour: I always use all-purpose flour and I don't sift it. Make sure to spoon and level dry ingredients and whisk it when it says to!
Graham Crackers: I'm just going to come out and say it…Store bought graham cracker crumbs SUCK, they don't taste the same. Put those graham crackers in a food processor and stop being lazy!
Cinnamon: cinnamon is my secret weapon.
Baking powder: well, it is a cake so obviously.
Salt: Salt brings out the flavor in all baked goods!
Sugar: I just love a good combination of granulated sugar and brown sugar. They play different roles in flavor and texture of the cake but substitutions are allowed if necessary.
Butter: MAKE SURE IT'S ROOM TEMPERATURE. Not cold, not softened and greasy, not melted. If you're going to be stubborn and microwave your butter anyway, slice it and do it on 5 second intervals, rotating every time. Lol, I'm a pro if you can't tell.
Oil: I prefer to use half butter and half oil in my cakes because I like the texture better. Oil adds more moisture, while butter allows you to incorporate the air and gives good flavor and structure to the cake. Use a neutral flavor like canola, sunflower, or vegetable oil.
Eggs: I always use large eggs. I know you guys ignore that part of every recipe that says "use room temperature eggs" but I'm going to say it anyway. Use room temperature eggs. Place them in warm water for at least a few minutes before if you're not going to listen.
Buttermilk: I love buttermilk for cakes. I'm one of those people that always has buttermilk in the fridge because I bake that many cakes. You can use a homemade buttermilk substitute but just remember substitutes are always substitutes and not the real deal.
Vanilla: Do you even need to ask?
Dark Chocolate: I used dark chocolate because I think it balances the sweetness of the meringue better. You can certainly use milk chocolate or semi-sweet chocolate as well.
Heavy Whipping Cream: Heavy cream is used to make chocolate ganache for the buttercream.
Cocoa Powder: Combining chocolate and cocoa powder is almost always better than using one alone, in MY opinion.
How to store layer cakes?
You can store the cake at room temperature for 1 day. If it's any longer, I recommend storing it in the refrigerator for up to a week. If any slices have been cut out, cover the open side of the cake with plastic wrap and store slices in an airtight container.
So glad you stopped by for a sassy little read today, I hope you guys enjoy this cake as much as we did. Make sure to tag me @baranbakery on instagram if you make it. If you have any questions at all, comment below or send me a message. As always, have a blessed day and happy baking!
Love, B
Yield: 6-inch cake, serves 8-10 slices
S'mores Layer Cake Recipe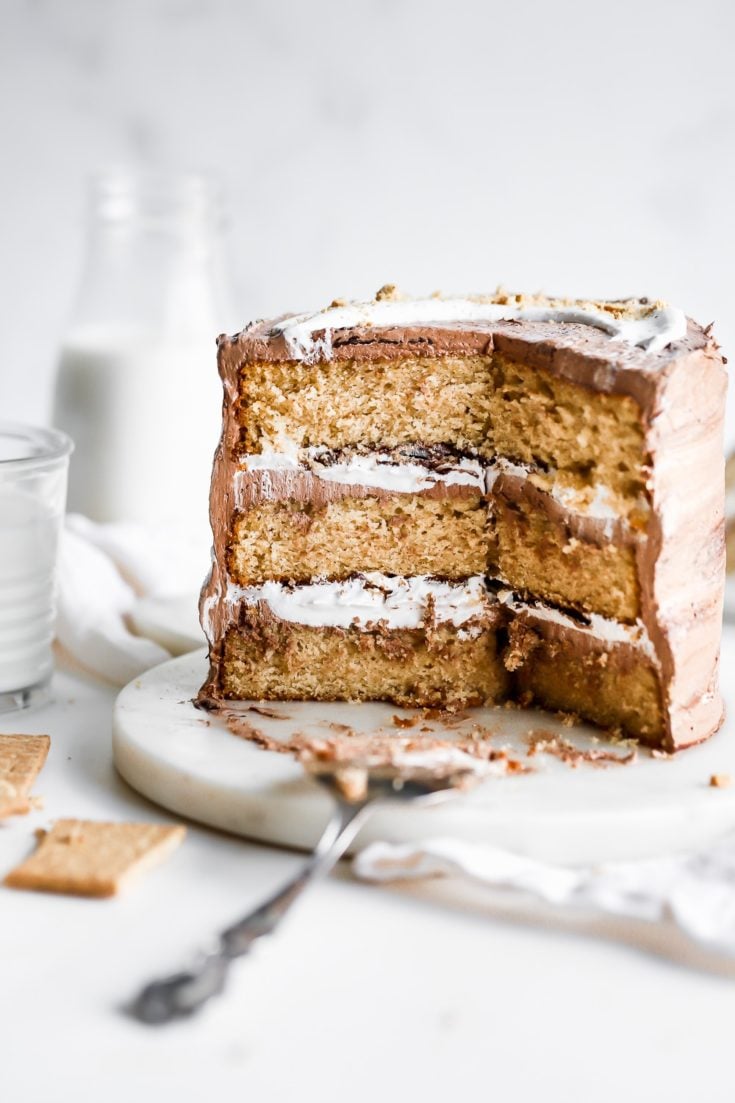 This s'mores layer cake consists of graham cracker flavored cake layers, frosted with chocolate Swiss meringue buttercream and homemade heavenly marshmallow fluff.
Total Time
2 hours
35 minutes
Ingredients
Cake
1/2 cup (about 1 sleeve or 8-9 sheets of graham crackers) graham cracker crumbs
2 cups (240g) all-purpose flour, spooned and leveled
1 Tbsp (10g) baking powder
1/4 tsp salt
1/4 tsp cinnamon *optional
1/4 cup (56g) unsalted butter, room temperature
1/2 cup (118mL) canola oil
1/2 cup (100g) granulated sugar
1 cup (190g) light brown sugar, lightly packed
1/2 Tbsp vanilla extract
3 large eggs, room temperature
1 cup (237mL) buttermilk
Meringue Frosting/Marshmallow Frosting
6 (200g) large egg whites, room temperature
1 1/2 cups (300g) granulated sugar
1/2 Tbsp vanilla bean paste
Chocolate Swiss Meringue Buttercream
4 oz dark chocolate chips
1/2 cup (118mL) heavy cream
1/2 of Meringue frosting
1 cup (227g) unsalted butter, room temperature
1/2 cup (40g) Dutch-process cocoa powder, spooned and leveled
pinch of salt
Instructions
Graham Cracker Cake
Preheat the oven to 350F/177C convection (or 325F/162C conventional) and grease and line three 6-inch (15.24 cm) cake pans with cooking spray and parchment paper.
Place 1 sleeve of graham crackers in a food processor and turn it on high until there are no more large chunks. In a medium bowl, whisk together the flour, graham cracker crumbs, baking powder, salt, and cinnamon. Set the dry ingredients aside.
In an electric mixer fitted with the whisk attachment, beat the butter, oil, granulated sugar, brown sugar and vanilla extract together, on medium speed, until they're light and fluffy. This should take 2 to 3 minutes.
Add the eggs, one at time, beating well after each addition. Make sure to scrape the bottom of the bowl as needed.
In five increments, alternate adding the dry ingredients and buttermilk into the batter, beginning and ending with the dry ingredients. Beat the mixture on medium speed, just until the flour is fully incorporated, making sure to scrape the edge of the bowl as needed.
Distribute the batter evenly among the prepared pans and bake for 30-35 minutes, until the cake springs back when it's poked. Remove the cakes from the pans and allow them to cool completely before frosting.
Meringue Frosting/Marshmallow Frosting
Begin by thoroughly cleaning the aluminum bowl and the whisk attachment of the stand mixer (they can't have any fat residue when making meringue). Once they're clean and dry, place the egg whites and the granulated sugar in the bowl.
In a small saucepan, bring 1/2 cup (118mL) of water to a simmer. Keep the water simmering on low heat and place the bowl with the egg whites and sugar on top of the saucepan, creating a double boiler. Whisk the egg whites and sugar over low heat for 5 to 10 minutes, until the sugar granules are dissolved. You can feel it between your fingers if the sugar is fully dissolved or you can use a candy thermometer and bring the mixture to about 150°F (65°C).
When the sugar granules are fully dissolved in the egg whites, remove the bowl from the heat and place it on the stand mixer fitted with the whisk attachment. Beat the mixture on medium-high speed, until stiff peaks form.
Add the vanilla and continue beating the mixture until it's no longer warm. This usually takes about 10-15 minutes. Remove half of the meringue into a separate bowl and set aside.
Chocolate Swiss Meringue Buttercream
Place the dark chocolate in a medium bowl and in a small saucepan, heat the heavy cream until it's simmering. Pour the heavy cream over the chocolate and let it melt for 1-2 minutes. Stir until the chocolate is completely smooth. Set it aside to cool completely.
Place half of the meringue back on the stand mixer and lower the speed to medium. Slowly add in the softened butter, 2 to 3 tablespoons at a time. Once the butter is all incorporated, continue beating on medium speed for a few minutes until it emulsifies into a buttercream (it may go through phases of looking soupy and/or curdled before it emulsifies but it should come together within 5-10 minutes).
Once the buttercream comes together, add in the cocoa powder, salt and only HALF of the melted chocolate.
Assemble the Cake
Place the first layer of cake on a cake board and spread a thin layer of chocolate buttercream on top. Then spread a layer of meringue frosting and a swirl of chocolate ganache (you can reheat the chocolate in the microwave for 5-10 seconds if necessary). Repeat with the second layer and then place the third layer of cake on top.
Smooth out any buttercream that squished out between the layers and refrigerate for at least 60 minutes. Place the rest of the chocolate buttercream on top of the cake and use an offset spatula to work it's way down the sides. Add in dabs of meringue frosting and chocolate ganache, lightly spreading them in. Top with extra graham cracker crumbs, or even toasted marshmallows if you're not lazy!
Notes
If the chocolate Swiss meringue buttercream or the meringue frosting is too soft, refrigerate them for 20 minutes before frosting the cake. It's better for them to be slightly too firm instead of too soft.
Nutrition Information:
Yield:
10
Serving Size:
1
Amount Per Serving:
Calories:

858
Total Fat:

45g
Saturated Fat:

21g
Trans Fat:

0g
Unsaturated Fat:

22g
Cholesterol:

132mg
Sodium:

361mg
Carbohydrates:

105g
Fiber:

2g
Sugar:

79g
Protein:

10g
Nutrition information isn't always accurate.
For similar recipes, check out: