Gingerbread Cake with Brown Butter Cream Cheese Frosting and Toasted Meringue
This isn't just a gingerbread cake, it's a gingerbread cake layered with brown butter cream cheese frosting and covered in a toasted vanilla meringue.
How to make gingerbread cake
Easy peasy. Just like all my other cakes, obv. Cream butter and C&H Dark Brown Sugar, until pale and fluffy. Then add oil, followed by eggs, one at a time and whipping 1 minute after each. Now alternate adding dry and wet ingredients, beating JUST until combined, no more! Never over beat batter that uses flour with gluten, it will make your cake tough.
How to make brown butter cream cheese frosting
This is probably THE BEST frosting in the world. Yes, I said it. I love cream cheese frosting and I love brown butter so I firmly stand by that statement. & honestly, what goes better with a gingerbread cake?! Nothing. Cream cheese icing is super easy, just beat the cream cheese and butter until pale and fluffy, then add in C&H Confectioner Sugar and vanilla and beat 5-10 minutes, until silky smooth and sugar feels fully dissolved.
The only thing different is browning the butter. For this, you place butter in a medium sauce pan, cook it over medium heat until it starts to form brown flakes on the bottom (it will begin to have a nutty smell). Quickly remove from heat, pour into a heat resistant bowl and allow to come back to room temperature (you can refrigerate to help it out a bit).
What is toasted vanilla meringue?
For some reason, I LOVE making meringue. It's just so beautiful and silky, I want to cover all my cakes with it. If you're not familiar with meringues, it's basically the product of whipping egg whites with sugar. There are different methods to making this but I always chose to use a Swiss meringue. I prefer this because cooking the egg whites a little creates a more stable meringue and also allows you to eat it without baking it. This method also dissolves the sugar granules so the meringue is smooth. This is pretty essential since we're not baking our meringue, we're just covering our gingerbread cake with it and toasting it.
How to make Swiss meringue
So how to make it. It's much easier than it sounds, I promise. You place your egg whites (try really hard not to get any egg yolk in the mixture or it won't whip up properly) and C&H Granulated Sugar in the bowl of stand mixer. Now put the bowl over a small pot with simmering water, creating a double boiler. Cook the egg whites to about 150 degrees Fahrenheit, making sure to stir it every minute or so. Then remove from heat and use your stand mixer to whip until stiff peaks form. Add vanilla and salt any time between soft peaks and stiff peaks. To toast, use kitchen blow torch (follow directions provided) or if you're patient enough, you can do it with a lighter too.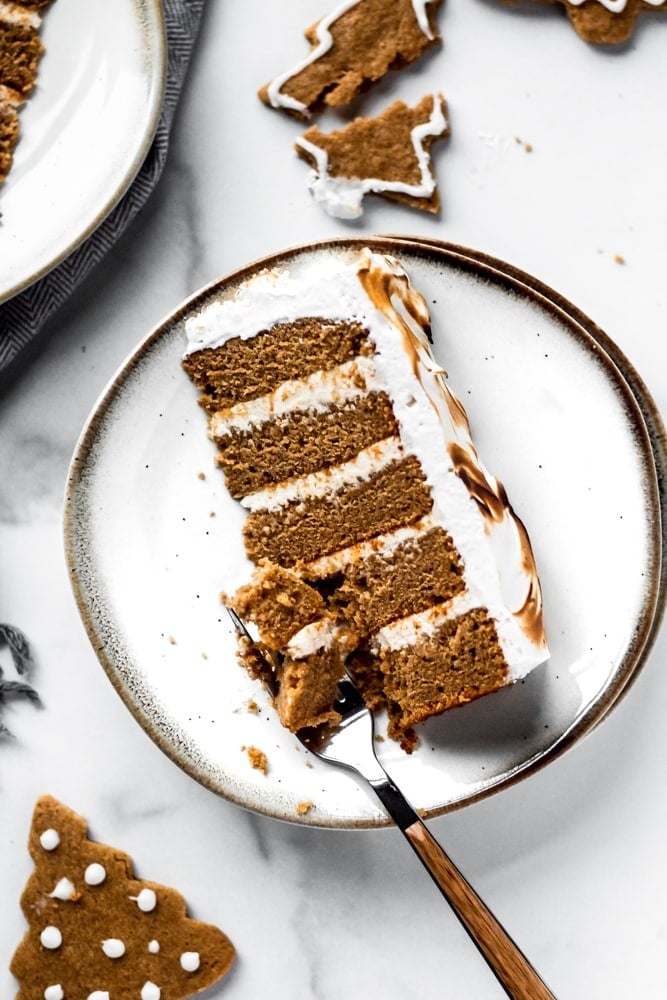 Storing gingerbread cake with cream cheese frosting
Cake is normally stored at room temperature for a few days and longer in the fridge or freezer. Since this gingerbread cake uses cream cheese frosting, I chose to store mine in the refrigerator. However you can store cream cheese icing on the counter for at least one night (if your house is not super warm). If you are serving the next day, you can do this, as the cake is better served at room temperature. If you're not sure when the cake will be eaten, store it refrigerated and bring it back to room temperature at least 1-2 hours before serving. To keep the cake fresh after it's been sliced, cover the sliced area with wax paper or plastic wrap and keep any cut slices in an airtight container.
If you make this gingerbread cake with cream cheese frosting and toasted vanilla meringue I would LOVE to see it! Please tag me @baranbakery on instagram and let me know what you think. If you have any questions, shoot them my way, I know this cake has lots of parts to it. As always, have a blessed day and happy baking!
Love, B
Yield: 8-10 slices
Gingerbread Cake Recipe
Gingerbread cake with brown butter cream cheese frosting and toasted vanilla meringue.
Prep Time
1 hour
15 minutes
Total Time
4 hours
40 minutes
Ingredients
Gingerbread Cake
2 1/4 cups (270g) all-purpose flour, spooned and leveled
2 tsp baking powder
1 Tbsp cinnamon
1 Tbsp ginger
1/2 teaspoon kosher salt
1/4 cup (56g) unsalted butter, room temperature
1 1/2 cups (300g) C&H dark brown cane sugar, lightly packed
1/2 cup (118mL) vegetable oil
3 large eggs, room temperature
3/4 cup (170g) sour cream
3/4 cup (177mL) milk
Brown Butter Cream Cheese Frosting
1 cup (227g) unsalted butter, browned and cooled
8 oz cream cheese
6 cups (720g) powdered sugar, spooned and leveled
2 tsp vanilla extract
1/8 tsp salt
Vanilla Toasted Meringue
3 large egg whites, room temperature
3/4 cup (150g) granulated sugar
1 tsp vanilla
1/4 tsp salt
Instructions
Make the Brown Butter for the cream cheese frosting. Set Aside to cool to room temperature.
Gingerbread Cake
Preheat the oven to 350F/177C convection (or 325F/162C conventional) and grease and line five 6" pans with baking spray and parchment paper.*
Combine the flour, baking powder, cinnamon, ginger and salt in a bowl and set aside.
In a stand mixer with the whisk attachment at full speed, beat the butter and brown sugar for 1-2 minutes.
Add in the oil and beat for 1-2 minutes, at medium-high speed.
Add the eggs, one at time, beating for a minute after each (make sure to scrape the bottom of the bowl between each).
Add the sour cream and mix until combined.
Alternate adding the milk and the dry ingredients into the batter, beginning and ending with the dry ingredients, beating just until the flour is fully incorporated.
Distribute the batter evenly between the cake pan (about 9 oz per pan) and bake for about 35 minutes, until it releases itself from the edge of the pan or springs back when you press on it.
Flip the cakes over onto a tea towel and allow them to cool completely.
Brown Butter Cream Cheese Frosting
Beat the browned butter and cream cheese until pale and fluffy.
Add in the powdered sugar and beat for 5-10 minutes until fully dissolved and fluffy (start slow and increase speed once the sugar is mixed it).
Mix in the vanilla extract and salt and beat for another few minutes.
Frost the layers with buttercream and refrigerate the cake for 30 minutes, or until it's not wobbly, before frosting the outside.
Vanilla Meringue
Place the egg whites and sugar in the aluminum bowl of a stand mixer.
In a small saucepan, bring 1/2 cup water to a boil. Reduce the heat to low and allow the watter to simmer. Place the bowl with the egg whites over the sauce pan, creating a double boiler.
Stir occasionally for 5-7 minutes, until the sugar is fully dissolved in the eggs, about 120F (49C).
Remove the bowl from the heat and use the whisk attachment, on high speed, to beat the mixture until soft peaks form.
Add in the vanilla and salt and continue to beat until stiff peaks form.
Cover the cake with meringue and use a spoon or small spatula to make swirls. Use a kitchen blow torch to toast the meringue to desired amount.
Decorate the cake with gingerbread cookies.
Notes
If you don't have five pans, you can do 2-3 at a time and then bake the rest or you can bake three cake layers, each 14 ounces of batter.
Double amount of frosting if you want to frost and decorate the whole cake with the brown butter icing.
Nutrition Information:
Yield:
10
Serving Size:
1
Amount Per Serving:
Calories:

789
Total Fat:

38g
Saturated Fat:

16g
Trans Fat:

0g
Unsaturated Fat:

19g
Cholesterol:

108mg
Sodium:

398mg
Carbohydrates:

108g
Fiber:

1g
Sugar:

84g
Protein:

8g
Nutrition information may not be fully accurate.
This post was sponsored by C&H Sugar, all thoughts and opinions are 100% my own. Thank you for supporting the brands that make Baran Bakery possible!