Mocha Cake with Coffee Swiss Meringue Buttercream
Calling all my chocolate coffee lovers to this Mocha Cake! It's made up of eight luscious chocolate cake layers frosted with coffee flavored Swiss meringue buttercream and topped with toasted hazelnuts.
What is Mocha?
The word mocha comes from moccacino, which is essentially a chocolate flavored coffee. When "mocha" is used as a description, it's usually referring to the combination of chocolate and coffee so saying chocolate mocha cake is a little redundant…but I did it anyway.
Oddly enough, I don't like chocolate in my coffee, so I don't like mochas but I LOVE mocha flavored desserts…and this chocolate cake with coffee buttercream doesn't disappoint.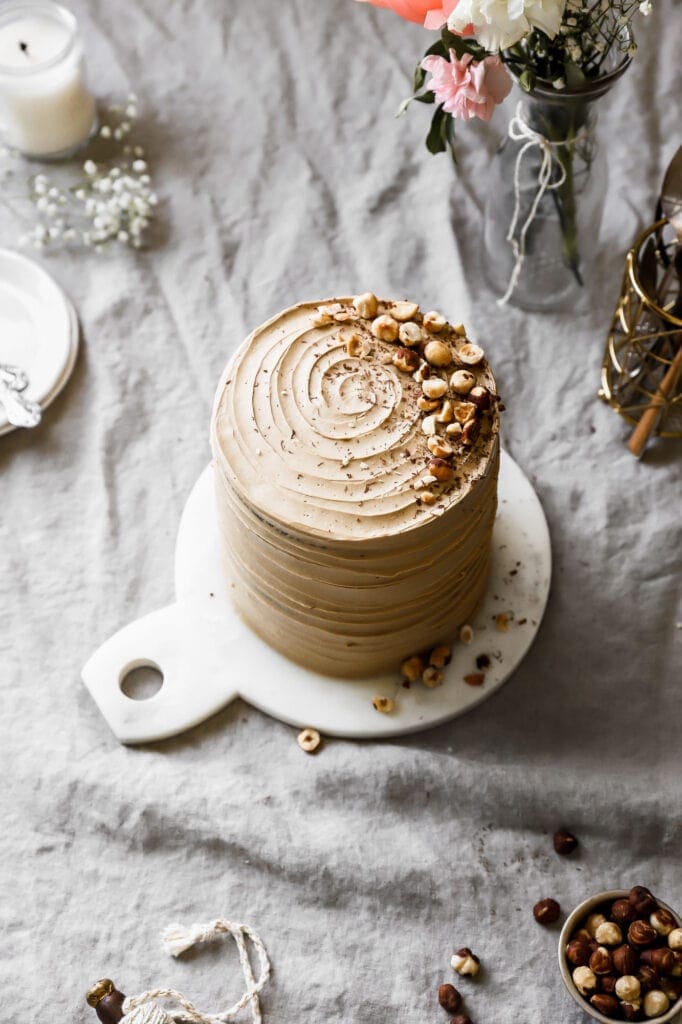 How to make the best chocolate cake
Just like My PERFECT Brownies, there's a million chocolate cake recipes out there and everyone has their own definition of what's "the best". Well, this is my version of the best chocolate cake. My goals for chocolate cake involve a fluffy, moist crumb, that also has a super rich chocolatey taste and a beautiful dark color.
I really liked the recipes with the buttermilk better but the milk significantly lightens the color of the cake. To get a nice dark chocolate cake, with a strong chocolate flavor, make sure to use a high quality dutch-process cocoa powder. My favorite is Ghirardelli and King Arthur.
Ingredients for Chocolate Mocha Cake
Flour: I always use all-purpose flour for chocolate cake because combined with the cocoa powder, it still produces a really tender crumb. Make sure to weigh or spoon and level when measuring the flour. 
Sugar: I used granulated sugar for this chocolate cake. 
Cocoa powder: I use dutch process cocoa powder because I like the color and flavor better. You can also use natural unsweetened cocoa powder but I recommend replacing the buttermilk with milk to balance out the pH of the cake batter then.
Baking soda: Baking soda reacts with the buttermilk and coffee to leaven the cake.
Baking Powder: I use both baking powder and baking soda because of the dutch process cocoa powder. If you use natural cocoa powder, you can use just 1 full tsp of baking soda and omit the baking powder. 
Espresso powder: Optional but will make it more "mocha" than chocolate flavored
Salt: a little salt can make cakes more tender and brings out natural flavors. 
Eggs: I use large, room temperature eggs. 
Oil: Chocolate is a strong flavor so any liquid oil will work but I would still choose a neutral flavored oil. 
Buttermilk: You can make your own buttermilk substitute with milk and 1 Tbsp of lemon juice or vinegar. I recommend using regular milk if you use natural unsweetened cocoa instead of dutch-process.
Coffee: coffee is known to bring out the flavor of chocolate but I mean it is a Mocha cake so you want the coffee flavor to come out too. 
Hazelnut Extract: hazelnut pairs beautifully with both chocolate and coffee flavors.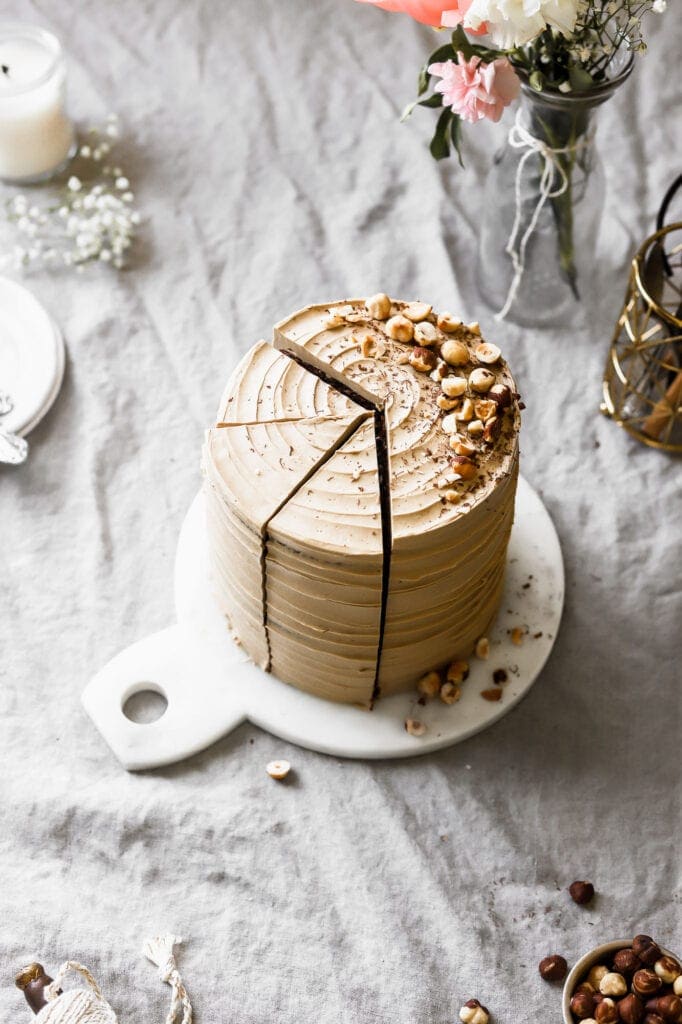 How to make coffee Swiss meringue buttercream
If you've never made Swiss meringue buttercream it can be intimidating but fear not, it's easier than you think! Essentially, you're going to cook egg whites and sugar over a double boiler to make a stable meringue. Then you're going to beat the mixture until you have stiff peaks. Once the meringue has cooled completely to room temperature, you'll add the butter and voila.
For the coffee flavor, use espresso powder or instant coffee granules with hot water. Let it cool for a few minutes and add it to the buttercream. Instead of my beloved vanilla bean paste, I used hazelnut extract which pairs incredibly well with both chocolate cake and the coffee Swiss meringue buttercream.
Can I just use American Buttercream?
Yes you can. I definitely prefer European style buttercream over American buttercream but it's just preference. If you choose to use American buttercream, I would do 2 cups of butter with 6-7 cups of powdered sugar and maybe just 1-2 tbsp of espresso powder? Add heavy cream or sub half of the butter for cream cheese to make a lighter frosting.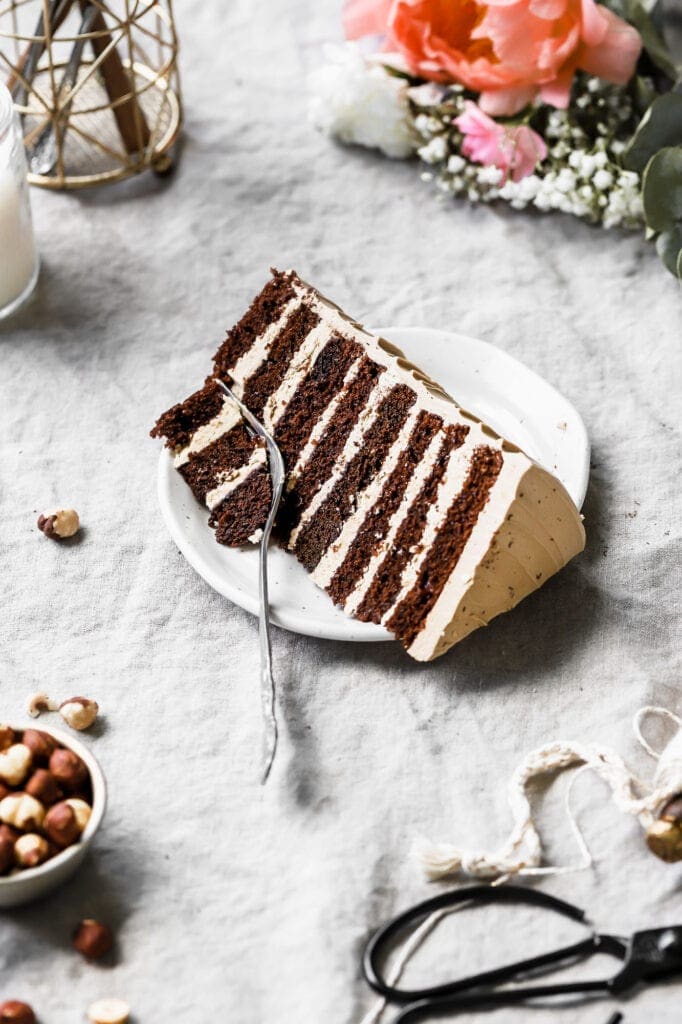 How to assemble a mocha cake?
To get the eight layers I bake four layers and cut them in half. My 6-inch cakes don't normally dome so I don't trim the tops. I use a ruler to mark where I want to cut the cake and then use a large knife and a turntable to slice.
Spread about a ¼ inch thick of buttercream on each layer. If the buttercream feels super soft, refrigerate it for 20-30 minutes before frosting. If the cake feels unstable at any point, pop it in the refrigerator for at least a half an hour and then finish frosting it. Chelsweets has a great tutorial on how to frost a cake if you want to watch a video.
You could also top it with a chocolate ganache drip. Just heat 1/4 cup of cream and pour it over 1/2 cup of chocolate chips or chopped chocolate. Let it stand for a minute and then stir slowly until it's smooth. Make sure to let it cool for a little so it's not too runny when it drips and make sure the cake has been frosted and refrigerated for at least 20 minutes.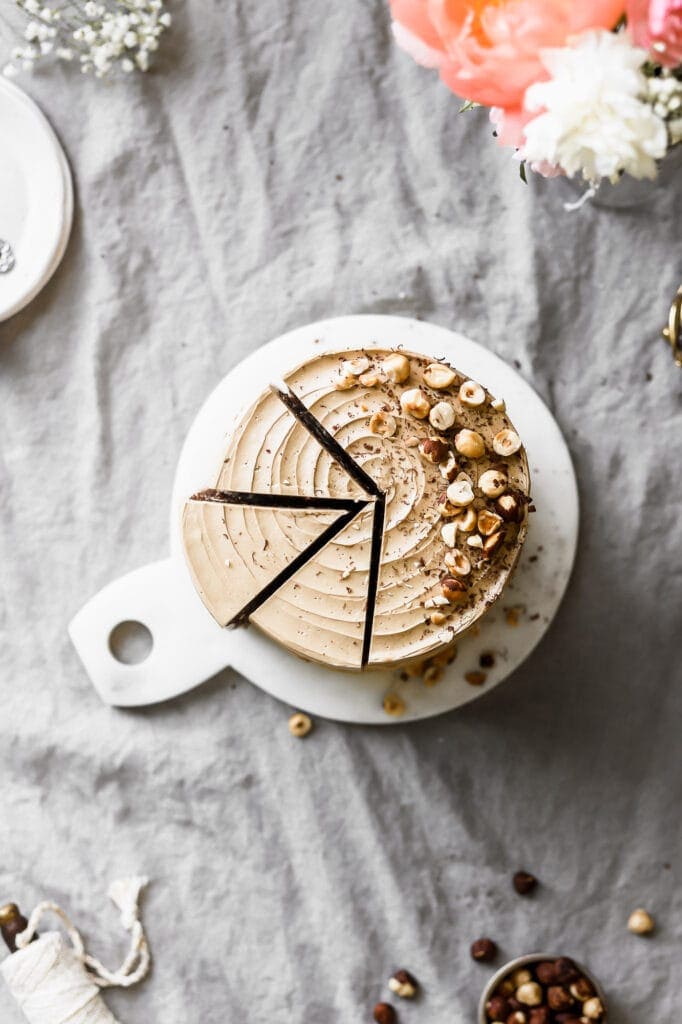 How to store layer cakes?
Technically this mocha cake can be stored at room temperature but I wouldn't risk it with how tall and thin it is. It could easily topple over if it gets too soft so make sure to keep it refrigerated overnight. Cover any open sides of the cake with plastic wrap and store slices in an airtight container.
The cake is good for at least a week in the refrigerator. It can also be frozen for 2-3 months. To keep it as fresh as possible in the freezer, wrap each slice in plastic wrap, place it in an airtight container and thens place the container in a freezer bag. All of that is not necessary but will prevent the cake from tasting stale and freezer burn for a little longer.
Alright coffee lovers, make sure to tag me @baranbakery on Instagram if you make this cake. As always, have a blessed day and happy baking!
Love, B
Yield: 8-10 slices
Mocha Cake Recipe
Mocha Cake is made up of eight luscious chocolate layers frosted with coffee Swiss meringue buttercream and topped with toasted hazelnuts.
Total Time
4 hours
30 minutes
Ingredients
Chocolate Cake
2 cups (240g) all-purpose flour, spooned and leveled
2 cups (400g) granulated sugar
1 cup (80g) dutch-processed cocoa powder, spooned and leveled*
½ tsp baking soda
1 tsp baking powder
1 tsp instant espresso powder
½ tsp salt
2 large eggs, room temperature
3/4 cup (177mL) canola or vegetable oil
3/4 cup (177mL) buttermilk (use regular milk if you use natural cocoa powder)
3/4 cup (177mL) brewed coffee, room temperature
1 tsp hazelnut extract
Coffee Swiss Meringue Buttercream
8 large (260g) egg whites, room temperature
2 cups (400g) granulated sugar
1 Tbsp (15mL) hot water
4 Tbsp (24g) espresso powder*
2 cups (454g) unsalted butter, room temperature
2 tsp hazelnut extract
chocolate shavings for decorating
handful of toasted hazelnuts for decorating
Instructions
Chocolate Cake
For the chocolate cake, begin by preheating the oven to 350F/177C convection (or 325F/162C conventional) and grease and line the base of four 6-inch (20cm) cake pans.
In a medium bowl, whisk together the flour, granulated sugar, cocoa powder, baking soda, baking powder, espresso powder and salt. Set the dry ingredients aside.
In a large bowl, whisk together the eggs, oil, buttermilk, coffee and hazelnut extract until they're well combined. Sift the dry ingredients over the wet ingredients and fold them together just until the last streak of flour is combined.
Distribute the batter evenly among the prepared cake pans (about 11 oz per 6-inch pan). Bake for 30 minutes, until the center of the cake springs back when it's poked or a toothpick inserted comes out clean.
Remove the cakes from the pan and allow them to cool completely.
Coffee Swiss Meringue Buttercream
Begin by thoroughly cleaning the aluminum bowl and the whisk attachment of the stand mixer (they can't have any fat residue when making meringue). Once they're clean and dry, place the egg whites and the granulated sugar in the bowl.
In a small saucepan, bring 1/2 cup (118mL) of water to a simmer. Keep the water simmering on low heat and place the bowl with the egg whites and sugar on top of the saucepan, creating a double boiler. Whisk the egg whites and sugar over low heat for 5 to 10 minutes, until the sugar granules are dissolved. You can feel it between your fingers if the sugar is fully dissolved or you can use a candy thermometer and bring the mixture to about 140°F (60°C).
When the sugar granules are fully dissolved in the egg whites, remove the bowl from the heat and place it on the stand mixer fitted with the whisk attachment. Beat the mixture on medium-high speed, until stiff peaks form and the meringue no longer feels warm. This usually takes about 10 minutes.
Meanwhile combine hot water with espresso powder and mix them until it's dissolved. Set it aside to cool.
Slowly add in the softened butter to the meringue, 2 to 3 tablespoons at a time. Once the butter is incorporated, continue beating on medium speed for a few minutes until it emulsifies into a buttercream. It may go through phases of looking soupy and/or curdled before it emulsifies but it should come together within 5-10 minutes.
After the buttercream comes together, add in the espresso mixture and the hazelnut extract and mix until they're fully combined.
This is optional but if you want to remove the air bubbles from the buttercream, switch to a paddle attachment and turn the mixer on low speed for 5-10 minutes. This will make it easier to get a smooth finish when you're frosting the outside of the cake.
Assembe
Trim the tops of the cooled cakes (only if they're domed) and then slice each one in half to get double the layers. Frost each layer with a layer of coffee buttercream, about a 1/4-inch thick, and repeat for the other seven layers.
If you feel like the cake is getting unstable at any point, place it in the refrigerator for about 30-60 minutes, then finish frosting it. The buttercream gets firm in the fridge so make sure to gently smooth out the edges if any buttercream squeezes out between the layers.
When the cake is fully stacked, refrigerate for 1-2 hours and then finish frosting the top and sides of the cake. Chelsweets has a great tutorial on how to frost a cake if you've never frosted a layered cake before.
To get the design that I did, simply place a small spoon or a small offset spatula against the frosted cake and then slightly move it upwards as you're spinning the turntable. Do the same with the top of the cake but start on the outside and move inside. Top with chocolate shavings and toasted hazelnuts.
Notes
*I used 4 Tbsp of espresso powder with 2 Tbsp of water but you can use more or less, just make sure it's fully dissolved in as little water as possible.
*I use dutch-process but you can also use natural unsweetened cocoa powder. I recommend skipping the buttermilk and using regular milk if you use natural cocoa powder.
If you don't want it to fall over, refrigerate the cake before slicing it and then let it come to room temperature if you want to eat it softer.
It may be easier to cut thicker slices of this cake and then cut them in half lengthwise to serve more people (since the cake is so tall).
Store the layer cake in the refrigerator and cover any open edges with plastic wrap.
This cake can also be made without slicing the layers in half, making four thicker cake layers (adjust the amount of frosting between the layers accordingly). It can also be made in three 8-inch cake pans and sliced in half to make six layers, or in three 9-inch cake pans but they may be too thin to cut in half.
Nutrition Information:
Yield:
10
Serving Size:
1
Amount Per Serving:
Calories:

980
Total Fat:

60g
Saturated Fat:

25g
Trans Fat:

0g
Unsaturated Fat:

31g
Cholesterol:

136mg
Sodium:

469mg
Carbohydrates:

105g
Fiber:

2g
Sugar:

82g
Protein:

10g
Nutrition information isn't always accurate.