This super easy carrot cake recipe is perfectly moist and flavorful and frosted with a classic cream cheese frosting!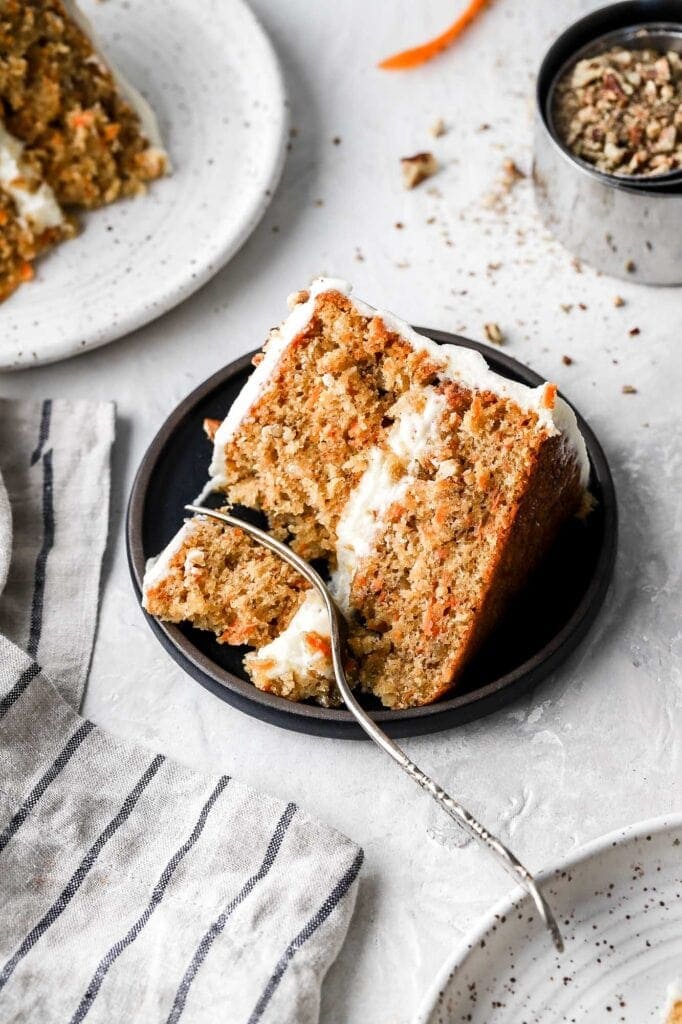 Two cake recipes coming at you in a row because you can't go wrong with cake, especially when it's CARROT CAKE! Carrot cake is a classic and is one of my all time favorite recipes.
I don't usually remake my own desserts because I'm always so eager to try something new but this easy carrot cake recipe is a classic that I make at least twice a year for my family!
How to make this easy carrot cake recipe
Carrot cake is pretty simple to make. The only thing that can be a little extra work is shredding the carrots and chopping the nuts. If you're lazy like me, you can just use the stand mixer attachment, which makes it soooo much quicker!
Other than that, this recipe is pretty basic; combine the wet ingredients, fold in the dry ingredients, followed by the add-ins.
If you've ever made my original recipe, it did have pineapples in it, which I love but I know many people don't so I replaced it with sour cream. I love the extra tang from the pineapples, so I also added a bit of lemon to this recipe but you can certainly leave it out.
How to shred carrots and chop nuts
You can buy shredded carrots but the only ones I found were a little larger than I like so I ended up shredding my own. I also think the flavor is stronger if you use fresh carrots. I use my stand mixer attachment for the cake in the photos but I've also used a hand grater which just takes a little longer and results in smaller grated carrots.
I've also made this cake with ground nuts, using the stand mixer attachment and with larger chunks from hand chopping them so either works!
Can I make carrot cake without the nuts
I'll be the first to say it, I HATE nuts in cake buuuutttttt carrot cake is the only cake that I think it goes so well in so I left them in. Pecans are my favorite but I've also made this a bunch of times with walnuts.
If you don't prefer the texture of the nuts, you can grind them up really tiny, or you can just replace them with an extra 1 Tbsp of flour.
You can also use other add-ins like shredded coconut or raisins (if you're weird like that, lol JK but I really don't like them).
Can I bake this in different size pans
Yes! You can bake this cake in three 6-inch pans, with the same bake time, about 35-40 minutes or two 9-inch pans for a little less time, about 30-35 minutes. You can also bake the cake in a 9x13x2-inch pan, which should take about 50-55 minutes.
How do I know when the cake is done baking
To test if the cake is done baking, you can either see it release itself from the edge, press on the center and it should spring back or a toothpick inserted should come out with a few moist crumbs.
How to make cream cheese frosting
In theory, cream cheese frosting is just as easy to make as American buttercream…except it's not because it's much softer lol. Ok, actually it is easy to make but refrigeration time is key if you don't want all the cream to squish out when you slice it.
There are soooo many variations of cream cheese frosting recipes. Some recipes use 75% butter and just 25% cream cheese, some are vise versa and mine is a solid 50-50.
I also use a little less powdered sugar in cream cheese frosting than I do in American buttercream because I think the taste of the cream cheese is slightly more pleasant than the taste of just butter. Also also, I omit the heavy whipping cream that I normally use in American buttercream because cream cheese is softer and doesn't need it.
How to frost a cake with cream cheese frosting
I don't always do this but it is also much easier to frost a frozen carrot cake than a fresh one. So if you're worried about it, I would wrap the cake layers in plastic wrap, place them in a freezer bag and then freeze them for a few hours or overnight. Remove them from the freezer while you make the cream cheese frosting.
Once the cream cheese frosting is all done, chances are it's pretty soft and silky so place it in the refrigerator for 15 minutes. Then remove it, mix the frosting again, and then refrigerate it for another 15 minutes.
Frost the first layer of cake, then place the second layer on top. If it doesn't feel wobbly, go ahead and do a crumb coat and then refrigerate the cake for 30 minutes. If it feels wobbly, refrigerate it for 20-30 minutes before and after doing the crumb coat.
Then use the rest of the cream cheese frosting to frost the outside of the chilled cake. Refrigerate for at least another 30 minutes before slicing into it.
How to store carrot cake
Because carrot cake is made with cream cheese frosting, I would store it in the refrigerator. It can be served cold, slightly chilled or at room temperature but I prefer slightly chilled.
Once it's frosted on the outside and before it's sliced, you don't need to cover it (although a cake dome is never a bad idea) but once it's sliced, cover the open side with plastic wrap. Store any individual slices in an airtight container for about a week.
To freeze it, place the slices in an airtight container and then place the container in a freezer bag, squeezing out any excess air. Freeze for about up to a month.
I hope you guys like my version of carrot cake as much as we do. If you have any questions just comment down below and if you make it, make sure to rate it and tag me @baranbakery on instagram! As always, have a blessed day and happy baking!
Love, B
Yield: 12-16 servings
Carrot Cake with Cream Cheese Frosting Recipe
The best carrot cake recipe with a classic cream cheese frosting!
Prep Time
1 hour
15 minutes
Total Time
3 hours
55 minutes
Ingredients
Carrot Cake
2 1/2 cups (300g) all-purpose flour, spooned and leveled
1 Tbsp baking powder
1/2 tsp baking soda
1 tsp salt
2 tsp cinnamon
1 cup (237mL) vegetable or canola oil
1 cup (200g) granulated sugar
1 cup (200g) light brown sugar, lightly packed
4 large eggs, room temperature 
1/2 cup (113g) sour cream
2 cups (230g) shredded carrots
1/2 cup (55g) chopped pecans
Zest of 1 medium lemon
2 Tbsp lemon juice (half a medium lemon)
Cream Cheese Frosting
1 cup (227g) unsalted butter, room temperature
8 oz cream cheese, room temperature
2 tsp vanilla bean paste (or extract)
1/8 tsp salt
4 cups (480g) powdered sugar, spooned and leveled
Instructions
Carrot Cake
Preheat the oven to 350F/177C convection (325F/163C conventional) and grease and line two 8-inch cake pans.
In a medium bowl, whisk together the flour, baking powder, baking soda, salt and cinnamon until they're well combined. Set aside.
In a large bowl, whisk together the oil and sugars. Add the eggs and sour cream and mix until it's smooth. Fold in the dry ingredients just until they're barely combined.
Add the shredded carrots, chopped pecans, lemon zest and juice and fold them in until they're evenly distributed.
Distribute the batter between the prepared cake pans and bake for about 40 minutes, or until it springs back when you gently press on the center of it.
Remove the cakes from the oven, allow them to cool in the pan for 10-15 minutes and then invert them onto a tea towel or cooling rack. Allow them to cool completely before frosting.*
Cream Cheese Frosting
Place the room temperature butter, cream cheese and vanilla in the bowl of an electric mixer and use the paddle attachment to beat them together on medium-high speed for 1-2 minutes, until they're well combined. Make sure to scrape the edge of the bowl half way through.
Add the salt and the powdered sugar to the butter mixture and mix on low speed, just until combined. Scrape the edge of the bowl and turn the mixer to medium-high speed and beat the cream cheese frosting for at least five minutes, until all of the sugar is fully dissolved and no longer feels gritty.
If the buttercream is too soft to frost, refrigerate it for about 10-15 minutes, then remove it from the fridge, give it a good mix and refrigerate again for 10-15 minutes.
Assemble
To frost the cake, place the first layer of cake on a flat surface and use 1/3 of the frosting to frost the first layer. Place the second layer on top and then refrigerate the cake for 30 minutes, or until the cake feels firm enough to frost (make sure it's not wobbly).
For the crumb coat, spread a thin layer of frosting over the chilled cake and refrigerate the cake for at least another 15-30 minutes, or until the frosting feels set.
Place the rest of the buttercream on top of the cake, use an offset spatula to spread the frosting around and then use a turntable and a cake scraper to create a smooth finish on the cake.
Top with chopped nuts!
Notes
*It isn't necessary but carrot cake with cream cheese frosting is easier to frost with chilled cakes. To do this, once the cake layers have cooled, wrap them in plastic wrap and freeze them for a couple hours or overnight.
Recommended Products
As an Amazon Associate and member of other affiliate programs, I earn from qualifying purchases.
Nutrition Information:
Yield:
12
Serving Size:
1
Amount Per Serving:
Calories:

796
Total Fat:

48g
Saturated Fat:

16g
Trans Fat:

0g
Unsaturated Fat:

28g
Cholesterol:

127mg
Sodium:

499mg
Carbohydrates:

89g
Fiber:

2g
Sugar:

65g
Protein:

7g
Nutrition information may not be fully accurate.