This baklava cake is a fluffy and moist chocolate cake baked on top of cinnamon chocolate baklava and topped with chocolate ganache.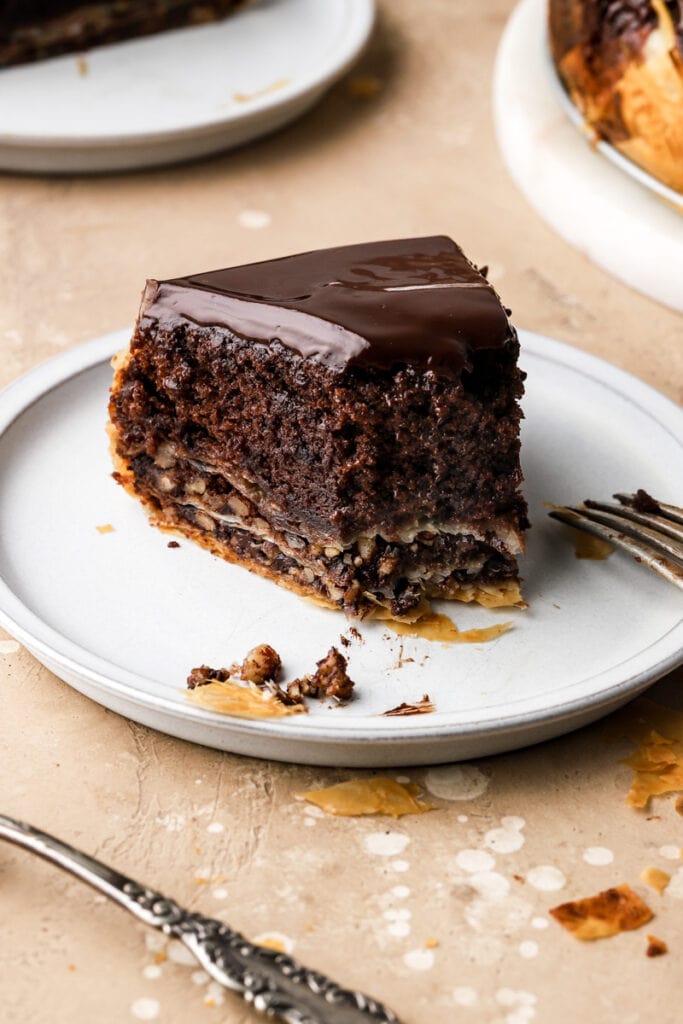 Why you'll love this chocolate baklava cake
It's rich and indulgent and absolutely unique.
It looks much more complicated than it is. Athens Phyllo Sheets make this baklava super easy to put together.
The chocolate cake recipe is very forgiving and allows for many substitutions and dietary restrictions.
If you like my unique take on baklava, make sure to check out my apple pie baklava and my carrot cake baklava. If you're here for the indulgence of chocolate you'll also love my chocolate olive oil cake, my chocolate ganache cake and ferrero rocher cake.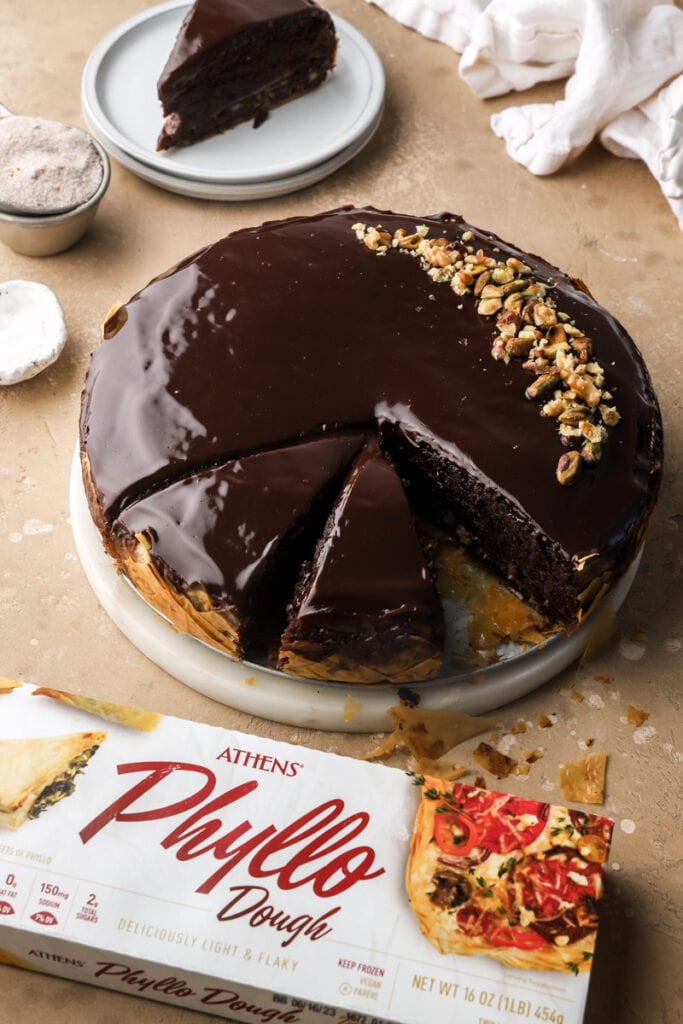 Ingredients & Substitutions
Flour: I use all purpose flour in most of my recipes and I HIGHLY recommend using a digital scale, as flour (and cocoa) is so often over measured. 
Cocoa Powder: make sure to use unsweetened cocoa powder. I use dutch process but natural cocoa powder also works. The color and flavor will be slightly less intense with natural cocoa powder.
Sugar: I used granulated sugar in the nut mixture and I used a combination of granulated and brown sugar in the cake. I don't recommend cutting any out as it affects the texture and the flavor.
Oil: I usually use a neutral oil like sunflower, vegetable or canola oil but olive oil also works well here as it pairs well with chocolate and is hardly noticeable.
Eggs: make sure to use room temperature, large eggs.

Pop them in hot water for a few minutes if they're cold.

Butter: I like to use salted butter to brush the phyllo but you can also use unsalted butter. Dairy free butter also works well.
Phyllo Dough: Athens Phyllo Sheets makes this baklava cake a dream. They get nice and crispy on the bottom and sides of the cake and they make this cake so quick and easy.
Nuts: I tested this with different types of nuts. Here I used a combination of walnuts and pistachios however I really love using pecans as well.
Cinnamon: I used a little cinnamon in the nut mixture to give it a little extra flavor. 
Step-by-Step Instructions
Step 1: Make the filling for the baklava by grounding and combining the nuts with the sugar and chopped chocolate.
Step 2: Butter and layer 10 layers of Athens Phyllo Sheets in a 10" springform pan. Top with half of the nut mixture.
Step 3: Repeat with only 5 layers of Athens Phyllo Sheets followed by the rest of the nut mixture and then 5 more layers of Athens Phyllo Sheets.
Step 4: Make the cake batter by whisking together the eggs and oil until they're well combined. Add the milk and whisk until they're combined.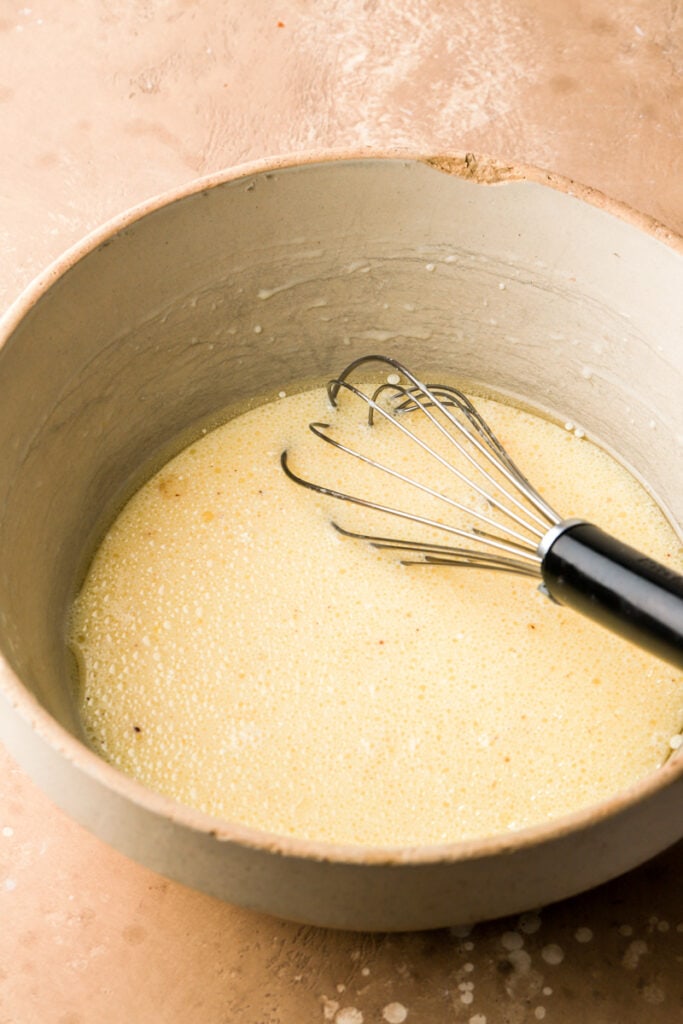 Step 5: Whisk together the flour, cocoa powder, sugar, baking powder and salt until they're evenly distributed. Sift them over the wet ingredients and whisk until the batter is completely smooth.
Step 6: Pour the cake batter over the baklava and bake for about 65-75 minutes at 350F (180C). Insert a toothpick or a knife in the center to make sure it's baked. You should moist crumbs but not gummy/gooey batter. Allow the cake to cool. 
Step 7: Make the chocolate ganache by heating the cream in a saucepan and pouring it over the chocolate chips in a bowl. Cover the bowl for 3-5 minutes to allow the chocolate to melt.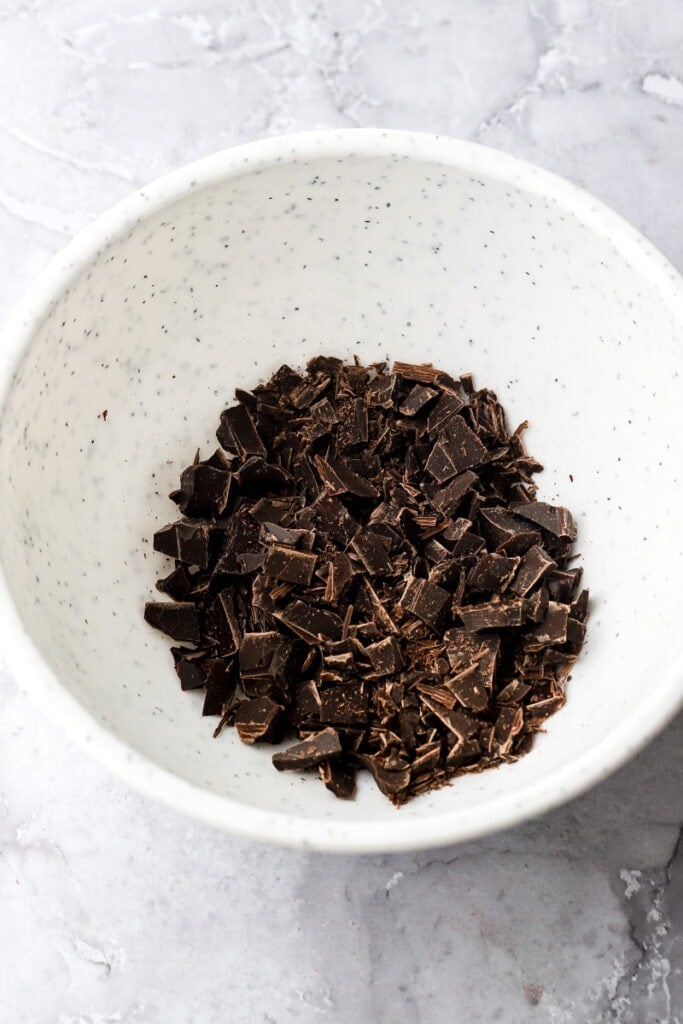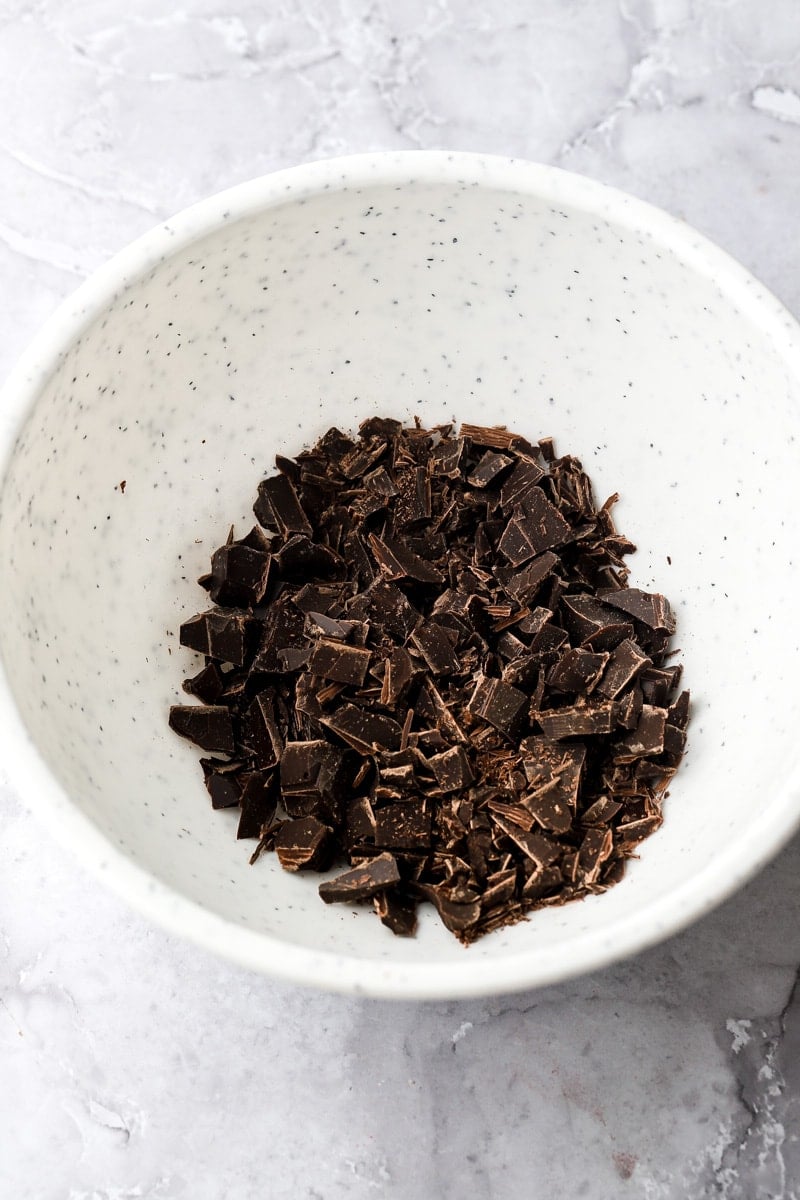 Step 8: Stir the chocolate ganache gently until it's completely melted and smooth. Pour the chocolate ganache on top of the cake and top with a few decorative nuts. Refrigerate the cake for at least 30-60 minutes or longer.
Frequently Asked Questions
Can I make this dairy free?
You can use dairy free butter, dairy free milk/cream to make any of my cakes. You can also use a dairy free cream to make the ganache.  
Can I make this in a different size pan?
I don't think you'd be able to remove the cake from a pan that isn't a springform so I recommend the 10 inch springform pan. 
How do I know when it's done baking?
Unlike the rest of my cakes, this cake may appear to be done before it's done baking. The cake will spring back even if it's not fully baked in the center so I recommend inserting a toothpick into the center of the cake (the tallest part) and make sure it comes out clean or with a few crumbs but without any gooey batter on it. 
How to store finished cake
I usually just cover it with a cake dome or place it in an airtight container and store it at room temperature for 1-2 days.
Refrigerate for up to an additional week but I recommend freezing it to keep it more fresh.
To freeze the whole cake, refrigerate it until it's firm. Then wrap it in plastic wrap so it's completely covered. Then wrap it in aluminum foil and freeze.
To freeze slices, place the slices in an airtight container and then place the container in a freezer bag, squeezing out all the excess air.
Bring it back to room temperature by thawing at room temperature for a few hours before serving. 
Thanks so much for reading today's post, if you have any questions just comment down below. Make sure to leave it in the comment section because I can't answer in the rating section.
If you make this, I'd love it if you left a star rating for me. If it's less than five stars, please leave a comment with the rating so I know why! 🙂
As always, have a blessed day and happy baking!
Love, B
This post was sponsored by Athens Foods. All thoughts and opinions are 100% my own. Thank you for supporting the brands that make Baran Bakery possible!
Yield: One 10" Cake, 12-16 servings
Chocolate Baklava Cake Recipe
Fluffy and moist chocolate cake baked on top of cinnamon pecan baklava and topped with chocolate ganache.
Total Time
2 hours
20 minutes
Ingredients
Nut Filling
3/4 cup (2.5oz/80g) pistachios (or pecans)
3/4 cups (3oz/80g) walnuts
1/2 tsp cinnamon
1/4 tsp fine sea salt
2 Tbsp (25g) granulated sugar
2/3 cup (4oz) mini chocolate chips or small chopped chocolate
Fillo Sheets
20 sheets of Athens Phyllo Dough
1 cup (227g) unsalted butter, melted
Chocolate Cake
1 1/2 cups (180g) all-purpose flour, spooned and leveled
1 cup (200g) granulated sugar
1 cup (195g) light brown sugar, lightly packed
1/2 cup (40g) Dutch- process cocoa powder, spooned and leveled
1/2 tsp baking soda
1 tsp baking powder
1/2 tsp salt
2 large eggs, room temperature
1/2 cup (120 ml) canola oil
2 cups (480 ml) milk, room temperature
1 tsp vanilla extract
Chocolate Ganache
1/2 cup (4 oz) heavy cream
2/3 cup (4 oz) semi-sweet chocolate chips
Instructions
Thaw 20 sheets of phyllo dough, following thawing instructions on package.
Nut Filling
Place the nuts, cinnamon and salt in a food processor and pulse until they're coarsely ground.
Add the nut mixture and sugar in a bowl with the chocolate chips and toss until they're evenly distributed.
Fillo Sheets
Preheat the oven to 350F/177C convection (325F/163C conventional) and butter a 10" springform pan. Remove the phyllo dough from the package and lay them on a flat surface covered with a damp tea towel.
Place the first sheet of phyllo dough into the prepared pan and brush it with melted butter. Repeat that with 9 more sheets of phyllo dough (totaling to 10).
Spread 1/2 of the nut filling on top of the phyllo dough and then repeat the process using only 5 sheets of phyllo dough.
Top with the other 1/2 of the nut filling and repeat the phyllo dough layers with 5 sheets again. Set aside.
The layers should look like:
10 sheets phyllo dough
1/2 of nut filling
5 sheets phyllo dough
1/2 of nut filling
5 sheets phyllo dough
Chocolate Cake
In a large bowl whisk together the flour, granulated sugar, light brown sugar, cocoa powder, baking soda, baking powder, and salt until they're evenly distributed.
In a separate large bowl combine the eggs, oil, milk and vanilla extract until they're smooth. Sift the dry ingredients in the wet ingredients and whisk together until everything is combined. Pour over the phyllo sheets and bake for 45ish minutes, until a toothpick (of knife) inserted comes out clean. Set aside to cool completely.
Chocolate Ganache
In a small saucepan, heat the cream just until it's simmering. Meanwhile place the chocolate chip in a bowl and then pour the hot cream on top. Cover and rest for 2-3 minutes.
Use a whisk to stir the ganache until it's smooth and then pour over the cooled cake. Top with decorative nuts and refrigerate for 30-60 minutes.
Nutrition Information:
Yield:
12
Serving Size:
1
Amount Per Serving:
Calories:

664
Total Fat:

44g
Saturated Fat:

17g
Trans Fat:

0g
Unsaturated Fat:

24g
Cholesterol:

85mg
Sodium:

316mg
Carbohydrates:

66g
Fiber:

4g
Sugar:

47g
Protein:

8g
Nutrition information may not be fully accurate.