Carrot Cake Baklava with Phyllo Dough
Carrot Cake Baklava is my little twist on the classic with Athens phyllo dough, shredded carrots, chopped nuts and maple syrup!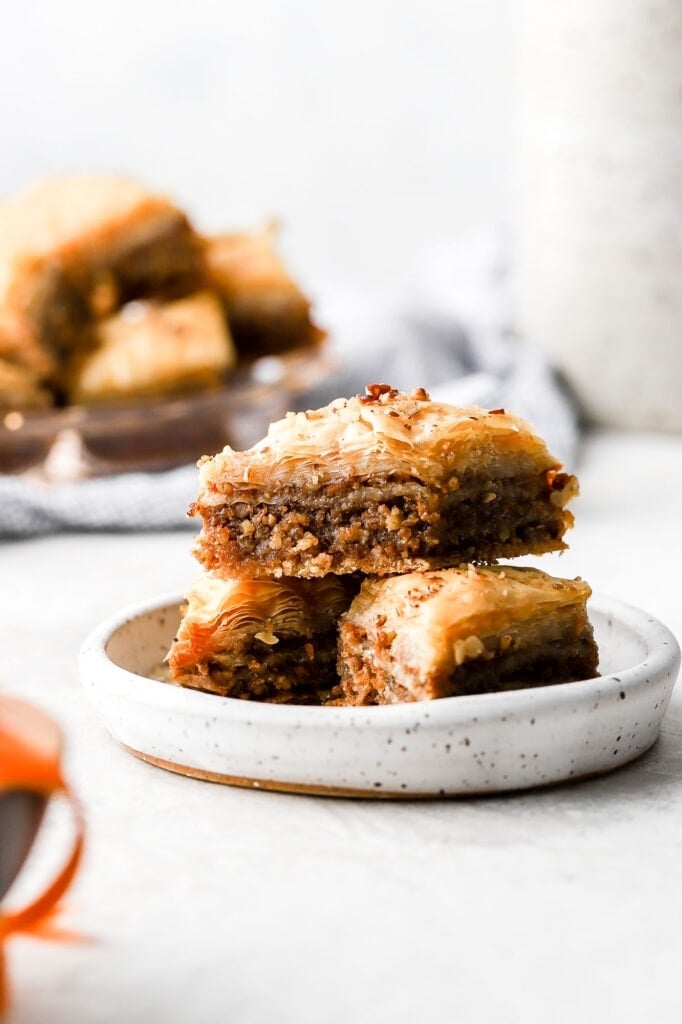 Last week I posted my classic Carrot Cake recipe, which is my favorite ever but really, anything carrot cake is always a win. For Easter, I partnered with my friends over at Athens Foods to create a unique twist on two classic desserts and that's how we came up with carrot cake baklava!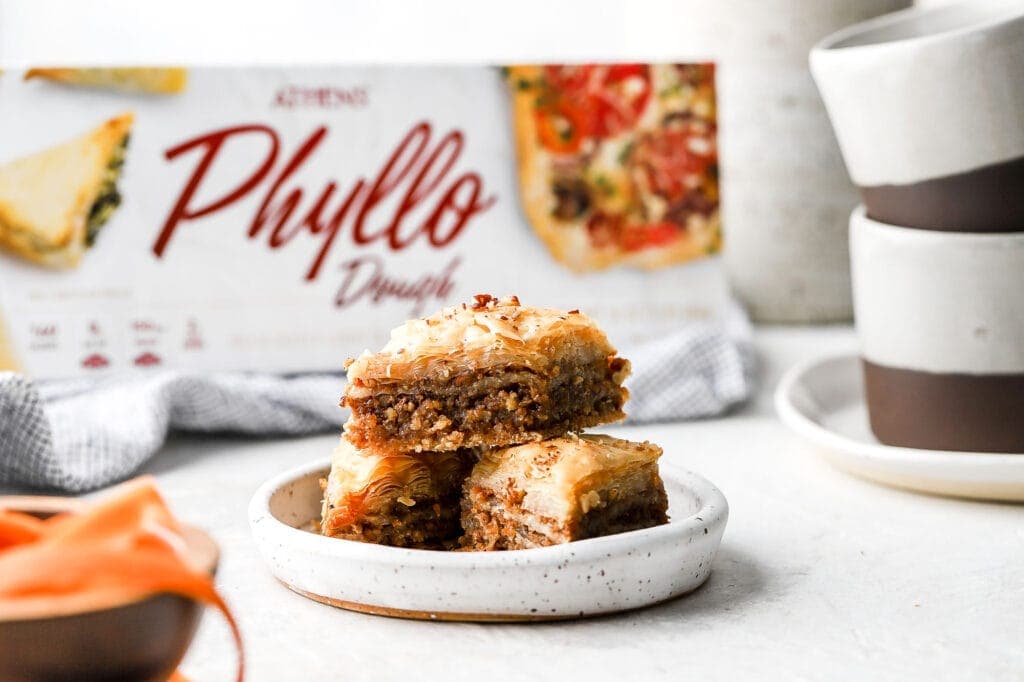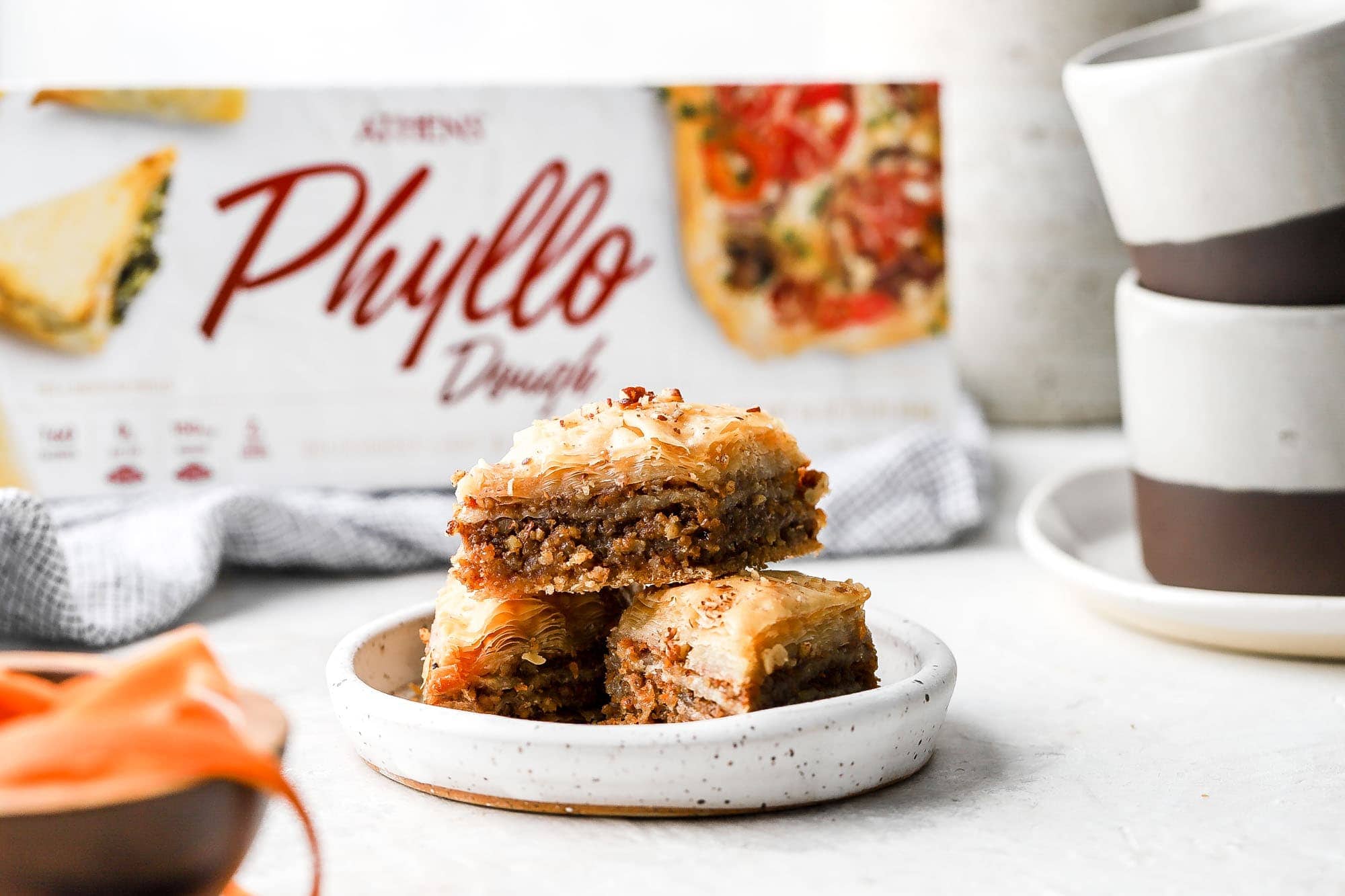 How to make carrot cake baklava
Baklava is one of those desserts that are super intimidating to make but then when you actually make it, you're surprised how simple it actually is. Especially thanks to Athens Foods, with the perfect sheets, this baklava is mainly about the layering, like a sweet lasagna.
First you'll layer a bunch Athens phyllo dough sheets on the bottom. Each layer gets brushed with a little melted butter and then after about 12 sheets, there's a carrot cake filling made out of shredded carrots, ground nuts and spices, then another thinner layer of phyllo dough sheets and repeat until you're out of ingredients. The top layer of phyllo dough sheets should be thicker like the bottom layer so that it holds together better.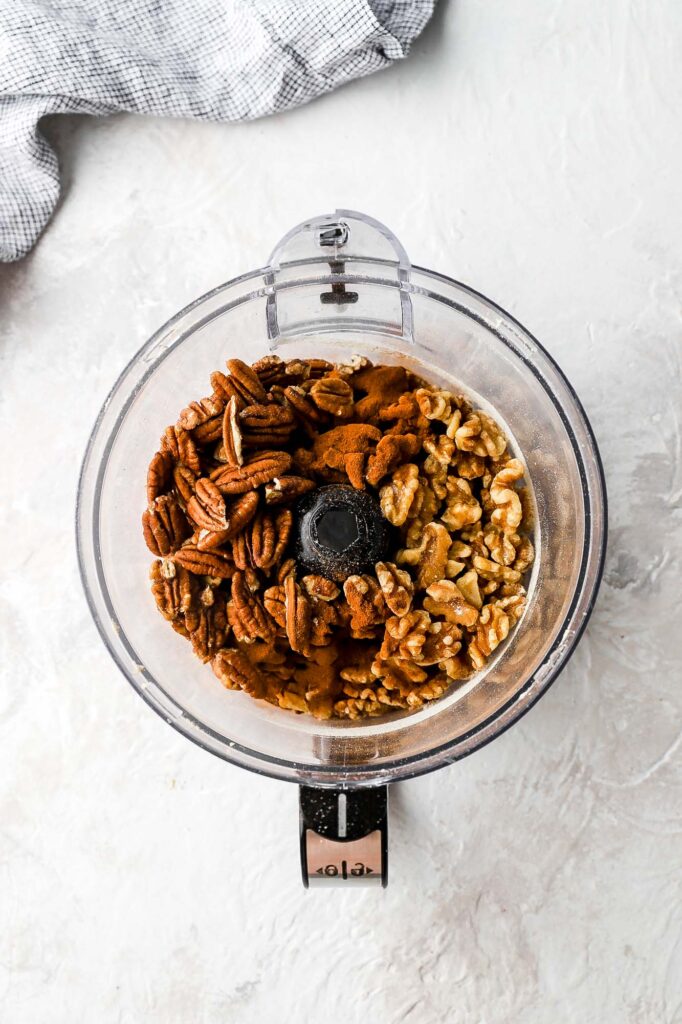 The baklava gets sliced before baking, then bake it to a golden brown color and pour a cooled sugar syrup over the hot baklava and voila!
For specific layers on this recipe, mine looks like this:
12 Athens Phyllo Dough Sheets
1/3 carrot cake filling
6 Athens Phyllo Dough Sheets
1/3 carrot cake filling
6 Athens Phyllo Dough Sheets
1/3 carrot cake filling
12 Athens Phyllo Dough Sheets
How to shred carrots
There's a few ways to shred carrots for baklava. First, you can buy them pre-shredded but I personally don't prefer that because they're slightly larger in size than I like and fresh carrots usually have a stronger flavor.
The second way is by using a stand mixer attachment. This makes it super quick and easy and you can even adjust it to the size you want.
The third option is to just use a hand grater, which is what I did. I wanted the carrots to be grated pretty small so it would make the baklava easier to slice and eat. I also only used 2 large carrots for this recipe so it goes pretty quick even with a hand grater.
What nuts to use and how to chop them
Generally, walnuts, hazelnuts and pistachios are more common for baklava, depending on what region in the Middle East it's made in. Since I love pecans and that's what I use for classic carrot cake, I decided to mix both pecans and walnuts for carrot cake baklava.
I tried this recipe with both larger sized chunks and with smaller and I prefer the nuts to be ground a little finer. If you buy them pre-ground, I also wrote in the ounces so you can measure it that way but I bought them whole and just popped them into the food processor with the cinnamon.
Grinding them in the food process lets you control the size of the grind and you can see in the photo below how small I made them. That's probably the largest I would go, I actually prefer it even a little finer ground.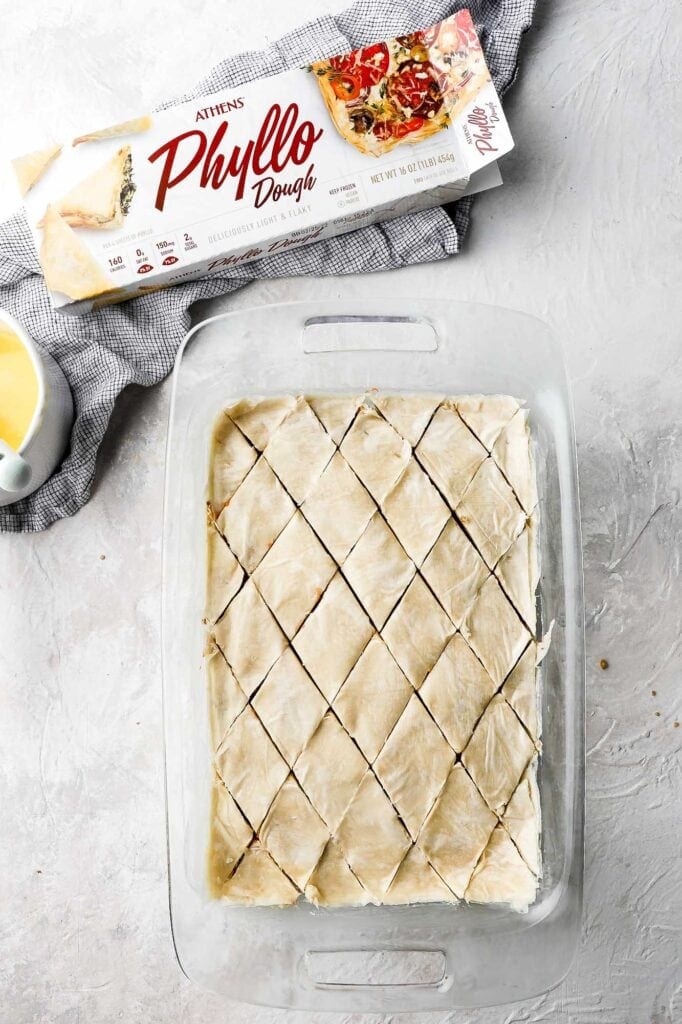 How to make the syrup for baklava
Traditionally, baklava is made with a honey syrup. Honey gets cooked down with sugar and water and then once it's cooled, it gets poured on top of the hot baklava as soon as it comes out of the oven.
It's really important for the texture that the baklava is hot and the syrup is cool when you pour it over. It'll help keep the phyllo sheets crunchy instead of soggy.
I LOVE maple syrup with carrot cake (these maple caramel carrot cake cupcakes are one of my all time favorite desserts!) so I swapped out the honey for maple. Because it gets cooked down and there are so many other competing flavors, the maple isn't super strong in the overall flavor of the baklava but I think it pairs really well.
How to store carrot cake baklava
Baklava can be stored at room temperature for about 3 days in an airtight container or 7-10 days refrigerated in an airtight container.
Baklava can also be frozen for up to 3 months. Place them tightly in an airtight container and place the container in a freezer bag, squeezing out all the excess air.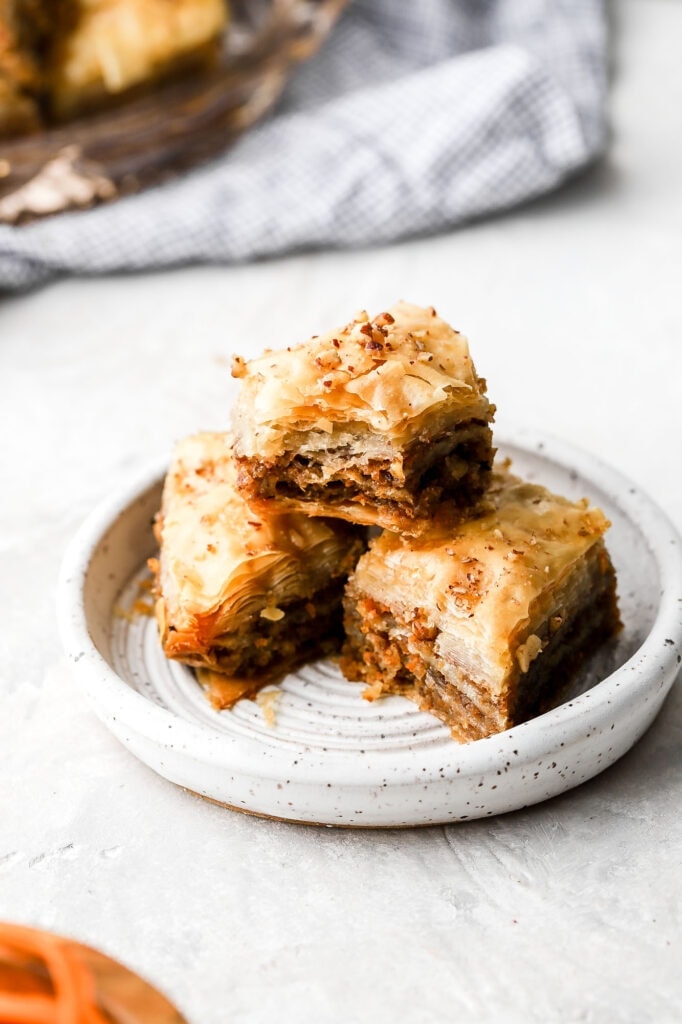 I hope you guys enjoy this twist on two classics. If you have any questions just comment down below and make sure to tag us @baranbakery and @athens_foods on instagram if you make this delicious festive baklava. As always, have a blessed day and happy baking!
Love, B
Yield: 24
Carrot Cake Baklava
Carrot cake baklava made with Athens Phyllo Dough Sheets, shredded carrots, chopped nuts and maple syrup!
Total Time
6 hours
30 minutes
Ingredients
16oz package of Athens Phyllo Dough Sheets
Maple Syrup
1 cup (200g) granulated sugar
1 cup (237mL) water
1 cup (237mL) maple syrup
Carrot Cake Filling
1 cup (115g) shredded carrots
1 1/2 cups (5oz/150g) pecans
1 1/2 cups (6oz/175g) walnuts
1/3 cup (66g) granulated sugar
1 Tbsp cinnamon
1/2 tsp nutmeg
1/4 tsp salt
1 cup (227g) unsalted butter, melted
Instructions
Thaw Athens Phyllo Dough Sheets in the refrigerator overnight or at room temperature for a few hours.
Maple Syrup
In a medium saucepan, combine the sugar, water and maple syrup over medium heat and bring the mixture to a boil.
Reduce the heat to low and allow it to simmer for 10 minutes. Remove the syrup from the heat and allow it to cool completely to room temperature.
Carrot Cake Filling
Use a small size grater to grate 2 large carrots, set aside.
Place the pecans, walnuts, sugar, cinnamon, nutmeg and salt in a food processor and pulse until they're coarsely ground.
Add the nut mixture and the sugar to the bowl with the carrots and toss until they're evenly distributed.
Assemble
Preheat the oven to 350F (177C) and butter a 9x13x2" pan. Remove the phyllo dough from the package and lay them on a flat surface. Trim them to be the exact size of your pan and then cover them with a damp tea towel.
Take the first sheet of phyllo dough and place it in the prepared pan, pressing it against the edge of the pan. Lightly brush the sheet with melted butter and repeat that with 11 more sheets of phyllo dough (totaling to 12).
Evenly spread 1/3 of the carrot cake filling on top of the phyllo dough and then repeat the process using only 6 sheets of phyllo dough.
Top with another 1/3 of the carrot cake filling and repeat the phyllo dough layers with 6 sheets again.
Top with the last 1/3 of the carrot cake filling and repeat with 12 sheets of phyllo dough (buttering the top layer too).
The layers should look like: 12 sheets Athens phyllo dough, 1/3 carrot cake filling, 6 sheets Athens phyllo dough, 1/3 carrot cake filling, 6 sheets Athens phyllo dough, 1/3 carrot cake filling, 12 sheets Athens phyllo dough
Use a large serrated knife to slice the baklava into 24 diagonal slices and bake for 45 minutes, until the phyllo dough looks golden brown.
Remove the baklava from the oven and while it's still hot, pour the cooled syrup on top, making sure to evenly coat each slice. Top with some extra chopped nuts.
Allow the baklava to cool for 3-4 hours, or overnight, at room temperature before serving.
Recommended Products
As an Amazon Associate and member of other affiliate programs, I earn from qualifying purchases.
Nutrition Information:
Yield:
24
Serving Size:
1
Amount Per Serving:
Calories:

293
Total Fat:

18g
Saturated Fat:

6g
Trans Fat:

0g
Unsaturated Fat:

11g
Cholesterol:

20mg
Sodium:

122mg
Carbohydrates:

33g
Fiber:

2g
Sugar:

20g
Protein:

3g
Nutrition information may not be fully accurate.
This post was sponsored by Athens Foods, all thoughts and opinions are 100% my own. Thank you for supporting the brands that support Baran Bakery!
For similar recipes, check out: