Ferrero Rocher cake is made with a fluffy moist chocolate cake filled with a hazelnut praline chocolate ganache, frosted with Nutella buttercream and of course, topped with Ferrero Rocher chocolates.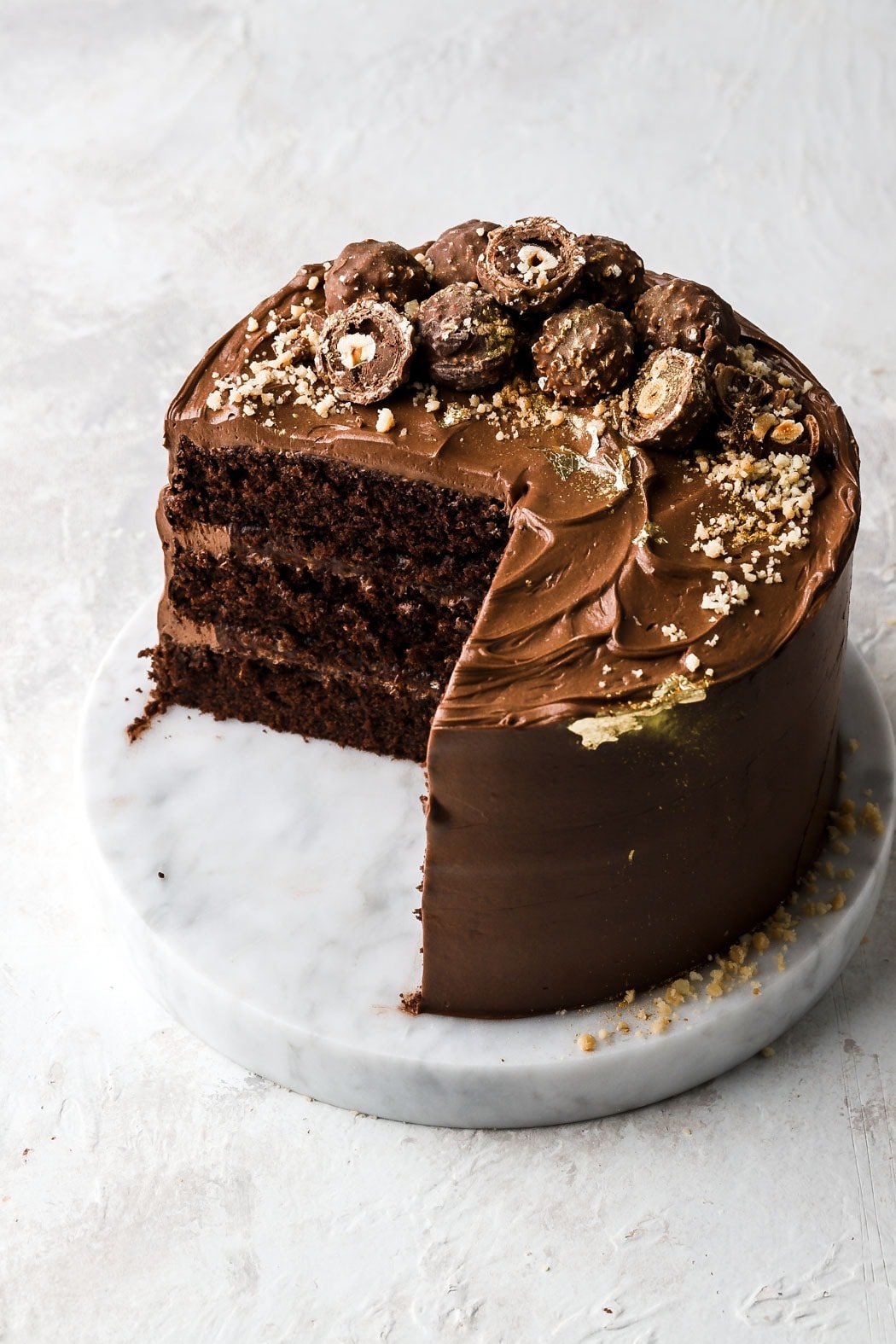 Ferrero Rocher chocolates have to be one of the most beloved chocolates out there. Soooo the question is, why not make a Ferrero Rocher Cake?!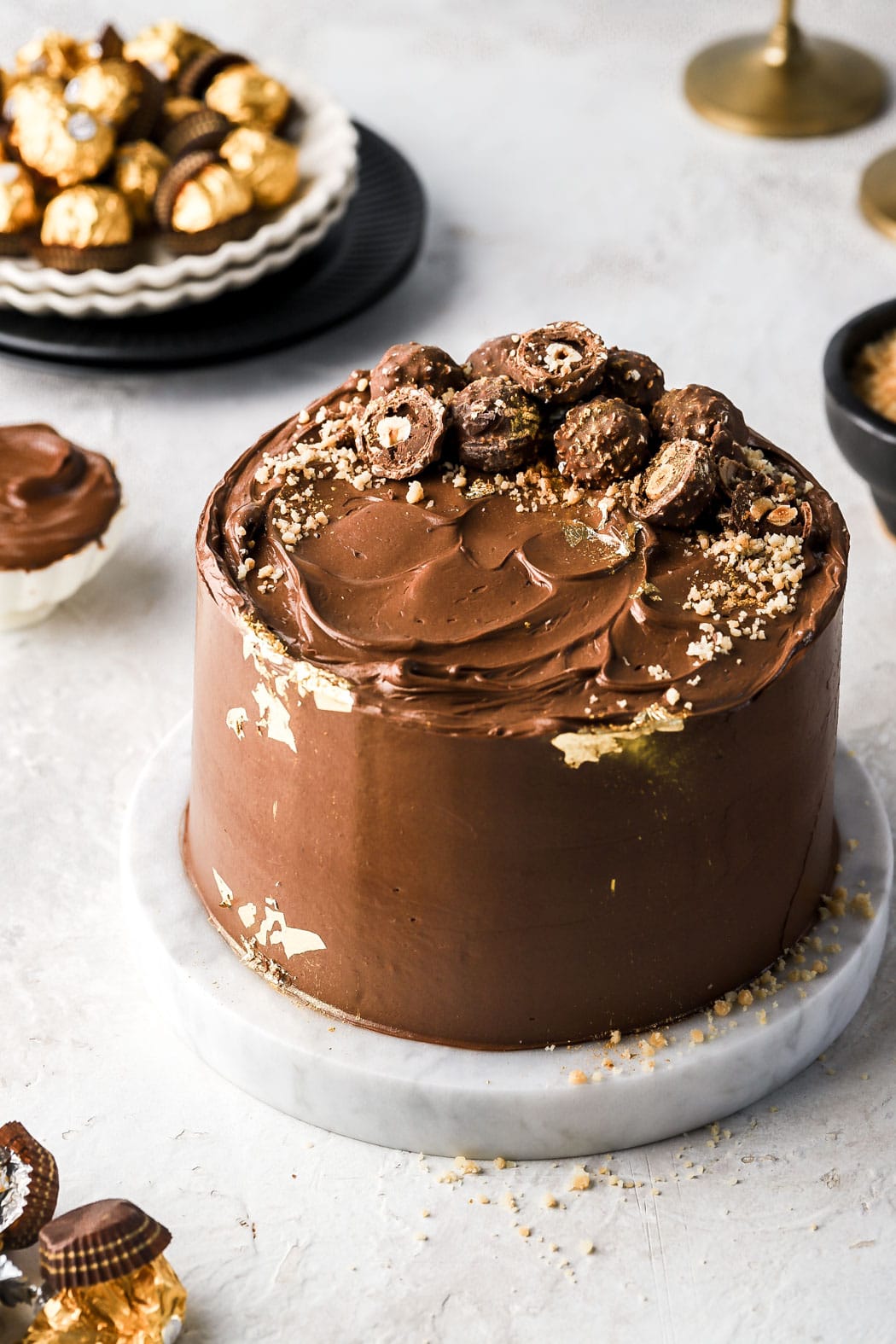 How to make Ferrero Rocher Cake
This cake has three(ish) parts to it. First, there are chocolate cake layers, obviously. I kept them simple chocolate because I feel like we have so many flavors and textures going on with the rest of the cake.
The second part is hazelnut praline ganache. I basically caramelized some hazelnuts, ground them up and tossed them in a chocolate ganache. In other words, heaven.
And the last part is the buttercream. I decided to go with a Nutella buttercream because when I tested it with just chocolate, it seemed a little too plain and I think the Nutella complements the cake really well.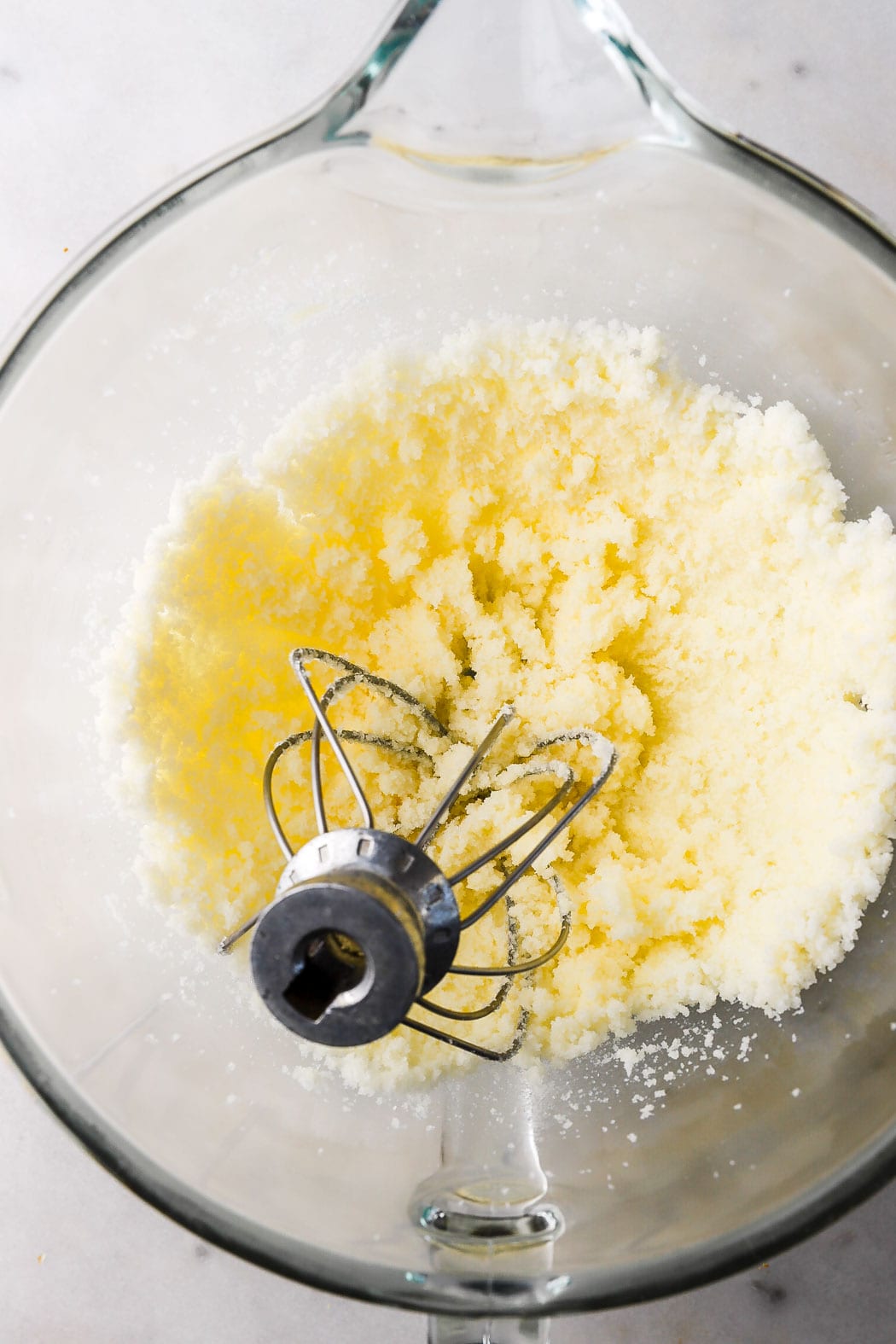 How to make chocolate cake
As I mentioned before, this is just a simple chocolate cake. I actually just scaled up my 6 inch chocolate cake recipe to make three 8 inch layers. You can make a 6 inch Ferrero Rocher cake using that recipe as well but you'll have some leftover filling.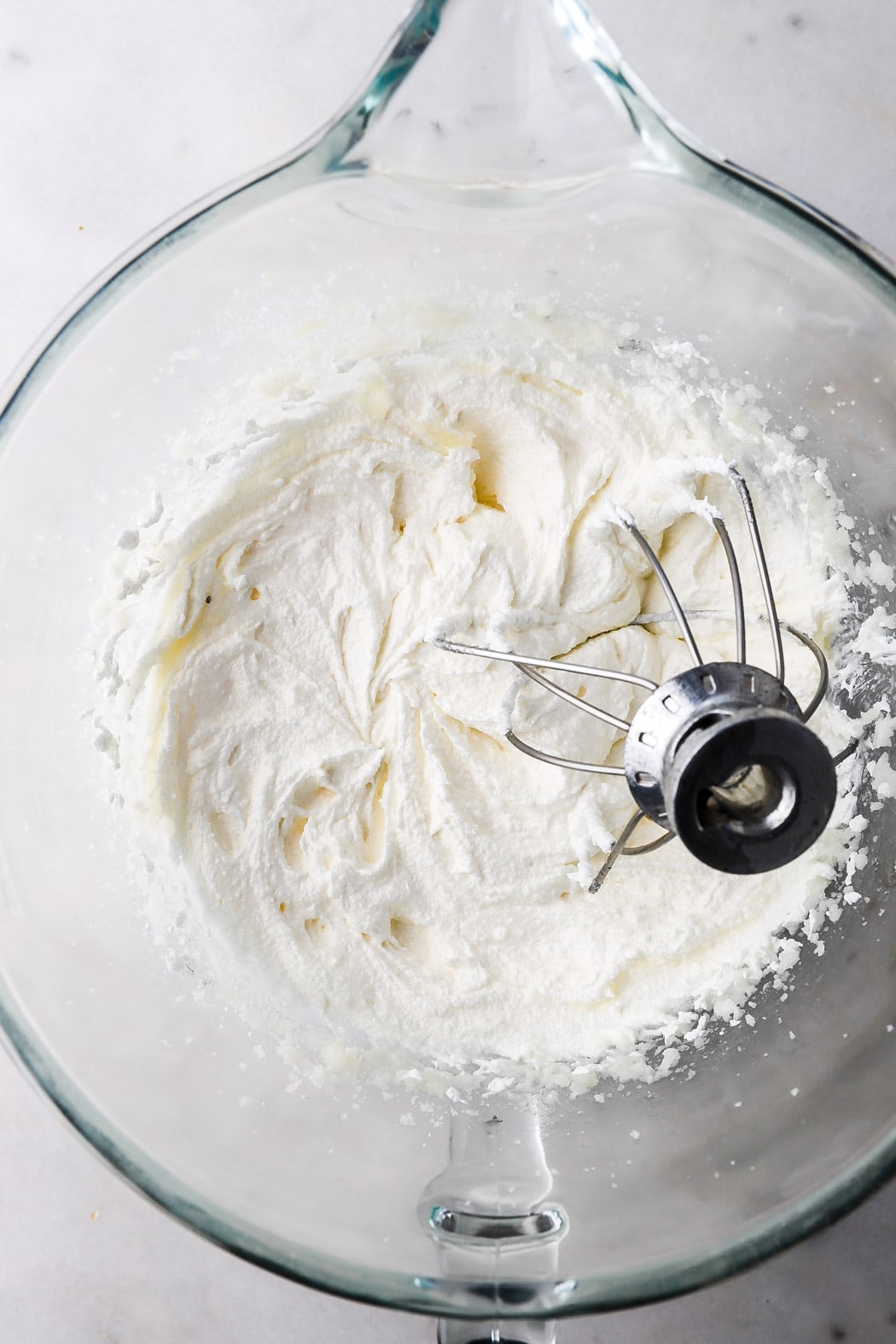 Ingredients:
Flour: I develop most of my recipes with all-purpose flour because that's what most people have on hand and is easily accessible.
Cocoa Powder: I love using dutch process cocoa powder in basically all of my recipes. I like the flavor and the color better.

If you don't have dutch process, you can use regular unsweetened cocoa powder for this recipe too but I suggest removing 1 tsp of baking powder and replacing it with ¼ tsp of baking soda.

Fat: I use butter and oil in almost all my cake recipes because I like the texture produced by the combination of both fats.

Butter usually provides a tighter crumb whereas oil results in a spongier texture so I love creaming the butter with the sugar for some volume and air and then adding the oil.

Eggs: I've made some incredible chocolate cakes without eggs but unfortunately this is not one of them. If you're looking for that, try this Dark Chocolate Blood Orange Cake (you can make it with coffee instead of orange juice too).
Sugar: Sugar provides flavor and moisture in cakes. It also helps with leavening since it gets creamed with the butter. It's especially important when you're adding cocoa powder because cocoa is very bitter.
Liquid: I used to be a firm believer in buttermilk and/or coffee for chocolate cake. After experimenting with sour cream I definitely think it provides a better flavor and texture. Coffee did intensify the flavor and provided a beautiful dark color for the cake but I didn't prefer the intense flavor.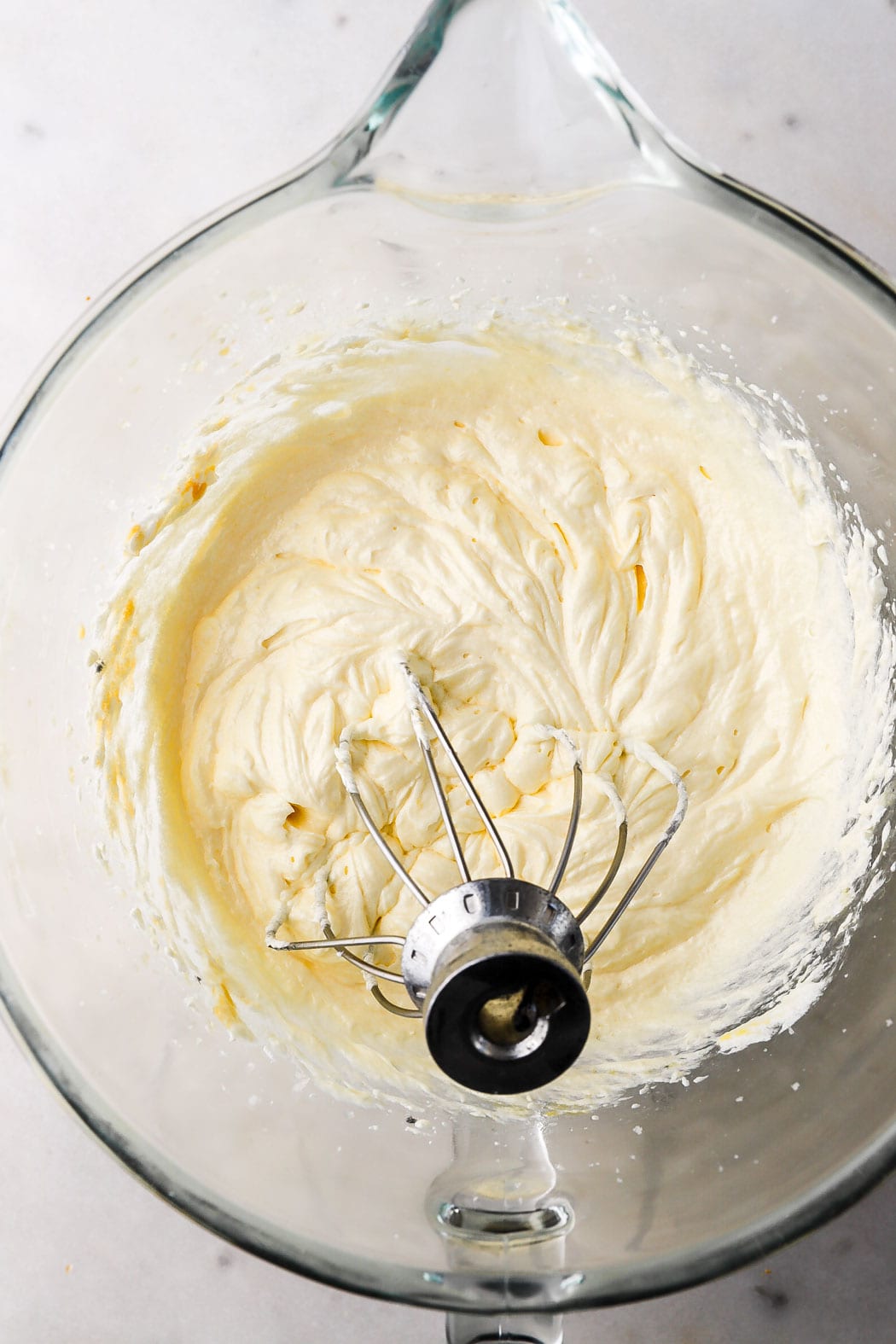 How to make hazelnut praline chocolate ganache
This is simpler than you may think. I like to grind the hazelnuts first so it's easier on the food processor later. Then place some sugar and water over medium heat and let it caramelize.
When you pour that caramel over the nuts, it hardens as it cools so make sure to stir the nuts quickly as you're pouring. Let it cool completely and then grind it again until you have small chunks.
Then you're going to make a chocolate ganache by pouring some simmering heavy cream over dark chocolate. Stir gently until it's smooth and then toss in some of the praline!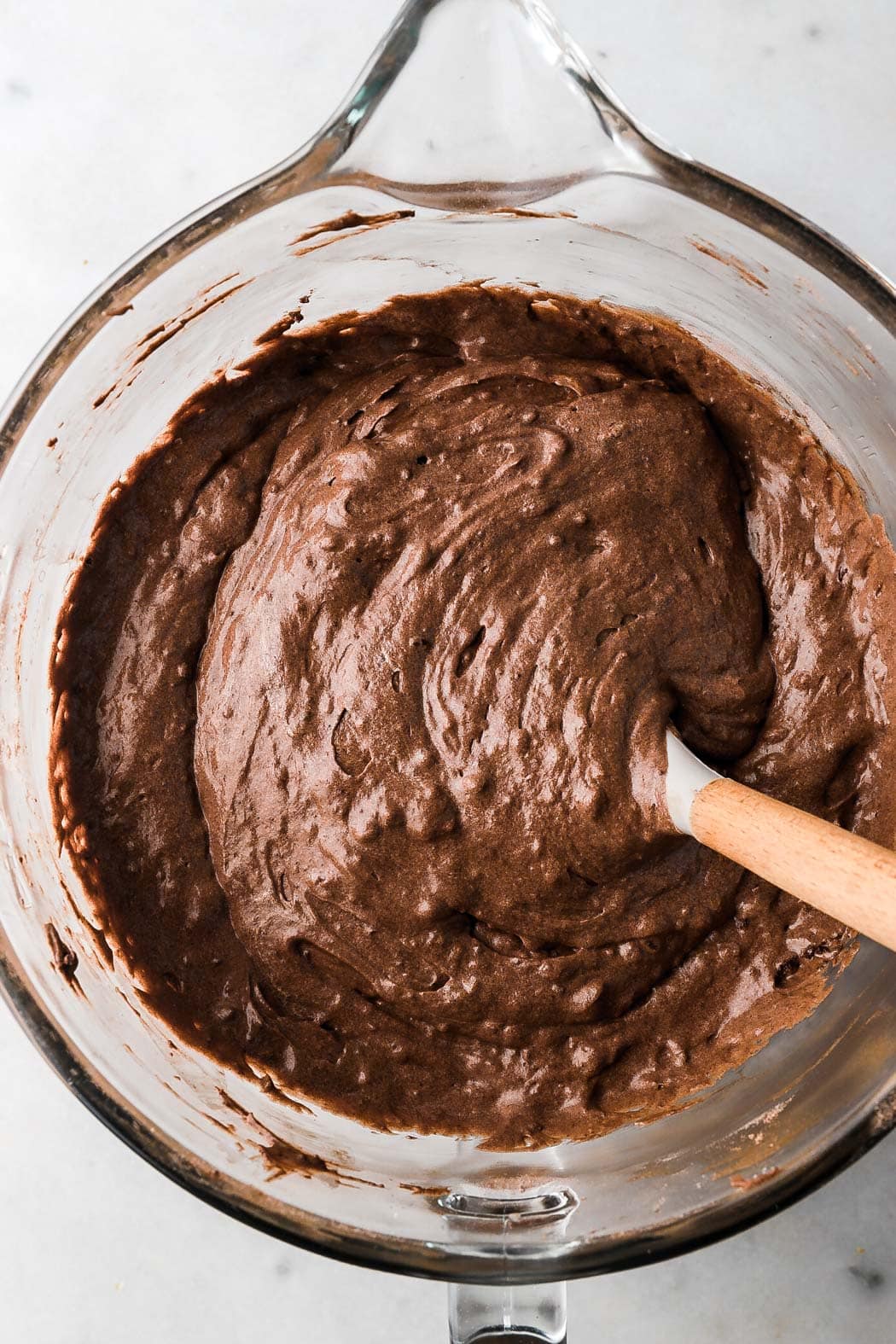 How to make the Nutella buttercream
I got some hate on tiktok for this being "nutella butter" instead of buttercream lol. If you've purchased my cookbook, Frosted, you can read about Russian buttercream. Russian buttercream is just whipped butter combined with sweetened condensed milk.
For this nutella buttercream, I basically just swapped out the sweetened condensed milk for nutella and then added some cocoa powder and vanilla extract. It creates a less sweet buttercream that's INCREDIBLY silky.
You really don't need a pound of powdered sugar unless you prefer it that sweet or you don't like the silky texture of this one. I also use the same buttercream in my Nutella Swirl Cake and I personally love it so I hope you do too.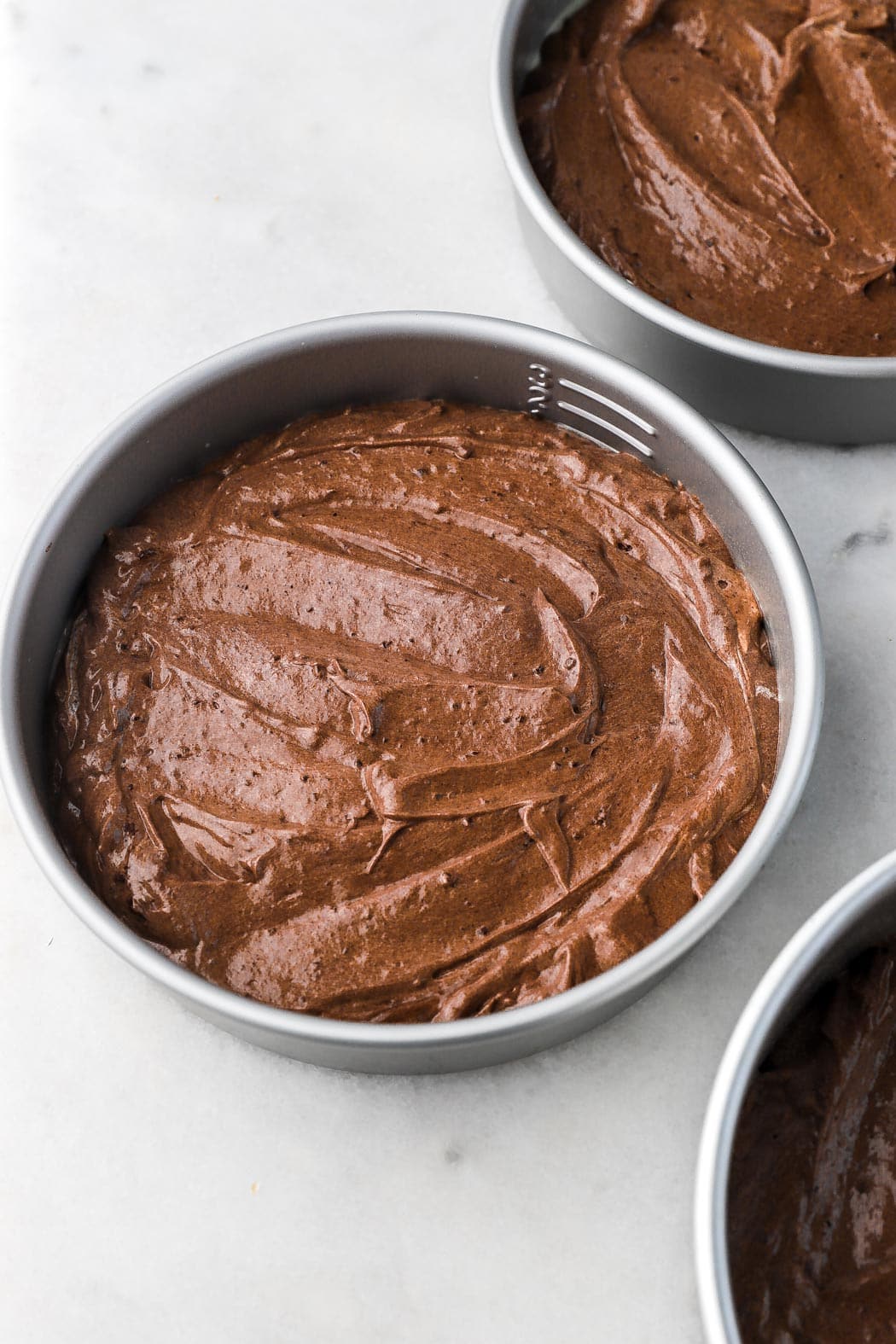 Frequently Asked Questions
Why do my ingredients need to be at room temperature?
The temperature of the ingredients ensures that the right amount of air is incorporated into your cake and that the batter emulsifies properly. If your batter ever looks split/curdled when you add the eggs, it's most likely either the temperature of your ingredients or the fat to liquid ratio is off.
I usually pull the butter and eggs out first. Put the eggs in some hot water and slice the butter so it warms up quicker. Get the rest of my ingredients together and measure. Microwave the milk for 10-20 seconds so it's not cold and use cold sour cream because warm sour cream sounds gross, lol.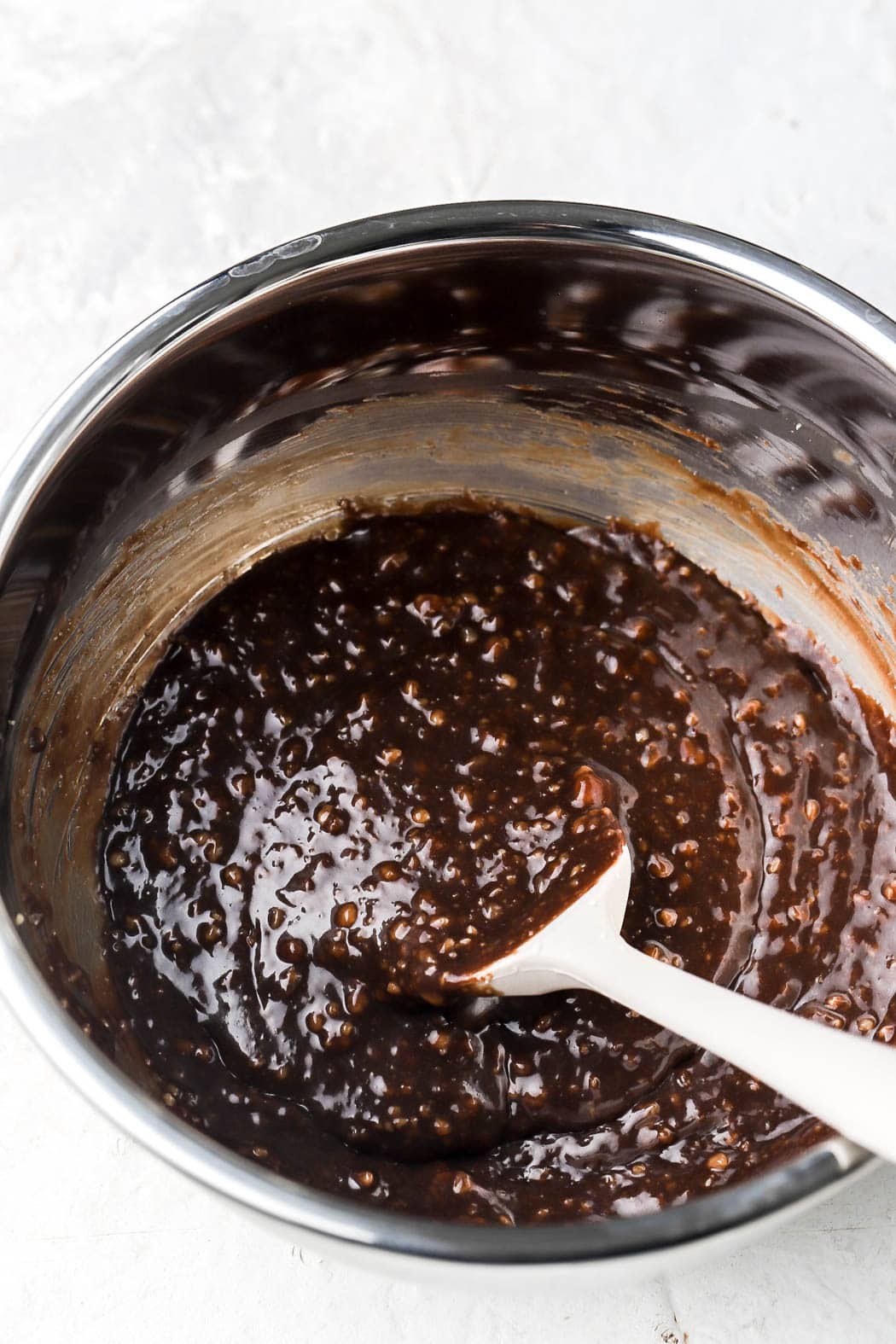 How to prevent the cakes from sticking to the pan?
Honestly I rarely encounter this problem. I typically just use a baking spray made with flour to grease my cake pans. I feel like that's not as common as greasing with plain butter or flour but it works for me and it's so much easier. If you're really nervous you can use parchment paper to line the bottom of the pans as well.
When are my cakes done baking?
This is important because a good cake can become a dry cake in a matter of minutes. A toothpick inserted in the center that comes out clean is also a common test to check for doneness but this can also easily lead to an overbaked cake. .
If your cake pans are greased properly, the cake should release itself from the edge of the pan once it's fully baked. Another way to know is that as soon as the top of the cake no longer looks wet, gently press on the center of it and if it springs back, it's done. If your fingerprint stays pressed down then bake it for another 1-2 minutes and try again.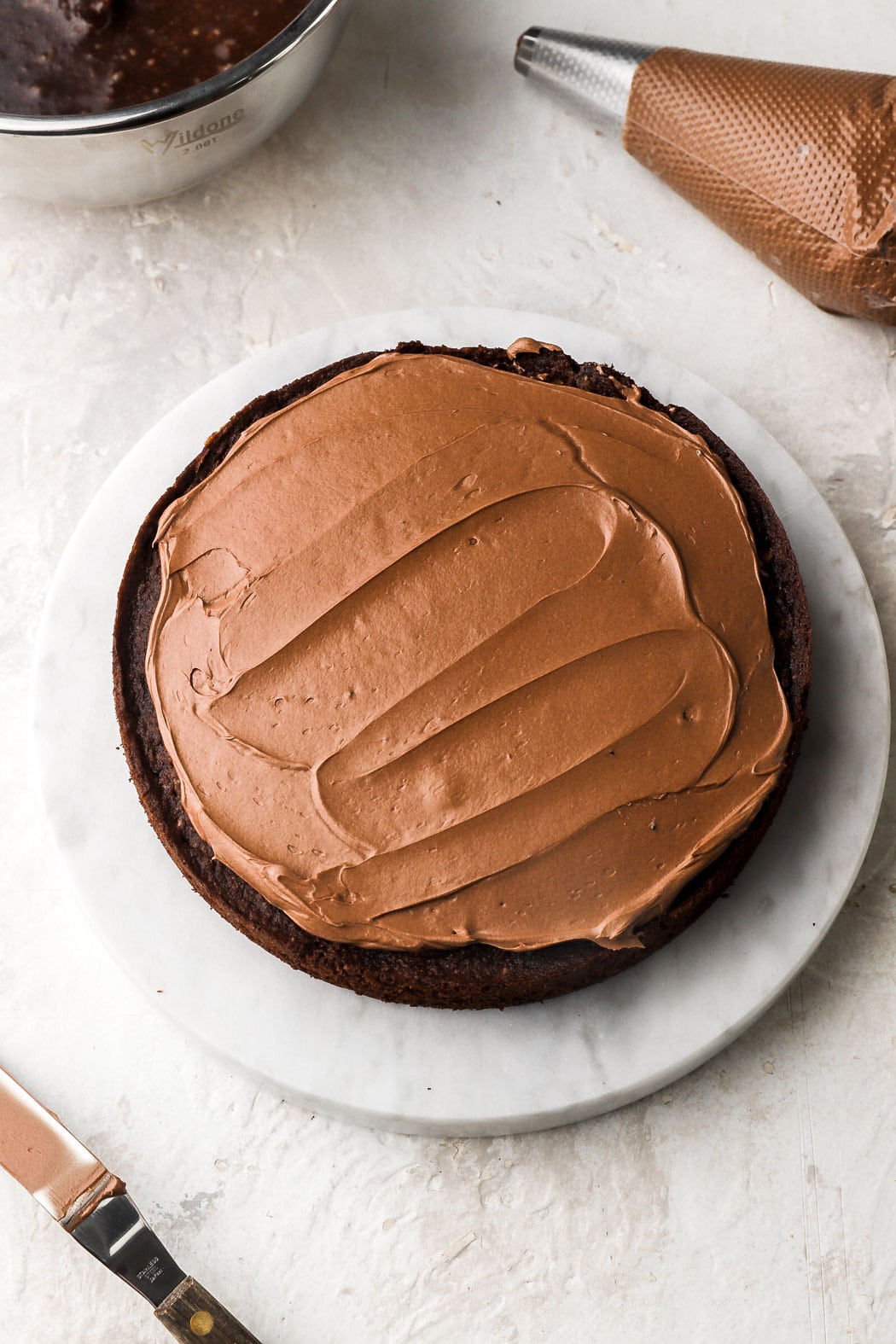 Can I make this 8-inch cake in a different size pan?
Yes. You can also bake this cake in
Four 6 inch pans for about 25-30 minutes
Two 9 inch pans for about 30-35 minutes
If you want a three layer 6-inch cake, then make that version but if you want a 9-inch cake, you can make this one but I'd prefer to just double the recipe for the 6-inch one to make three 9-inch layers. If you want a quarter sheet cake (9×13), I recommend the original 6-inch version for that as well.
I would just make this same filling but you may have a little leftover.
Can I turn Ferrero Rocher Cake into cupcakes?
I haven't tested on this specific ferrero rocher cake but the 6 inch chocolate cake version makes 23 BEAUTIFUL cupcakes. It's a sad number, I know lol. So I'm assuming this size would make just a few more, maybe up to 32.
You can remove part of the center of the cupcake and fill it with the hazelnut praline ganache. Then top with the nutella buttercream.
I actually already have a similar cupcake recipe to this, check out my Brownie Bottom Hazelnut Praline Cupcakes.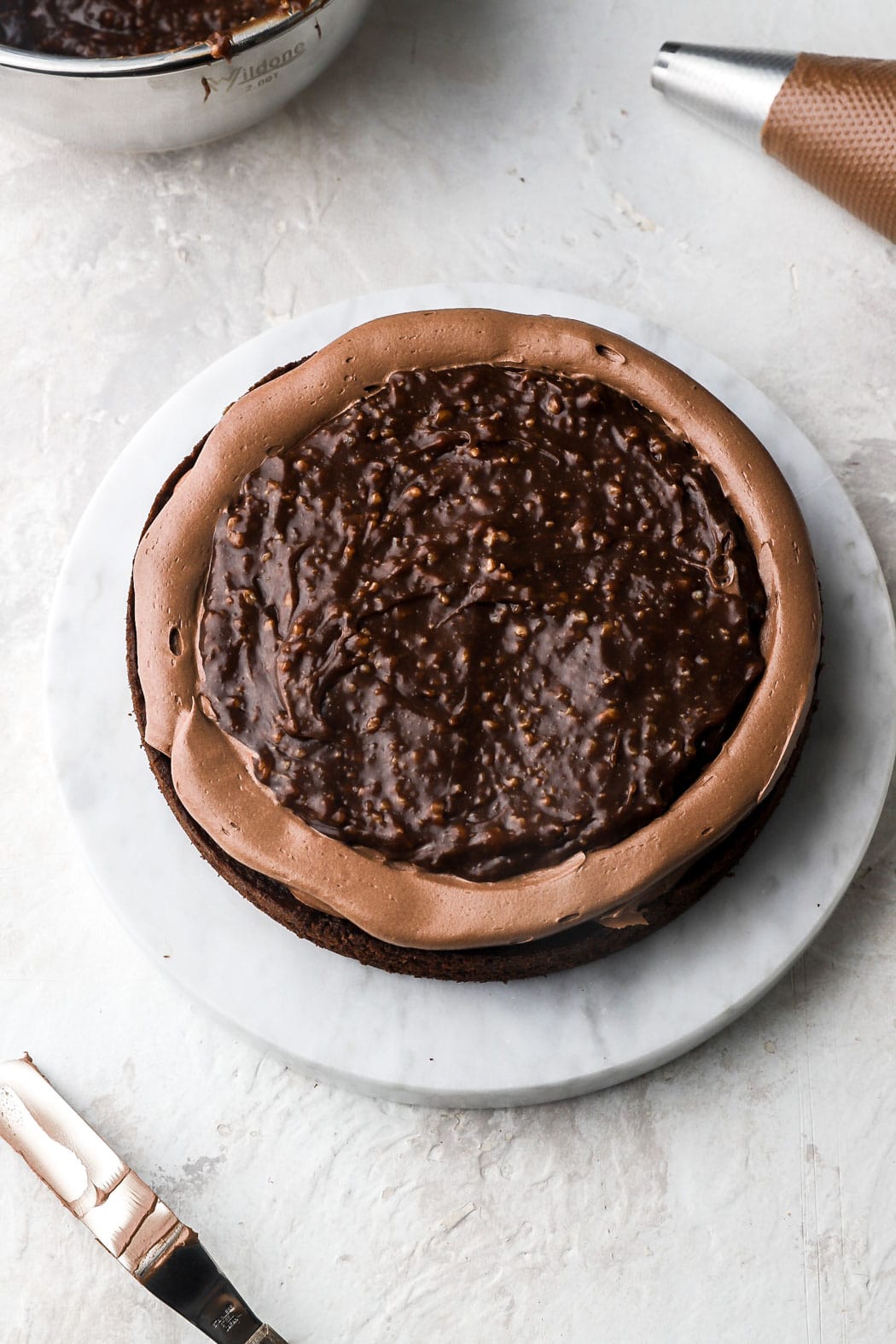 How to make cake ahead of time
How to store unfrosted cake layers
You can make the cake layers ahead of time. For best results, allow the cake layers to cool almost to room temperature. When they're still just slightly warm, wrap them in plastic wrap and leave them on the counter overnight.
If you're making them more than one day in advance, you'll want to freeze them. Place the plastic wrapped layers in a freezer bag, removing the excess air, and freeze on a flat surface.
You can remove the cakes from the freezer and frost right away or you can remove them a few hours earlier and bring them back to room temperature. If you're frosting them frozen, make sure to let the cake rest so it thaws before serving.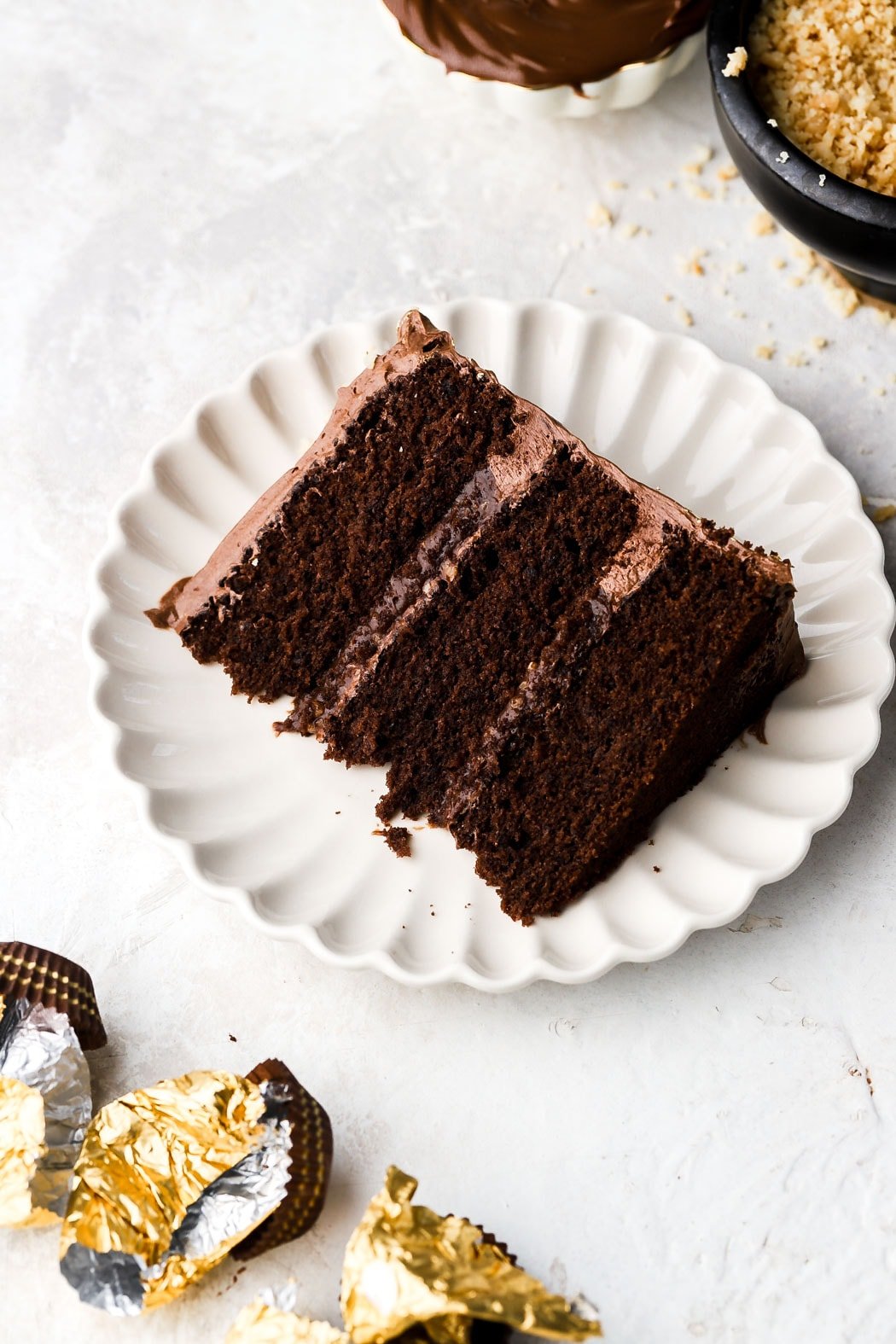 How to store hazelnut praline ganache and nutella buttercream
You can make the hazelnut praline ganache and the nutella buttercream ahead of time.
If it's just overnight, you can cover them and leave them at room temperature.
If it's a couple of days, you can cover them and refrigerate them, then let them come to room temperature before using.
If it's up to a week or more in advance:

Place the ganache into an airtight container and then into a freezer bag, squeezing out all the excess air. Defrost in the fridge overnight and then bring it back to room temperature before using
Place the buttercream straight into a piping bag (or an airtight container) and then place it into a freezer bag, squeezing out all the excess air. Defrost in the fridge overnight and then bring it back to room temperature before using.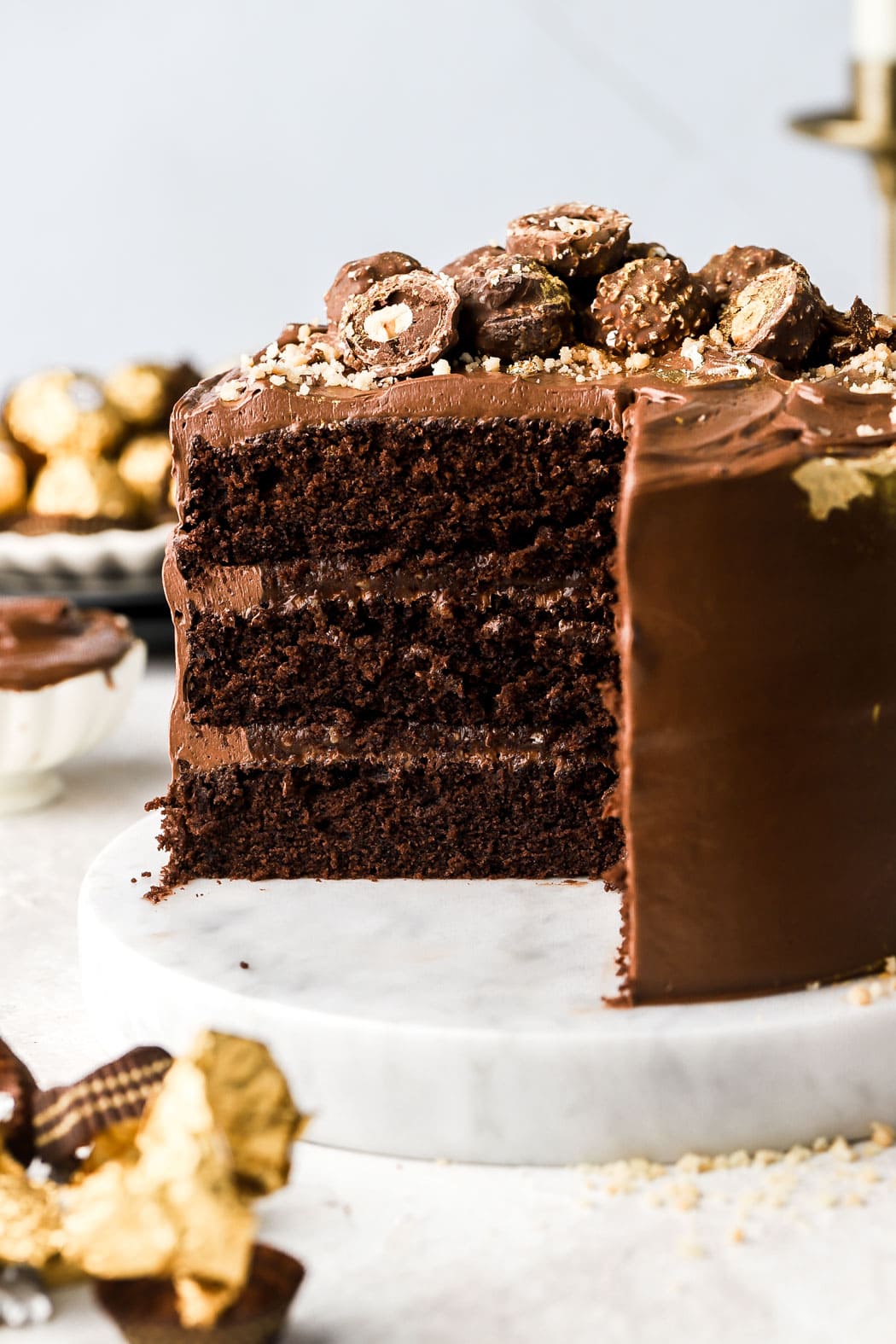 How to store cake
How to store the finished cake
If the cake is fully frosted and unsliced, you can leave it on the counter overnight (unless it feels soft and unstable, then refrigerate it).
If the cake is partially sliced, cover any cut sections with plastic wrap or a cake dome. Place all the cut slices in an airtight container. It can stay at room temperature for a day or refrigerated for up to a week.
How to freeze the cake
If the cake is sliced, place the slices in an airtight container. You can also individually wrap each slice in plastic wrap if you want to remove one at a time. Place the container in a freezer bag and squeeze out all the excess air. You can store them in the freezer for up to 2 months.
You can also freeze the cake whole. To do this, refrigerate the cake until the frosting is firm, a couple of hours. Then wrap the whole cake in plastic wrap, twice and freeze for up to two months.
Let the cake thaw in the fridge overnight. Then remove the plastic wrap and let it thaw on the counter until serving. Keep in mind, the cake is never as good as fresh.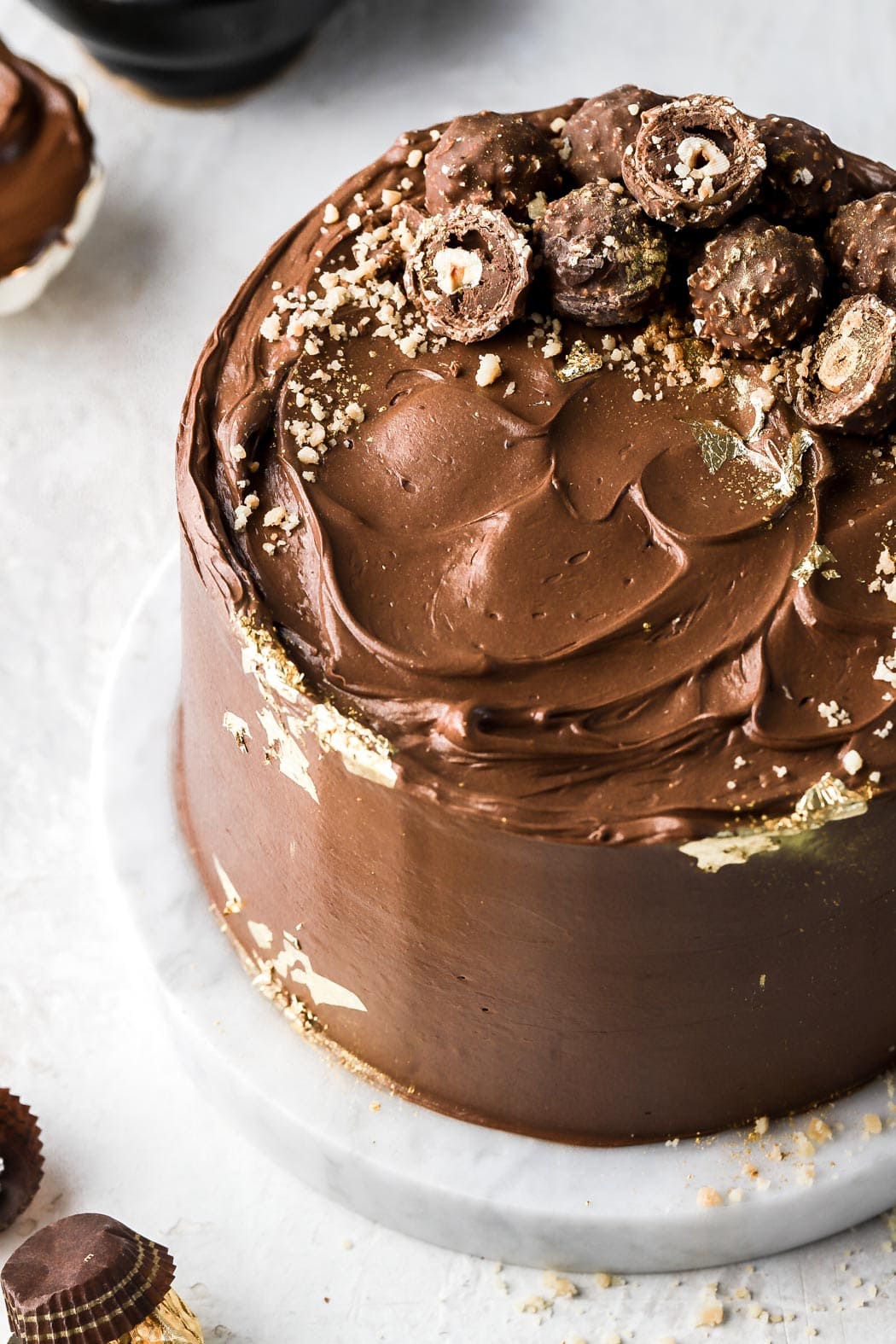 Thanks so much for reading today's post , if you have any questions just comment down below, i'm happy to answer! If you make this Ferrero Rocher Cake I would love to see it, so make sure to tag me @baranbakery on instagram!
As always, have a blessed day and happy baking!
Love, B
Yield: 12-18 servings
Ferrero Rocher Cake Recipe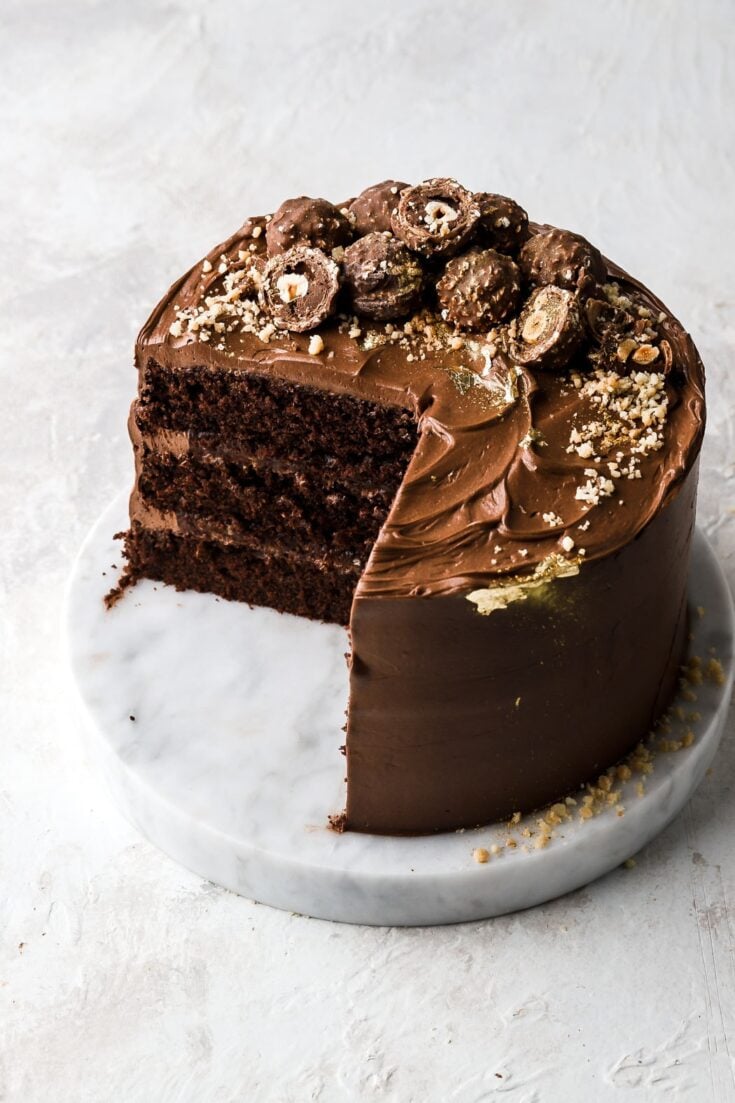 Fluffy moist chocolate cake filled with a hazelnut praline chocolate ganache and frosted with Nutella buttercream.
Prep Time
1 hour
15 minutes
Total Time
5 hours
45 minutes
Ingredients
Chocolate Cake
2 1/4 cup (270g) all-purpose flour, spooned and leveled
3/4 cup (60g) dutch-processed cocoa powder, spooned and leveled
1 Tbsp baking powder
1/2 tsp salt
1/2 cup (113g) unsalted butter, room temperature
2 cups (400g) granulated sugar
1/2 cup (118mL) vegetable or canola oil
4 large eggs, room temperature
2 tsp vanilla extract
1 cup (225g) sour cream
1 cup (237mL) milk, room temperature
Hazelnut Praline
4 oz blanched hazelnuts
1 cup (200g) granulated sugar
1/4 cup (59mL) water
Hazelnut Praline Ganache
1/2 cup (4oz\118mL) heavy cream
2/3 cup (4oz) dark chocolate chips
1 cup ground hazelnut praline
Nutella Buttercream
2 cups (454g) unsalted butter, SLIGHTLY colder than room temperature
1 cup (294g) nutella
1/4 cup (20g) unsweetened cocoa powder (dutch or natural), spooned and leveled
2 tsp vanilla extract
Instructions
Chocolate Cake
Begin by bringing all your ingredients to room temperature. Preheat the oven to 350F/177C convection (325F/163C conventional) and grease and line three 8 inch cake pans.
In a medium bowl, whisk together the flour, cocoa powder, baking powder and salt until they're evenly distributed.
Place the butter and the granulated sugar in a large bowl and use an electric mixer with the whisk attachment to beat them for 2 minutes.
Add the oil and beat at full speed for another 1-2 minutes.
Add the eggs, one at a time, beating on medium speed until each egg is fully incorporated. Add the vanilla and sour cream and beat just until it's combined.
Add half of the dry ingredients to the batter, turn the mixer on low speed and then pour in the milk, followed by the rest of the dry ingredients.
Distribute the batter evenly among the three cake pans, about 18oz in each pan and bake for 30-35 minutes. When the cake is fully baked it will release itself from the edge of the pan and it will spring back if you press on the center of it.
Allow the cake to cool in the pan for 5 minutes and then invert them onto a tea towel or cooling rack. Then allow them to cool completely before frosting.
Hazelnut Praline Chocolate Ganache
While the cake is baking, place the hazelnuts in a food processor and grind them until they're small crumbles.
Place the ground hazelnuts in a short, wide bowl or on a baking sheet. Set aside.
Place the sugar and water in a sauce pan over medium heat. Stir intermittently until it is fully dissolved and the color is like honey or a little darker.
Pour the sugar evenly over the hazelnuts and stir quickly before it cools and hardens.
Return the nuts with the sugar to the food processor and pulse until there are no more large chunks.
Heat up the heavy cream and remove it just before boiling. SLOWLY pour over the chocolate while stirring.
Stir until the chocolate is silky smooth, then add 1 cup of the hazelnut praline.
Set aside and allow the ganache to cool.
Nutella Buttercream
Place the butter in the bowl of an electric mixer and use the whisk attachment to beat the butter on medium-high speed for 3-4 minutes, until the color turns to a pale yellow, scraping the edge of the bowl half way through.
Add the Nutella and mix on medium-high speed. Scrape the edge of the bowl and beat again until the butter and Nutella are fully combined and smooth.
Add the cocoa powder and vanilla extract and mix until they're fully combined.
If the buttercream feels too soft, refrigerate for 10 minutes and then use a spatula to scrape the sides and mix it again. Repeat until the buttercream feels firm enough to frost the cake.
Assemble
Place the frosting in a piping bag fit with a round tip.
Spread a thin layer of frosting on the first layer of cake and then pipe a boarder of frosting around the edge.
Fill the border in with a layer of cooled praline ganache. Refrigerate the cake for about 15-20 minutes so the buttercream can firm up before stacking the next layer.
Repeat with the second layer of cake. Refrigerate and then place the third layer on top.
Refrigerate the cake for 30 minutes minutes, or until it feels sturdy enough to frost the outside.
Top with ferrero rocher chocolates and more hazelnut praline.
Recommended Products
As an Amazon Associate and member of other affiliate programs, I earn from qualifying purchases.
Nutrition Information:
Yield:
16
Serving Size:
1
Amount Per Serving:
Calories:

808
Total Fat:

52g
Saturated Fat:

28g
Trans Fat:

0g
Unsaturated Fat:

20g
Cholesterol:

141mg
Sodium:

217mg
Carbohydrates:

80g
Fiber:

4g
Sugar:

59g
Protein:

9g
Nutrition information may not be fully accurate.