Apple Baklava with Phyllo Dough
A new Thanksgiving tradition with Athens phyllo dough, replacing your traditional apple pie with a stunning twist, apple baklava. It's made with an apple pie filling, chopped nuts and apple syrup!
I loved switching things up for Easter and I think you guys did too when I made my Carrot Cake Baklava. So I couldn't help myself and I had to make an Apple Pie Baklava for Thanksgiving with my friends at Athens Foods 🙈 It's delicious and will probably replace your traditional apple pie and I won't apologize for it! #sorrynotsorry
How to make Apple Pie Baklava
The secret to a good Apple Pie Baklava is in the phyllo sheets. Thankfully I can always count on Athens Foods and their Phyllo Dough. The rest of the Apple Baklava is a simple baklava filling, made with shredded apples, and an apple syrup that goes on top. After you have all your components, you layer the Phyllo Dough and apple pie filling, bake, and top with your syrup.
Phyllo Dough Layers
Using Athens Foods Phyllo Dough when making Baklava makes everything so simple because their sheets are perfect for layering and prepping the sheets is easy. They must be at room temperature when using, so thaw them overnight in the refrigerator or on the counter for a few hours. When you are ready to use them, roll out the sheets and cover with a damp cloth to keep them from drying out.
Each 16oz package comes with approximately 36 sheets. It is important when starting your Apple Baklava to have a solid base. You will want to start with a thicker layer of 12 sheets, then a layer of filling, 6 Phyllo Dough sheets, filling, 6 Phyllo Dough sheets, filling, then end with a thicker layer of 12 Phyllo Dough sheets. This helps the Apple Baklava to keep its shape.
Apple Pie Filling
The most important part when making the apple pie filling is to make sure it isn't too watery, and thankfully that's simple to do. Sugar brings out the natural juices out of the apples so if you let them sit for a few minutes you'll see a puddle of apple juice sitting around the shredded apples and then strain it, reserving the juice for the syrup.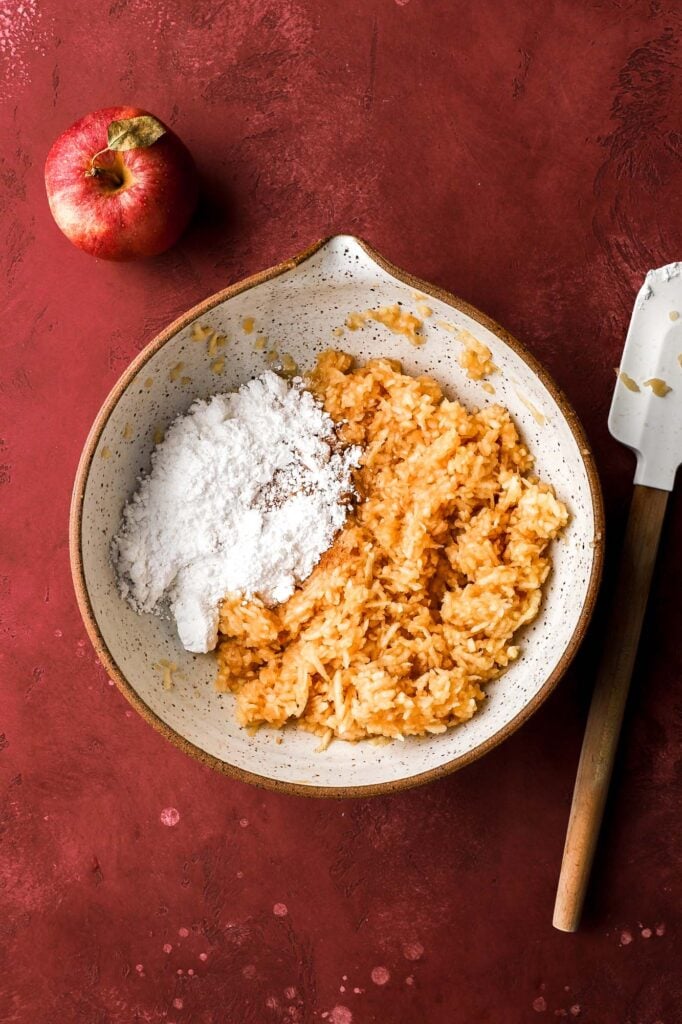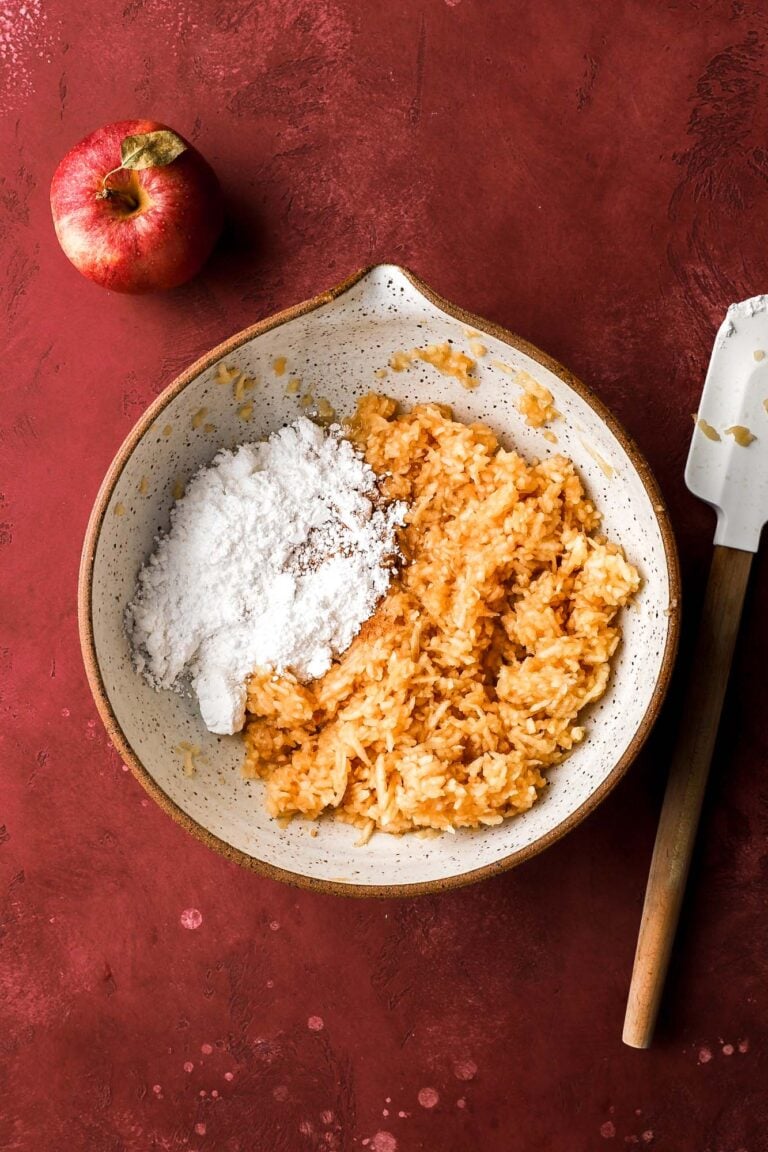 Ingredients:
Apples: you'll have to peel and shred your apples. There are 2 main methods I typically use. You can peel and grate them by hand or use an apple spiralizer to peel and slice and a stand mixer with a shredder attachment to shred.
Sugar: Besides adding the obvious sweet flavor we need for the filling, sugar will draw out water from the apples. Sugar soaks in water so it acts as a macerating agent to soften the apples and dehydrate them. Too much water in the filling will make the baklava soggy, it won't keep its shape, and the Phyllo Dough sheets won't have their signature crispy, flakey texture.
Spices: I didn't go too crazy with the spices because I didn't feel there was a need to add anything more than cinnamon and nutmeg. I wanted to use classic Fall spices that most people already have at home.
Nuts: Walnuts, hazelnuts and pistachios are the most common nuts used in baklava. I love pecans so I used that and mixed it with walnuts. I used a food processor to grind them because it gives me control over how fine I make them. I prefer them ground really small, but it really just boils down to preference.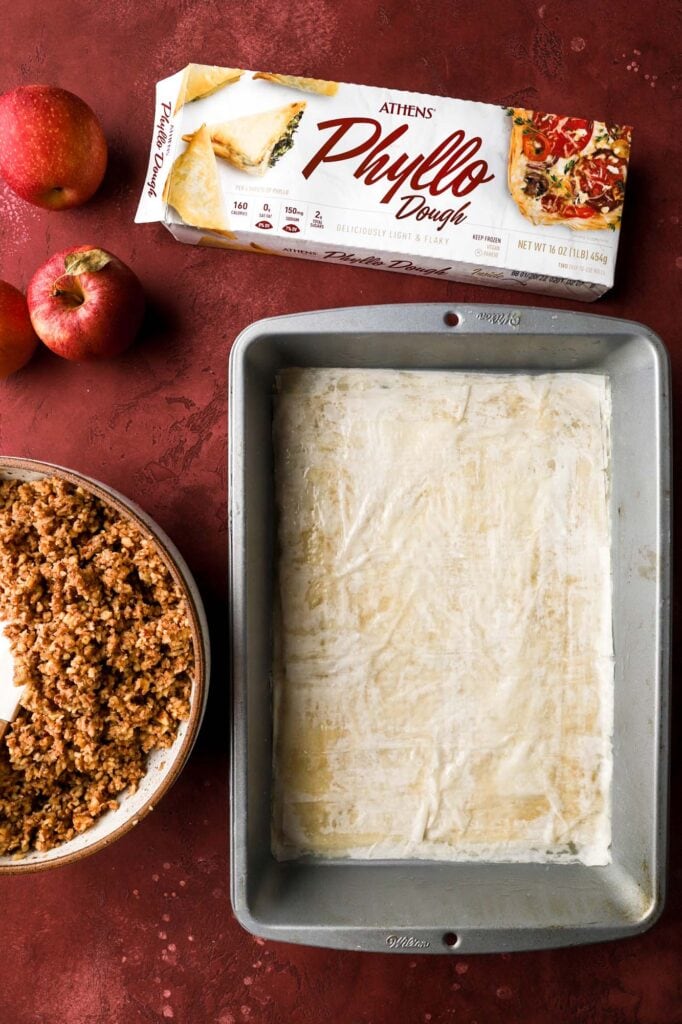 Apple Syrup
Baklava is typically made as a simple syrup with water and sugar and sometimes with honey. I wanted to use the juice we strained from the apples so I just used that as my liquid and added a little water if I didn't have enough. After the syrup cools to room temperature, you pour it over the Apple Baklava right after it comes out of the oven. If you pour hot syrup over the baklava it will turn soggy so it is important to make the syrup before the baklava is even baking so it has time to cool completely.
Frequently Asked Questions (FAQs)
What else can I make with apple and Phyllo Dough
If you're not a fan of baklava you can still use my apple pie filling and Athens Foods Phyllo Dough and make turnovers. You would just substitute the strawberries in my Strawberry Turnovers with Phyllo Dough recipe and you can drizzle the apple syrup over the turnovers.
What kind of Apples should I use
Any kind of apple will work for Apple Pie Baklava. The type of apple you use will affect how sweet and how wet the apple mixture is but it doesn't make a huge difference since we are straining it and we add sugar to sweeten the filling. I like to use gala, fuji or honeycrisp apples.
How to store Apple Pie Baklava
You can store Apple Pie Baklava in an airtight container at room temperature for about 3 days or 7-10 days in the refrigerator. To freeze it, place it in an airtight container, place the container in a freezer bag with all the air squeezed out, and store it in the freezer for up to 3 months.
I love using Athens Foods Phyllo Dough for holiday desserts because it saves you time and their Phyllo Dough is amazing. If you're on a holiday baking spree, my Gingerbread Pie with Phyllo Dough Crust is another delicious dessert to make.
I hope you guys love this baklava as much as my family and I do. If you have any questions just comment down below and make sure to tag us @baranbakery and @athens_foods on instagram if you make this delicious baklava. As always, have a blessed day and happy baking!
Love, B
Yield: 24 pieces
Apple Baklava Recipe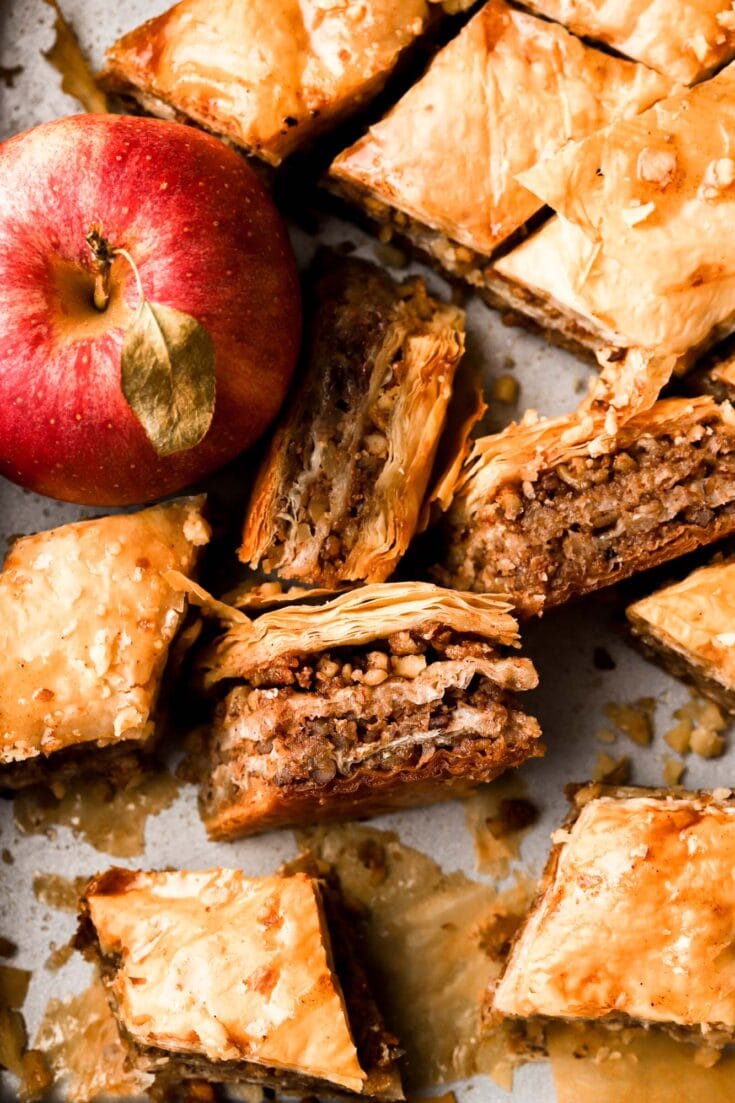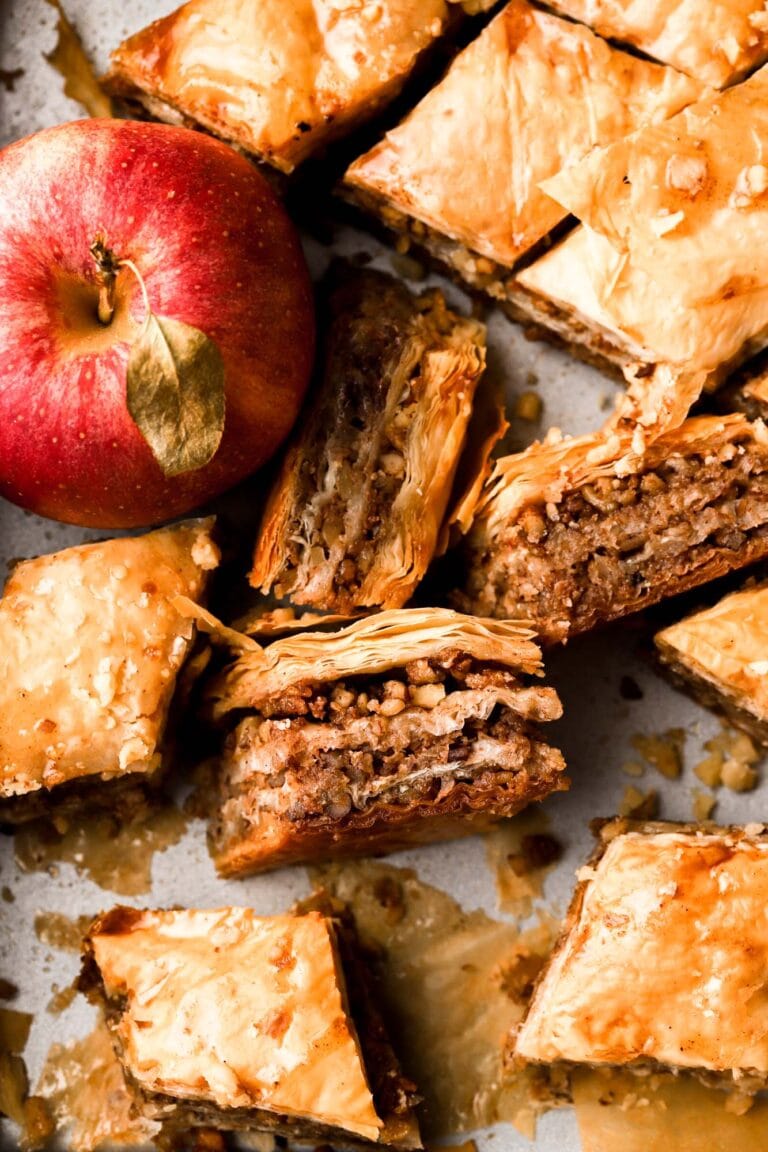 A new Thanksgiving tradition with Athens phyllo dough, Apple Pie Baklava is made with Athens phyllo dough sheets, apple pie filling, chopped nuts and apple syrup!
Total Time
6 hours
30 minutes
Ingredients
16oz package of Athens Phyllo Dough Sheets
Apple Pie Filling
6 medium apples, peeled, cored and shredded (should be about 425g or 2 cups packed)
3/4 cup (90g) powdered sugar, spooned and leveled
1 Tbsp cinnamon
1/2 tsp nutmeg
1 1/2 cups (6oz/175g) walnuts
1 1/2 cups (5oz/150g) pecan halves
Apple Syrup
1 cup (118mL) apple cider, strained from apples in the filling
1/2 cup (100g) granulated sugar
Instructions
Thaw one package of phyllo dough, following thawing instructions on package.
Apple Pie Filling
Peel and core 6 medium apples and using a stand mixer with a shredder attachment on medium speed, shred the apples. Add 1/2 cup powdered sugar, cinnamon and nutmeg to the apples. Let it rest for 10-15 minutes.
Place the walnuts and pecans in a food processor and pulse until they are coarsely ground.
Strain the apples and keep the juice for the apple syrup; you should be left with 1/2-1 cup (118mL-237mL) of liquid (depends on type of apples and how ripe they were). Add the nut mixture and the remaining powdered sugar to the bowl of shredded apples and toss until they're evenly distributed.
Apple Syrup
If there is less than 1 cup of apple liquid, add some water or extra apple cider to make it 1 cup (237mL). Pour it into a small saucepan and add in the granulated sugar.
Bring the mixture to a boil and then allow it to simmer on medium-low heat, for 5 five minutes. It will thicken slightly. Stir every minute or so, so the cinnamon doesn't burn. Remove the syrup from the heat and allow it to cool completely to room temperature.
Assemble
Preheat the oven to 350F/177C convection (325F/163C conventional) and butter a 9x13x2" pan. Trim the phyllo to be the exact size of the pan and then cover them back up with a damp tea towel.
Take the first sheet of phyllo and place it in the prepared pan, pressing it against the edge of the pan. Lightly brush the sheet with melted butter and repeat that with 11 more sheets of phyllo (totaling to 12).
Evenly spread 1/3 of the apple filling on top of the phyllo and then repeat the process using only 6 sheets of phyllo. Top with another 1/3 of the apple filling and repeat the phyllo layers with 6 sheets again. Top with the last 1/3 of the apple filling and repeat with 12 sheets of phyllo (buttering the top layer too).
The layers should look like:
12 sheets Athens phyllo dough
1/3 apple pie filling
6 sheets Athens phyllo dough
1/3 apple pie filling
6 sheets Athens phyllo dough
1/3 apple pie filling
12 sheets Athens phyllo dough
Use a large serrated knife to slice the baklava into 24 diagonal slices and bake for 45 minutes, until the phyllo looks golden brown. Remove the baklava from the oven and while it's still hot, pour the cooled syrup on top, making sure to evenly coat each slice. Top with some extra chopped nuts.
Allow the baklava to cool for 3-4 hours, or overnight, at room temperature before serving.
Recommended Products
As an Amazon Associate and member of other affiliate programs, I earn from qualifying purchases.
Nutrition Information:
Yield:
24
Serving Size:
1
Amount Per Serving:
Calories:

207
Total Fat:

10g
Saturated Fat:

1g
Trans Fat:

0g
Unsaturated Fat:

9g
Cholesterol:

0mg
Sodium:

93mg
Carbohydrates:

28g
Fiber:

3g
Sugar:

15g
Protein:

3g
Nutrition information may not be fully accurate.
This post was sponsored by Athens Foods, all thoughts and opinions are 100% my own. Thanks so much for supporting the brands that support Baran Bakery!