6 Inch Chocolate Cake Recipe
My favorite, three layer 6 inch chocolate cake recipe. Basic and sturdy and pairs well with any frosting!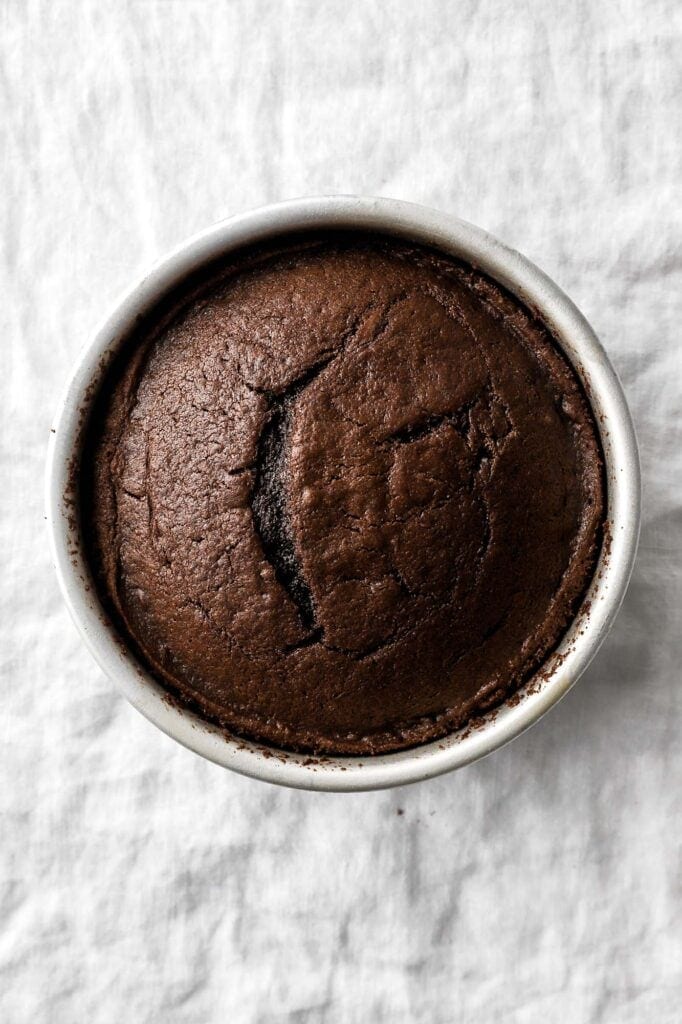 The most popular recipe on this blog is my 6 Inch Vanilla Cake Recipe and so I wanted to share my favorite 6 Inch Chocolate Cake Recipe with you guys! Chocolate cake can be made soooo many different ways with so many different flavor profiles and textures but this is my preferred version.
Before you read the rest of the recipe, this cake is very similar in texture to the vanilla version. I would really say it's super soft or spongy but it is airy and fluffy if it's done right.
What makes this the best 6 inch chocolate cake?
Texture: I've tested sooo many chocolate cake recipes and although I love a good melt in your mouth, spongy chocolate cake, I don't like how fragile they can be. There are some that are less fragile, however this is a preference thing whether you like really soft and fudgy cake or something a little more fluffy, sturdy and not as intensely flavored.
According to my instagram poll, you guys prefer this kind but I will be working on a rich, fudgy, spongy version as well so stay tuned for that.
Flavor: To me, the perfect chocolate cake has a pleasant chocolate flavor. Not too intense, not coffee flavored, just simple sweet chocolate.
Simplicity: No one wants to make the BEST chocolate cake if the ingredient list is too long or inaccessible. I think most people have these ingredients on hand and it's fairly simple to make…in my opinion, lol.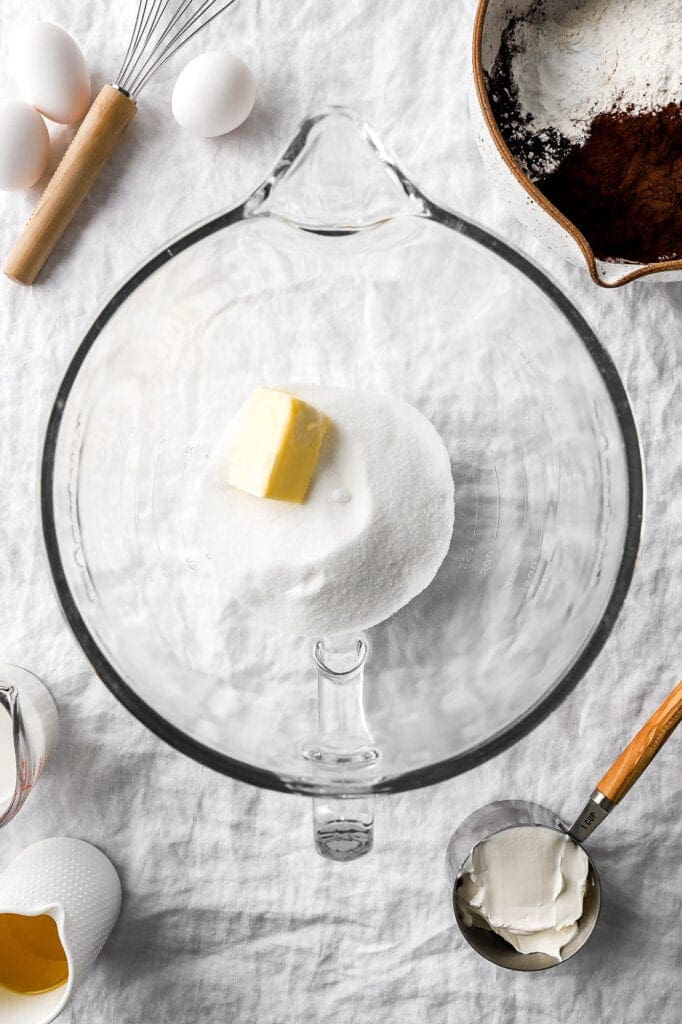 How to make this 6 inch chocolate cake recipe?
I really like to keep my recipes as simple as I can without leaving out anything that might help you. The full instructions are in the recipe card but we'll run through some best practices for cakes in general and the ingredient list.
Ingredients:
Flour: I develop most of my recipes with all-purpose flour because that's what most people have on hand and is easily accessible.
Cocoa Powder: I love using dutch process cocoa powder in basically all of my recipes. I like the flavor and the color better. If you don't have dutch process, you can use regular cocoa powder for this recipe too.
Fat: I use butter and oil in almost all my cake recipes because I like the texture produced by the combination of both fats. I find that butter alone can be more dry whereas oil is sometimes too spongy and can feel a little wet so I love creaming the butter with the sugar for some volume and air and then adding the oil.
Eggs: I've made some incredible chocolate cakes without eggs but unfortunately this is not one of them. If you're looking for that, try this Dark Chocolate Blood Orange Cake.
Sugar: Sugar provides flavor and moisture in cakes. It also helps with leavening since it gets creamed with the butter. It's especially important when you're adding cocoa powder because cocoa is very bitter. If you want a less sweet cake, try pairing it with a European buttercream instead of American buttercream.
Liquid: Before I did all this recipe testing, I was a firm believer in buttermilk and/or coffee for chocolate cake. After experimenting with sour cream I definitely think it provides a better flavor and texture. Coffee did intensify the flavor and provided a beautiful dark color for the cake but I didn't prefer the intense flavor.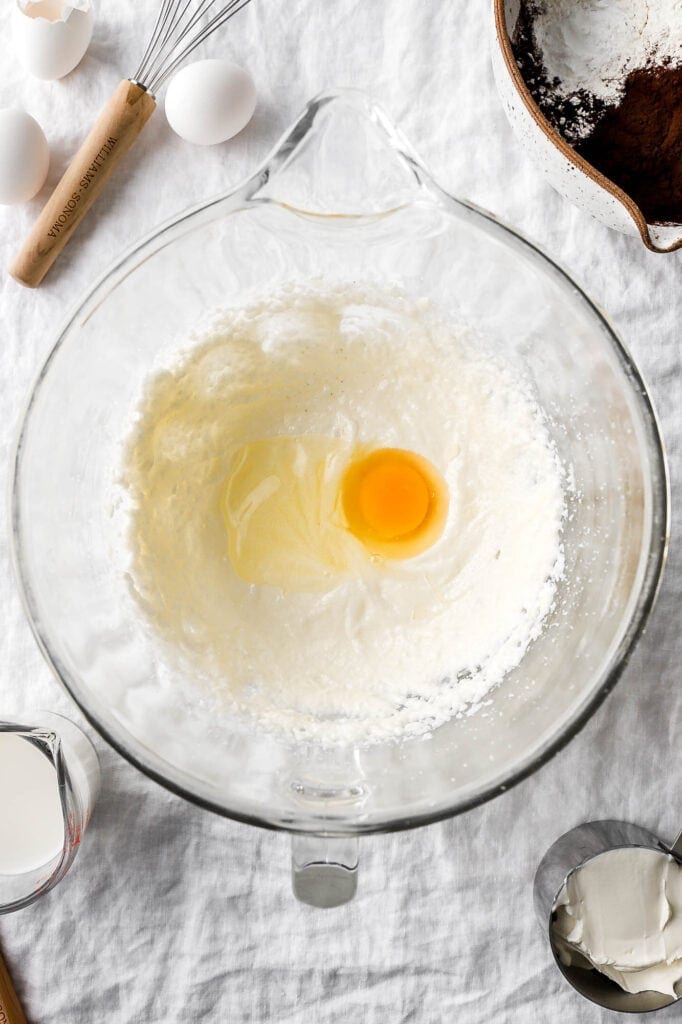 Frequently Asked Questions:
Why do the ingredients have to be at room temperature?
The temperature of the ingredients ensures that the right amount of air is incorporated into your cake and that the batter emulsifies properly. If your batter ever looks split/curdled when you add the eggs, it's most likely either the temperature of your ingredients or the fat to liquid ratio is off.
I usually pull the butter and eggs out first. Put the eggs in some hot water and slice the butter so it warms up quicker. Get the rest of my ingredients together and measure. Microwave the milk for 10-20 seconds so it's not cold and use cold sour cream because warm sour cream sounds gross, lol.
How do you make sure the cake won't stick to the pan?
Honestly I rarely encounter this problem. I typically just use a baking spray made with flour to grease my cake pans. I feel like that's not as common as greasing with plain butter or flour but it works for me and it's so much easier. If you're really nervous you can use parchment paper to line the bottom of the pans as well.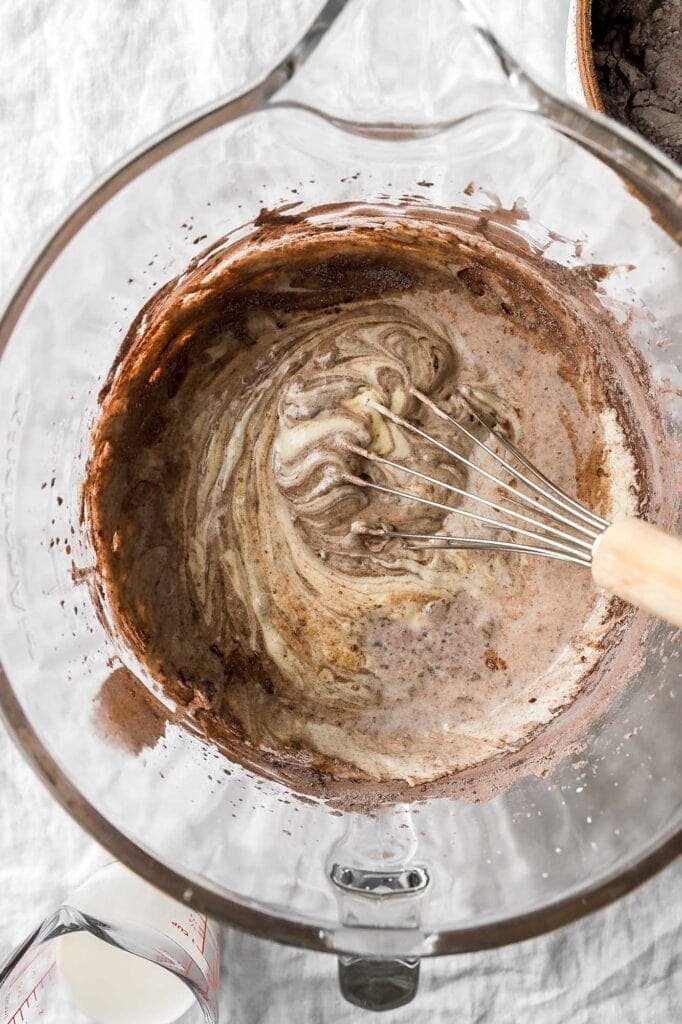 How do I know when my cake is done baking?
This is important because a good cake can become a dry cake in a matter of minutes. A toothpick inserted in the center that comes out clean is also a common test to check for doneness but this can also easily lead to an overbaked cake. .
If your cake pans are greased properly, the cake should release itself from the edge of the pan once it's fully baked. Another way to know is that as soon as the top of the cake no longer looks wet, gently press on the center of it and if it springs back, it's done. If your fingerprint stays pressed down then bake it for another 1-2 minutes and try again.
Can I make this 6 inch chocolate cake recipe in other sized pans?
Yes! I prefer three layers of 6 inch chocolate cake. You could also make thin layers by cutting them in half to make six 6 inch layers. This recipe can also make a two layer 8 or 9 inch cake. 
Obviously you'll have to adjust the bake time for each of them and the cake will look a little different than mine. If you make this in two 8 inch pans, it'll probably bake for about 40 minutes to bake. If you make two 9 inch layers, it may take just 30-35 minutes to bake since they are slightly thinner.
Does this chocolate cake recipe work for cupcakes?
This chocolate cake recipe is wonderful for cupcakes as well. I generally don't use my cake recipes for cupcakes, especially when it comes to vanilla, but for chocolate it always works!
This recipe makes 23-24 cupcakes, the tins should be filled ⅔-¾ full and baked for about 18 minutes. If I'm stingy and make them slightly smaller, I get 24 cupcakes but if usually I get just 23.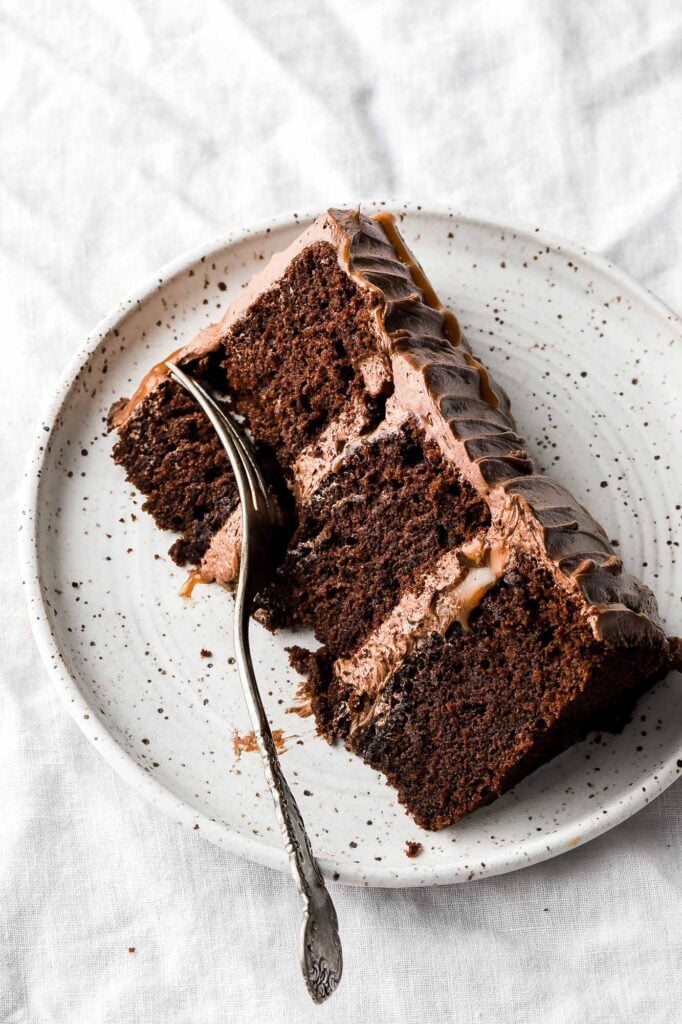 What kind of frosting can I use for chocolate cake?
This type of cake pairs well with many different frostings. You can pair it with basically any European or American buttercream. My favorites are Swiss meringue buttercream, German buttercream and cream cheese frosting. The cake above is a Chocolate Caramel Cake with chocolate Sweetened Condensed Milk Frosting (Russian buttercream).
Some great flavor combinations are chocolate cake with cream cheese frosting, chocolate cake with raspberry or strawberry buttercream, chocolate cake with coffee buttercream, or my favorite, just chocolate cake with chocolate buttercream!
How much frosting do I need for a three layer 6 inch chocolate cake
I prefer not to decorate my cakes heavily with frosting so I find that a frosting that uses 1 cup of butter is sufficient for me. If you're looking to decorate as well, I would recommend a frosting that uses at least 1 ½ cups of butter.
For example, the recipe above with chocolate Russian buttercream uses 1 ½ cups of butter (I had some left over since I didn't decorate), but the recipe for coffee Swiss meringue buttercream uses 1 cup of butter, and this recipe for French buttercream uses 1 cup of butter. To turn them into a recipe that uses 1 ½ cups of butter, just 1.5x the recipe, so for a Swiss meringue buttercream, instead of 4 egg whites and 1 cup of sugar, use 6 egg whites with 1 ½ cups of sugar and 1 ½ cups of butter.
If you haven't already, make sure to check out my cookbook Frosted. It's about all the different types of frosting and it has 60 recipes to use the frostings for!
Thanks so much reading, if you make this 6 inch chocolate cake recipe make sure to tag me @baranbakery on instagram and show me what you did with it! As always, have a blessed day and happy baking!
Love, B
Yield: 6 inch layer cake
6 inch chocolate cake recipe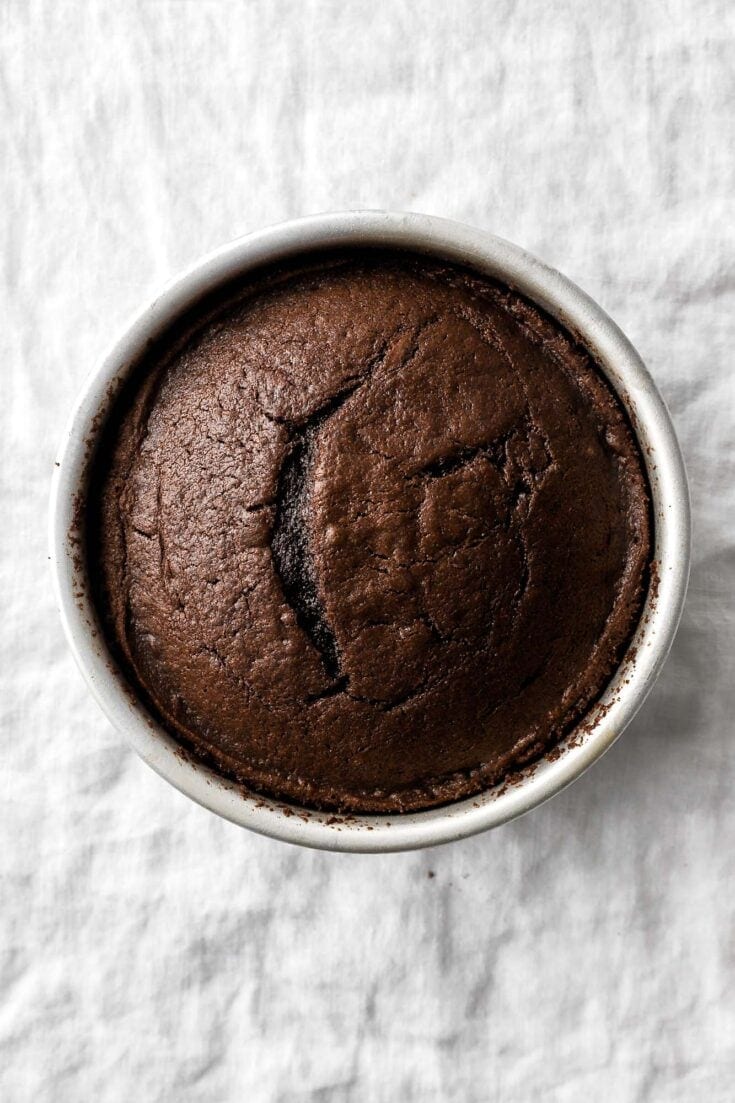 My favorite, three layer 6 inch chocolate cake recipe. Basic and sturdy and pairs well with any frosting!
Ingredients
1 3/4 cups (210g) all-purpose flour, spooned and leveled
3/4 cup (60g) cocoa powder, spooned and leveled
1 Tbsp (10g) baking powder
1/2 tsp salt
1/4 cup (56g) unsalted butter, room temperature
1/2 cup (118mL) canola oil
1 1/2 cup (300g) granulated sugar
3 large eggs, room temperature
3/4 cup (170g) sour cream
3/4 cup (180mL) milk, room temperature
Instructions
Begin by bringing all your ingredients to room temperature. Preheat the oven to 350F/177C convection (325F/163C conventional) and grease and line three 6 inch cake pans.
In a medium bowl, whisk together the flour, cocoa powder, baking powder and salt until they're evenly distributed.
Place the room temperature butter, the oil and the granulated sugar in a large bowl and use an electric mixer with the whisk attachment to beat them for 2 minutes.
Add the eggs, one at a time, beating on medium speed until each egg is fully incorporated. Add the sour cream and beat just until it's combined.
Add half of the dry ingredients to the batter, turn the mixer on low speed and then pour in the milk, followed by the rest of the dry ingredients.
Distribute the batter evenly among the three cake pans, about 14oz in each pan and bake for 30-35 minutes. When the cake is fully baked it will release itself from the edge of the pan and it will spring back if you press on the center of it.
Allow the cake to cool in the pan for 5 minutes and then invert them onto a tea towel or cooling rack. Then allow them to cool completely before frosting.
For similar recipes, check out: