Raspberry Rhubarb Jam (no pectin)
Super quick and easy raspberry rhubarb jam made in just 15 minutes with no pectin. Can be used in buttercreams, as cake fillings, peanut butter jelly sandwiches or just on toast with butter!
The truth is, I'm not very experienced in making jams/jellies/preserves, whatever you want to call them. I try to include some fruit varieties in baked goods but it always requires more planning, extra steps to the recipe and there's always left over fruit/veggies that I have to make sure won't go to waste.
You get the point, it's more work… and I don't like more work. Also chocolate tastes better, lolz.
But there comes a point where rhubarb is beautiful so I bought some and now I have to use it. It seems like everyone just combines rhubarb with strawberries making a classic strawberry rhubarb pie. I decided to pair my rhubarb with raspberries instead. And I used a 1:2 ratio of raspberries to rhubarb to make sure they don't completely dominate the jam.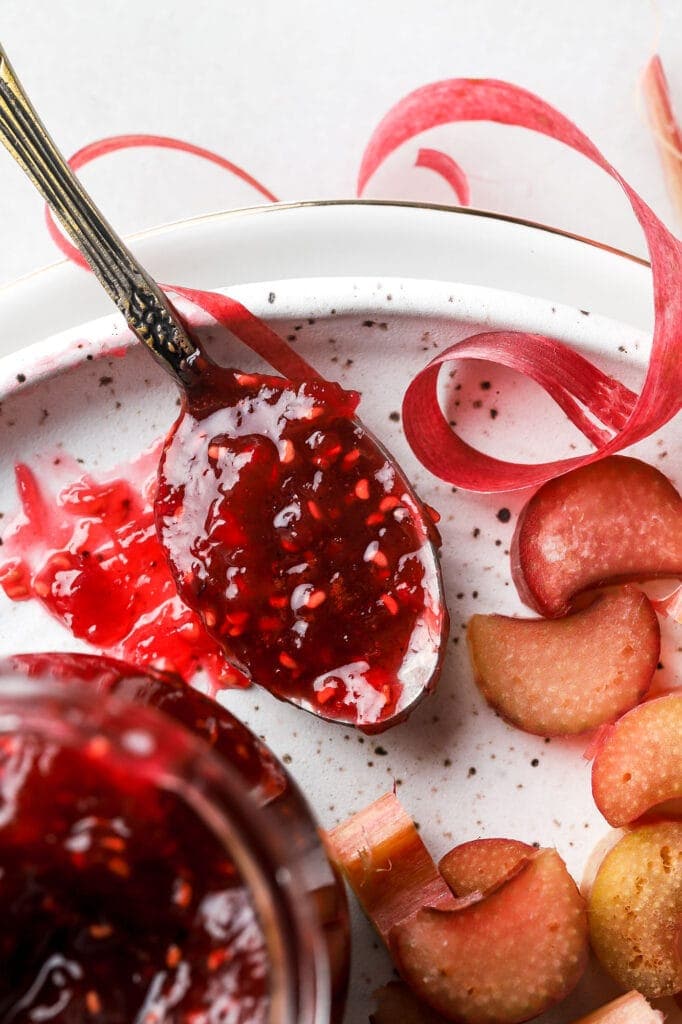 How to make easy and quick homemade jam with no pectin?
First of all, how many of you have pectin at home or better yet know what it is or where to find it?! If I had to guess, I would say less than 50% know what it is and less than 25% have some at home. Basically it's a water soluble fiber (similar to gelatin but derived from plants instead of animals) that thickens jams and jellies.
Pectin allows the jam to thicken quicker and results in a more jelly-like texture. It is naturally found in many fruit peels or seeds, such as lemons. So finally, how to make jam without pectin: use lemons. Honestly, you can make whatever jam you want without any pectin, it will just be a little bit more runny than the store bought kind.
This raspberry rhubarb jam is sort of in the middle, texture wise and is so easy to make. It's basically just combining all the ingredients (minus the vanilla) in a pot over medium-high heat, bringing it to a boil and then simmering on low heat for 10 minutes. You're going to want to stir it frequently (or stirring constantly if you have nothing better to do) and remove it from the heat once it feels thick. Keep in mind everything thickens as it cools.
What can I use raspberry rhubarb jam for?
Omg like anyyyttthhiinnggggg! This jam has been sitting in my fridge for the past couple of weeks. I made a rhubarb vanilla cake with it, fried donuts and peanut butter jelly sandwiches! You can also make a pie or a tart with it, spread it on toast with butter, put it in oatmeal or greek yogurt, swirl it in ice cream, the sky's the limit my friends!!
Recipes to use it in: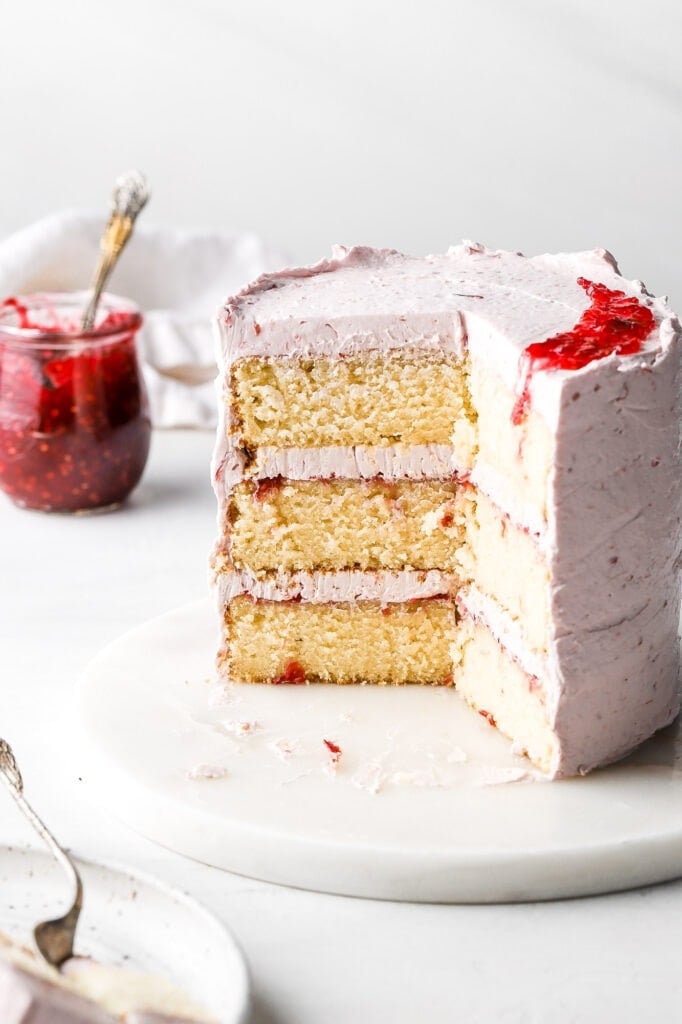 If you make this raspberry rhubarb jam, make sure to tag me @baranbakery on instagram, I'd love to see what you make with it! As always, have a blessed day and happy baking friends.
Love, B
Yield: 2 cups
Raspberry Rhubarb Jam Recipe
Super easy rhubarb jam made with a little raspberry and no pectin! Can be used in buttercream, as a cake filling or even peanut butter jelly sandwiches!
Additional Time
30 minutes
Ingredients
2 cups (250g) rhubarb, chopped (about 5 stalks)
1 cup (125g) raspberries, whole
1 1/2 cups (300g) granulated sugar
1 small lemon -> 2 Tbsp (30mL) lemon juice and half of the peel
Pinch of salt
1/2 tsp vanilla extract
Instructions
Chop the rhubarb into small slices and place them in a large pot with the raspberries, sugar, lemon juice, lemon peel and salt over medium heat.
Stir the mixture and bring it to a boil. Lower the heat to a low simmer for 10-15 minutes, stirring every 1-2 minutes so the fruit on the bottom doesn't burn.
Once the mixture begins to look/feel thicker (it'll be about 220F (104C) if you want to measure the temperature) remove it from the heat and pour it into a heat proof bowl or jars. Remove the lemon from the jam and discard it and add the vanilla extract.
You should have about two cups of jam. Cover and allow it to cool completely to room temperature. Store the jars of jam in an airtight container in the refrigerator for 3-4 weeks.
Nutrition Information:
Yield:
8
Serving Size:
1
Amount Per Serving:
Calories:

161
Total Fat:

0g
Saturated Fat:

0g
Trans Fat:

0g
Unsaturated Fat:

0g
Cholesterol:

0mg
Sodium:

19mg
Carbohydrates:

41g
Fiber:

2g
Sugar:

39g
Protein:

0g
Nutrition information isn't always accurate.