My new favorite way to celebrate birthdays is with this 4 inch Macaron Birthday Cake! It has 4 layers of vanilla macarons, vanilla French Buttercream, and decorated with mini macarons!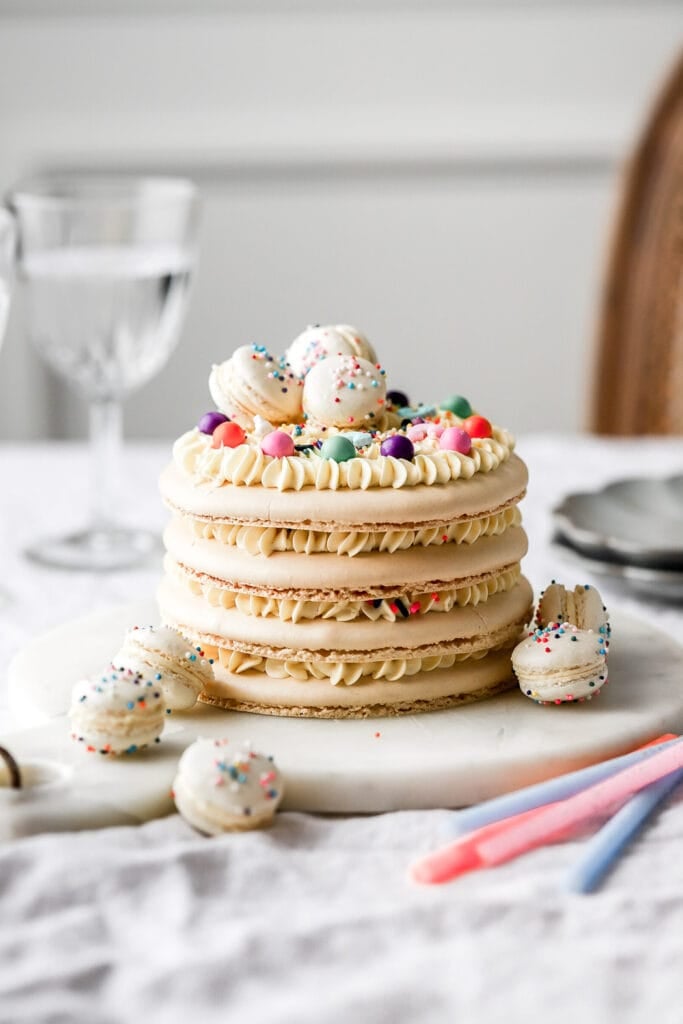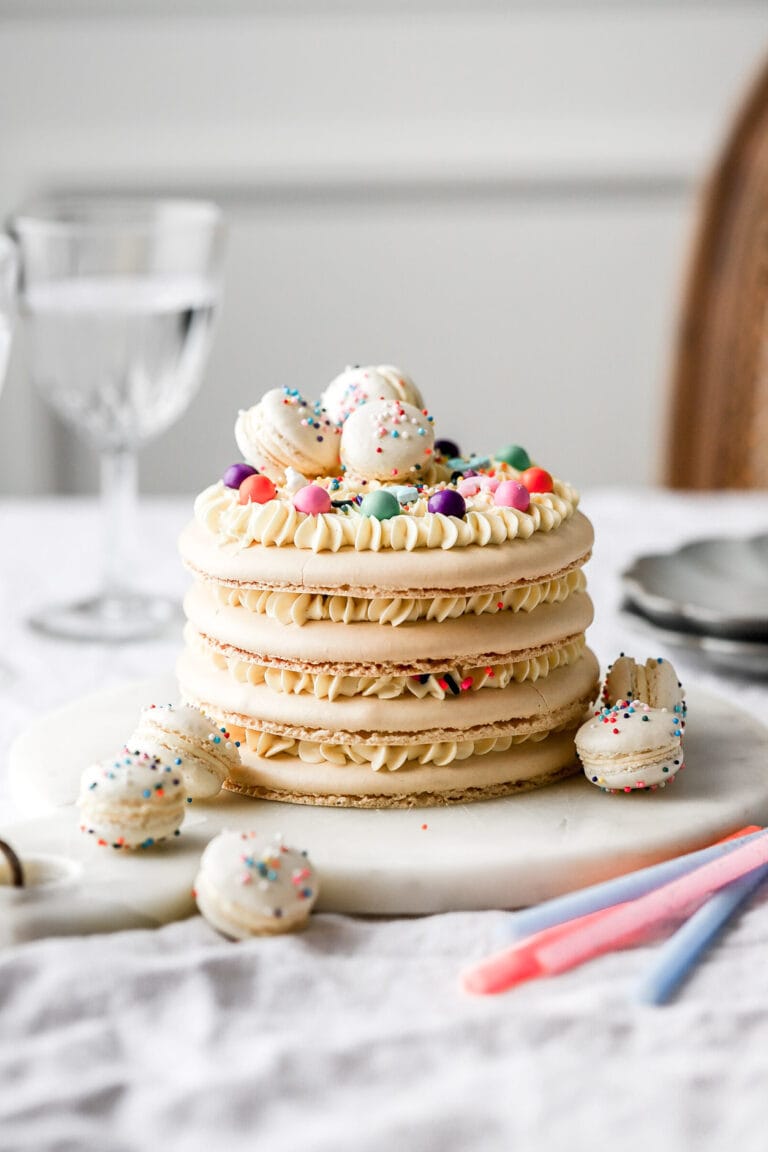 It's somebody's birthday somewhere out there and we're celebrating with a macaron birthday cake! Since I was already playing around with different size macarons and made Mini Macarons, I thought it would be pretty epic to make large ones again. And what better flavor than birthday cake?!
How to make Macaron Birthday Cake
Ok full disclosure…I've made a Macaron Cake before. However, this one is special because I made sure to have some leftover batter to make Mini Macarons to decorate with. 
To make the Macaron Birthday Cake I used my Vanilla Macarons recipe, which has step by step photos of the process. With the batter, I piped 4 large, 4-inch macarons and used the extra batter to make mini macarons, about ¾-1 inch.
Once you've made your buttercream and the macarons are done baking and cooled, you can assemble and decorate!
Macaron Layers
I use the Swiss method to make my macaron layers. This method involves cooking the egg whites which creates a more stable meringue. I've tried the French and Italian methods as well and based on what I've seen this is the easiest method to bake and remember.
All you need is 100g of all your ingredients, minus the vanilla. As always, I HIGHLY recommend a digital scale because macarons can be very particular!
Ingredients:
Almond Flour: Macarons require a nut flour to give it that light and airy texture. They usually use almond flour and I recommend sticking to that since it is easier to find in store and is the most widely used. I haven't tried other nut flours so I cannot personally speak to using any other kind.
Sugar: There are two types of sugar used in macarons- granulated and powdered. The meringue requires granulated sugar to incorporate air, while the powdered sugar gets added at the end with the almond flour.
Egg Whites: You need egg whites when you make the meringue. There are egg substitutes and although I have made eggless meringue, I have never made it in my macarons so I cannot recommend it.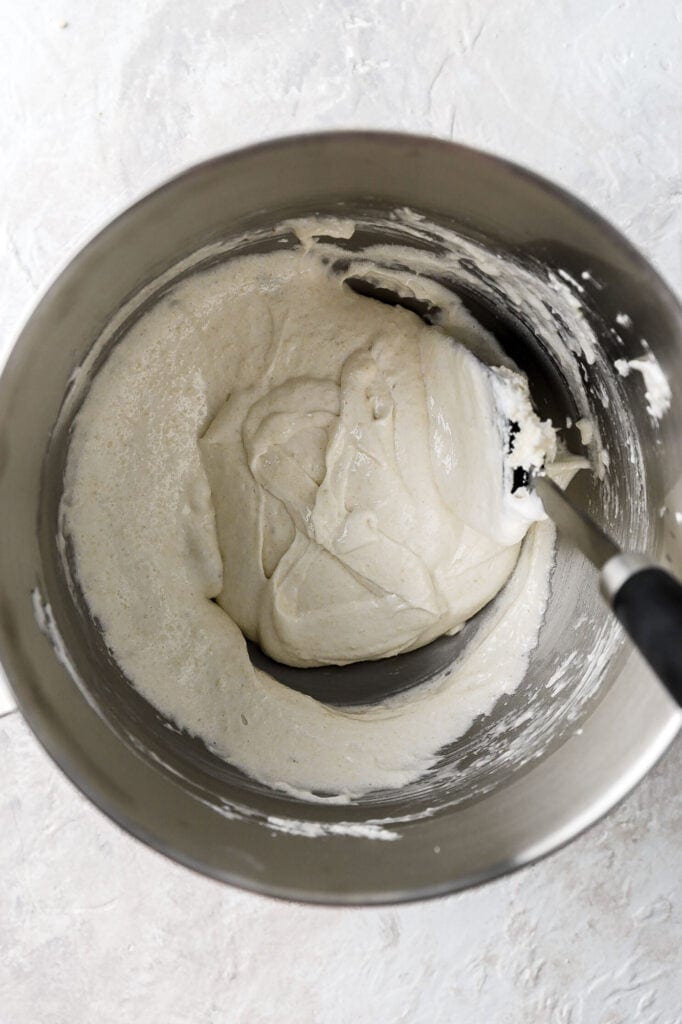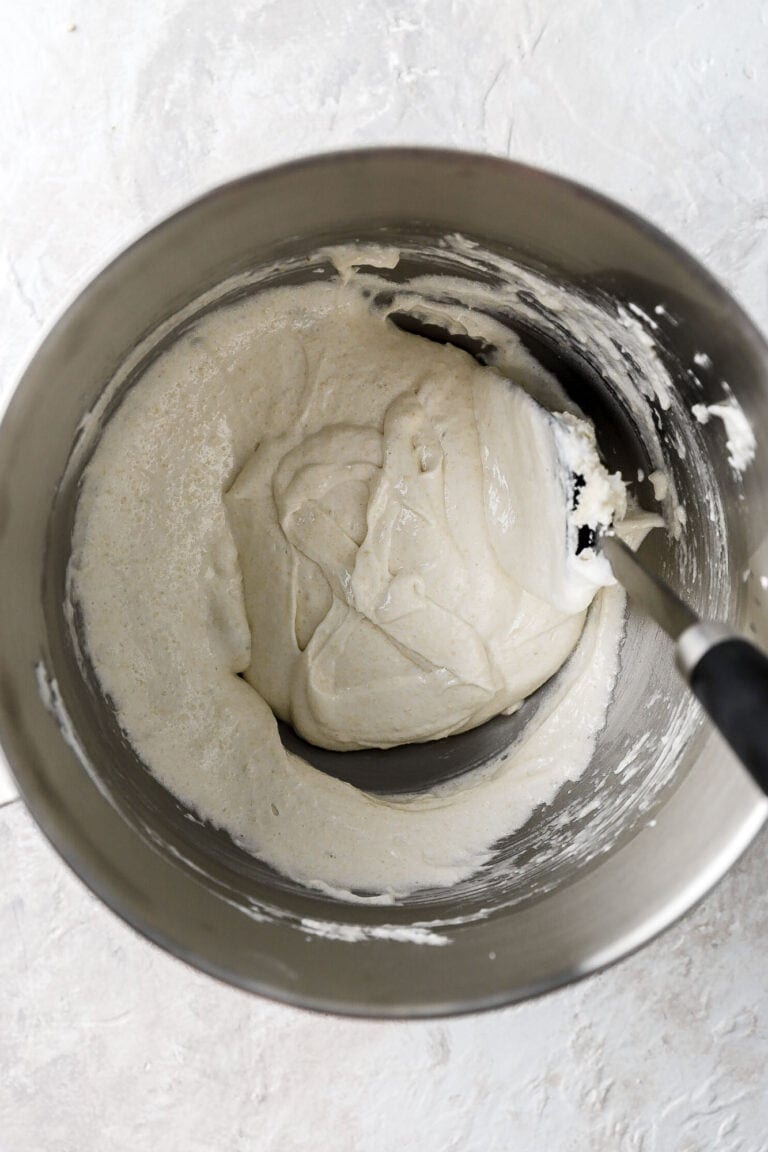 French Buttercream
You can use whatever buttercream you like for the frosting. I made French Buttercream and halved my recipe to make just enough. 
If you're looking for something simpler, I recommend American Buttercream or Swiss Meringue Buttercream. If you want to be more adventurous, check out my book Frosted where I have 13 base frosting recipes and 60 different ways to customize them. 
Assembling a macaron birthday cake
To assemble the cake, place your first macaron on a flat surface. Use a piping bag to pipe the buttercream on top of the first layer and then top with sprinkles. Repeat with the remaining layers and then top the macaron birthday cake with more sprinkles, extra buttercream and mini macarons! 
Mini Macarons for topping
As I mentioned, I have a whole blog post on mini macarons. I recommend reading that post for more details. For this particular recipe, I just reserved a little bit of the batter and piped mini macarons and baked them for 7 minutes. 
For a real birthday cake feel, I topped those ones with sprinkles after piping and before baking.
Whatever you do, DON'T BAKE THE MINI MACARONS ON THE SAME PAN AS THE LARGE ONES. I've done that and I know I can't be the only one out there who didn't think about that before piping, lol.
Frequently Asked Questions
How do I know when my macarons are done baking?
These large macarons take much longer, about double the time to bake. They also brown more than traditional sized macarons. Mine are usually a light sand color, you can see the difference between the color of the large macarons and the mini ones. 
When you remove them from the oven let them cool completely before removing them from the pan. 
If you feel like the baking time isn't working, I first suggest getting an oven thermometer. Some ovens don't read the correct temperature and having one will save you a lot of frustration no matter what you bake or cook.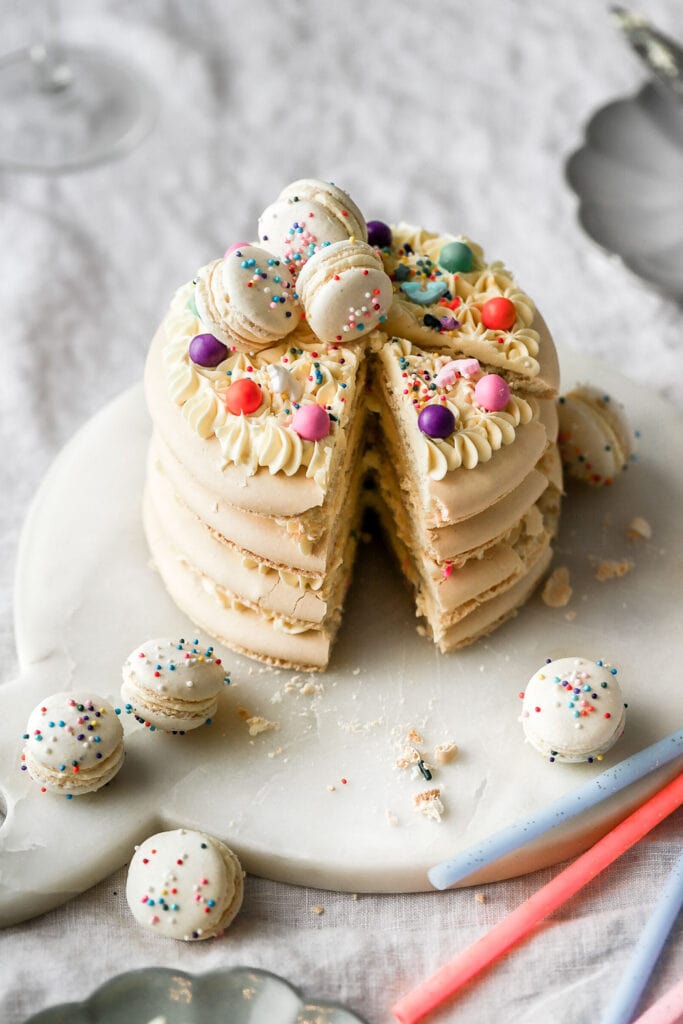 How to store Macaron Birthday Cake
Store your macaron birthday cake fully covered in the refrigerator. You can use a cake dome, cover it in plastic wrap, in a large airtight container or wrap it in plastic wrap.
If you are storing it in the freezer, refrigerate until it's firm. Then wrap it in plastic wrap and place it in an airtight container.
The cake is best served at room temperature or slightly chilled.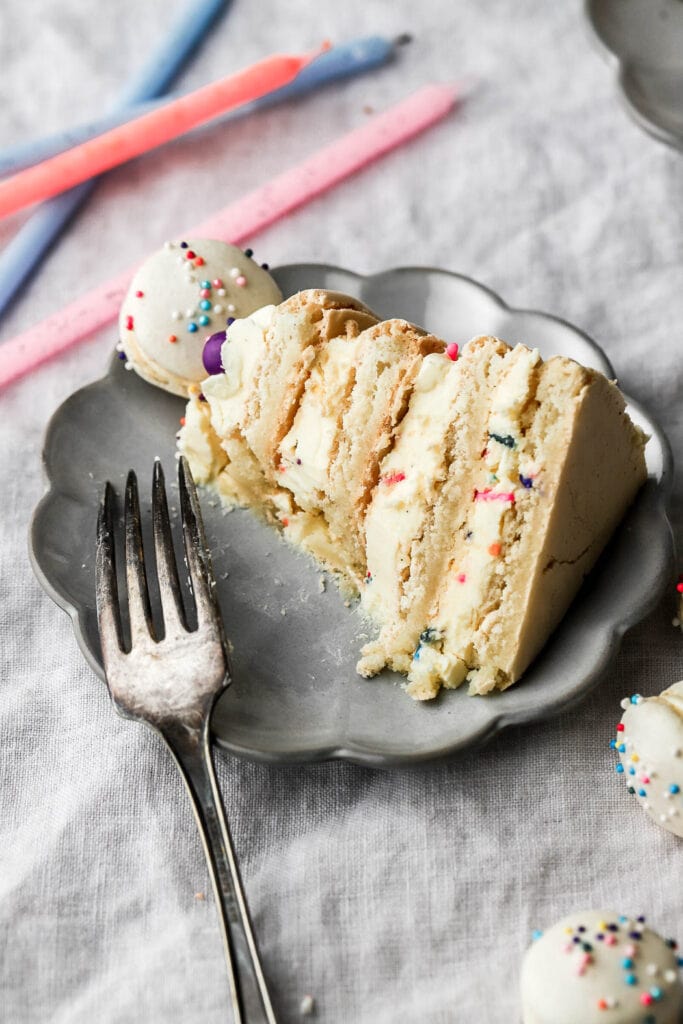 Thanks so much for reading today's post! If you have any questions just comment down below, I'm happy to answer! If you make this macaron birthday cake I would love to see the results, so please make sure to tag me @baranbakery on instagram and order my cookbook, Frosted. As always, have a blessed day and happy baking!
Love, B
Yield: 4 inch cake
Macaron Birthday Cake Recipe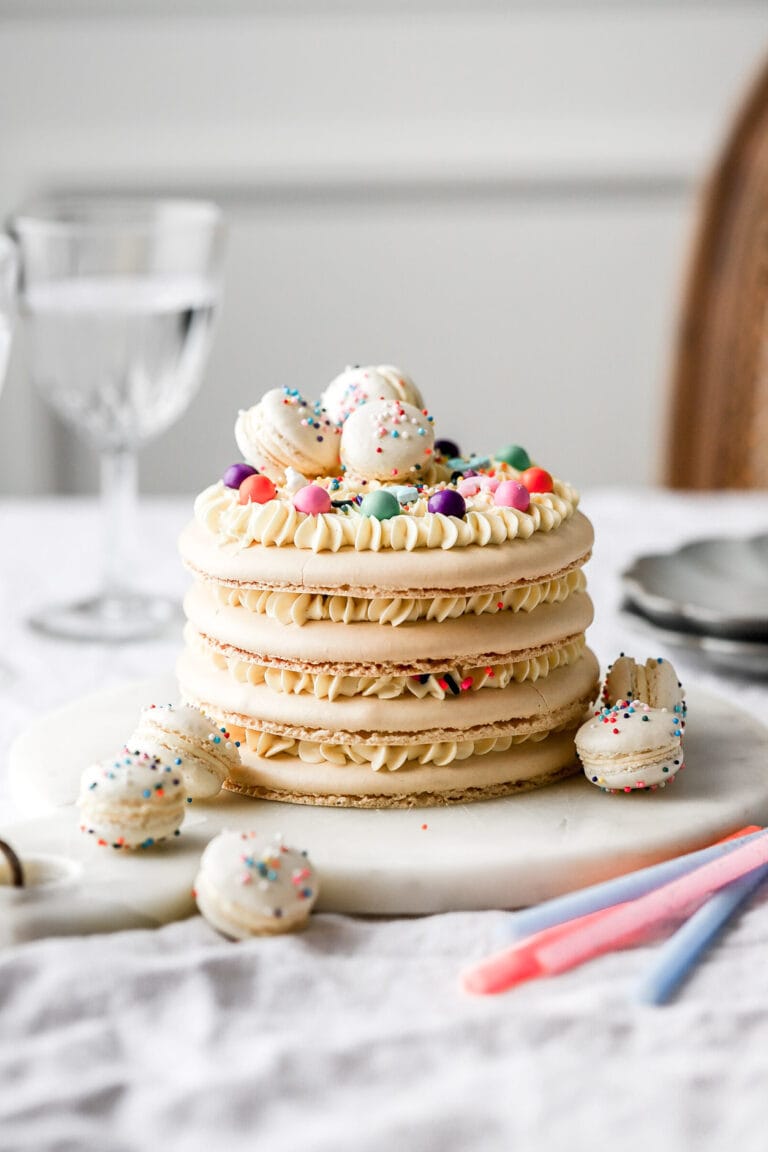 My new favorite way to celebrate birthdays is with this 4 inch Macaron Birthday Cake! It has 4 layers of vanilla macarons, vanilla French Buttercream, and decorated with mini macarons!
Total Time
5 hours
57 minutes
Ingredients
Vanilla Macaron Shells
1 cup (100g) almond flour, spooned and leveled
7/8 cup (105g) powdered sugar, spooned and leveled
3 large (100g) egg whites, room temperature
1/2 cup (100g) granulated sugar
1 tsp vanilla bean paste (or extract)
Vanilla French Buttercream
1/2 cup (100g) granulated sugar
1/8 cup (28mL) water
2 large egg yolks, room temperature
1/2 cup (113g) unsalted butter, room temperature
1 tsp vanilla bean paste (or extract)
pinch of salt
Instructions
Vanilla Macaron Shells
Line 3 baking sheets with parchment paper or a silpat mat. Sift together the almond flour and powdered sugar and set them aside.
Heat up a small pot of water on the stove to create a double boiler for the Swiss meringue. Whisk the egg whites and sugar in the bowl of a stand mixer over the double boiler until the sugar is fully dissolved and the egg whites are frothy (about 120F or 49C).
Remove the mixture from the heat and use the whisk attachment, on high speed, to beat the egg whites and sugar just until stiff peaks form, about 2 minutes. Add in the vanilla bean paste and mix for a few seconds, until it is fully incorporated.
Use a firm spatula to fold the dry ingredients into the meringue. This may take a while, just keep folding and pressing the batter against the wall of the bowl until the mixture is able to ribbon off and form a complete figure '8' without breaking. Don't over-mix.
Use a piping bag fitted with a medium circle tip, pipe out four 4-inch circles, 2 per lined cookie sheet. I just hold the pipe bag in one spot and slowly squeeze the batter out until it's pushed out to about 4 inches.
Rap the tray on the counter a few times to remove any air bubbles from within the batter (use a toothpick to remove any air bubbles that are visible and won't come out).
With the leftover batter, pipe mini macarons and sprinkle with sprinkles.
Allow the cookies to rest on the baking sheet while preheating the oven to 300F (149C) conventional (no fan). Bake one tray at a time in the center of the oven for about 25 minutes (the large ones). The macarons will darken to a light sand color.
Bake the mini macarons for only 7 minutes.
Remove them from the oven and allow the cookies to cool completely on the tray before picking them up.
Vanilla Buttercream
Use the ingredients listed above to make a half batch of French buttercream. You can also substitute another type of buttercream like American Buttercream or Swiss Meringue Buttercream. You'll only need a half batch of those as well (half batch uses 1/2 cup (113g) butter).
Assembly
Place the first macaron cookie shell, facing downward, onto a flat surface. Use a pastry bag with a star tip to pipe a layer of frosting onto the top of the macaron shell.
Place the next macaron layer on top and repeat with the rest of the layers. After you have your last layer of buttercream, decorate with your mini macarons. Refrigerate for at least 4 hours or overnight.
Macaron cake is best served only slightly chilled. Remove the macaron cake from the fridge about 30-60 minutes before serving, so the frosting can soften a little.

Nutrition Information:
Yield:
1
Serving Size:
1
Amount Per Serving:
Calories:

2884
Total Fat:

162g
Saturated Fat:

66g
Trans Fat:

0g
Unsaturated Fat:

87g
Cholesterol:

800mg
Sodium:

466mg
Carbohydrates:

324g
Fiber:

14g
Sugar:

301g
Protein:

51g
Nutrition information may not be fully accurate.