How To Make A Macaron Cake
How to turn any (and every) macaron into the ultimate celebratory dessert, a macaron cake! I used my Lemon Macaron recipe for this version!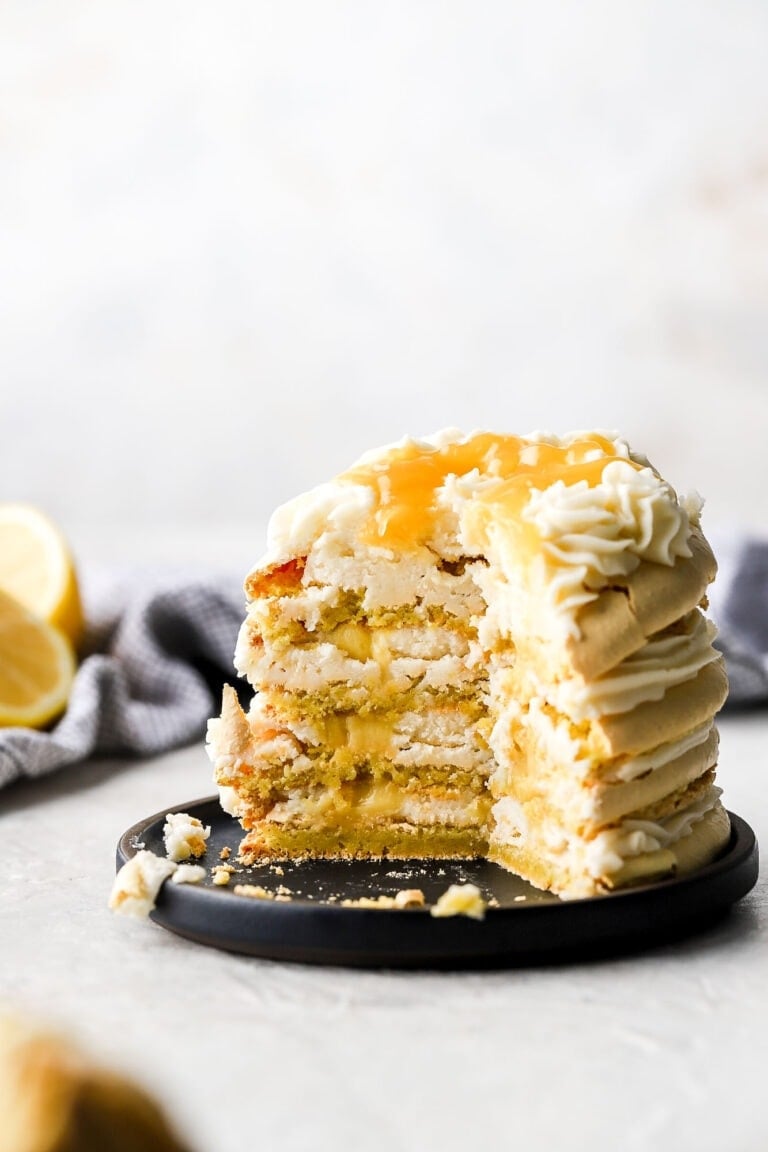 Hello friends!! If you don't already know from Instagram, I had a baby like a week after we moved into our new house so life has been super crazy busy with me feeling like I can't do anything at the same time, lol.
I know macaron month is over but I had one more I wanted to share with you all that wasn't written in April so better late than never, right?! It's actually not a new recipe, it's the exact same recipe as the Lemon Macarons with cream cheese frosting and homemade lemon curd but I turned it into a cake!!
I mean who doesn't want a macaron cake… this is truly next level. 
How to make a macaron cake
So I'm gonna keep this post nice and short but if you're interested in a step-by-step tutorial, check out my Vanilla Macaron post for all my best tips!
Basically you just make regular macarons and when you go to pipe them, just pipe 4-5 larger circles (only two on each baking pan) and bake them for a little longer than the small macarons.
I have found that because of the longer baking time, the color of the shell does usually brown more than the small macarons. Other than that, everything is exactly the same and you just frost it as you would a layer cake, but a little more gently. I recommend just using a pastry bag with a piping tip to frost so that you don't break the cookie shells.
Can I do this with any macaron recipe?
Honestly, I don't see why not but I can't speak for all recipes out there. You can certainly take any of my macaron recipes and bake them into the cake version. Some of my favorites are the
How to serve macaron cakes
It's usually recommended that macarons rest in the fridge overnight before serving. It allows the shells to fully set, get more chewy and the flavor is usually more pronounced as well.
This macaron cake is best served only slightly chilled. You don't want to skip the chill time or it will be super messy when you cut it but you also want the cream cheese frosting to soften a little before serving. I recommend removing the macaron cake from the fridge about 30-60 minutes before serving.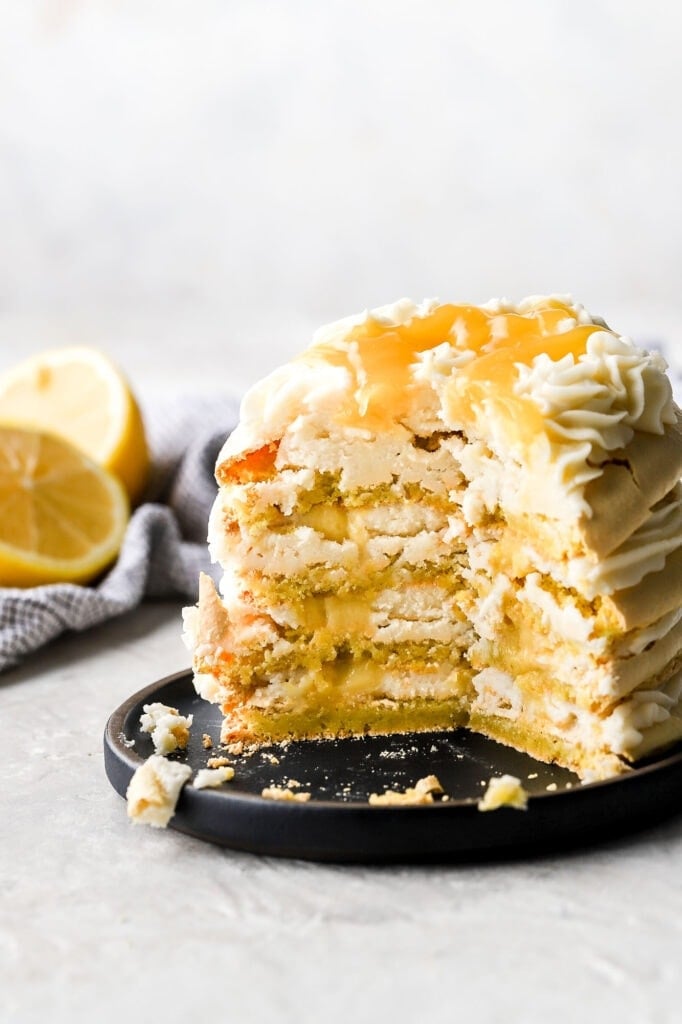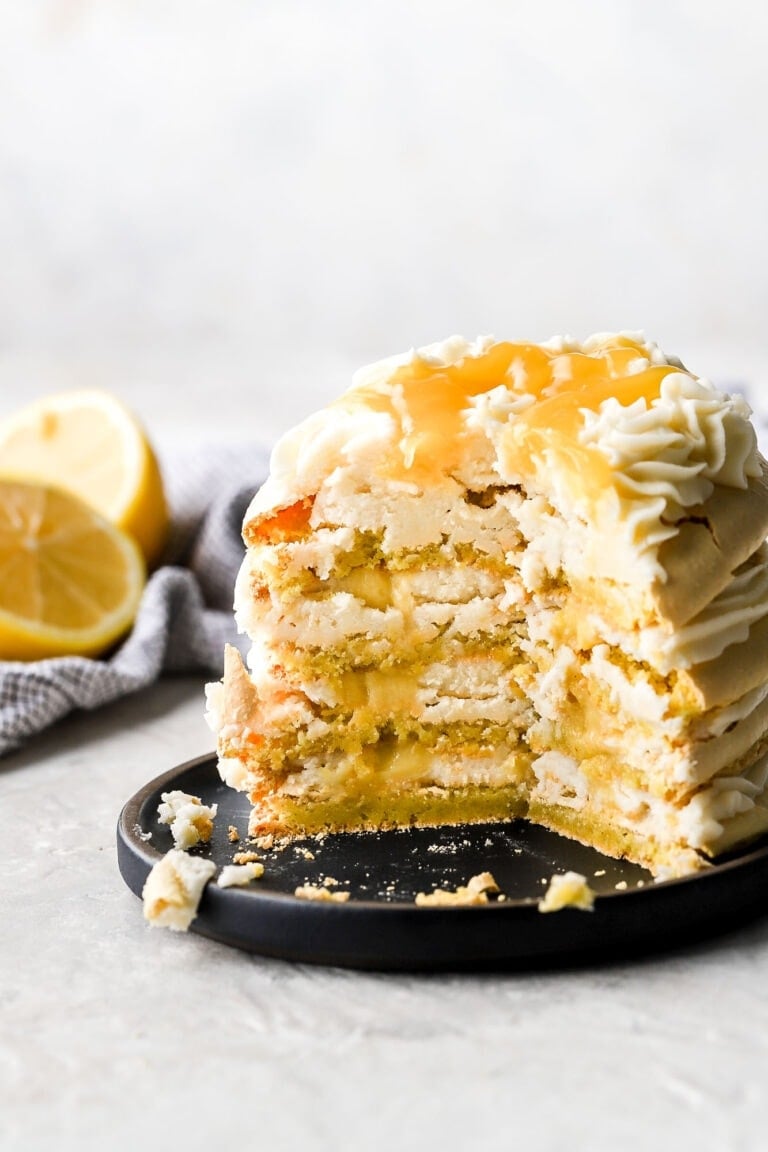 How to store macaron cakes
Macarons and macaron cakes should be stored in the refrigerator, especially if they have something like cream cheese frosting on them. I recommend keeping the cake fully covered under something like cake dome, a large tupperware or wrap it in plastic wrap.
If you want to freeze the cake, I would fit it into a large tupperware and then fit the tupperware into a freezer bag, squeezing out all the excess air.
If you have any questions, comment down below (might take me a minute to get back to you with a new baby and all lol) and make sure to tag me @baranbakery on instagram if you make a macaron cake! As always, have a blessed day and happy baking!
Love, B
Yield: 1 macaron cake
Macaron Cake Recipe
Sweet and tangy lemon macarons filled with cream cheese frosting and lemon curd!
Total Time
5 hours
25 minutes
Ingredients
Lemon Macaron Shells
1 cup (100g) almond flour, spooned and leveled
7/8 cup (105g) powdered sugar, spooned and leveled
3 large (100g) egg whites, room temperature
1/2 cup (100g) granulated sugar
1 tsp vanilla extract
1 tsp lemon extract
3 drops yellow Gel food coloring
Lemon Curd
1/4 cup (50g) granulated sugar
1 large egg, room temperature
1 large egg yolk, room temperature
1/4 cup (59mL) freshly-squeezed lemon juice (1 large or 2 small lemons)
1 tsp lemon zest (1 lemon)
3 tablespoons (42g) unsalted butter, melted
1/8 tsp of salt
Cream Cheese Frosting
2 oz cream cheese, room temperature
1/4 cup (56g) unsalted butter, room temperature
1 tsp vanilla bean paste (or extract)
1 cups (120g) powdered sugar, spooned and leveled
Instructions
Lemon Macaron Shells
Line 2 baking sheets with parchment paper or a silpat mat. Sift together the almond flour and powdered sugar and set them aside.
Heat up a small pot of water on the stove to create a double boiler for the Swiss meringue. Whisk the egg whites and granulated sugar in the bowl of a stand mixer over the double boiler until the sugar is fully dissolved and the egg whites are frothy (about 120F or 49C).
Remove the mixture from the heat and use the whisk attachment, on high speed, to beat the egg whites and sugar just until stiff peaks form, about 2 minutes. Add in the vanilla extract, lemon extract, and food coloring and mix for a few seconds, until they are fully incorporated.
Use a firm spatula to fold the dry ingredients into the meringue. This may take a while, just keep folding and pressing the batter against the wall of the bowl until the mixture is able to ribbon off and form a complete figure '8' without breaking. Don't over-mix.
Use a piping bag fitted with a medium circle tip, pipe out two 4-5 inch circles per lined cookie sheet. Rap the tray on the counter a few times to remove any air bubbles from within the batter (use a toothpick to remove any air bubbles that are visible and won't come out).
Allow the cookies to rest on the baking sheet while preheating the oven to 300F (149C) conventional (no fan). Bake one tray at a time in the center of the oven for about 25 minutes. The macarons will darken in color slightly.
Remove them from the oven and allow the cookies to cool completely on the tray before picking them up.

Lemon Curd
Combine all the ingredients in a small saucepan over medium-low heat and whisk continuously until it thickens, about 5 minutes. The curd should be thick enough to coat the back of a spoon.
While it's still hot, press the curd through a sieve into another bowl/jar, cover it and allow it to cool completely to room temperature. Store leftovers covered in the refrigerator.
Cream Cheese Frosting
In a large bowl, use an electric mixer to beat the cream cheese, butter and vanilla until they are well combined.
Add the powdered sugar and beat slowly until it is mostly combined, then turn the speed up to a high and beat for 2-3 minutes until the sugar is fully dissolved.
Assembly
Place the first macaron cookie shell, facing downward, onto a flat surface. Use a pastry bag with a star tip to pipe a layer of cream cheese frosting onto the top of the macaron shell. Then drizzle some lemon curd on top of the frosting. Repeat with the rest of the layers and then refrigerate for at least 4 hours or overnight.
Macaron cake is best served only slightly chilled. Remove the macaron cake from the fridge about 30-60 minutes before serving, so the cream cheese frosting can soften a little.
Notes
Store leftover lemon curd in an airtight container in the refrigerator for 1-2 weeks
Store leftover cream cheese frosting in an airtight container in the refrigerator for up to a week or in the freezer for 2-3 months.
Recommended Products
As an Amazon Associate and member of other affiliate programs, I earn from qualifying purchases.
Nutrition Information:
Yield:
22
Serving Size:
1
Amount Per Serving:
Calories:

147
Total Fat:

8g
Saturated Fat:

3g
Trans Fat:

0g
Unsaturated Fat:

4g
Cholesterol:

38mg
Sodium:

37mg
Carbohydrates:

18g
Fiber:

1g
Sugar:

16g
Protein:

2g
Nutrition information may not be fully accurate.