The best fudgy, gooey brownies with a flaky top now comes in a small-batch option perfect for an at home dinner date!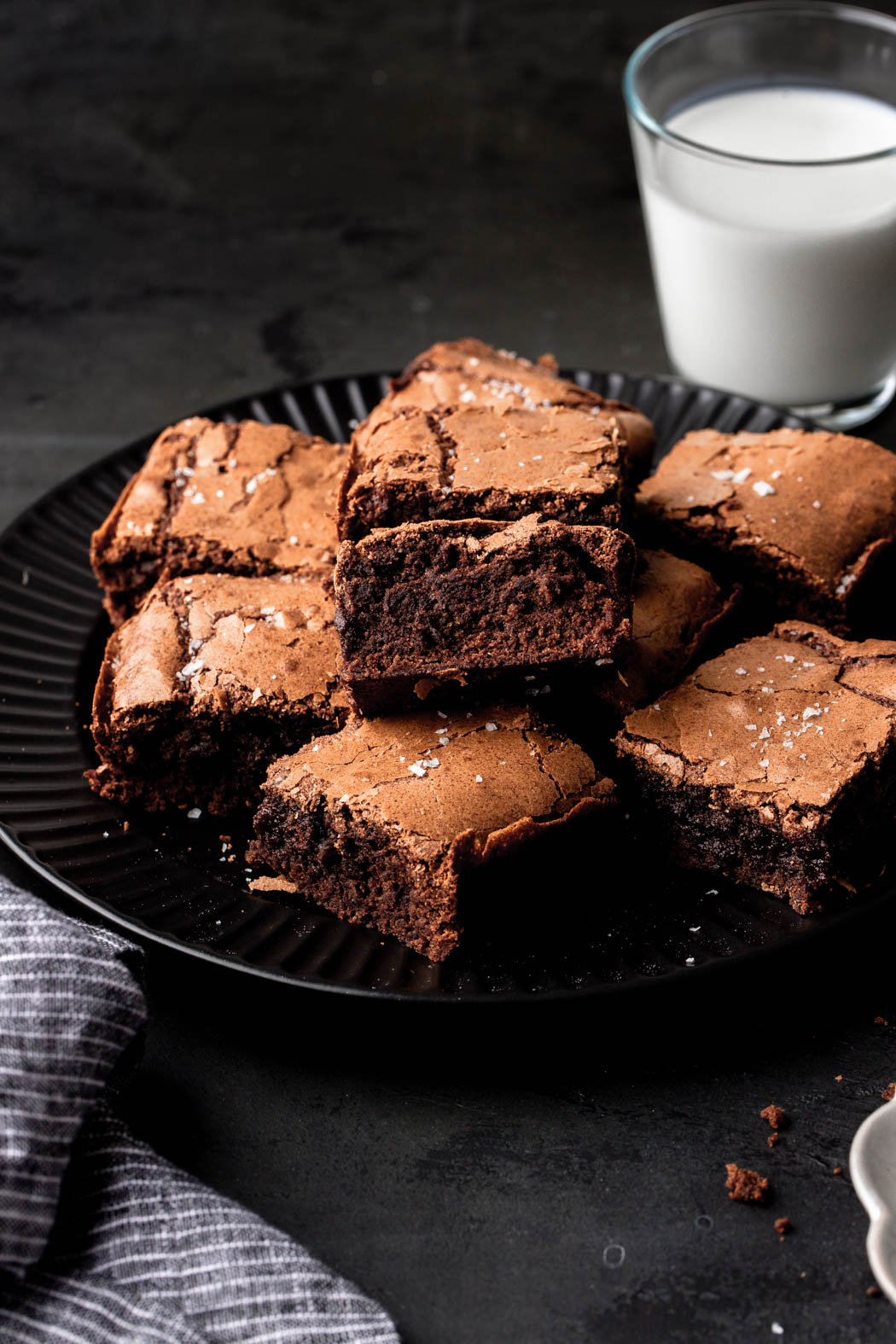 Continuing our month of small-batch bakes with chocolate! This week's small batch dessert is none other than the most perfect brownies. It's just the right amount for a special dinner for two with a few leftovers because you WILL want some the next day lol.
How to make Small-Batch Brownies
If you've never tried My PERFECT Fudge Brownies you are missing out! Lucky for you, I took this recipe and made it the perfect portion for you and your significant other to both enjoy. What makes this recipe so great is that it has the perfect balance of texture and flavor. They are gooey without feeling undercooked, rich and fudgy without being too overly sweet.
Ingredients:
Butter: Softened butter will be easier and quicker to work with. However, if you forget to take it out in time that's ok since you will need to melt it anyway. You can use salted or unsalted, I just add a pinch of salt if I use unsalted butter.
Chocolate: You can use any kind of chocolate chips you have. I prefer Ghirardelli or Guittard dark chocolate because of their rich flavor.
Eggs: I always use large, room temperature eggs. If you are in a pinch, you can let your eggs sit in hot water for 5-10 minutes.
Sugar: I use granulated sugar but if you don't have any you can use light brown sugar too.
Flour: I like to use all-purpose flour because almost everyone has some at home.

My digital scale lives on my counter and I always use it to measure flour. Over and under measuring is the most common baking error and can alter your results significantly.

Cocoa Powder: I like using dutch process cocoa powder because of its rich flavor and dark color. The better quality your cocoa powder is, the better your brownies will taste! My favorite is King Arthur Dutch Process Cocoa Powder or Ghirardelli Dutch Process Cocoa Powder.
Frequently Asked Questions (FAQs)
Can I customize my small-batch brownies?
If you want to be a little extra you can make some delicious toppings for your brownies. Just half the toppings on the following:
How do I know when my brownies are done baking?
The toothpick test doesn't work too well with brownies because the perfect brownie should be a little gooey in the center. If you wiggle the pan and the batter jiggles it's not done.
If you gently press your finger in the center and feel light resistance they are ok to remove from the oven. It should feel like underneath the baked top layer there is still a soft middle but not runny. They will continue to bake after you take them out of the oven as they cool.
How do you get that perfect flaky top?
To get the flaky top you have to make sure you do not beat the eggs and sugar in the beginning and don't over mix them. If you do, it will create a meringue and the top will be thicker which will require a longer cook time. Then your brownies will turn out thicker on top, crispier on the edges and super gooey in the middle.
I whisk my sugar and eggs for like 30 seconds, just until they're combined and still a little gloopy, not to the point where the color turns pale.
How to store Small-Batch Brownies
You can store the cooled brownies at room temperature in an airtight container for a few days. You can also store them in the refrigerator for 7-10 days. To serve, let them sit on the counter until they reach room temperature or just microwave for 5-10 seconds.
If you loved this recipe check out my Slutty Brownies. They are half brownie and half chocolate chip cookie with Oreos and salted caramel sauce and they are my favorite!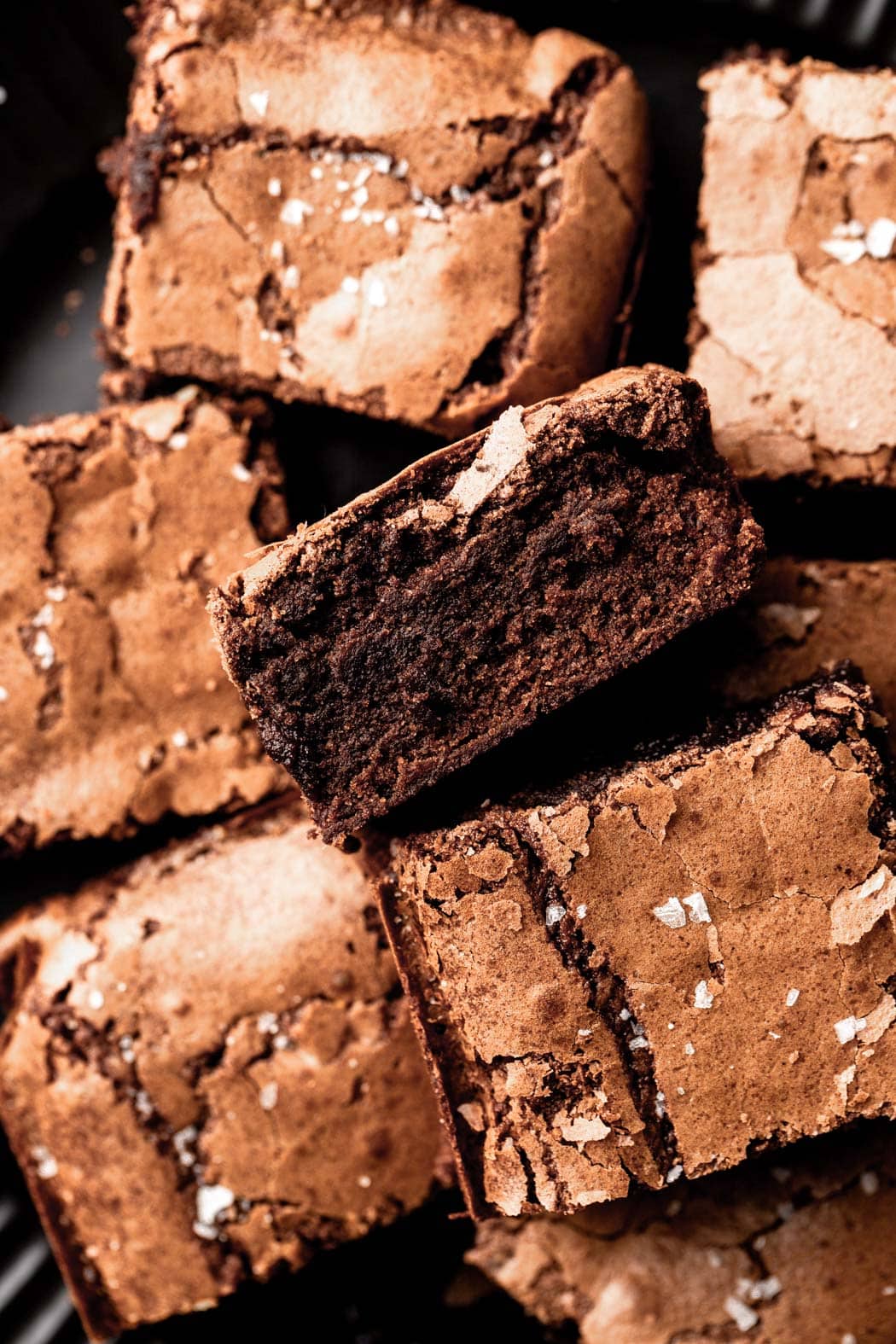 Thanks so much for reading today's post! If you have any questions just comment down below, I'm happy to answer! If you make these small-batch brownies I would love to see them. Make sure to tag me @baranbakery on instagram and order my cookbook, Frosted. As always, have a blessed day and happy baking!
Love, B
Yield: 10 squares
Small-Batch Brownies
The best fudgy, gooey brownies with a flaky top now comes in the perfect small batch option for a homemade dinner date!
Total Time
1 hour
30 minutes
Ingredients
6 Tbsp (85g) salted butter, melted
1/2 cup (3 oz) dark chocolate morsels
2 large eggs, room temperature
3/4 cup (150g) granulated sugar
1 tsp vanilla extract
1/2 cup (60g) all-purpose flour, spooned and leveled
2 Tbsp (10g) dutch-processed cocoa powder, spooned and leveled*
Instructions
Preheat the oven to 325F (163C). Use cooking spray and parchment paper to grease and line a 9x5-inch loaf pan.
In a heat safe bowl or a saucepan, melt the butter with the dark chocolate. Set them aside to cool while you get the rest of your ingredients together.
Use a whisk to combine the eggs, granulated sugar, and vanilla until they're just barely combined; don't over-mix.
Pour in the butter and chocolate mixture to the eggs and sugar, while whisking.
Add the flour and cocoa powder to the wet ingredients. Fold them together until they're just barely combined.
Pour the brownie batter into the prepared pan and bake for about 20-25 minutes.
Remove the brownies from the oven and allow them to cool in the pan for about 30 minutes, until they can be sliced without falling apart.
Notes
*you can also use unsweetened natural cocoa powder but you'll get a slightly lighter color and less intense chocolate flavor.
Nutrition Information:
Yield:
10
Serving Size:
1
Amount Per Serving:
Calories:

223
Total Fat:

12g
Saturated Fat:

7g
Trans Fat:

0g
Unsaturated Fat:

4g
Cholesterol:

56mg
Sodium:

134mg
Carbohydrates:

27g
Fiber:

1g
Sugar:

21g
Protein:

3g
Nutrition information may not be fully accurate.