Pecan Pie Brownies with Salted Caramel Sauce
Pecan pie brownies made with my favorite brownie recipe and a pecan pie topping made with homemade salted caramel sauce!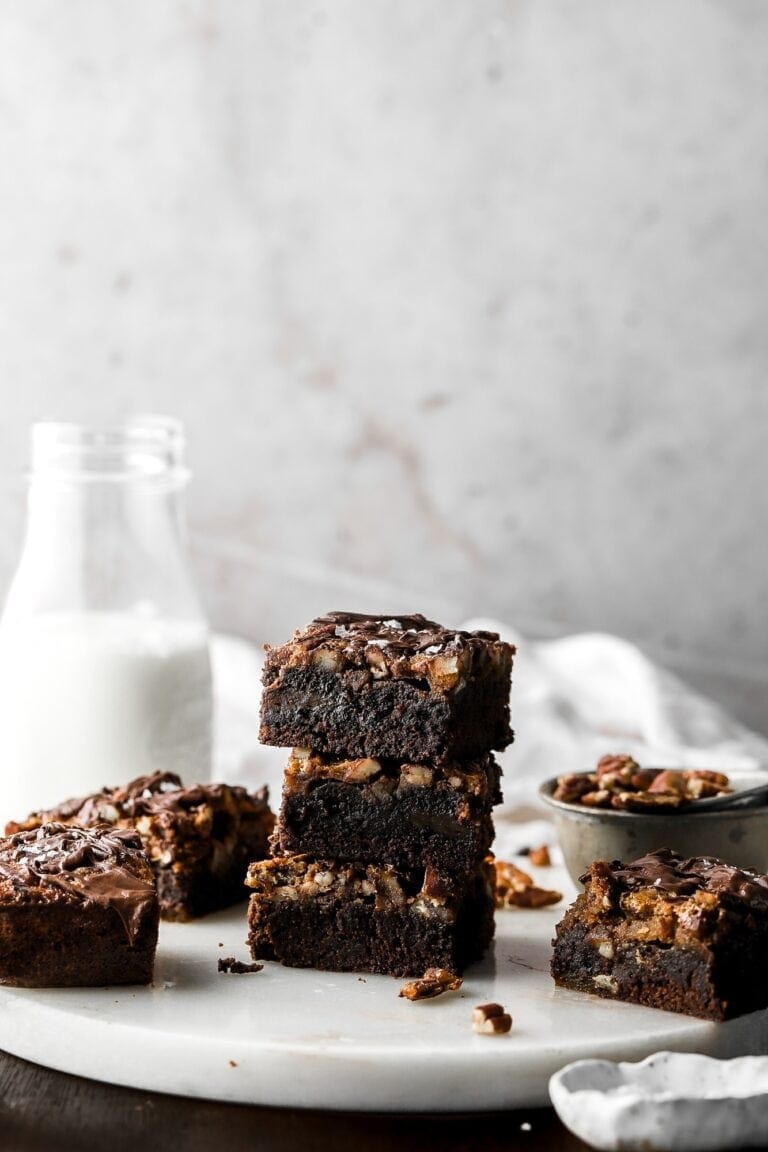 What are pecan pie brownies
Pecan pie brownies are basically a chocolate lover's Thanksgiving dream. It's My PERFECT Fudge Brownie recipe topped with a pecan pie topping that's made using salted caramel sauce. I mean, they're so good they've been referred to as "crack brownies" 
How to make pecan pie brownies
Brownie base
The base of the pecan pie brownies is made from my all time favorite brownie recipe, My PERFECT Fudge Brownies. I have a separate post on those with step-by-step photos as a visual guide to make sure they turn out perfect. These brownies are a perfect mix between cakey and gooey.
Salted caramel sauce
I used my homemade salted caramel sauce, which has it's own post with step-by-step photos. However, this recipe can be made using a store bought salted caramel sauce as well. If you're feeling fancy, you can even drizzle some extra caramel on top, like I did.
Pecan pie topping
This is literally the easiest part of the recipe. To make this pecan pie filling/topping you literally just combine all of the ingredients together, starting with the butter, sugar and eggs, mixing until they're smooth. Then adding in the salted caramel sauce and then the pecans. The pecans get tossed around in the caramel mixture until they're fully coated. Pour over the partially baked brownies and bake them together.
How to store the brownies
These brownies are best served at room temperature and can be stored at room temperature in an airtight container for a couple days. If it's any longer, transfer them to the fridge for up to a week. Make sure to pop them in the microwave for 10-15 seconds so they're nice and soft.
So this Thanksgiving, if you want to win the 'mom/dad of the year', 'favorite child/grandchild', 'favorite aunt/uncle', 'best friend' or 'best spouse' award, I highly suggest making these 'crack' brownies ! 
Make sure to take a photo & tag me @baranbakery on instagram before they all get devoured! I hope you all are staying safe during this time and have the best Thanksgiving, even though it may look a little different than we're used to this year. As always,
Love, B
Yield: 16
Pecan Pie Brownies with Salted Caramel Sauce
Pecan pie brownies made with my favorite brownie recipe and a pecan pie topping made with homemade salted caramel sauce!
Total Time
2 hours
5 minutes
Ingredients
1 recipe of The PERFECT Brownie
1/4 cup (56g) butter, melted
1/2 cup (110g) brown sugar, packed
3 large eggs, room temperature
1/2 cup salted caramel sauce
2 tsp vanilla
1/2 tsp salt
2 1/2 cups (250g) pecans, chopped
1/2 cup (3oz) chocolate morsels for topping
pinch of sea salt flakes, for topping
Instructions
Preheat the oven to 350F & grease and line a 9"x13" pan with cooking spray and parchment paper.
Make one recipe of My PERFECT Fudge Brownies, pour it into the prepared pan & bake it for 10 minutes. Remove the brownies from the oven and allow them to cool for 10 minutes, while you mix your caramel pecan topping.
In a medium bowl, combine the melted butter and brown sugar. Add in the eggs and vanilla and whisk it until it's well combined. Stir in the salted caramel sauce until it's fully incorporated. Add the pecans and toss them around until they're all fully coated.
Gently spread the mixture evenly over the brownies, transfer them back into the oven and bake for another 35 minutes, until the mixture on top is no longer runny.
Remove it from the oven & top the brownies with the chocolate chips. They will melt from the heat of the brownie and then use the back of a spoon to swirl the melted chocolate around. Just before the chocolate dries, when it's still a tiny bit tacky, top with sea salt flakes.
Allow the pecan pie brownies to cool completely before slicing.
Notes
Cutting pecan pie nicely is a total pain…& so is this. For cleaner slices, refrigerate the brownie in the pan for 30-60 minutes & run your knife under hot water between every slice.
Nutrition Information:
Yield:
16
Serving Size:
1
Amount Per Serving:
Calories:

223
Total Fat:

18g
Saturated Fat:

4g
Trans Fat:

0g
Unsaturated Fat:

13g
Cholesterol:

46mg
Sodium:

142mg
Carbohydrates:

14g
Fiber:

2g
Sugar:

10g
Protein:

3g
Nutrition information may not be fully accurate.