The ultimate biscoff brownies are the perfect fudge-y brownies sitting on top of biscoff cookies and with globs of creamy Biscoff cookie butter swirled throughout.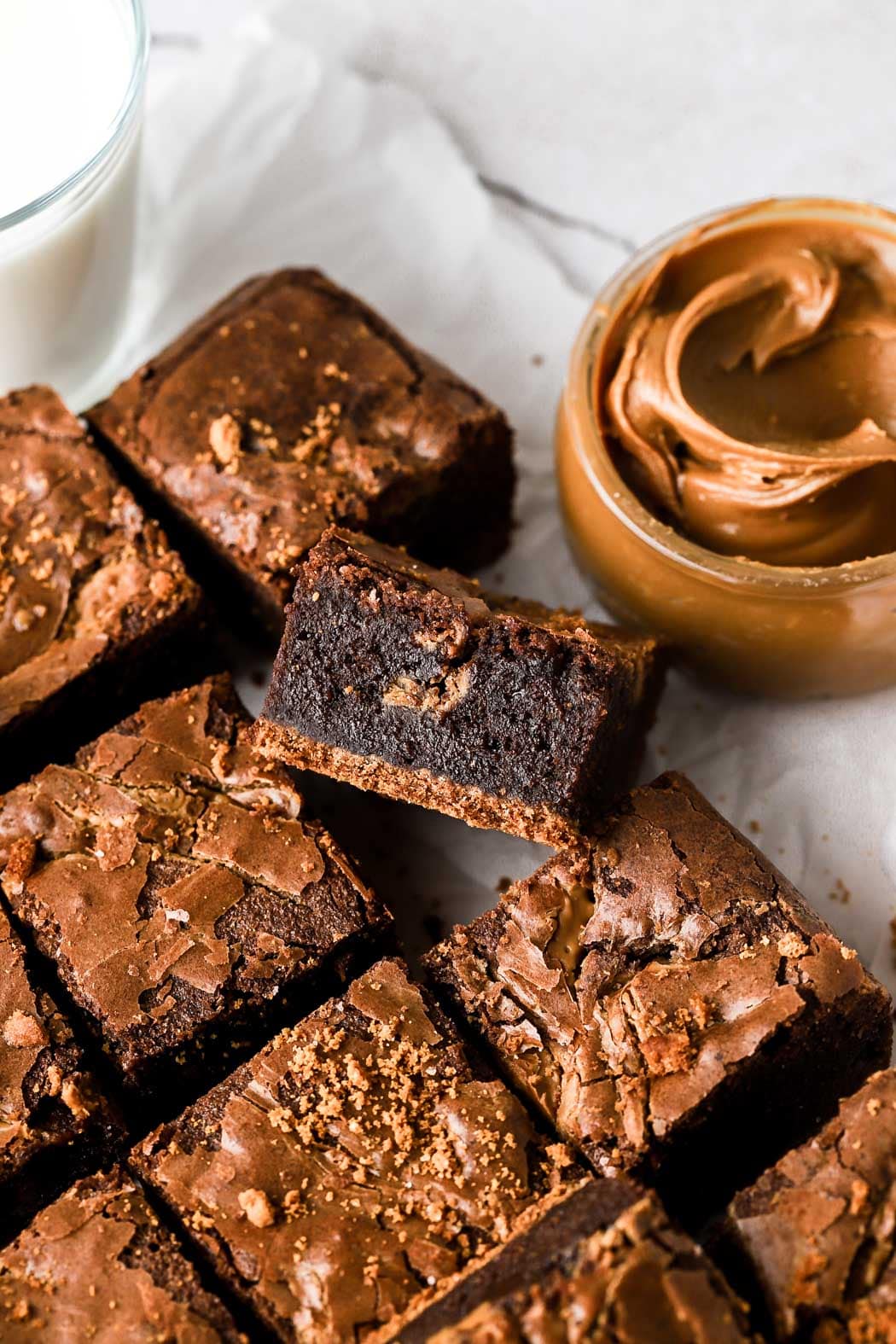 What is biscoff?
Lotus Biscoff is a brand that makes speculoos cookies and cookie butter spread. Speculoos cookies are a crispy caramelized spiced cookie, similar to gingersnaps but less gingery.
Cookie butter is a spread made from these cookies, similar to peanut butter and Nutella. In other words…heaven in a jar.
You can find other brands of speculoos cookies and cookie butter, it doesn't have to be biscoff (it's just referred to as biscoff the same way chocolate hazelnut spread is referred to as nutella). I like the biscoff brand though and Trader Joes has good ones as well.
If you want to try more cookie butter recipes, I have a Biscoff Layer Cake, a brown butter cookie butter cake and biscoff cheesecake.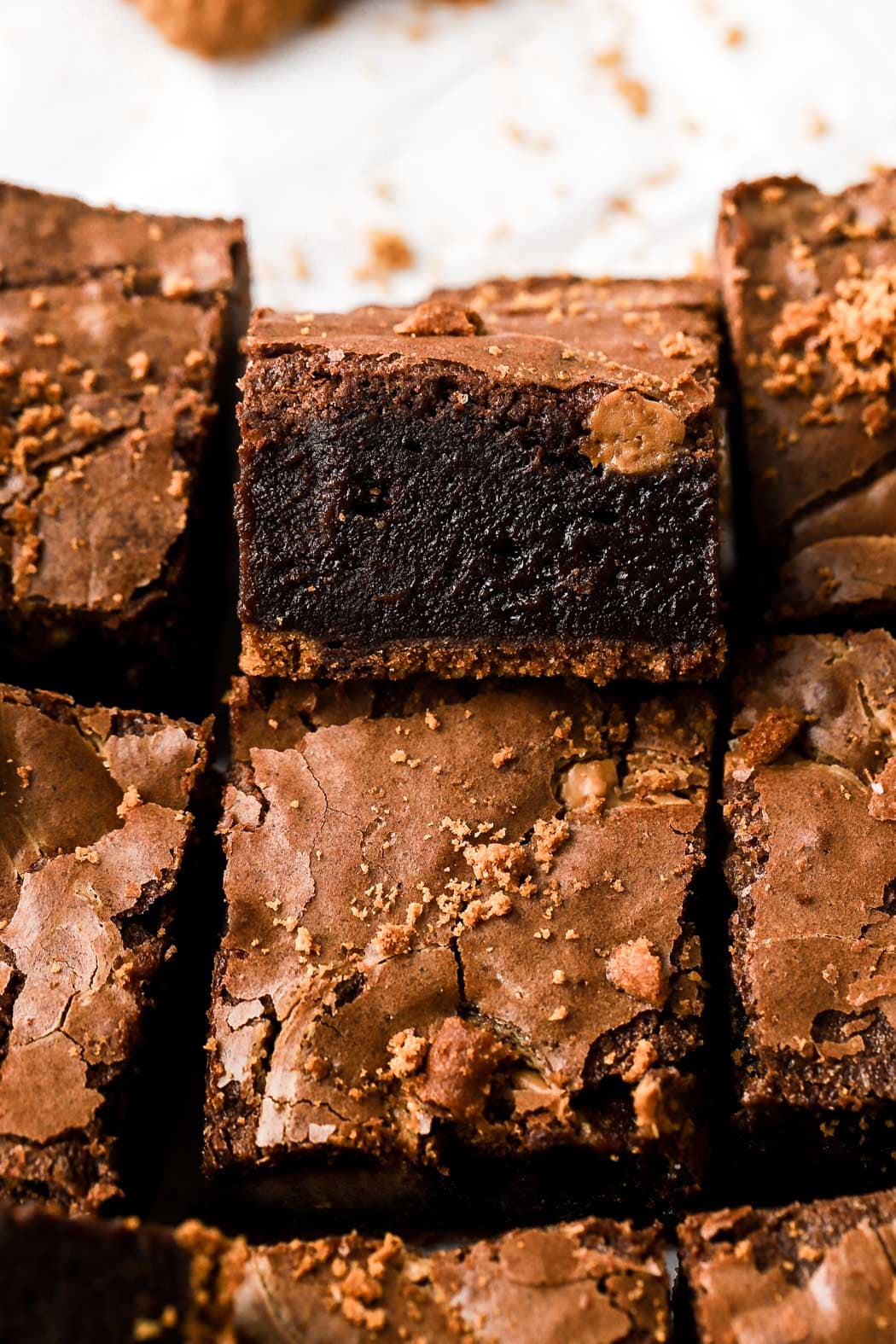 Why you'll love these brownies?
If you're not familiar with my brownies, I encourage you to check out my PERFECT Fudge Brownies to see why I love them so much. Basically, they're the perfect combination: thick, chocolatey, fudgy, gooey but not in an under-baked way.
What more would someone want right? Well biscoff…I want more biscoff. So I put biscoff cookies on the bottom and swirled globs of cookie butter throughout the brownie batter to make the best cookie butter brownies.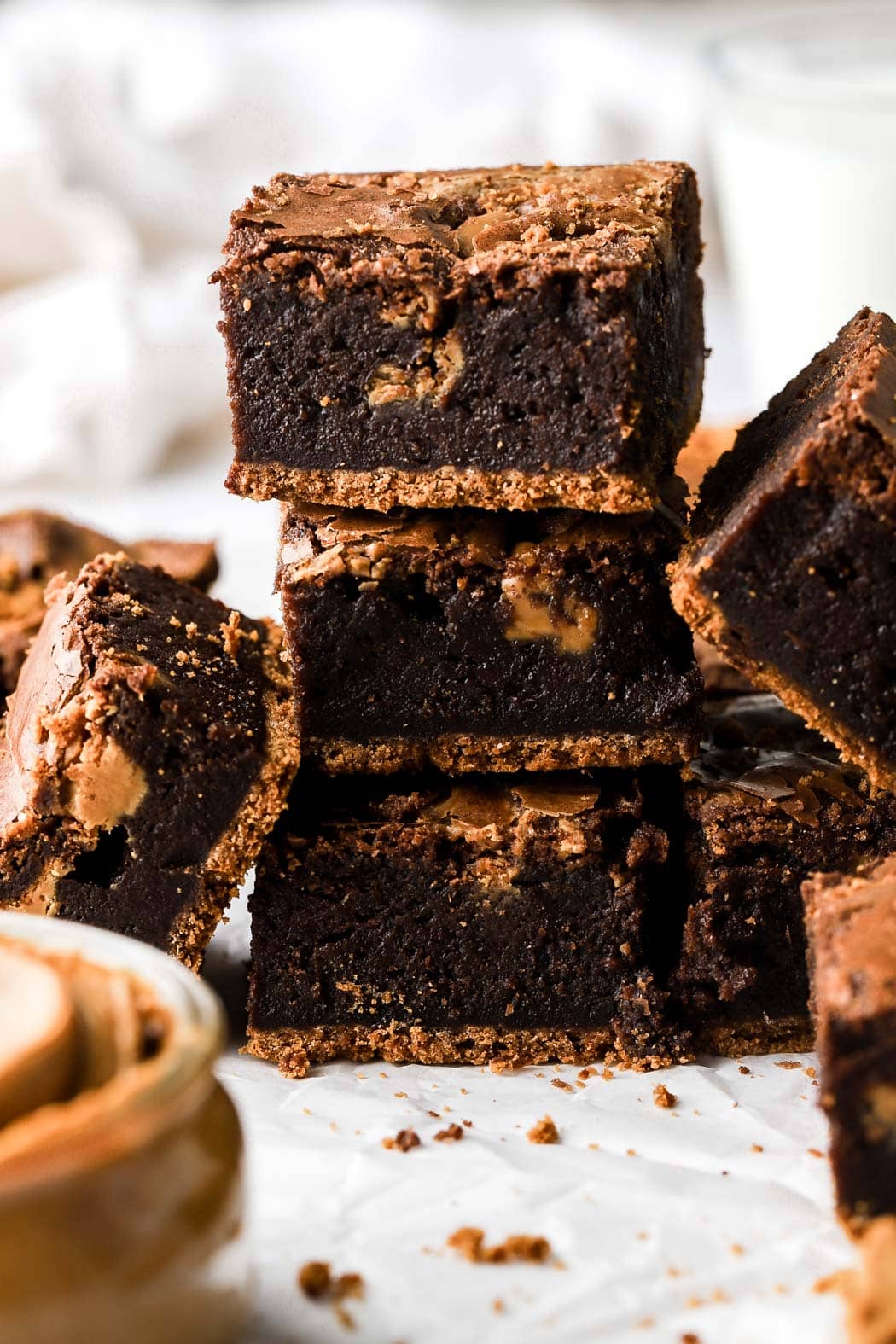 Ingredients & Substitutions
Butter: the butter gets melted so it doesn't matter if it's cold but it is quicker if the butter is already soft. I like salted butter but unsalted works too, just add an extra ¼ tsp of salt.
Chocolate: you can use milk chocolate, semi-sweet chocolate or dark chocolate. I prefer dark chocolate for this recipe because the biscoff is already sweet as well.
Eggs: always use large, room temperature eggs. Pop them in hot water for 5-10 minutes if they're cold.
Sugar: I use both brown sugar and granulated sugar in this recipe for the perfect flavor and texture combination.
Flour: I always use all-purpose flour.

​​I also HIGHLY recommend using a digital scale, as flour is almost always over measured.

Cocoa Powder: the better quality your cocoa powder is, the better your brownies will taste! My favorite is King Arthur Dutch Process Cocoa Powder or Rodelle Dutch Process Cocoa Powder. Don't use sweetened cocoa powder though!
Salt: salt brings out the flavor in all baked goods.
Biscoff Cookies: I used the lotus biscoff cookies but if you have any other speculoos cookies those will work too. If you can't find any of these, gingersnaps and graham crackers will also work.
Biscoff Spread: I used the lotus biscoff cookie butter spread but any cookie butter will do. I had smooth cookie butter at home but I think even a chunky cookie butter would've been so good!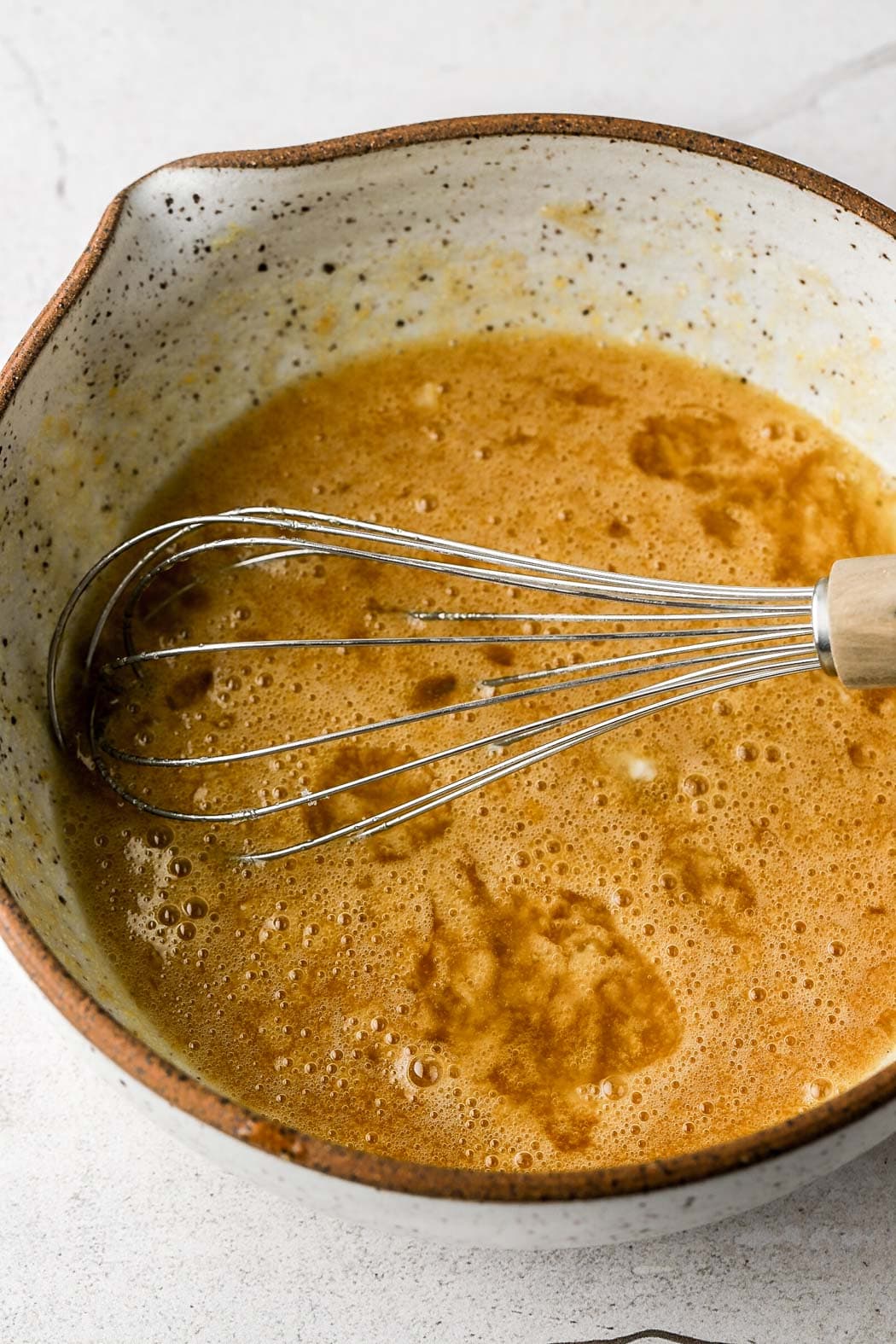 Step-by-Step Instructions
Melt the butter with the chocolate chips and stir until they're completely smooth.
Whisk the eggs with the sugars JUST until they're barely combined. You want it to still be kind of gloopy/eggy, not super thin and smooth.
Add the chocolate mixture to the egg mixture and whisk just until they're combined, again still a little gloopy.
Add the dry ingredients to the wet ingredients and whisk just until the dry ingredients are incorporated.
Place biscoff cookies on the bottom of a greased and lined 8 inch square pan.
Spread brown batter on top of biscoff cookies and then place globs of cookie butter on top.
Swirl the cookie butter into the brownie batter gently just so they're slightly covered by some brownie batter but not too much, you want the globs to stay thick so they're visible when you bite into them.
Bake for about 45 minutes, remove and allow to cool completely to room temperature.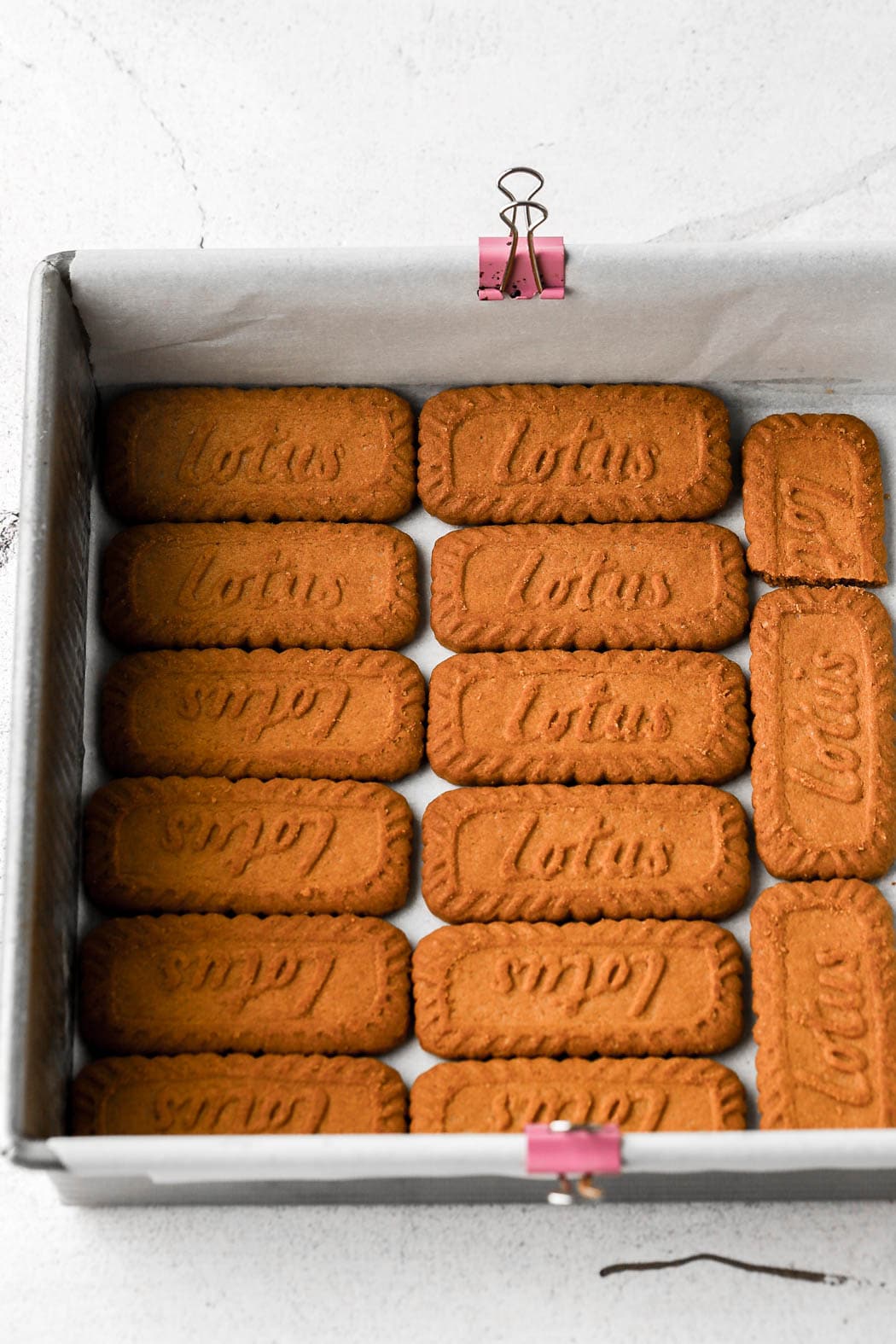 When are brownies done baking?
Brownies are by far the hardest thing for me to assess when they're done baking. This is especially difficult when you have a meringue top instead of a thin crackle, because the top gets hard and crunchy so touching it with your finger doesn't really help. I make these brownies with a paper thin, crackle top because:
They taste better
They bake up better
They're quicker to make
When the top of your brownies have a thin little crackle on top instead of a thick meringue, you can press on it with your finger to see how firm the brownies are underneath. When you move the pan, if the batter jiggles, it's definitely not done baking.
You want to be able to push your finger on the top (in the center) and feel some resistance. It should feel like a brownie that's a little "too gooey but almost perfect". At this point, you'll remove them from the oven and they will continue to bake as they're cooling. If they're firm when you remove them from the oven, they won't be very fudge-y once they're completely cooled and everyone wants fudge-y biscoff brownies.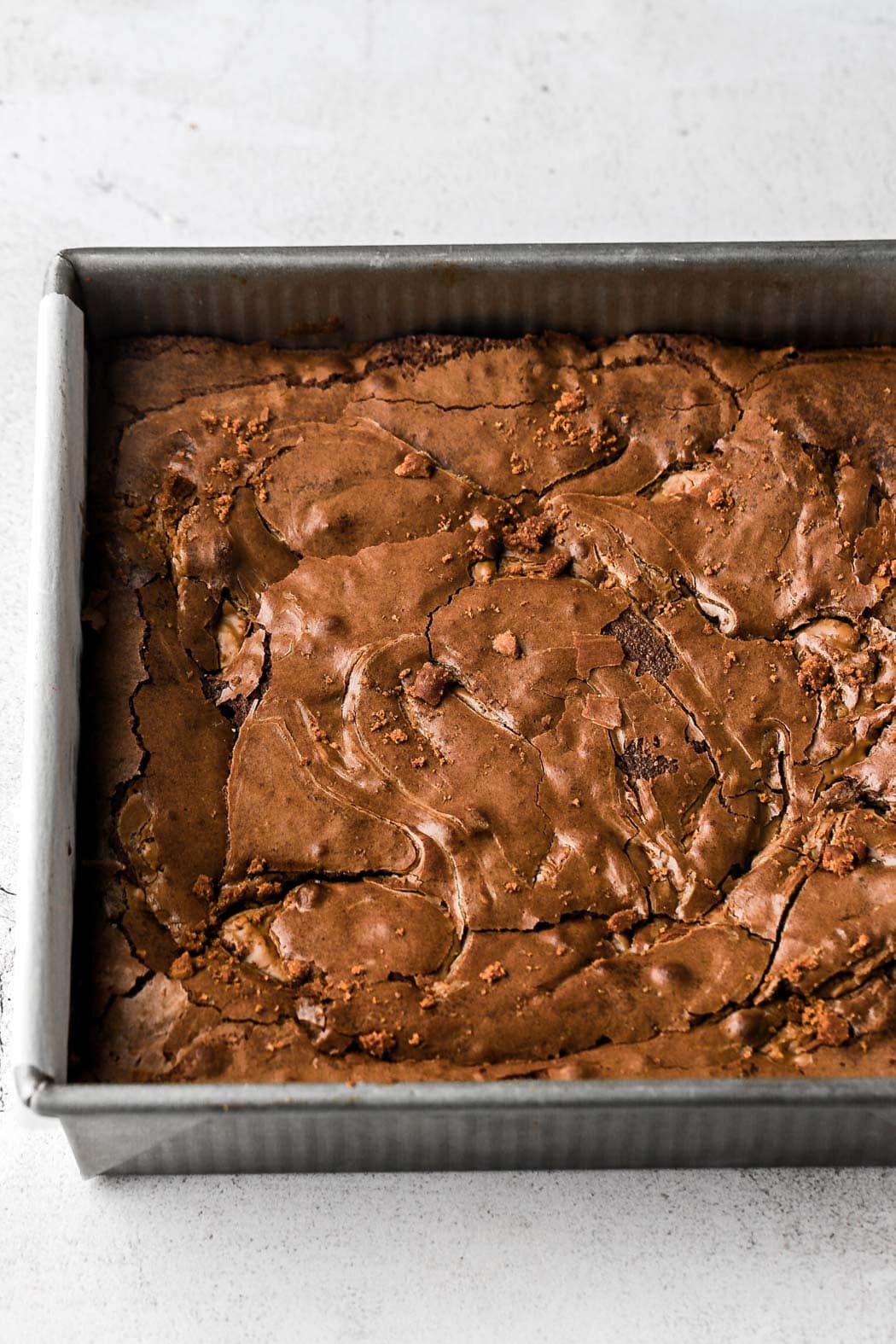 Can I just use the toothpick test?
Many people like to insert a toothpick into the center of baked goods to test for doneness. Usually if the toothpick is clean or if there are only a few moist crumbs on it then a cake is done baking. That doesn't work for brownies. We want gooey, fudge brownies so when we remove them from the oven, they will still be a little undercooked and will finish baking as they cool.
How to get a thin crackly top for homemade brownies?
I know some people are all for the meringue topping but not all brownies are created equal. These brownies will require extra baking time if the top is too thick and meringue-like. The brownies will end up with super crispy edges and a really gooey center.
To avoid making the meringue all you have to do is avoid overmixing. Do NOT beat the eggs and sugar in the beginning. So many recipes say to beat the eggs and sugar before adding the rest of the ingredients, well don't.
All I do for these brownies (tested like 10+ times) is combine the eggs with the sugar, use a whisk to lightly mix them. The mixture will still be a little bit gloopy and not smooth.
Then continue whisking as you add the melted chocolate/butter mixture, just until it's combined. Don't over mix. Then fold in the dry ingredients until they're just barely combined.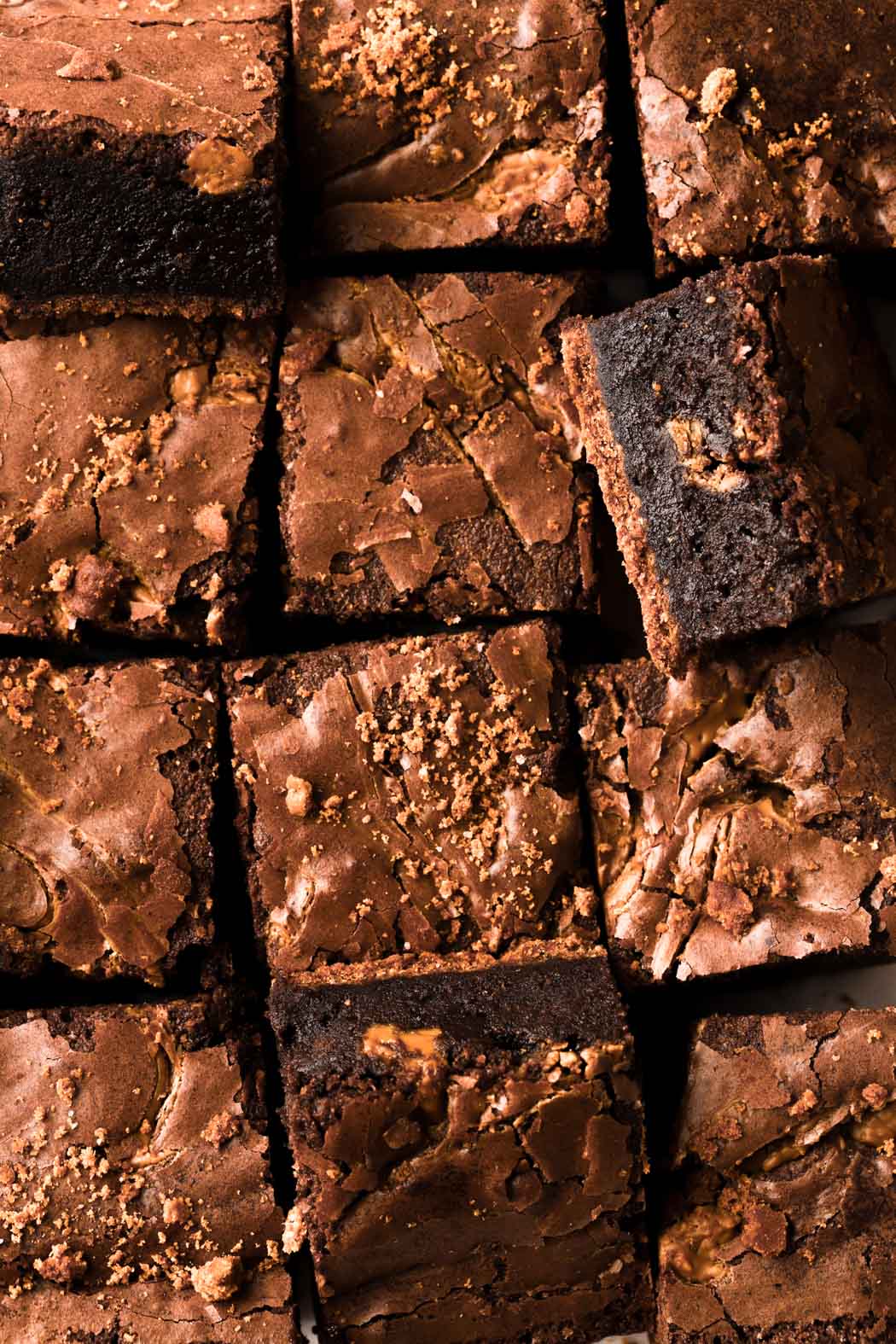 How to perfectly slice brownies?
Ok I don't know if it's just me but if I'm not careful to take these extra steps, my brownies always end up looking like a pile of not so tasty brown stuff instead of a delicious pile of brownies.
To get my brownies perfectly sliced even with the biscoff cookies on the bottom and the biscoff cookie spread throughout, it's best to chill the brownies briefly. I froze them for about 20 minutes after they've cooled and then I ALWAYS run my large knife under hot water between every slice I cut.
Yes, between every slice. Because they're fudgy, some of the gooey chocolate gets stuck on the knife and if you just go to cut another slice it gets less and less pretty.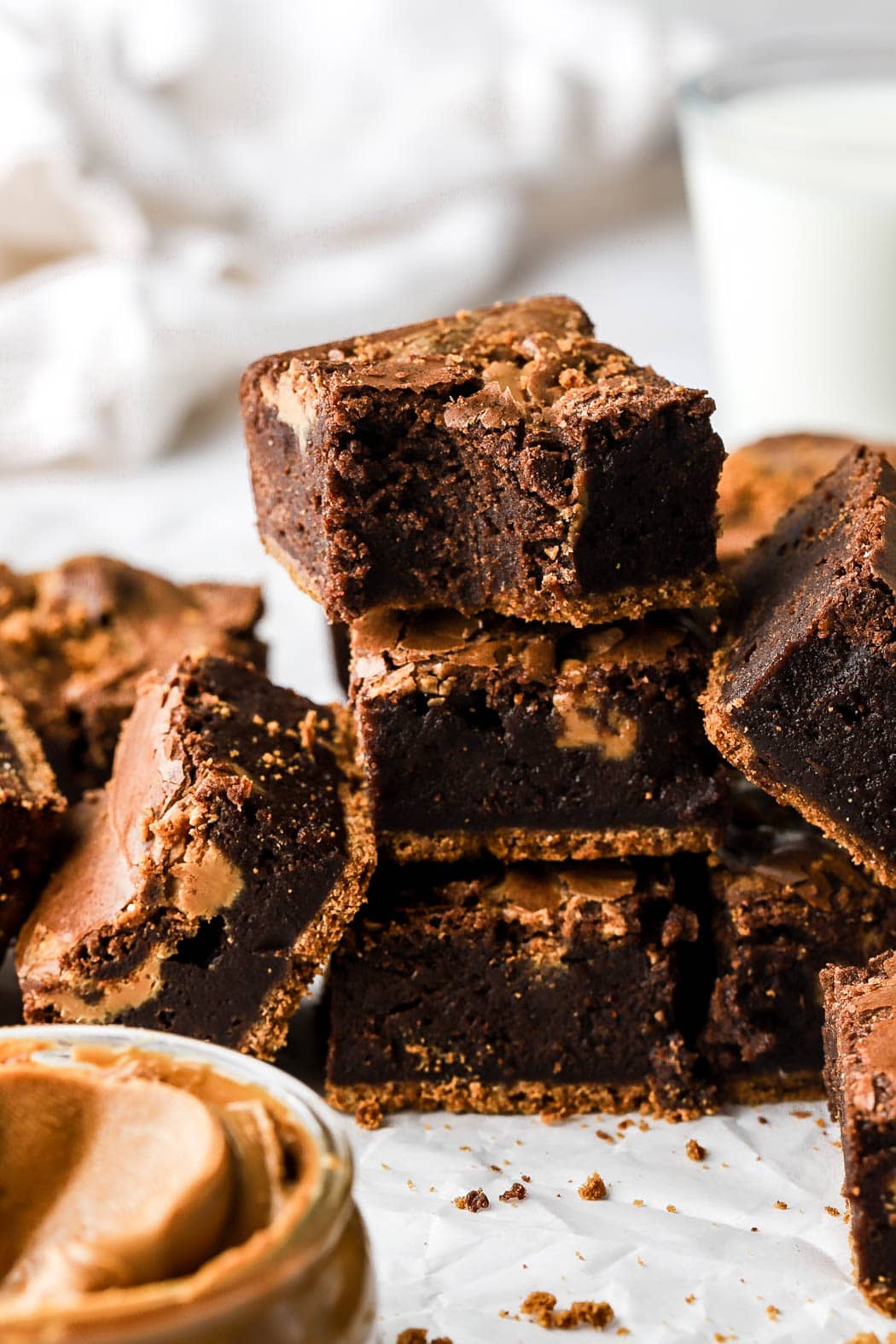 How to store brownies?
Once the brownies have cooled completely, store them in an airtight container. They can stay at room temperature for a few days and in the refrigerator for 7-10 days. Make sure to bring them to room temperature or warmer when serving.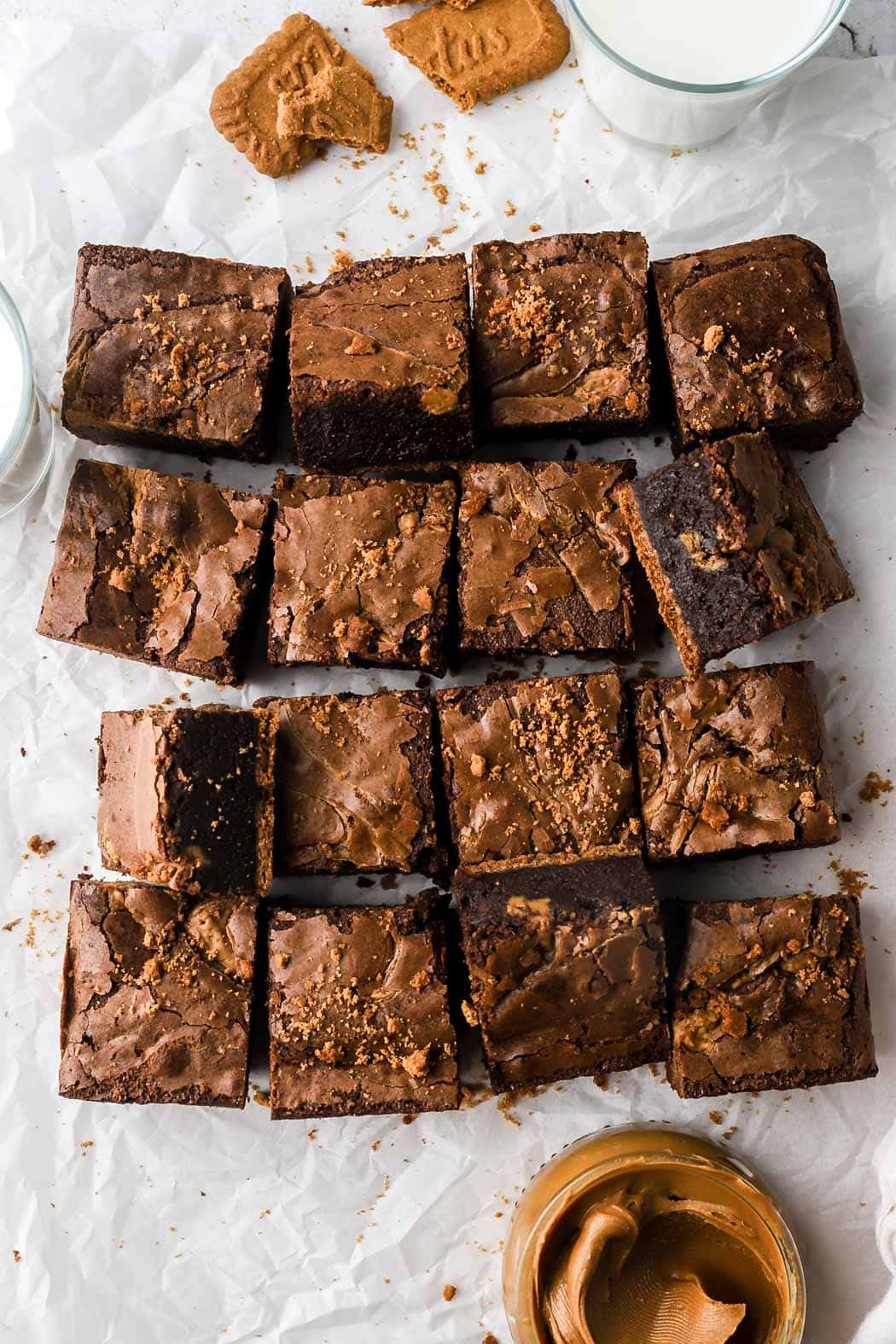 There are so many brownie recipes out there and I'm sure so many of them are amazing but I hope you give my lotus biscoff brownies a chance. If you make these brownies, make sure to tag me @baranbakery on instagram so I can share them with everyone!
As always, have a blessed day and happy baking!
Yield: 16
Biscoff Brownies Recipe
Biscoff brownies are the perfect fudge-y brownies sitting on top of biscoff cookies and with globs of creamy Biscoff cookie butter swirled throughout.
Additional Time
30 minutes
Total Time
1 hour
25 minutes
Ingredients
15 Lotus Biscoff Cookies
3/4 cup (170g) unsalted butter
1 cup (6 oz) semi-sweet chocolate morsels
4 large eggs, room temperature
1 cup (200g) granulated sugar
1/2 cup (95g) light brown sugar, lightly packed
1 tsp vanilla extract
1 cup (120g) all-purpose flour, spooned and leveled
1/4 cup (25g) Dutch-process cocoa powder, spooned and leveled
1/4 cup (30g or 4 cookies) Lotus Biscoff cookies, ground
1/2 tsp salt
1/2 cup (120g) Lotus Biscoff Cookie Butter
Instructions
Preheat the oven to 325F/163C convection (300F/149C conventional). Use cooking spray and parchment paper to grease and line an 8-inch square pan.
Align the Biscoff cookies along the bottom of the pan and set aside.
In a heat safe bowl or a saucepan, melt the butter with the semi-sweet chocolate. Set them aside to cool while you get the rest of the ingredients together.
Use a whisk to combine the eggs, granulated sugar, brown sugar and vanilla until they're just barely combined; don't over-mix.
Slowly pour in the butter and chocolate mixture to the eggs and sugar, while whisking.
Add the flour, cocoa powder, ground Biscoff cookies and salt to the batter and fold them together until they're just barely combined.
Pour the brownie batter into the prepared pan. Place quarter sized globs of cookie butter on top and use a knife to gently swirl them into the brownie batter a little. Bake for about 45 minutes.
Remove the brownies from the oven and allow them to cool in the pan for about 30-60 minutes, until they can be sliced without falling apart.
Notes
I like to still leave the cookie butter as thick globs but just cover it up with the brownie batter a little so the cookie butter isn't as directly exposed to the heat of the oven.
Store in an airtight container at room temperature for 2-3 days.
Recommended Products
As an Amazon Associate and member of other affiliate programs, I earn from qualifying purchases.
Nutrition Information:
Yield:
16
Serving Size:
1
Amount Per Serving:
Calories:

251
Total Fat:

13g
Saturated Fat:

8g
Trans Fat:

0g
Unsaturated Fat:

5g
Cholesterol:

69mg
Sodium:

95mg
Carbohydrates:

32g
Fiber:

1g
Sugar:

24g
Protein:

3g