My momma's rustic apple pie recipe is made with a softer, cake-like crust and a shredded apple cinnamon filling!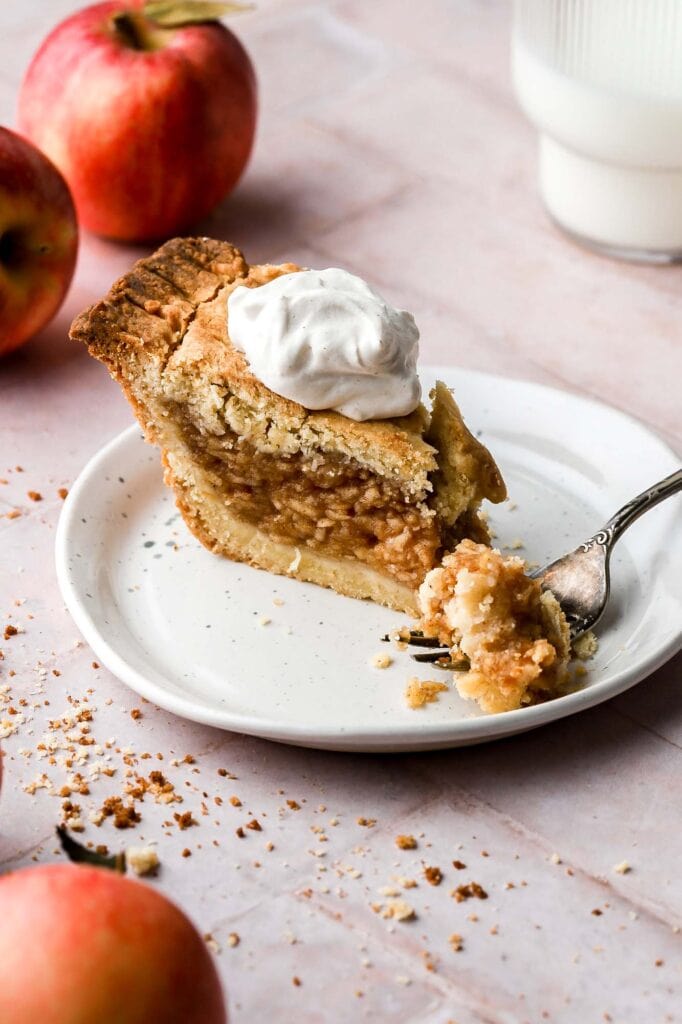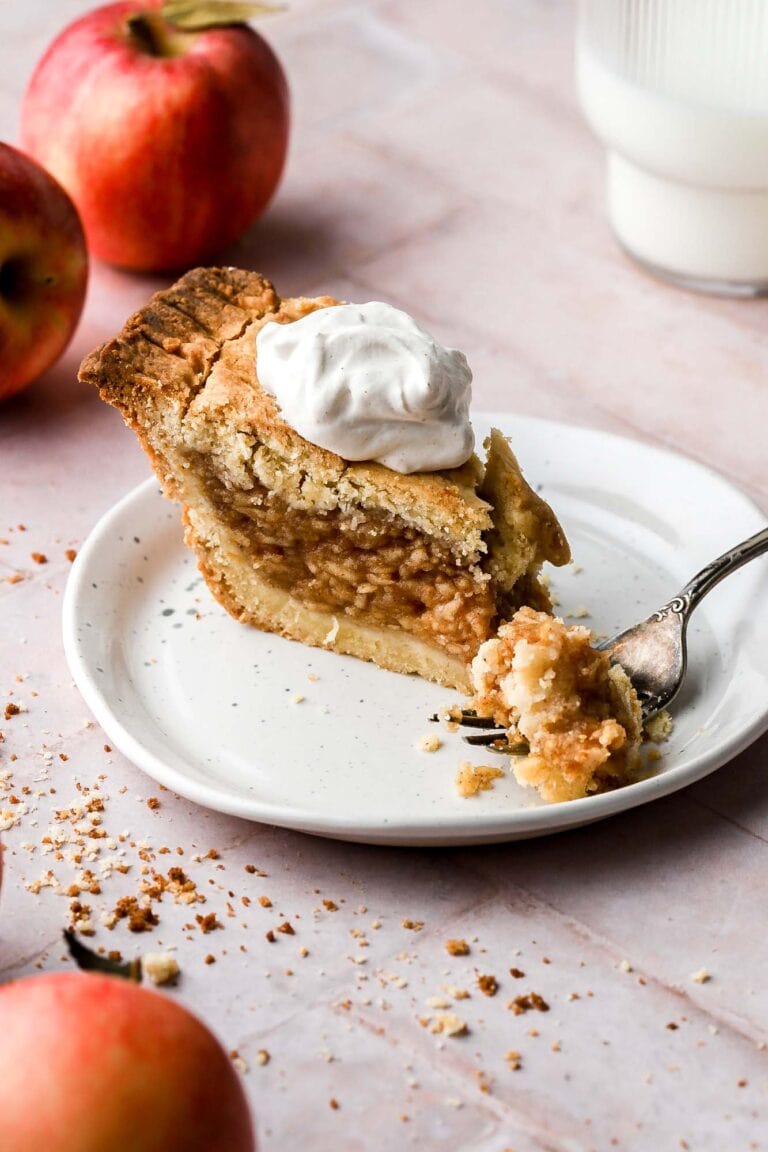 Growing up, we never ate apple pie. We never ate any pie, actually. My mom was a cake person so would make us this rustic apple cake, which was actually like a cross between cake and pie. It's phenomenal and she makes it like 10x every fall/winter. 
If you're here for all things apple, I have a ton of apple recipes! Some of my favorites are apple cider cupcakes, apple cider donuts, dutch apple pie, puff pastry apple pie and blueberry apple crisp!
Quick tip, the juice from the apples gets strained so that we don't get the dough soggy. You can either drink that juice (it's pretty sweet for apple juice) OR you can use it to make ice cream. Get the recipe below!
How to make this rustic apple pie
There's two main parts to this, just like most pies; the crust and the filling. Personally, I think this apple pie is easier to make than traditional apple pie. The filling is a little more work but you don't have to precook it and there's no pressure on making the crust pretty.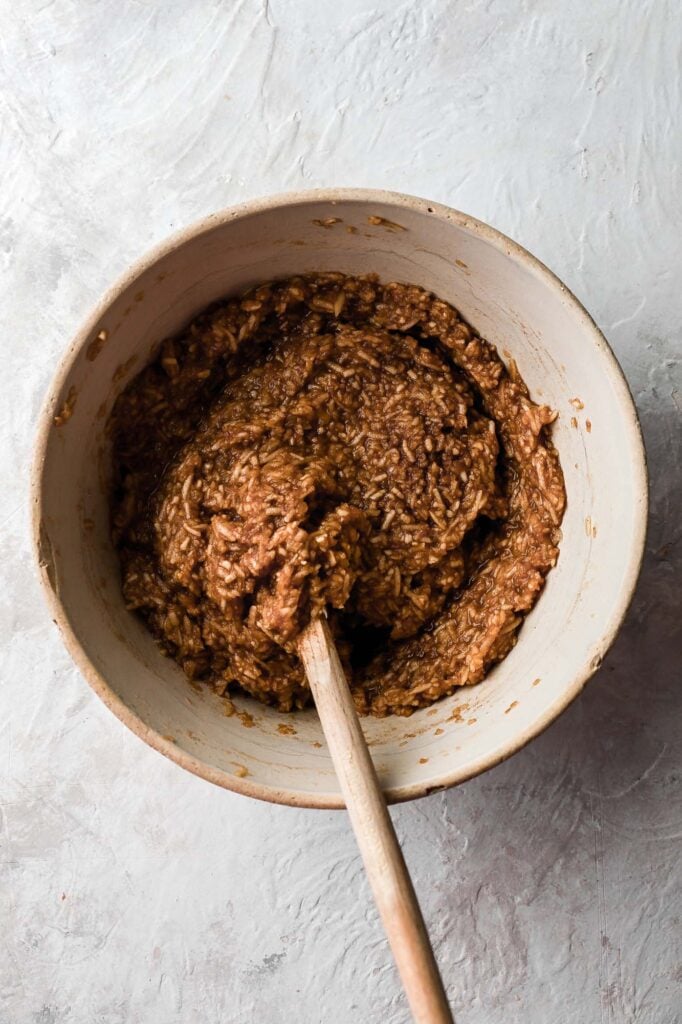 Soft cake-like pie crust
The crust is a little easier to make than traditional pie crust, there's no chilling time required and no need to stress about making it look pretty because it's quite literally impossible, LOL. I use a stand mixer with a paddle attachment to combine all the ingredients, just until it comes together.
Ingredients:
Flour: about why we use certain ingredients. This is almost always the same, if you're unsure you can leave it black and let me know or you can ask me. When it is different, I'll try to send you info on it. With time it'll get easier!
Sugar: we use powdered sugar for this recipe, I don't recommend replacing any other kind.
Baking Powder: Helps the dough rise a little to bake.
Salt: just a little goes a long way!
Eggs: This recipe uses just the egg yolks so save your egg whites for some macarons, my small-batch vanilla cupcakes or some Swiss meringue buttercream!
Butter: I use unsalted butter for this because there is such a high amount of butter in the recipe. If you do use salted, make sure to omit the extra salt.
Lemon: Lemon zest just makes everything better!
Sour Cream: You can also do greek yogurt.
Shredded Apple Pie Filling
The filling is fairly simple to make, as well but the smaller you slice the apples, the more juice gets released. If there's too much juice, it'll all soak into the crust. To prevent this, combine the apples with the sugar and let it marinate together for a few minutes, this will bring out the juice more. Then strain the apple mixture to get rid of some of the juice. I got about a cup of juice released but this depends on the type of apples you're using and how ripe they are.
What kind of apples to use
I like to use something like gala, honeycrisp or fuji apples but you can really use whatever kind of apples you like. Just make sure to strain the apples well to make sure they're not too wet. Also keep in mind, if you're using something like granny smith apples, they're less sweet and will be a little more tart. If you're using something like golden apples, they're super soft so they will require more straining and will make a more filling.
How to store this apple pie cake
To keep the apple cake more fresh, store it in an airtight container. I leave it on the counter, at room temperature for one day and then store it in the refrigerator for up to 10 days. The cake can be served cold, brought back to room temperature or warm it up in the microwave for a few seconds.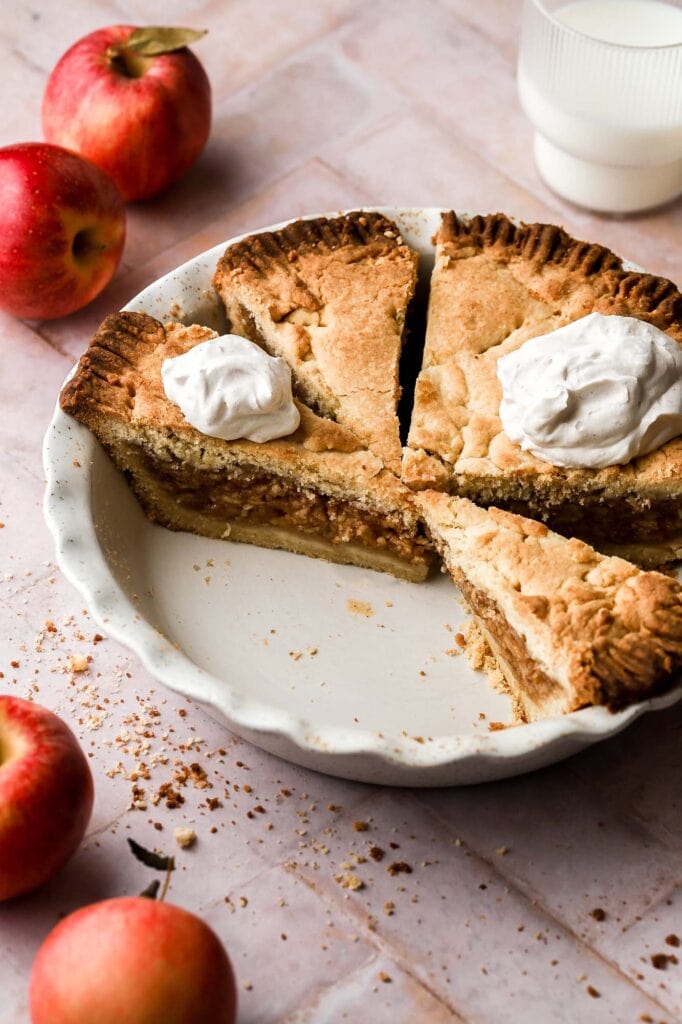 Thanks so much for reading today's post, if you have any questions just comment down below, i'm happy to answer! If you make this rustic apple pie I would love to see it so make sure to tag me @baranbakery on instagram. As always, have a blessed day and happy baking!
Love, B
Yield: 12 slices
Momma's Rustic Apple Pie Recipe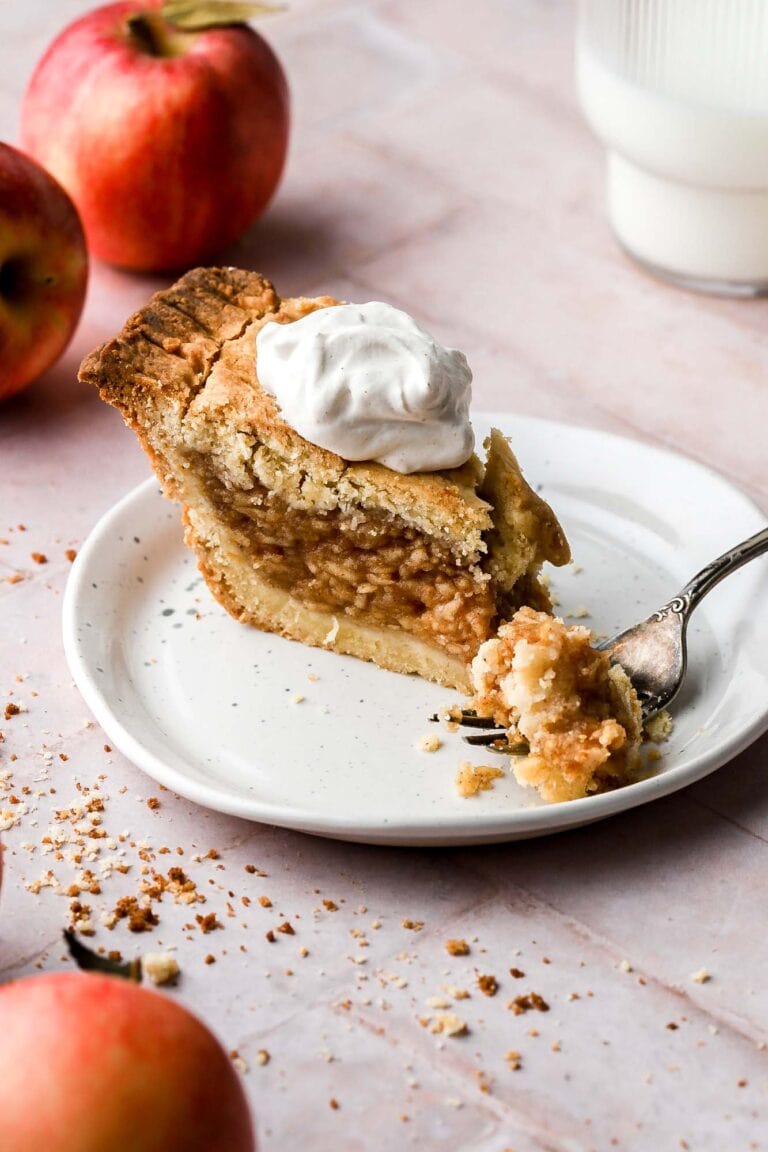 A rustic apple pie with a softer, cake-like crust and a shredded apple cinnamon filling!
Total Time
2 hours
30 minutes
Ingredients
APPLE FILLING
12 medium (35oz) apples
1 medium lemon, juice
1 tsp vanilla
1 Tbsp cinnamon
1 1/2 cups (180g) powdered sugar, spooned and leveled
CRUST
4 cups (500g) all-purpose flour, spooned and leveled
1 cup (120g) powdered sugar, spooned and leveled
1 Tbsp baking powder
1/2 tsp salt
2 large egg yolks, room temperature
1 1/2 cup (340g) unsalted butter softened
1 Tbsp vanilla
1 medium lemon, zest
1/4 cup (56g) sour cream
1/4 cup (69g) cream of wheat
Instructions
Apple Filling
Begin by peeling, coring and shredding the apples. I use an apple spiralizer to peel and core them. Then I shred them with a kitchen aid stand mixer attachment.
Place them in a bowl and combine them with the lemon juice, vanilla, cinnamon and powdered sugar. Let them marinate together for 10-15 minutes.
Then place the apple mixture in a sieve, mixing the mixture every few minutes to strain out some of the juice. I got about a cup of juice leftover from it but that depends on the type of apples and how ripe they were.
Crust
Preheat the oven to 350F/177C convection (325F/163C conventional) and grease either a deep dish 9-inch pie pan or a 9x13x2-inch baking pan.
In the bowl of a stand mixer, combine the flour, sugar, baking powder and salt. Add in the egg yolks, butter, vanilla, lemon zest and sour cream. Mix it with a flat beater until it's fully combined and no longer sticking to the edge of the bowl.
Place half of the dough on the bottom of the pan and spread it out like a crust coming all they way up the sides. It should be about a 1/4-1/3" thick. Sparsely sprinkle some cream of wheat or cornmeal on top of the crust to prevent it from getting soggy.*
Spread the apple filling evenly over the crust. Sprinkle the rest of the cream of wheat on top of the apple filling.
Roll out the rest of the dough (on a floured surface) and then lay it on top of the filling. If it's too soft and breaks, you can just patch it up with blobs of dough, like I did.
Use a fork to crimp the edges and poke a few holes in the top of the crust. Bake for about 40-45 minutes, until it's browned.*
Let it cool at least an hour before cutting. Store in an airtight container at room temperature for up to 2 days and then refrigerate for up to a week.
Notes
*If you bring the crust all the way up past the edge of the pie dish, that part will brown much quicker. You can either let it get dark like I did or cover it with some foil like you would a regular pie crust.
Recommended Products
As an Amazon Associate and member of other affiliate programs, I earn from qualifying purchases.
Nutrition Information:
Yield:
12
Serving Size:
1
Amount Per Serving:
Calories:

576
Total Fat:

26g
Saturated Fat:

15g
Trans Fat:

0g
Unsaturated Fat:

9g
Cholesterol:

110mg
Sodium:

240mg
Carbohydrates:

82g
Fiber:

6g
Sugar:

42g
Protein:

7g
Nutrition information may not be fully accurate.