Chai Spiced Apple Cider Donuts
Fall's favorite dessert, apple cider donuts but make it actually taste like apples and make it chai spiced…oh & if you're feeling fancy, top it with a caramel glaze while you're at it.
There's something more important than having a PSL in the fall, it's called Apple. Cider. Donuts. And while we're at it chai lattes>>>PSLs, so I partnered with Danish Creamery to make these donuts the ultimate fall treat with both apple cider and chai spice.
How to make homemade apple cider donuts
Believe it or not, these apple cider donuts are SO EASY TO MAKE! I know they're generally fried and fried donuts are amazing and all but nobody has time for that.
For these baked donuts, all you have to do is combine the wet ingredients, add the dry ingredients, bake in a donut pan, brush with melted Danish Creamery European Style Butter With Sea Salt and then roll it in chai spiced cinnamon sugar.
What you'll need
Flour – I used all-purpose flour for these muffins. Flour is the most inaccurately measured ingredient so I highly recommend a digital kitchen scale to measure for all baking recipes.
Baking Powder – gives a good rise to the donuts for even baking.
Spices – I used cinnamon and nutmeg in the donut batter and for the chai spiced sugar, I used cinnamon, nutmeg, ginger, cloves, allspice and cardamom.
Butter – once you go European salted butter, you never go back. I've been absolutely loving the depth of flavor and the creaminess from the 85% butterfat in Danish Creamery's European Style Butter with Sea Salt. It's velvety texture and rich flavor comes from being slow churned in small batches and preserved in foil.
Eggs – always use large room temperature eggs
Sugar – I've made these with granulated sugar, light brown sugar and dark brown sugar. I prefer the dark brown sugar but you can certainly substitute for the other ones if you don't have it on hand.
Apple Butter – This is the game changer here. Most apple cider donuts only use apple cider for that apple-y flavor and I feel like they're always missing something…apple butter is what they're missing.
Apple Cider – Because donuts have a thicker batter and use less liquid, you want to squeeze as much apple flavor into the batter with the least amount of liquid so reducing the apple cider on the stove will make the apple cider stronger and better for baking with.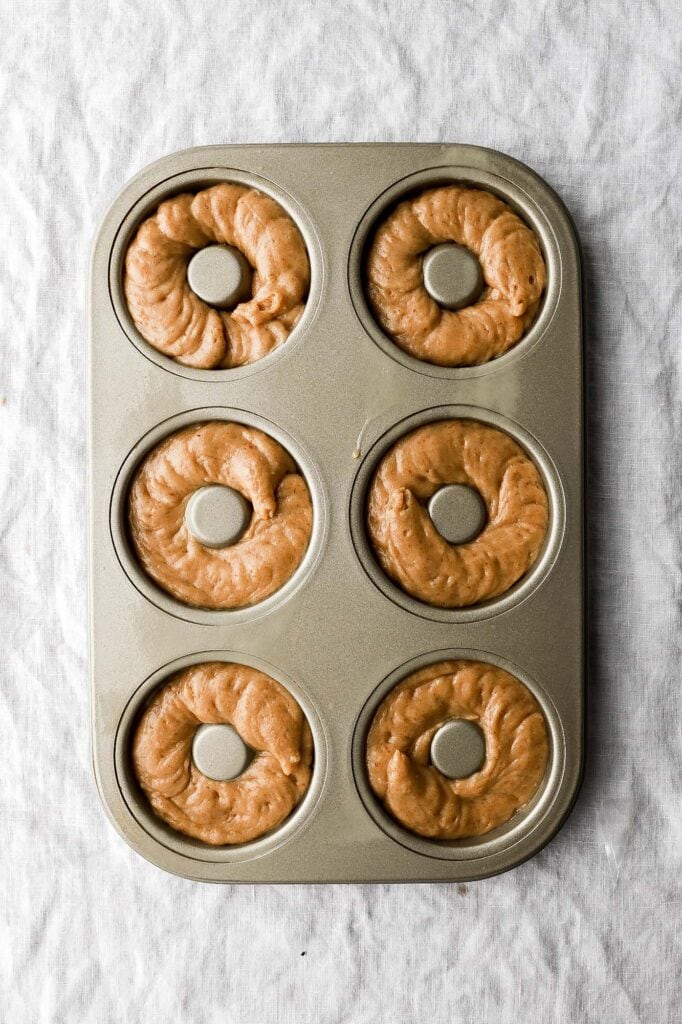 Chai Spice Sugar
Can you call it an apple cider donut if it's not covered in sugar?! No.
I wanted to spice these babies up a little bit (pun intended) to make them extra special. I combined granulated sugar with brown sugar and all the chai spices! If you have leftover sugar, just put it in a ziplock bag or airtight jar and store it at room temperature and use for french toast, apple cider cake, etc. 
Caramel Glaze
Ok, the caramel glaze is optional, highly recommended, but optional. I used Danish Creamery's European Style Butter with Sea Salt to make my favorite Homemade Salted Caramel Sauce. Once it cools to room temperature, use equal parts of the caramel and powdered sugar, with a pinch of cinnamon to make the BEST glaze.  
I tossed some of the donuts with just the chai spiced sugar, dunked some donuts in the caramel glaze but whatever you do, do NOT dunk the sugared donuts in the glaze because the glaze won't stick, the sugar will just fall off into the glaze, lol. If you want both, toss the donuts in the sugar and then drizzle on the glaze, 10/10 recommend.
Frequently Asked Questions
Can I use a store bought apple butter?
For this recipe you can use my instant pot apple butter recipe, crock pot apple butter or store bought apple butter. You can use both just make sure whatever you use isn't too runny. If your apple butter is a little more runny, try adding an extra Tbsp of flour. 
Can I use a different spice blend for the sugar?
You definitely can. I like to make my own chai spice since I have all of the ground spices in my pantry but you can certainly just replace it with 1-2 Tbsp of your favorite chai spice blend, depending on how strong you want it. You can also just do cinnamon or cinnamon and nutmeg!
What kind of caramel sauce to use for the glaze?
I tried this a few different ways. My favorite is using my Homemade Salted Caramel Sauce recipe. You can also use a store bought caramel but it may be a little more runny than homemade. If it is, you can just add a little extra powdered sugar to it.
I also tested this with apple cider caramel and if you want an even stronger apple flavor you can replace half of the heavy whipping cream in my Homemade Salted Caramel Sauce with reduced apple cider.
Apple Cider Caramel:
Make Homemade Salted Caramel Sauce but when you add the heavy whipping cream, replace half with the 1/2 cup of apple cider. 
Return the caramel to the stove and boil for another 2 minutes.
Allow it to cool and make the glaze as instructed. 
How to store apple cider donuts
Store apple cider donuts in an airtight container or ziplock bag, at room temperature for 1-2 days. If it's longer than that, simply place them in the freezer. You can also wrap them individually and then place them in a ziplock bag or airtight container if you want to freeze for 2-3 months. Bring them back to room temperature before serving!
Thanks so much for reading today's post , if you have any questions just comment down below, i'm happy to answer! If you make apple cider donuts I would absolutely love to see them so please make sure to tag me @baranbakery on instagram.
As always, have a blessed day and happy baking!
Love, B
Yield: 18 Donuts
Chai Spiced Apple Cider Donuts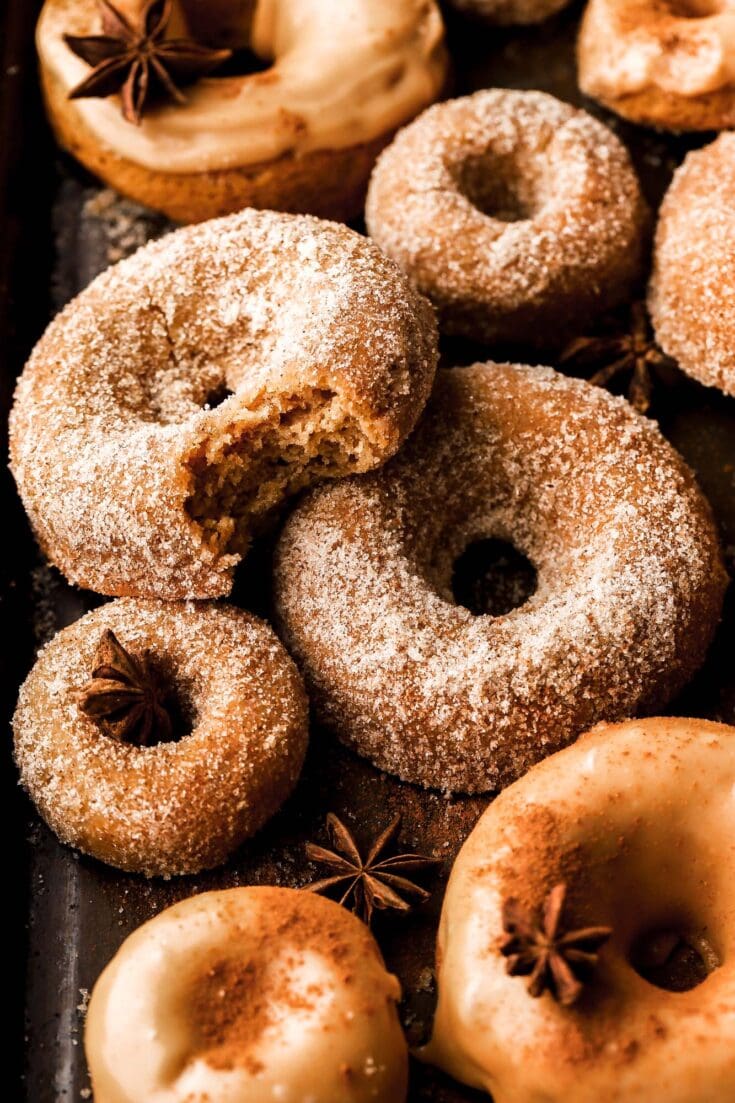 Baked apple cider donuts coated with a delicious chai spiced sugar and an optional caramel glaze!
Additional Time
10 minutes
Ingredients
Apple Cider Donut
1/2 cup (118mL) reduced apple cider (1 1/2 cups reduced down to 1/2 cup)
2 1/4 cups (270g) all-purpose flour, spooned and leveled
1/2 tsp baking powder
1/2 tsp baking soda
1 tsp cinnamon
1/2 tsp nutmeg
1/2 cup (113g) Danish Creamery European Style Salted Butter, melted
1 cup (200g) light brown sugar, lightly packed
2 large eggs, room temperature
1/2 cup (160g) apple butter
Chai Sugar
1 cup (200g) granulated sugar
1/4 cup (50g) light brown sugar, lightly packed
1/2 tsp cinnamon
1/4 tsp nutmeg
1/4 tsp ginger
1/4 tsp cloves
1/4 tsp allspice
1/8 tsp cardamom
Tiny pinch ground black pepper
1/4 cup Danish Creamery European Style Salted Butter, melted
Caramel Glaze *optional
1 cup (8oz) caramel, room temperature
1 cup (120g) powdered sugar, spooned and leveled
1/4 tsp cinnamon
Instructions
Reduce the apple cider by placing 1 1/2 cup of apple cider in a medium saucepan over medium-low heat. Allow it to simmer for 10-15 minutes until it is reduced to a 1/2 cup.
Pour it into a heat safe jar or cup and allow it to cool while you get the rest of the ingredients together.
Donuts
Preheat the oven to 425F (218C) and grease three donut pans (or one at a time).
In a medium bowl, combine the flour, baking powder, baking soda, cinnamon and nutmeg. Set aside.
In a large bowl, whisk together the reduced apple cider, melted butter, brown sugar, eggs and apple butter until they are well combined.
Fold in the flour mixture just until the flour is incorporated and then use a piping bag or a spoon to fill the donut molds. Bake the donuts for about 8-10 minutes, until they are golden brown and spring back when you press on them gently.
Invert the donuts onto a wire rack and let them cool for a few minutes.
Chai Sugar
In medium bowl, combine the granulated sugar, brown sugar and the spices.
One at a time, brush the donuts with the melted butter and then immediately toss in the chai sugar until it's fully coated. Repeat with the rest of the donuts.
Caramel Glaze *optional
If you are making my Homemade Salted Caramel recipe, you can do it before starting so it has time to cool.
Combine the 1 cup of caramel sauce with the powdered sugar and cinnamon and whisk until it's completely smooth.
Dip PLAIN donuts in glaze or drizzle on top of sugared donuts. Do not dip the sugared donuts in the glaze or the sugar will just fall off into the glaze.
Notes
*can also just do cinnamon sugar for the coating
Nutrition Information:
Yield:
18
Serving Size:
1
Amount Per Serving:
Calories:

150
Total Fat:

3g
Saturated Fat:

1g
Trans Fat:

0g
Unsaturated Fat:

1g
Cholesterol:

29mg
Sodium:

85mg
Carbohydrates:

29g
Fiber:

1g
Sugar:

16g
Protein:

3g
Nutrition information may not be fully accurate.
This post is sponsored by Danish Creamery. All thoughts and opinions are 100% my own. Thank you for supporting the brands that support Baran Bakery!