Apple Pie with Puff Pastry
We've all had apple pie but have we had apple pie with puff pastry crust? The way this puff pastry crust puffs up around the pie is absolutely gorgeous and is a unique twist on the classic apple pie. It's flakey, buttery and melts in your mouth!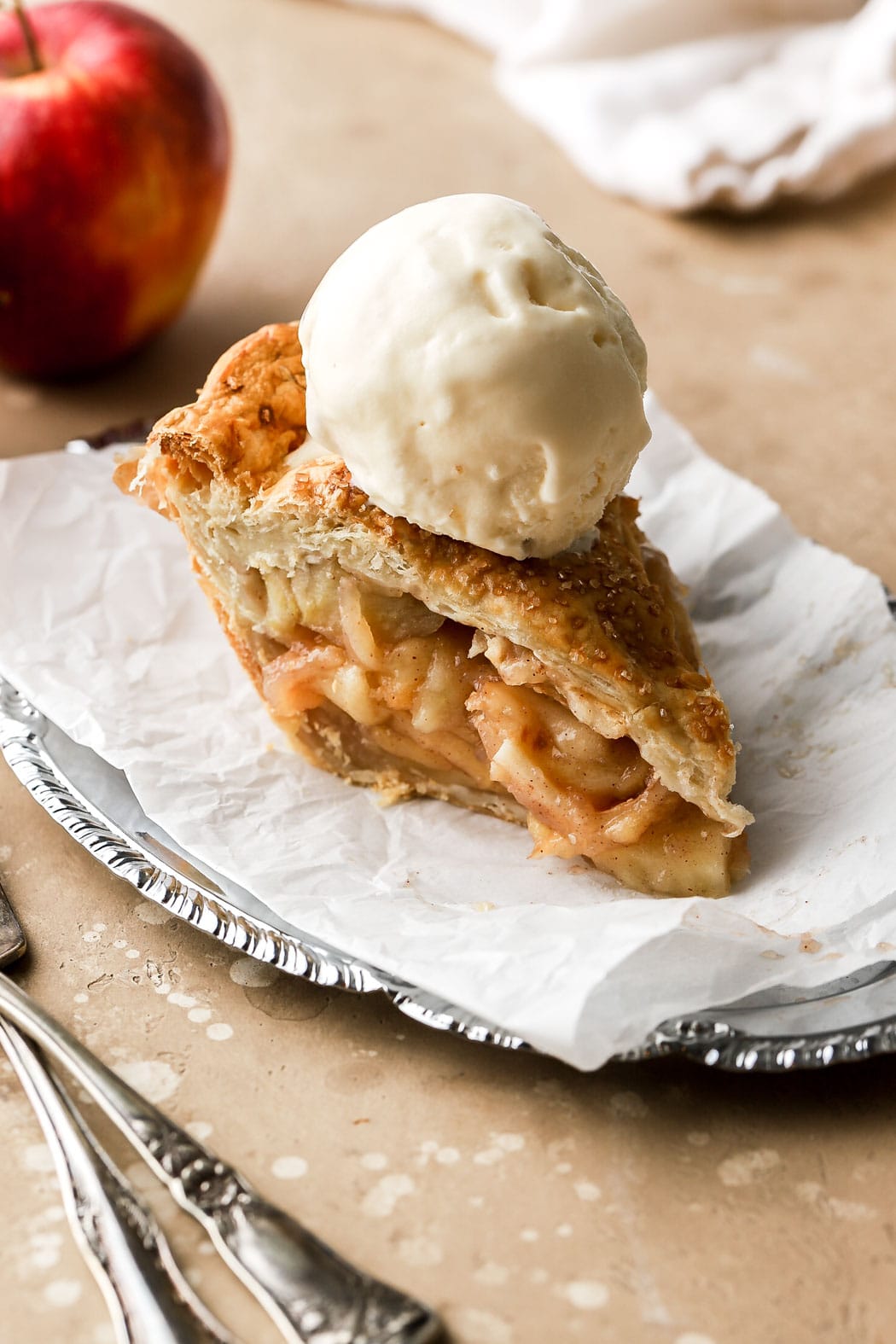 There are SO MANY apple pie recipes out there. I mean, it's a classic, so of course there are. I never actually shared my apple pie recipe because to be honest, I usually just wing it or I make my Momma's Apple Pie recipe lol.
The last couple of years, I decided to write down the recipe I was using so that one day I could publish it for you but I have such a hard time publishing a recipe that's just very similar to all the rest out there.
So today I'm sharing my apple pie recipe with one tweak. The tweak is the crust. I normally use my traditional pie crust with this filling (sometimes with brown butter) but I HAD to try it with puff pastry. Turns out, it's amazing. The high butter content in puff pastry makes this crust melt in your mouth. Not to mention, I think it's stunning.
*disclaimer: if you want a crispy crust, this crust is not it. The top is a little crispy (similar to a croissant) when it's fresh but it is buttery and flakey and melts in your mouth with a slight bready chew.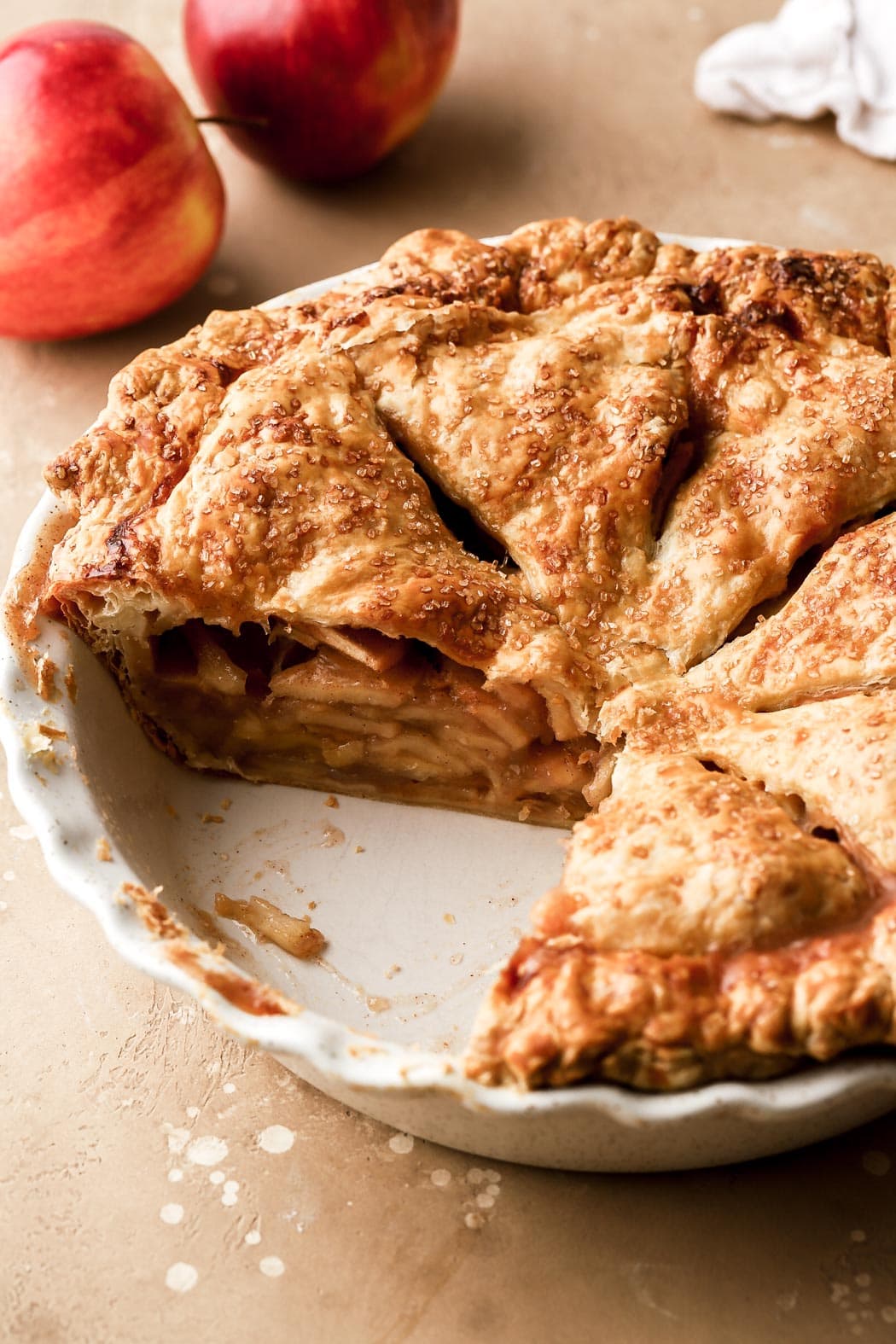 Why you'll love this Apple Pie
This pie is basically apple pie stuffed inside a giant croissant. The crust is super buttery and melts in your mouth.
It's actually super easy to make (despite the time) and still very impressive to serve!
It's great leftover too if it's reheated.
(You can do this with other fruits as well).
When I make pie with fruits, I strain the liquid to prevent a soggy crust. I use that liquid to make the BEST ice cream and you get the recipe by signing up below. Or you can use it to make my apple cider caramel which is in the recipe card.
Ingredients & Substitutions
Apples: I use 10 medium-large apples. So maybe 12 if they're medium, 8 if they're large. They'll make your pie feel really full but they shrink as they're baking.

I love to use my apple corer to peel, core and slice the apples all in one.

Cornstarch: used to thicken the juices from the apples so that it gets more saucy and not runny. Arrowroot starch also works here or even flour (double the amount for flour).
Sugar: to be honest, any kind of sugar works well here and you can use less or more depending on how sweet you want it or what apples you use.
Lemon: whenever I bake with apples I like to coat them in lemon juice. This prevents them from getting brown super quick and brings out their natural tartness.
Salt: salt brings out natural flavors and cuts the sweetness a bit. I like to use fine sea salt. If you're using table salt, I would use half the amount.
Spices: for apple recipes, I generally just do ground cinnamon and a little bit of ground nutmeg.
Puff Pastry: I always make homemade pie crust because I don't like the taste of store bought pie crust. However, I used store-bought puff pastry here because I'm not a puff pastry expert…yet.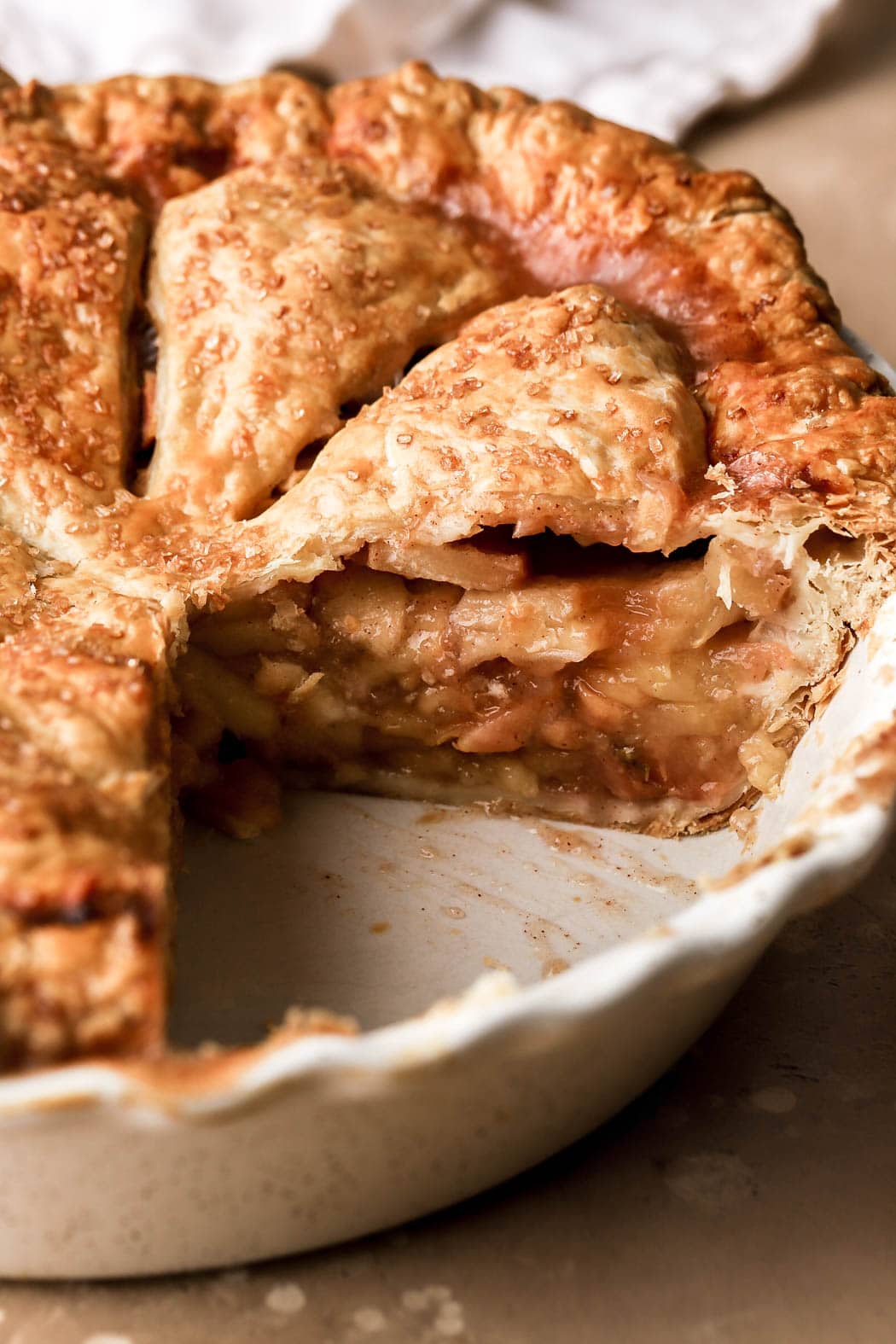 How to make an apple pie with puff pastry
STEP 1: Peel, core and slice apples: I like to use an apple spiralizer to make this super quick and easy. Toss them with the lemon, brown sugar, cinnamon, nutmeg and salt. Let them rest for 1-2 hours.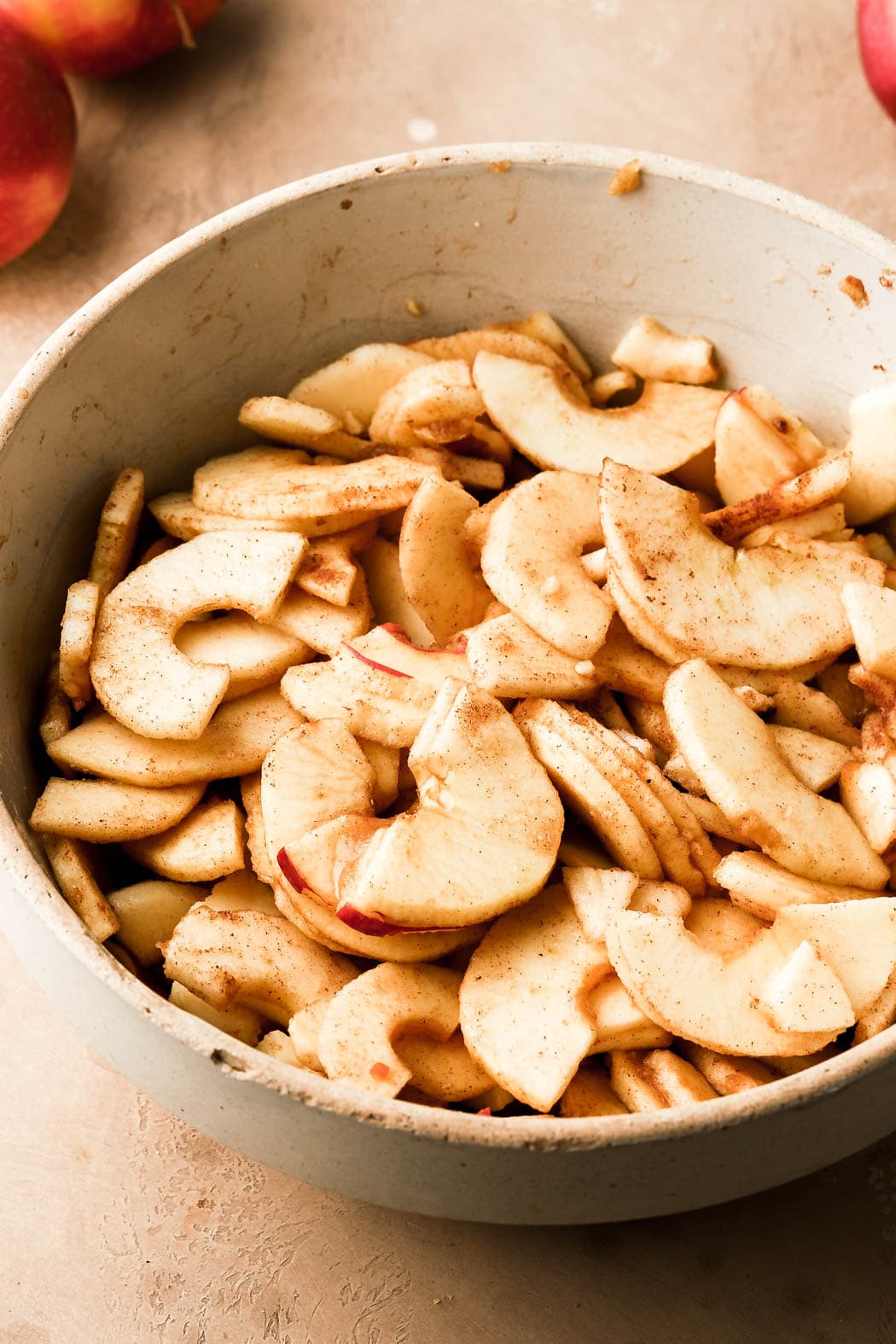 STEP 2: Strain the apple from its juice, there should be about ½ cup of juice left behind. Use this juice to make ice cream or apple cider caramel.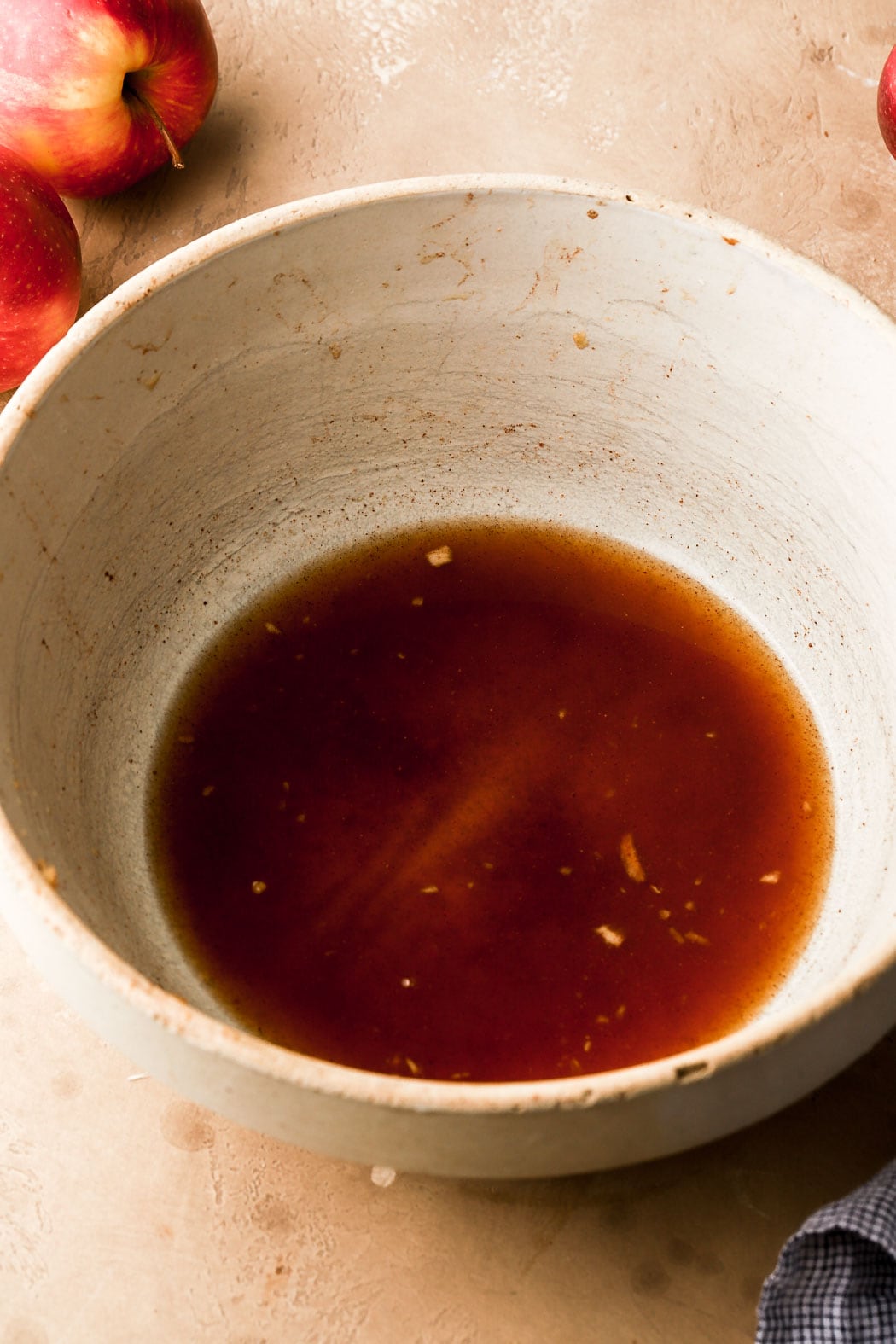 STEP 3: Toss apples with cornstarch until they're well coated.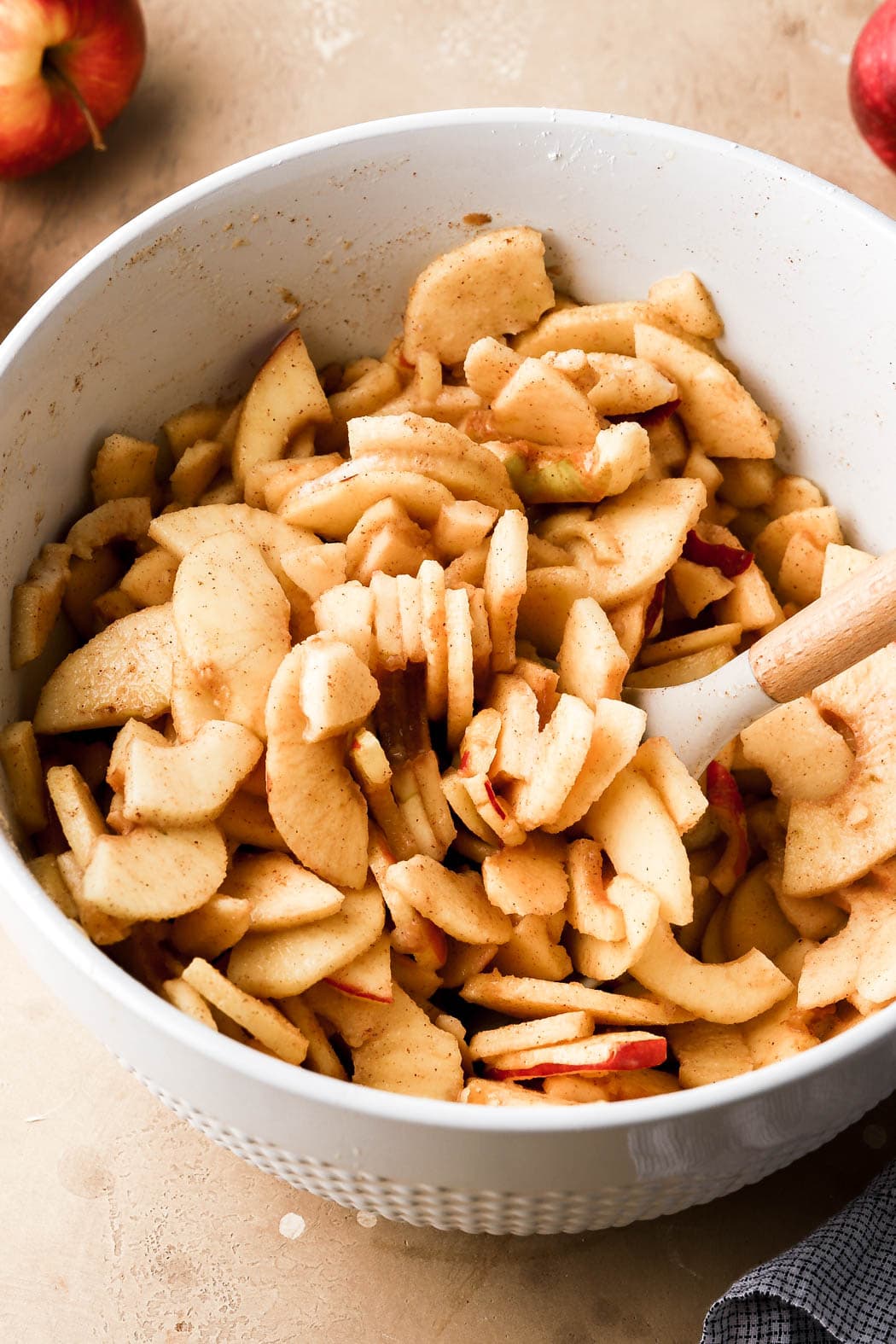 STEP 4: Prepare the puff pastry crust by rolling it out 1-2 inches longer on each side, enough to hang over the edge of the dish a little. Place the bottom sheet in the deep dish pie pan and sprinkle a little flour on the bottom of the crust. Place the apples on the bottom crust.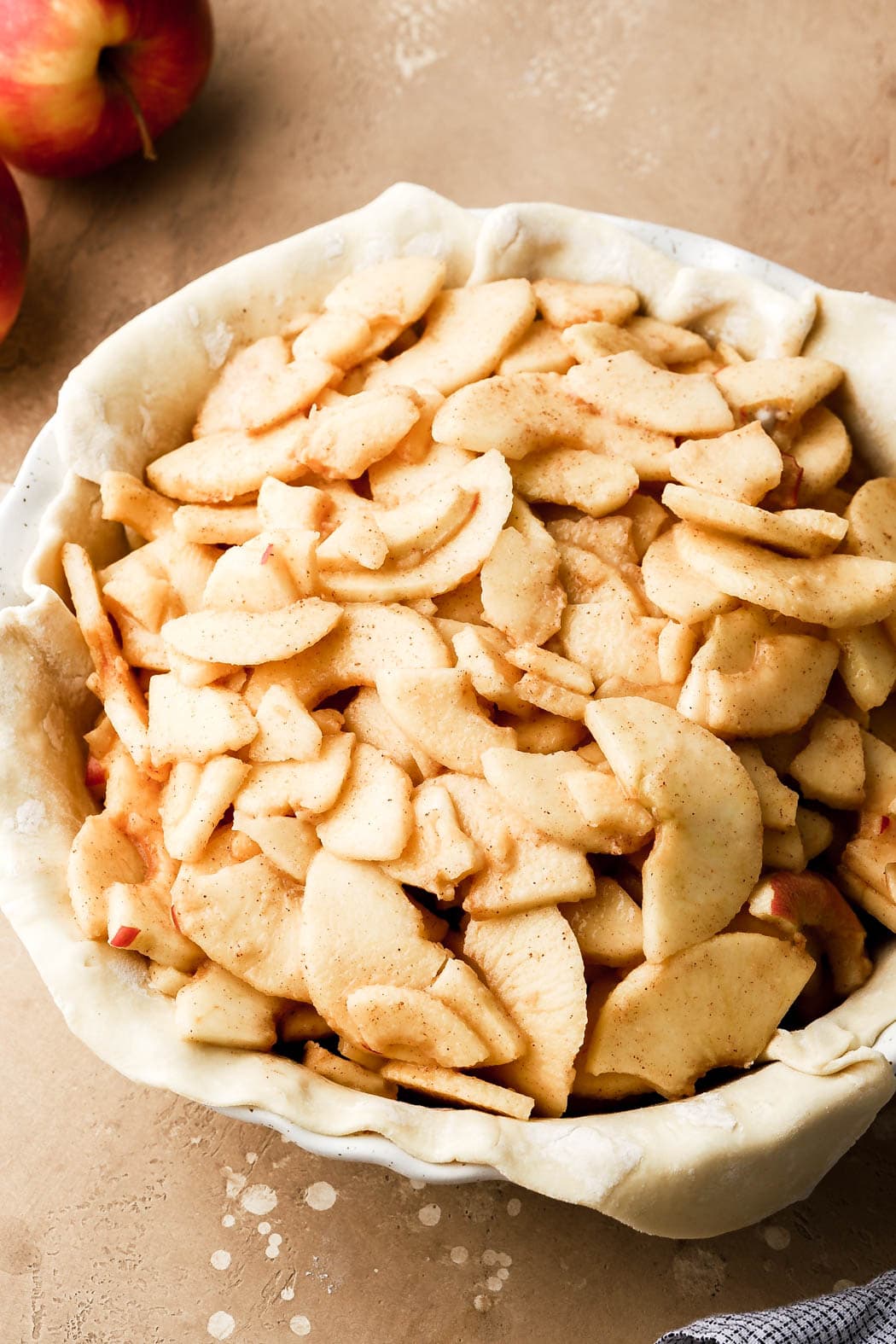 STEP 5: Repeat with the top crust and place it on top of the apples. Sealing and crimping the edges. Refrigerate for 30-60 minutes then egg wash and top with raw sugar.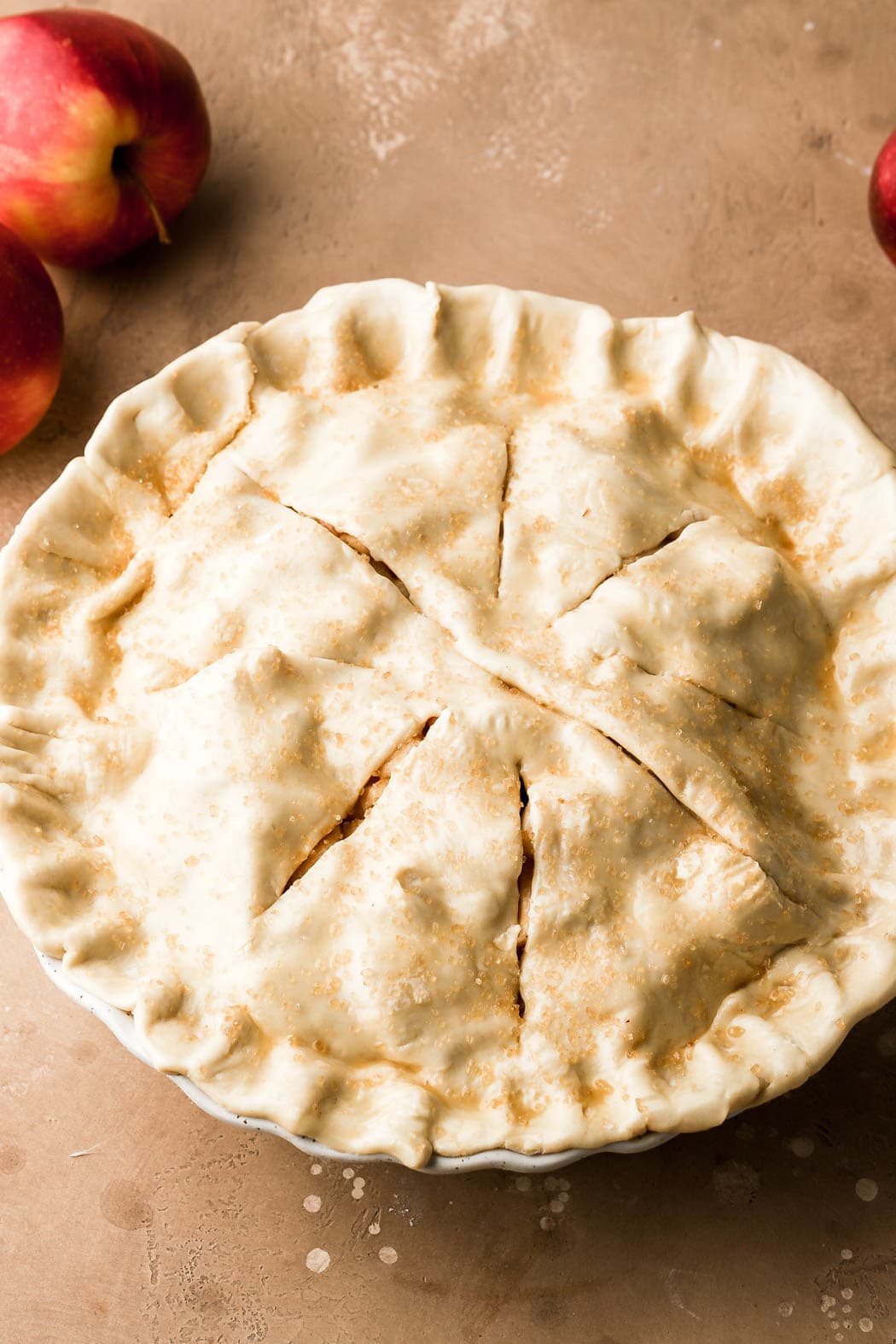 STEP 6: Bake the pie uncovered on the bottom rack in a conventional (no fan) oven for 75 minutes. Feel free to add more time if needed. The juices should be bubbling through the top slits of the crust. Feel free to also cover the edges with foil if they're browning too quickly.
STEP 7: Allow the pie to cool for a few hours before serving with ice cream and salted caramel sauce or apple caramel sauce.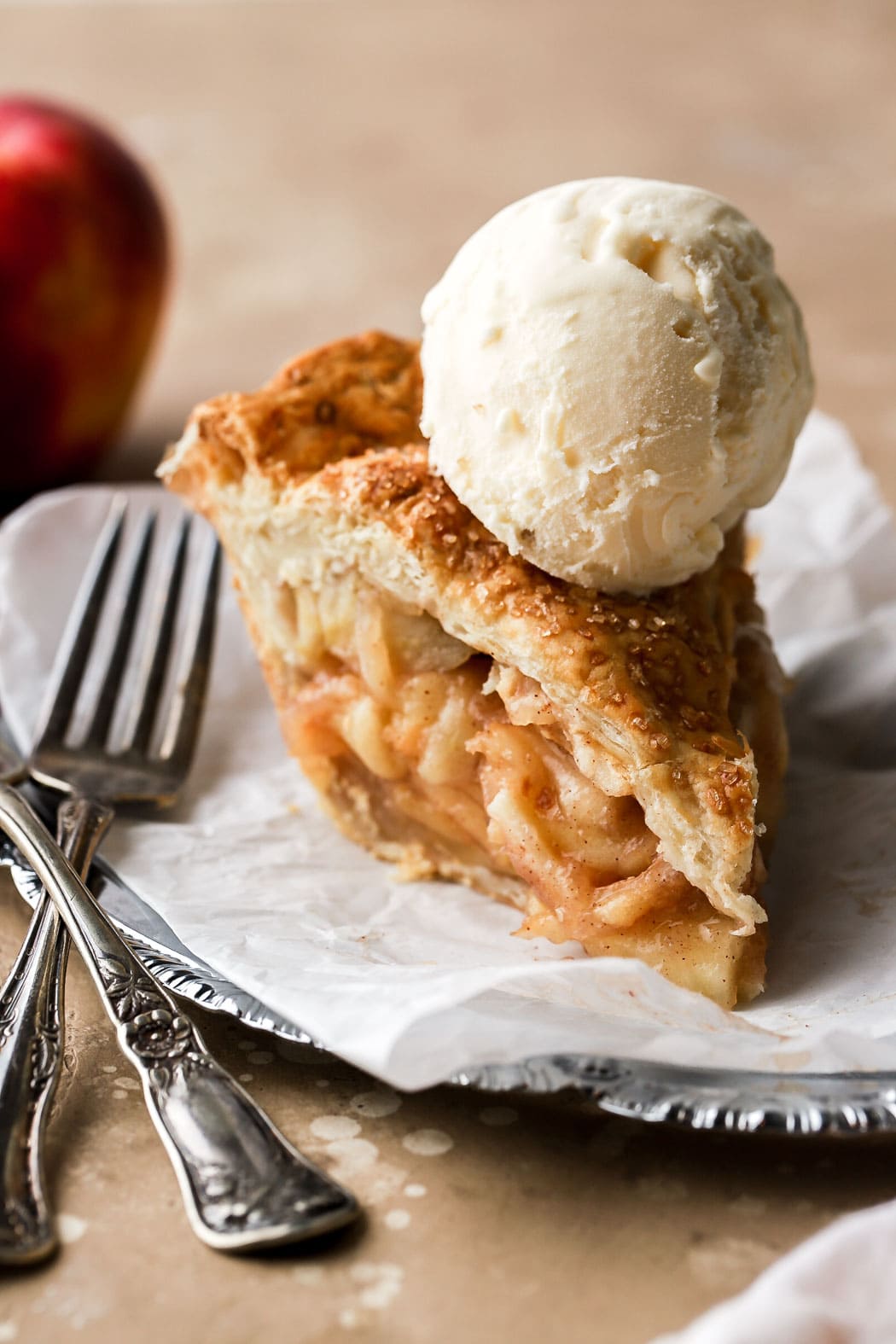 Pro Tips for getting the best bake
Make sure to thaw the puff pastry in advance. I left it in the fridge until about 10 minutes before I used it. Puff pastry is much softer than pie crust so it should be fine to gently roll out when it's chilled.
Do not skimp on the apple resting time. The sugars draw out the liquid from the apples and letting them rest before baking will eliminate a lot of the juice that can make your bottom pastry soggy.
Make it hours in advance or the day before serving because it is much easier to serve once it's cooled and it takes a few hours to cool.
10/10 recommend an apple spiralizer to make all your fall baking 10x quicker. This apple corer peels, slices and cores the apples all at once. I use it for ALL my apple recipes.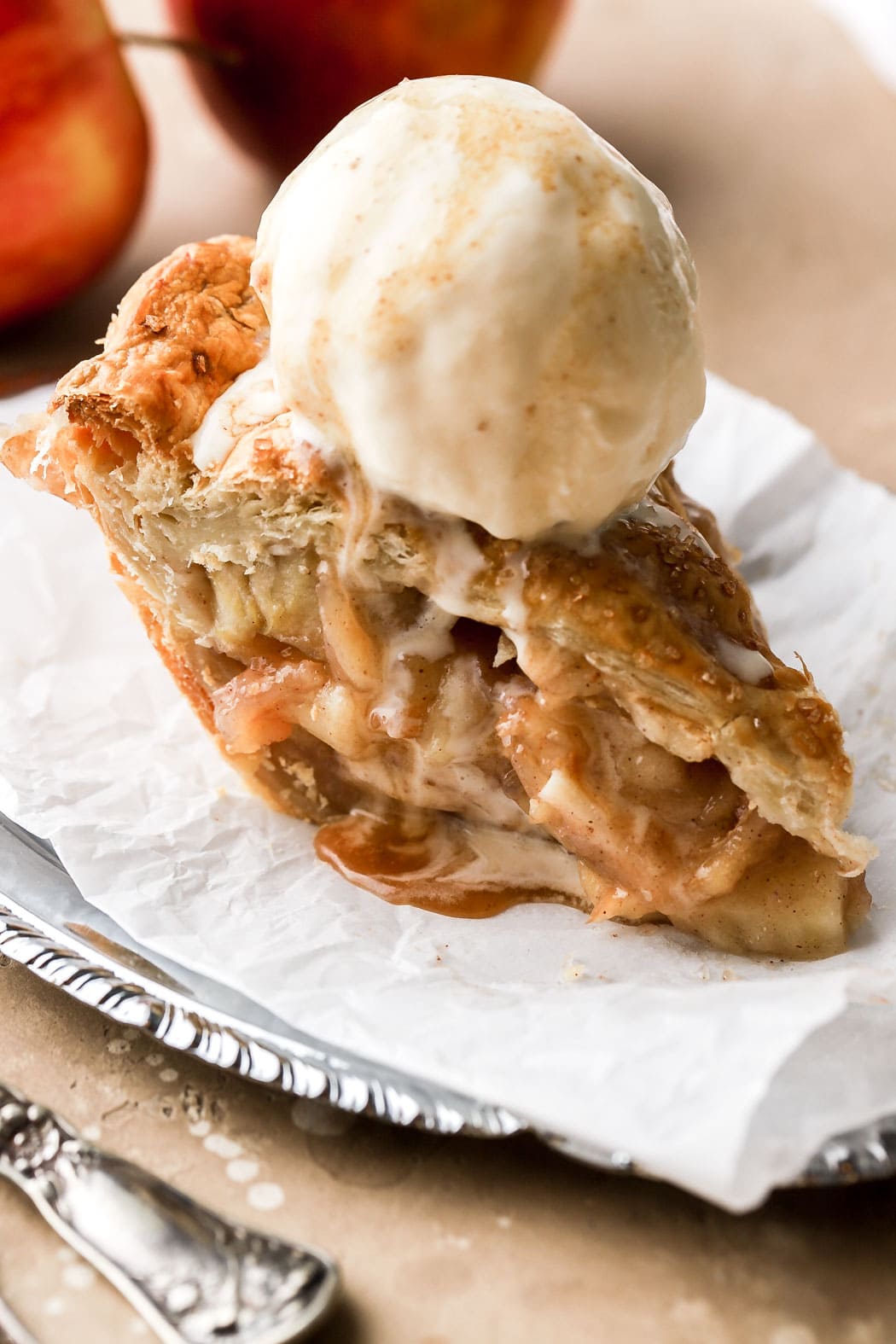 Frequently Asked Questions
What kind of apples should I use
I find that most apples work well in desserts except golden apples (those are too mushy). My favorites are honeycrisp, fuji or gala apples. If you want the crisp to be more tart and less sweet, use granny smith apples.
Do I have to peel the apples?
I find the skin a little unpleasant but you don't HAVE to peel the apples. I do since it's easy with an apple spiralizer. 
Can I use homemade puff pastry? 
I used a store bought puff pastry but you can make your own puff pastry dough at home. Make sure if it's frozen puff pastry to thaw it before using. 
Can I make it dairy free?
Yup, If you find a dairy free puff pastry or if you make your own dairy free puff pastry!
Can I make it gluten-free?
Yup, If you find a gluten-free puff pastry or if you make your own home made puff pastry with gluten-free flour!
What kind of ice cream to serve with pie?
Most people opt for simple vanilla ice cream. If you're feeling fancy, you can make my ice cream with the leftover apple juice from the filling (downloadable recipe above) or make my super delicious cinnamon roll ice cream.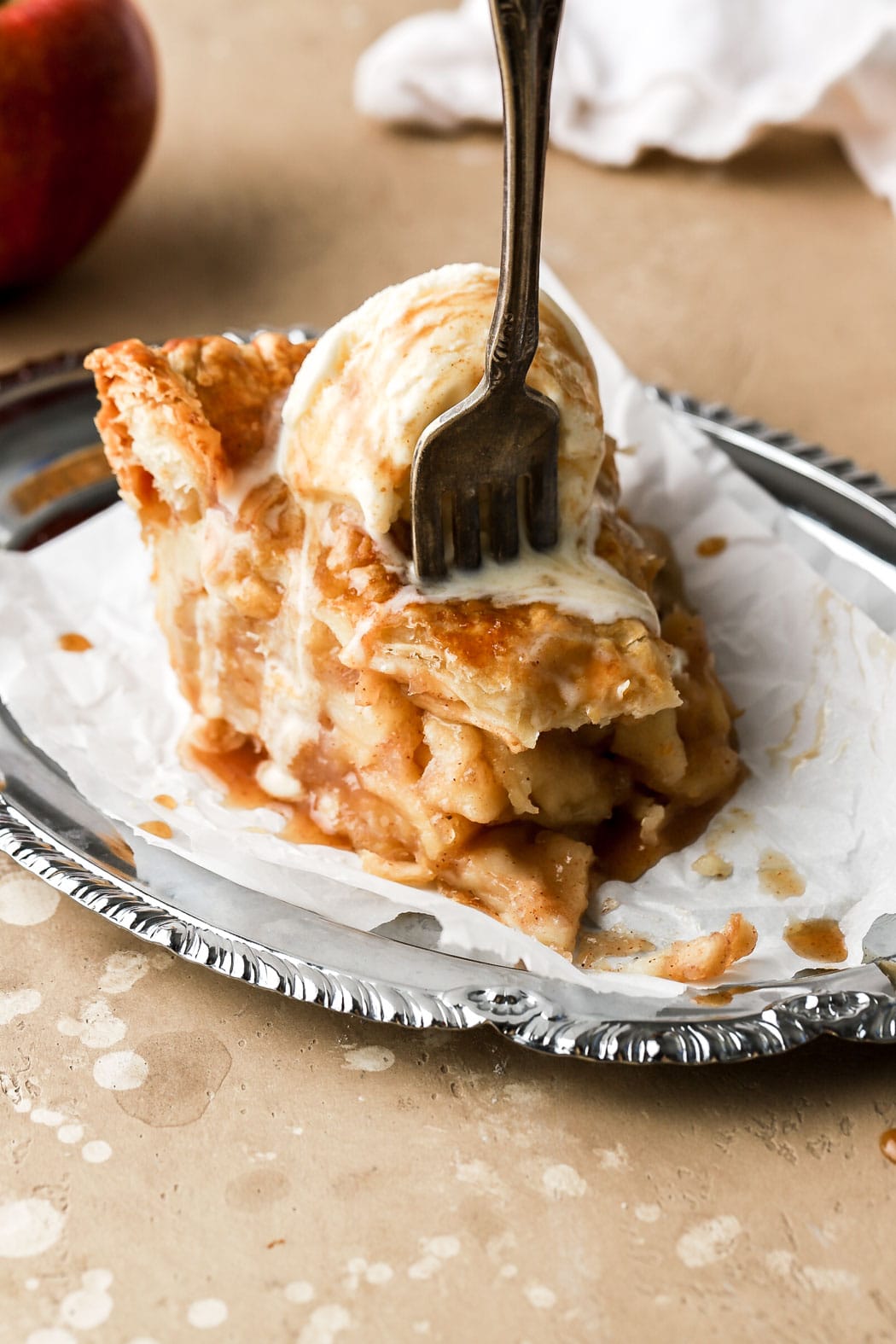 How to serve and store the apple pie
I recommend serving the apple pie on a plate and then topping with ice cream so the ice cream doesn't melt all over the pie that's not getting eaten.
Store the leftover pie covered in the refrigerator and then bake for 10-15 minutes at 325F (or microwave) before serving again.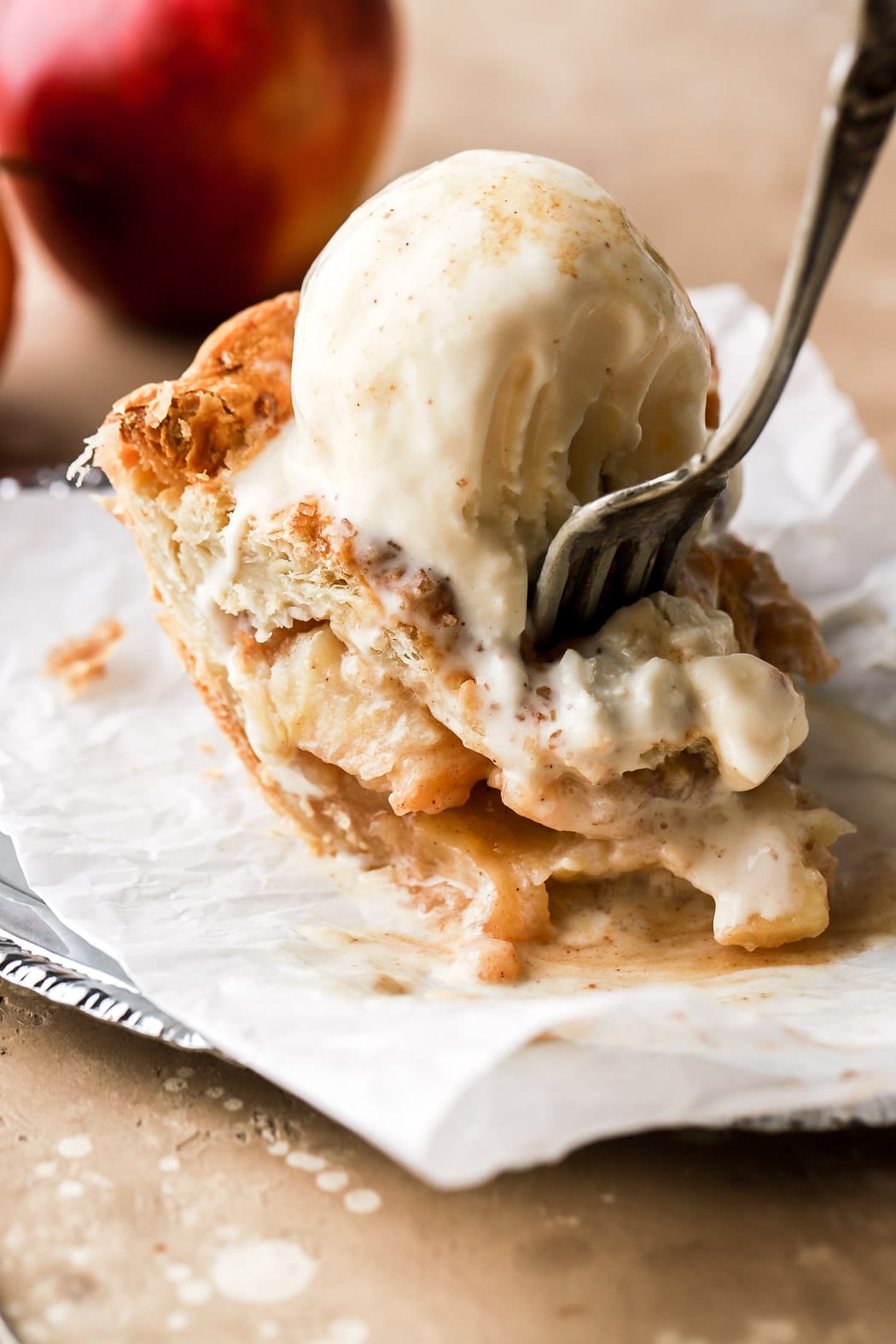 Thanks so much for reading today's post, if you have any questions just comment down below. Make sure to leave it in the comment section because I can't answer in the rating section :).
If you make this puff pastry apple pie recipe I would love to see it so make sure to tag me @baranbakery on instagram!
If you loved this recipe, make sure to leave me a star rating below as well 🙂
As always, have a blessed day and happy baking!
Love, B
Yield: 1 deep dish pie
Puff Pastry Apple Pie Recipe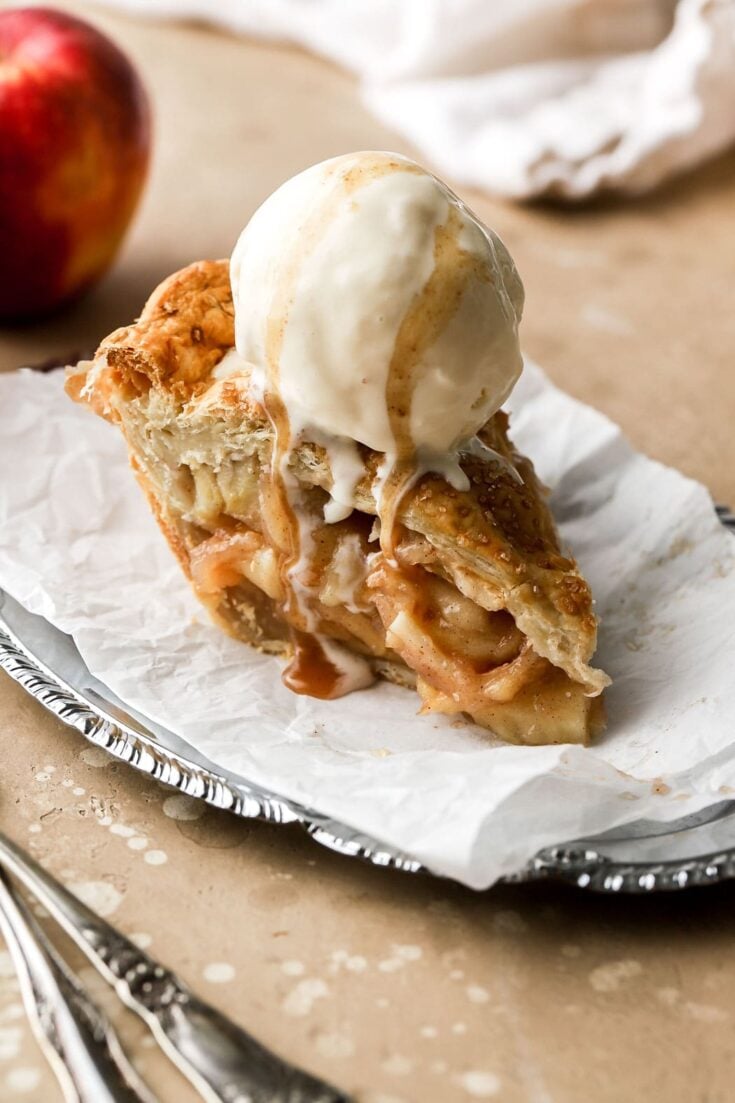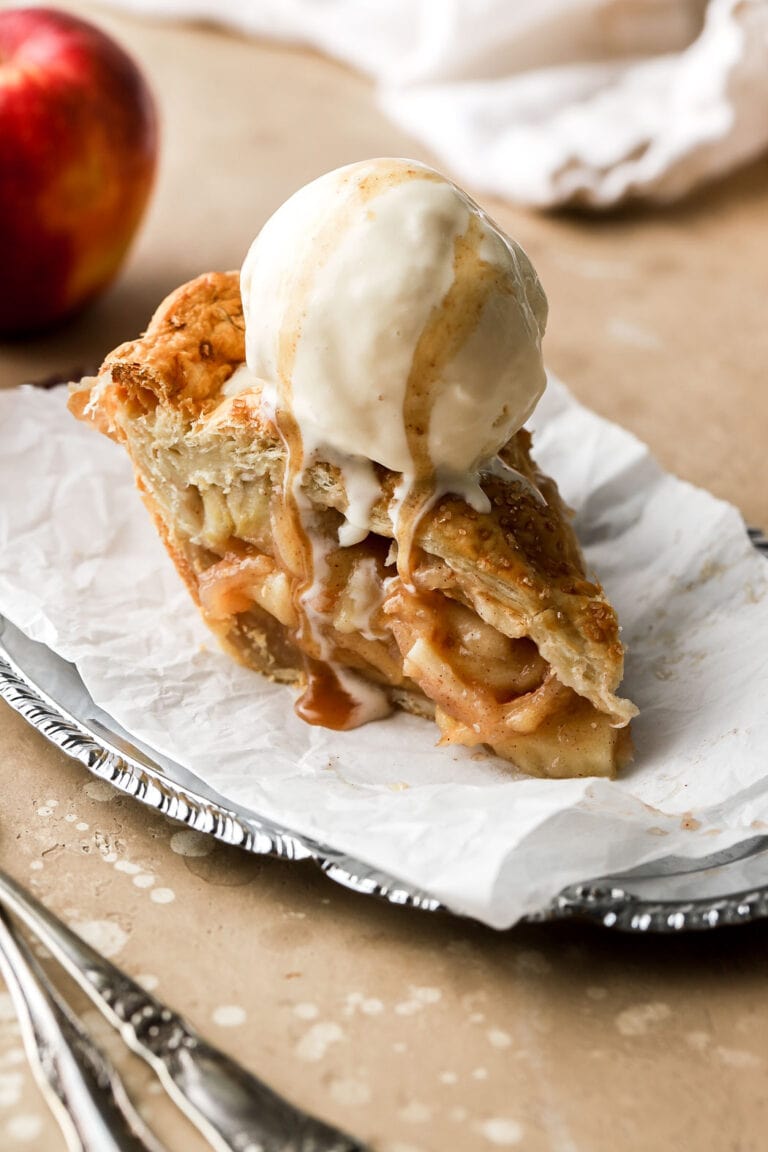 A unique twist on the classic apple pie, this puff pastry pie is flakey, buttery and melts in your mouth and the way the crust puffs up around the pie is absolutely gorgeous!
Cook Time
1 hour
15 minutes
Ingredients
Puff Pastry Apple Pie
1 package puff pastry (both sheets)
Flour for dusting
1 large egg, for egg wash
1-2 Tbsp raw sugar
Apple Filling
10 medium-large apples
1 large lemon, juice
1/2 cup (100g) light or dark brown sugar, lightly packed
2 tsp cinnamon
1/2 tsp nutmeg
1 tsp vanilla
1/3 cup (42) cornstarch, spooned and leveled
Instructions
Thaw the puff pastry sheets in the fridge overnight or at room temperature for a few of hours.
Peel and slice the apples and toss them into a large bowl. Squeeze the juice of one large lemon on top of the apples and then add the sugar, cinnamon, nutmeg and vanilla.
Toss all the ingredients together and then allow it to macerate for 1-2 hours.
On a lightly floured surface, roll out one of the puff pastry sheets an extra 1-2 inches on each side so that it hangs over the end of a deep dish pie plate.
Use a slotted spoon to remove the apples from their bowl and place them into another bowl, reserving the excess juice.* Toss the apples with the cornstarch and then place them over the bottom puff pastry sheet.
Repeat with the top puff pastry sheet and place it on top of the apples. Trim off any excess puff pastry and fold the ends of the sheets over one another so they're sealed. Crimp with your finger along the edge of the plate and cut a few slits in the top of the crust.
Refrigerate the pie for 30 minutes and preheat the oven to 350F (177C) conventional (no fan).
Place the egg into a small bowl and use a fork or a small whisk to beat the egg vigorously until it's runny. Use a pastry brush to egg wash the puff pastry pie crust and then top with raw sugar.
Bake for 75 minutes on the bottom rack of the oven. The juices should be bubbling through the slits of the crust. If they're not bubbling and the edges of the pie are getting too dark, feel free to cover them with the foil and bake for an additional 5-20 minutes.
The pie will set up nicely as it cools but if you serve it hot, it is more difficult to slice.
Notes
*I used the leftover apple juice to make my apple cider caramel sauce. Make sure to strain it well so there are no chunks in the juice and just replace the apple cider in that recipe with this apple juice.
Recommended Products
As an Amazon Associate and member of other affiliate programs, I earn from qualifying purchases.
Nutrition Information:
Yield:
8
Serving Size:
1
Amount Per Serving:
Calories:

291
Total Fat:

3g
Saturated Fat:

1g
Trans Fat:

0g
Unsaturated Fat:

2g
Cholesterol:

47mg
Sodium:

34mg
Carbohydrates:

64g
Fiber:

6g
Sugar:

38g
Protein:

4g
Nutrition information may not be fully accurate.