Chocolate Peanut Butter Banana Cake
Chocolate peanut butter banana cake has chocolate chip banana cake layers and is frosted with creamy peanut butter Swiss meringue buttercream and dark chocolate ganache!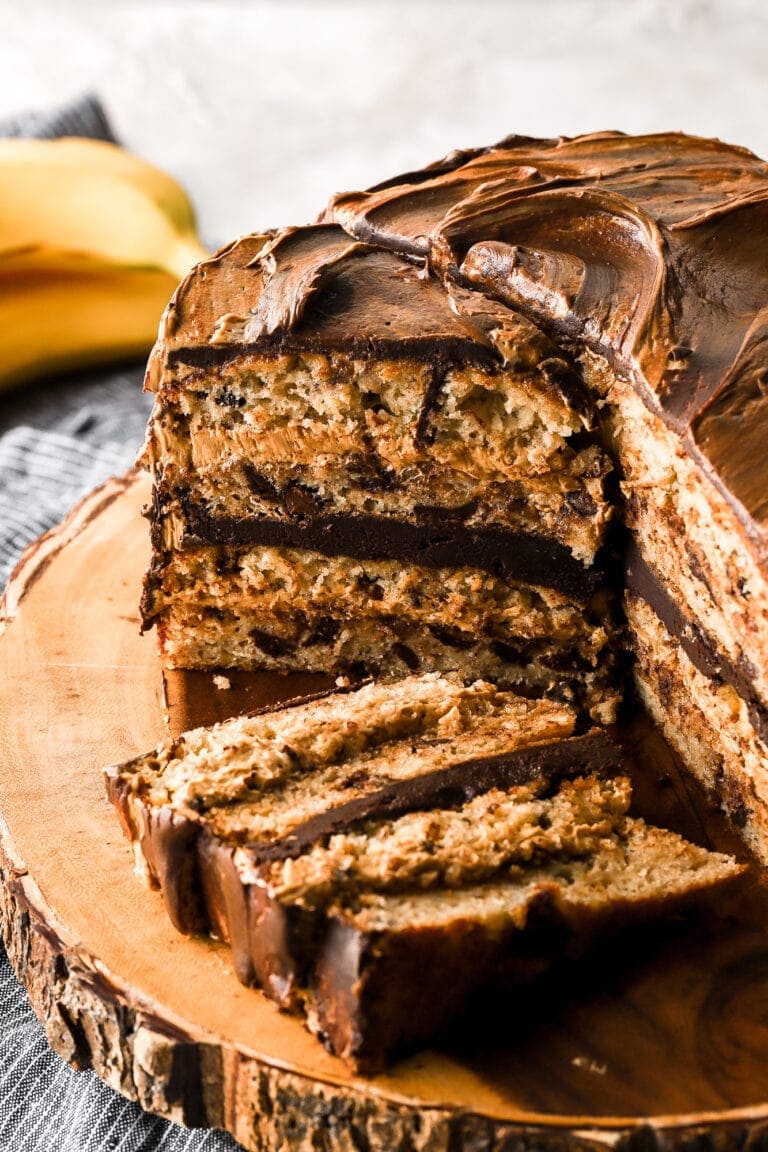 The best chocolate chip banana cake
Friends. I've tested sooo many versions of banana cakes and this is my favorite. Banana cakes can often be too dry/bread-y or they can be kinda gummy. I've made/tested many versions of banana cake and this recipe is amazing.
Tips to get the perfect texture/bake
Measuring Flour Properly: I'm going to start writing this in all of my posts because I think it's that important. PLEASE invest in a kitchen scale (This scale is great!)The biggest mistakes in baking is over-baking and over measuring the flour. It takes a little getting used to but once you get used to it you don't even need to dirty measuring cups anymore lol. It's so much easier and so much more accurate.
The Perfect Bananas: Use three medium-large bananas; like normal size bananas, not super small and not super large. Make sure they're ripe or just straight up brown lol but don't use fresh yellow bananas; the browner the better, in my opinion. If you do get your kitchen scale, the peeled bananas should weigh about 375g, which is about 1 1/4 cups.
Baking The Cake Just Right: This is easier said than done because you don't want a gummy under-baked cake either. The cake should turn a golden brown color and when you press on it, it should barely return. If it stays pressed in all the way, bake it just a couple minutes more. If it springs back really quickly and it feels bouncy, it may be over-baked but it's still good.
What kind of chocolate to use
For the chocolate chunks, I used a dark chocolate baking bar and chopped it up into chocolate chip size. You can also use regular chocolate chips.
For the ganache I used dark chocolate chips. Feel free to use either milk chocolate, semi-sweet or dark chocolate for the chocolate chunks and the ganache.
What buttercream to use
If you've purchased my cookbook, Frosted, you'll see that most buttercreams are interchangeable. I consider "one batch" of buttercream to be made out of 1 cup of butter. For this peanut butter banana chocolate chip cake, I used one batch of Swiss meringue buttercream. You can also do one batch of American frosting, French buttercream, etc.
How to make peanut butter Swiss meringue buttercream
Swiss meringue buttercream is more intimidating on paper than it is to actually make. I finally took step by step shots for this so stay tuned for a DETAILED post on Swiss meringue buttercream. For now, if you have any questions just comment down below!
Important things to keep in mind for Swiss meringue buttercream is temperature. If you're concerned about the eggs, you can use a thermometer and bring the egg whites and sugar mixture to 160F (71C) over the double boiler. Then you'll beat the mixture until stiff peaks form and it's no longer warm. This usually takes about 5-10 minutes.
You also want the butter to be right at room temperature or just slightly colder. I usually remove the butter from the fridge the night before and then if it feels too soft (too soft means squishy and greasy) I refrigerate it while I'm making the meringue. You want the butter to be soft enough to press in when you push on it firmly.
After the buttercream comes together just add peanut butter and vanilla and mix until it's combined. If it's too soft and silky to frost the cake with, just refrigerate it for 10-20 minutes.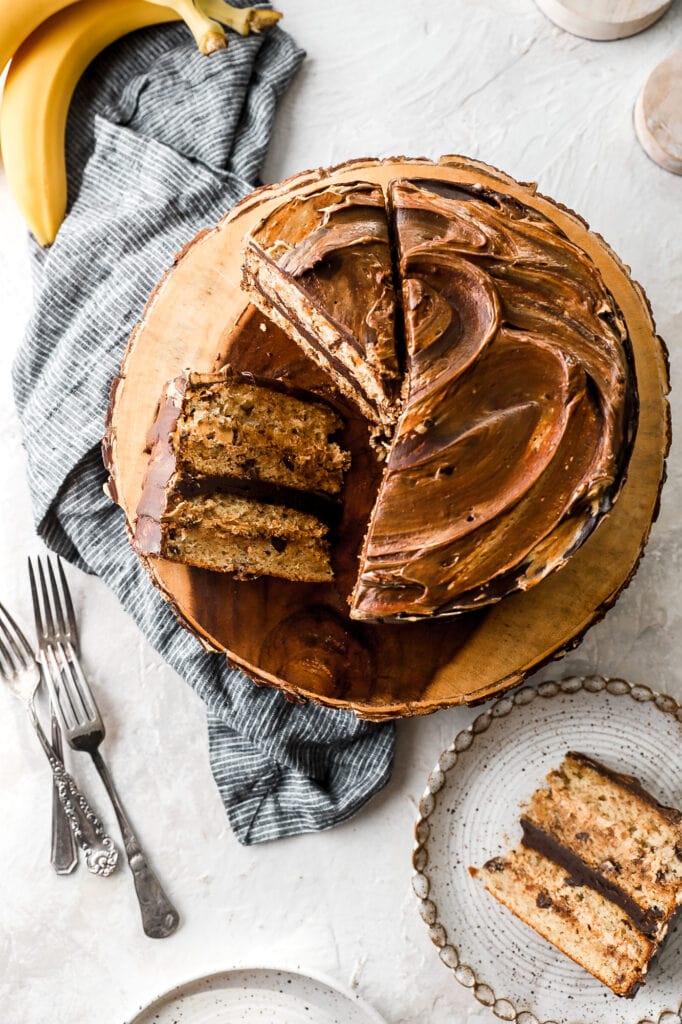 How to make banana cake ahead of time
For the banana chocolate chip cake: when the cake is almost fully cooled, wrap it in plastic wrap and if it's over one night, leave it on the counter. If it's longer, you can freeze it up to a week before and defrost it on the counter before frosting.
For the chocolate ganache: you can make it the night before and just leave it covered on the counter. If you refrigerate it, it will get too hard to spread onto the cake and then you'll have to reheat and then it'll have to cool again.
For the peanut butter Swiss meringue buttercream: you can make this up to two days before and leave it covered on the counter. If it's longer than two days, you can refrigerate or freeze it but you'll have to bring it back to room temperature and probably rewhip it to make it fluffy again.
How to store peanut butter banana chocolate chip cake
Store the frosted cake at room temperature for 2-3 days. If it's sliced, make sure to cover the cut side with plastic wrap or a cake dome. You can also refrigerate the cake fully covered for up to a week.
To freeze the cake, slice it and place the slices in an airtight container. Then place the container in a freezer bag, squeezing out all the excess air. Freeze for about 2 months.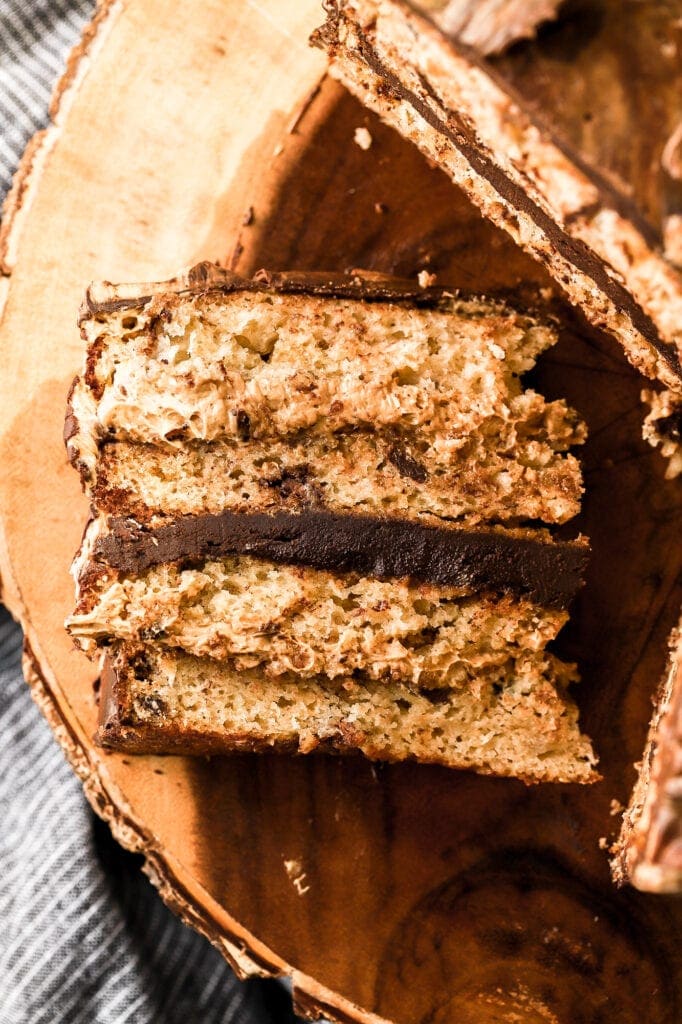 Thanks so much reading today's post, I hope you guys enjoy this cake! If you have any questions, just comment down below and please be patient for a response 🙂 Make sure to tag me @baranbakery on instagram if you make this banana cake. As always, have a blessed day and happy baking!
Love, B
Yield: 14 servings
Peanut Butter Chocolate Chip Banana Cake Recipe
Chocolate chip banana cake frosted with creamy peanut butter swiss meringue buttercream and dark chocolate ganache!
Prep Time
1 hour
15 minutes
Total Time
5 hours
40 minutes
Ingredients
Banana Chocolate Chip Cake
2 1/2 cups (300g) all-purpose flour, spooned and leveled
1/2 tsp baking soda
2 tsp (7g) baking powder
1/2 tsp salt
3 large bananas
2 large eggs, room temperature
1 cup (200g) granulated sugar
1/2 cup (95g) light brown sugar, lightly packed
1/2 cup (113g) sour cream or Greek Yogurt
1/2 cup (118mL) canola oil
1 tsp vanilla extract
1 cup (6oz) chopped dark chocolate or chocolate chips
Chocolate Ganache
1 cup (237mL) heavy whipping cream
2 cup (12oz) dark chocolate chips
Peanut Butter Swiss Meringue Buttercream
4 large egg whites, room temperature
1 cup (200g) granulated sugar
1 cup (227g) unsalted butter, room temperature
1/2 cup (135g) creamy peanut butter
1 tsp vanilla bean paste or extract
1/8 tsp salt
Instructions
Banana Chocolate Chip Cake
Preheat the oven to 350F/177C convection (325F/163C conventional) and grease and line two 8" baking pans.
In a medium bowl, whisk together the flour, baking soda, baking powder, and salt. Set the dry ingredients aside. In another medium bowl, mash the bananas until they look almost pureed (small chunks are ok). Set the bananas aside.
In a large bowl, whisk together the eggs and sugars until the mixture is smooth. Add in the greek yogurt and oil, whisking them in until they're fully incorporated. Add the vanilla and bananas to the mixture and whisk until they're fully combined. Add in the dry ingredients and mix until the flour is just barely incorporated. Then fold in the chocolate chips.
Pour the cake batter in the prepared pans and bake for 25-30 minutes, until lightly browned and springs back when you press on it.
Dark Chocolate Ganache
In a small pot, heat the cream over medium-low heat just until it begins simmering. Pour it into a larger bowl over the chocolate chips and cover it for 1-2 minutes.
Then slowly stir until all of the chocolate is melted and combined with the cream. Cover it allow it to cool while the cake cools.
Peanut Butter Swiss Meringue Buttercream
Bring a small pot with 1/2 cup of water to a boil and lower the heat to simmer.
Place the egg whites and granulated sugar in the bowl of a stand mixer and place the bowl over the simmering water for 5-10 minutes, whisking intermittently until the granulated sugar is completely dissolved.
Once the sugar is dissolved, remove the bowl of egg whites from the heat. Use the whisk attachment to beat the egg whites with the sugar. Beat for 7-10 minutes on high speed and then lower the speed to low-medium.
Slowly add 2 Tbsp of butter in at a time. Wait for the butter to incorporate before adding the next chunk. Once all the butter is added, turn the mixer up to high speed for a few seconds, until it comes together.
Then use a rubber spatula to scrape the edge of the bowl. Add the peanut butter, vanilla bean paste (or extract) and salt and beat until it's fully combined.
Assemble
Once the cake has cooled completely, use a large serrated knife to slice each layer in half so you have four layers.
Place a bottom layer onto a flat surface and spread a generous layer of peanut butter swiss meringue buttercream on top. Place a second layer on top and frosted with half of the dark chocolate ganache (it should be a spreadable consistency once cooled).
Repeat with the third layer and the buttercream then place the fourth layer on top and refrigerate the cake for 30 minutes.
Once the cake feels set and sturdy, lightly frost with peanut butter swiss meringue buttercream, leaving just a little left over. Then randomly place dabs of dark chocolate ganache on top and spread lightly to marble it. Don't overspread or it will all look one color. If some spots are too dark, add some more of the leftover buttercream.
Add any leftover buttercream and ganache to the top of the cake and swirl it back and forth for some texture.

Nutrition Information:
Yield:
14
Serving Size:
1
Amount Per Serving:
Calories:

814
Total Fat:

48g
Saturated Fat:

23g
Trans Fat:

0g
Unsaturated Fat:

22g
Cholesterol:

89mg
Sodium:

313mg
Carbohydrates:

89g
Fiber:

5g
Sugar:

61g
Protein:

11g
Nutrition information may not be fully accurate.
For more banana recipes, check out: