Chocolate Chip Cake with Bourbon Caramel
Fluffy chocolate chip cake filled with bourbon salted caramel sauce and frosted with vanilla swiss meringue buttercream!
What's better than chocolate chip cake and vanilla buttercream? Chocolate chip cake with vanilla buttercream and bourbon salted caramel, duh! This is actually a super old post, back from my nursing days. I made this cake for a friends birthday at work and the photos did not do it justice so updated the recipe and the photos for ya.
How to make the best chocolate chip cake
If you don't already know, I always use my favorite vanilla 6 inch cake as a base for three layer 6 inch cake recipes. It is my absolute favorite cake recipe and for this guy, I just added some chopped up chocolate to it!
What kind of chocolate to use for chocolate chip cake
I named it chocolate chip cake but I technically used a chopped up chocolate bar. I tested it with both kinds and you can use either chopped chocolate or chocolate chips but I do recommend mini chocolate chips because they're easier to slice through.
Personally, I prefer milk chocolate or semisweet chocolate but if you don't want it as sweet you can also do dark chocolate or bittersweet chocolate.
How to make bourbon salted caramel sauce
I have a whole post on How to make homemade salted caramel sauce because homemade caramel >>> store bought caramel! Usually, I'm all for taking the easy way out and buying a store bought jam or lemon curd or whatever but I just can't get down with the store bought caramel. I've yet to taste one I like but I could eat homemade caramel by the spoonful.
To make it bourbon salted, I just add 1-2 Tbsp of bourbon to it and 1/2 -1 tsp of salt. You can start with less and add more if you prefer. When you add the bourbon to it, it does thin it out a little bit so I bring it back on the stove and as soon as it comes to a boil again, remove it. If you boil it too long it'll get thicker and chewier and eventually turn into caramel candies.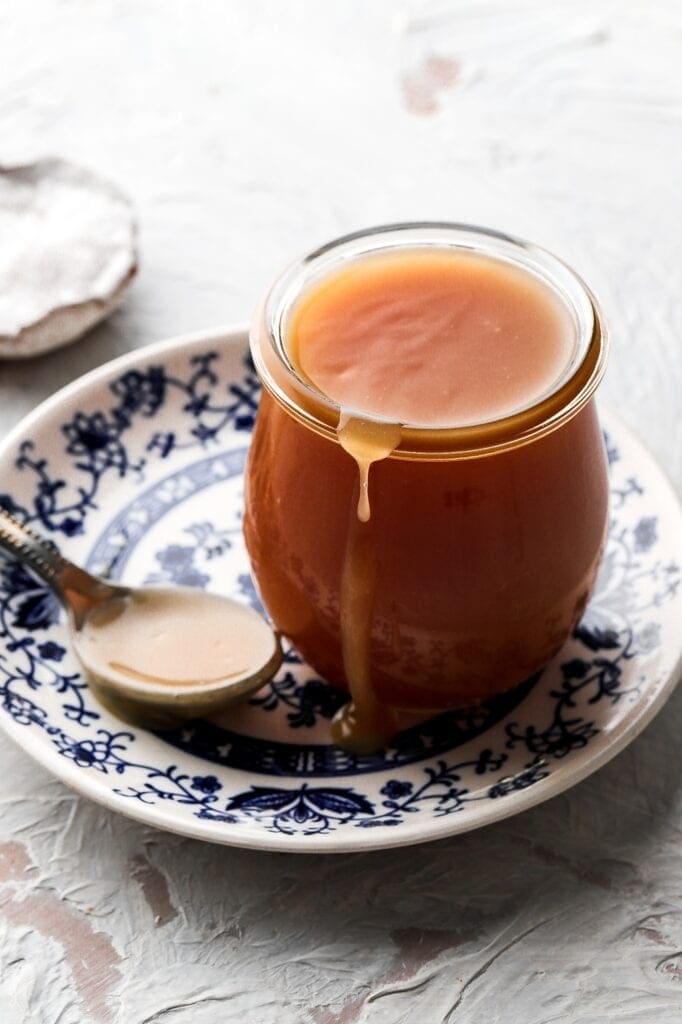 What kind of buttercream to use
Well, honestly, you can use any kind of buttercream you want for this chocolate chip cake! If you have my book frosted, where I teach you how to make all the different types of buttercream, you'll know that most of them are interchangeable. Usually the substitution is about1:1 if they use the same amount of butter.
For instance, in this recipe I use one batch of Swiss meringue buttercream that uses 1 cup of butter. This can be substituted for one batch of French buttercream that uses 1 cup of butter. So you can use whatever buttercream is your favorite.
I find them all to be fairly similar but Swiss meringue buttercream is the easiest and most reliable for me, although I think French buttercream tastes the best lol.
How to assemble a cake with buttercream and caramel sauce
The best way for me to explain this to you is by pictures so I took some process shots of how I put it together. Basically you want to pipe a border of buttercream onto the cake layer and then fill in the border with caramel sauce. Try to be as neat with the border as you can, if there are any gaps, the caramel will find it's way through and seep out.
If your buttercream is too soft and you feel like it won't stay just refrigerate it (before or after piping) for 10-20ish minutes. To make it even easier, you can also refrigerate the caramel sauce for 15-30 minutes to make it less runny. You can also refrigerate the cake for 15ish minutes between every layer.
Then definitely refrigerate the cake for at least an hour after putting it together and before frosting the outside.
This part is optional but to make it really clean and neat looking, refrigerate it again for about 20-30 minutes after you've frosted it and before pouring the caramel sauce on it. Refrigerate it one more time for 20-30 minutes before slicing into the cake.
Can I make this cake ahead of time
YES! It can be a lot to do in one day so if you want to make parts of this cake ahead of time, you can.
Make the cake the day before, allow it to cool on the counter just until it's slightly warm and then wrap it in plastic wrap. Leave it on the counter overnight.
Make the caramel up to two weeks ahead of time. Store it in an airtight container in the refrigerator and bring it to room temperature/spreadable consistency before using.
Make the Swiss meringue buttercream the day before and leave it, fully covered, on the counter overnight. You can also make the buttercream way ahead of time and store it in an airtight container in the refrigerator for a few days or the freezer for a few weeks. Just make sure to leave it on the counter overnight so it comes back to a spreadable consistency. You may also need to give a good mix before frosting the cake.
How to store finished caramel chocolate chip cake
The finished cake can stay at room temperature for 2-3 days or refrigerated for up to a week.
The cake can stay uncovered only if it's uncut. If the cake is sliced into, cover it with a cake dome or cover the sliced edges with plastic wrap. Store any cut slices in an airtight container.
To freeze, refrigerate the cake for a little so it's not too soft. Slice the whole cake and then you can either wrap each slice individually in plastic wrap or place the slices together in an airtight container. Place the wrapped slices or the container in a freezer bag and squeeze out all the excess air. Freeze for 2-3 months.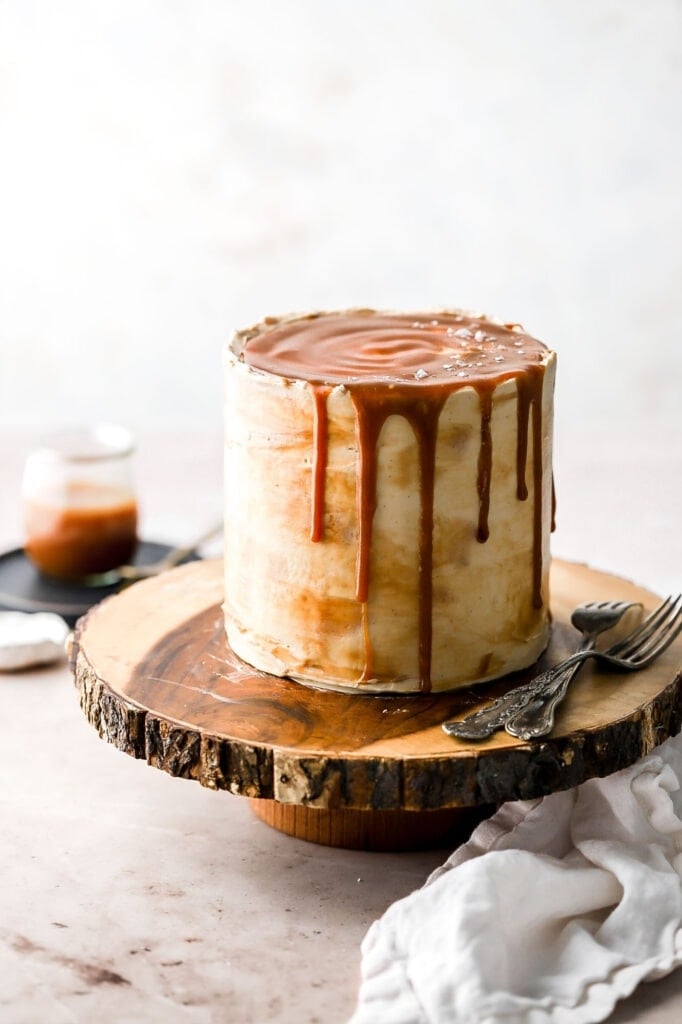 Thanks so much for reading todays post, if you have any questions comment down below and if you make this chocolate chip cake, make sure to tag me @baranbakery on Instagram. As always, have a blessed day and happy baking!
Love, B
Yield: 8-10 slices
Bourbon Caramel Chocolate Chip Cake Recipe
Three layers of vanilla cake with chocolate chips and frosted with caramel Swiss meringue buttercream!
Prep Time
1 hour
15 minutes
Additional Time
1 hour
30 minutes
Total Time
3 hours
20 minutes
Ingredients
Bourbon Caramel Sauce
1 cup (200g) granulated sugar
1/4 cup (56g) salted butter, softened
1/2 cup (118mL) heavy whipping cream
1/2 tsp fine sea salt
2-3 Tbsp (30-45mL) bourbon*
Chocolate Chip Cake
2 1/4 cups (270g) all-purpose flour, spooned and leveled
1 Tbsp baking powder
1/2 tsp salt
1/4 cup (56g) unsalted butter, room temperature
1 1/2 cup (300g) granulated sugar
1/2 cup (118mL) vegetable oil
3 large eggs, room temperature
1 tsp vanilla extract
3/4 cup (170g) sour cream, room temperature
3/4 cup (177mL) milk, room temperature
1 cup (6oz) chopped chocolate or mini chocolate chips
Swiss Meringue Buttercream
4 large egg whites, room temperature
1 cup (200g) granulated sugar
1 cup (227g) unsalted butter, room temperature
2 tsp vanilla bean paste
1/4 cup bourbon caramel sauce
Topping
bourbon caramel sauce
pinch of sea salt flakes
Instructions
Bourbon Caramel Sauce
Make one batch of Homemade Salted Caramel Sauce and add the bourbon with the salt.
Return the pot of caramel to the stove, over medium heat, and bring it back to a boil. Stir frequently and allow it to cool for 1-2 more minutes, then pour it into a glass container and allow it to cool to room temperature.
Chocolate Chip Cake
Preheat the oven to 350F/177C convection (325F/163C conventional) and grease and line three 6 inch cake pans. In a medium bowl, whisk together the flour, baking powder and salt until they're evenly distributed.
In the bowl of an electric mixer fitted with the whisk attachment, beat the butter and the granulated sugar for 2 minutes.
Add the oil and continue beating for a minute. Add the eggs, one at a time, beating on medium speed until each egg is fully incorporated.
Add the vanilla extract and sour cream and beat just until combined.
Add half of the dry ingredients to the wet ingredients, turn the mixer on low speed and then pour in the milk, followed by the rest of the dry ingredients. When the flour is almost fully combined, add in the chocolate chips and fold the batter until they're evenly distributed.
Distribute the batter evenly among the prepared pans, about 15oz in each pan and bake the cakes for 35-40 minutes. When the cake is fully baked it will release itself from the edge of the pan and it will spring back if you press on the center of it.
Invert the cakes onto a wire rack or tea towel and allow them to cool completely before frosting.
Swiss Meringue Buttercream
Place the egg whites and granulated sugar in a large bowl. Bring a small pot with 1/2 cup of water to a boil and lower the heat to simmer. Place the bowl of egg whites and sugar on top of the simmering water for 5-10 minutes, whisking intermittently until the granulated sugar is completely dissolved.
Once the sugar is dissolved, remove the bowl of egg whites from the heat and use an electric mixer with a whisk attachment to beat the egg whites with the sugar. Beat for 7-10 minutes on high speed and then lower the speed to low-medium.
Slowly add 2 Tbsp of butter in at a time. Wait for the butter to incorporate before adding the next chunk. Once all the butter is added, turn the mixer up to high speed for a few seconds, until it comes together. Then use a rubber spatula to scrape the edge of the bowl.
Add the vanilla bean paste (or extract) and beat until it's fully combined.
Assemble
To frost the cake, place the first cake layer on a flat surface and use a piping bag to pipe a border of buttercream. Inside the border, spread a layer of bourbon caramel sauce and then top with a thin layer of buttercream.
Repeat with the second layer and then place the third layer of cake on top. Smooth any buttercream that squished out on the edges of the cake and refrigerate the cake for at least 30 minutes, or until the cake feels firm enough to frost (make sure it's not wobbly).**
For the crumb coat, place 1/4 of the buttercream on top of the cake and use an offset spatula to spread it evenly throughout. It doesn't have to be perfect. Refrigerate the cake for at least another 15-30 minutes, or until the frosting feels set.
Add a 1/4 cup of the bourbon caramel sauce to the rest of the buttercream and mix until it's well combined. Place the rest of the buttercream on top of the cake and use an offset spatula to spread the frosting around. Then use a turn table and a cake scraper to create a smooth finish on the cake. (I left a rustic, uneven ridge at the top of my cake instead of smoothing it out).
Decorate
Use an offset spatula to randomly place dabs of caramel on the cake and use the cake scraper to smooth them out. Continue doing this until you like the look of the cake but don't over-do it or it will all blend together.
Pour the rest of the caramel on top of the cake and use a spoon to help it drip off one side.
Top with a pinch of sea salt flakes.
Notes
*bourbon is always optional. It makes the caramel sauce thinner so I bring it back to a boil to thicken it back up but if you omit the bourbon, you can skip that.
**If at any point during assembling the cake it feels unsteady/wobbly, refrigerate it. You can also refrigerate the caramel for a little too so it's not as soft but don't let it get super cold.
Recommended Products
As an Amazon Associate and member of other affiliate programs, I earn from qualifying purchases.
Nutrition Information:
Yield:
10
Serving Size:
1
Amount Per Serving:
Calories:

907
Total Fat:

52g
Saturated Fat:

26g
Trans Fat:

0g
Unsaturated Fat:

22g
Cholesterol:

154mg
Sodium:

463mg
Carbohydrates:

101g
Fiber:

1g
Sugar:

77g
Protein:

9g
Nutrition information may not be fully accurate.
For similar recipes, check out: