Step-by-step instructions and photos on how to brown butter. Browning butter elevates just about any recipe with a slightly nutty flavor and gorgeous brown speckles.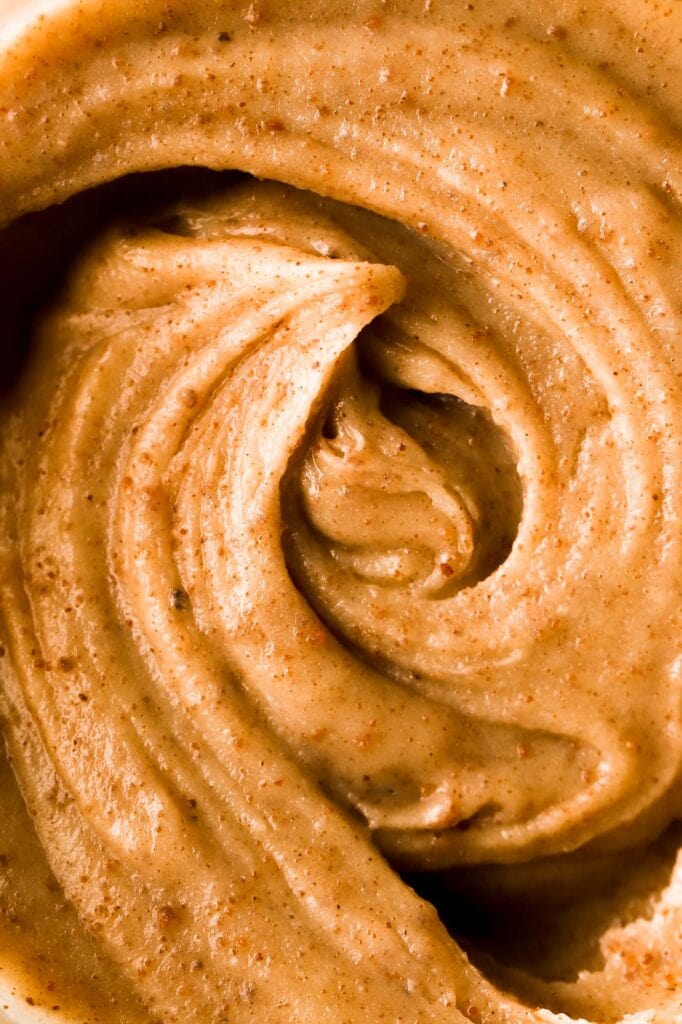 Ok. So I know there's like a million tutorials on how to brown butter but since I use it in so many recipes, I thought I should dedicate a whole post to browning butter.
What is brown butter
Butter is a dairy product made from churning milk or cream. It's made up of protein, fat and water. When butter is heated, the fat crystals melt releasing the water from the fat emulsion. Then the water begins to evaporate and the proteins and sugars (lactose) react and brown. This is called the maillard reaction and it happens every time you cook something and it browns.
How does brown butter taste
First, brown butter smells AMAZING! It creates this incredible caramelized nutty aroma when the milk solids begin to toast. The flavor is just like the smell, it's like a caramelized nutty butter flavor that just tastes so much more pronounced and rich in every dish, sweet or savory.
How to brown butter
There are essentially four stages to browning butter. Each stage is easily recognized so you won't need a thermometer or anything.
Melting – first the butter has to melt into a liquid state. This happens somewhere between 82F and 97F. The time that this takes, depends on how cold the butter was to start with. If the butter is cold, it's best to cut it into small cubes and melt it at a low temperature so that it cooks more evenly.
Bubbling – after the butter is fully melted, it will begin to boil. The butter will become a little brighter in color and start making crackling noises and will bubble. This is when the water is beginning to evaporate.
Foaming – The bubbles will begin to multiply and create a layer of foam on top. This happens because the proteins coagulate when the water is evaporating from the fat. Water evaporating means you're losing some volume and moisture from the butter. At this point, you'll want to whisk continuously because the milk solids will stick to the bottom of the pan and you can't really see past the foam without mixing.
Browning – as you're whisking, the milk solids are slowly toasting away, creating those gorgeous brown butter speckles. Keeping the heat on low and whisking continuously will slowly brown more of the butter. If the heat is too high and/or you're not whisking, the milk solids sticking to the bottom of the pan will burn.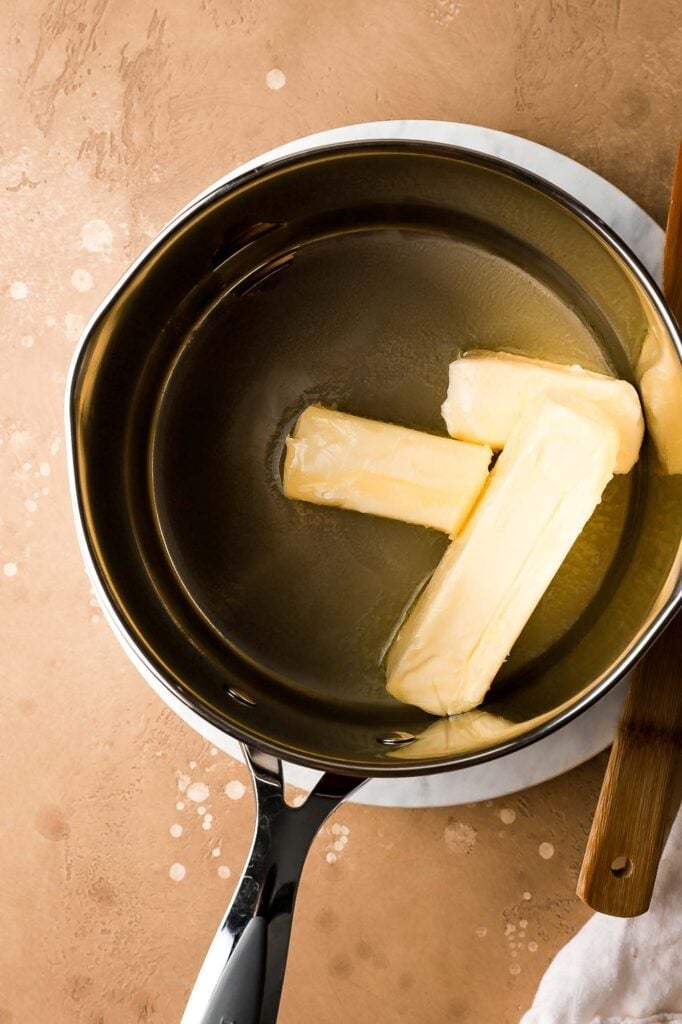 Loss of volume and moisture in brown butter
So if you read stage 3, foaming, I touched on the water evaporating from the butter. This means you are losing water out of your butter so now the 1 cup, or 227g, of butter you put in the pan, is no longer that amount, it's going to be just slightly less. Characteristic wise, you lost some moisture because now the ratio of solid to liquid is going to be higher.
How to make up for loss of volume/moisture
The best way to make up for this moisture loss is to weigh how much butter you started with and how much you have left. Whatever that difference is, you can make up for it with extra liquid in the recipe.
So for example if my recipe calls for 1 cup (227g) of butter and I want to use browned butter but my 1 cup (227g) turned into 3/4 cup (170g) of butter then I would add an extra 1/4 cup (about 4 Tbsp or 57g) of liquid to my recipe. This might feel a little overwhelming so I do the other option.
The other option is to brown more butter than you need and that way you can measure the exact amount. So sometimes I will just brown 2 cups of butter and when I need some, I'll weigh out exactly how much I need. The ratio of fat to water will still be a little off but the change in the recipe is usually pretty subtle.
For example in my brown butter cookie butter cake, I just browned more butter than I needed and measured out exactly the amount I want. This may seem annoying or wasteful, but it's sooo easy to use up the rest of the butter (not like egg whites, lol). In the recipe notes, I even mention that I just pop the leftover brown butter into the frosting for extra flavor. It doesn't make any significant change to the frosting but at least we're not wasting it.
How to use brown butter
Brown butter is going to act just like regular butter so you can replace it in almost any recipe. If a recipe calls for melted butter, use melted brown butter. When a recipe calls for cold or room temperature butter, you'll have to resolidify the butter. To re-solidify the butter, I let it cool to room temperature, then stir it to combine the brown speckles throughout and then refrigerate it. Once it's refrigerated, I stir it every 15 minutes so that it chills evenly.
One thing to keep in mind is that the brown speckles in the butter are now solid and more pronounced so if you're making a buttercream with it or any recipes that calls for a smooth texture, you'll have tiny little brown beads in it. If this bothers you, you can strain out the milk solids when the butter is liquid, keeping in mind that you may lose a little bit of the caramelized nutty flavor.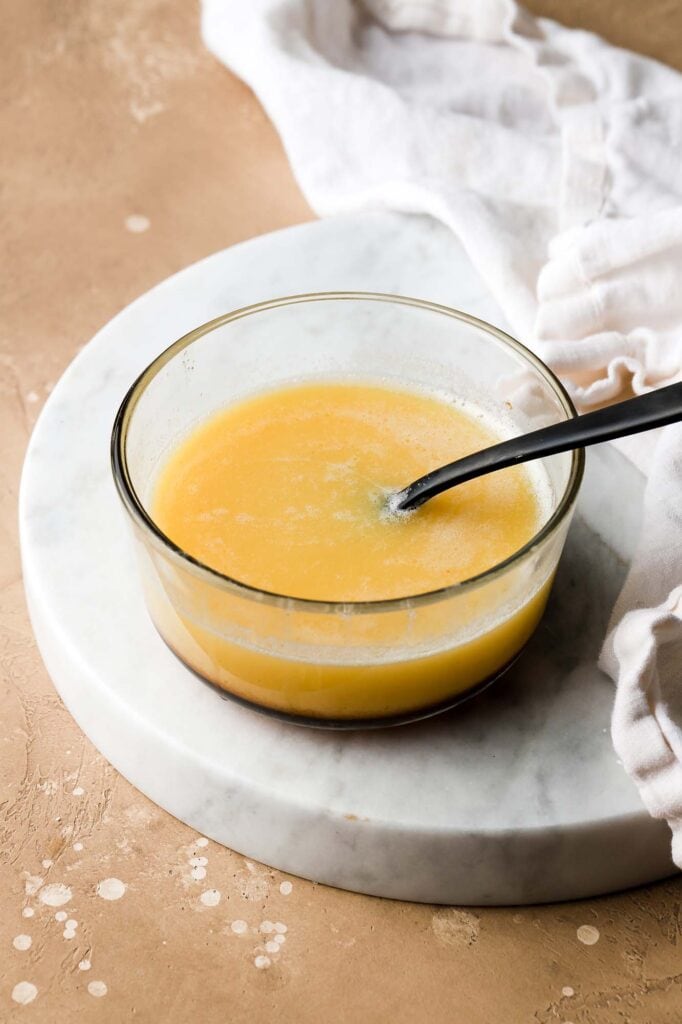 Recipes that use brown butter:
How to store brown butter
Brown butter can be stored just like regular butter. I keep mine at room temperature for a couple of days but then I refrigerate it if I don't use it up. It'll stay refrigerated for at least a month, possibly even longer.
If you strained out the milk solids from the brown butter and you just have butterfat or clarified butter, it will last even longer. It should be ok for up to weeks at room temperature.
Thanks so much for reading today's post , if you have any questions just comment down below, i'm happy to answer! If you use brown butter in my recipes I would love to see the results, so make sure to tag me @baranbakery on instagram. As always, have a blessed day and happy baking!
Love, B
Yield: 3/4-7/8 cup brown butter
How To Brown Butter Recipe
Step-by-step instructions and photos on how to brown butter. Browning butter elevates just about any recipe with a slightly nutty flavor and gorgeous brown speckles. 
Ingredients
1 (227g) cup butter, salted or unsalted (depending on what recipe you're using it for)
Instructions
If the butter is cold, cut it into cubes and place it into a light colored, medium size saucepan, over medium-low heat.
Use a wooden spoon or rubber spatula to stir the butter occasionally. It will begin to bubble, continue stirring intermittently.
Once it begins to foam, you won't be able to see what's happening so stir continuously, making sure to scrape the solids off the bottom of the pan. The milk solids will begin to settle on the bottom of the pan and darken in color.
Remove from the heat and continue stirring for another minute or so, until the butter darkens into an amber color.
Pour the butter, with all the little solid bits, into a heat safe jar and allow it to cool or use as directed.
Recommended Products
As an Amazon Associate and member of other affiliate programs, I earn from qualifying purchases.
Nutrition Information:
Yield:
1
Serving Size:
1
Amount Per Serving:
Calories:

1628
Total Fat:

184g
Saturated Fat:

117g
Trans Fat:

7g
Unsaturated Fat:

55g
Cholesterol:

488mg
Sodium:

1460mg
Carbohydrates:

0g
Fiber:

0g
Sugar:

0g
Protein:

2g
Nutrition information may not be fully accurate.