Chai White Chocolate Chip Cookies
Chai white chocolate chip cookies, two ways! Option 1 – chewy, normal size cookies with no chill time. Option 2 – giant, bakery-style gooey cookies with a 1 hour chill time.
Friends! I'm so excited to FINALLY share this recipe with you all! I made these chai white chocolate chip cookies back when I was pregnant with Beckham and although they were really good, I gave them a fresh new look and updated the recipe just a wee bit!
These cookies are a combination between a classic chocolate chip cookie and chai snickerdoodles. The difference is that I added white chocolate chips and instead of rolling them in cinnamon sugar, I mixed the chai spice in the dough. 
What is Chai?!
I'm Romanian so to us chai just always meant tea, any kind of tea. However, the chai that we refer to today, in English, is actually what's known as masala chai. Masala chai is black tea mixed with various Indian spices, such as cinnamon, cardamom, nutmeg, ginger, cloves, all spice, star anise, black pepper, etc. It's very similar to pumpkin spice but with the addition of a few more spices, making it slightly more floral and spicy than pumpkin spice. 
How to Make Chai White Chocolate Chip Cookies?
These cookies come together quick and easy (really, that's always my goal with most recipes, lol). They're pretty similar to these chocolate hazelnut cookies that have been up forever are one of my favs!
Ingredients
Flour –  I used all-purpose flour for these muffins. Flour is the most inaccurately measured ingredient so I highly recommend a digital kitchen scale to measure for all baking recipes.
Baking Powder – helps the cookies rise to bake
Spices – I used a combination of spices, if you love or hate a certain spice you can certainly play around with the ratios a little. You can also use a store bought chai spice mix. 
Butter – I used European style salted butter for most of my cookies (I learned that from Butternut Bakery and The Sweet and Simple Kitchen lol) and it is a game changer! I've really been enjoying using salted butter for baking in general lately. 
Sugar – I've been trying to use minimal ingredients in my recipes so I went from using both granulated and brown sugar for the old recipe but I switched to all dark brown sugar. Alternatively, it does work with granulated sugar or light brown sugar as well. 
Egg – large egg at room temperature 
White Chocolate – I made these with both white chocolate chips and chopped white chocolate chunks. The chunks get all nice and melty. 
Pecans – THIS is the star. These cookies were incredibly sweet because of the white chocolate but adding some chopped up pecans brings the perfect balance. I like to chop them up really small so you get more of the flavor in every bite instead of big chunks randomly. 
Frequently Asked Questions
How big to make the cookies and how long to bake them
Initially, I had these cookies baked at about a 2 ounce size, which is pretty classic for chocolate chip cookies. I also tested them a little larger, at 4 ounces, to get that bakery style, gooey middle and they were actually really good both ways!
For 2 ounce cookies, just use a small cookie scoop and bake 6 cookies per pan right away. These should bake for about 12 minutes, give or take, until the edges are starting to get some color. Then remove them and allow them to cool on the pan for 5-10 minutes.
For 4 ounce cookies, use a large cookie scoop and refrigerate the cookie dough balls for at least an hour before baking 3-4 cookies per pan. These cookies should bake for 16-18 minutes, until more of the exterior is a golden brown color. Then remove them and allow them to cool on the pan for 15-20 minutes.
Do I have to brown the butter
Nope, but everything is always better with browned butter. I browned the butter to cut the sweetness from the white chocolate and to get the flavor a little more depth but I also made them without browning and they're still really good!
Just make sure your butter is still almost fully melted, like it would be if you poured hot brown butter on top of cold butter.
Can I freeze the cookie dough?
After you scoop the cookie dough balls, place them on the pan and freeze for a few minutes until they're firm. Once they're firm, you can transfer them to a ziplock bag and keep them frozen for 2-3 months. Remove them from the freezer when you preheat the oven and bake them for just 1-2 minutes longer than normal time.
What kind of white chocolate to use
I actually prefer the taste of Nestle or Ghirardelli white chocolate chips over basically any other brand lol. However, you can use any brand of chocolate chips you like. I also made them with Lily's Chocolate for reduced sugar and white chocolate bars that I chopped for a melty, gooey middle.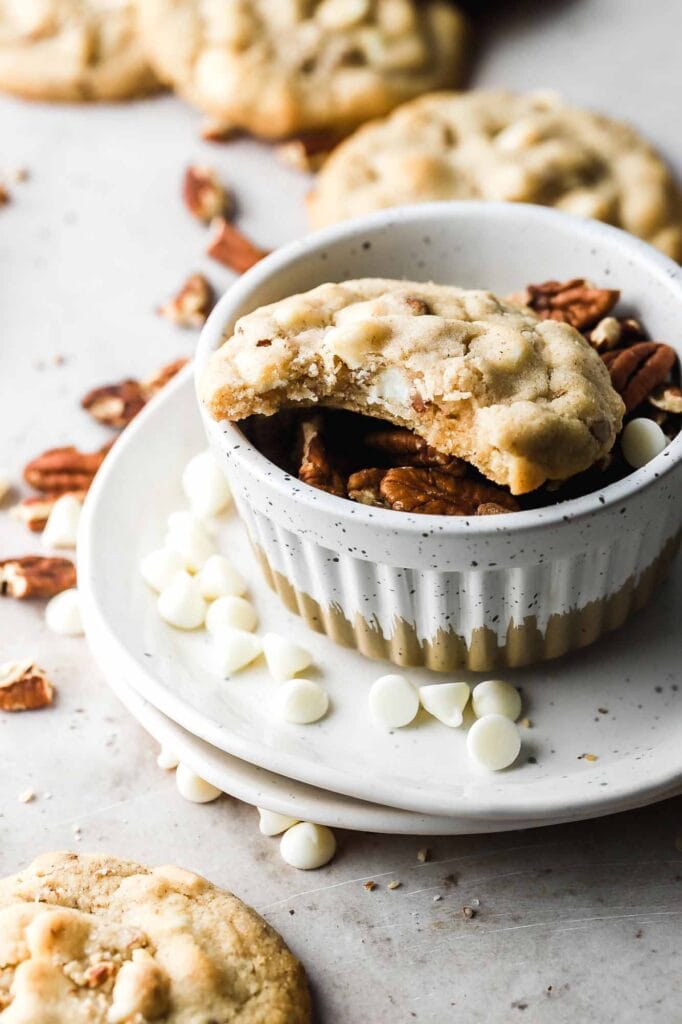 How to store chai white chocolate chip cookies
I recommend storing them in a ziplock bag or an airtight container at room temperature for a few days. If it's longer than 3-4 days, I would just freeze them in the bag or container and bring them back to room temperature when serving. Once they're at room temperature, you can microwave them or bake them for a couple minutes in a 325F oven just to warm them up slightly.
Thanks so much for reading today's post , if you have any questions just comment down below, i'm happy to answer! If you make delicious chai white chocolate chip cookies I would love to see them so make sure to tag me @baranbakery on instagram! As always, have a blessed day and happy baking!
Love, B
Yield: 18
Chai White Chocolate Chip Cookies Recipe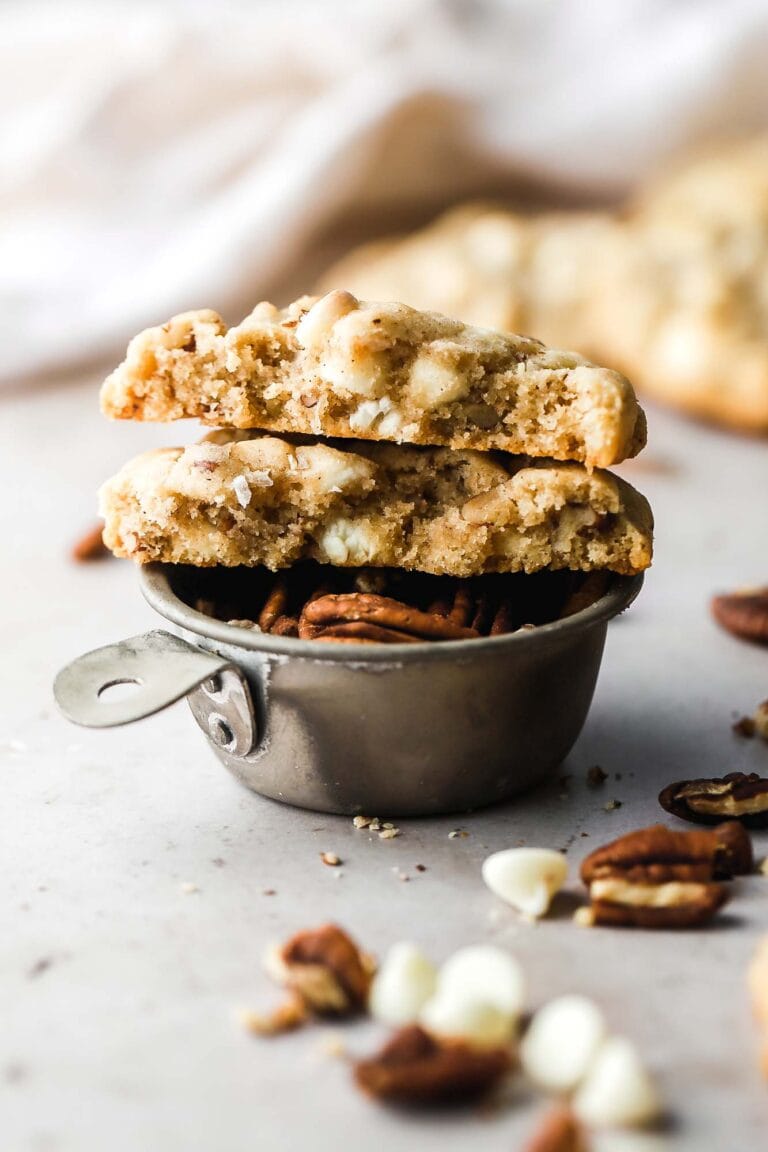 Chai white chocolate chip cookies, two ways! Option 1 - chewy, normal size cookies with no chill time. Option 2 - giant, bakery-style gooey cookies with a 1 hour chill time. 
Additional Time
10 minutes
Ingredients
1 cup (227g) salted European style butter, soft or cold
1 cup (200g) dark brown sugar, packed
1 large egg, room temperature
2 1/4 cup (270g) all purpose flour, spooned and leveled
1 Tbsp baking powder
1/2 tsp cinnamon
1/4 tsp nutmeg
1/4 tsp ginger
1/4 tsp cloves
1/4 tsp cardamom
1/4 tsp allspice
1 1/2 cups (9oz) chopped white chocolate or chips
3/4 cup (75g) pecan halves, chopped
Instructions
Preheat the oven to 350F/177C convection (or 325F/162C conventional) and line a cookie sheet.
Place half of the butter in the bowl of a stand mixer and set aside.
In a small saucepan melt the other half of the butter over medium-low heat. Allow it to simmer a few minutes and once it begins to foam, begin stirring it, making sure to scrap the bottom of the pan as well.
Cook until the butter begins to brown and gives off a nutty aroma.
Pour browned butter over the other butter and allow it to sit for a few minutes.
Add the sugar and use the paddle attachment, at medium-high speed, to mix the butter and sugar together. Add the egg and continue beating until the mixture is smooth.
Add the flour, baking powder and spices and mix on low speed just until the flour is almost combined.
Fold in the white chocolate chips and the chopped pecans.
Use a 2 oz cookie scoop to scoop dough into rounds and bake 6 cookies on a sheet for about 12 minutes, just until the edges begin to brown.
Remove the cookies from the oven, slam the pan onto the counter a couple of times and then let the cookies cool for 5-10 minutes on the pan, or until you can pick them up without falling apart.
Notes
If you want larger cookies, use a large cookie scoop to scoop 4 oz cookie dough. Refrigerate them for 1 hour and then bake them for 16-18 minutes. Slam the pan on the counter a few times and let them cool on the pan for about 15-20 minutes.
Store in an airtight back/container at room temperature for a few days.
Nutrition Information:
Yield:
18
Serving Size:
1
Amount Per Serving:
Calories:

221
Total Fat:

9g
Saturated Fat:

4g
Trans Fat:

0g
Unsaturated Fat:

5g
Cholesterol:

15mg
Sodium:

115mg
Carbohydrates:

32g
Fiber:

1g
Sugar:

18g
Protein:

3g
Nutrition information may not be fully accurate.