Apple Butter Cinnamon Rolls
Pillow soft brioche cinnamon rolls with an apple butter filling, cinnamon sugar and the best brown butter cream cheese frosting!
OMG I'M SO EXCITED TO SHARE THIS RECIPE WITH YOU GUYS!!! Ok I'm done yelling at you but seriously, what's better than cinnamon rolls? Not very many things in this life but I've outdone them with apple butter cinnamon rolls topped with brown-butter cream cheese icing.
Yeah that's right, I'll say it again really slow, apppppppllle butttttterrrrr cinnnnnnamonnnn rooollllss with browwwnnnn buttttterrrrrr creeaammmm chhheeeesssee iccccinnnggggg. You're welcome.
What are apple butter cinnamon rolls?
Think pillow soft dough like in my brioche cinnamon rolls. Spread a little butter on the dough, then a layer of delicious apple butter and a little extra cinnamon sugar for good measure.
To take these cinnamon rolls the extra mile, I used brown butter for my frosting and it truly is to die for. There's just something about brown butter that gets me every time!
How to make apple butter cinnamon rolls
Unfortunately the apple butter is a little softer than regular butter and sugar so you'll have to be careful with rolling. It can get a little messy too.
I like to freeze the dough once it's rolled up with the filling & before slicing. This is not a step you should skip. The apple butter does not stick to the dough like butter & sugar do in regular cinnamon rolls so when you go to slice it, the filling will all squish out. Freezing at this step will prevent some of the squishing out.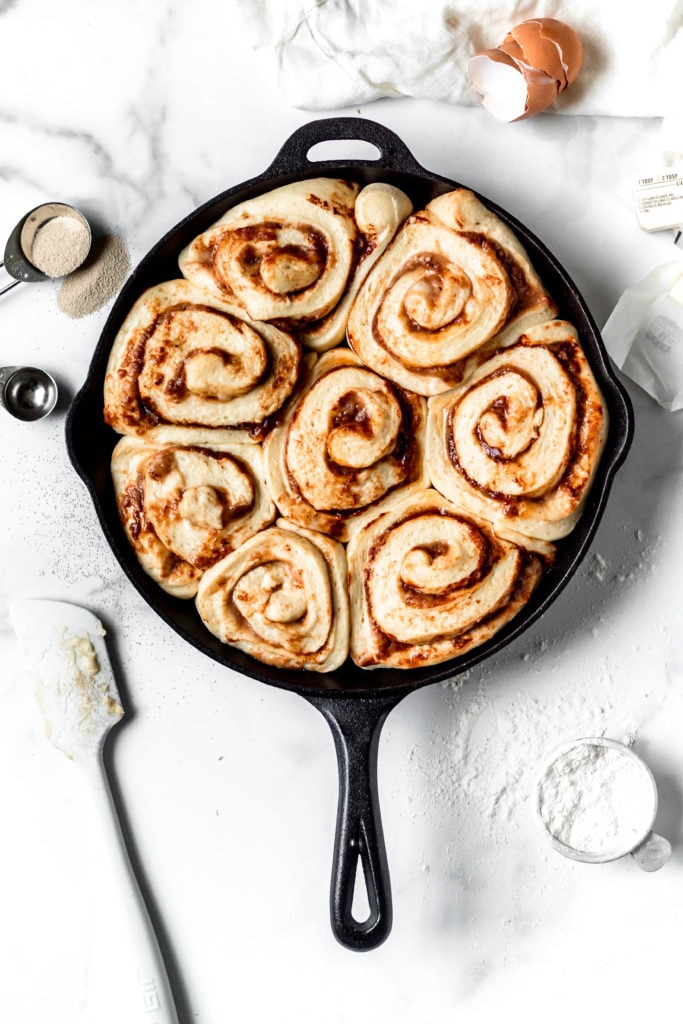 How to make homemade apple butter
Apple butter is super simple to make at home, however it generally takes a long time. I have a recipe for instant pot apple butter that's made exactly the same but much quicker. If you don't have an instant pot, you can also make apple butter in a crock pot!
Can I use store bought apple butter?
You can use store bought apple butter or you can make my instant pot apple butter recipe. Just keep in mind the consistency has to be a thick apple butter or cook the one at home until it's thick enough. By that, I mean thicker than applesauce; you want it more spreadable, not drippy.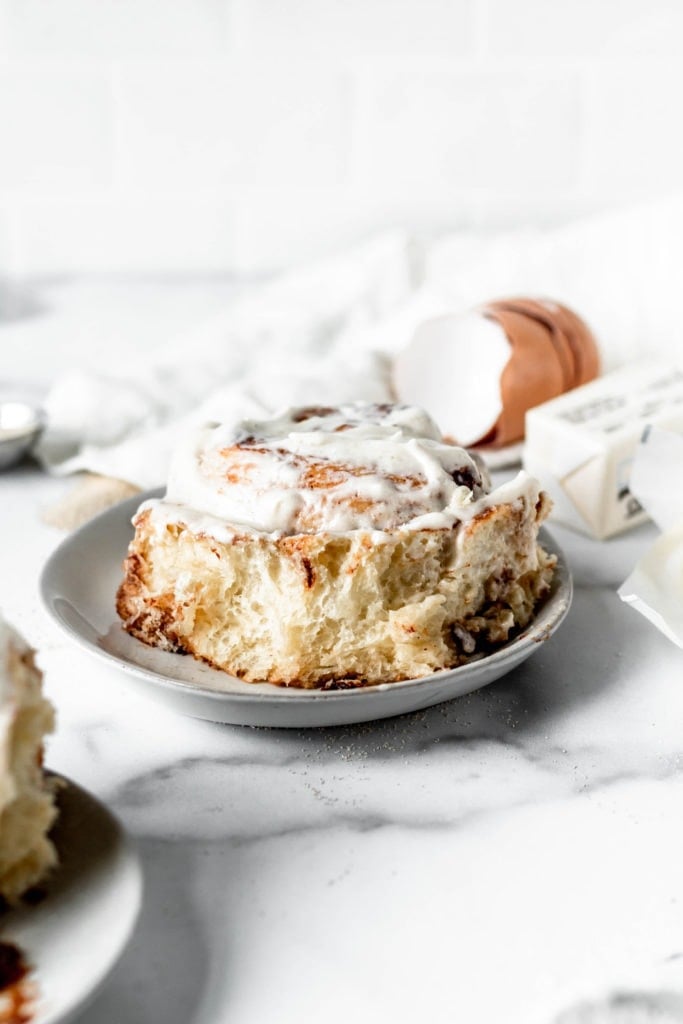 How to store apple butter cinnamon rolls
I highly recommend serving cinnamon rolls fresh but if you anticipate leftovers, I would also recommend not frosting all of them.
Store unfrosted cinnamon rolls in an airtight container at room temperature for 2-3 days. Microwave them or re-bake them for a few minutes to warm them up and then frost them.
Store frosted cinnamon rolls in an airtight container in the refrigerator. Microwave them or re-bake them for a few minutes to warm them up. Keep in mind the frosting will melt with the rolls when they're heated.
Ok, I need to leave before I start drooling over here. Cinnamon rolls are my weakness & if they're yours too, you'll have to check out all my other flavors. I have caramelized white chocolate, brown butter lemon, s'mores, chocolate and carrot cake.
I know there's a lot of steps to these but it's SO WORTH IT! Make sure to tag me @baranbakery on instagram if you make them so we can all share in the fun! As always, have a blessed day my friends,
Love, B
Yield: 12 Rolls
Apple Butter Cinnamon Rolls Recipe
The best brioche cinnamon rolls with an apple butter filling, cinnamon sugar and the best brown butter frosting!
Total Time
3 hours
10 minutes
Ingredients
Apple Butter Filling
1/2 cup apple butter
1/4 cup (56g) unsalted butter
2 Tbsp (15g) all-purpose flour, spooned and leveled
1/4 cup (50g) granulated sugar
1 Tbsp cinnamon
Brioche Dough
3 1/2 - 3 3/4 (420g - 450g) cup all-purpose flour, spooned and leveled
2 1/4 tsp (1 package) instant yeast
1/4 cup (50g) granulated sugar
1/2 tsp salt
1 large egg, room temperature
1 large egg yolk, room temperature
1 cup (237mL) milk
1 tsp vanilla extract
1/2 cup (113g) butter softened
Brown-Butter Cream Cheese Frosting
1/2 cup (56g) brown-butter, softened
4 oz cream cheese
1 tsp vanilla
3 cup (360g) powdered sugar, spooned and leveled
1/4 tsp salt
Instructions
Begin by making the Apple Butter if it's homemade.*
Apple Butter Filling
Place the apple butter with the butter and flour in a small pot and cook over low-medium heat until it's smooth and simmering.
Remove it from the heat, pour it in to a small bowl and allow it to cool for a few minutes and then refrigerate it until it's completely cooled.
Brioche Dough
In the bowl of a stand mixer, combine 3 1/2 cups of flour, instant yeast, sugar and salt until they're evenly dispersed. Using the hook attachment, turn the mixer up to medium-low speed and add in the egg, egg yolk, milk and vanilla. Mix until the dough starts to come together and then add in 1-2 Tbsp of the butter at a time, mixing until each piece is fully combined.
Let it knead for 5-10 minutes. The dough is ready when it's pulled itself away from the edge, forming a ball around the hook. You can also remove a piece of dough and stretch it between your fingers, if you can see light through it without it breaking then it is done.
If the dough is still sticky, add in the extra flour, 1-2 Tbsp at a time and knead until it's combined and the dough is soft but not super sticky.
Place the dough to rest on a floured surface for just 10 minutes.
Assemble
Grease a 9x13 inch pan and use a rolling pin to roll the dough into a 12x16 inch rectangle on a lightly floured surface. Evenly spread the apple butter filling onto the dough and then sprinkle the sugar and cinnamon on top.
Starting at the long edge of the dough, use your hands to tightly roll it into a log. Move the log to a cookie sheet/board and freeze for 20 - 30 minutes. This will help prevent the filling from spilling out when you are slicing.
Using a greased knife, unflavored dental floss or a thin piece of thread, evenly slice the log into 12 large rolls. Place the rolls in the prepared baking pan and cover them with plastic wrap. Place them to rise in a warm environment (about 75°F or 24°C), for about 45 minutes, until they've doubled in size.
Brown Butter
Meanwhile, brown the butter for the frosting. Melt the butter in a light colored pot over medium heat and whisk continuously until brown speckles of butter form on the bottom of the pan and it begins to smell nutty.
Remove the butter from the heat and pour it into a heat resistant bowl. Allow the butter to cool (or refrigerate) until it returns to a soft, room temperature consistency.
Preheat the oven to 350F/177C convection (325F/163C conventional) and bake the rolls for about 25 minutes, until they're golden brown. Meanwhile finish making the brown butter frosting.
Brown Butter Cream Cheese Frosting
In a medium or large bowl, use an electric mixer to cream together the brown butter, cream cheese and vanilla until they look pale and fluffy.
Lower the speed and slowly add in the powdered sugar and salt. Beat for a few minutes until all the sugar is dissolved and doesn't feel grainy.**
Spread the icing over the warm cinnamon rolls and serve fresh.
Notes
*You only need 1/2 cup of the homemade apple butter recipe for these cinnamon rolls or you can use a store bought apple butter.
**the frosting will melt on the cinnamon rolls but if you want a thinner glaze, add 2-3 Tbsp of milk.
Recommended Products
As an Amazon Associate and member of other affiliate programs, I earn from qualifying purchases.
Nutrition Information:
Yield:
12 Rolls
Serving Size:
1
Amount Per Serving:
Calories:

531
Total Fat:

17g
Saturated Fat:

10g
Trans Fat:

0g
Unsaturated Fat:

5g
Cholesterol:

86mg
Sodium:

355mg
Carbohydrates:

91g
Fiber:

6g
Sugar:

63g
Protein:

5g
Nutrition information may not be fully accurate.