Brown Butter Cookie Butter Cake
Two of my favorite flavors combined into a one layer Brown Butter Sheet Cake with Cookie Butter swirls and Cookie Butter Swiss Meringue Buttercream.
Ok but for real, this cake is PHENOMENAL and has the perfect amount of brown butter to where you can taste it but also still enjoy the cookie butter flavor from the buttercream. Ok enough hyping…lets bake!
How to make Brown Butter Cookie Butter Cake
The main parts of this sheet cake are the brown butter batter and the cookie butter Swiss Meringue Buttercream. Both are easy to make and if you haven't made brown butter before, this is the perfect recipe to show you that it's not only simple to make, but also gives a great flavor to whatever you are using it in. Plus it smells like one of those candles you find in those fancy kitchenware stores, so you're just winning at life when you make brown butter haha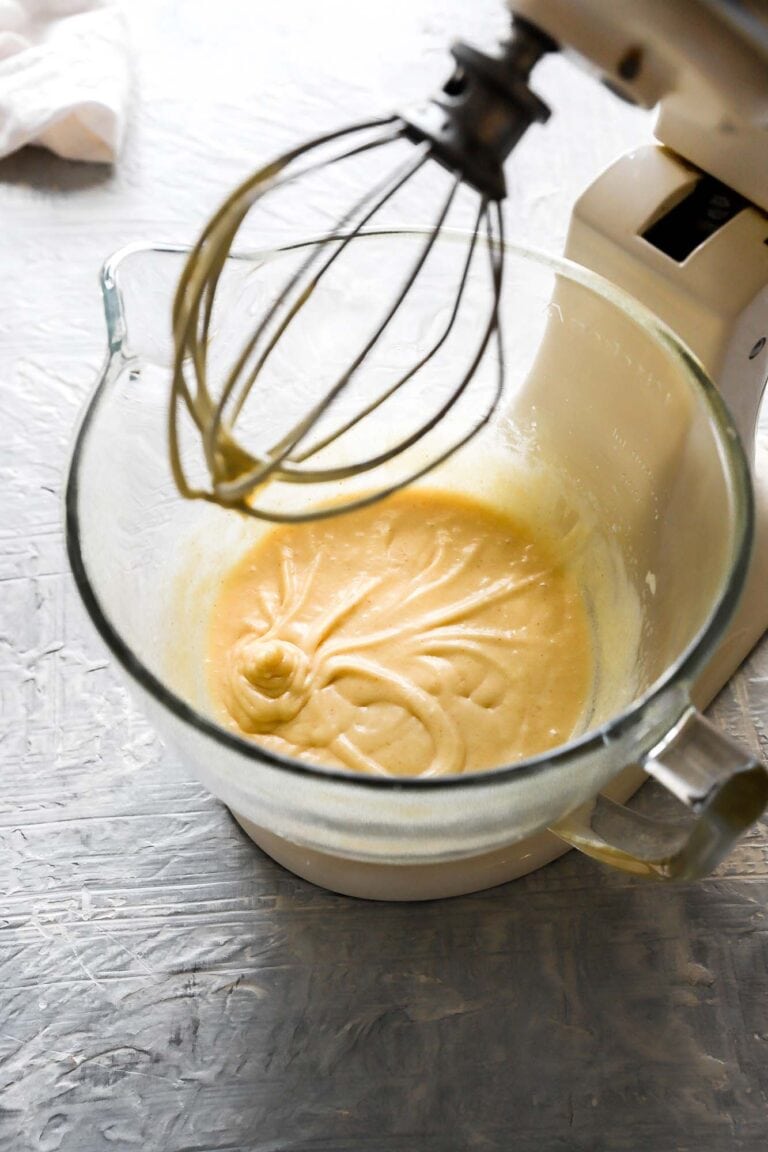 Brown Butter Cake
I adapted my favorite 6-inch vanilla cake recipe and just baked it in a square 10″ pan or a 9×13" cake pan. The cake is simple to make, with the addition of a nutty brown butter for extra flavor. No extra fancy ingredients that you have to search high and low for. The rest of the ingredients are also pretty basic and should be items you already have at home.
Ingredients:
Brown Butter: To start off this masterpiece you're going to brown your butter. It's important to continuously stir the butter once it foams so you can see the brown specks begin to form. As soon as it finishes, quickly pour into a heat proof bowl and allow it to cool. 
All Purpose Flour: I love using ingredients most people have at home, which is why I use all-purpose flour. I prefer the convenience of all-purpose flour for layer cakes as opposed to cake flour, plus it's less expensive and more accessible. 

I also HIGHLY recommend using a digital scale, as you will almost always overmeasure the flour. 

Baking Powder: I try to develop my recipes to use baking powder because it's more accessible than baking soda. 
Sour Cream: a combination of sour cream and milk is my favorite to use in cakes. That being said, if you don't have sour cream you can use greek yogurt as a 1:1 substitute.
Whole Eggs: Whole eggs give cakes a richer flavor and texture, which is why I opted with whole eggs.
Cookie Butter: The Swiss Meringue Buttercream is flavored with cookie butter. But since it's one of the best flavors in the world, I thought it would be delicious to add some cookie butter swirls in the batter.
Cookie Butter Buttercream
I wrote a whooooole book on different types of frostings, so if you want to be on my BFF list for life, you can buy Frosted and learn about all types of frostings! 🥰 However for this cake, all you need to know is how to make Swiss Meringue Buttercream, and since you're still my bestie whether you buy my book or not, I wrote a blog post to help you make it.
For the purpose of this cake, we will customize it by adding cookie butter and vanilla bean paste to one batch of the buttercream, because you can't have a cookie butter cake without super silky cookie butter frosting.
Frequently Asked Questions (FAQs)
Can I make this into a layered cake?
Yes you can! You would just split the batter evenly among three 6 inch cake pans or two 8 inch pans. Depending on the size and number of layers you want, reference my 6 Inch Vanilla Cake post for more information.
Will this work if I don't brown the butter?
Yes, but it is called a brown butter cake for a reason. The flavor you get by browning the butter is worth it and it doesn't take that much longer to do. HOWEVER, if you have to, you can just use butter. 
Can I make this into cupcakes?
Well, you can technically make this cookie butter cake into cupcakes, however, this base recipe isn't my favorite for cupcakes. The recipe was originally developed to bake a little flatter and not dome as much. If you make cupcakes, they'll be kind of flat and not as pretty. If you do make them, it should make about 23 cupcakes. 
How do I know when my cake is done baking?
My 2 favorite ways to check if a cake is done baking are:
If your cake pans are greased properly, the cake should release itself from the edge of the pan once it's fully baked. 
Once the top of the cake no longer looks wet, gently press on the center and if it springs back, it's done. If your fingerprint stays pressed down then bake for another 1-2 minutes and try again.
How to store sheet cakes
You can store the cake covered at room temperature for 2-3 days or 7-10 in. thefridge. If the cake has been sliced, cover the open slices with plastic wrap or place them in an airtight container. To freeze the cake, place the slices in an airtight container and then place the container in a freezer bag. Freeze for up to 2 months.
You can make the Swiss Meringue Buttercream ahead of time and store according to the instructions in the blog post. You can also make the brown butter ahead of time as well and store it covered in the fridge.
I think we're all tired of mentally hearing me say brown butter and you're ready to just eat the cake. Thanks so much for reading today's post and if you have any questions just comment down below. I'm happy to answer! 
If you make this (last time I promise) Brown Butter Cookie Butter Cake, I would love to see the results, so please make sure to tag me @baranbakery on instagram. And if you want more exclusive recipes you can order my cookbook, Frosted. As always, have a blessed day and happy baking!
Love, B
Yield: 24 pieces
Brown Butter Cookie Butter Cake Recipe
Two of my favorite flavors combined into a one layer Brown Butter Sheet Cake with Cookie Butter swirls and Cookie Butter Swiss Meringue Buttercream.
Total Time
3 hours
5 minutes
Ingredients
3/4 cup (170g) butter, to make the brown butter
Brown Butter Cake
2 1/4 cup (275g) all-purpose flour, spooned and leveled
1 Tbsp baking powder
1/2 tsp salt
1/2 cup (113g) brown butter (back to room temp.)
1/4 cup (59mL) canola oil
1 1/2 cups (300g) granulated sugar
3 large eggs, room temperature
3/4 cup (170g) sour cream
2 tsp vanilla bean paste
3/4 cup (177mL) milk, room temperature
1/4 cup (60g) cookie butter
Cookie Butter Buttercream
4 large egg whites, room temperature
1 cup (200g) granulated sugar
1 cup (227g) unsalted butter, room temperature
3/4 cup (180g) cookie butter
2 tsp vanilla bean paste
Instructions
Brown Butter
Begin with browning 3/4 cup of butter by placing the butter in a light colored saucepan over medium heat. Once it starts to foam, stir continuously until it begins to have a nutty aroma and form brown speckles. Immediately remove it from the heat and pour it into a small bowl.
Allow it to cool completely to room temperature, it will be softer than usual so refrigerate it for about 20-30 minutes until it comes to the consistency of normal room temperature butter.
Brown Butter Cake
Preheat the oven to 350F/177C convection (325F/163C conventional) and grease and line a square 10" or a 9"x13" pan.
In a medium bowl, whisk together the flour, baking powder and salt until they're evenly distributed.
Place the room temperature brown butter, the oil and the granulated sugar in a large bowl and use an electric mixer with the whisk attachment to beat them for 2 minutes. Add the eggs, one at a time, beating on medium speed until each egg is fully incorporated. Add the sour cream and vanilla bean paste and beat just until combined.
Add half of the dry ingredients to the wet ingredients, turn the mixer on low speed and then pour in the milk, followed by the rest of the dry ingredients.
Pour half of the batter into the prepared pan, place dollops of cookie butter on top and then repeat with the rest of the batter and cookie butter. Use a knife to swirl in the cookie butter, and bake for 30-35 minutes.
When the cake is fully baked it will release itself from the edge of the pan and will spring back if you press on the center of it. Allow the cake to cool completely before frosting.
Cookie Butter Buttercream
To make the buttercream, make 1 batch of Swiss Meringue Buttercream. Add the cookie butter and vanilla bean paste and beat until everything is fully combined. Frost the cake, and top with crushed biscoff cookies!
Notes
There will be a couple of tablespoons leftover of brown butter, you can add it to the buttercream.
Recommended Products
As an Amazon Associate and member of other affiliate programs, I earn from qualifying purchases.
Nutrition Information:
Yield:
24
Serving Size:
1
Amount Per Serving:
Calories:

393
Total Fat:

27g
Saturated Fat:

13g
Trans Fat:

1g
Unsaturated Fat:

12g
Cholesterol:

75mg
Sodium:

240mg
Carbohydrates:

36g
Fiber:

0g
Sugar:

24g
Protein:

4g
Nutrition information may not be fully accurate.