Homemade cookie monster ice cream is the creamiest, no-churn vanilla ice cream with all your favorite cookies mixed in!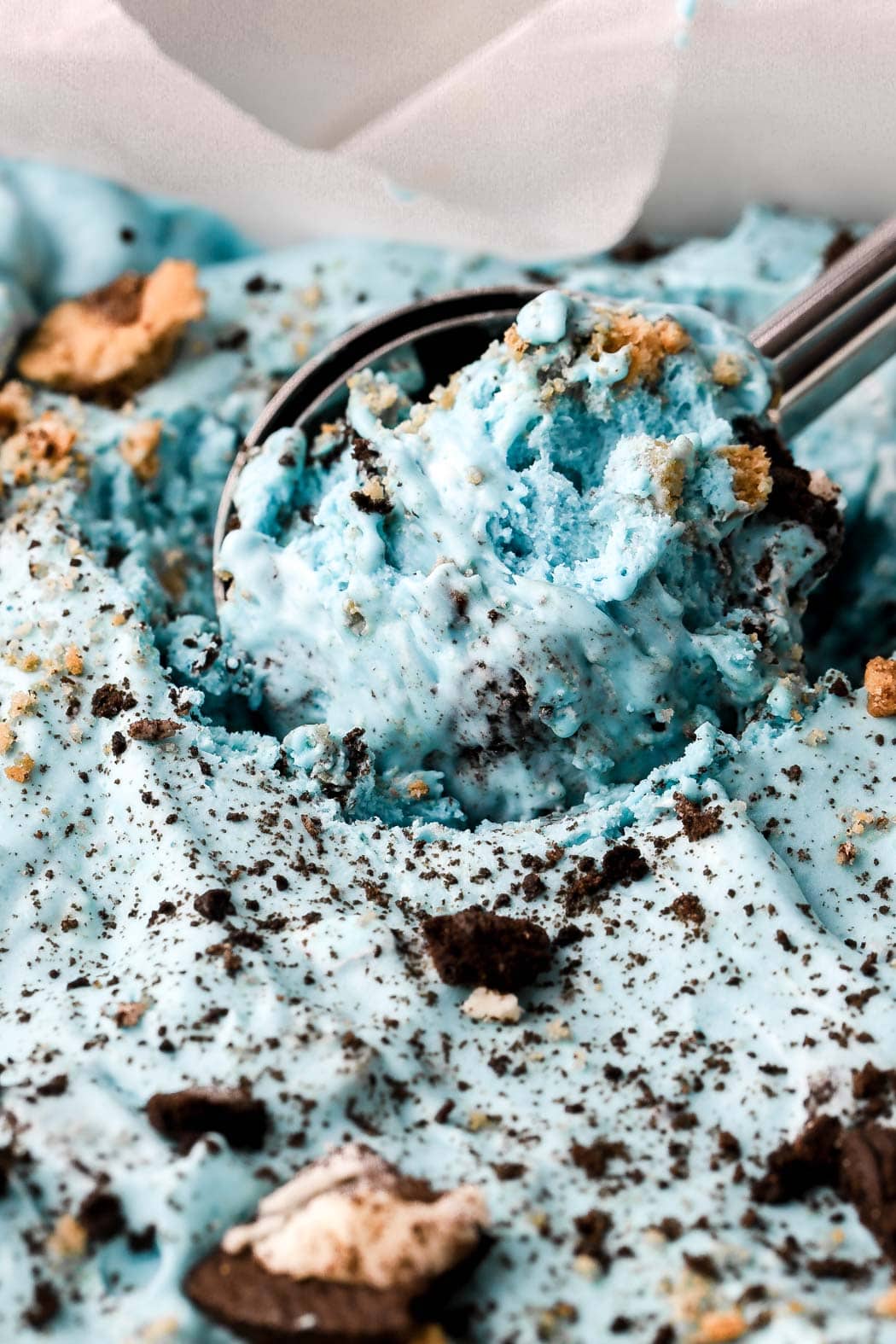 My son is basically a living cookie monster because he would just eat any and all types of cookies at any time of the day. The other day I called him the cookie monster and he had absolutely no idea what I was talking about. Then I showed him who the cookie monster was and now he embraces his new identity lol.
So I thought what better recipe to make next than homemade, no churn cookie monster ice cream?!
What is cookie monster ice cream?
This no-churn homemade ice cream recipe is SO QUICK & EASY to make! I love it because it's extra creamy and it doesn't freeze as solid as some other ice cream recipes. It also only uses like 3 ingredients for the base ice cream!!
If you don't have or don't want to pull out your ice cream machine, this no-churn cookie monster ice cream is the perfect alternative.
Ingredients
Heavy Whipping Cream: this gets whipped into fresh whipped cream and makes the ice cream super light and fluffy.
Sweetened Condensed Milk: this is what sweetens the ice cream and makes it super creamy.
Marshmallow fluff: this really helps make the ice cream extra creamy.
Vanilla Extract & Salt: the ice cream flavor is vanilla and the salt helps balance the sweetness.
Cookies: this is the fun part! I actually bought all of my favorite childhood cookies to try in this ice cream (and maybe more recipes coming soon!). Use about 10-12 cookies, 10 if they're larger or 12 if they're smaller. Some of my favorites are Oreos, Chips Ahoy, Vienna Fingers, Fudge Elfs and Fudge Stripes.
Food Coloring: I used a couple drops each of electric blue and regular blue food coloring.
Step-by-Step Instructions
Whip the heavy cream: Use an electric hand mixer or a stand mixer to beat the cream until stiff peaks form.
Mix in the Sweetened Condensed Milk: Add the sweetened condensed milk and marshmallow fluff and whip until it's fully combined.
Fold in the cookies: choose cookies of choice, roughly chop them and fold them in.
Freeze: Cover with a lid or pour ice cream mixture into a container with a lid and freeze for at least 8 hours or overnight.
Frequently Asked Questions
Can I use other cookies?
Absolutely! I've also made this with Oreos and Chips Ahoy (or any chocolate chip cookies) but some other fun cookies to add in are graham crackers, Vienna fingers, fudge stripes, fudge elfs, circus animal crackers, etc.
Can I add in more things?
Yeah, you can totally swirl in some peanut butter or white or dark chocolate ganache or reeses cups as well or you can swirl in the marshmallow fluff like I did in the marshmallow chocolate ice cream.
Better yet, you could even fold in some homemade cookies, brownie bits or edible cookie dough!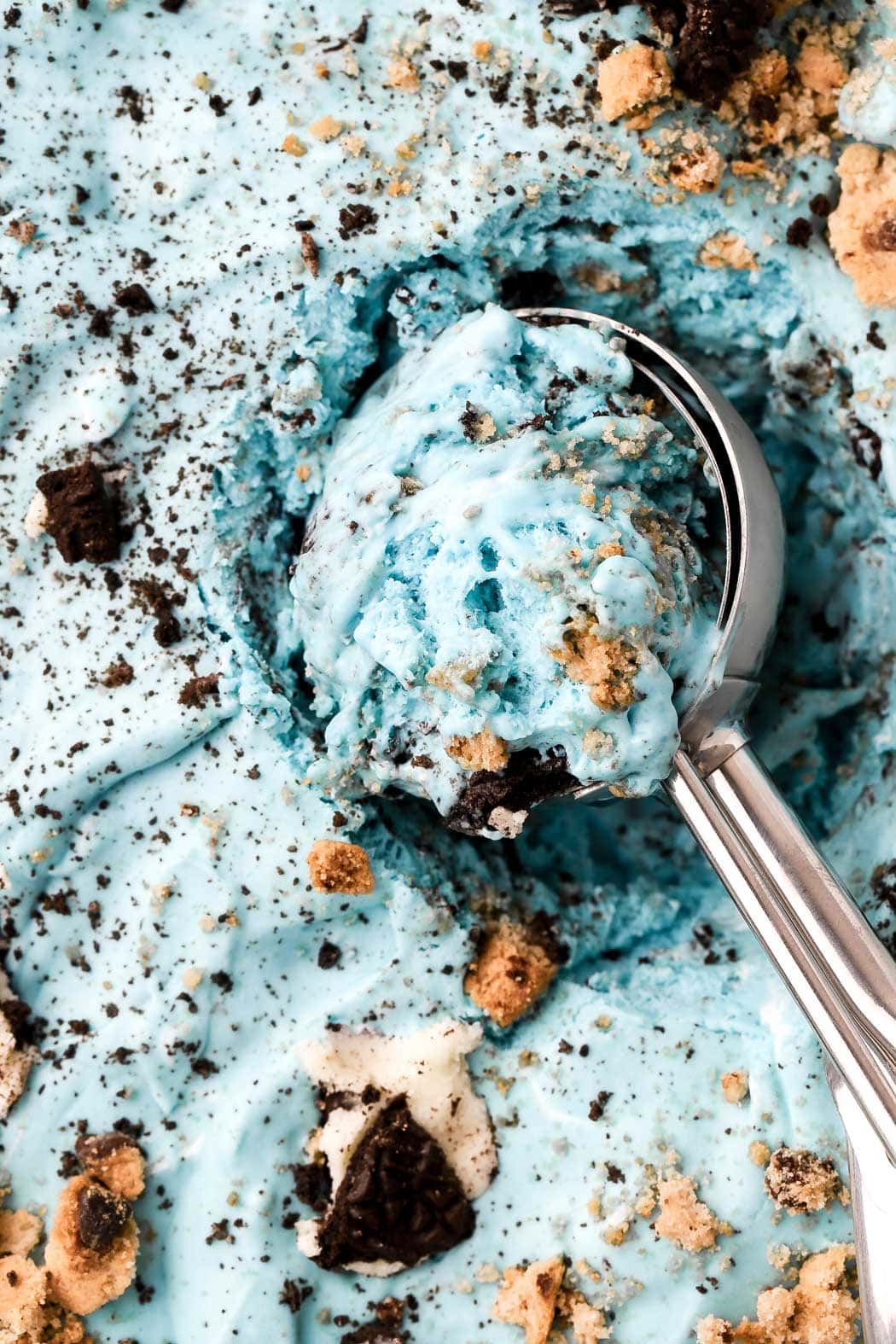 Other Ideas
If you're really feeling adventurous with this ice cream you could also make:
Ice Cream Cookie Sandwiches: Freeze it in a more shallow pan like a 9×13" sheet pan so it's thinner. Then use a biscuit cutter to make cut out circles and make monster cookie ice cream sandwiches (here's a visual for how to make cookie ice cream sandwiches).
Ice Cream Brownie Sandwiches: Bake two batches of brownies in two 9×13" pans (you can do one at a time and remove the first one, set it aside and make the second one). Let the second one cool completely, spread the ice cream on top and freeze for about an hour. Top with the second brownie and freeze overnight. Here's a visual for brownie ice cream sandwiches.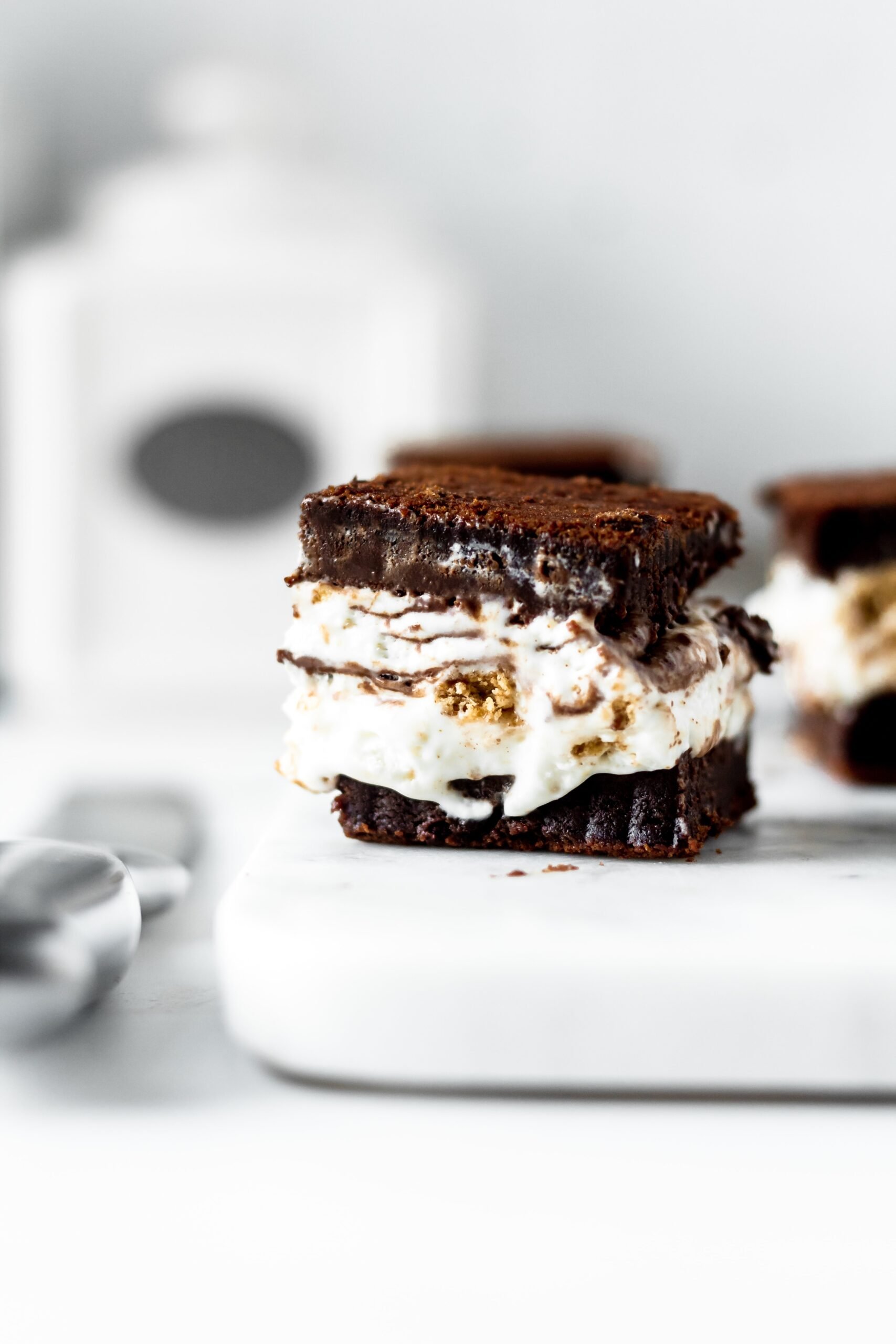 How to store cookie monster ice cream
Make sure the ice cream is fully covered with plastic wrap or a container with a lid and freeze for at least 8 hours or overnight.
More no-churn ice cream recipes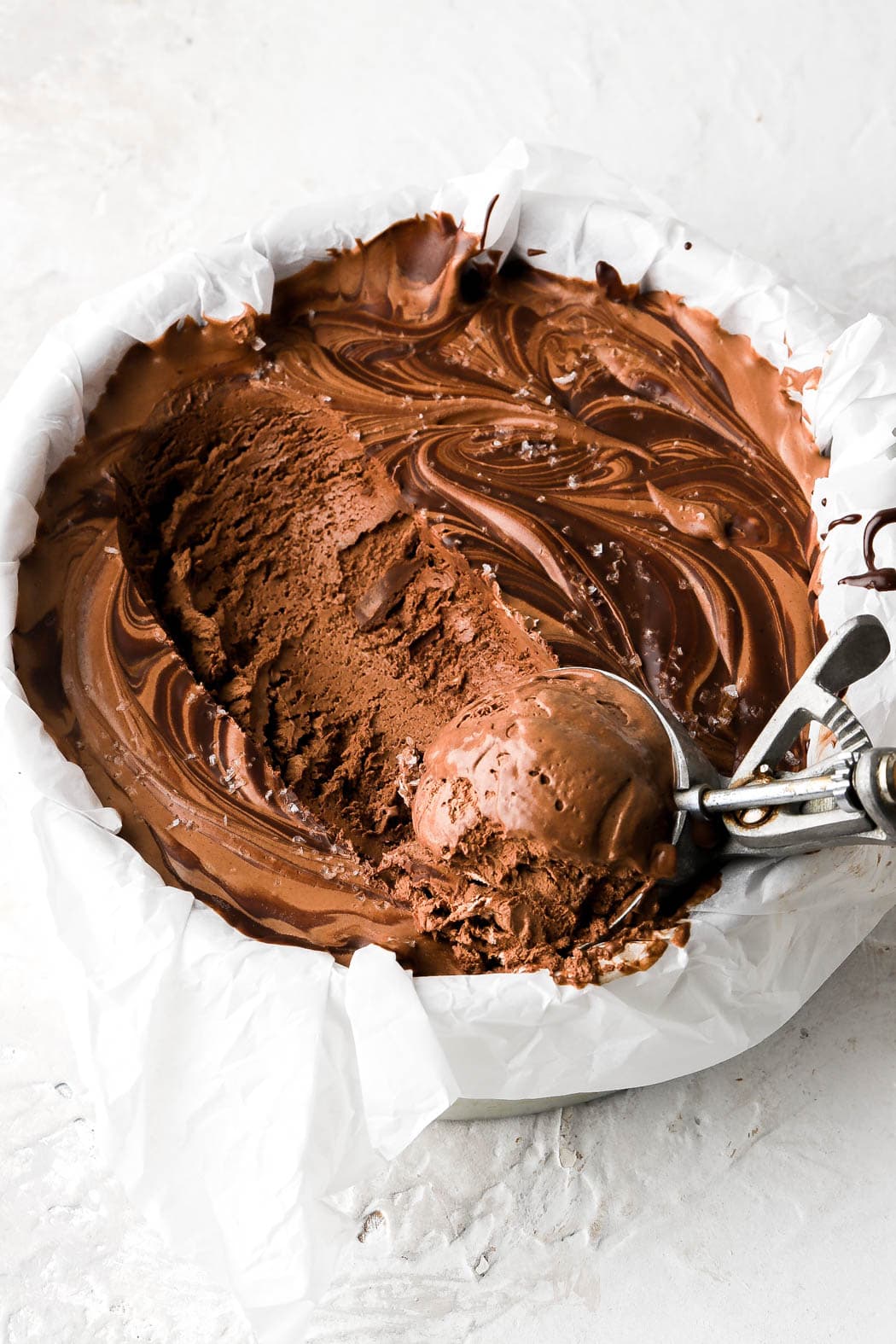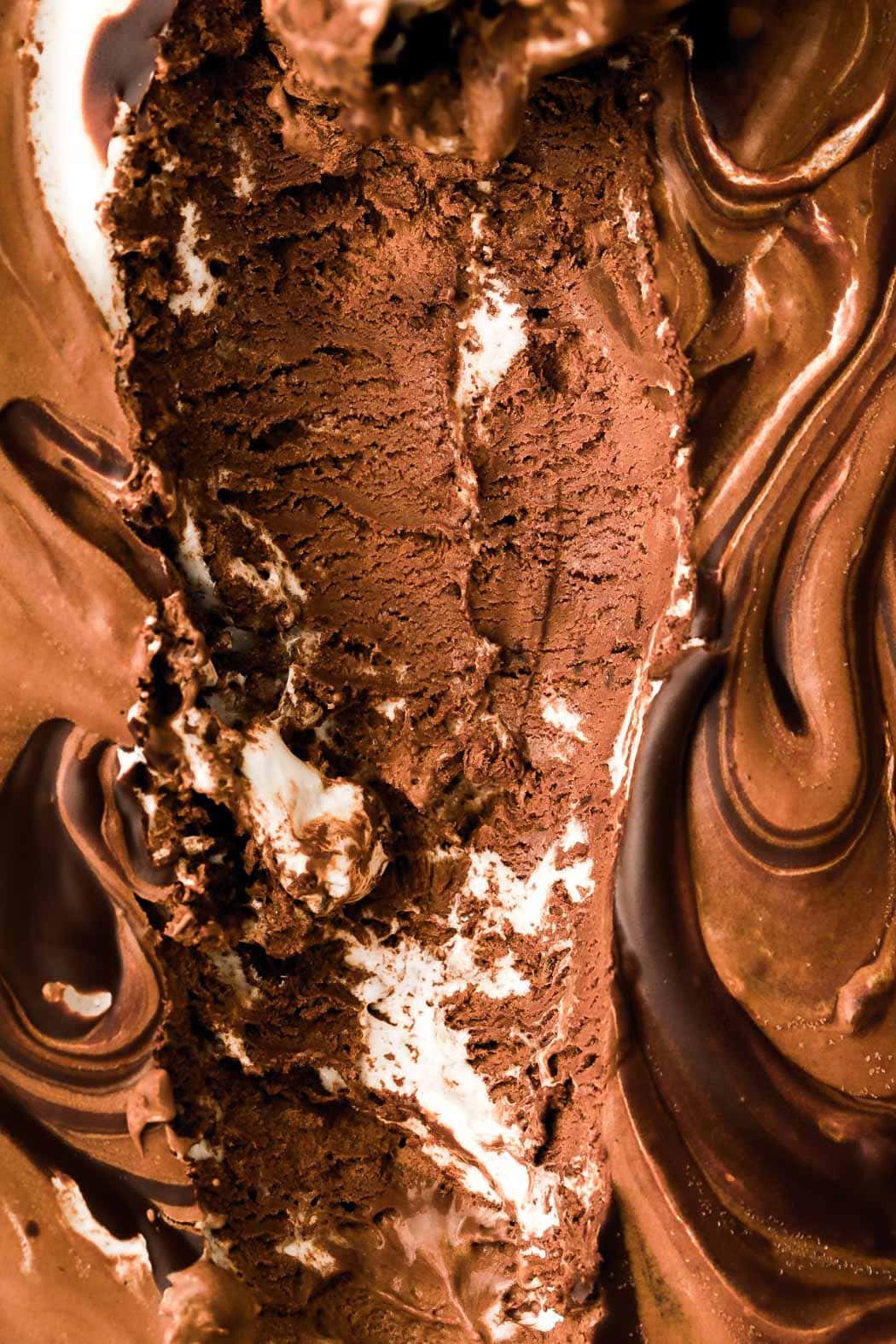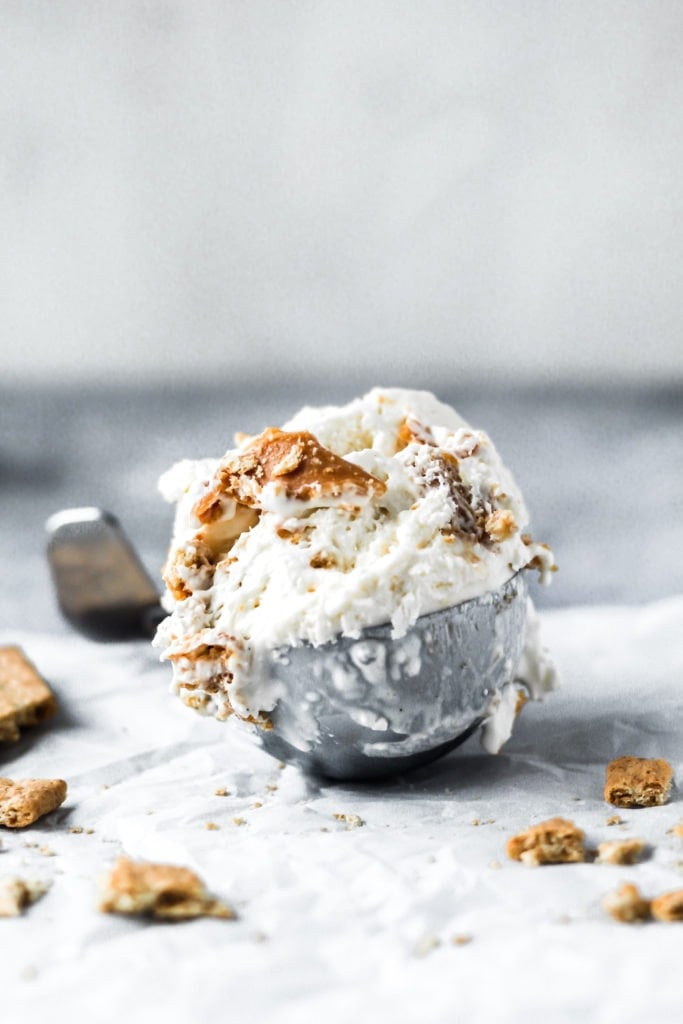 Thanks so much for reading today's post, if you have any questions just comment down below. Make sure to leave it in the comment section because I can't answer in the rating section :).
If you make this cookie monster ice cream I would love to see it so make sure to tag me @baranbakery on instagram!
As always, have a blessed day and happy baking!
Love, B
Yield: 2 quarts
Cookie Monster Ice Cream Recipe
Cookie monster ice cream is the creamiest, no-churn vanilla ice cream with all your favorite cookies mixed in! 
Total Time
8 hours
10 minutes
Ingredients
2 cups (22oz) heavy whipping cream, cold
14 oz can sweetened condensed milk
1 cup (3oz) marshmallow fluff
2 tsp vanilla bean paste or vanilla extract
pinch of salt
1/4-1/2 tsp of blue gel food coloring
10-12 cookies, roughly chopped (I used 5 Oreos and 6 Chips Ahoy)
Instructions
Use an electric mixer with the whisk attachment to beat the heavy whipping cream just until it forms stiff peaks.
Add in the sweetened condensed milk, marshmallow fluff, vanilla, salt and food coloring into the whipped cream and beat just until they're fully combined.
Fold in chopped cookies until they're evenly dispersed.
Cover with a lid or spread the ice cream in a container with a lid and freeze for at least 8 hours.
Nutrition Information:
Yield:
10
Serving Size:
1
Amount Per Serving:
Calories:

409
Total Fat:

26g
Saturated Fat:

15g
Trans Fat:

1g
Unsaturated Fat:

8g
Cholesterol:

73mg
Sodium:

148mg
Carbohydrates:

40g
Fiber:

0g
Sugar:

36g
Protein:

6g
Nutrition information may not be fully accurate.