What's better than quick and easy chocolate chip cookies? Quick and easy blue chocolate chip cookies stuffed with your favorite kind of cookies, duh! These cookie monster cookies are next level indulgent!
What are cookie monster cookies
Alright… I don't know how to say this but these cookies are one of the best and worst things I've made. I mean, the addictiveness of Oreos in there but guilt of a monster size cookie…lol.
The idea was that the cookie was the monster that ate the other cookies so think, your favorite thick chocolate chip cookie made with mini chocolate chips and white chocolate chips and stuffed with your favorite cookies.
My favorite cookies growing up were
Oreos (always)
Chips Ahoy
E.L. Fudge Double Stuffed
Vienna Fingers
Fudge Stripes
Thin Mints (which I forgot to include in the cookies)
How to make a cookie monster cookies
If you've made any of my previous cookies, you'll know I am ALL ABOUT quick & easy cookies. Sorry not sorry but cookies are just not the sort of recipes that I want to put time and effort into.
These cookie monster cookies are adapted from my caramel chocolate chip cookies. They're are made in less than 5 minutes, baked immediately and allowed to cool just 10 minutes to set! 
Step-by-step Instructions
STEP 1: Whisk together melted butter with sugar until they're well combined.
STEP 2: Add in the eggs and vanilla and mix aggressively until they're completely smooth.
STEP 3: Color the batter with blue and purple gel food coloring. Make sure it's pretty dark because it lighten significantly after adding flour and baking.
STEP 4: Fold in the flour just until there are a few streaks left, then add the chocolate chips.
STEP 5: Scoop the cookie dough into 8 rounds, spread them out and fill with cookies. Wrap the dough around the cookies and bake. *optional to top the cookie with a piece of which cookie is on the inside to distinguish them.
STEP 6: Bake the cookies just until the edges feel set, the center is puffed and no longer looks wet.
Ingredients:
Flour: I just used all-purpose flour for this recipe however, I HIGHLY recommend using a digital scale, as over-measuring the flour is the most common baking mistake and may result in dry cookies. 
Oreo Crumbs: I used this in the cookie dough for two reasons. First, it makes the batter slightly more cool toned so it's a little less yellow and more gray-ish. Second, it's a cookie monster cookie so why not?!
Sugar: I'm going to spare you my whole rant on sugar lol… I used JUST granulated sugar for these cookies. I usually use light brown sugar for cookies but I wanted to color them blue and the more pale the cookies, the easier they are to color.
Butter: I LOVE using salted butter in cookies! I started doing this this year and it just seems more flavorful and it's one less step since you don't have to add extra salt. If you use unsalted butter, just add ¼ tsp salt to the batter with the flour too.
Egg: I used two FULL large eggs in these cookies. Pop them in hot water for 5-10 if they're cold.
Vanilla: Don't underestimate the power of vanilla extract in a cookie recipe. I stopped putting vanilla in EVERYTHING that I make but for cookies it's essential.
Baking Powder: just baking powder, no baking soda.
Chocolate: pretty essential in chocolate chip cookies if you ask me, LOLzzz. More details below!
Cookies: This is the best part, you can use whatever cookie you want. I tried like 10 combinations!
Sea Salt Flakes: I would say this is optional but I'm not sure we can be friends if you don't choose this option lol
Frequently Asked Questions
What kind of chocolate can I use for these cookie monster cookies?
You can use white chocolate, milk chocolate, semi-sweet chocolate or dark chocolate. You can use chocolate chips or chopped chocolate, as well. I used a combination of mini chocolate chips and white chocolate chips. 
What kind of cookies can I use for these cookie monster cookies?
I used a combination of cookies. The double stuffed elf cookies are super thick so I left those alone and the vienna fingers are really long so I broke them in half and stacked them in a cookie. 
I put the Oreos together with the chips ahoy or the fudge stripes because why not?! My favorites were the elf ones because the chocolate frosting gets all melty inside or the Oreo with Chips Ahoy. 
Feel free to experiment with different cookies as well! I bet thin mints would be so good!
How can I store unbaked cookie dough?
The cookie dough is pretty soft so you'll want to scoop it out, stuff the cookies in the middle and roll it into a ball. Then refrigerate it on a plate or tray until the cookie dough balls are more firm. 
Once they're firm, place them in a ziplock bag and freeze. To bake, remove from the freezer as the oven is preheating and bake for another 2-3 minutes than you normally would if they weren't frozen. 
Can I make a smaller batch of cookies?
You can definitely halve this recipe, just halve all of the ingredients. 
Can I use different add-ins? 
You sure can! Now I use this base for so many other cookies (recipes coming soon for some of them). Some fun add-ins that I recommend:
Sub half of the chocolate chips for walnuts or hazelnuts.
Sub half of the chocolate chips with pecans or macadamia nuts and the other half of chocolate chips with white chocolate chips.
Replace all the chocolate chips with white chocolate chips and add 2 Tbsp of sprinkles
If you have any other add-ins you've tried, let me know in the comment section. 
How to color the cookies
First off, you don't have to color them blue…I just did so they're easily recognized as cookie monster cookies.
The cookie dough would originally be pretty yellow because of the egg yolk so when you add blue food coloring, it turns a little greenish. So I added two large drops of blue gel food coloring and two large drops of purple food coloring to balance out that yellow/green hue.
You want to add in the food coloring before you add in the dry ingredients, to make sure that it colors evenly. It'll look pretty dark but once you add in the flour, it lightens significantly. Once they're baked, the color lightens even more so if you want a really bold blue color, I would double the food coloring.
If you want a really bright blue, try a few drops of electric blue gel food coloring. I wanted something super subtle because I'm not a big fan of bright colored desserts lol (weird personal preference).
How to bake these cookies
I usually bake cookies at 350F (177C) (convection) but for these cookie monster cookies I baked them at 375F (190C). The higher temperature will help the shape of the cookies set sooner before the inside is fully baked.
Since the inside of the cookie is another, already baked, cookie we're mostly looking for the outside to bake. Since the outside sets quicker, the cookie spreads less and maintains a higher height.
Baking with a conventional oven (no fan)
Bake 4 oz cookies at 350F (177C) for 12-13 minutes
Baking with a convection oven (fan)
Bake 4 oz cookies at 375F (190C) for 10-11 minutes
Make sure to only bake four cookies on a large pan, in the middle of the oven at a time.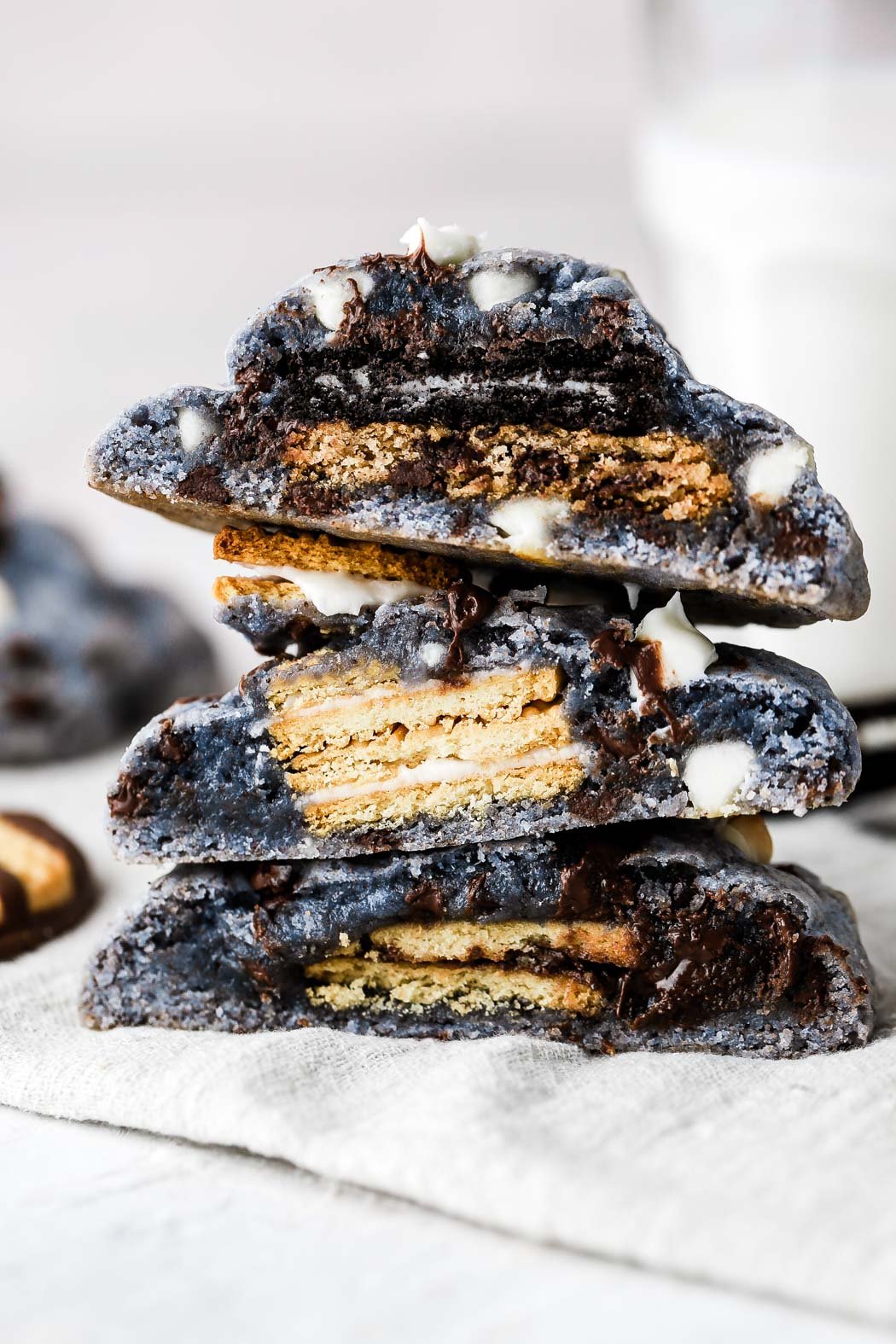 How to store baked cookie monster cookies
These cookie monster cookies can be stored in a ziplock bag or airtight container at room temperature for 3-4 days. They obviously will dry out a little more day by day but I just pop them in the microwave for like 5-10 seconds before eating.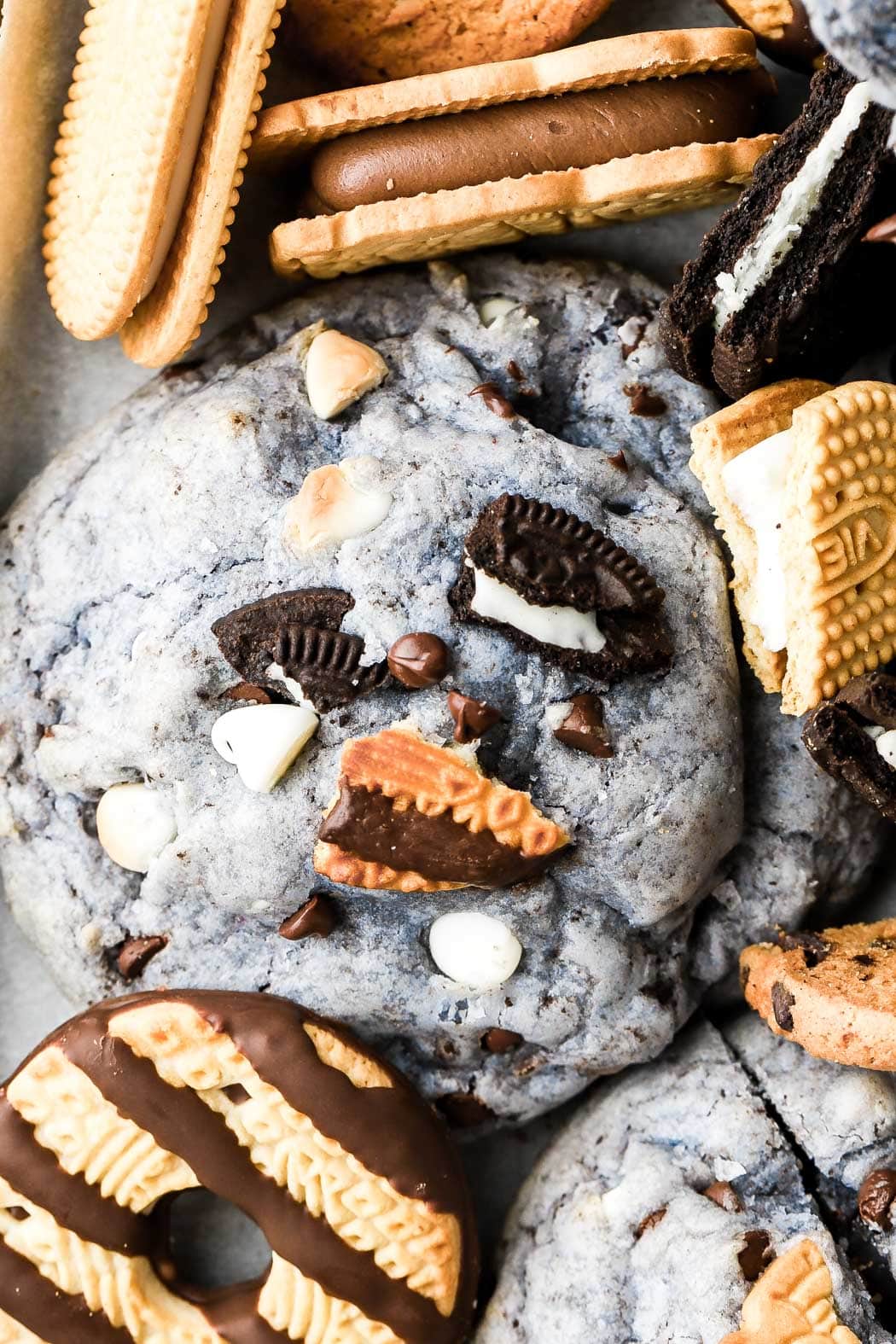 Thanks so much for reading today's post , if you have any questions just comment down below, i'm happy to answer! If you make these giant cookie monster cookies, I would love to see them!
Make sure to tag me @baranbakery on instagram and as always, have a blessed day and happy baking!
Love, B
Yield: 8 large cookies
Cookie Monster Cookies Recipe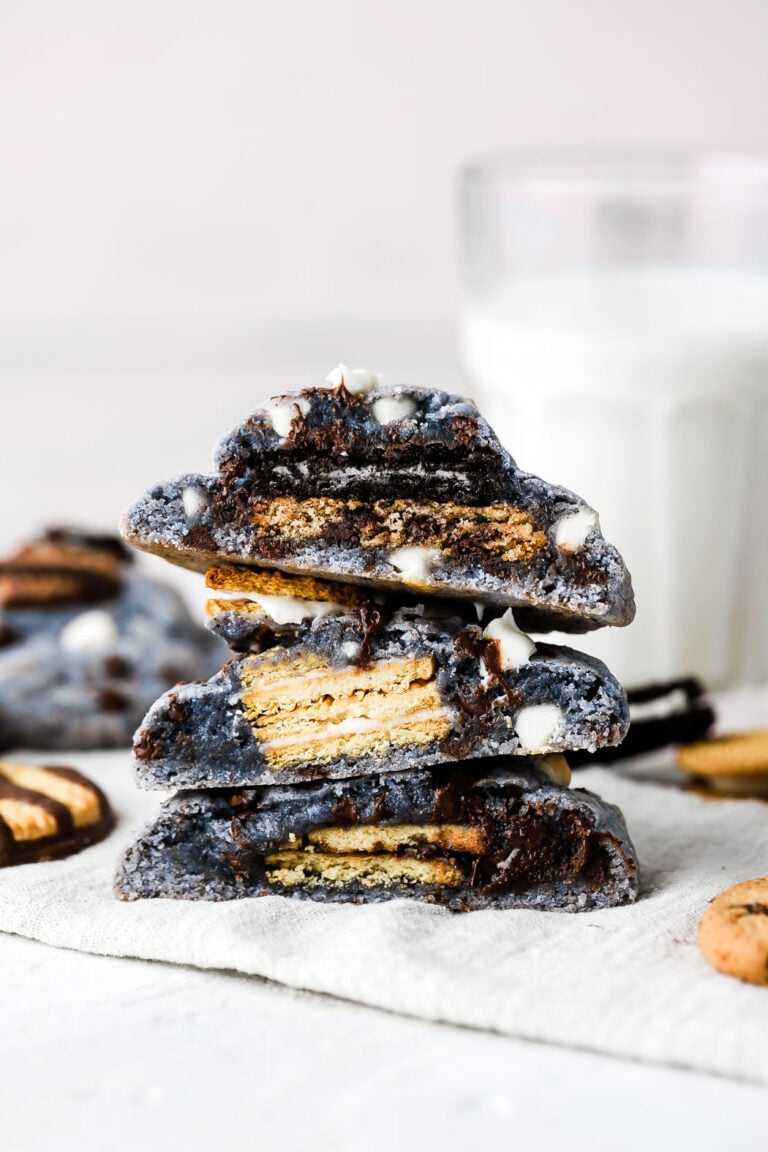 Cookie monster cookies are the best thick chocolate chip cookie with mini chocolate chips, white chocolate chips and stuffed with your favorite cookies! I used Oreos, Chips Ahoy chocolate chip cookies, Vienna Fingers, Fudge Stripes and Fudge Elfs.
Additional Time
10 minutes
Ingredients
1/2 cup (113g) salted butter, melted
1 cup (200g) granulated sugar
2 large eggs, room temperature
2 tsp vanilla extract
3 drops blue gel food coloring
2 drops purple gel food coloring
2 1/2 cup (300g) all-purpose flour, spooned and leveled
1/4 cup (25g) Oreo crumbs
2 tsp baking powder
1/2 cup (3 oz) mini semi-sweet chocolate chips
1/2 cup (3 oz) white chocolate chips
8-16 cookies (can put 1-2 in each cookie, depending on size)
pinch of sea salt flakes
Instructions
Preheat the oven to 375F (190C) convection OR 350F (177C) conventional and line two cookie sheets with parchment paper.
In a large mixing bowl, microwave the butter for 20-30 seconds, just until it's melted (if it gets super hot, then let it cool a little bit).
Add the granulated sugar to the melted butter and whisk together for about a minute. Add in the eggs and whisk aggressively for 1-2 minutes.
Add in the vanilla and food coloring and whisk until it's completely smooth.
Add the flour, Oreo crumbs and baking powder and fold the cookie dough just until there are a few streaks left of flour.
Fold in the chocolate chips, just until they're evenly dispersed.
Split cookie dough into 8 large (3.75oz) pieces. Flatten them into a disc, place a cookie *(or two) in the center and use the edges of the cookie dough to wrap it up like a present (see photos).
Bake one sheet on the middle rack for 10-11 minutes on convection or 12-13 minutes on conventional, just until the edges look set and the center is puffed and no longer looks wet.
Remove them from the oven, give the pan a quick tap on the counter and allow them to rest for 5-10 minutes before transferring off the baking sheet.
Sprinkle with sea salt flakes and enjoy warm!
Recommended Products
As an Amazon Associate and member of other affiliate programs, I earn from qualifying purchases.
Nutrition Information:
Yield:
8
Serving Size:
1
Amount Per Serving:
Calories:

551
Total Fat:

23g
Saturated Fat:

13g
Trans Fat:

0g
Unsaturated Fat:

7g
Cholesterol:

79mg
Sodium:

327mg
Carbohydrates:

81g
Fiber:

2g
Sugar:

44g
Protein:

7g
Nutrition information may not be fully accurate.