Small Batch Chocolate Chip Cookies
These small-batch chocolate chip cookies are the BEST simple everyday cookies. 8 small cookies or 4 large cookies come together in less than 5 minutes, bake for 10 minutes, and they use minimal ingredients that you probably already have in your pantry!
What makes these small batch chocolate chip cookies so great?!
Ok, before we get started… I just want to say that I developed this recipe with specific intentions. I am not claiming that these are THE BEST COOKIES out there. I'm sure there are better cookies out there but if you're looking for a super easy/minimal, 15 minutes cookie recipe, this is your best bet. I always appreciate your honesty on my recipes but please judge them accordingly and consider that when leaving a review or star rating. Thank you!!
So if you've been following along on instagram stories, you'll know that I had some specific goals for these cookies myself. Then I did a few polls and you guys had some requests for our ultimate easy chocolate chip cookies, as well.
Goals:
Quick & Easy: by that I mean, NO MIXERS and NO CHILL TIME! Because I don't know about you but when I want a cookie, I don't want it tomorrow, I want it now lol.
Small-Batch: I guess small-batch can mean different things to different people but I think 8 small cookies is a small enough batch to me…
No awkward amounts of ingredients: aka, you guys were very anti "one egg yolk" or "⅔ cup flour + 1 Tbsp" LOL, which I love because I am too.
Chocolate Chips AND/OR Baking Chocolate: sometimes a great cookie recipe is only great if you make it exactly as listed but the point of these cookies is to be accommodating, easy and convenient.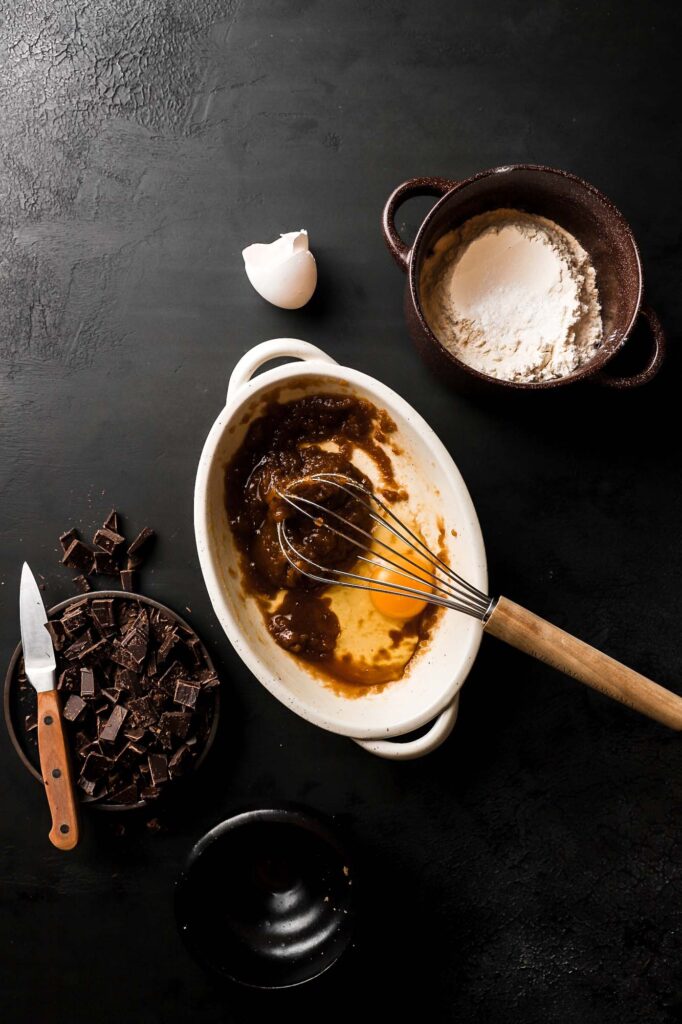 How to make small batch chocolate chip cookies
To stay on the quick and easy brand, I made sure we were using melted butter for the dough because no one wants to wait for the butter to be at the perfect room temperature. These cookies are literally so simple. The melted butter gets whisked with the light brown sugar, then whisk in the egg and vanilla and then fold in the flour and baking powder, followed by the chocolate. Scoop and bake. DONE.
Ingredients:
Flour: I just used all-purpose flour for this recipe however, I HIGHLY recommend using a digital scale, as over-measuring the flour is the most common baking mistake and may result in dry cookies.
Sugar: I'm going to spare you my whole rant on sugar lol… I used JUST light brown sugar for these cookies and I don't recommend substituting it.
Butter: I LOVE using salted butter in cookies! I started doing this this year and it just seems more flavorful and it's one less step since you don't have to add extra salt. If you use unsalted butter, just add ¼ tsp salt to the batter with the flour too.
Egg: I used one FULL large egg in this small-batch recipe
Vanilla: Don't underestimate the power of vanilla extract in a cookie recipe. I stopped putting vanilla in EVERYTHING that I make but for cookies it's essential.
Baking Powder: just baking powder, no baking soda.
Chocolate: pretty essential in chocolate chip cookies if you ask me, LOLzzz. More details below!
Sea Salt Flakes: I would say this is optional but I'm not sure we can be friends if you don't choose this option lol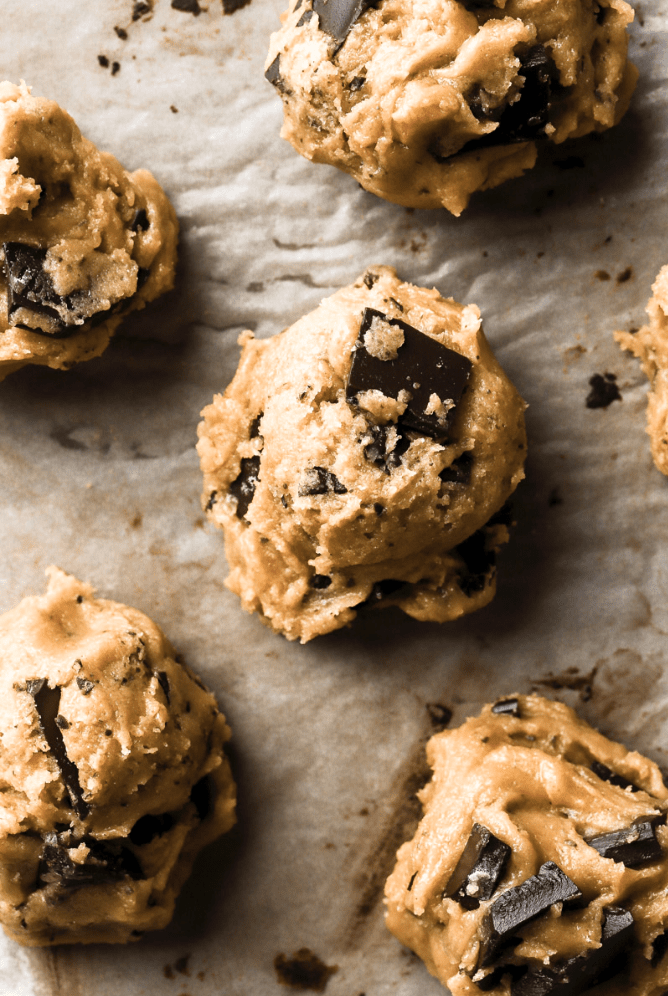 What kind of chocolate can I use for these cookies?
Ok, so first things first. In my polls, most people said they prefer real baking chocolate over chocolate chips. If you don't know the difference, basically chocolate chips have stabilizers in them that help them keep their shape. When you use chopped up baking chocolate, you get gorgeous little melty puddles of chocolate, whereas the chocolate chip will stay as a chunky chocolate chip. The great part about this small-batch cookie recipe is that you can use either type of chocolate!
Second, do we use milk, semi-sweet or dark chocolate?! This is honestly your preference. I prefer either dark chocolate or a mix of dark chocolate and milk chocolate in my cookies. If I'm being totally honest with you, this cookie dough is a little bit sweeter than some other ones and lowering the sugar drastically changes the texture so I personally don't recommend milk chocolate alone… but again, that's preference.
How to bake a small batch of chocolate chip cookies
I always bake in a convection oven but when I took some polls on instagram, most of you said you either don't have one or you don't know how to use your convection oven. So since I developed ALL my recipes in a 350F convection oven, I decided to experiment with a conventional.
If you don't know the difference, a convection oven has a fan that circulates the heat more evenly. This usually results in a quicker bake, so always do less time if you're unsure and it also gives a more even browning. If you're not used to it, the change can be frustrating.
I also do four cookies on two cookie sheets because they do spread but depending on the size of your pan, you can probably fit up to 6 cookies on a pan.
Baking with a conventional oven (no fan)
Bake 2 oz cookies at 325F (163C) for 12 minutes
Bake 4 oz cookies at 325F (163C) for 16 minutes
Baking with a convection oven (fan)
Bake 2 oz cookies at 350F (177C) for 10 minutes
Bake 4 oz cookies at 350F (177C) for 14 minutes
Frequently Asked Questions
How can I store unbaked cookie dough?
The cookie dough is pretty soft so you'll want to scoop it out, roll it and then press it down just a little so it looks more like a disc than a ball. Then refrigerate it on a plate or tray until the cookie dough is more firm. Once they're firm, place them in a ziplock bag and freeze. To bake, remove from the freezer as the oven is preheating and just add an additional 2-3 minutes to the bake time.
Can I make these vegan?
Unfortunately I haven't had time to test this but I really wanted to get this recipe out to you all so when I do try it, I'll certainly update it. If you try it, let me know!
Can I double the recipe to make a big batch of cookies?
You can! I double this recipe all the time and it makes 16 normal size cookies (2 oz) or 8 large (4 oz) cookies. See the baking details above.
Can I use different add-ins?
You sure can! Now I use this base for so many other cookies (recipes coming soon for some of them). Some fun add-ins that I recommend:
Sub half of the chocolate chips for walnuts or hazelnuts.
Sub half of the chocolate chips with pecans or macadamia nuts and the other half of chocolate chips with white chocolate chips.
Replace the chocolate chips with chopped peanut butter cups
Replace ½ of the chocolate chips with 4 roughly chopped Oreo
Replace all the chocolate chips with white chocolate chips and add 2 Tbsp of sprinkles
If you have any other add-ins you've tried, let me know in the comment section.
How to store baked chocolate chip cookies
This small-batch of chocolate chip cookies is best stored in your belly… lol. Ok, jokes aside, just place them in a ziplock bag and keep them at room temperature 3-4 days. They obviously will dry out a little more day by day but I just pop in the microwave for like 5-10 seconds before eating.
Thanks so much for reading today's post , if you have any questions just comment down below, i'm happy to answer! If you make this small batch chocolate chip cookie recipe, I would love to see them! Make sure to tag me @baranbakery on instagram and as always, have a blessed day and happy baking!
Love, B
Yield: 8 small cookies
Small Batch Chocolate Chip Cookies Recipe
These small-batch chocolate chip cookies are the BEST simple everyday cookies. 8 small cookies or 4 large cookies come together in less than 5 minutes, bake for 10 minutes, and they use minimal ingredients that you probably already have in your pantry!
Additional Time
5 minutes
Ingredients
1/4 cup (56g) salted butter, melted
2/3 cup (132g) light brown sugar, lightly packed
1 large egg, room temperature
1 tsp vanilla extract
1 cup (125g) all-purpose flour, spooned and leveled
1 tsp baking powder
1 cup (6 oz) chocolate chips or chopped chocolate (I like to mix dark and milk)
pinch of sea salt flakes
Instructions
Preheat the oven to 350F (177C) convection OR 325F (163C) conventional and line two cookie sheets with parchment paper.
In a medium bowl, microwave the butter for 20-30 seconds, just until it's melted (if it gets super hot, then let it cool a little bit).
Add the light brown sugar to the melted butter and whisk together for about a minute. Add in the egg and vanilla and whisk until it's completely smooth.
Add the flour and baking powder and fold the cookie dough just until there are a few streaks left of flour.
Fold in the chocolate, just until they're evenly dispersed.
Split cookie dough into 8 small cookies, four per cookie sheet, and bake one sheet on the middle rack for 10 minutes on convection or 12 minutes on conventional, just until the edges are starting to brown and the center is puffed.
Remove them from the oven, give the pan a quick tap on the counter and allow them to rest for 5-10 minutes before transferring off the cookie sheet.
Sprinkle with sea salt flakes and enjoy warm!
Notes
You can also bake these into four large (4oz) cookies. Bake two per cookie sheet for 14-16 minutes.
Nutrition Information:
Yield:
8
Serving Size:
1
Amount Per Serving:
Calories:

286
Total Fat:

13g
Saturated Fat:

8g
Trans Fat:

0g
Unsaturated Fat:

5g
Cholesterol:

39mg
Sodium:

140mg
Carbohydrates:

42g
Fiber:

2g
Sugar:

27g
Protein:

3g
Nutrition information may not be fully accurate.